This is a sponsored conversation written by me on behalf of Nestlé SweeTARTS. The opinions and text are all mine.
Best Ever Easter Bark: Fun and flavorful, this Easter bark starts with swirls of colored white chocolate that sandwiches a fun, sweet surprise! With a center full of crushed golden sandwich cookies, and fun sweet and sour Easter treats including SweeTARTS Soft Bites Bunnies, Sour Bunny Gummies and Soft & Chewy Ropes! You will not be able to get enough of this delicious treat.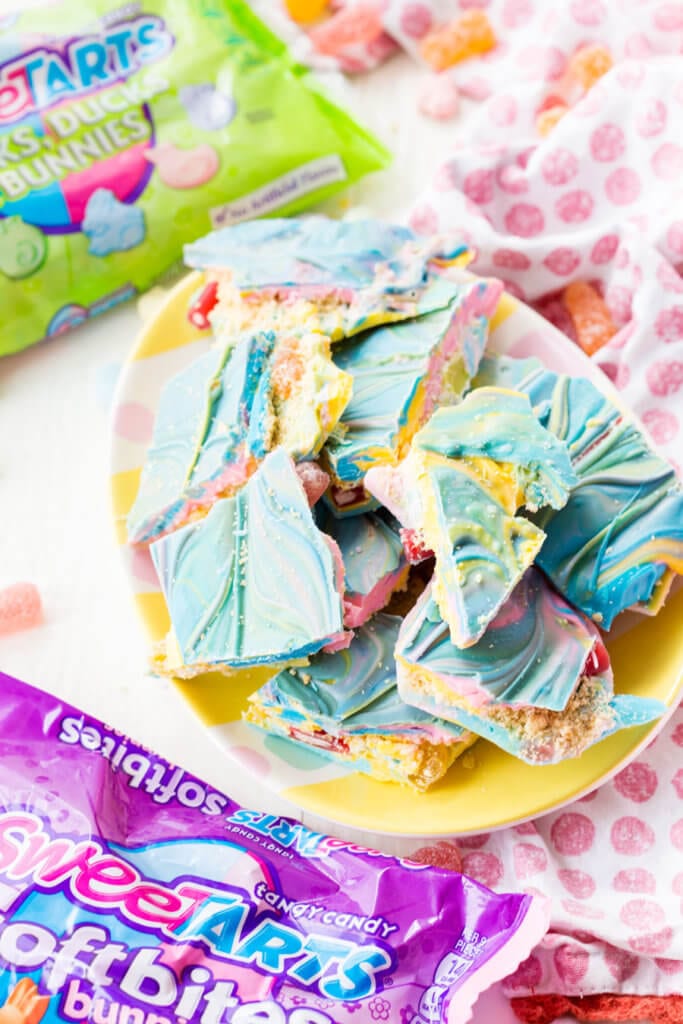 You guys, this Easter Bark is insanely yummy. It is stuffed with sandwich cookies, which is nothing new, but then hidden within the cookie layer are some of my favorite sweet and sour treats! Chunks of SweeTARTS Soft & Chewy Ropes and a couple different types of gummies: SweeTARTS Soft Bites Bunnies and SweeTARTS Sour Bunny Gummies!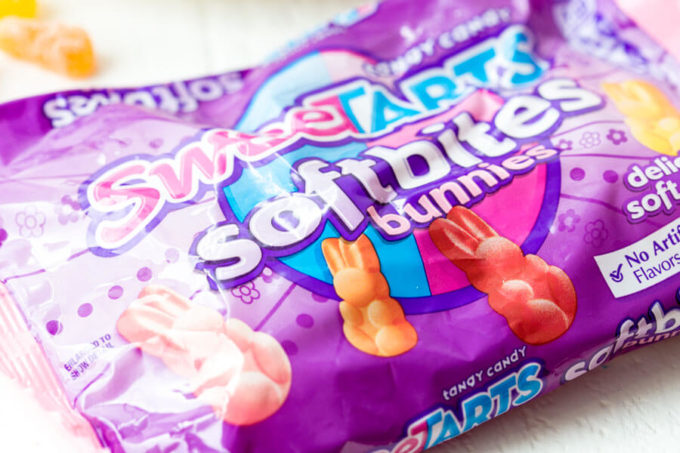 Both of the gummies are delicious, have a surprisingly soft texture, charming bunny shape, and best of all, are artificial flavor and color free! And then there is the chewy cherry, licorice-style rope with a fruit punch filling, it is so much fun. Combine all of that and you get a sweet fun treat with pops of flavor and even some pucker hidden within the sweet treat.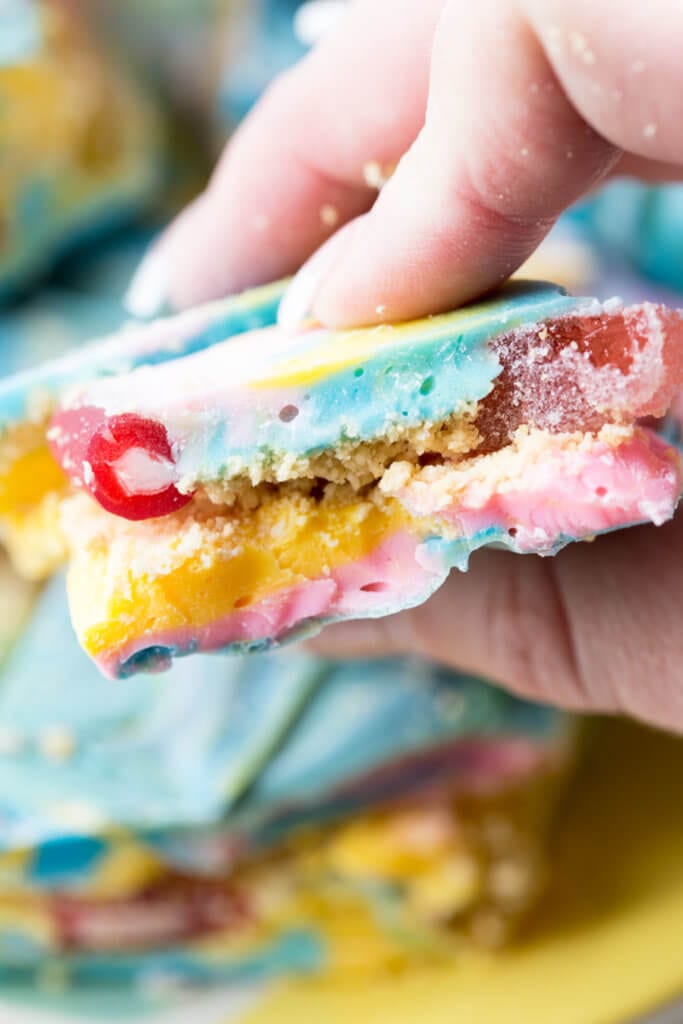 And aren't the colors fun too? This is the kind of treat that will get the Easter Bunny knocking at your door asking you to take over! And it is also one that is super fun to make with kids. They can choose how to disperse the treats, help swirl the colored chocolates, and will definitely want to help eat the spoils!
I love the holidays, and have always been a fan of living them up, and enjoying them to the fullest. But it can be hard to find ways to get the kids involved. Making fun treats together that we can package up and take to neighbors and friends, or include in Easter baskets makes me so happy!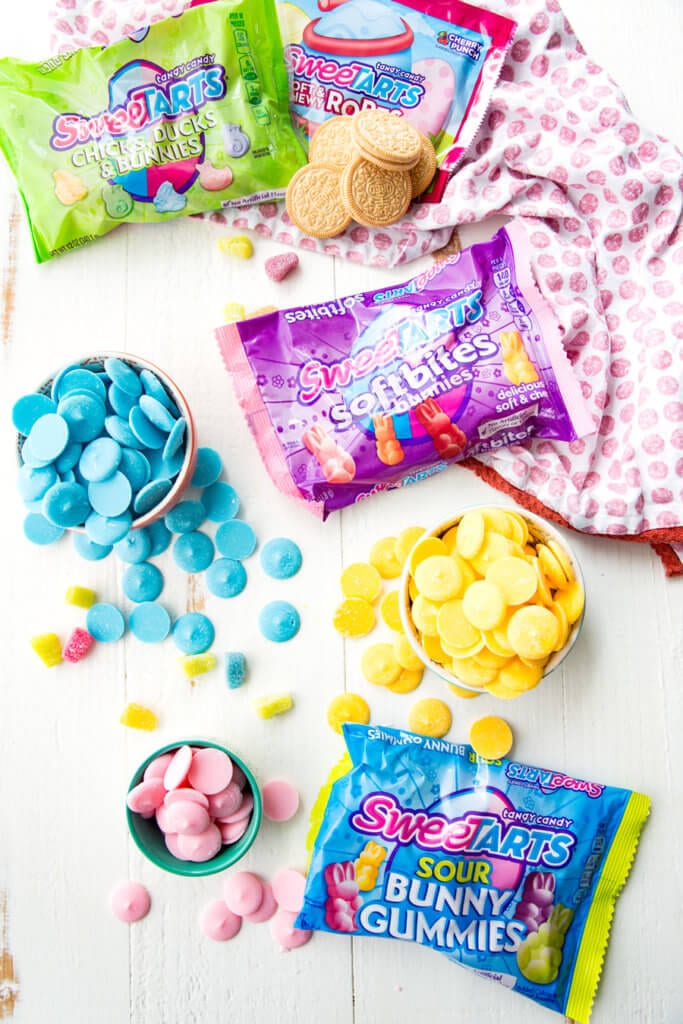 And look at that bark! Bunny Bark, Easter Bark, Best Ever Chocolate treat bars…you can call it whatever you want, but let's all call it delicious! It is full of fun spring colors, and all that bright cheery goodness we relate to the start of better weather, and the fun involved in Easter. And the addition of the SweeTARTS candies just make it so much more fun. I have been making bark for years, but this is the first time I decided to stuff it. Now when I bite into it, it is like a surprise in every bite. Will it be sweet? Will it be sour? I don't know, but it will definitely be yummy.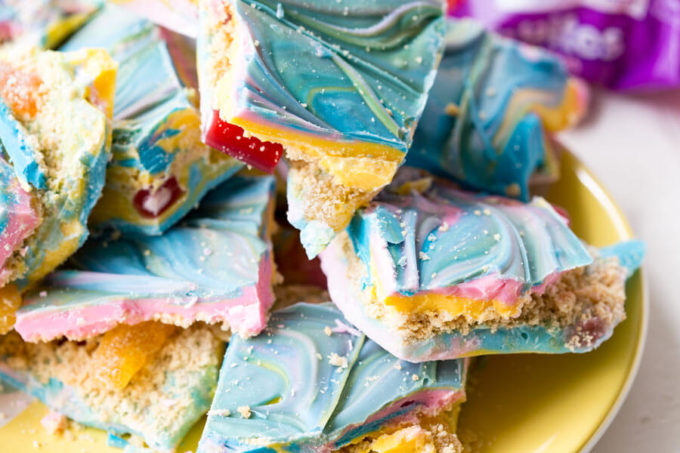 I used the extra treats that were left from the bags to fill eggs for a hunt!  SweeTARTS Soft Bites Bunnies, Sour Bunny Gummies, Chicks, Ducks & Bunnies and Soft & Chewy Ropes are the perfect affordable complements to any springtime recipes, and such a fun way to make treats, or to fill your eggs or Easter baskets. They offer something the whole family will love from limited edition tongue-twisting pucker inducing Sour Bunny Gummies, to cuter than cute shapes with the SweeTARTS Chicks, Ducks & Bunnies, and my personal favorite the SweeTARTS Soft Bites Bunnies that offer an assortment of classic flavors in a jelly gummy with a unique melt away smoothness. Honestly, run, get some, and make these delicious treats!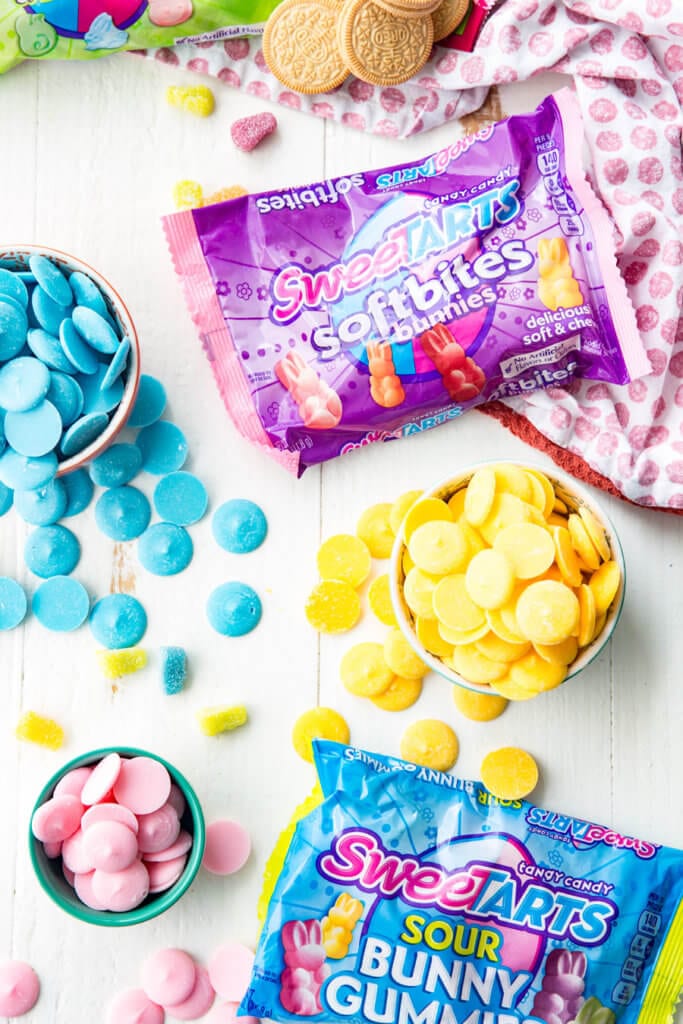 Let's get to the recipe now:
Yields 12 pieces
Best Ever Easter Bark
10 minPrep Time
5 minCook Time
15 minTotal Time
Ingredients
2 cups yellow candy melts (chocolates)
2 cups blue candy melts
2 cups pink candy melts
10 Golden sandwich cookies
SweeTARTS Soft Bites Bunnies
SweeTARTS Sour Bunny Gummies
SweeTARTS Soft & Chewy Ropes
Instructions
In a food processor, process sandwich cookies until they are a sandlike texture. Set aside.
In microwave safe bowls, melt the candy melts (separately) by heating in 20 second increments and stirring between each, until smooth and silky.
Line a baking sheet with parchment paper and dollop half of each of the various colors onto it.
Use a spatula to swirl the colors together.
Sprinkle the melted chocolate with SweeTARTS Soft Bites Bunnies, SweeTARTS Sour Bunny Gummies, and SweeTARTS Soft & Chewy Ropes
Pour crushed sandwich cookies over the top, and lightly press them into the chocolate.
Top with dollops of the other half of the chocolate.
Swirl with a spatula
Let set up by putting in the refrigerator for about 10 minutes.
After the chocolate is set up, break bark into several pieces.
Enjoy!
7.6.4
959
http://www.eazypeazymealz.com/best-ever-easter-bark/
Check out SweeTARTS on Facebook, Instagram, and Twitter for more information on these fun seasonal treats!
Pin to your EASTER treats board on Pinterest:

This is a sponsored conversation written by me on behalf of Nestlé SweeTARTS. The opinions and text are all mine.