Cozy, comforting, delicious homemade bread. This honey whole wheat bread is made from scratch, and has great flavor and texture. You will love how easy to make this whole wheat bread is. So get baking!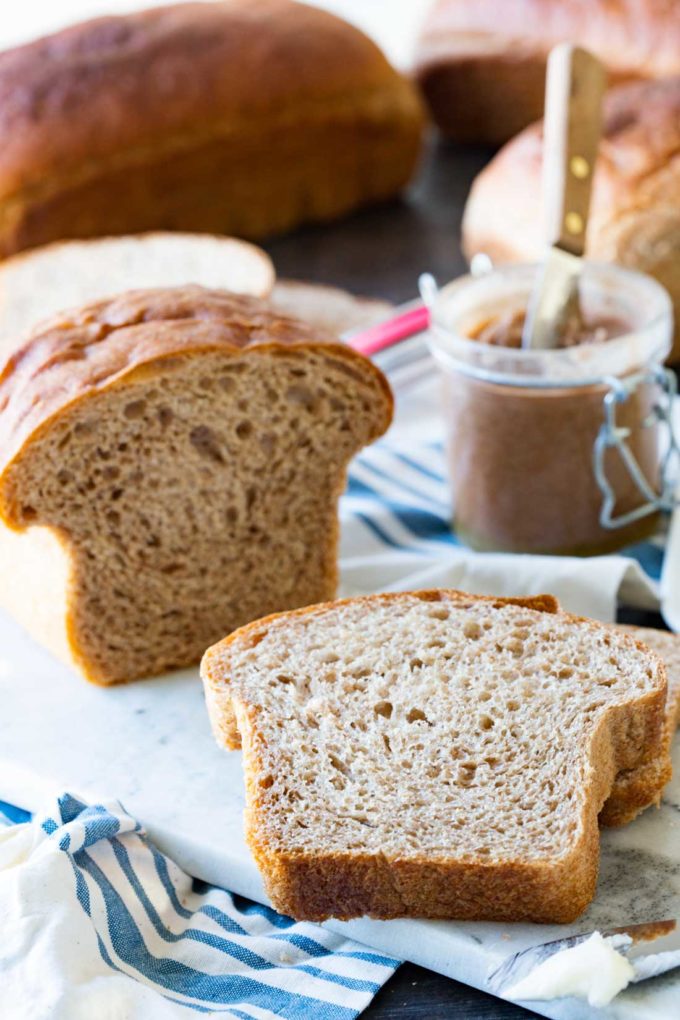 Honey Whole Wheat Bread, made from scratch, including grinding the wheat, sounds like a big endeavor, but you will be surprised how simple this honey whole wheat bread is to make, and how absolutely delicious it is.
I have a friend who makes amazing bread. Not too long ago she made me this amazing honey whole wheat bread. She gave me several loaves, and I devoured them.
She gave them to me, and I had them in my car as I drove home. It was a 45 minute drive, and I could smell them. The whole drive I was anxious to break into the bread. It had my mouth watering.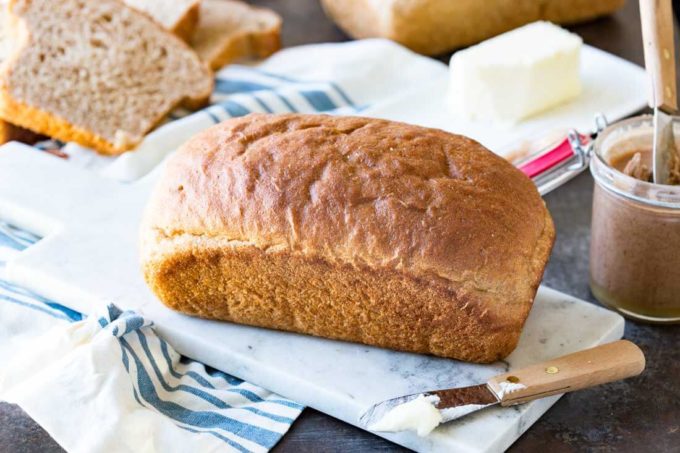 Of course, as soon as I got home I dug in. I slathered slices in honey butter, ate it plain, warmed it up and ate it with jam, toasted it, used French butter, had a sandwich with the whole wheat bread, and ate it alongside my soup.
Basically I was in carb heaven for a couple days.
I don't actually eat a lot of bread normally. I don't buy it that often, and when I do, it usually goes moldy before we get it all used up. I know, I know. Bread is delicious. But the thing is, I grew up eating homemade bread, and the stuff I get in the grocery store aisles doesn't usually compare, and I don't live super near a great bakery for getting homemade honey whole wheat.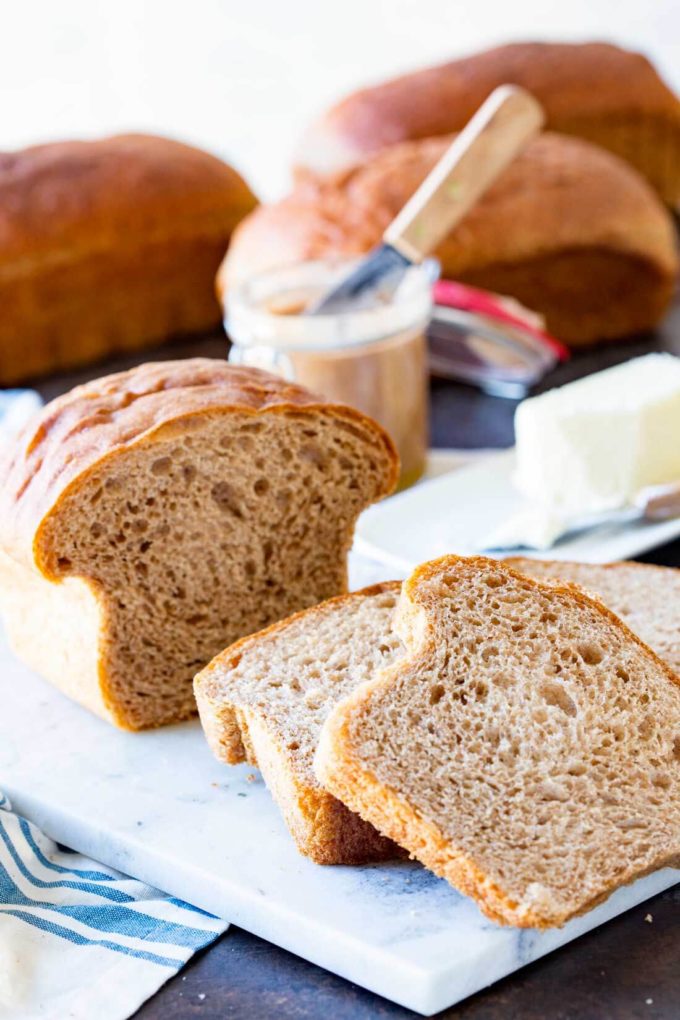 I think we can all agree that homemade trumps not. However, since I do not have a bread machine, and I am a little lazy, I rarely make my own bread. When I do, I go for the 7 minute crockpot version, which is so super easy but not whole wheat, and not nearly as soft and pillowy as this bread is. So when my friend told me that this honey whole wheat bread recipe was easy to make, I had to share it with you guys.
She grinds her own wheat when she makes it, but you don't have to do that, you can buy whole wheat flour. I recommend the Bob's Red Mill version, as I have always had the best luck with it, and it is seriously yummy.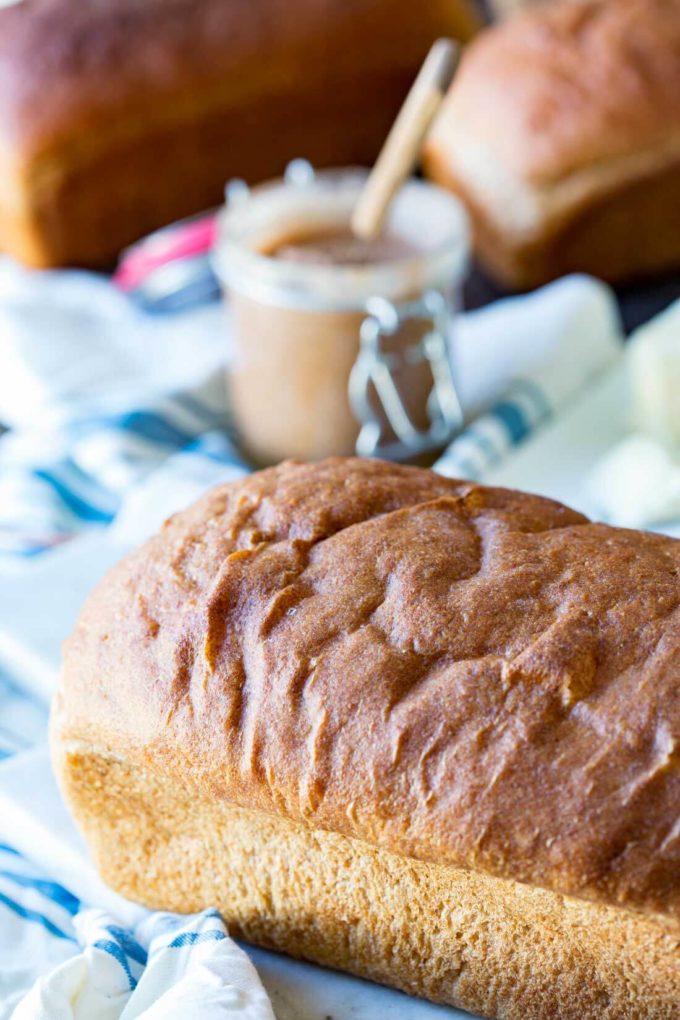 This honey whole wheat bread is warm, comforting, and delicious. It is pillowy soft, smells amazing while baking, and after, and has a texture and taste you won't be able to quit. I hope you enjoy it as much as we do.
Yields 5 loaves
Honey Whole Wheat Bread
Ingredients
Instructions
In stand mixer add water, yeast, oil, honey, applesauce, gluten, dough enhancer and 5 cups of wheat flour.
Mix until incorporated.
Turn to lowest speed and add salt and 1 cup of flour at a time until the dough scrapes away from the edges.
Once the bowl edges are clean, knead on low speed for six minutes.
Remove and shape into two greased loaf pans.
Let rise until doubled, about 30 to 45 minutes, and bake at 350° for 30 to 35 minutes or until an internal temperature reaches 200°
7.6.4
884
http://www.eazypeazymealz.com/honey-whole-wheat-bread/
Pin to your BREAD board on PINTEREST: