The most efficient device in your kitchen is your microwave, and the most inefficient device is your fridge.Did you know that?
How can you get more out of your kitchen appliances and help your money, time, and energy go further?
I can't imagine life without my appliances. Go two weeks without a washing machine or fridge and you'll soon start to appreciate just how important they are. However, sometimes we don't use them to their full potential. Here are a few  tips to help you get the most out of your appliances.
Make too much food and freeze it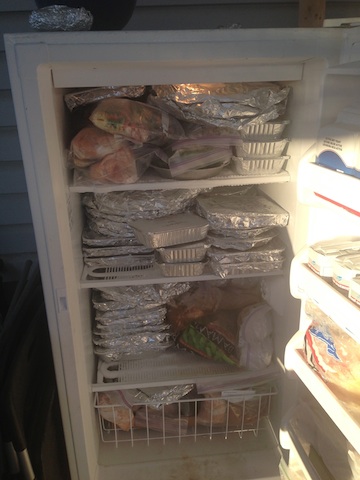 Freezers are fantastic for the simple fact that they can stop the clock when it comes to spoiled food. You can buy food that is due to go off tomorrow at a discount, and then freeze it and defrost it the day you want to eat it.
Freezers are also great for the fact you can make too much food and then freeze the leftovers. Hello Freezer Meals. They are my lifesaver during the busy times of year. I currently participate in a freezer meal exchange group, which I love! You can read about how I do that here. The point is, you can purposefully make too much and freeze the excess, or you can freeze your leftovers instead of putting them in the fridge.
I always joke that the fridge is the step between the table and the garbage. I always forget about leftovers, and they go bad. Freezing them means keeping them until you want them.
Shorter washes in your washing machine
Your towels or the shirts you've used or worn just once on a hot day may not need a full wash. Put them on a quick rinse and spin cycle. Unless they have some sort of soiling on them, you should be fine.
Obviously, don't do this every time, but you'll find you can do it now and again to save energy and water. It's especially handy since there is very little difference between having washed them on a full cycle, and putting them on a short rinse and spin cycle.
Reheat your tea, cocoa, or coffee
Pop it in the microwave and heat it up for around ten seconds. Any longer and it will get that horrible scum on the top of it. This is far better than making a fresh cup, and so long as you don't overheat it you won't be able to tell the difference.
Freeze your milk and bread
This should be standard procedure in your house, and it's one of the best reasons there are for buying freezers in this day and age. Buy your milk and bread for the next two weeks, put it in the freezer and remove it the day before you need it. This stops you having to make frequent trips to the grocery store — saving gas and money.
Kitchen appliances are handy, and simplify life, but you can make them work even better for you with the tips above. Saving food, saving money, saving water — the money you save will soon be spilling out of your pockets!