This post is sponsored by Prom Peru, all opinions are my own.
Pollo Saltado, or Peruvian Chicken Stir Fry, is a flavorful fusion cuisine with a mix of stir fry chicken, veggies, and potato fries. This dish offers spiced chicken, peppers, tomatoes, onions, a delicious vinegar based sauce, mixed with fries and served over rice.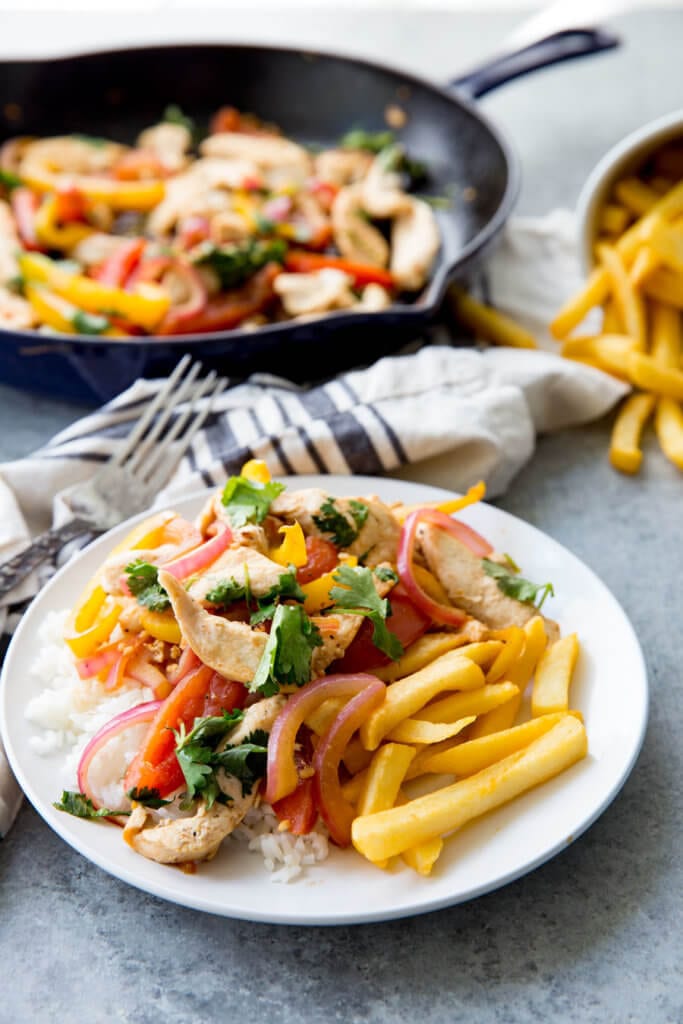 I am a huge fan of Peruvian food, there is this restaurant where I live that serves it, and I am always looking for an excuse to go. I love the bold flavors, the tender, juicy chicken, and of course all the peppers and extras.
Peruvians really know how to do food, which is highlighted by the fact that they hold South America's largest food festival: Mistura!
Mistura 2017 is from September 7-17 in Lima, Peru.
And now is your chance to go. Yep, you read that right. You can enter to win an amazing 9 day trip to get a taste of Peru. This includes a 9 day adventure for 2 through the Gastronomic Capital of the Americas. This culinary adventure will take you to visit Lima, Cusco, Machu Picchu and Aguas Claientes, all while sampling incredible Peruvian meals and adventure. Just like Pollo Saltado is a perfect fusion food, this trip is the perfect fusion of food and experience.
Learn more and enter to win here.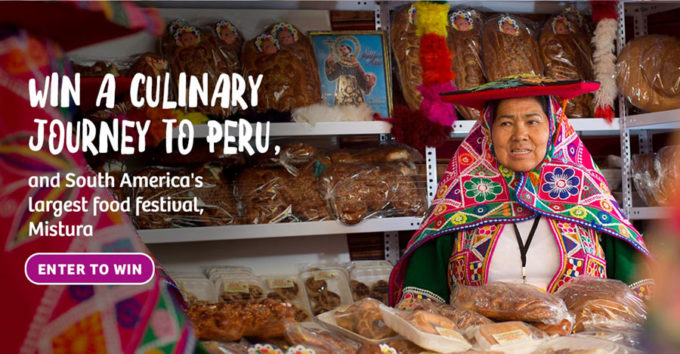 Meet Me At Mistura Prize Package
This trip is provided by PROMPERU: Facebook / Twitter / Instagram and additional partners and sponsors.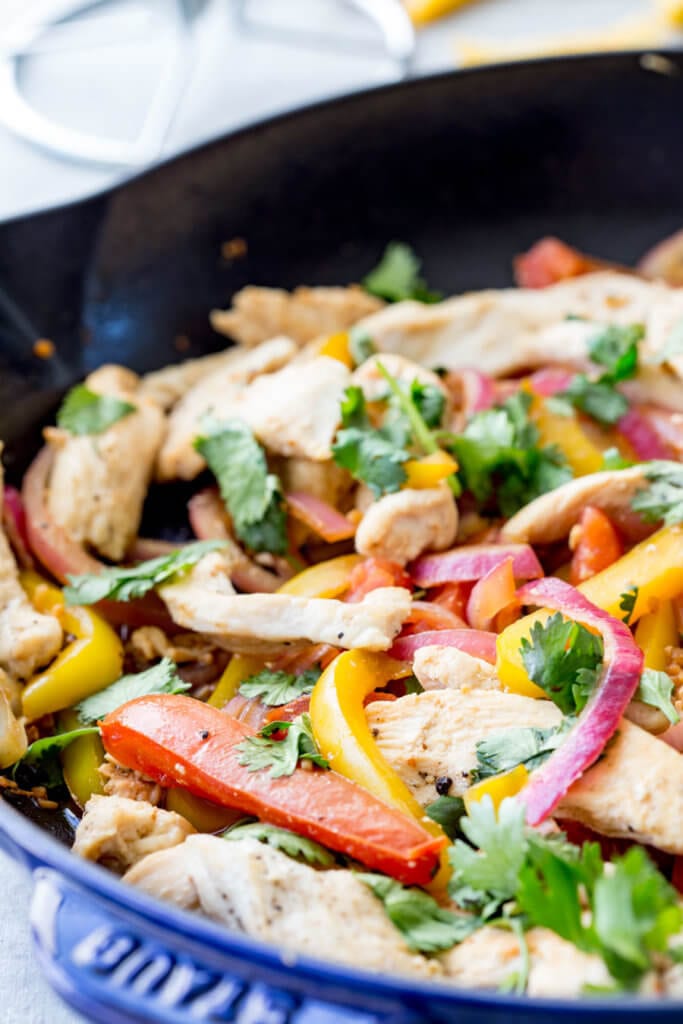 That is a trip of a lifetime! I know it is one I for sure want to take! So now that I have whet your appetite with that amazing prize package, let's talk about this amazing recipe. Hopefully if you win, you will get a chance to try some authentic Pollo Saltado (Chicken Stir Fry) while in Peru.
Since I don't live in Peru, I made an Americanized version with the ingredients I could get my hands on. I did order a pepper paste to get the Peruvian pepper flavor, and it was delicious. But I also made it without the paste, and it worked awesome and had a ton of flavor. So if you don't have the aji­ amarillo peppers or paste, all is not lost, you can still make this tasty dish.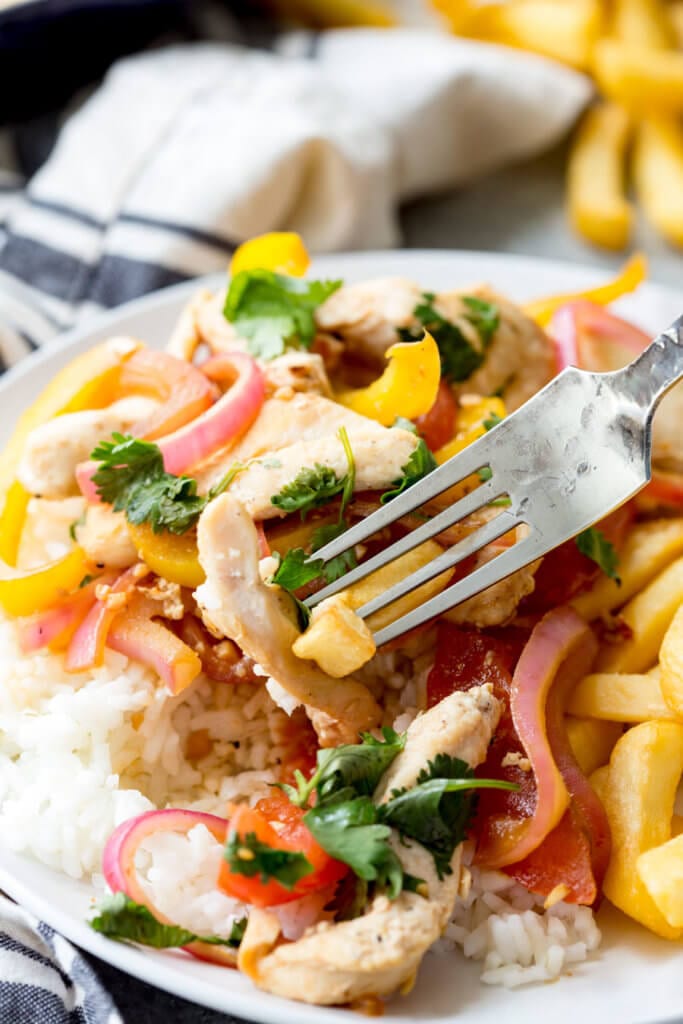 I used freezer fries for this, the kind you bake from frozen in the oven. And I was surprised how good they made this dish. Not only did they soak in some of the vinegar sauce, they compliment the chicken and veggies. Honestly, who knew Latin-Asian fusion could be so delicious? Pick your favorite kind of fries, or make them from scratch. I found that buying the freezer kind meant that I could pop them in the oven, and by the time I was done making the chicken stir fry, the fries were done! So easy, so delicious. And made this Pollo Saltado Chicken Stir Fry a really quick and easy dinner solution we have made again and again.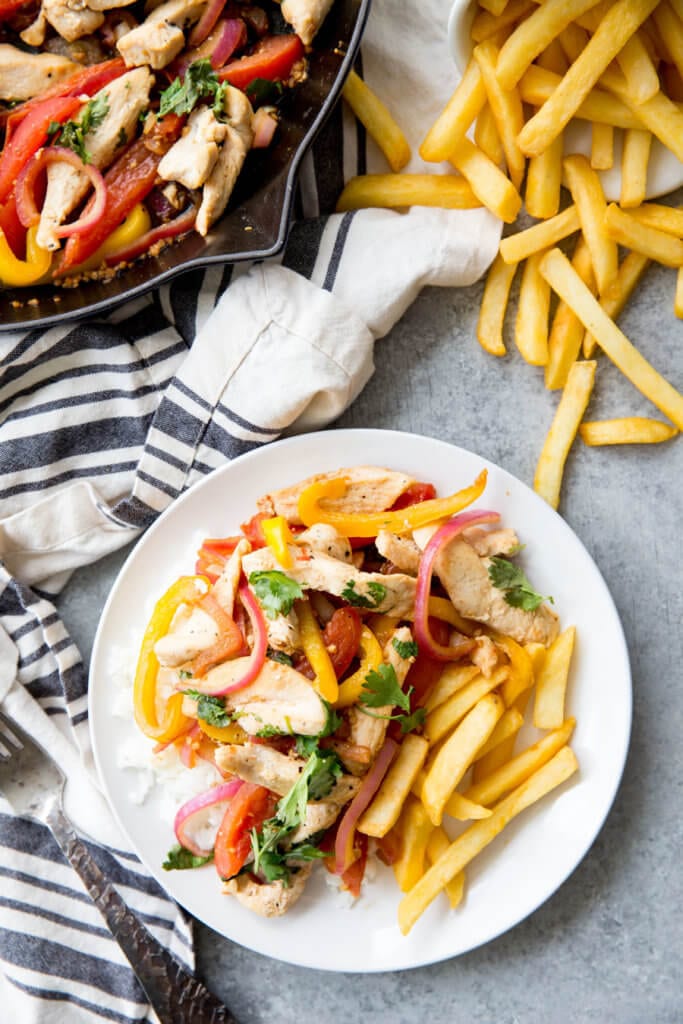 If you can't make it to Peru, or don't win the trip, take your tastebuds on a vacation to Peru with this delicious meal Pollo Saltado Chicken Stir Fry! You may find that this latin-asian fusion food is just the thing.
The veggies are crisp and delicious, the chicken juicy and flavorful, and the fresh cilantro just adds that little something extra that makes it oh so good.
Pollo Saltado Chicken Stir Fry Tips:
To make your Pollo Saltado Chicken Stir Fry really great, consider the following:
Use really great quality fresh ingredients. Your meal can only be as good as your ingredients. So start with the best.
Use freezer fries. This makes it quick and easy to make your pollo saltado, and if you get a good quality fry, you won't notice a difference.
Time it right: You want to serve this right away, so get the rice going early, and give those fries plenty of time to bake so that when your stir fry is done you can eat!
Garnish well: Adding the fresh cilantro to the top of the Pollo Saltado Chicken Stir Fry helps to freshen things up! Use liberally.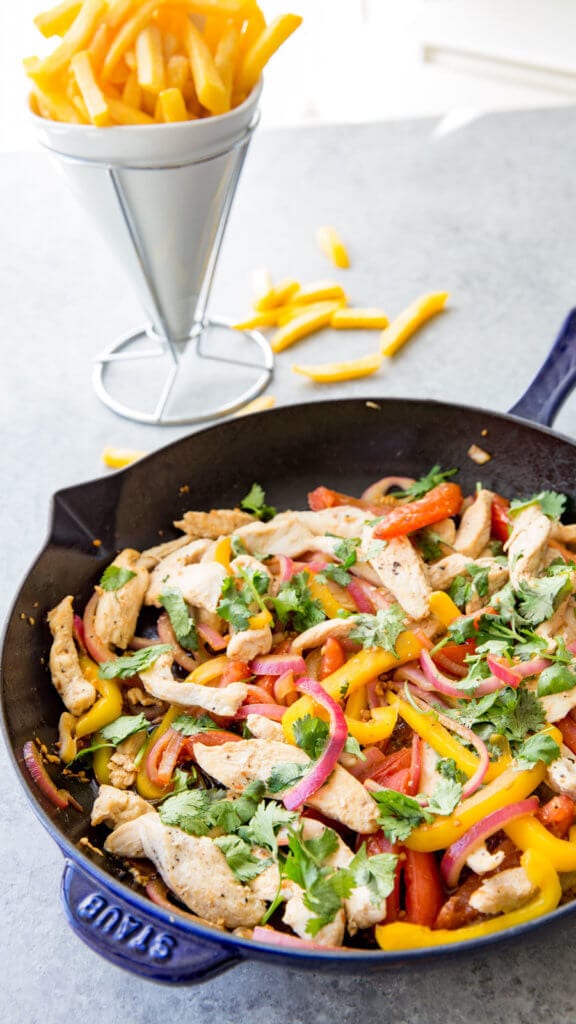 This Pollo Saltado chicken stir fry was popular with everyone in my family, and hopefully will be just as popular with your family.
Yields 4 servings
Pollo Saltado (Chicken Stir Fry)
10 minPrep Time
30 minCook Time
40 minTotal Time
Ingredients
2 Tbs olive oil
1 lb chicken breast cut into 1 inch strips
Salt and pepper
1 Tbs minced garlic
1 tsp aji­ amarillo paste
1 Tbs white vinegar
2 Tbs red wine vinegar
2 Tbs soy sauce
2 roma tomatoes, sliced and deseeded
1/2 a yellow bell pepper
1/2 cup sliced red onion
1/2 cup chopped cilantro
1 lb frozen french fries, cooked according to package directions
2 cups cooked white rice
Instructions
Start preparing the french fries according to package directions as well as the rice.
Meanwhile, in a large, heavy bottom skillet, heat olive oil, and add chicken strips.
Season with salt and pepper.
Sear chicken, and cook until cooked through (about 5 minutes), flipping as needed.
Remove chicken from pan and add in minced garlic and aji­ amarillo paste, stir for about 30 seconds, then add in white vinegar, red wine vinegar, soy sauce, tomatoes, yellow bell pepper, and red onion slices
Saute until slightly fragrant, but veggies should still be crunchy.
Add chicken back into pan, and stir.
Cook 1-2 minutes until onions are soft, but peppers still have some crunch.
Top with fresh cilantro.
Serve with french fries and white rice
7.6.4
969
http://www.eazypeazymealz.com/pollo-saltado-chicken-stir-fry/
Pin to your Chicken Dinner board on Pinterest:
Get EZPZ Updates In Your Inbox!