Sheet pan beef and broccoli: Don't you know that beef and broccoli is all about the sauce? This killer recipe for beef and broccoli is cooked on a single sheet pan in the oven so you don't have to stand over or monitor a wok. And it is absolutely delicious. A decadent sauce, tender beef, and perfectly crisp but tender broccoli make this a family favorite.

I think we can safely say I am obsessed with SHEET PAN MEALS! Of late I have made:
Needless to say, I love a good sheet pan meal. There is a reason I am so obsessed with the sheet pan, and it is basically how convenient it is. You don't have to keep an eye on things like you do on the stove top. And the clean up is minimal. I don't think I need to wax on about the beauty that is sheet pan cooking. But seriously, give it a try. And start with this Sheet Pan Beef and Broccoli.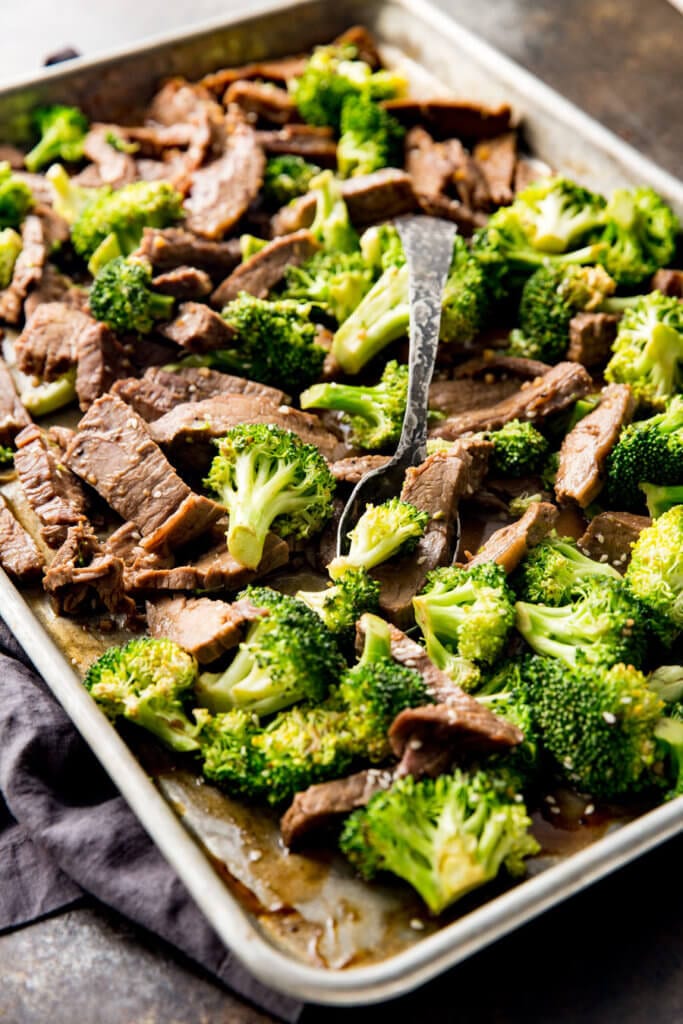 When it comes to beef and broccoli there are a lot of pros for cooking it in a wok. The biggest being to get that crispy edged beef. However, despite not getting that in this Sheet Pan Beef and Broccoli dish, I have to say this is my preferred method because of the simplicity of popping it in the oven. Additionally, when it comes down to it, the key factors in a good beef and broccoli are tender beef, and a tasty sauce. If done right, this will accomplish both.
The key to tender beef is how you slice it. Slice against the grain, and as thin as you possibly can. I was in a bit of a hurry, and did not slice this as thin as I should have, and bits were chewy. But the flavor made up for my lazy slicing. And we ate it anyway. The sauce on this is comprised of a typical line up of ingredients found in beef and broccoli, with a few twists.

MY LATEST RECIPES
Two Parts
There are two parts, the original rub, which you rub all over the steak. It flavors the meat really nicely. And then the sauce you dump over the broccoli. It is a traditional beef and broccoli sauce. And together it is a mighty combination of flavor.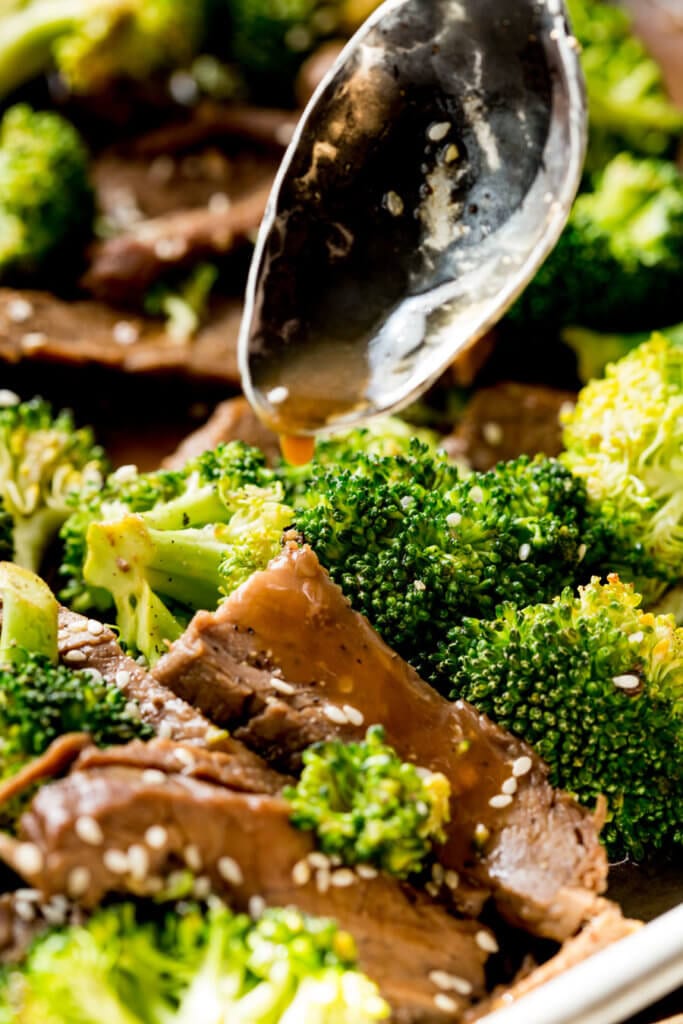 Be sure to toss the beef and broccoli really well at the end so the sauce gets evenly distributed, and don't be shy about spooning it over what you are about to eat! I loved adding extra sauce, and may even double up the sauce recipe next time. So if you love sauce, double the sauce recipe, not the steak sauce/rub.
And then drizzle away. The corn starch in the sauce will help it thicken as it cools a little, so you will get that delightful sauce that sticks to the food. And you will love Sheet Pan Beef and Broccoli!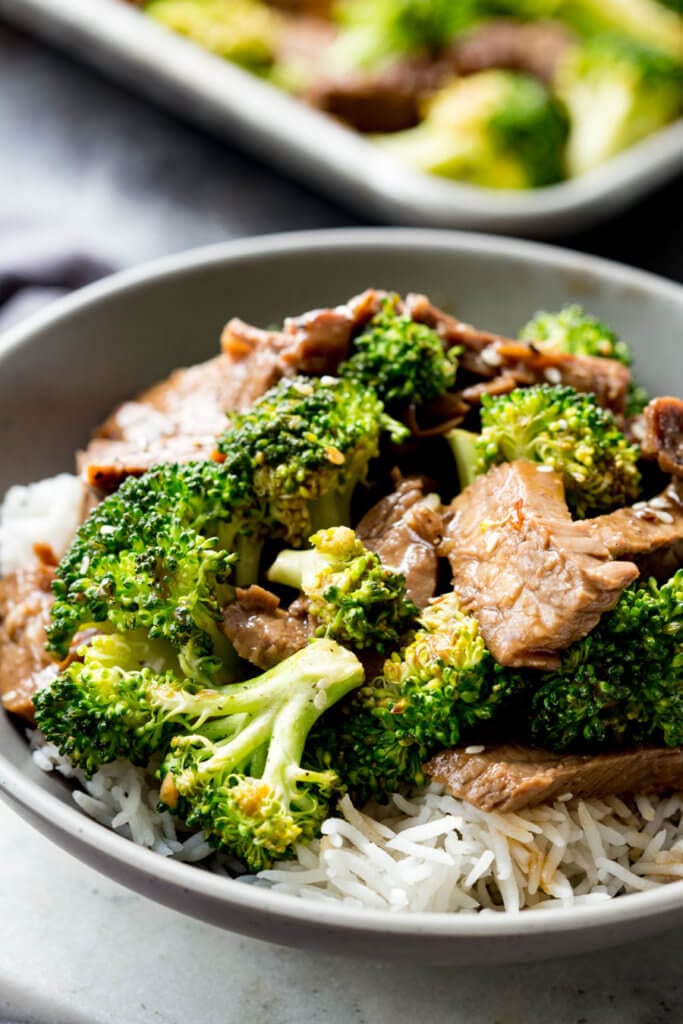 I love to serve Sheet Pan Beef and Broccoli over Jasmine Rice. And it is basically a complete meal. I don't really serve it with sides. But we do occasionally eat it with chopsticks, which I stink at! But it is still fun.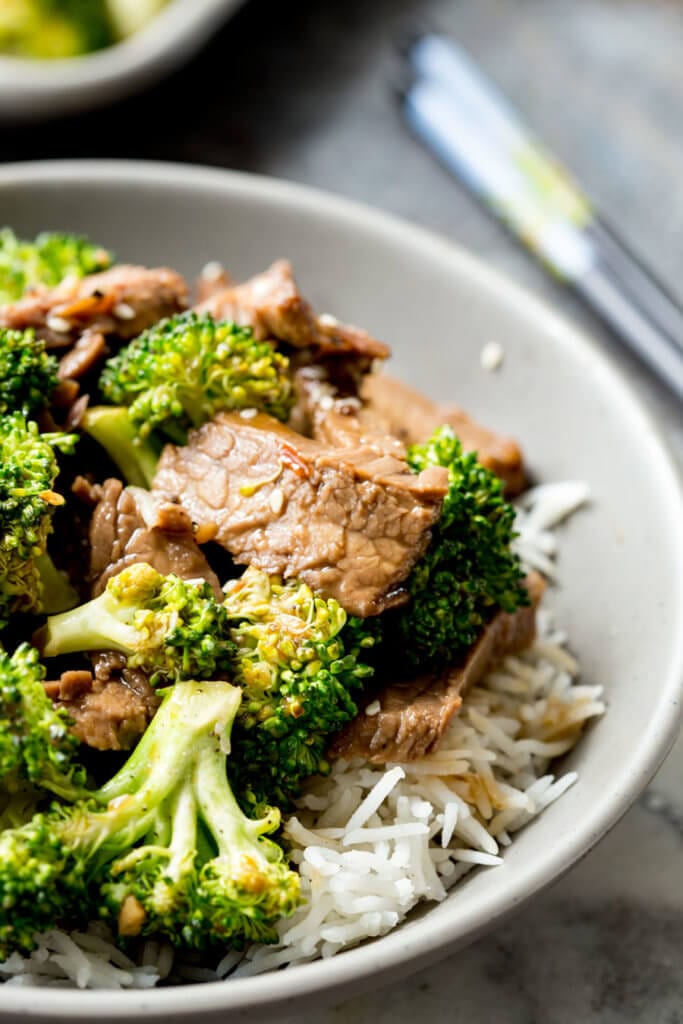 Check out this cookbook full of fun ideas for sheet pan dinners, hands off, easy, delicious, right out of the oven meals: COOKBOOK
More beef recipes you might like to try: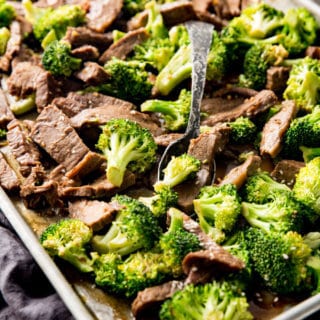 Ingredients
Steak Sauce
2

Tbs

Oyster sauce

1

Tbs

Soy Sauce

1/4

tsp

Garlic Powder

1/2

Tbs

Minved Garlic

1

tsp

sesame oil

1

tsp

Corn Starch
Sauce
1

Tbs

Oyster Sauce

1

Tbs

Hoison Sauce

1

Tbs

Brown Sugar

1

Tbs

Soy Sauce

1/3

cup

vegetable stock

red pepper flakes to taste

1/4 tsp

1

pound

broccoli florets

Sesame seeds for garnish
Instructions
Preheat oven to 425 degrees F.

Place flank steak on a sheet pan.

In a small bowl mix together the "Steak Sauce" ingredients: oyster sauce, soy sauce, garlic powder, minced garlic, sesame oil, and corn starch, and whisk until smooth.

Pour over flank steak, and spread evenly over the top.

Bake for 15-17 minutes depending on the thickness of the steak.

Meanwhile, mix together sauce ingredients in a medium sized bowl, whisking until smooth.

When time is up, remove steak from oven, and slice into super thin slices, against the grain (this will help it be tender).

Return steak and any juices to the pan.

Dump broccoli over the top of the steak.

Pour sauce over the top of all of it, and stir to mix it all together.

Return to 425 degree F oven, and bake an additional 5-8 minutes until broccoli is fork tender.

Remove from oven. top with sesame seeds, stir well to coat everything in sauce.

Serve over jasmine rice, and spoon some of the pan sauce over the top if you wish.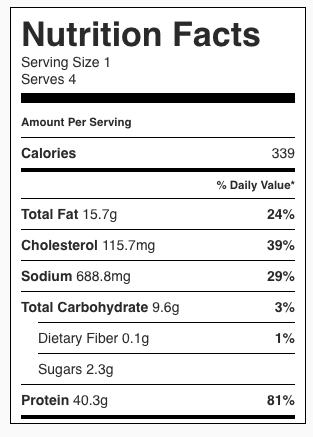 Pin to your Dinner board on Pinterest:

Get EZPZ Updates In Your Inbox!