Simple and Quick Dinner Rolls that are light, fluffy, buttery, and delicious. I believe in simple and quick. These are great to make for a week night dinner, they come together quickly and all I do is dump it all in my mixer and let it do the work. You can use a kitchen aide or a Bosch. It will fit in either.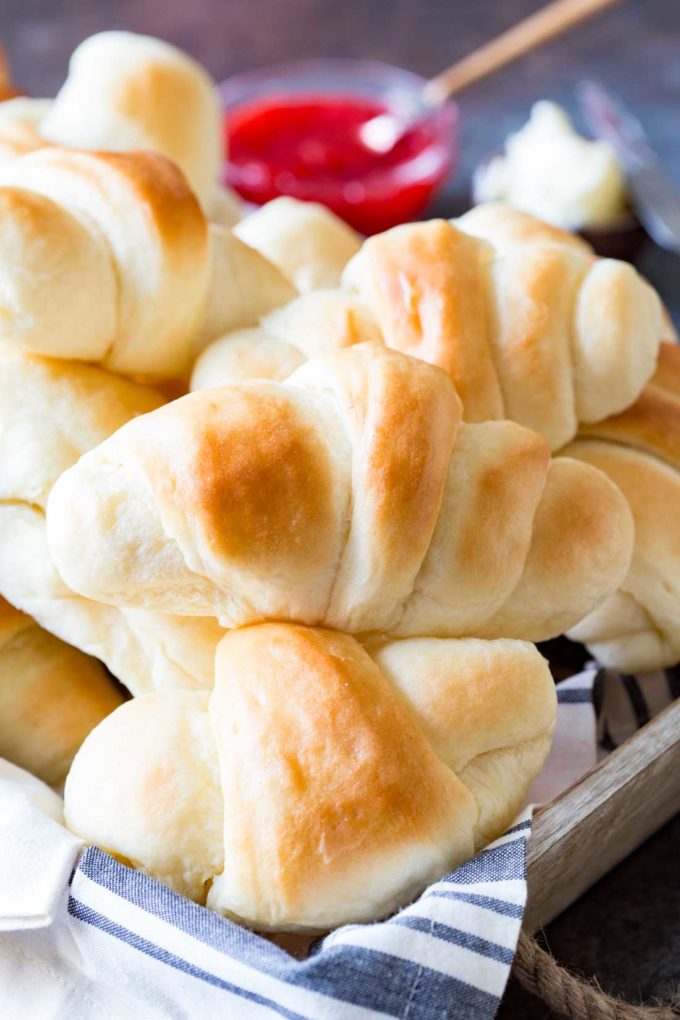 The first time I ate these rolls was 11 years ago. I walked into my friend's kitchen, and was greeted with one of those scents that instantly make your mouth water. Fresh baked bread. Buttery. Salty. Sweet. Confusing?
You know what I am talking about, that perfect combination achieved through flour and yeast! Unforgettable, and not something you easily get over. These rolls…how to explain them? Pillowy soft, perfectly flavored, tender, and absolutely delicious. The definition of drool worthy!
All you have to know is if you serve these rolls to your family or friends, you will score huge points! And they will ask you to make them over and over and over again.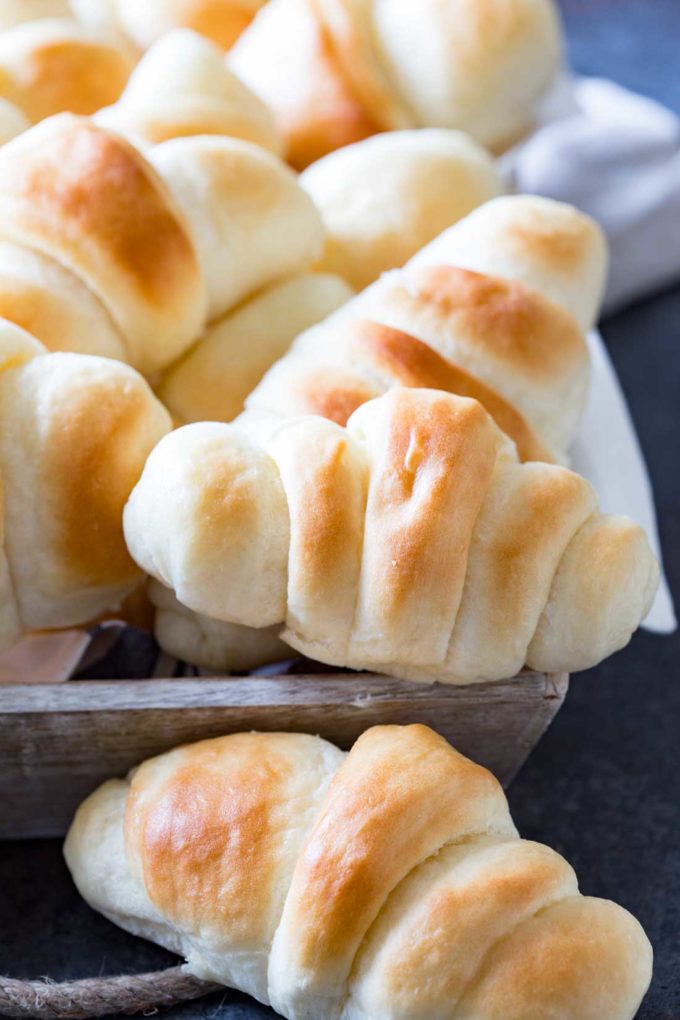 I want to say right now that I am a good cook. People like my food. I am not trying to brag, I just have to point out that in general, the food I prepare is loved and lavished. My in-laws still talk about my shrimp fried rice in reverent tones and it has been a year since I made it for them.
But baking, well…there are a few things I am very good at baking, like quick breads. But in general, I am not a great baker. I am getting much better, as practice makes perfect. But I wanted to make sure I gave you guys the absolute best recipes available for your holiday feasts. And my rolls, while delicious, especially these rustic no knead ones that are perfect when you are in a hurry, aren't the best I have ever had. So today I am sharing the best I have ever had. This recipe is from my friend Michelle. It is her Grandma Volmar's recipe, and I even had her write the instructions out for how exactly to make is there would be no confusion.
Two of the key things are:
Dough Enhancer– She swears by this trick.
Getting your water temp right- If you are too hot you will kill your yeast, not warm enough and the yeast won't proof. So when it doubt, measure the temperature, or take time to proof the yeast.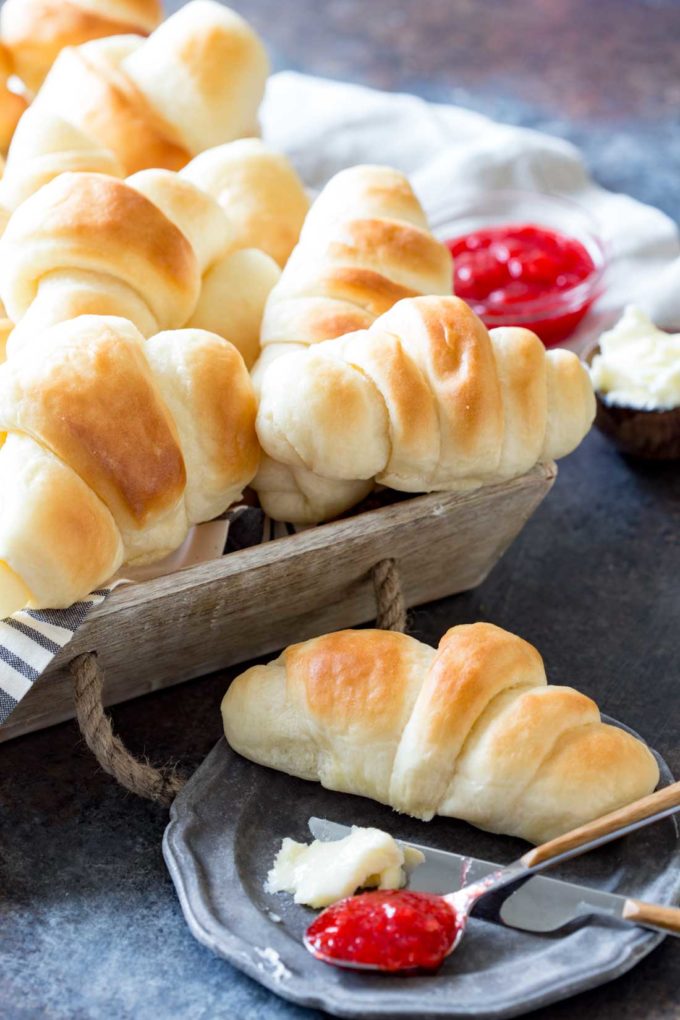 Otherwise, these really are eazy peazy, and so darn good. They are no fuss. And the kind of rolls you could make on a weekday because they aren't too hard to make, and are so good your whole family will love them. They go perfectly with soup, or chowder!
And they make a fantastic addition to your holiday table.
Simple and Quick Dinner Rolls
Ingredients
Instructions
In mixing bowl dump in water (110 degrees or if you don't have a thermometer, it should be hot enough to still touch, and still be able to leave your hand in) add yeast and sugar (I have done it will less sugar, but you do need some sort of sugar to activate the yeast) Mix briefly then add eggs and start adding flour one cup at a time. After adding 2 C of flour, add the dough enhancer and then the salt. The salt inhibits the yeast from going out of control and gives it flavor. Then add 2 more cups of flour. At this point you have to start watching your dough. It should pull away from the side. Add 1/2 C at a time until it's not too sticky and pulls gently away from the sides of the bowl. Set mixer speed to low and set a timer for 5 minutes to allow the mixer to do the work of kneading for you. Once kneaded, cover with saran wrap (spray with non-stick baking spray before you place it over dough) or a damp dish towel. At this point I like to let it rise to double (about 30 minutes) but if I am in a hurry I pull it out of the mixer and start to roll it. (the texture is better if you give it that first rise, but they still taste good if you don't)
Cut dough in half with a dough cutter
Roll one of the dough balls in a circle onto silicone mat (this is worth the investment and saves your counter from the mess as well as the cutting marks. It also helps it to stick less to the counter)
Brush with a quarter stick of butter and cut like you would cut a pizza using a pizza cutter into 12 slices. Roll from the fat end towards the middle and place on silpat (the Amazon brand are half the price and just as good as the name brand)
Repeat with the second ball of dough.
Cover with saran wrap (spray with non-stick baking spray before you place it over rolls) or a damp dish towel. Again allow to rise until double. You can do the poke test to tell if they are read to bake (poke your finger in the dough, it should bounce back, but slowly. Too quick to bounce back and they aren't ready to bake, if your finger poke stays in the are over-proofed)
Bake in a pre-heated 375 degree oven from 10-12 minutes. When hot out of the oven, brush with melted butter.
Notes
Variations: I have tried using half wheat flour with good results, I roll cheese in the middle. or make it sweet and add cinnamon sugar to the dough before rolling up rolls.
7.6.2
873
http://www.eazypeazymealz.com/simple-and-quick-dinner-rolls/
Pin to your BREAD board on PINTEREST:

Get EZPZ Updates In Your Inbox!