Bold flavor and totally meatless meal that comes together in minutes.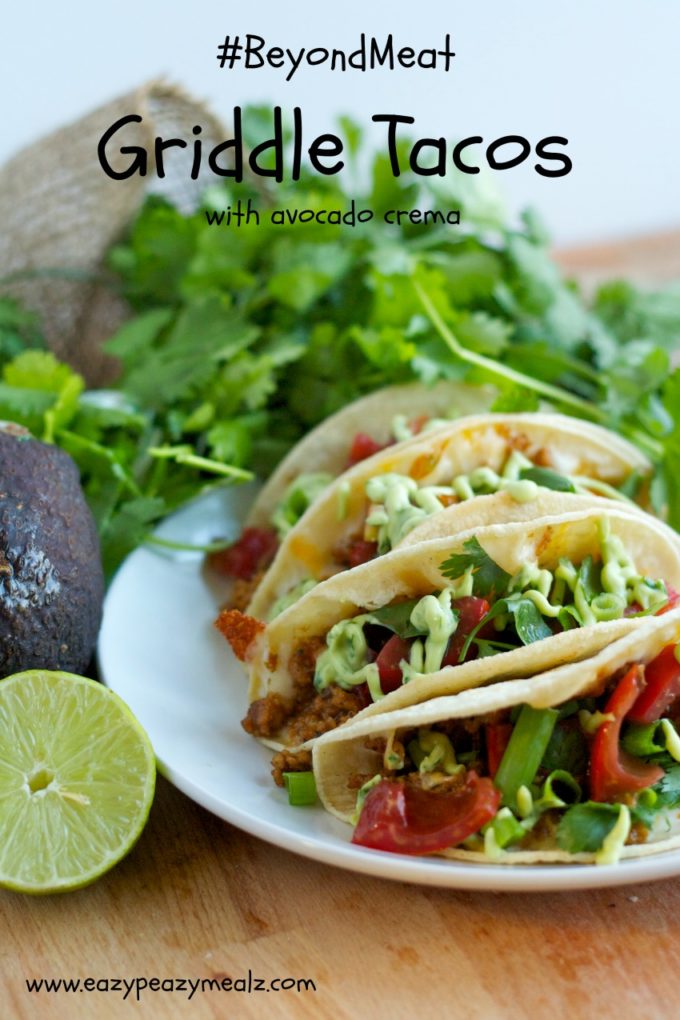 Griddle tacos are my absolute favorite thing to eat. Absolute.  It certainly doesn't hurt that I love avocado, tomato, cilantro, and all the fun toppings that go on top of a griddle taco. But let's talk about what goes inside it for a minute.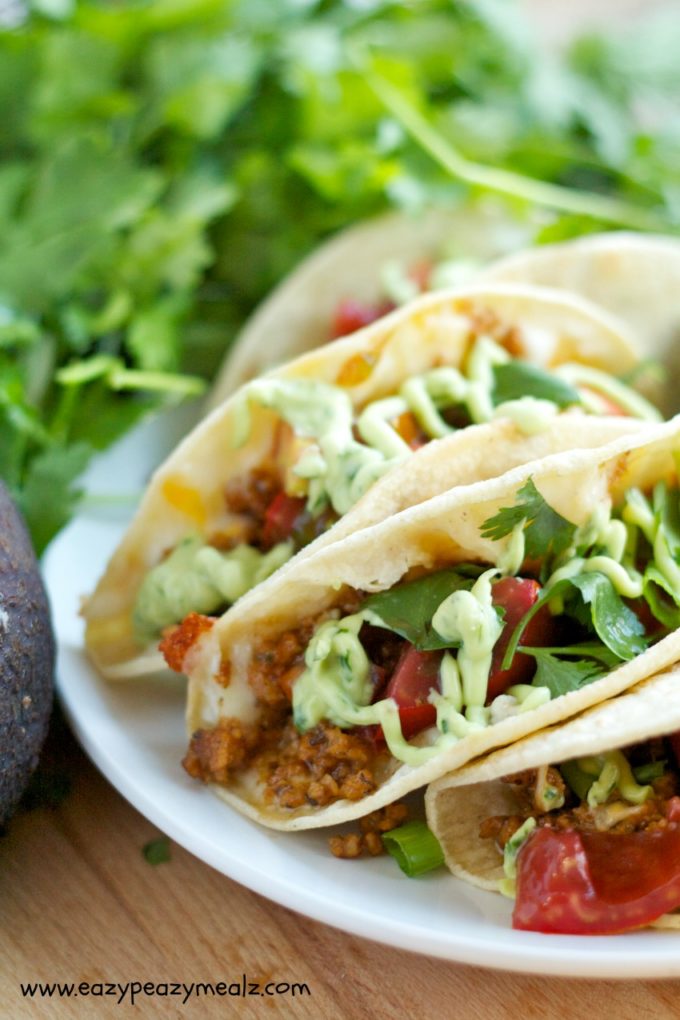 Meat. Why do we love meat so much? Meat is basically the combination of amino acids, fats, trace carbohydrates and minerals, and lots of water that combined give us chew, resistance, and variation. And that is what we love.
So what if you could get all those same things but not from a cow, or a chicken, or some other source of meat? What if you could get that from a plant?
That is what BeyondMeat offers. It offers the meat from the future. Meat from plants.  And it is good!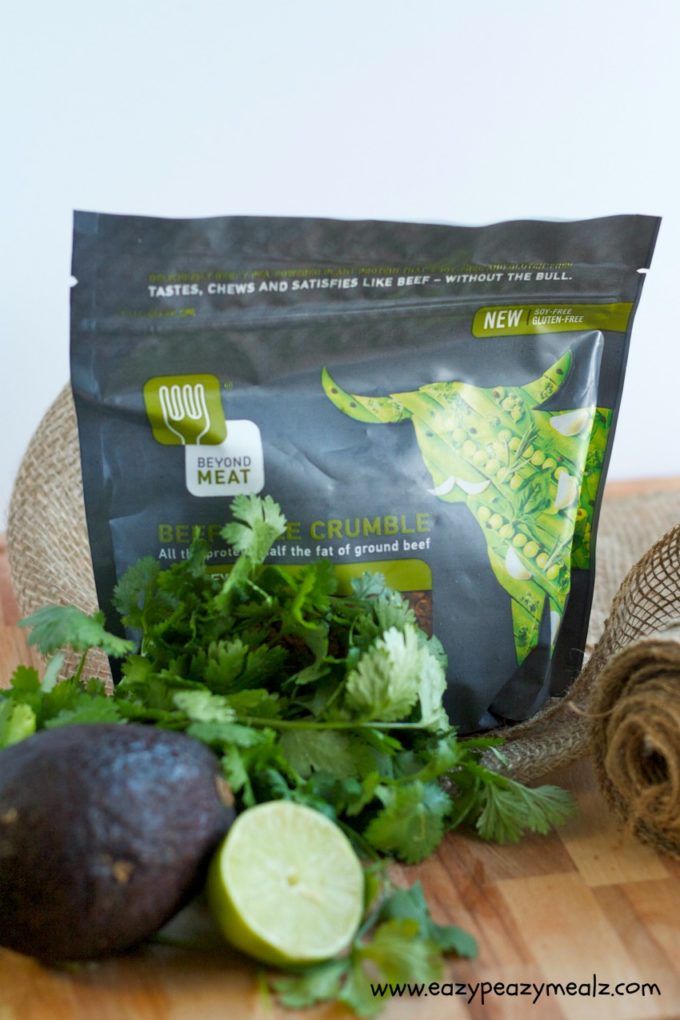 I made these griddle tacos using BeyondMeat crumbles. BeyondMeat crumbles are really great tasting, make the perfect substitute for meat, and are full of good for you things. If you love cooking with a meat alternative you need to give these a try.
BeyondMeat Beef Crumbles are:
Soy Free – Made with 100% Non-GMO pea protein, Gluten Free, and Kosher
10g of Protein – Same as ground beef!
No Cholesterol, Saturated or Trans Fat!
Comes in two flavors:
Beefy – A hint of garlic and citrus makes this perfect for pasta sauces, pizzas and more!
Feisty – A zesty blend of beef crumbles perfect for tacos or chili!
I found the crumbles in the frozen section of the store for about $5.49/11 oz bag. My local store did not have any in when I went in to visit, but I asked them to order them for me, and they did. Very simple to do.  You can find out if your store has them here: Store Locator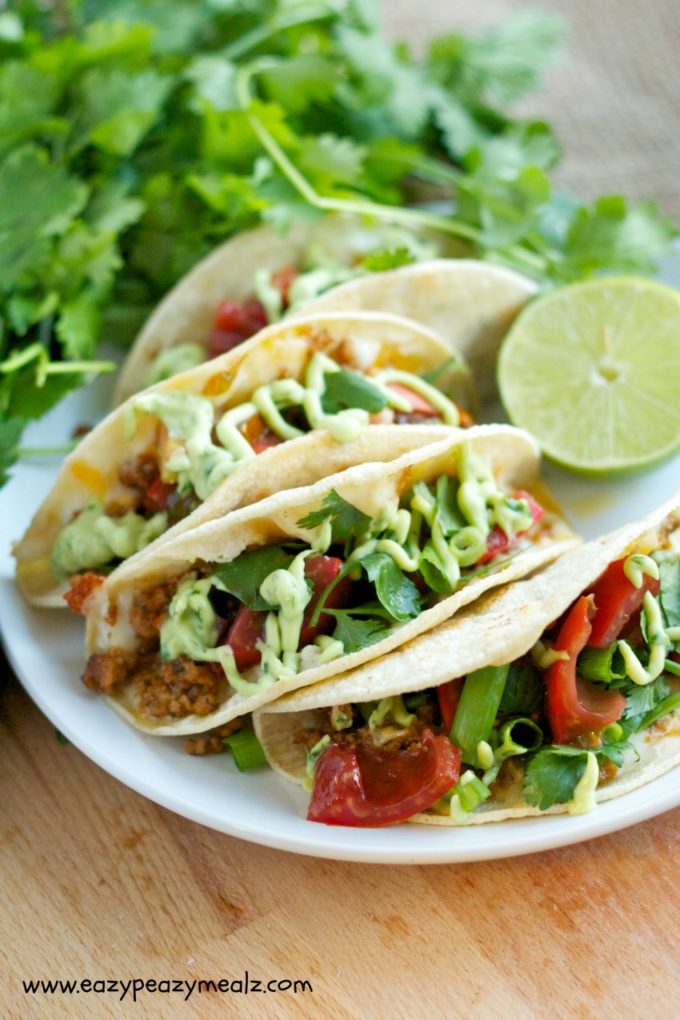 I created an amazing avocado crema to top them with, and then used fresh tomatoes, cilantro, and some green onion. They were delicious. And I did not even miss the meat.

Yields 4
#BeyondMeat Griddle Tacos & Giveaway
10 minPrep Time
5 minCook Time
15 minTotal Time
Ingredients
5 ounces BeyondMeat beef crumbles
1 cup cheese
10 corn tortillas
2 tomatoes, chopped
1/2 cup cilantro, chopped
2 green onions, chopped

Avocado Crema

2 avocados
2 Tbs sour cream
1 Tbs cream
1/2 cup cilantro
1/2 lime, juiced
1/3 of a jalapeno, seeds removed
Instructions
In a blender combine all the ingredients for the avocado crema and blend until smooth
In a medium saute pan heat the BeyondMeat beef crumbles
On the griddle, place corn tortillas on lightly greased surface (spray with cooking spray to lightly grease)
Top with a little cheese
Add meat and cook until outside is crisp and cheese is melted
Remove from griddle and top with onion, cilantro, and tomato, and avocado crema to taste
Enjoy
7.6.4
331
https://www.eazypeazymealz.com/beyondmeat-griddle-tacos-giveaway/
I have always been a little weary of meat substitutes even though they are a healthy alternatives to meat because of a bad experience 10+ years ago with a nasty veggie burger that tasted like cardboard, but this was amazing. I did not tell my kids at all, and not a single one of them noticed a difference. No complaints, and so much better for them. I was thrilled. I am definitely converted to the BeyondMeat way. And I love their mission.
The BeyondMeat Mission: We believe there is a better way to feed the planet.
Our mission is to create mass-market solutions that perfectly replace animal protein with plant protein. We are dedicated to improving human health, positively impacting climate change, conserving natural resources and respecting animal welfare.
This company is the real deal, and has investors including Bill Gates, Biz Stone, & Evan Williams, co-founders of Twitter. You can learn more about BeyondMeat at their website or from their feature in the NY Times and the Today Show
BeyondMeat wants to make the world a better place starting with one delicious meal at a time. Take a minute to look at all the awesome meal options you could have with these crumbles:
Giveaway
Now that you are excited, let's talk about this giveaway! I know that buying a new product you have never tried before can be daunting. What if you don't like it? Are you going to be wasting your money? Well today is your lucky day because EVERYONE who enters will receive a FREE BeyondMeat Coupon! 5 people will get Beyond Meat SWAG kits including t-shirts, hats and coupons for Beyond Meat, and 1 Person Gets: a SWAG kit plus a $100 gift card to a Beyond Meat Retail Partner of their choosing. Awesome right??? So go enter now!
Get EZPZ Updates In Your Inbox!