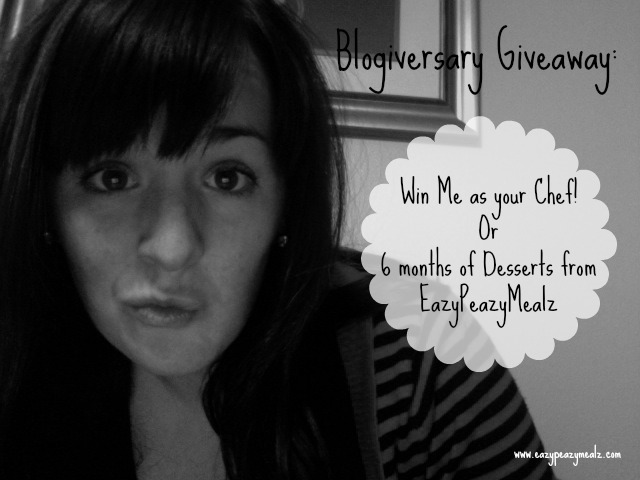 I want to start by saying I have the best fans ever. If it wasn't for you guys, I probably wouldn't be doing this.
I can't believe it has almost been a year of blogging. And boy have I learned a lot. If only I knew then what I know now. Wowzers. Anyway, I am so grateful to all of you for coming along with me, the ups and down, the bumps and bruises, and while I worked through kinks like terrible photography, and being totally clueless.
I am feeling older and wiser, and I am want to celebrate by giving something to YOU!
This giveaway will have 2 WINNERS.
1. Win a Day of me as your Personal Chef!
One winner will receive a day of cooking with me. I get requests all the time to just "cook for me", and so that is what you will win. Me cooking for you!
I will come to your house, bringing with me the ingredients for the most popular posts on my blog. I will fix dinner for your family, and more. (Or you can choose the meal). And I will be at your disposal all day. We can bake together, make freezer meals, or just hang out. Up to you! Must be a UTAH resident to win this prize.
2. Win 6-months of Desserts from EazyPeazyMealz
The second prize is open to anyone in the USA. I have big plans which I will be announcing the week of my Blogiversary, and as part of that I am offering one person a monthly dessert. Shipped to your door, courtesy of me, for 6 months. Or, I can send it to the person of your choosing.
So how do you win one of these two awesome prizes? It is so easy. You just have to be a fan and show the love. There are lots of ways to enter to win.
1 entry for a Facebook "Like"
1 entry for a Facebook "Share"
1 entry for each of your friends or family you send my way who likes EazyPeazyMealz on Facebook and comments letting us know who sent them.
1 entry for following on Instagram @ezpzmealz
1 entry for reposting this giveaway post on Instagram and tagging #EZPZ1Year
1 entry for each person you tag on Instagram on the blogiversary giveaway post who becomes a follower
1 entry for leaving a comment on this post telling me what your favorite recipe I have shared this past year has been.
1 entry for subscribing via email in the sidebar.
Comment below or email using the contact form included letting me know how many times you entered (will be verified)! Winner will be selected randomly on April 1st, 2014!
[contact-form][contact-field label='Name' type='name' required='1'/][contact-field label='Email' type='email' required='1'/][contact-field label='Website' type='url'/][contact-field label='Comment' type='textarea' required='1'/][/contact-form]
Thanks for being the best fans in the whole world! I can't wait to cook with one of you.