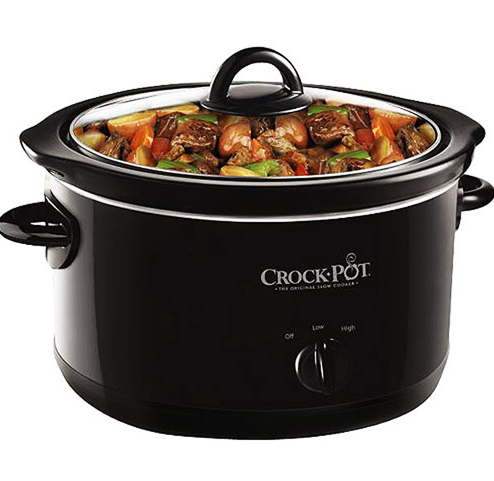 It is back to school time, and that means busier schedules, and less time for food prep. This is where crock pot cooking can come in really handy, especially for moms and dads that work, and don't really feel up to cooking after a long day at the office.
I used to think that crock pot meals really sucked. I was always under the impression that you just dump some ingredients in a pot, and turn it on, and 6-8 hours later you had this magically delicious meal. While there are some recipes that work that way, most do not. At least not quite so simplified.
For one, a crock pot is not much different than an oven, it can't add flavor or infuse anything special into your meal, it is just a low and slow method of cooking, albeit a convenient one. The trick to truly delicious crock pot meals is knowing what to cook in a crock pot (and by that what to avoid), how long to cook those meals for, and in doing the right prep work.
Most of the times that I have been disappointed by my crock pot meals, it is because I did not cook it at the right temperature or for the right amount of time, or did not understand how to cook in the crock pot. Here are my suggestions:
1. Get organized.
To make the best crock pot meals possible you want to organize your ingredients, your time, and your schedule. If you want to eat at 6 pm, and the meal needs to cook 6-8 hours, don't start it at 7 am, start it about 7 hours before. Choose your recipes based on your schedule, how much work you are willing to do, and what your family likes to eat.
Consider getting a crock pot cookbook to help you make great meals. This one offers about 1400 recipes:

2. Timing is everything.
Even though the idea is to fix and forget, some things will dry out if left in a crock pot too long, turn to mush, or just not work very well. In addition, if you are going to be gone for the whole day, you will want to wait until the last possible moment to throw things in, and only prepare items that are supposed to be cooked long and low, such as brisket and roasts, stews and soups.
In other words, make sure you know how long something is supposed to cook for, and don't let it go longer than the suggest amount of time. For example, I will be sharing a s'mores fondue that is prepared in the crock pot but only needs an hour and half to two hours on low. Longer will ruin it.
If you don't want added veggies to all turn into a single flavor mush, know how long certain things cook for, and add them to the crock pot accordingly. There are some dump, stir, cover, and forget type meals, but others require you to add ingredients at different points of the cooking process. Keep this in mind when selecting your recipes.
One tip: If you want a low and slow meal, do not use chicken, or use a bone in chicken. Chicken breasts usually dry out in the crock pot, and as far as I am concerned do not taste good at all! If using chicken breasts, cook for a shorter time period, or add in part way through the cooking process.
3. A little "cooking" before goes a long way.  
One thing I have really learned when it comes to cooking meat in the crock pot is that doing a little prep work can make a world of difference in the flavor, moisture content, etc. When making a roast, sear it in a pan first. This will help hold in the juices, making it far more tender and moist.  When adding meats to soups, etc. it is usually best to cook them before hand.
4. Make a multi course meal.
One of my favorite kitchen items is my three pot crock pot cooker. I love making my whole dinner in the crock pot all at the same time. I will usually do an appetizer, a main dish, and a dessert. But you can do bread or a side as well. I love the GE three pot cooker I have because it allows you to cook at a different temperature in each pot. They have individual settings. This means I can start a three course meal, but turn on each item accordingly, or cook one on low and another on high.
The other benefit of doing this is that if something doesn't turn out, at least you will still have something yummy to eat.
5. Supplement with fresh.
To be honest, I have found that I prefer most of my veggies to NOT be cooked in the crock pot with meats. If adding veggies to the crock pot, choose ones that cook well and hold texture when cooked for a long time. Potatoes, carrots, and onions are my favorites. All other vegetables are best added in the last hour of cooking, or served on the side, prepared outside the crock pot.
I have seen a lot of "freeze and dump" meals where you prepare your crock pot meal, put it in a freezer bag, and on the day you want to eat it, just dump it in the crock pot and let it cook. I have tried MANY of them, and frankly, I am rarely impressed. If you are going to try and make freezer crock pot meals, stick with meats only, or be sure to properly prepare the vegetables with blanching, otherwise it does not turn out that great. I have wasted a lot of time, money, and had a lot of last minute pizza runs when a freezer crock pot meal did not turn out to be all that it was cracked up to be. Any that I post and indicate can be used as a freezer meal too are tried and tested.
I hope you enjoy the next few weeks of crock pot appetizers, main dishes, sides, and desserts. I know I appreciate a good fix and forget meal during the busy school year.  If you have any you love, and want to share, let me know! I would love to have your contributions.
Some product suggestions:
This is the 3 pot crock pot I have, but I got it on sale at Target, for a fraction of this price. I include this link so you can see the options, but recommend looking for a lower price.

This is a more affordable option:

Reduce the clean up even further with crock pot liners:

A great crock pot cookbook can help inspire you to make even more great meals: