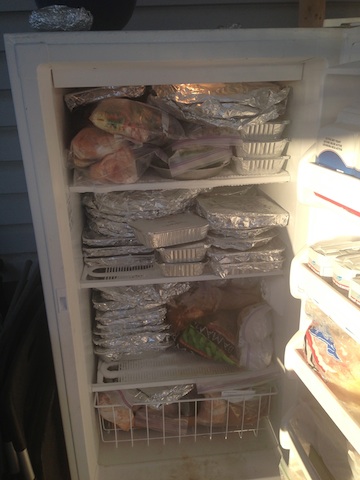 Freezer Meal Cooking: Part 3 The Tips and Tricks of Freezer Meal Preparation.
If you haven't read Part One: Planning Your Freezer Meal Cooking Day, do so here.

MY LATEST RECIPES
If you haven't read Part Two: Implementing Your Plan, do so here.
There are a lot of tips and tricks for making the most of your freezer meal preparation time, as well as making sure you get the highest quality foods and flavors. Here are our top ten that we haven't covered yet:
When preparing sauces or liquids, turn a freezer bag over a cup like you would a garbage can liner. This makes it easy to add liquid without it spilling.  I use this method when preparing the Mongolian Beef, Orange Chicken, and Sweet and Sour Chicken. It works like a charm. It is fast, easy, makes no mess, and makes it so you can prepare several sets at a time.
Season your dishes lightly before freezing, and add most of your seasonings when reheating. Some spices change during freezing. For example, pepper and garlic can get stronger and bitter, curry can get musty, salt can lose its flavor. Just be sure to put "season" on the instructions so that if you aren't the one heating it to serve, this step won't be neglected. Otherwise it will be a bit bland.
Blanch or steam veggies and cool them quickly in ice water before freezing.  This will inactivate enzymes that damage flavor, nutrients, and texture during freezer storage. For a blanching guide, visit here.
Thicken sauces and gravies with flour or cornstarch after thawing. It will separate when frozen, and the consistency won't be as good.
Know what freezes well and what doesn't. For example, mayo breaks down when it is frozen, use "salad dressing" instead of mayo for freezer meals.
Freeze food quickly. Less freezer burn means better taste. Cool all foods before packaging and freezing. This will help to speed up the rate of freezing and help retain the natural color, flavor, and texture of the food.
Remember frozen food expands, so leave some space in your container so that when it expands it won't break seals, or damage the packaging.
Choose the right containers. Use our container guide found here. Label before you put anything in the packaging. Also, try using freezer labels, freezer tape or pens, and other products made especially for freezer use. Be sure to put the date, what it is, and how to prepare it on the outside of the package. If freezing a casserole that is lined with plastic wrap then foil, be sure to indicate it. That way you won't put it in the oven with the plastic wrap on it.
Only keep food for 1-3 months. It will still be safe to eat after, but will lose nutrients, flavor, and the appearance will decline after a longer time period. Keep an inventory list on the outside of your freezer so that you use things up within the three months, and not waste anything.
10. Add a little sugar when freezing fruits, it helps them to have better texture and color.  Or use an antioxidant like ascorbic acid or citric acid. This keeps light-colored fruits from discoloring.
Get EZPZ Updates In Your Inbox!