This post is sponsored by Iowa Corn, all opinions are my own.
Earlier this month one of the Eazy Peazy Mealz team members were lucky enough to join Iowa Corn on a Corn Quest, and spend a few days in the lovely state of Iowa where she learned all about corn! Spoiler, corn isn't just a delicious food for eating, it's used in animal grain, whiskey, ethanol fuel, sugar, and more.
One of the parts of this food blogging gig I love the most is the education piece. As a busy mom, I do not take enough time to always educate myself about the food I purchase. As a blogger, I have had countless opportunities to really go behind the scenes, meet the farmers, the cheese makers, the pasta makers, and more, and learn more about the foods that are being produced and consumed around the world. And I love being able to share some of that with you all.
For example, did you know:
Last year, Iowa corn farmers grew 2.7 billion bushels of corn on 13.5 million acres of land. At 56
pounds per bushel, that's over 150 billion pounds of field!
In Iowa, over 97% of the corn is grown on a family farm.
Less than 1 percent of corn grown in Iowa is sweet corn, about 3,400 acres. So what else is corn used for than straight up eating? Most of Iowa's corn goes into animal feed and ethanol production, but it's also used to make starches, sweeteners and over 4,000 everyday products.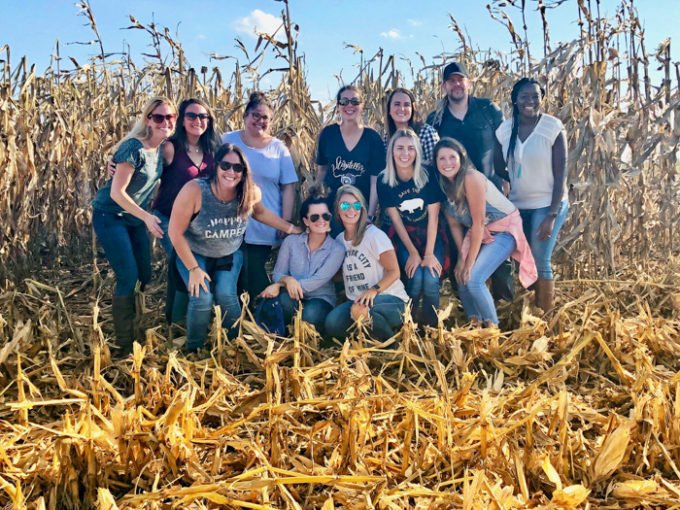 Corn–More than Food
One of the biggest take-aways I had from the Corn Quest is that corn, and the farmers that grow it, impact my life far more than I ever realized.
Corn is used in so many different ways, and is extremely helpful in our lives. I feel so much love and appreciation for the hardworking farmers in America, and for the crops, they grow that impact so many areas of my life and yours.
I was lucky enough to get to meet with a couple of those farmers while out in Iowa and let me tell you, they are amazing! I learned so much from them and now I'm excited to share some of that knowledge with all of you.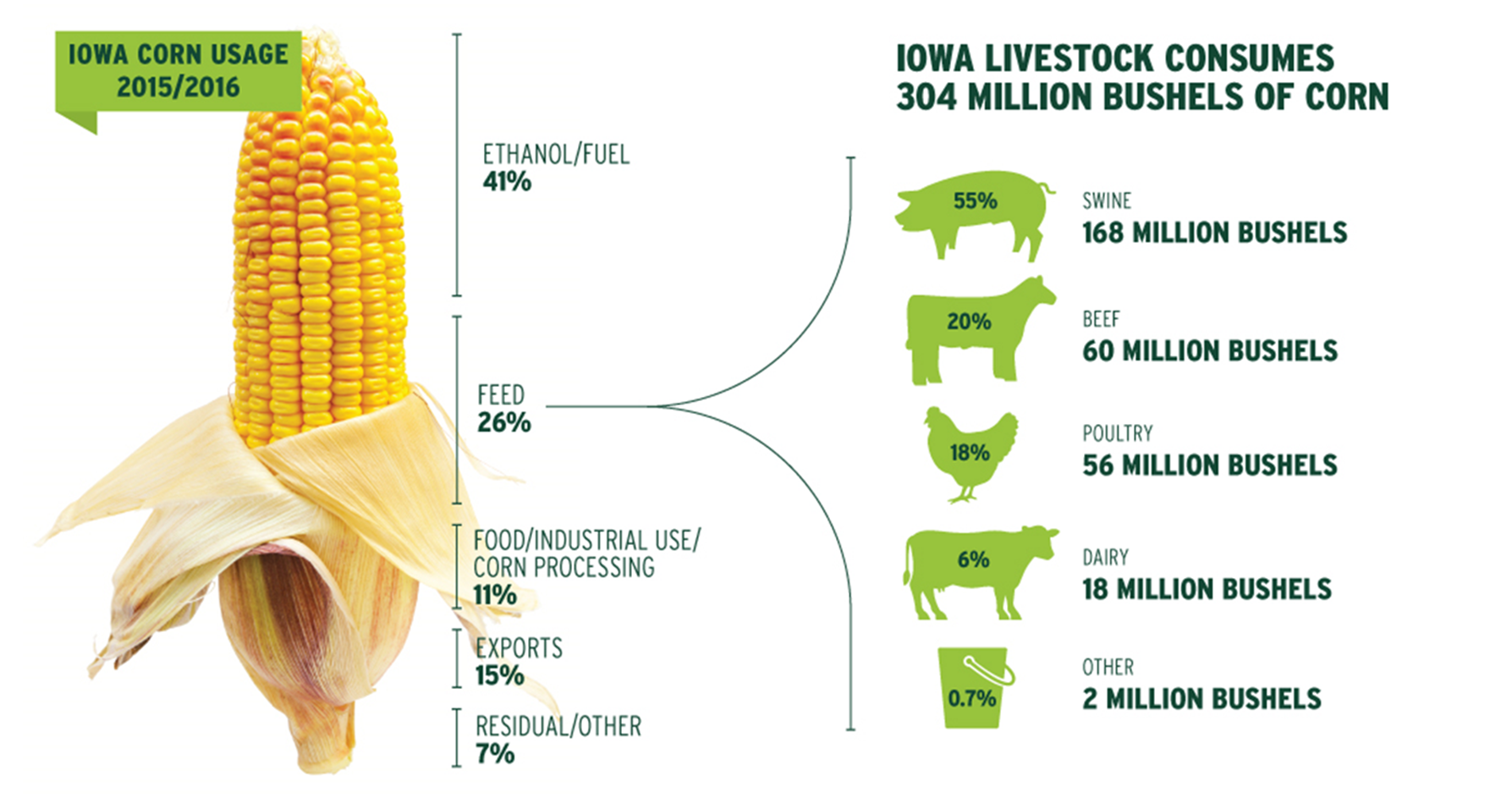 Here are a few things I learned on this trip:
Corn Farmers Are Dedicated:
These farmers are dedicated, to their animals, their crops, and their missions for sustainability, cleanliness, and safety. They are dedicated to their farms, their animals, their families, but more than that, they are dedicated to helping this country and even the world become better, cleaner, and safer. The corn that they grow helps in so many areas of our lives, like food for humans and animals, as well as a fuel for our cars and homes. 
Corn can produce Cleaner Energy:
Let's chat about cleaner energy. There are a lot of opinions out there on ethanol fuel. I'm going to touch on both sides of the spectrum. While we visited the Iowa Speedway, the fastest short track in the world, we were able to talk to members of the American Lung Association about the energy source of ethanol. Currently 60-70% of pollution is caused by mobile transportation. They showed us the difference between gasoline burning and ethanol burning. This shows just how much pollution can come from pure gasoline. As you can see in the picture, ethanol burned much cleaner.

Did you know that 98% of gas sold today has at least 10% ethanol in it? Some states even have laws that require ALL the gasoline in their state to have ethanol fuel in it. Those states have seen what a positive impact clean fuel can have on the environment.
While ethanol can be great for the air quality, it is not so great for small engines. Small engine machines such as, boats, motorcycles, yard tools, and snow blowers are not compatible with ethanol fuel, however, many cars are. If you're wondering if your car can use ethanol fuel, you can look for a sticker on the bumper that will tell you, the owners manual should also say something about it, lastly many vehicles 2001 and newer are compatible with ethanol fuel. Educate yourself and then help keep our air clean.
No Waste:
When visiting the Blair Family farm, Kellie Blair told us how they sell their corn to ethanol processing plants, then turn around and buy back those part of the corn that aren't used for ethanol and it is used as feed for their animals. Not one bit of distillers' grain is wasted in the process of creating this energy source. The factories that make ethanol even go so far as to capture the Co2 that is released during the process and reuse it in things like fizzy drinks. Now that is using something for all it's worth. By not wasting any of the corn money is saved and our environment is helped.
GMO's aren't as bad as we think:
I know there are a lot of controversial opinions surrounding Genetically Modified Organisms, and I am not looking to get in a debate. Instead, I want to say I didn't know much about GMO's when I went to Iowa. After having lunch with Ruth MacDonald, PhD, RD, a professor and Chair of the Department of Food Science and Human Nutrition at Iowa State University, I feel like I understand them a bit more. I also now understand why GMO seeds are necessary. There are places in the world that crops would not be able to grow without GMO seeds.
Organic isn't always what it seems:
One thing that I was shocked to learn was that just because something is labeled organic does not mean it is pesticide free. In fact, pesticides are necessary for protecting crops while they grow.
When crops don't come from GMO seeds they have to be sprayed with pesticides. That means those crops actually have a larger dose of the pesticide than the crop that was grown from the GMO seed. The farmers we met in Iowa use GMO seeds to help their crops which in turn helps everyone else, including our environment. These farmers really are dedicated to our planet. One farmer said they know how controversial GMO is, but they feed it to their families, and asked why they, the ones who grow the corn, would feed their families something inferior?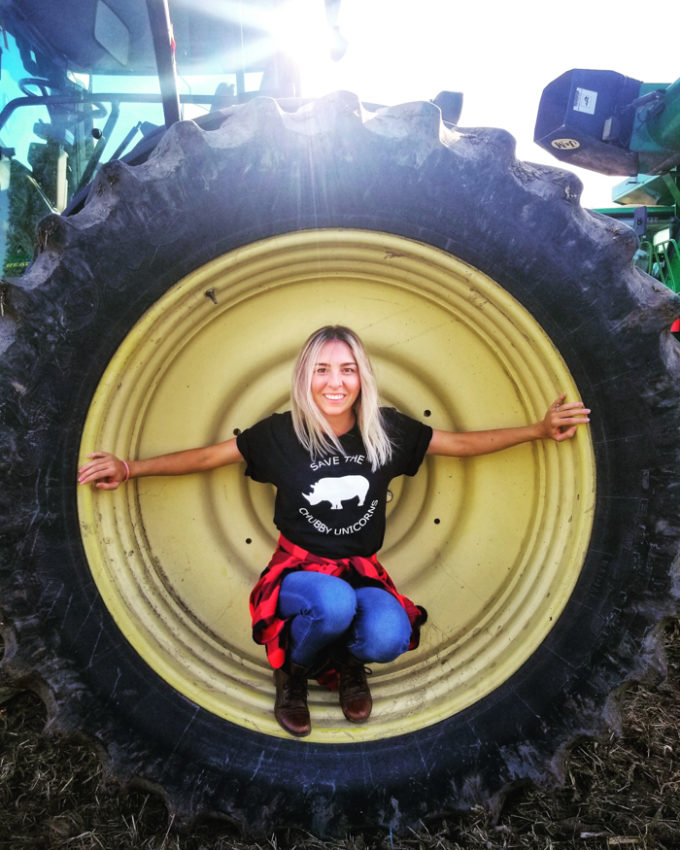 I loved learning all about corn from America's farmers. It was also great to be educated on two topics that can be quite controversial, ethanol fuel and GMO seeds. This trip to Iowa has taught me that I need to put much more research into the foods and fuel I use in my daily life and I hope you all do the same. It also taught me that corn can be used in so many different ways, even desserts! Corn Cream is probably the tastiest thing I've ever tried.
Lucky for you guys I ate all sorts of food dishes involving corn while in Iowa, which means I had to make a recipe for all of you inspired by this trip!
To learn more about corn, and all the amazing things it is used in, and how the dedicated Iowa family farmers are producing corn visit iowacorn.org.