How to Keep Your Family Hydrated with Primo Water
This post is sponsored by Primo® Water, all opinions are my own.
My family is working to establish healthy habits one small change at a time, starting with better hydration. We are doing this with a hydration station that helps us to reduce plastic waste, drink safer water, and stay properly hydrated. The whole family is involved, even the fur babies!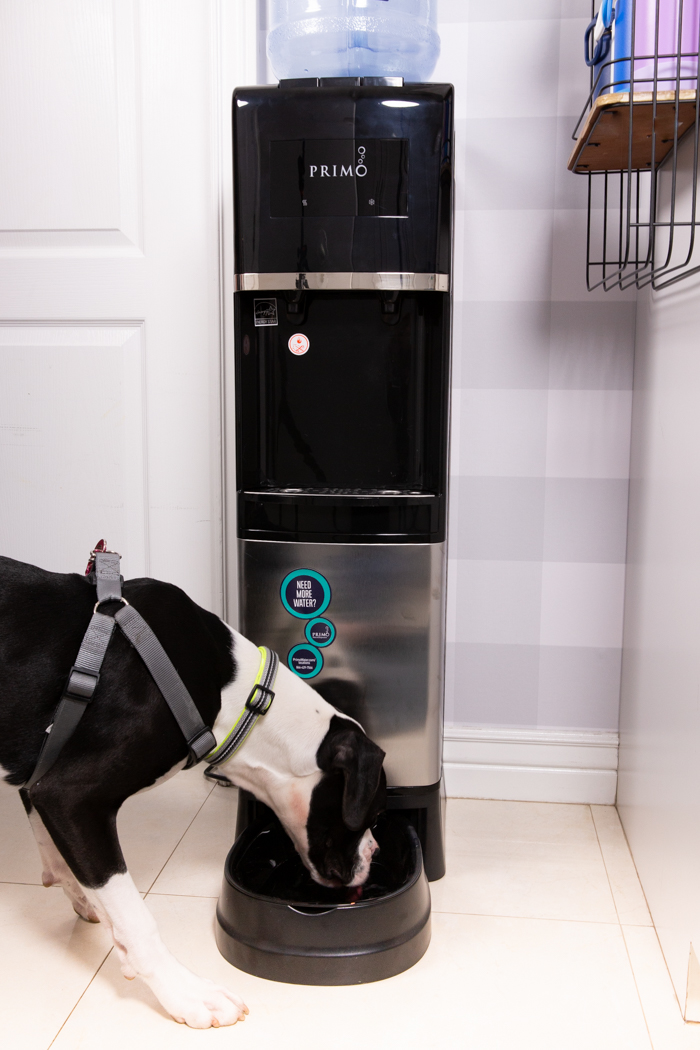 Establishing Healthier Habits
Did you set resolutions this year? It is May now, so I feel like most people have let go of their resolutions and slipped back into old habits. I know this is usually the case for me and my family, but this year some of our resolutions really mattered to us and one of those was to have a healthier, happier 2019.
Now I realize this is a broad, generalized resolution, but it is the overall goal, and with it comes many smaller goals or in our case, routines that we have implemented to get us there. For example, we have implemented a dinner schedule, a bedtime routine, have brainstormed ways to spend time together as a family, and of course focused on making changes to our health through our eating and drinking habits, which have led to some changes in the way we shop, meal plan, and even in our home decor!
We are focusing on cutting back on the junk, and increasing the good. Like drinking more water.
And we are doing this by evaluating what is causing us to slip into bad habits, and implementing systems to make choosing healthier options easy.
Changing Bad Habits- Hydrating with Primo Water
In order to really make lasting change, I had to evaluate what was leading to our bad habits in the first place, so I could address those things, and find ways to make establishing new habits easier and more lasting.
I have complained for years about how I am so bad at drinking water. And have never really done anything about it. I have bought a new water bottle here and there, but rarely remembered to take it with me when I left the house, and thus defeated the purpose.
And this is why we created a "Hydration Station".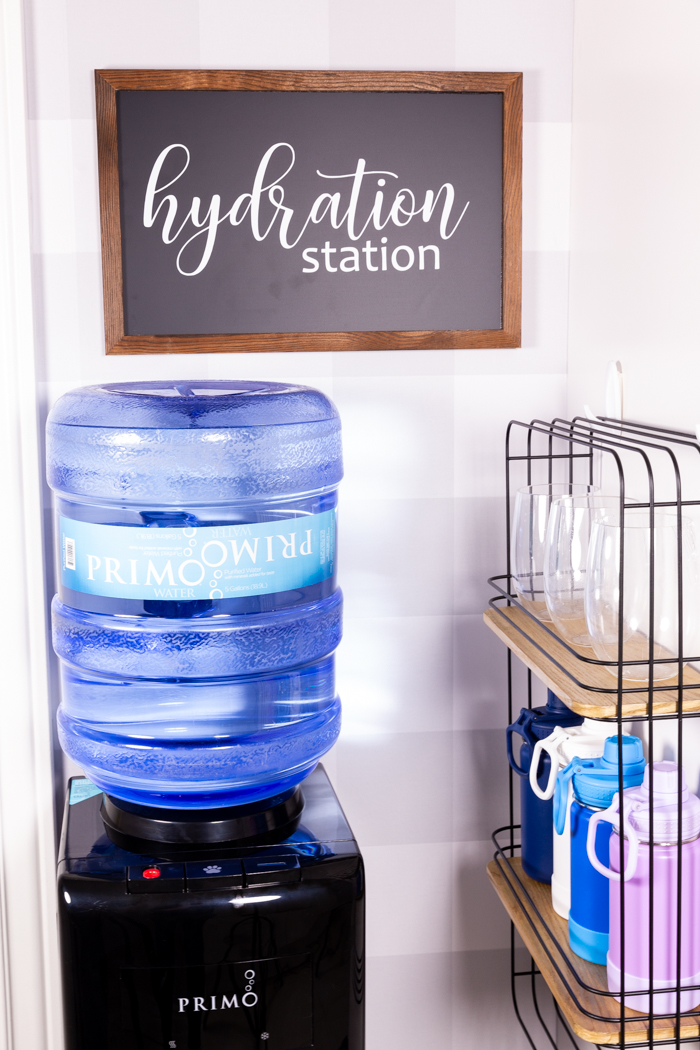 After looking at what factors were keeping my family from hydrating properly I realized one was simply not planning for it. And so the birth of the hydration station, which is situated right at the back door of our house, leading to the garage. When I read that bulk water drinkers drink 25% more water, I knew that needed to be part of our solution. So we opted to create a space for a water dispenser. And we went with a deluxe top loading water dispenser with a pet station.
Now each time we leave the house we see our Primo® Water Dispenser, and our water bottles as we walk out the door. This was the perfect solution as it made filling those bottles up and taking them with us simple and convenient.
I can't believe how much more water my family is drinking.
And as we are working on  better health for the whole family, we are including our two fur babies–Duke and Cash! And the Primo® Water Dispenser is helping us keep them properly hydrated as well with the perfect pet dispenser and water bowl.
As we leave the house for a walk, or return from one, I can easily fill their water bowl with the dispenser, and give them safe, cool water, they love!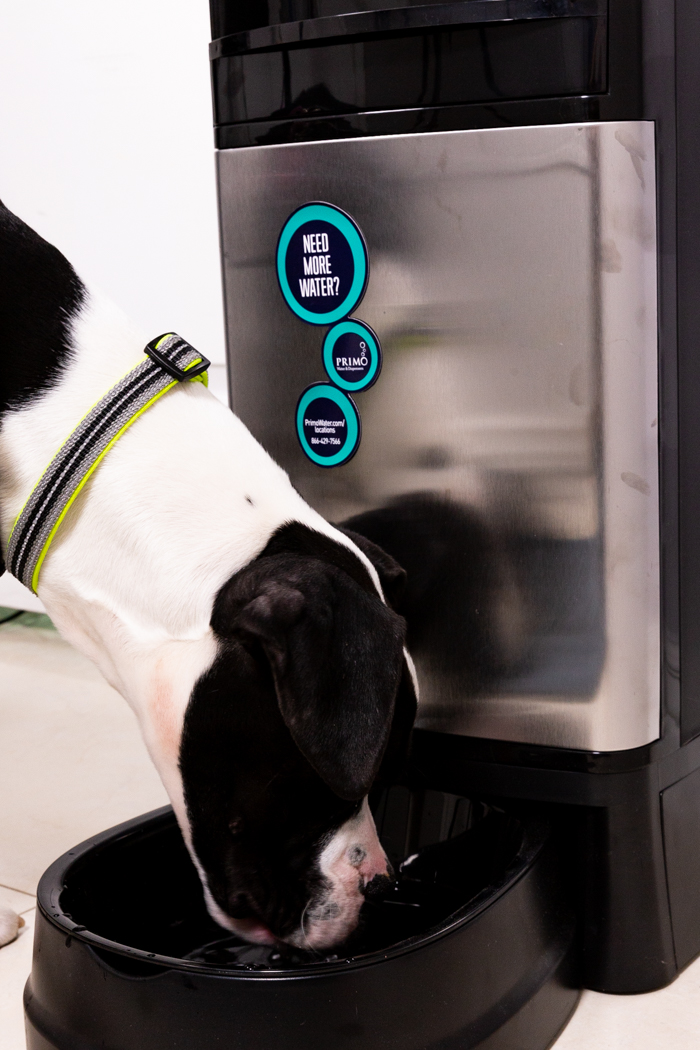 Primo Water Dispenser
We knew we needed a solution to better hydration, and I knew I wanted a water dispenser to help make it happen. Why did we chose Primo® Water?
Primo is Easy to Use:
I wanted a dispenser that was easy to use. You know me, I am all about the eazy peazy. And this dispenser was the perfect solution for us because it had so many features we loved, and took like 2 seconds to set up.
Primo® Water Offers Great Features:
Hot Water on Demand
Cold Water on Demand
Dog/Pet dispenser
Safe Water- More below on this
Less Waste- Love eliminating single use plastic one drink at a time.
Healthier Habits- bulk water drinkers drink 25% more water.
Reverse Osmosis treated water.
Spill proof bottles with leak guard
Dishwasher safe drip tray and pet bowl
LED nightlight

Easy to Load the Water Dispenser
Have you ever tried to load a water cooler and ended up getting water everywhere? Those bottles are heavy, and if you miss the mark it is like…hello flood! Well not with Primo Water. The Primo® Water Bottles offer a spill proof top with leak guard which makes loading SO MUCH EASIER.
This is really important to me because my husband travels a lot, which means I am left hefting those heavy bottles up onto the top loading dispenser, and I wanted to make sure I wasn't splashing my cute wall-papered wall in the process.
The dispenser has a spike like thing that will puncture the white part  of the cap, and so there is no spilling as the bottle has to be on the dispenser before the leak proof guard is punctured.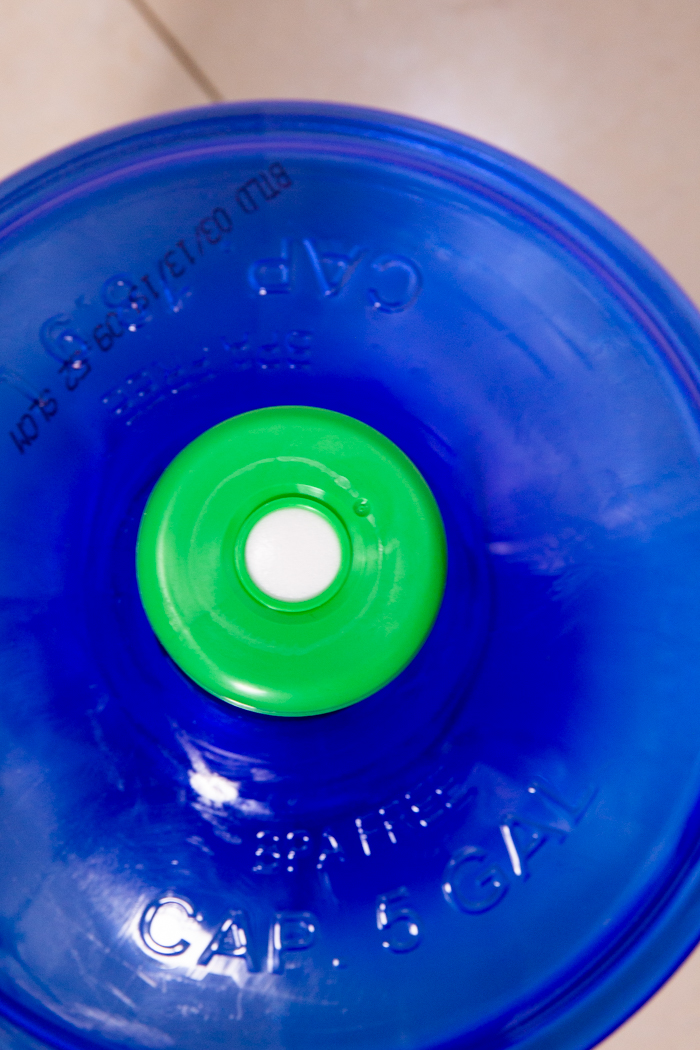 Refill and Exchange is SO EASY
I had no idea how easy it would be to keep my water dispenser stocked with water. Honestly, I initially wondered if the effort would be a waste because I would forget to get new bottles. But luckily refill and exchange is easy, and affordable. And I found plenty of places to get Primo Water.
Primo actually offers a couple of options for refill and exchange. You can learn about that here: Exchange Or Refill
In a nut shell, you take the old bottle back, and recycle it (hello happy eco system), and you get a ticket that gives you a discount on your next bottle.
OR
Bring whatever bottle you have to a refill location and fill it up, then take it home and drink it down.  Find out where the 20,000 refill retailers are located with this finder.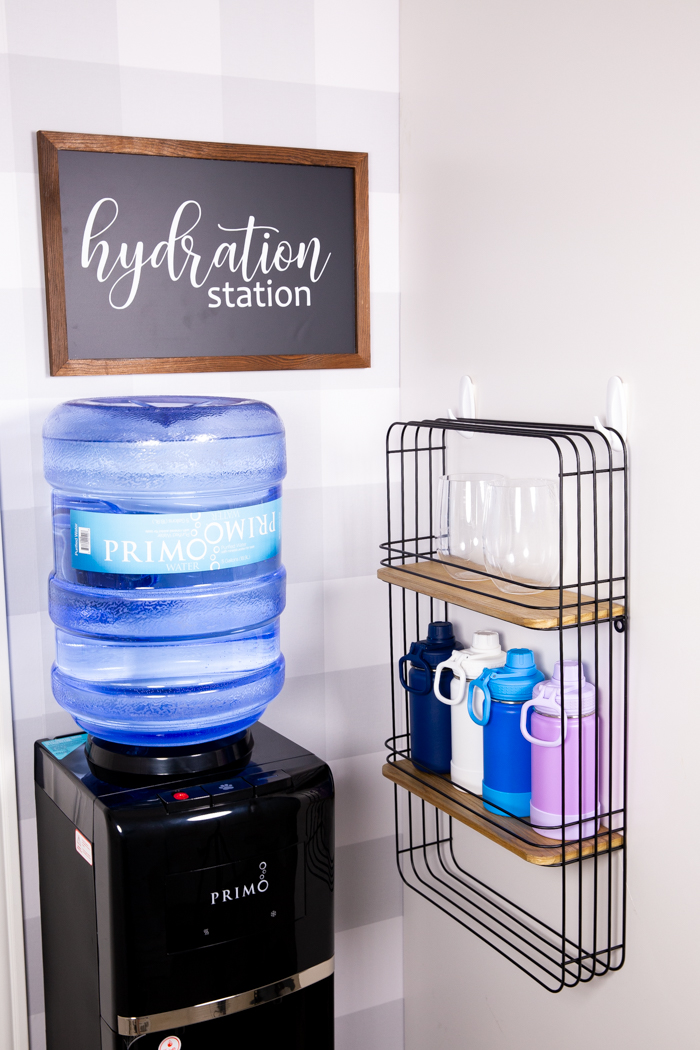 Safe Water
One of the things I love about the Primo Water Dispenser is that I am offering my kids and my pups safer water. Not only is the internal water reservoir stainless steel, which helps prevent bacteria growth, but the water itself is better that filtered water, as Primo Water is not a filtered water, but one that is treated using a 5 step process including reverse osmosis!
When you exchange you always get a sanitized bottle.
And the drip tray and pet bowl are both dishwasher safe which makes cleaning the dispenser easy.
Less Waste
One of Primo's primary goals is to leave a positive impact on the environment. After spending a lot of time in third world countries where beaches aren't kept clean, I have seen the impact single use plastic is making. And while the problem seems insurmountable sometimes, I know I can at least try and do my part.
I have started using glass meal prep containers, eliminating single use plastic in my home, one lunch bag at a time, and changing from individual bottles of water to a  bulk water dispenser is just one more step in that process.
Each Primo® five-gallon bottle saves up to 1,100 single-serve plastic bottles from landfills and oceans over the course of its 40-use lifetime. I would say that is a big impact!
Learn more at Primowater.com! and use the code DRINKPRIMOWATER25 for 25% off ALL dispensers. So if  you do not need the pet dispenser, consider  the other options! You will also get a coupon for your first 5 gallon bottle will be mailed after purchase! There is FREE fast shipping to 48 states!

What I Have Learned About Making Healthy Changes
Look For the Why: Why are you making choices you weren't. Like eating unhealthy foods, or not spending enough time with your family, or not drinking enough water?
Make Change Easy: Look for ways to make the changes you want easy to implement by addressing the why. We weren't hydrating properly because we weren't prepared. Creating a hydration station at the crossroads reminds us to hydrate.
Establish Routines to Keep Habits Going: Did you know it is easier to establish a new habit if you piggyback an existing one? It is called habit stacking. I simply added exchanging the bottle to my weekly shopping trip so we would always have Primo water. It didn't require adding a whole new task, simple adjusting one I was already doing to include it.

Pick the Right Tools and Resources: For us, getting the right dispenser to meet our family needs was huge. We have hot water for things like my morning tea, cold water all day, and a way to meet the needs of the whole family for hydration, even Duke and Cash!

Constantly adjust and evaluate:  If parts of the process don't work, adjust them. I realized my family didn't always have a water bottle on them, so we set up a shelf by the water dispenser to hold the bottles, and got two for each family member so we can swap them out. Adding the cups near the water made a huge difference in how often we actually drink water!
What healthy habits are you trying to implement?
Pin to your family health board on Pinterest: