This post is part of a social shopper marketing insight campaign with Pollinate Media Group® and Brita, but all my opinions are my own. #pmedia #BritaOnTheGo https://my-disclosur.es/OBsstV
The right tools and a little planning make it easy and fun to stay healthy and hydrated despite an on-the-go lifestyle!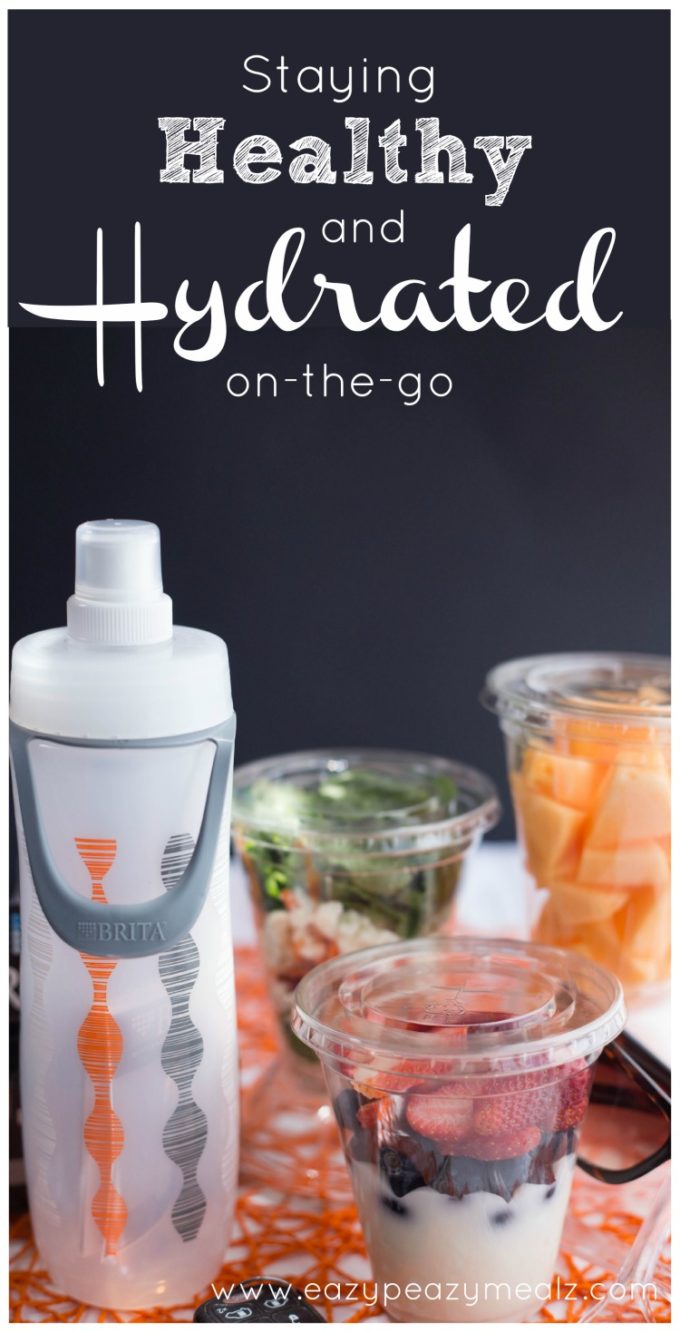 Staying Healthy and Hydrated On-the-go
©Eazy Peazy Mealz by EazyPeazyMealz.com
Pin it to your snacks board to SAVE it for later!
Follow Eazy Peazy Mealz on Pinterest for more great tips, ideas and recipes!
I have 2 tips for staying healthy on-the-go:
Carry water
Bring your own healthy food.
Sounds easy enough right? But really… is it? Let me tell you how!
One thing I love about summer is all the fresh healthy foods and garden produce. In theory it should be super easy to stay healthy in the summer. The problem is we are often busy in the summer, and tend to lead an on-the-go lifestyle. There are days spent at the theme park, the beach, the pool, the playground, and more!
It is "fun busy", but busy none-the-less. So despite healthy options being readily available, we still often opt for the less-healthy, but more convenient foods and drinks. Those fun-filled days often come with theme park foods like churros, funnel cakes, and sodas. Or fast food meals. Despite the healthier options, fresh garden produce, and ice cold water, it is just easier to eat and drink junk foods.
I needed a plan of action that makes staying hydrated and healthy as easy as drinking sugary beverages and eating junk food. My plan was/is two part, addressing both problems: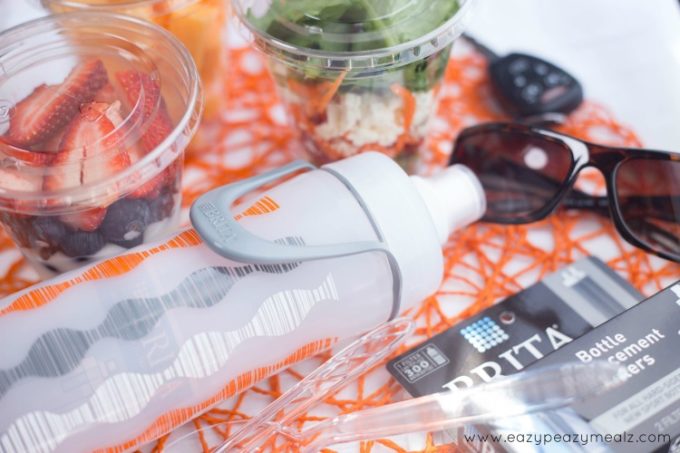 Problem One: Healthy Hydration On-The-Go
I had to have a way to make drinking water easy. So, the first thing that comes to mind is a reusable water bottle! Right? But have you ever taken a reusable water bottle to the beach, or theme park before? On a hot summer day, how long does it last you? Like 5 minutes right? So you are either stuck with taking a million bottles with you (heavy and not cost effective), or using drinking fountains, or buying something.
For me, lugging a million water bottles is not an option, and since drinking fountain water is typically riddled with Chlorine, and tastes awful, I often buy drinks when my water runs out. Usually soda!
But that has changed! I was at Walmart, back in the Hardware department, and came across these Brita Water Bottles. They are BPA free bottles that are great for getting fresh filtered water, wherever you are. The Brita® Bottle water filter helps reduce the amount of Chlorine commonly found in tap water and drinking fountains. Meaning you get freshly filtered water that tastes great wherever you are! Even the theme park or pool!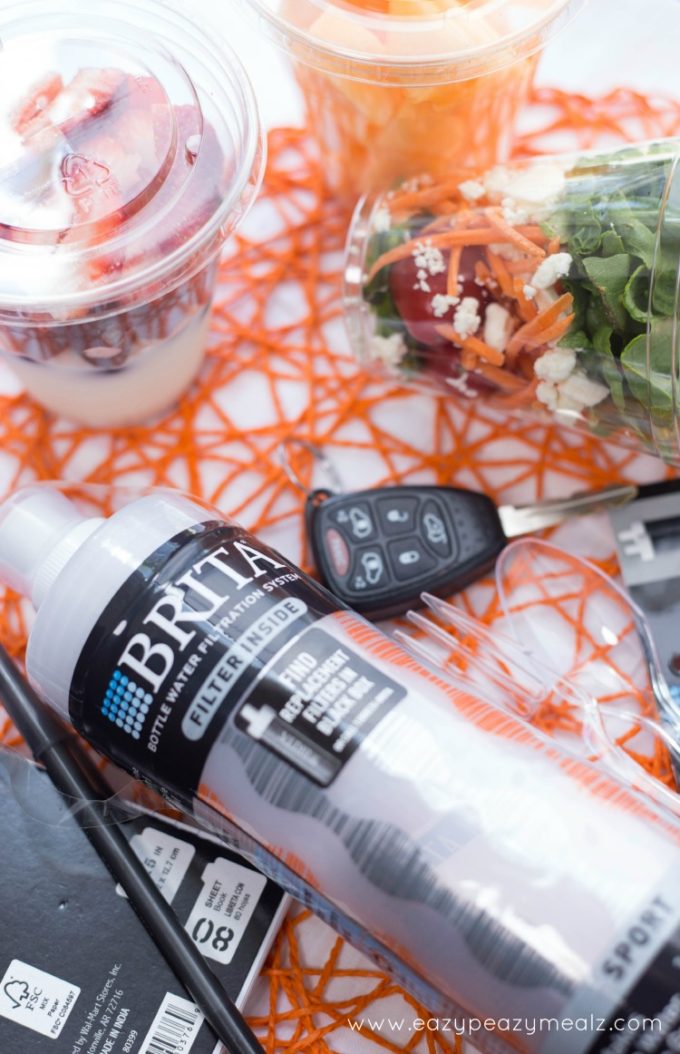 How great is that? I can fill up my bottle for free from the drinking fountain without the gross taste!!! This saves me money, and is way healthier! Hydration revolutionized!
Problem one: Solved!
Problem Two: Healthy Eating On-The-Go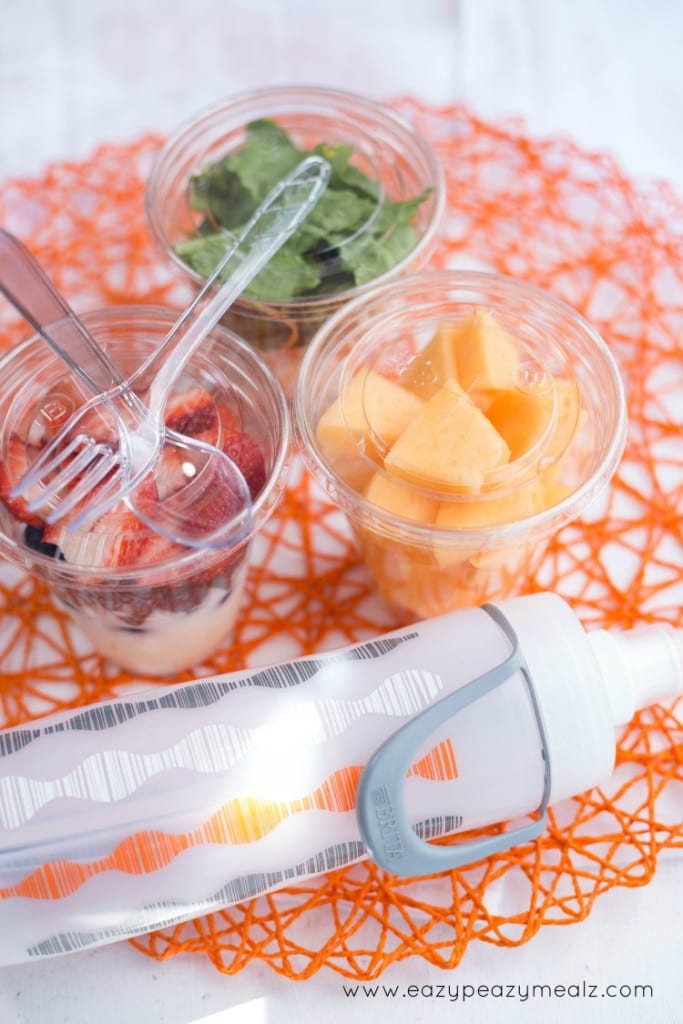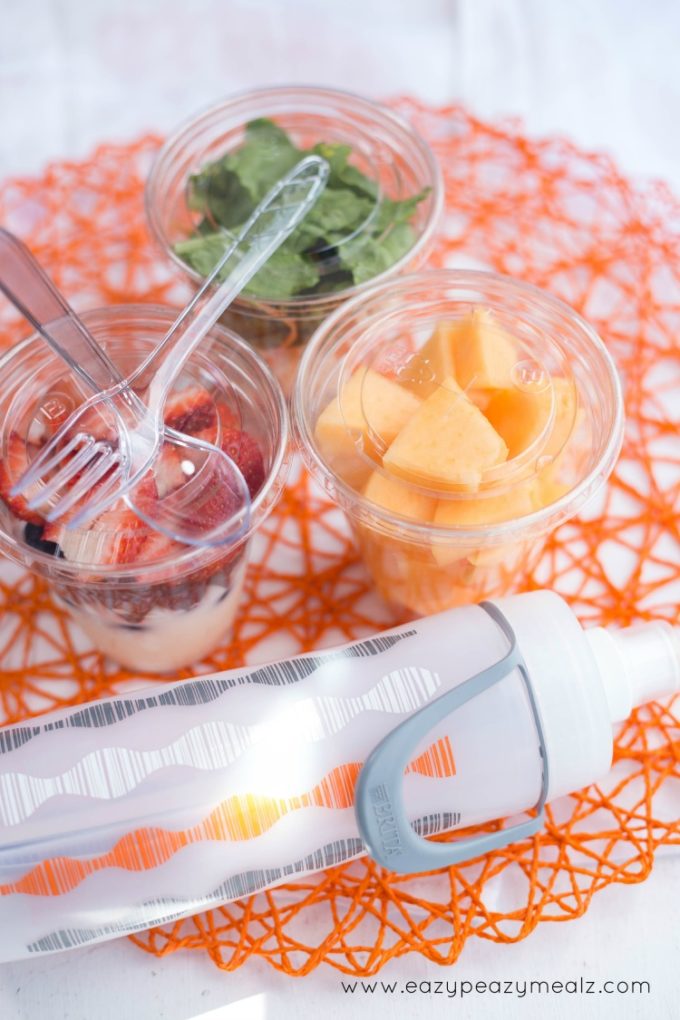 If you follow me on Instagram you probably already know how I solved problem two! I discovered something that has revolutionized my on-the-go eating, almost as much as on-the-go filtered water has revolutionized my hydration. Seriously. And it is plastic cups and lids! Hahah, how crazy is that, the thing that helped make healthy summer eating easier for me is plastic cups?
Check it out!

When we are at a theme park, and we are standing in line, and I pull one of these cups out and eat the contents. I don't have to then take the cup home and wash it. I can throw it away. Right then and there. No work after the fact. No more remembering to clean out the cooler. That is magic for me. Magic!
And the possibilities with what you can put in these cups are endless. We have the basics like parfait cups, fruit cups, salad cups, veggie cups, and the like. But you can also make pasta salads, zoodles, and more! Basically you can put anything in them. And I have been for months. Trust me, it works!
When I was at Walmart buying my Brita filtered water bottles, I also bought 12 ounce, 16 ounce, and 20 ounce cups, and the lids that fit them, which conveniently were all the same lids. I love having different size options, especially since my kids are young, and may not want an entire 20 ounce yogurt parfait. I also picked up little condiment cups with lids, that I can use for granola for the parfaits, dressing for the salads, dips for a veggie cup, hummus to go with vegetables or pretzels. Basically the options are endless, so go wild! Have fun!
I asked my kids what they like best, then once a week I fill the cups, and keep them on hand for when we are running out the door for errands or fun. It saves time, it saves money, and makes staying healthy easier, despite an on-the-go lifestyle!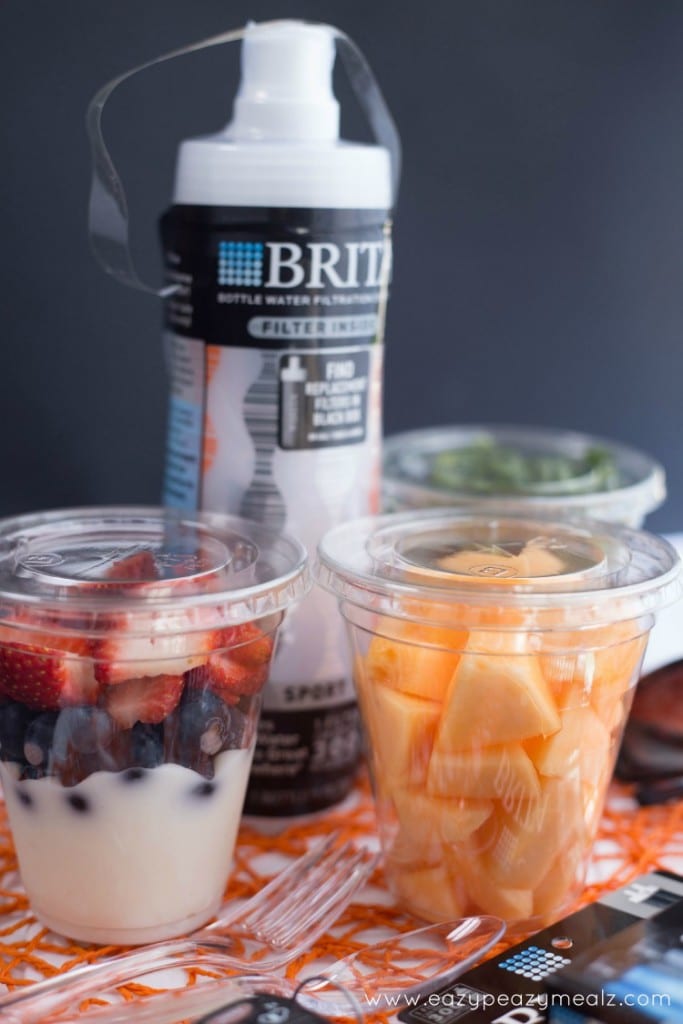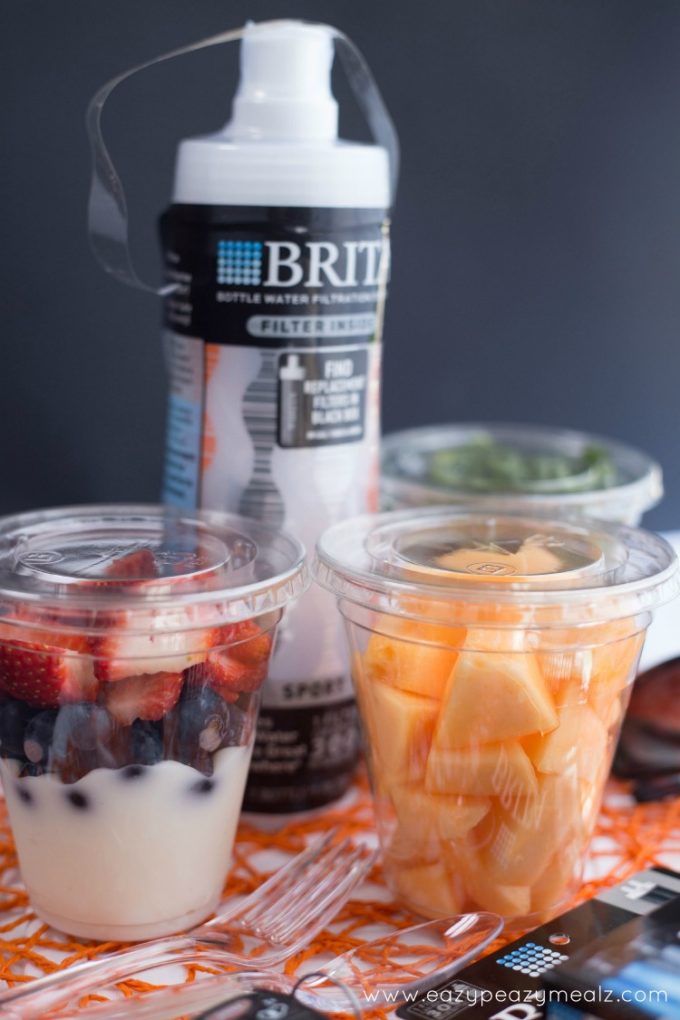 Now I can leave my house with my Brita® Bottle water bottle in hand, and a cooler filled with previously prepared cups of healthy food, and enjoy my summer the healthy and hydrated way.
What do you do to make sure you stay healthy and hydrated on the go?