This shop is part of a social shopper marketing insight campaign with Pollinate Media, Tyson, and Wet-Nap, but all opinions are my own. #pmedia #wingsandwipes https://my-disclosur.es/OBsstV
Fall is in the air. The nights are getting colder, the scarves and boots in my closet are begging to be worn, and football is starting.
Football starting…do you look forward to it with anticipation or dread?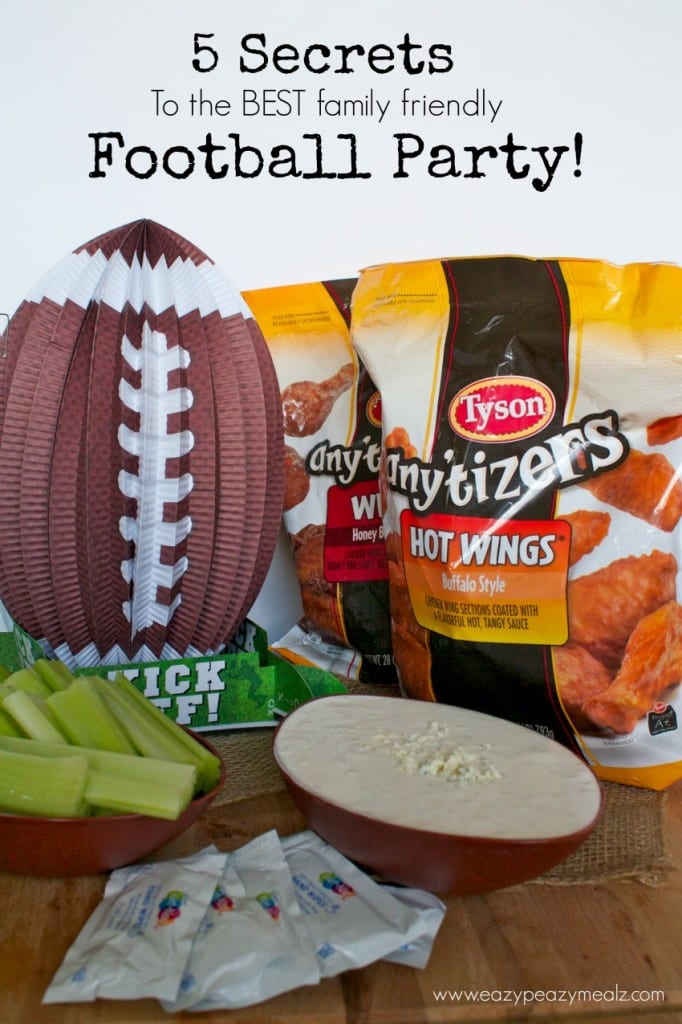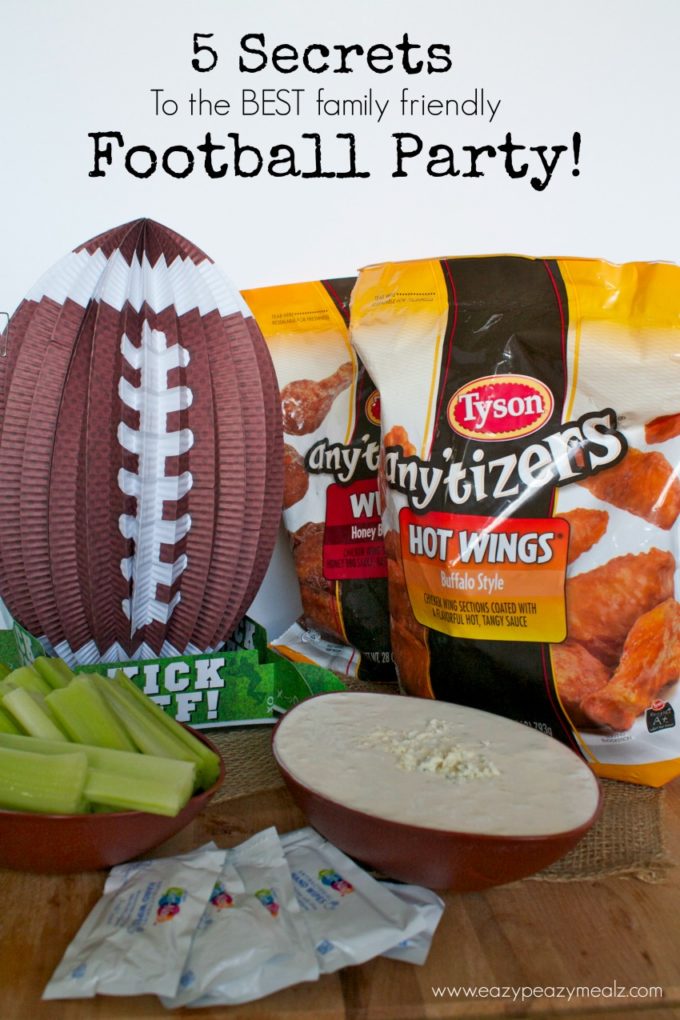 I used to dread football season. It was kind of a source of contention in our home. Phrases like, "You care more about football than our family" were not unheard of from my mouth. Why? Because when the hubby has a day off and spends 4 (or more) hours of it watching football I tend to feel a little neglected.
But ya know what? Football can be fun for the whole family. It doesn't have to be that thing I not-so-secretly resent because it takes away from family time.  It just requires a little planning and work on my part to turn it into something we all enjoy, even if the kids (or I) have no interest in the actual games.
I am going to share 5 secrets for throwing the perfect football party for the whole family:
Secret one: Play up the Rivalry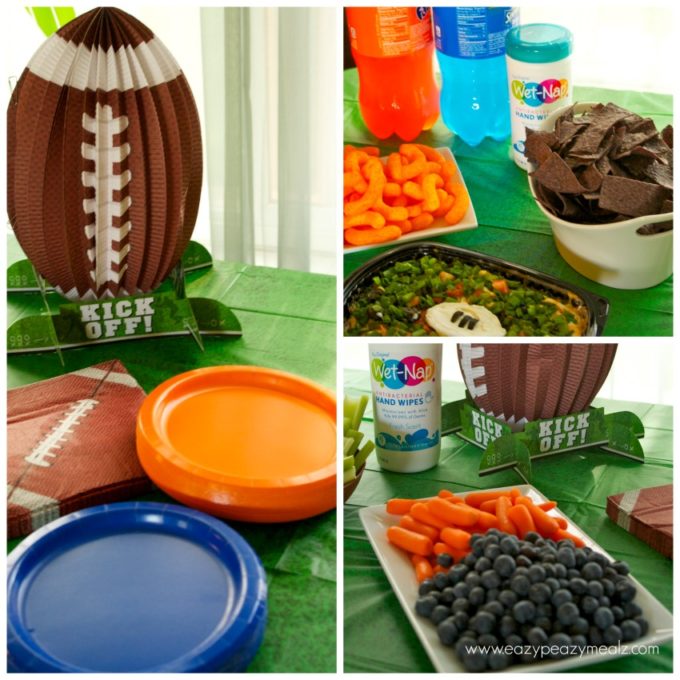 Football has a lot to offer when it comes to some of my favorite things: tail-gating, food, friends, and of course competition.
One of the best parts of football for me is the rivalries. I love getting in the spirit of it and dressing to support my team, good-naturedly trash talking the rival's team, etc. But this year my alma mater, BYU isn't playing their long-standing rival, Utah. Changes in conferences means they now only face each other every other year. Darn it!
Lucky for me, I have some friends who are big fans of Texas, and Texas just so happened to be playing BYU. Isn't it so much more fun to watch a game when you watch it with supporters of the other team? Every play takes on new meaning and every player matters. I get way more invested when the reputation of my team is on the line in a personal way, and so do the kids.
If you want the perfect football party, consider hosting a rivalry party! I decided to host a rivals viewing party to watch the Texas vs BYU game. Everything I offered highlighted the rivary with options for food and more that were orange or blue. I had Blue Corn Chips and Orange Cheese Puffs. I had carrots and blueberries. I had Orange Soda, and I got Sprite and "dyed" it blue with Blue Kool-Aid.
Secret two: Decorate!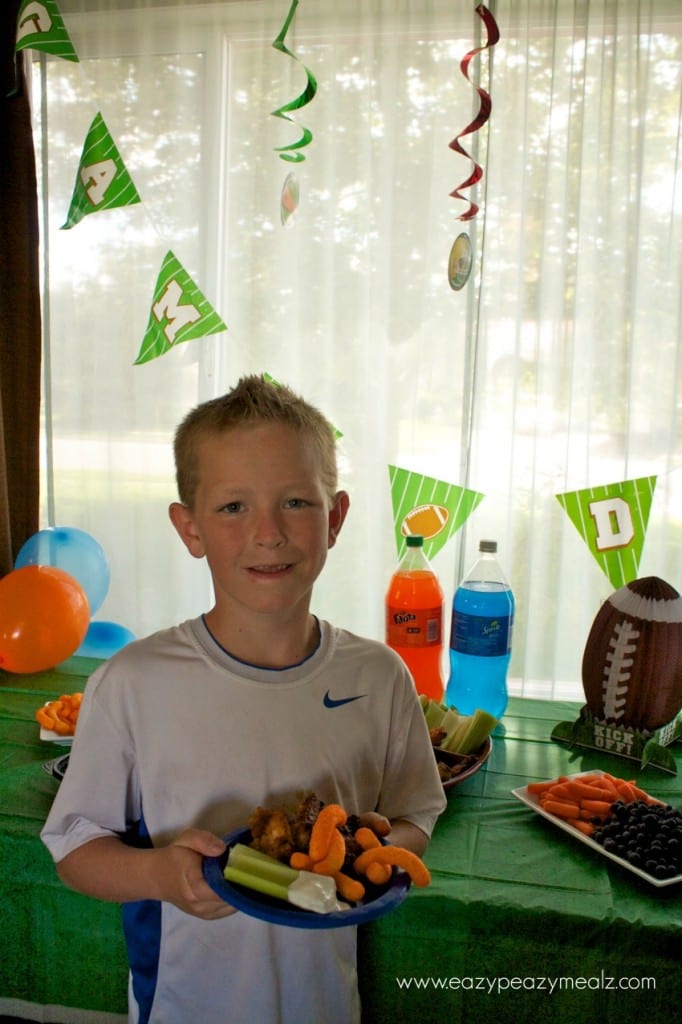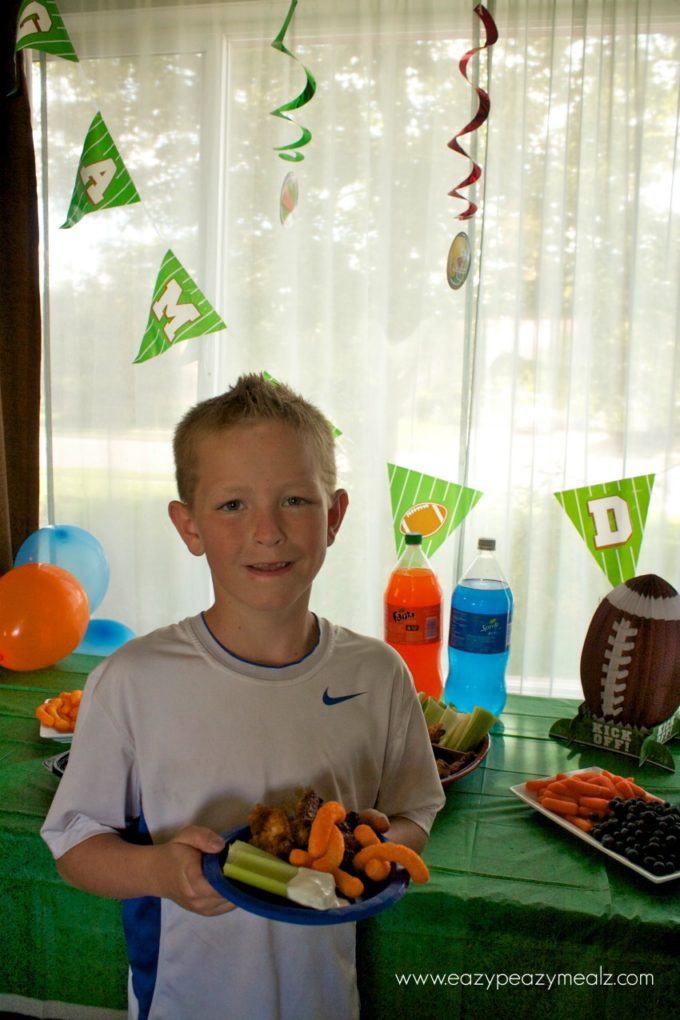 When you decorate for something it feels like an event, not just an every-day type occurrence. For the kids, decorating means football watching suddenly becomes a fun, entertaining, party, rather than the thing that keeps dad from playing with them on Saturday and Sunday.
For our rivalry party I picked up some great decor at Wal-Mart, and decorated half the room in my team colors (Blue) and half in the opposing team's color(Orange)!  And I set up couches on either side.
We also used fun football themed dishes and other decorations to set the mood for our viewing party. Everything screamed "football" and "fun"!
Secret three: Team Spirit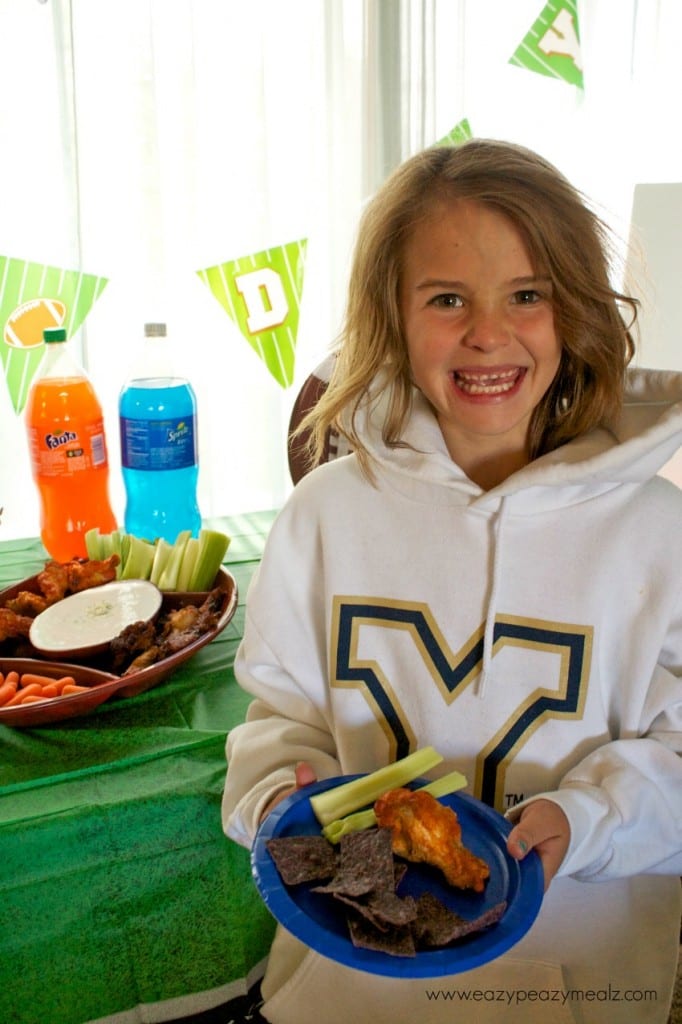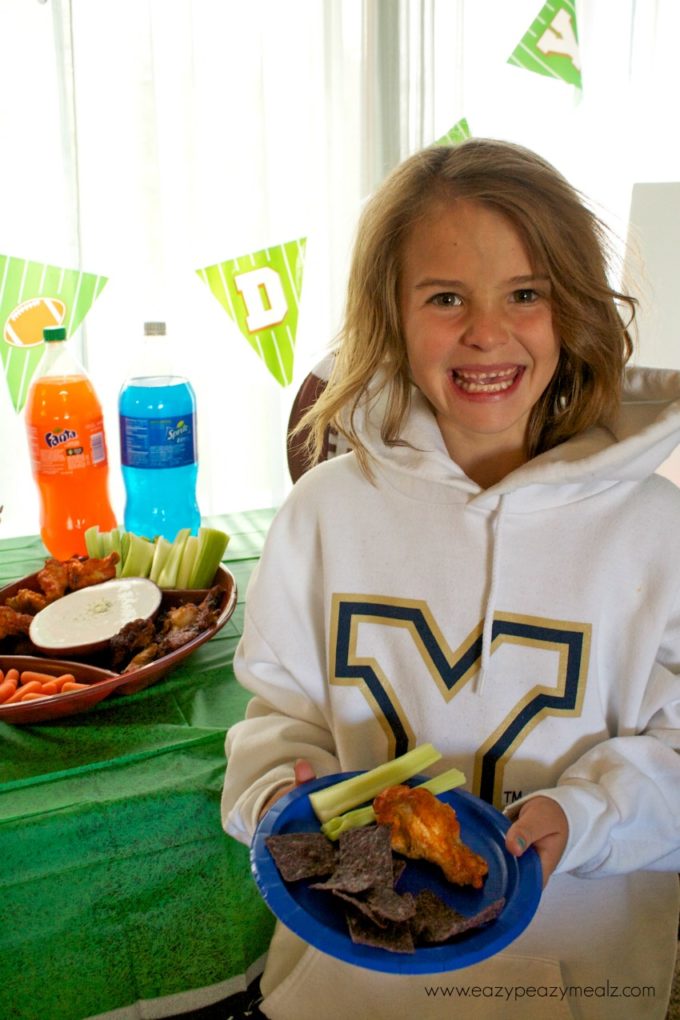 You have to support your team!  Even if you are like me and don't even know the name of the quarterback!
I told everyone invited to dress to support the team of their choice. We want to know where their allegiances lie. No bandwagon viewers here. No neutral parties. You had to pick a side. Lucky for me, my friend's son knew what is what, and despite his parent's delusions, he supported the right team, my daughter, not wanting to be outdone, quickly grabbed my over-sized sweatshirt with the "Y" so no one would be confused about her allegiance!
Secret Four: Wings and Wipes!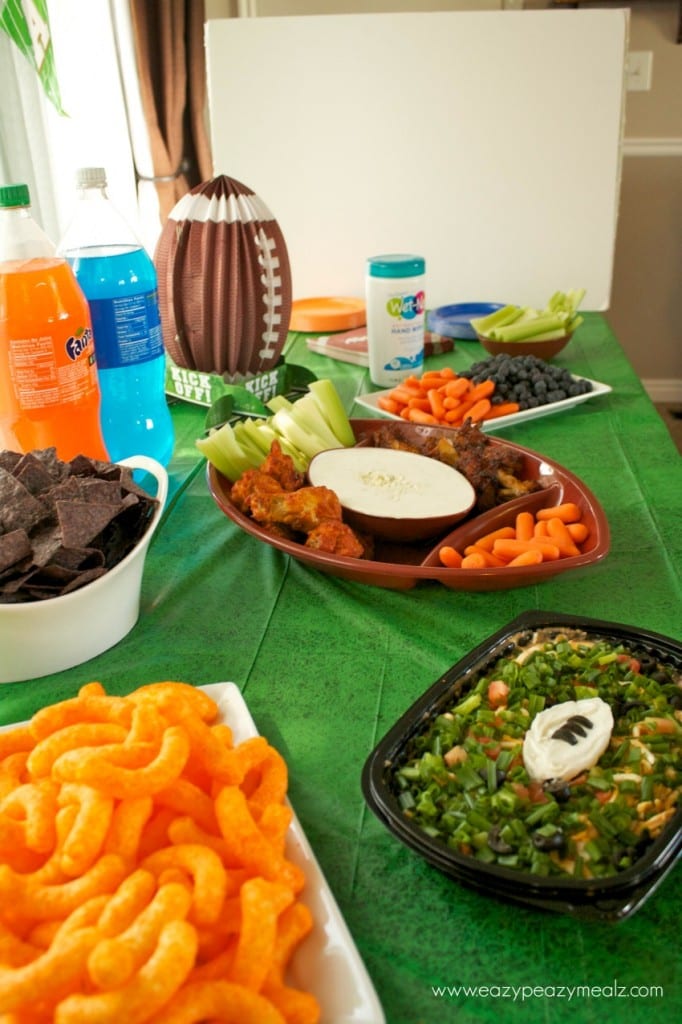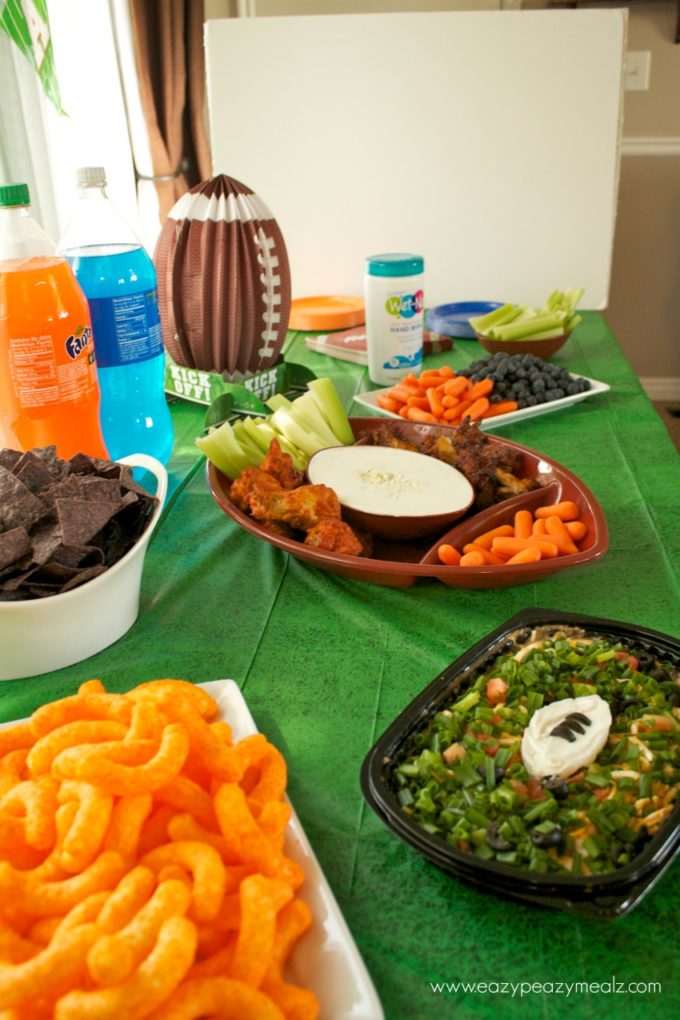 Obviously I love food, so this is a given, but for our party, the food also became our place of common ground.
Competition and rivalry is fun, but there had to be some meeting in the middle. Since for me that is not exactly over the love of the sport, or the admiration of the athletics, we met in the middle over food.
It doesn't matter what team you are cheering for, you are going to cheer for Tyson Any'Tizer wings! Am I right? Or am I right?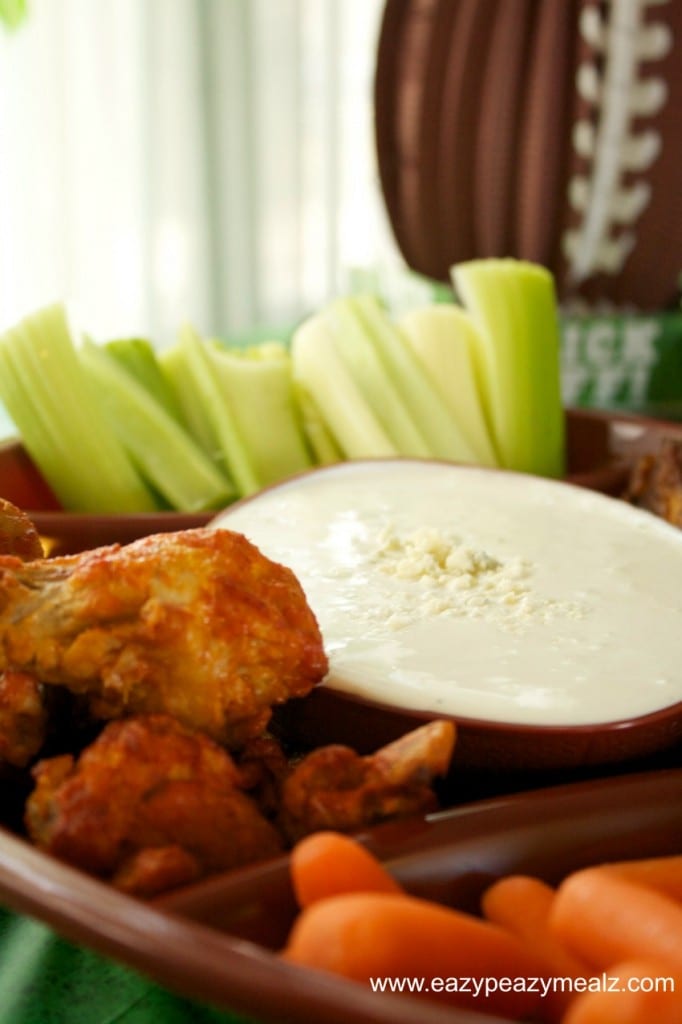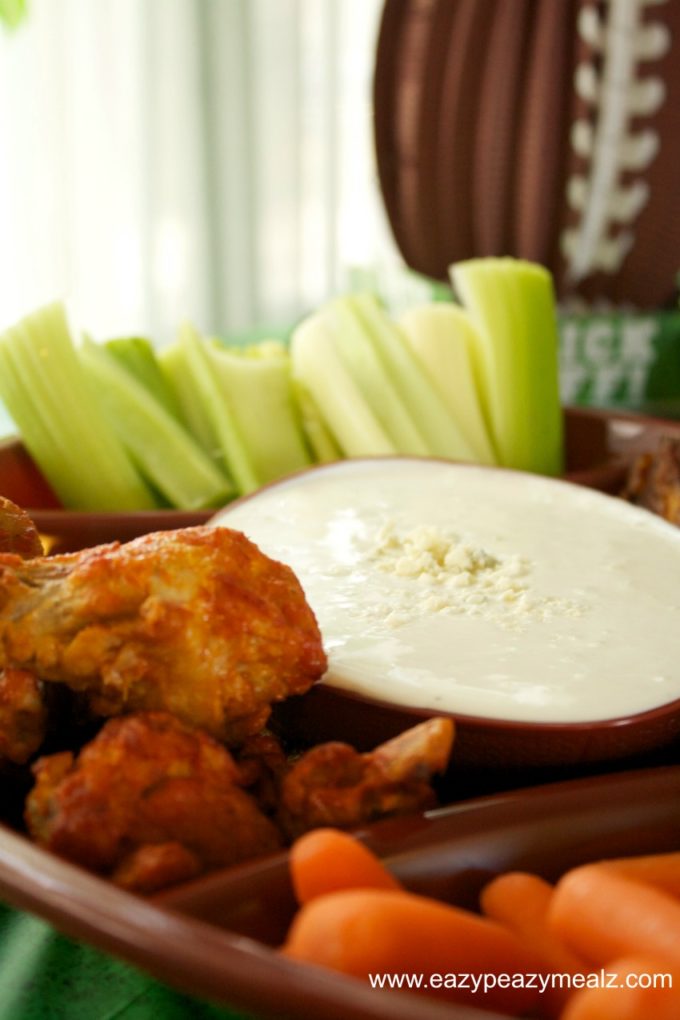 They come in 4 amazing flavors: Any'Tizers Hot Wings Buffalo Style, Any'Tizers Grillin' Wings Rotisserie Flavored, Any'Tizers Grillin' Wings Smokehouse flavored, and Any'Tizers Wings Honey BBQ Sauce. I picked up a couple bags at Wal-Mart and went with the Buffalo Style and the Honey BBQ version, and made an amazing blue cheese wing dip that was finger licking good. And really eazy peazy! The wings were delicious!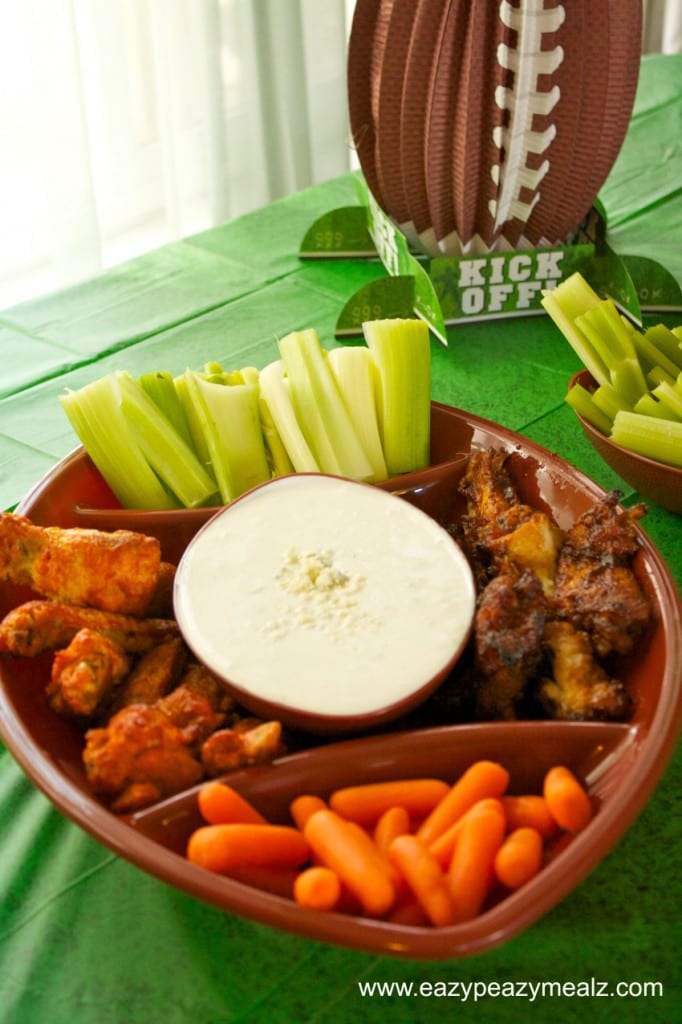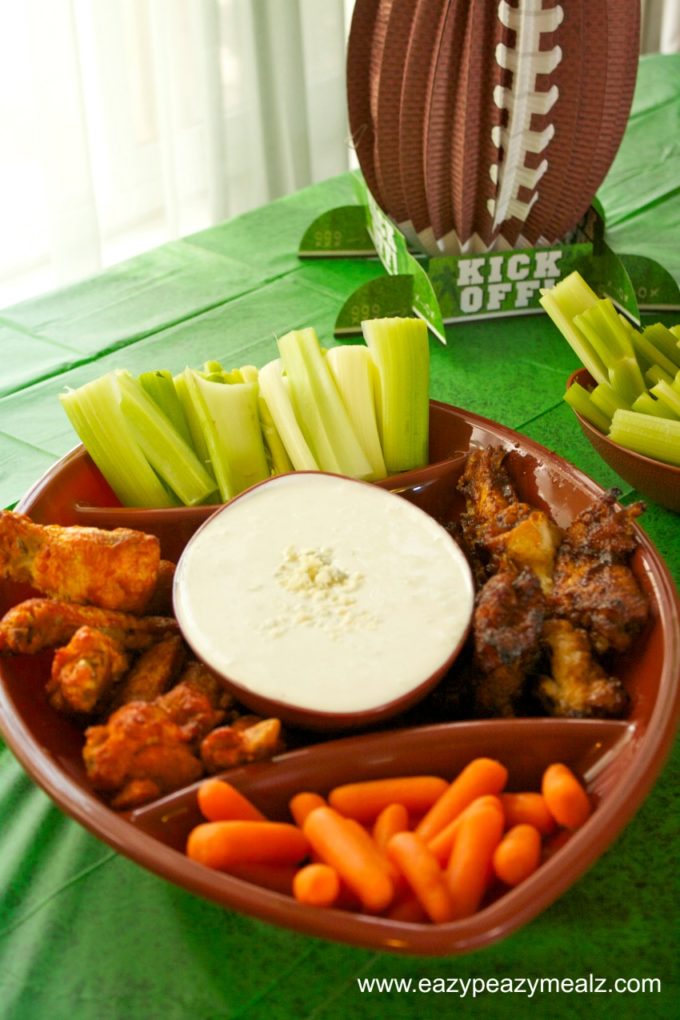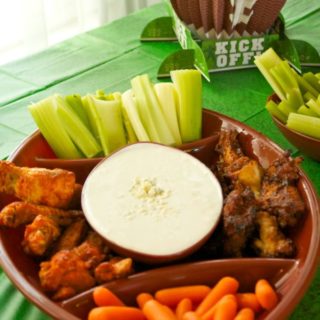 Ingredients
1/3

cup

blue cheese crumbles

1/3

cup

sour cream

1/3

cup

buttermilk

1/2

tsp

Worchestershire

1/2

tsp

garlic
Instructions
Combine everything and top with more blue cheese crumbles
Our recipe card software calculates these nutrition facts based on averages for the above ingredients, different brands, and quality of produce/meats may have different nutritional information, always calculate your own based on the specific products you use in order to achieve accurate macros for this recipe.
Want to use this recipe in a meal plan?
Try PrePear, my FREE Meal Planning App that allows you to save your recipes, plan meals, shop for groceries, and cook simply in one place. Join Here!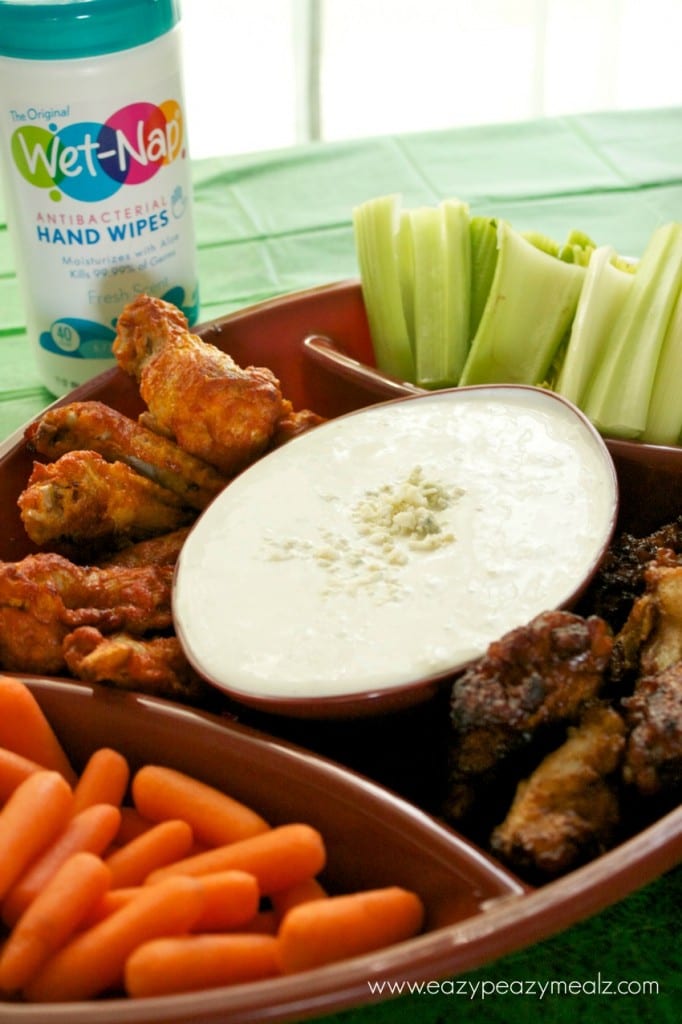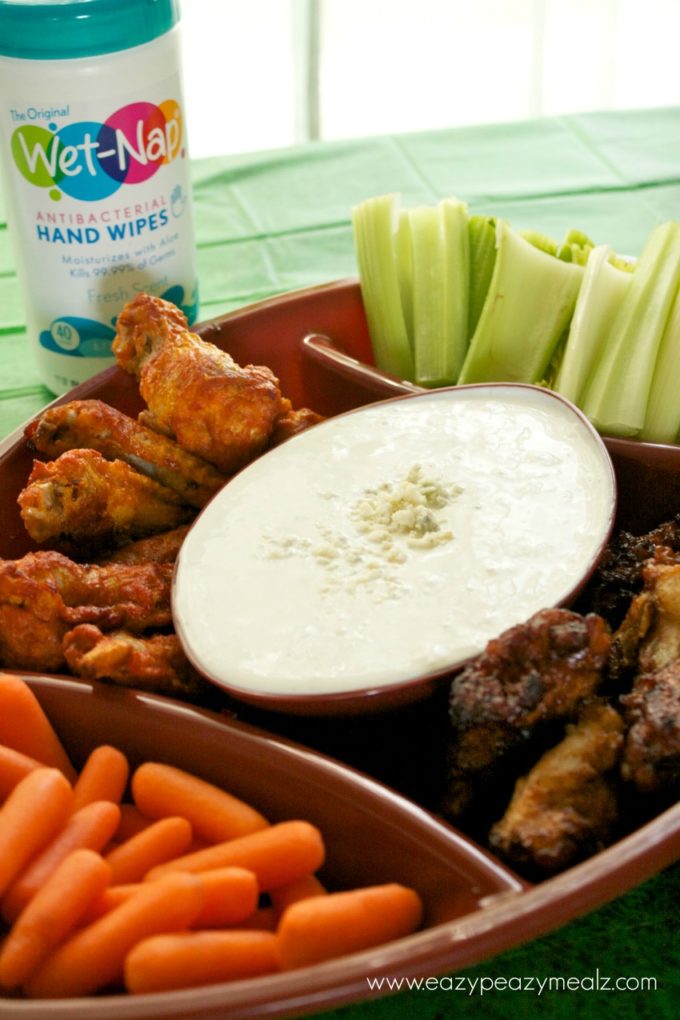 In an ideal world BYU fans wouldn't get messy eating wings, but the truth is, wings and their delicious gooey sauces are no respecter of persons, so no matter who you are rooting for you are going to get messy! Luckily we had Wet-Nap wipes to clean up with. I picked them up at Wal-Mart, and with my 55 cent off coupon they were cheap!  Just like some of the shots you see during football games! (Haha, just jokin'…). Get your coupon here while supplies last!
Wings and wipes are the perfect combination for any football viewing party! Trust me, if the whole family is involved (kids are messy) you are going to want to pair them up! So add a bucket of Wet-Nap single wipes or a canister to your set up to clean sticky hands and faces. We went with both 'cuz we're messy like that!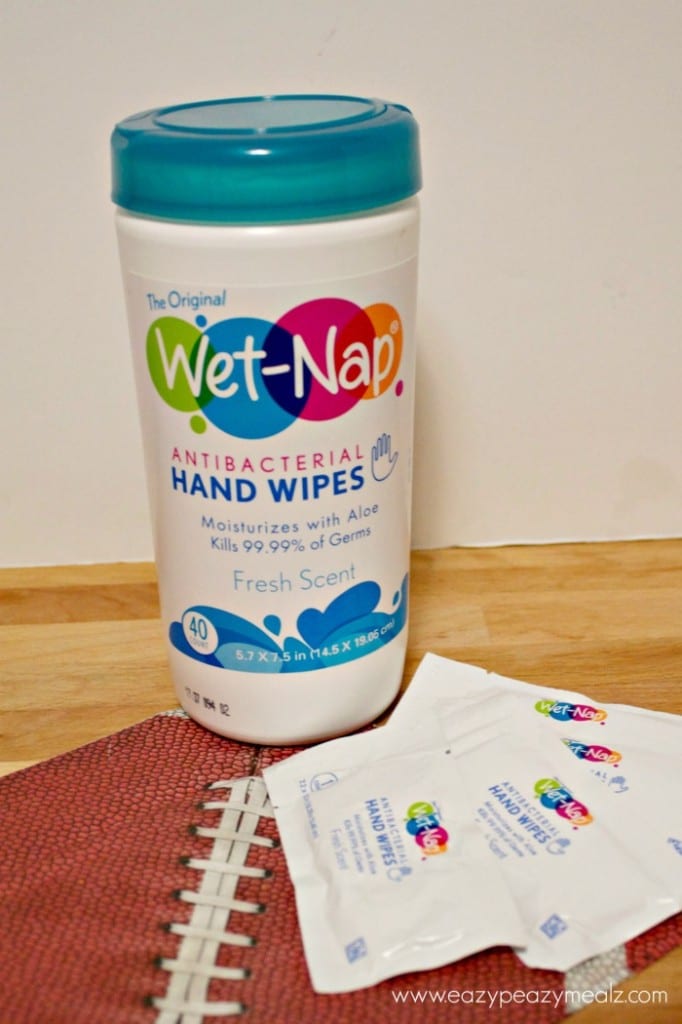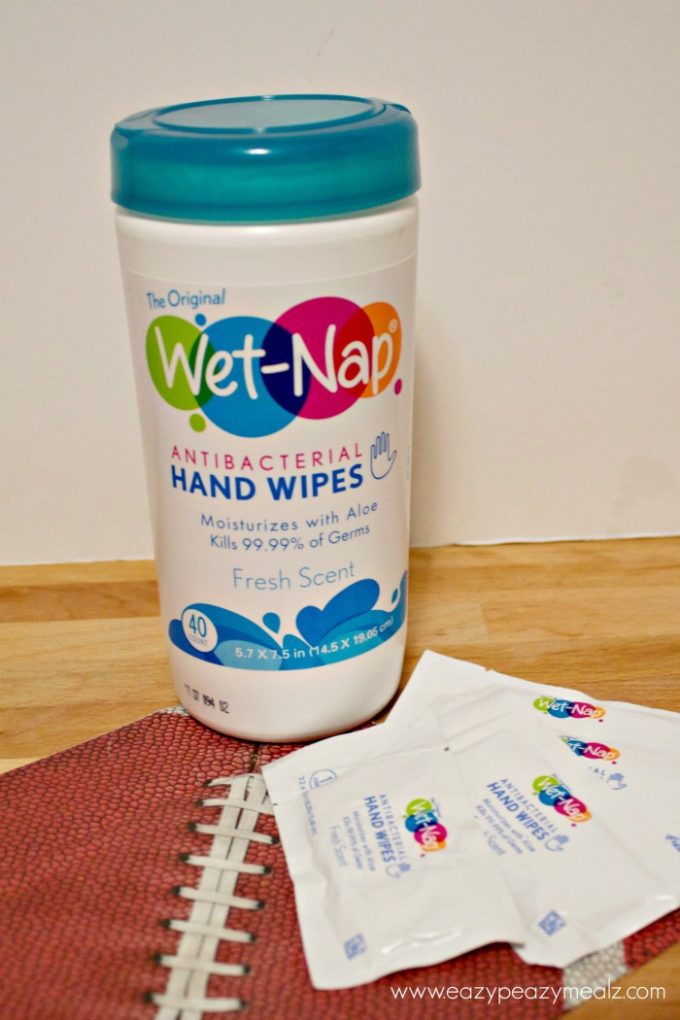 Secret Five: Gloating and Winners!
What is the point of watching the whole game if you don't cheer if your team wins, or mope if they don't? Haha, I mean, come on…
So to help facilitate this I created a Balloon Drop using a tutorial I found by typing "How to make a balloon drop" into the search bar on Pinterest. I actually made two, each with one of the two options of colors for balloons to fall, depending on the winner of the game! In case you were wondering, we got to enjoy blue balloons, but I was too slow to get a picture!
There you have it! To have the perfect game you need some competition, decoration, team spirit, wings and wipes, and of course gloating!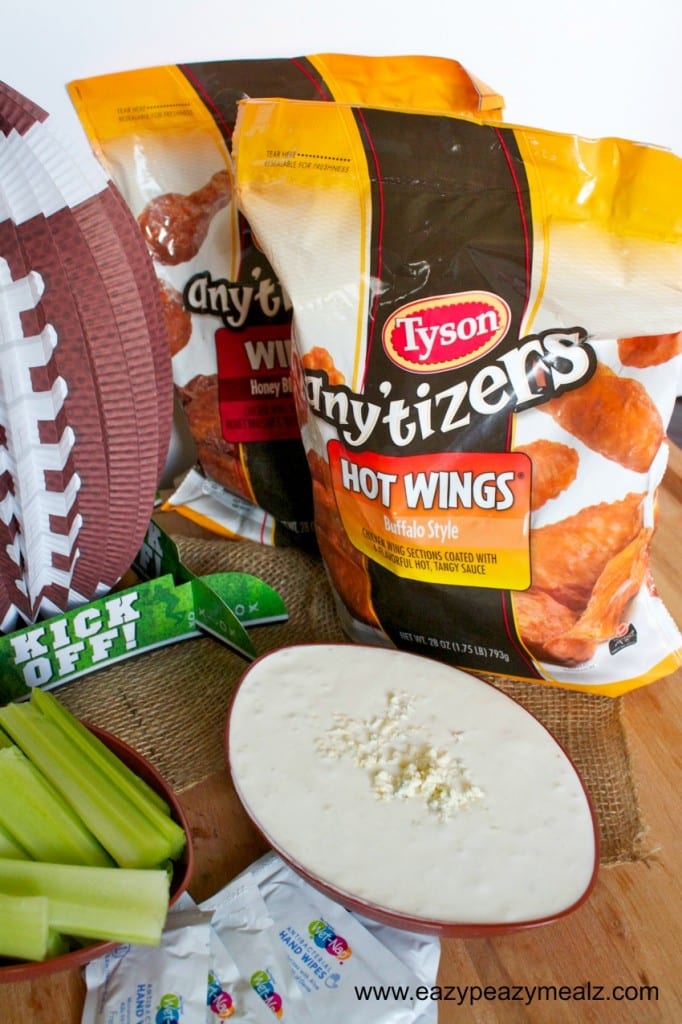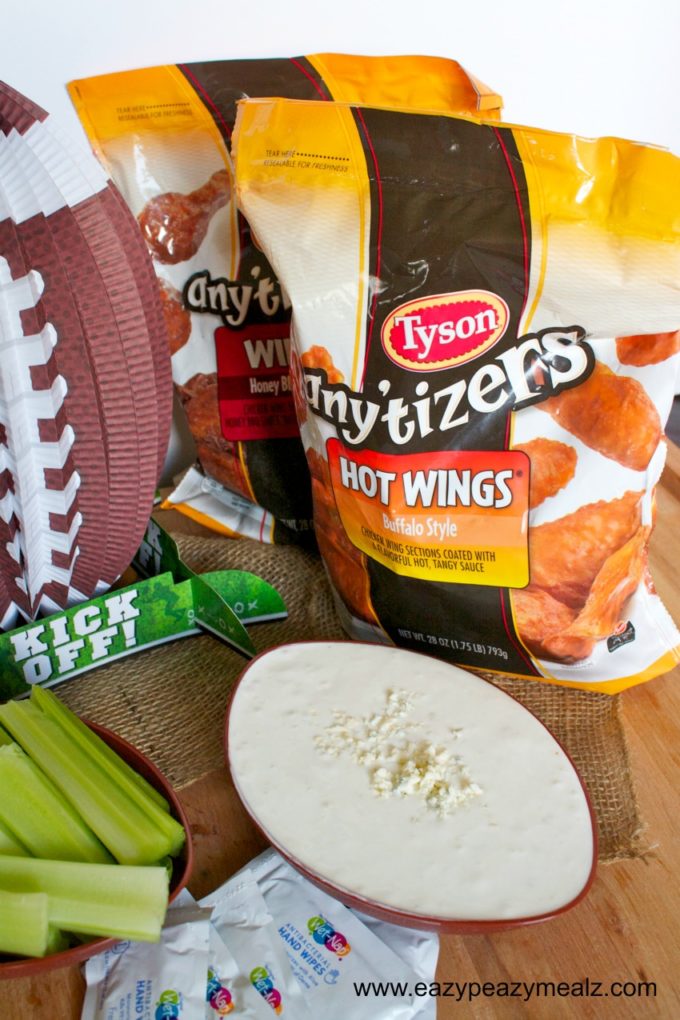 What's your favorite way to host a football tailgating or viewing party?