This is a sponsored post, written in partnership with The Blue Lagoon, all opinions are my own.
Iceland's Blue Lagoon Geothermal Spa, an excellent way to relax and enjoy the beautiful scenery in southern Iceland.
The beautiful and relaxing Blue Lagoon is the perfect place to relax and unwind after a long hike, or a cold day exploring the beautiful terrain of Iceland. It is a geothermal pool, that is cozy warm, and in a beautiful setting, with a gorgeous, clean, and well operated facility. There is a reason a dip in the Blue Lagoon should be part of your travel Bucket List!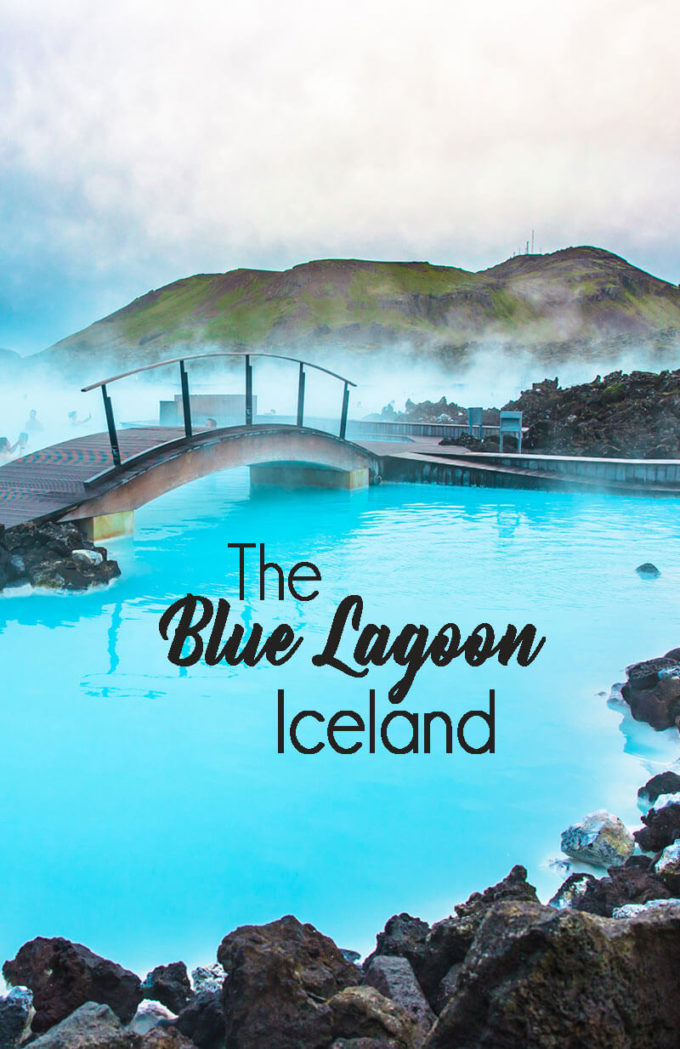 Visiting the Blue Lagoon Geothermal Spa was near the top of my list for my trip to Iceland. I have been hearing about it for years, it sounded so fun, relaxing, and beautiful, and I knew I wanted to go. The fact that it is one of the 25 wonders of the world didn't hurt either. I was only in Iceland for 3 days, but I made sure to make that wish a reality.
Being able to visit, soak for an hour or so, apply a mud mask, and just have fun sipping a vitality juice while taking in the scenery was awesome. I very much enjoyed my time there, and would recommend you make it a stop on your Iceland trip!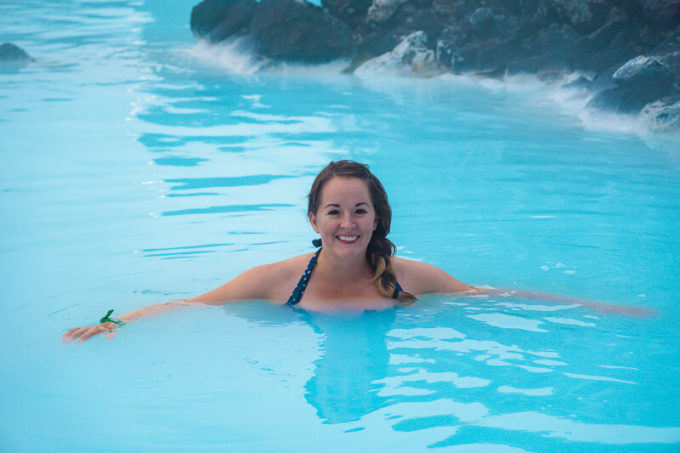 How long do you need to spend at the Blue Lagoon?
The Blue Lagoon is a place you visit in order to relax and soak. You do not need a lot of time, a couple of hours will suffice. But you definitely want to give yourself plenty of time to enjoy it, do a mud mask on your face, and get a drink or two.  If you want to make a longer day of it you can eat at the cafe, get a massage in the water! Yes you read that right!
One thing to note is you need a ticket time to get in, but you can stay as long as you want, up to 30 minutes past closing time. It is not an admission that is only good for an hour or something.
How deep is the Blue Lagoon?
 The Blue Lagoon is not meant for diving under the water, it is not very deep. The whole thing ranges from about 2 1/2 feet deep to about 4 feet deep.
The Blue Lagoon is located in Grindavík on the Reykjanes Peninsula, southwestern Iceland. It is in a lava field, and is about an hour or so outside of Reykjavik by car. While in Grindavik, check out Bryggjan for great fisherman's breakfasts, or a bowl of lobster bisque.

Blue Lagoon Things to Know
You have to prebook an entrance ticket. You can't just walk in. Prebooking is required. It is a popular place. Go to the website here to book: https://www.bluelagoon.com/
The Blue Lagoon operates 365 days a year, and usually opens at 7:00 or 8:00 am depending on the season, and is open until 10:00pm or later. I would suggest booking the first ticket of the day or one of the last slots so there are fewer crowds and you can relax without a lot of other people around.
The water temperature is generally between 37-40°C (98-104°F). It can be cold outside, but the water is great, and you can enter the water from the inside of the building.
You have to shower (without your suit) before you get in the water.
You will want to put conditioner in your hair (provided) before you go in, and leave it in. The water will not hurt your hair, but it can dry it out, so by adding conditioner and leaving it in, your hair won't get as dried out.
Bring a towel or book one. The Blue Lagoon offers different package levels, with different options, a Basic, Comfort, and Premium, as well as a few others. We went with Comfort since we did not have towels with us, and it was great. It included a drink, a towel, and the mud and algea face masks.
You will be given a wrist band that will control a locker, so you can leave your belongings in the changing room.  You will want to leave all jewelry there as the water can tarnish it.
The facility is very nice, providing showers with conditioner and soap, as well as hair dryers and a few other things you may need to clean up before and after your dip in the lagoon.
Stay hydrated- It is easy to get dehydrated when in warm water, but fortunately there is a bar available, and you don't need cash on hand, your wristband serves as identification, and you settle up before leaving. There are juices, water, smoothies, and alcohol available.
A weather closure at Blue Lagoon is extremely rare. Chances are if you book a ticket, you can get in. The exception is hurricane-force winds may cause a brief closure.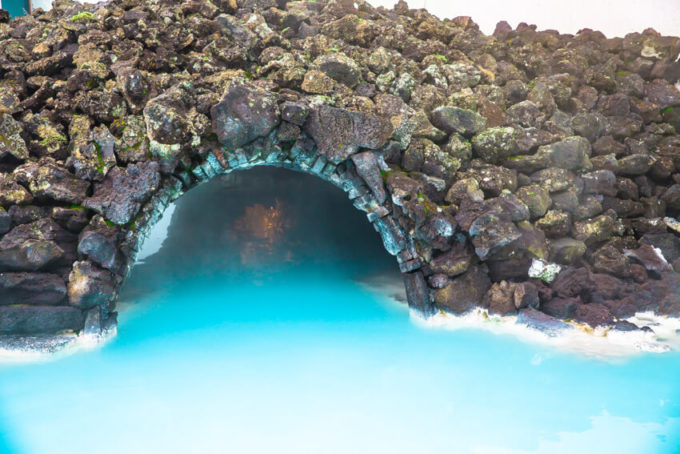 Why is the Blue Lagoon Blue?
The blue comes from the makeup of the geothermal water, which has a unique composition, featuring three active ingredients – Silica, Algae and Minerals.
The silica and the way it reflects sunlight is responsible for the blue coloring. Depending on how sunny it is, it may appear more or less blue. and in the summer it may even have green hints from the algae, which multiplies quickly when exposed to direct sunlight.
However, the water, while appearing blue, is actually a milky white. If you pour it into a transparent cup, it will always have a milky white colour. The sun makes it look blue!
Kids and the Blue Lagoon
Family travel is what I am all about, so I love that the Blue Lagoon allows kids to come and enjoy the geothermal waters. Just remember it is a spa, and people are there to relax, so it is not a pool for splashing around and loud horseplay!
Ages 2-13 are free of charge when accompanied by a supervising adult.
The Blue Lagoon has an age limit of 2 years
Kids 8 and younger must wear arm floats
What to Bring to the Blue Lagoon
Towel (or Rent)- Buy a comfort ticket or higher, and the towel or bathrobe is included. But you do want one, so if you don't buy a ticket with it included, bring one.
Swim suit (or Rent)- You want a suit for your dip, so either bring one or rent one. And make sure you rinse it out so you don't damage other clothes when washing.
Hair Brush- I love the Wet Brush! It is my favorite. They provide hair dryers, but bring your own brush.
Bag for wet clothes- They provide some plastic bags, but you will want to have somewhere to put your things.
Can you see why you should visit the Blue Lagoon? This relaxing and lovely geothermal spa is a great way to spend some time in Iceland, and should definitely be part of your Iceland itinerary.