Bondi Beach: A gorgeous Australian beach, and all the fun things you can do there, including surf lessons! One of our favorite parts of our Sydney vacation.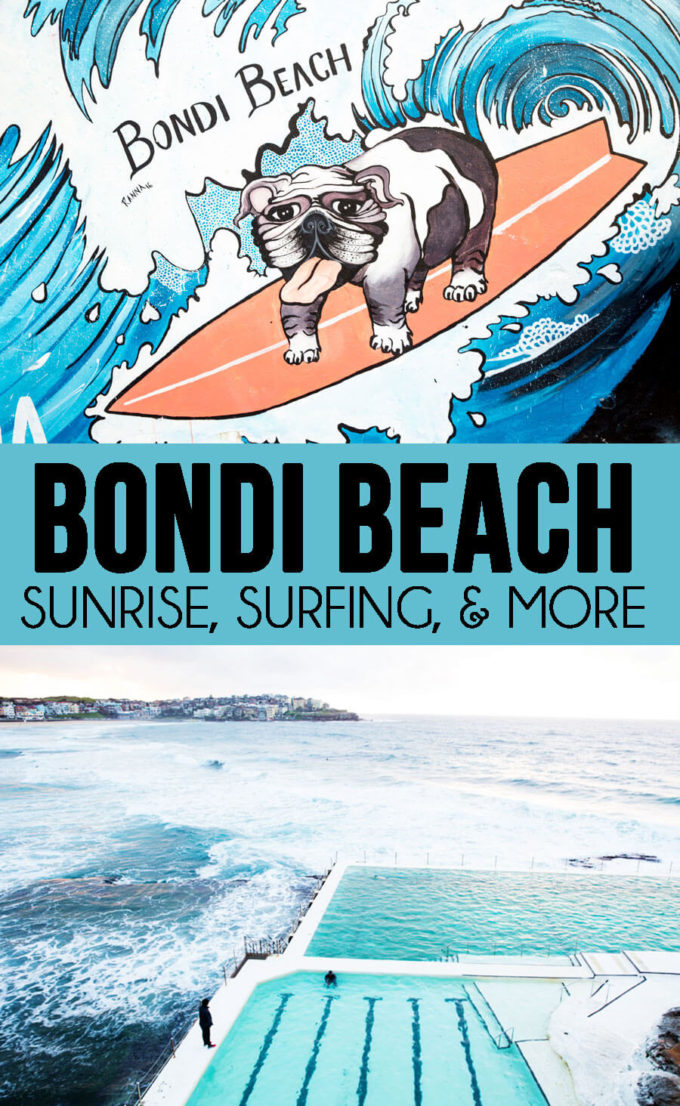 I received complimentary surf lessons to facilitate this post, all opinions are my own.
Once my cousin asked me why I liked to travel. It was such a hard question to answer. I think I said something about expanding my mind and my acceptance by seeing and experiencing other cultures. But truth be told, while that definitely plays a role in my love of travel, and that innate incurable wanderlust is there too, one of the biggest reasons I love traveling is the awesome experiences I get to have.
I have been extremely blessed in my life. During my travels, I have seen natural wonders like Giant's Causeway in Ireland. I have seen animals in their natural habitats in Africa. I have climbed to the summit of amazing peaks in Alaska. I have seen architecture and art some only read about across Europe. I have taken cooking classes in Italy, and eaten pastries in Paris, and shopped the Christmas markets in Germany, witnessed the horrors in Auschwitz, and met and interacted with some of the coolest people ever.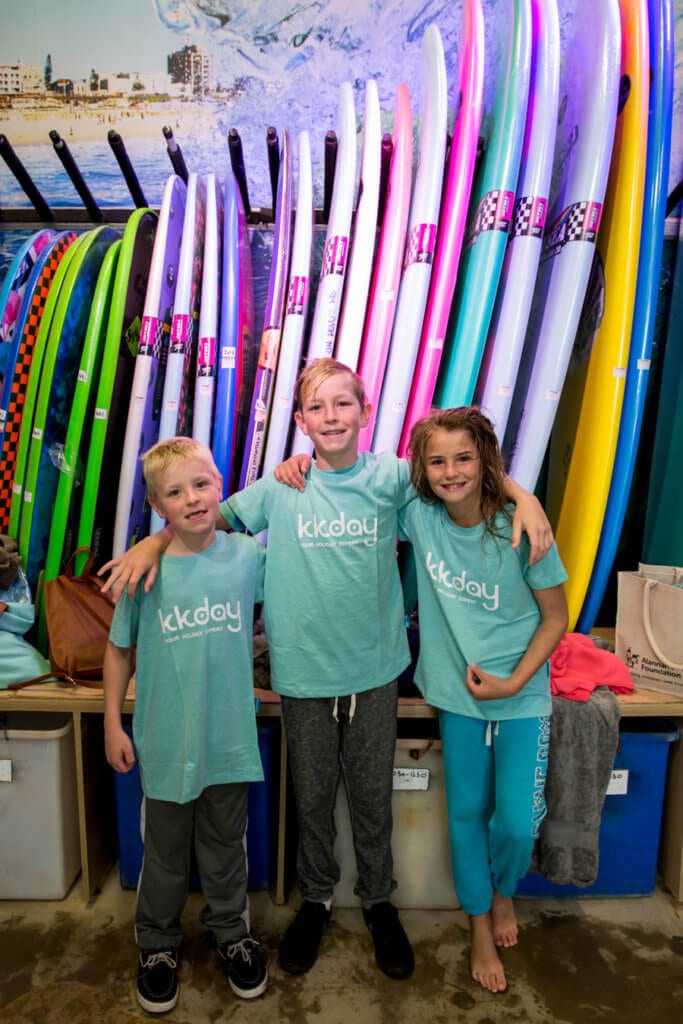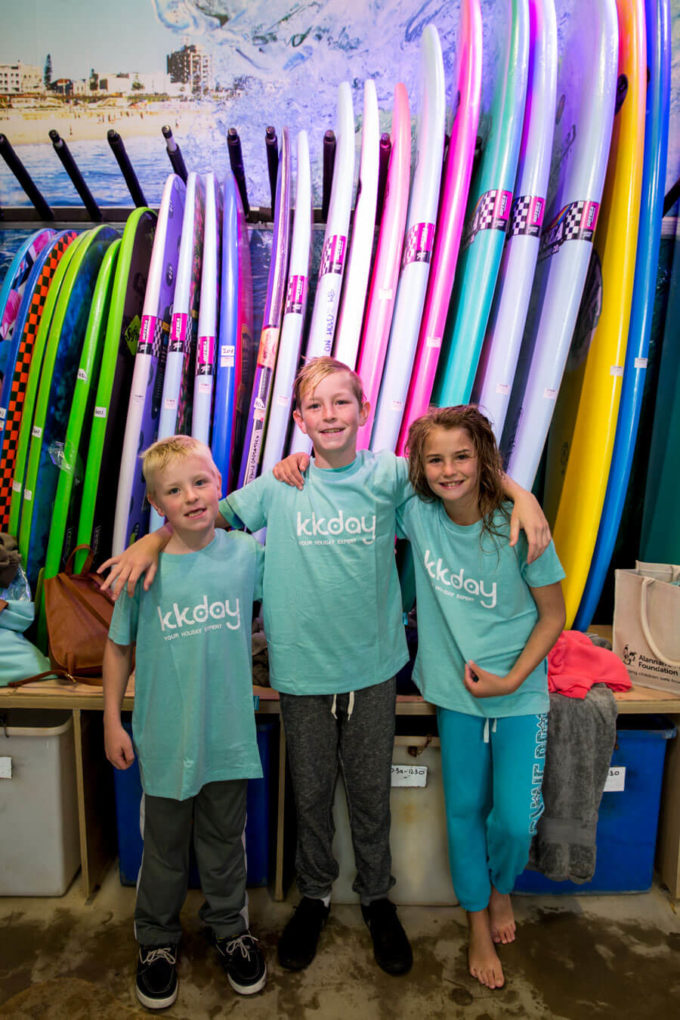 And I have to say that one of my favorite experiences to date was taking surf lessons at Bondi Beach with KKday.com and Let's Go Surfing. Not only was it a fun and memorable experience where my kid's gained a the confidence with learning something new, but it was also a great way to bond as a family.
Now, I realize you can probably take surf lessons all over. And our lessons were probably fairly run of the mill, and not all that special of different from other surf lessons. But seeing my kids learn to surf, and seeing their confidence grow as the stood up on wave after wave, all while away from home, on the opposite side ofthe world, far from their friends and comfort zone, made me extremely proud. In addition to that pride, it was straight up fun. And the water was awesome. And the beach was beautiful. And it was a million little things that combined to make it an amazing day in an amazing place.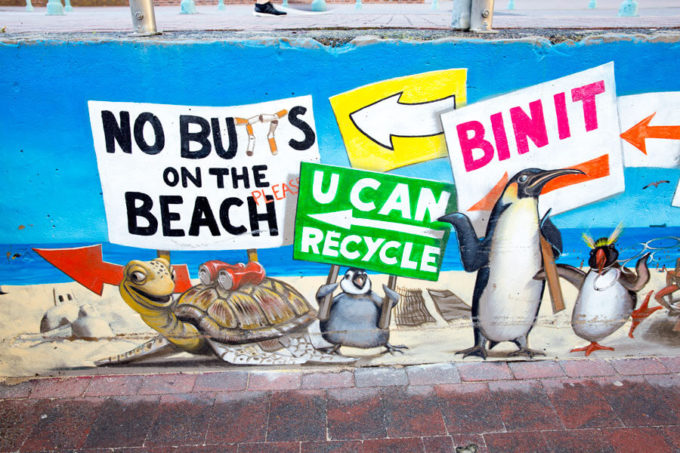 So today, I want to share a little bit with you guys about Bondi Beach, why I loved it, what to do if you visit, and how to make your visit as magical and special as ours!
First, go early. While I don't love getting up earlier than I have to, I am glad we made it to Bondi to see the sunrise. The beach is lovely, and the show put on by the sky was pretty great!

Second, go in the winter (US summer). Rumor has it the summers in Australia mean over-crowded beaches, especially popular ones like Bondi. But we went in June, and the beaches were practically empty, making it very nice to try learning to surf, because you aren't having to avoid hitting people. And, less crowds makes it easier to see the views, and enjoy the area.

Third, take time to explore the area. There are famous pools that butt up to the ocean, worth taking a look. There are walls covered in different art installations all along the beach that are super fun to look at. There are cute shops, cute little restaurants, and a lot of natural beauty. So take your time to explore the area. I wish we had allowed more time for exploring, and enjoying the area.

Fourth, take surf lessons. Or if you already know how, go surfing. We arranged our surf lessons through KKday.com, which was super easy to do, and a great experience. They offer competitive pricing, and a seamless booking process. All we had to do was show up at the right place at the right time. The surf school was great. Our instructor was patient and knowledgable. I loved that he took the time to explain to the kids how to read the waves, what rips look like, how to get out of one if you find yourself caught in one, and more. Beyond the safety aspects of surfing, he took time to help them feel confident in trying the skills he taught, and to not be too hard on themselves if they didn't get it right away, that it would still be fun.

The funny thing is, both my older kids did get it right away, so maybe that was actually more for me. While I can say I got up a couple times, I wouldn't go so far as to say it was with any kind of skill, grace, or style. Hahaha. Basically I spent the day falling off my board. But I had a blast doing it. If you had told me I would be getting salt water up my nose all day, and wiping out, and wearing myself out, I would have taken a hard pass. But I am so glad I didn't because it was straight up fun. Even the failures.
We surfed for 2 hours, and it simultaneously felt like forever and like no time at all. Even though it was winter, the water was awesome. I am chronically cold, and I did not feel uncomfortable or too cold at any point. Between the wetsuit, the water temperature, and how active we were, I was actually hot!
I was worn out and exhausted by the time we got out of the water, but was shocked the time has passed so quickly. The only thing that indicated the passage of time was how ravenous I felt after.
That leads me to the fifth thing, eat before you hit the water, and after. The food in Bondi is awesome. As a foodie at heart I was super excited by how delicious everything we ate was. We had breakfast at Speedo's Cafe, and after surfing we hit up a local joint called Little L for chicken burgers. I enjoyed both tremendously. You can read more about my favorite places to eat in Sydney here.
That is it in a nutshell, but don't worry, I am going to give you even more.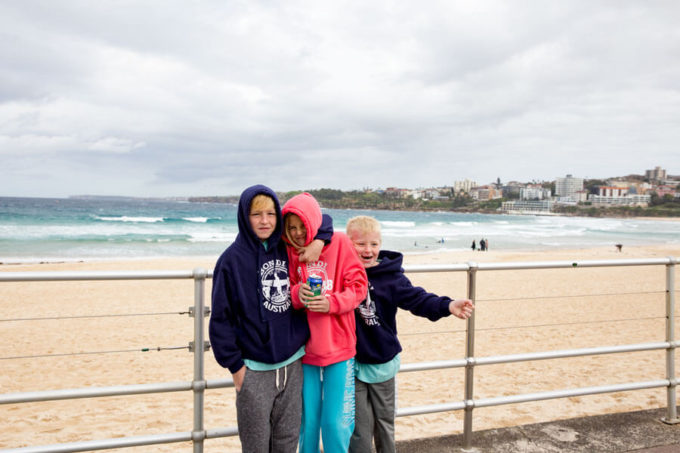 Getting to Bondi Beach
Because we wanted to arrive for sunrise, we took an Uber to Bondi. We loved using Uber all over Sydney because it was totally convenient, and an inexpensive way to get our large group around in a hurry. Much more economical than a cab, and quicker than public transportation. However, we loved the public transportation as well. There are plenty of trains and busses all over Sydney, as well as ferries that can help you get around. Get an Opal card, and top it up, and go. No matter where you are staying in the city, you shouldn't have much trouble getting to Bondi, it is 20-30 minutes by car from downtown.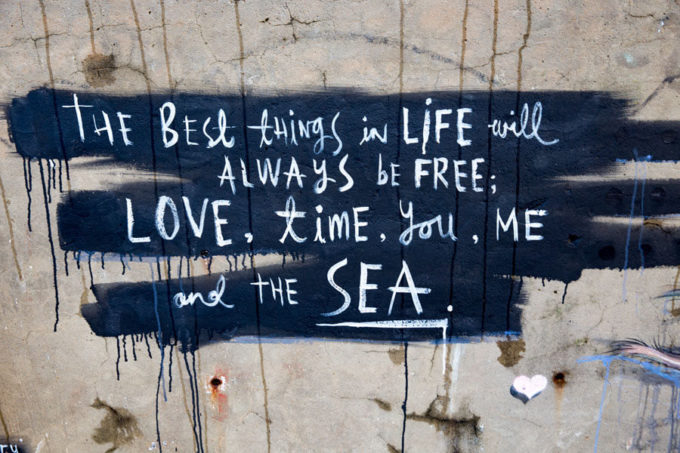 Bondi Beach Suggested Itinerary
Before you go: Book a surfing lesson through KKday.com, find them here: Surfing Lessons 
Early (like 6:30): Arrive for sunrise. Bring a camera and enjoy the views.
7:00 Take a walk along the Bondi Coastal trail, and head toward the Bondi Iceberg Pools. These are saltwater pools filled with ocean water, and the waves crash right up against, and often into them. You will see swimmers doing laps, consider joining in. There is a kiddie pool here too.
8:00 Make your way to North Bondi walking back along the Bondi coastal trail, take time to enjoy the artwork all along the beach retaining walls. There are some pretty amazing installations, and a lot of fun things to see. Once you get to North Bondi, head a few feet up the hill to Speedos Cafe, and enjoy a totally decadent, or totally healthy breakfast. Your choice. They have tons of gluten free, vegan, vegetarian, and healthy options, as well as some fun indulgences.
9:00 ish, head to Let's Go Surfing, just one door up from Speedos Cafe, and check in for your surf time. Just a heads up, the times are scheduled around the tide, so they don't offer the same times each day, so plan ahead so you can adjust your schedule to fit the lessons. And enjoy a couple hours of lessons surfing. Don't worry about bringing your camera, they take pictures for you, and will provide them.
12:00 pm Return to Let's Go Surfing, and change out of your surfing gear, then walk up the street to Little L for chicken burgers, you can't eat in (no seats), so head back down to the beach and find a picnic table, and enjoy the view of the 1 kilometer long beach, golden sand, and turquoise waters.
1:00pm Walk around Bondi, explore the little shops, do some souvenir shopping, or even work out in the outdoor exercise areas. Although if you are anything like me, you may be too tired after surfing all morning to do more exercise.
Spend the afternoon exploring the area, or enjoying the beach.
Evening: Eat dinner at The Bucketlist, or another local restaurant, and enjoy some fresh caught seafood, or an amazing burger.
A day at Bondi Beach is sure to be a blast, and a visit to this famed beach is a must-do when visiting Sydney! I hope you love it as much as we did.  Read more, and check out other things to do in Sydney in this post: Things to do in Sydney with Kids!