Sydney Australia with Kids: Traveling with kids can be super rewarding but it can also mean visiting attractions and doing things adults might find boring. This post shares things you can do in Sydney with kids that adults will enjoy too!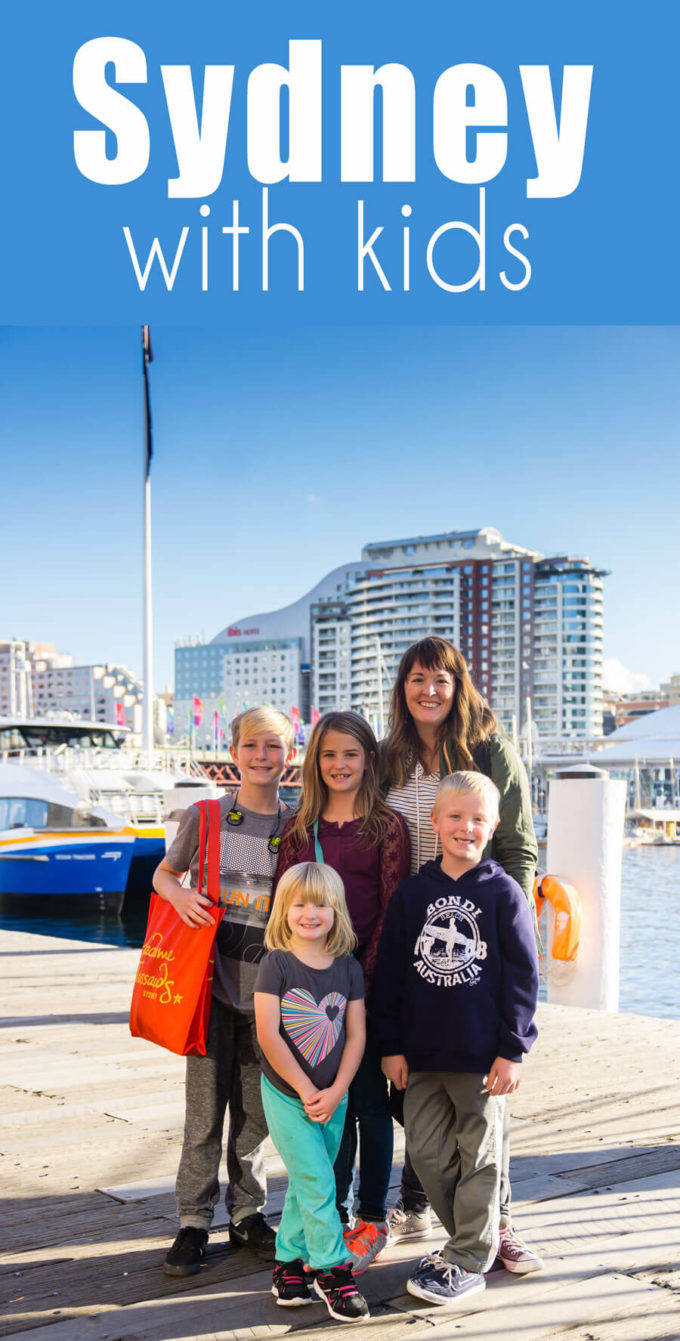 Some activities and excursions for this trip were provided free of charge, but all opinions are my own.
These are my top ten recommendations for things to do in Sydney with kids, that adults will also enjoy:
Madame Tussaud's
WILD LIFE Sydney
Luna Park
Bridge Climb Sydney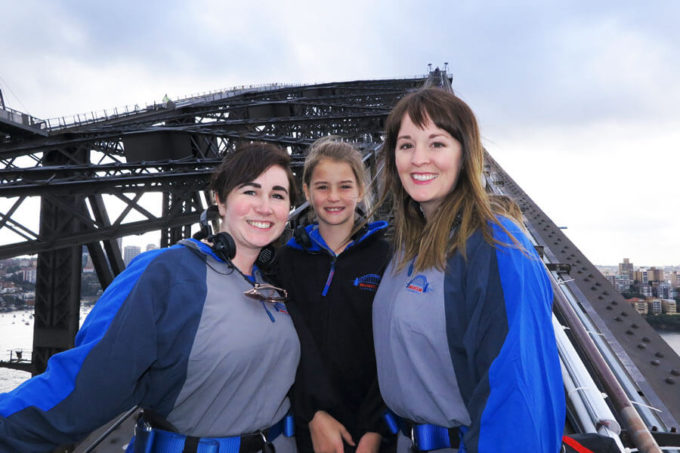 When it comes to Sydney, there are two main iconic places: The Opera House and The Harbor Bridge. The Harbor Bridge, was a really big deal to the people living it Sydney and surrounding areas. It meant they could have fewer ferries, and an easier way to get from one side of the harbor to the other. Before the bridge it took several days to get from one side to the other without a ferry. Not only was this feat of engineering a huge help to the residence of this growing city, but it provided jobs during the Great Depression, and hope to the people.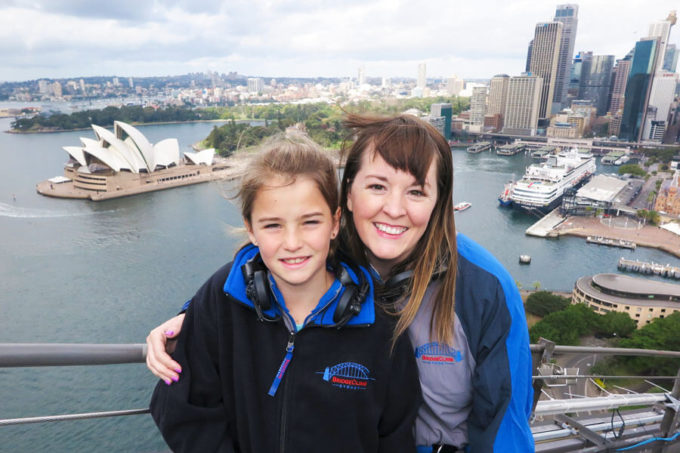 One activity you can do while visiting Sydney is Bridge Climb, where you climb the arch of the Harbor Bridge and view Sydney from this awesome vantage point. It is great for kids because it is an active and fun way to learn some of the history of Sydney. And it offers some pretty spectacular views, a good work out, and a lot of fun. The guides are entertaining, and the whole experience pretty awesome.
What you need to know:
Kids have to be 8 years old to climb.
They are very safety conscious. You will wear a jumpsuit, a safety belt, and be clipped to a cable the whole way up. The climb is guided. And they don't take risks.
There are different climb options ranging in time from 90 minutes to 3.5 hours.
The views rock. Your guide will take photos of you along the way too!
The climb is not too strenuous, but you do need to be fairly mobile to be able to do it. There are 4 ladder areas, the rest are gradual stairs.
The guides are knowledgable and share stories, history, and tidbits along the way.
You can't bring anything up with you. Not even dangly earrings. If something dropped it could damage a car below, so they are very serious about this.

Tips for Sydney Bridge Climb
Go early in your trip. You get to see the various parts of the city and learn some of the history, so it is a great way to start a trip and familiarize yourself with the city.
Eat and drink before you go. There aren't bathrooms on the bridge, or cafes. So you want to make sure you are hydrated, but give yourself enough time to use the restroom before the climb.
Plan on buying the photos. Just factor that in. You can't take your own, and you are going to want them. You will get a group photo, but the individual photos must be purchased.
Surf Lessons at Bondi Beach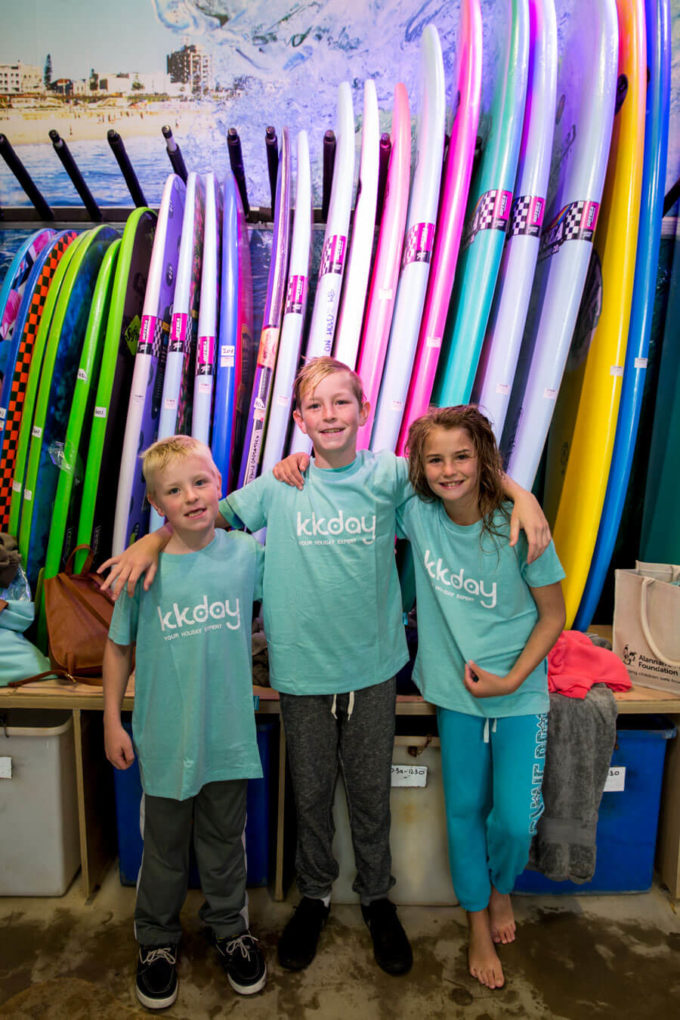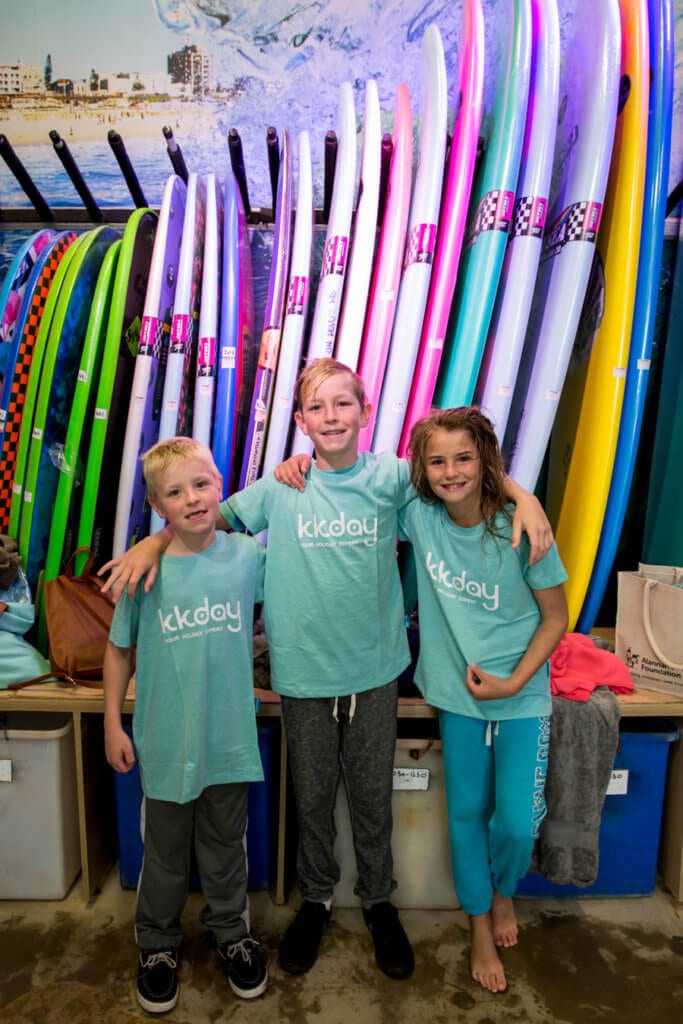 One of our favorite parts of our Sydney trip was our day spent at Bondi beach. We set up surfing lessons through KKDay.com, and headed over to Bondi for the day. KKday.com handled everything for us and just sent us an email with a confirmation, and a time and place to be. It was easy and seamless. And I highly recommend them. They even went to the trouble of checking with the vendor what would happen if the weather was bad, and double checked to make sure wet suits would be available to us. They were awesome. And I could just be on vacation and let them handle everything.
Before heading over for our surf lessons, we ate breakfast at Speedos cafe, which was right next to the surf lessons office. It was healthy and delicious, and I highly recommend checking it out. I mean look at that french toast? Gorgeous right? So after eating, we went over and got suited up for a few hours in the ocean.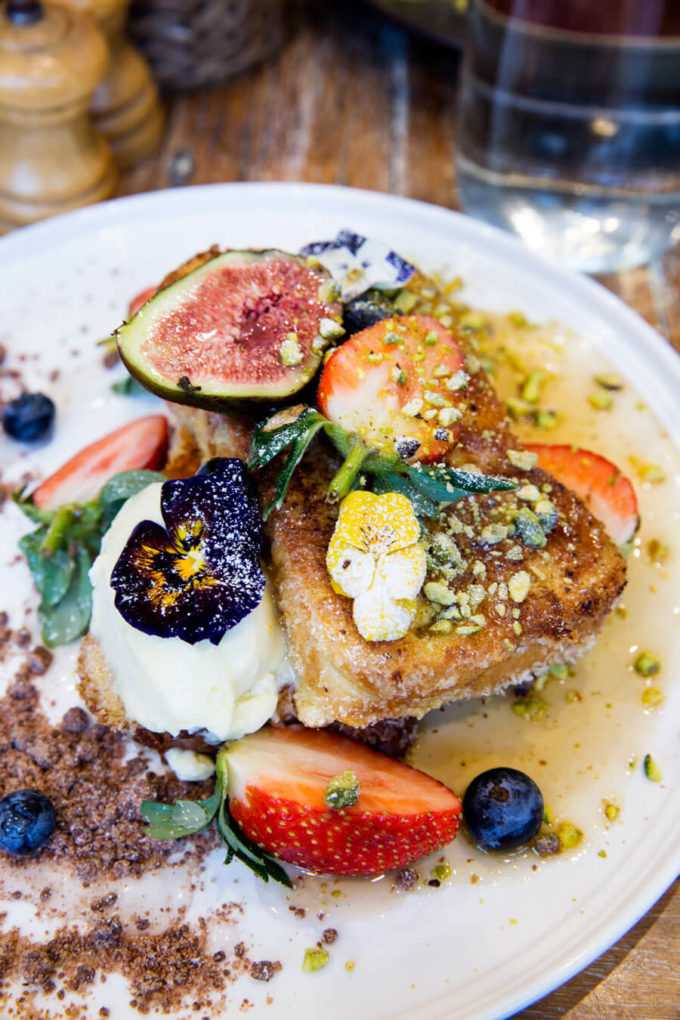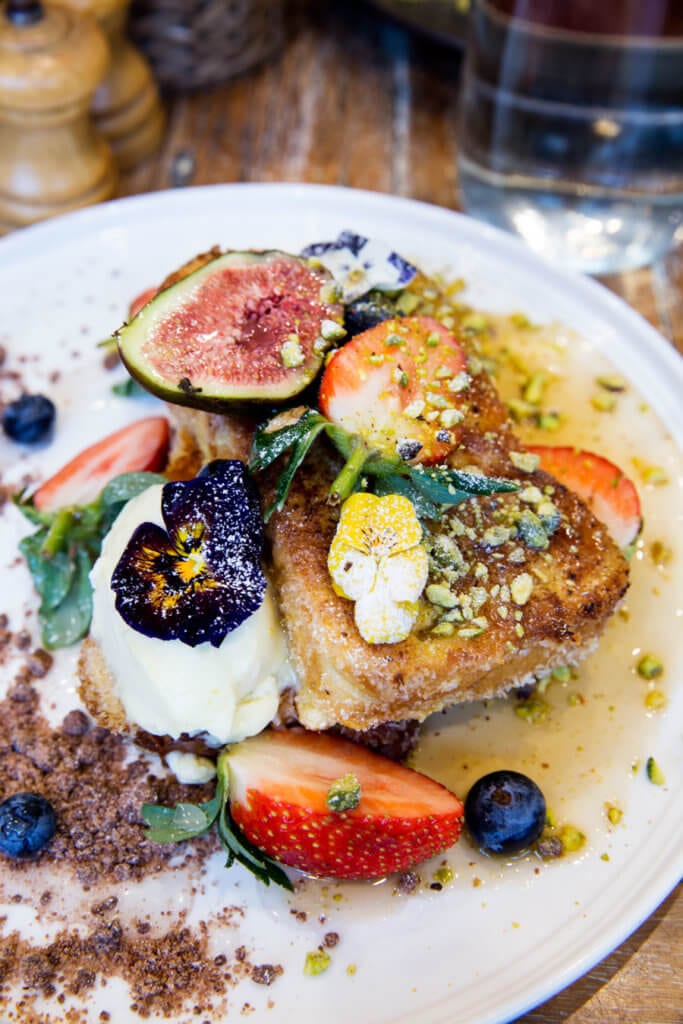 We visited during Sydney's winter months, so I won't lie, I was worried it was going to be way too cold for myself and my kids. The surf instructor gave the kids double wet suits, and assured us the water was warm. With some trepidation we headed out. One side note, because it was winter the beach was not crowded at all, so it was really awesome to be out there without a crowd, and get to enjoy the beautiful beach without the craziness of trying to keep track of kids in a crowd.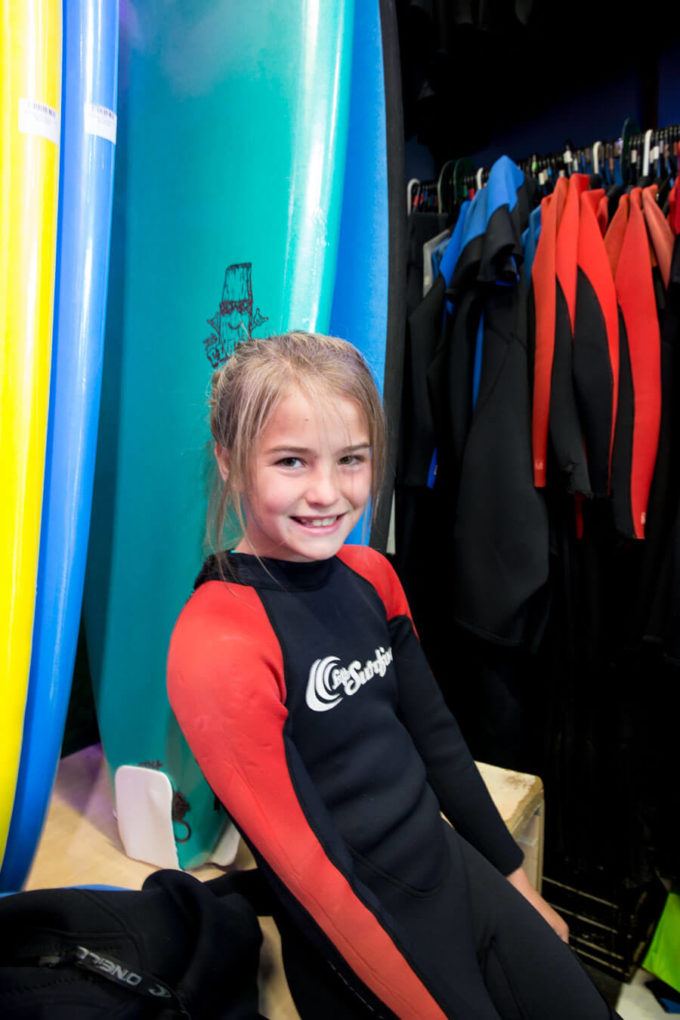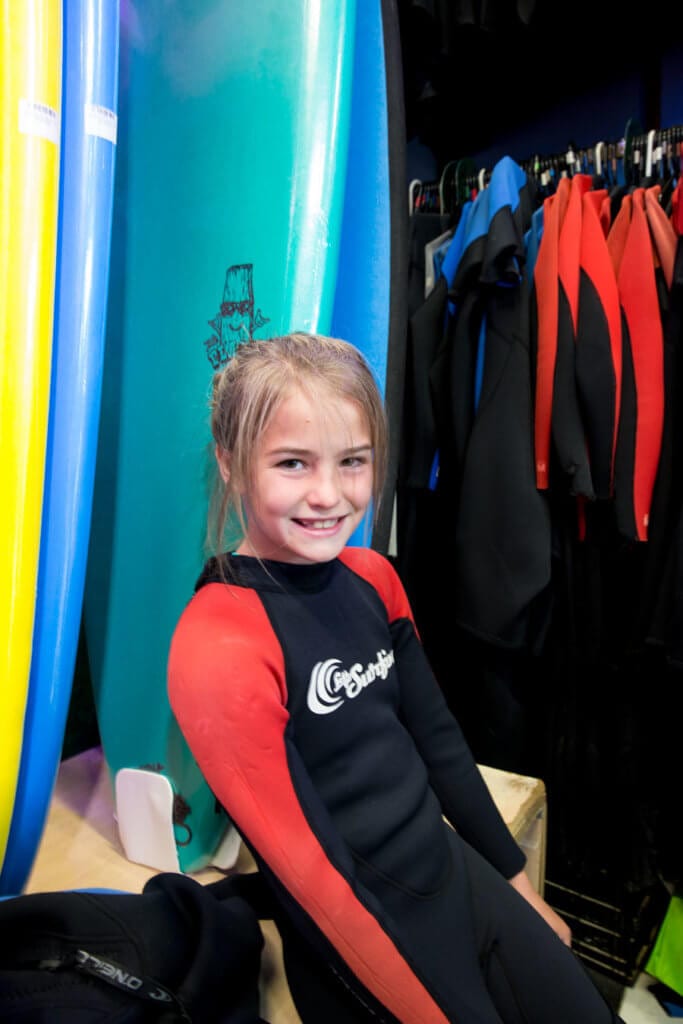 The instructor was super patient, and explained the basics, and let us practice on shore. He pointed out the various things to notice in the ocean, like what a rip looks like, and how to get out of one. He explained what to watch for when surfing, and asked us about what we wanted to accomplish for the day. Everyone set goals, and I think everyone reached their goals too!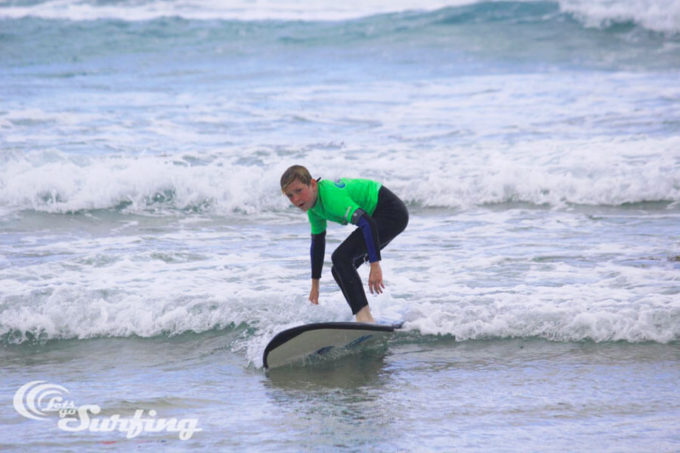 My kids had a seriously amazing time, and took to surfing so naturally. My son got up on the board his very first time, and spent the rest of the two hours riding waves like he had been doing it his whole life. My daughter, who is active in gymnastics, and thus has great balance and flexibility also took to it like a natural, and showed us all up with her superior skills. I, on the other hand, spent most of my day crashing face first into the water, and exhausting myself trying to remember what I was supposed to be doing. But despite it all, I got up a handful of times, and had a serious blast.
We were all smiles, and let me tell you, I would do it again in a heartbeat. I am already planning a trip back to work on my surfing skills.
What you need to know:
Wear your swim suit, they provide the wet suits.
You won't be able to take photos. You leave all of your stuff in the office, in a bin. But don't worry, their staff will come out and take photos of your lessons. They just emailed them to me after, which was great.
Eat before you go. It is 2 hours of hard work, and you are going to be hungry. When it was all over we headed up the hill to Little L and got chicken burgers, which we devoured. We really worked up an appetite.
Have fun. Many people take lessons for several weeks, it is a skill that takes time to learn, but can be fun even if you aren't surfing on day one. So just enjoy yourself.
Lesson times change because the lessons are scheduled around the tides, so plan ahead.

Tips for Surfing at Bondi Beach:
Book your surfing lessons through kkday.com for an easy, seamless, booking process, and an enjoyable activity at a great price. They offer lots of other activities too, so check out everything they have to offer.
Hydrate well. You are going to want to be well hydrated.
Try to not be too out of shape. It is physical work, you have to swim, walk out against the waves, and push your body up. While you don't have to be a pro athlete to be able to do the lessons, it will definitely be more fun if you don't tire out too quickly.
Safety first: Listen to the instructor,pay attention to the environment, and have fun!

Taronga Zoo
One of the things Australia is known for are the animals, spiders, snakes, kangaroo, koala bears, and more. Ideally you do not see too many of these just out and about. So no visit to Sydney would be complete without a visit to Taronga Zoo. It is beautifully situated, has great animal enclosures, a knowledgeable staff, and is a fun way to spend a day in Sydney. I highly recommend a visit. There is so much to do, learn, and see there, and the views of the city are amazing. Great for the whole family.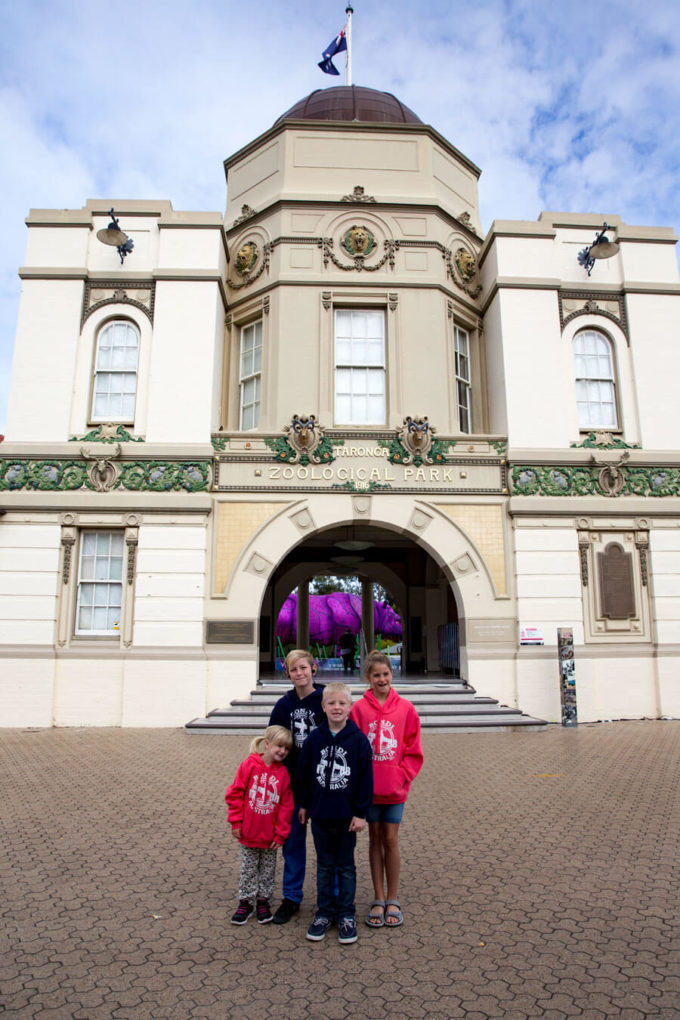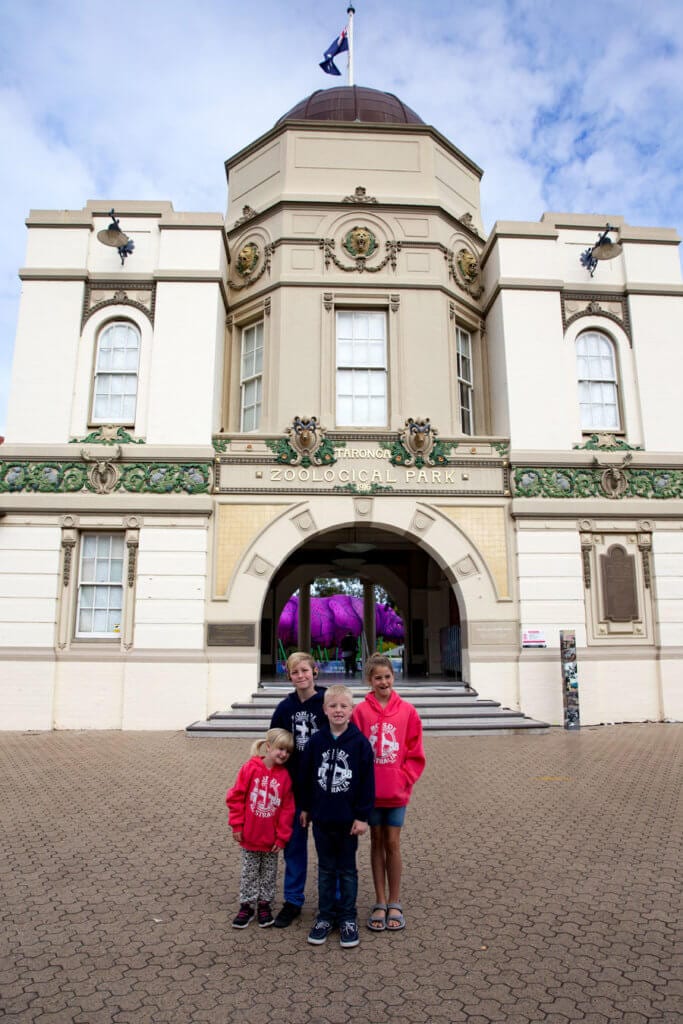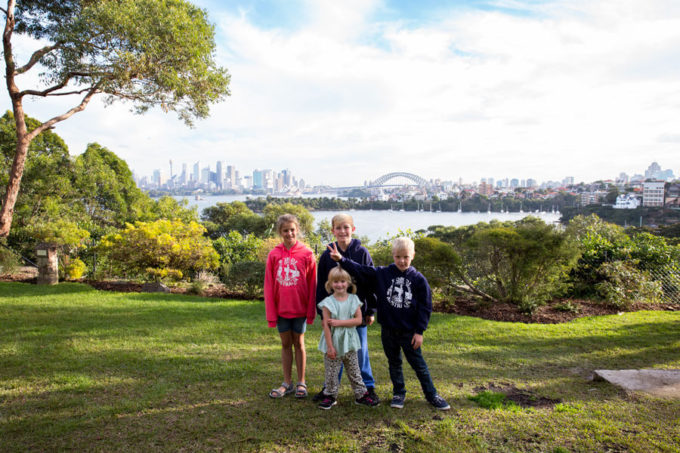 What you need to know:
Getting there: The best way to get to the zoo is by ferry. You can take a ride from Circular Quay and it is only a 12 minute ride. You will get dropped off at the bottom of the zoo and you can take a free shuttle bus to the top of the hill to buy tickets, or if you already have your tickets you enter at the bottom of the hill and take the sky tram up to the top. There is a paid parking lot, so you could drive.
Zoo Plan: The zoo offers various encounters and shows, so plan ahead so you can hit them up. We watched two of the shows (seals and birds) and we loved both of them. They were a highlight. There are also animal encounters, and more. So take a look at the current schedule, and know that a few things need to be purchased separately and planned ahead of time. Check out the zoo website for more details.
Places to eat: We spent the whole day at the zoo, so we had the chance to check out some of the great restaurants at Taronga. They have a few options from casual dining to sit down. As well as lots of snack options. We opted to eat at The View, which lived up to its name with amazing views of the zoo and Sydney.
Wild Ropes: In addition to the animals, there is a ropes course you can buy tickets to try. We did not have time during this visit for the Wild Ropes course, so I can't personally speak to it, but I have heard it is a great activity, especially for families.
The Zoo has an app: The app is great, you can plan out your day, check out the map, and learn more about the zoo. So check it out.

Tips for a Taronga Zoo Visit:
Use the zoo website planning tools to plan your day. It has a ton of helpful resources: https://taronga.org.au/taronga-zoo#accommodation
Take the ferry. It runs regularly, is low cost, and very convenient. It is also probably the fastest way to the zoo from downtown Sydney.
Go to the shows. You will see the animals in action and get to learn a lot about the conservation efforts, and missions of the zoo, as well as see an entertaining show.
If you are visiting during VIVID, plan ahead and purchase a VIVID pass so you can enjoy the brightly colored animals and lights.

Sydney Harbour Cruises
One of the best ways to see Sydney is from the water. And what better way to enjoy that then from a dinner cruise? During our trip we were lucky enough to be in Sydney during VIVID, which is a celebration of lights, colors, music, and creativity, and the city is lit up and so fun. We took a dinner cruise with Harbourside Cruises, and got to get up close and personal with the Opera House, and see all of the fun city lights from the water. This was an incredible experience. Do yourself a favor, and book one of these cruises!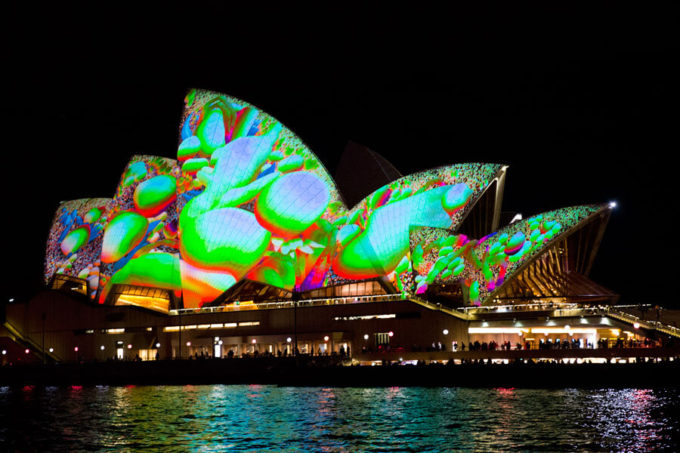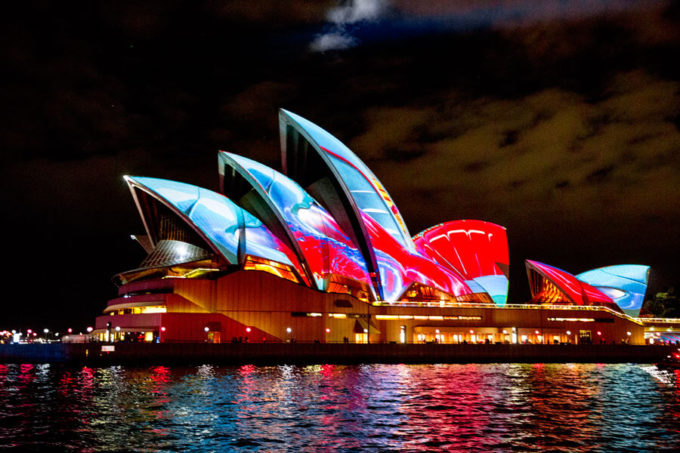 What you need to know:
Taking a Harbourside Cruise is one of the very best ways to see VIVID Sydney without fighting crowds. They get to go right into the harbour, so you get an up close view of the Opera House and Circular Quay, and all of the beautiful light installations, all while noshing on freshly prepared food.
The staff is great. They are super friendly, and happy to try and help accommodate your needs. We did the cruise with 4 kids, and unfortunately did not get a table. They tried to help us out, and while unable to get us a table, they were very nice about everything, and helped us keep our seats clean.
The cruise leaves from Casino Wharf Pyrmont, an unassuming dock, so get there early, and wait near the dock entrance so you can be in the front of the line to board the ship.
The buffet is nice. There are plenty of options, as well as a bar, so you will definitely find something you like on board. You can find the full menu here: https://www.harboursidecruises.com.au/event/vivid-sydney-cruise/
Tips for a Harbourside Cruise:
Be on time, or early, and be the first in line so you can get your pick of the tables. We found there were not enough tables for each guest, as it is a casual dining situation during the VIVID cruise. If you need a table, be near the front of the line. But even if you don't get a table, the staff is friendly and helpful, so you will be fine.
Plan to be on deck some. This may mean bringing a jacket, and non-slip shoes. You want to get the best views, which means being outside.
Bring a camera. You are going to get some of the best views of the city available, and you don't want to miss out!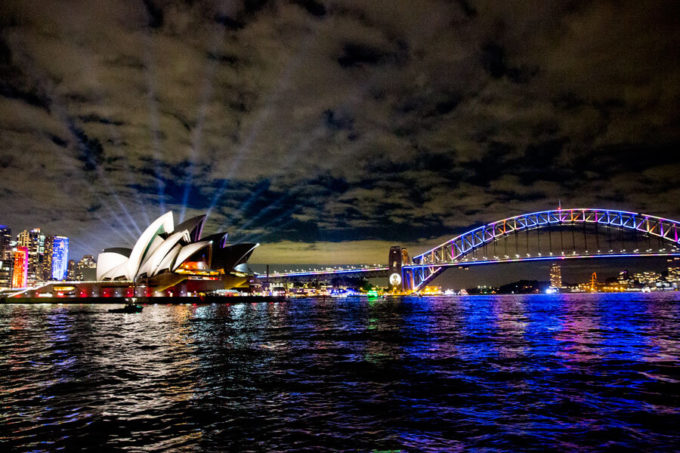 Sydney Observatory
During our visit to the other side of the world, we knew we had to observe the night sky, and learn about it too. The constellations and parts of the galaxy we can see from home are different from what we could see in Sydney. The first week we were there we were so tired we kept falling asleep before the stars were even out, so I was pretty stoked about doing a night tour with the Sydney Observatory.  What a fun and fascinating visit. I had no idea how much I would enjoy a visit to the Sydney Observatory.
Our guide was so passionate about the stars and the galaxy. We learned so much. We got to see a map of the sky. We got to learn about cool things happening in the galaxy soon. And my 12 year old son was absolutely engaged and enthralled. More so than any other activity we did in Sydney.
What you need to know:
If the sky is cloudy you won't be able to see stars from the telescopes, but you will still have a fabulous experience visiting the observatory. And there is still plenty to see.
Take a nap before going. You will be sitting in a small, dark room, on a cozy couch, looking at the ceiling. It is very conducive to sleep. So consider a nap before going so you can stay awake.
Night tours start at $16 for kids and $20 for adults, and there are two different times you can take the tour.
While visiting you can see the Flag staff and time ball, the planetarium, visit the historic grounds, and observe the sky through a telescope.
Tips for Sydney Observatory:
Observatory Hill is pretty cool, so arrive a little early for your tour and take advantage of exploring the area, and checking out the beautiful grounds.
Book your tickets online in advance to save time.
Go prepared with your questions, you will have an expert guide, so ask away!
Sydney Tower Eye – Sky Walk
Sydney is a relatively new city in terms of big buildings, and population. But it is a booming city, and the skyline is something to behold. For some of the best views of the city check out the Sydney Tower Eye. You can go up to the top of the Westfield building and check out the city below in a 360 degree observation deck. And if you are feeling super daring, you can even do the SkyWalk, which is Sydney's highest outdoor adventure.
Things to know:
Kids have to be 8 to do the Sky Walk.
The Tower tour is more than just the view, you get to watch a fun, interactive video, and you get to walk through and read about some of the history. There is a questionnaire for kids to help them get involved and have more fun. My kids loved it.
There are great views from the tower, there is a cafe and concessions there as well, so you can grab a bite or a coffee and enjoy the view.
Tips for your visit to Sydney Tower Eye:
Plan an hour for the Sky Walk, and however much time you want to meander and take in the view. At least 1 hour 3o minutes are needed to do it all, and it is best scheduled in advance.
The tower is attached to a mall, so you can shop, dine, and play all in one spot.
Plan to buy pictures. You can take your own from the observation tower, but the SkyWalk you can't. So if you want photos, plan to purchase.
SEA LIFE Aquarium
Australia is a big island, with beautiful beaches, so be sure to take a stop by the Sea Life Aquarium, which has amazing local sea life, and some really amazing exhibits. My kids particularly loved the penguin exhibit. And the shark tunnel. Actually they liked it all. And I don't blame them. It is a pretty neat place to visit, and another cool thing is you can buy a package ticket that includes the Sky Walk, Sydney Tower Eye, Madame Tussaud's, WILD LIFE Sydney, and the Manly Sea Life Aquarium.
Things to know:
Conservation is a big part of the aquarium, ask a worker what you can do to help.
The aquarium houses 12,000 animals from more than 650 species.
Check out the website for hours, prices, etc. https://www.sydneyaquarium.com.au/plan/
Tips visiting Sea Life Aquarium Sydney:
Plan a few hours for the area, and visit the Wild Life park and Madame Tussaud's too. They are all connected, and super fun to visit.
Go when the animals are being fed. The amount of lettuce the Dugong eats is insane. You definitely want to see it.
Take time in Shark Walk and Shark Alley, it is awesome!
Look for the blue lobster looking things in the first big tank. They were put in as babies as food for the fish in there, and survived. See if you can find them.
Madame Tussaud's
Madame Tussaud's is a wax museum that is in the same complex at the Sea Life Aquarium and Wild Life Sydney, and it is a boat load of fun. After exploring the cool animals and having some fun on the wharf, pop in to see some of your favorite personalities, politicians, rock stars, and more. You will love seeing how life-like the wax statues look, and love posing with the President, your favorite movie star, and more!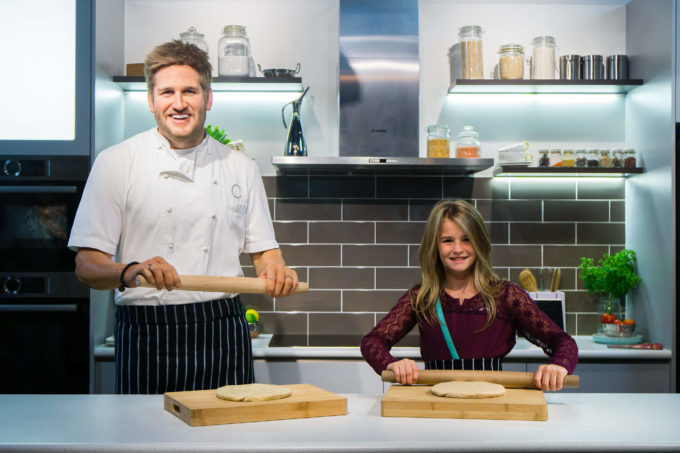 Things to know:
The Wax Museum is interactive. You can post with the figures, you can dress up. etc.
The art of wax carving and painting is awesome, and you can learn all about it, so take a minute to check that part out, not just the famous people.
You can dip your hand in wax!

Tips for visiting Madame Tussaud's:
Take your time, have fun.
Take your camera.
Plan to visit when visiting the Wild Life Sydney and Sea Life Aquarium.

WILD LIFE Sydney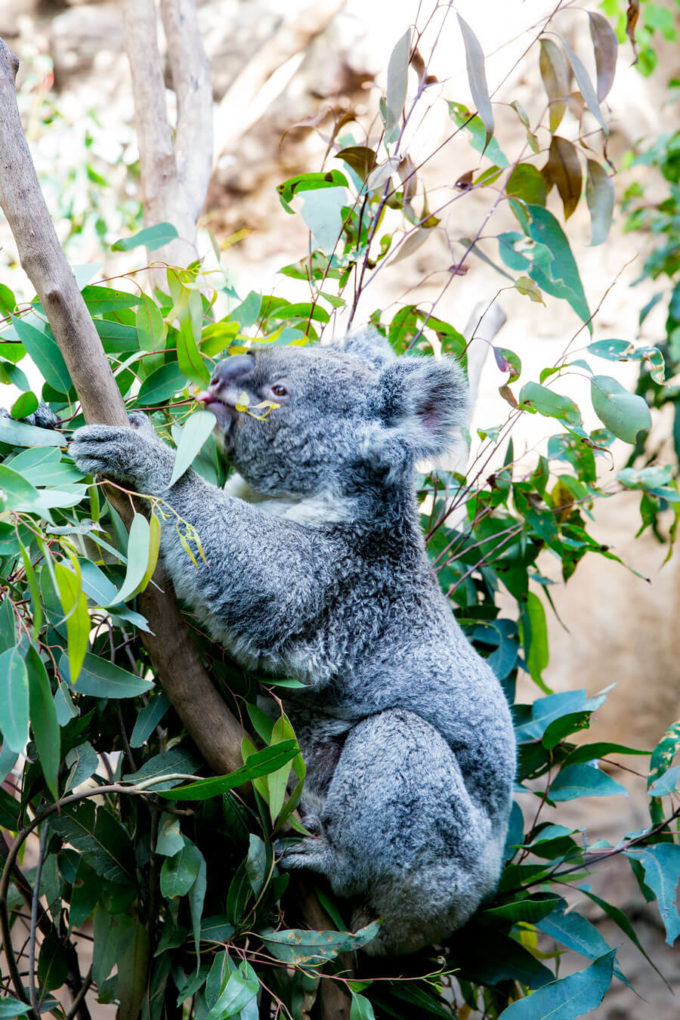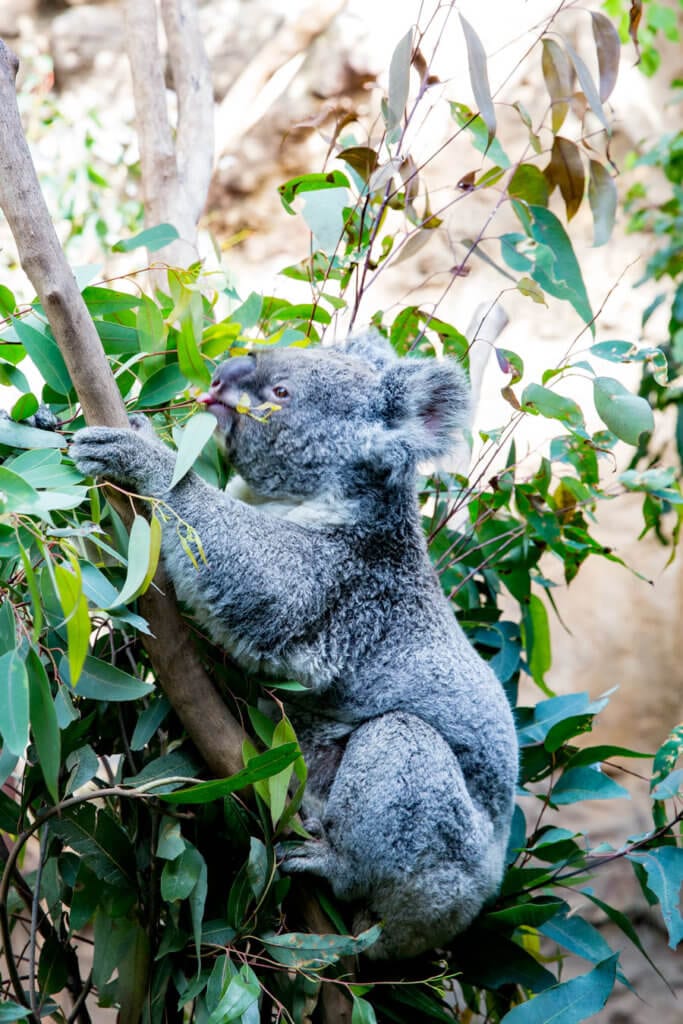 Wild Life Sydney is a fun attraction to visit to get up close and personal with some of the wild life Sydney has to offer, from the Tasmanian Devils, to a giant crocodile, and of course Kangaroos and Koalas.
Things to know:
This is not going to be as good as going to Taronga Zoo. But you are going to get to see some of the animals Australia is known for, and be in the heart of the city.
It does not take a long time to visit Wild Life Zoo, so take your time, and plan it for the same day you visit Sea Life Aquarium and Madame Tussaud's.
Tips for visiting Wild Life Sydney:
Visit during feeding times, and check the schedule for encounters. We got to get up close and personal with a snake, and my 4 year old was sooooo happy about this.
They have a huge crocodile, be sure to check it out.
Luna Park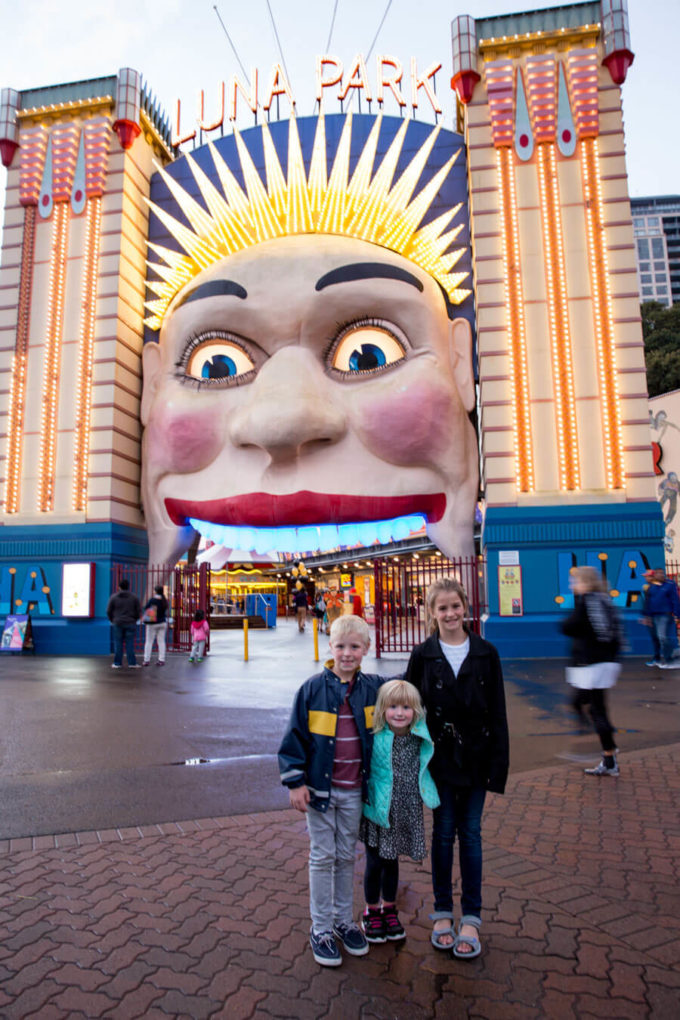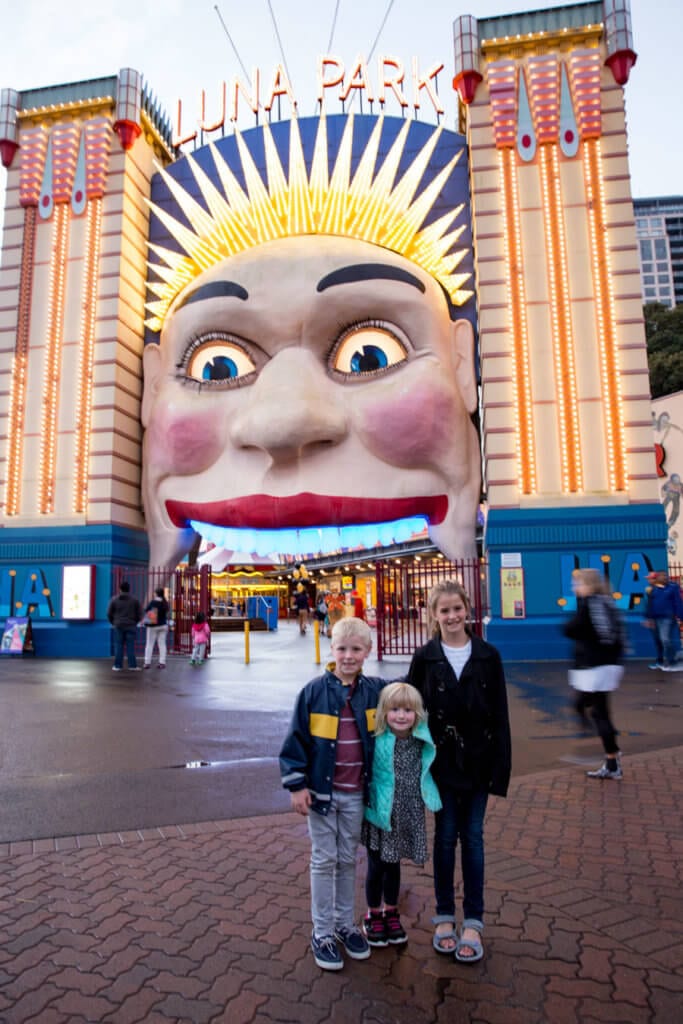 Okay, I have to be honest, I wasn't sure if I should share this one in this list because Luna Park is definitely more for the kids, and this is a list of things that are fun for both kids and adults. But truthfully I did enjoy my time at Luna Park. It is located in Milson's point, it offers great views, is right on the water, with exceptional bridge views. It is a fun and lively atmosphere, and even has some fun food. The staff is nice, and the rides are fun.
My kids spent hours there and had a great time. They never wanted to leave. They especially loved Coney Island.

Things to know:
They sell day passes based on the height of the kid. The taller they are, the more rides they can ride, and the more their ticket costs.
The park is not open 7 days a week, so plan accordingly.
There are concessions at the park, and plenty of delicious restaurants nearby.
The admission is free, but you pay to ride. So you can go and just watch your kids ride, and not pay for an adult pass.
Luna Park is just off the Milson's Point train stop. Just walk down the hill toward the Harbor and you will see the lights.

Tips for Visiting Luna Park:
If you plan to visit more than 2-3 times during your stay in Sydney, it is cost effective to get a season pass.
Ask for the map that shows what rides are open to the different heights so you can know what rides you can ride before buying a ticket. We made the mistake of buying my 4 year old a season pass, and she could only ride a few rides. She was bummed. But she did love Coney Island.

Pin to your Sydney Travel board on Pinterest: