This post is part of a social shopper marketing insight campaign with Pollinate Media Group®, Rubbermaid® fasten + go, but all my opinions are my own. #pmedia #FastenNGo https://my-disclosur.es/OBsstV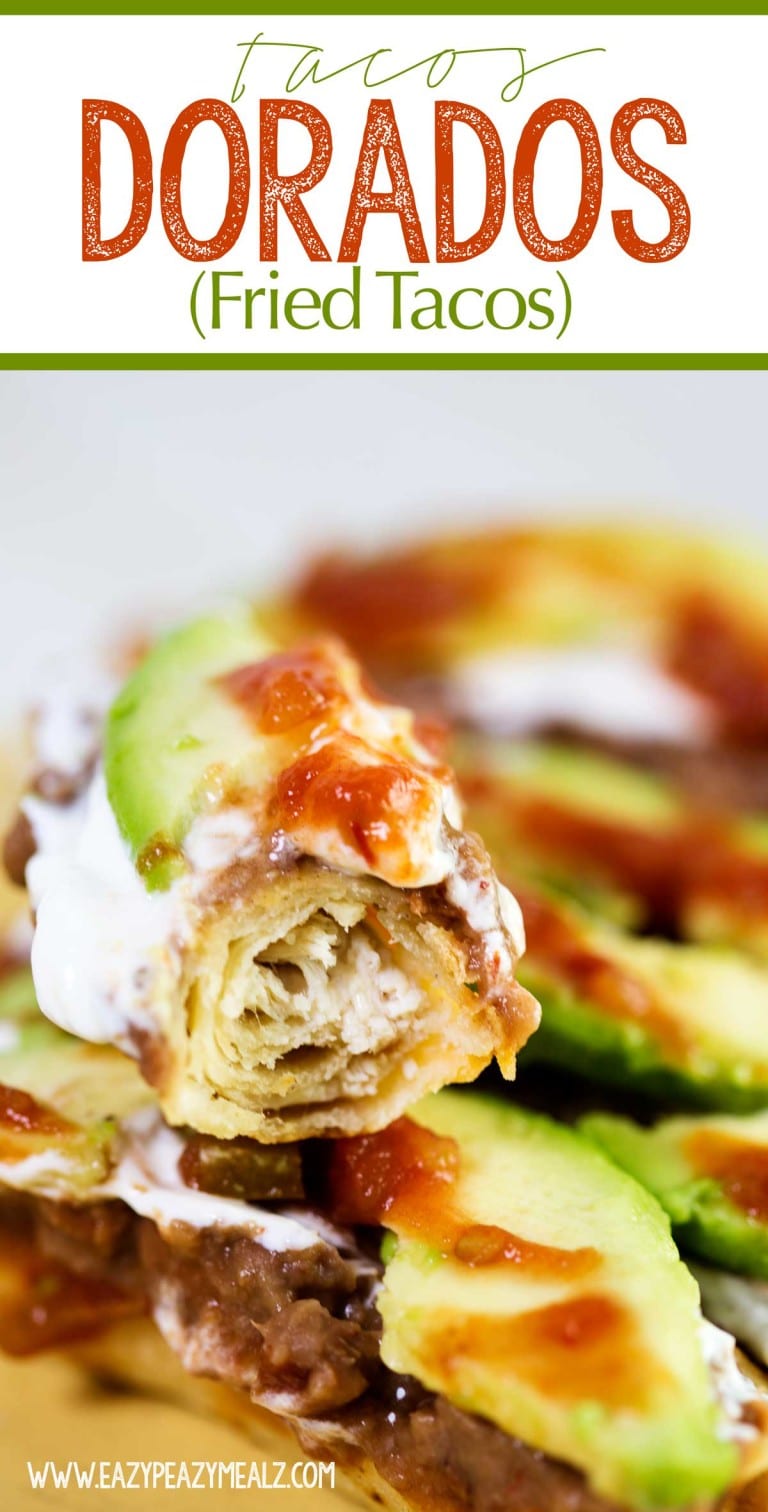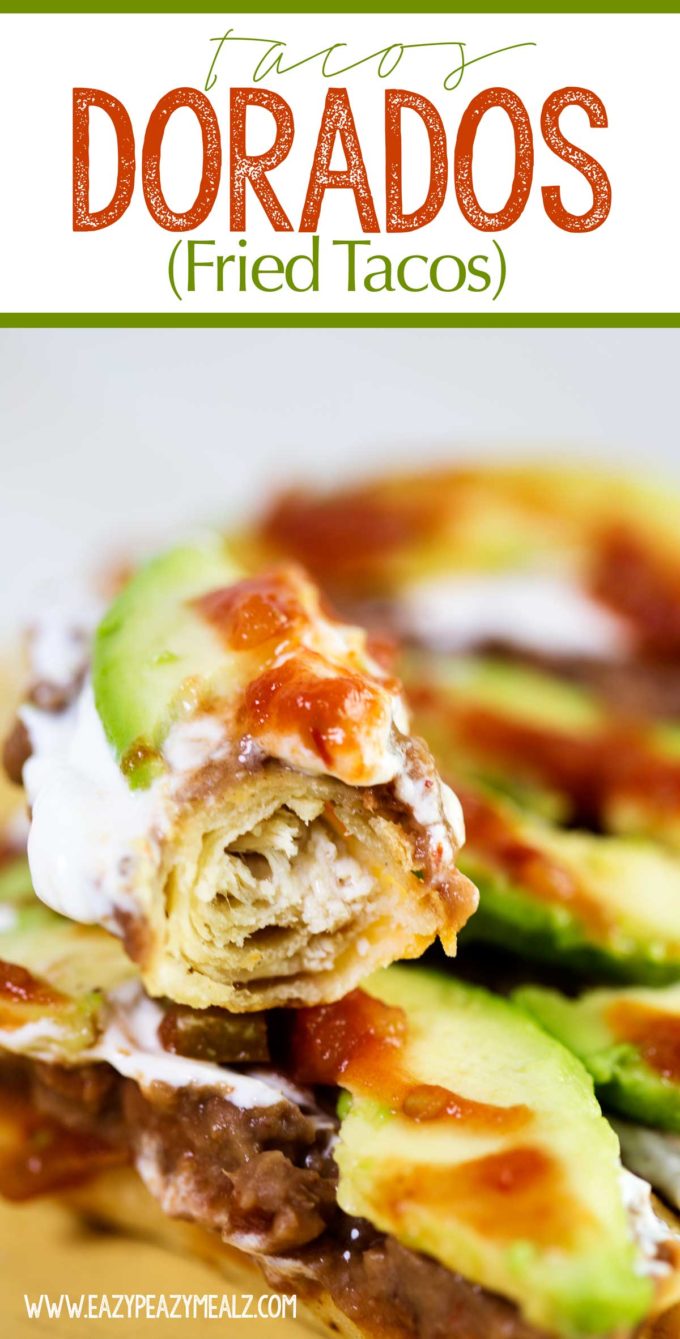 Tender chicken and pepperjack cheese filled taco shells, rolled and cooked, then topped with beans, sour cream, salsa, and avocado.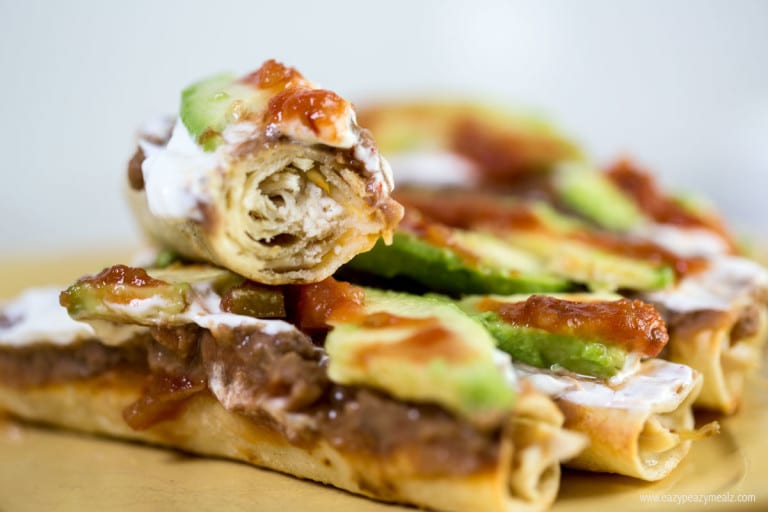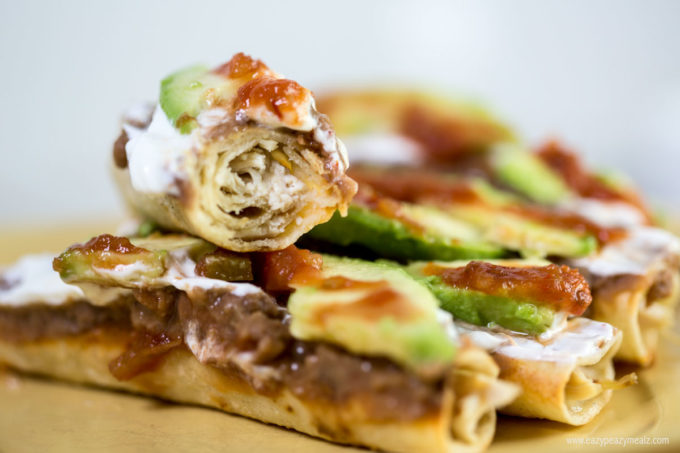 I am a blogger, so naturally I work from home. But every now and then I take on a project from my "pre-blog" life, and work in an office somewhere. This past week was one of those weeks. I was hired by a former client to come in and do some technical writing on a project for them. And this meant getting to work at 8am and leaving around 5pm.
Can I just say…first, I have so much respect for people who commute every day. Wowzer, that was a pain. Second, thinking about lunches at 6:15 am is just so unnatural. I can see why so many business men and women eat their lunches out.
But that gets expensive, and even that has pitfalls. Like where do you go? What do you have time for? Wouldn't you just love to have these for lunch?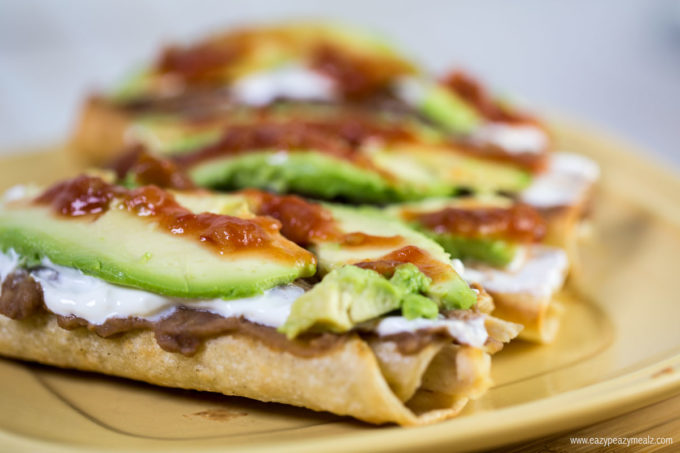 I only spent a week in the office environment, but I couldn't help but think about how I would make it work to take homemade meals for lunches. Good homemade meals. Things like these tacos dorados. And I realized the trick would be in the containers.
Meal prep is a lot easier if you have the right food storage solution. And I found it. The NEW Rubbermaid® fasten + go kits, in particular the Entree option.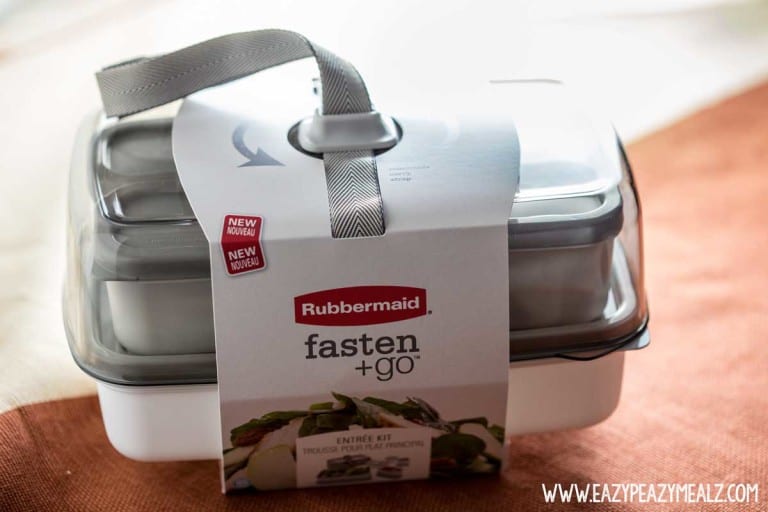 Starting on 12/27/15 head to your local Target store to purchase the NEW Rubbermaid® fasten + go kits! Available in Entree, Sandwich, and Soup Kits! And they are perfect for meals on the go, and meals out of the house. I am doing another project out of my house in a few weeks, and will be making great use of mine!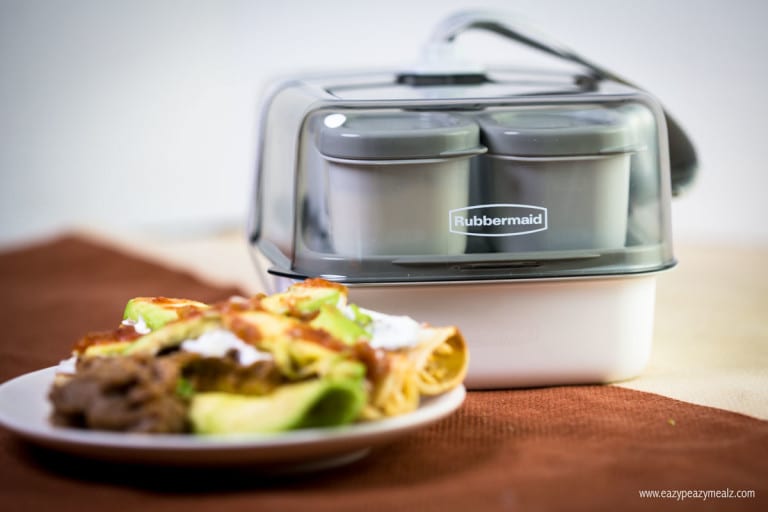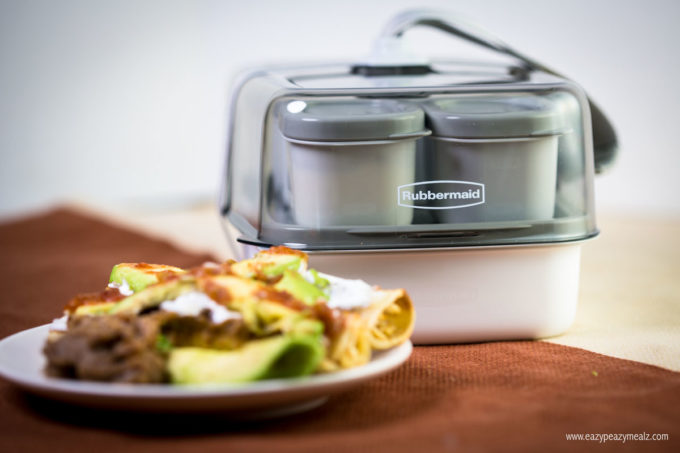 I am pretty sure I will be making these Tacos Dorados. My sister-in-law, Nancy made these. She is from Mexico City, and this is one of the meals she likes to make for my brother. She was kind enough to make it for my family while I was working all week, and she and my brother watched my kids. It is fried tacos, and it is such an easy peasy meal, I thought it would be perfect to share with you guys.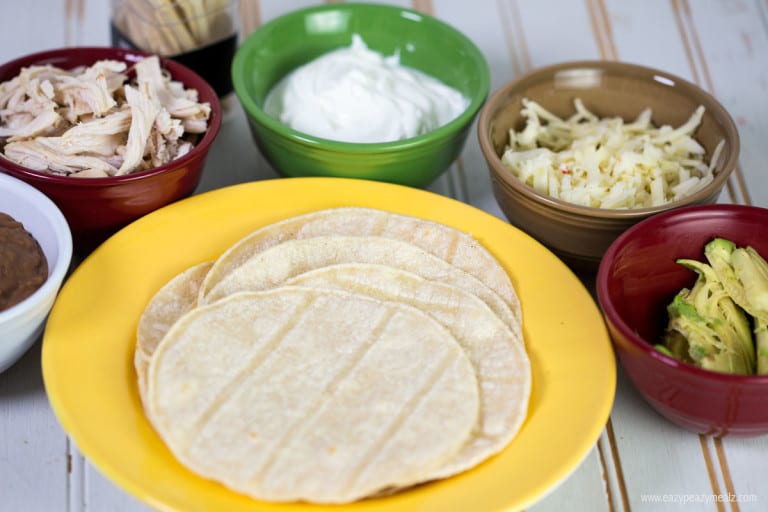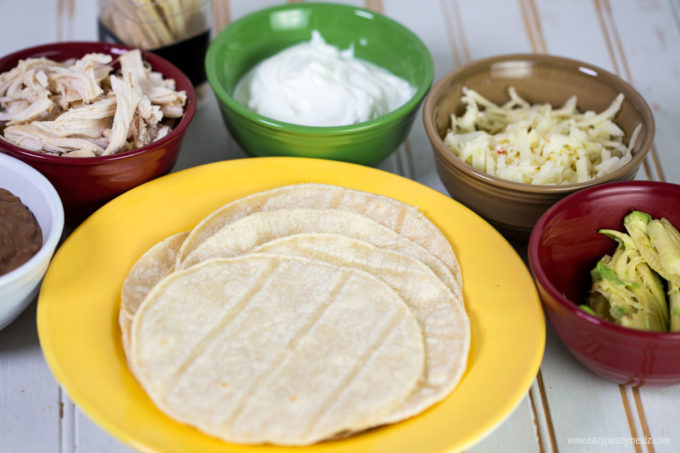 Who says lunch has to be boring? With this great recipe, and the awesome fasten + go container, you can have the lunch that is the envy of the office!
Just gather up your ingredients, and assemble.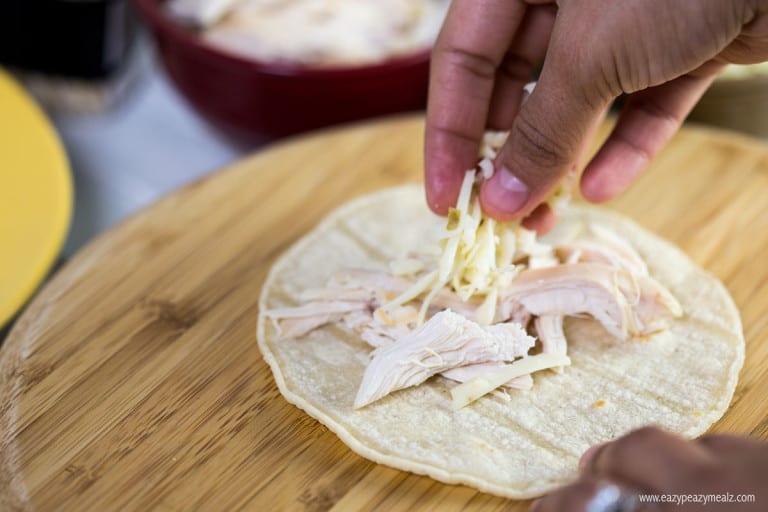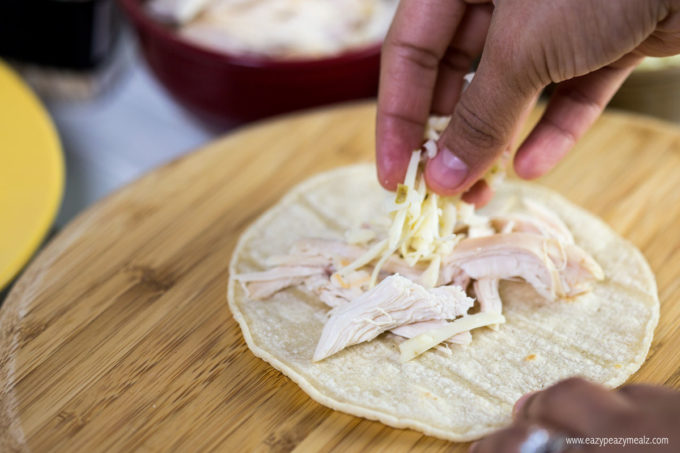 Then fry up, load your topping options into the little sides containers, and enjoy at work, or on the go! The entree kit, pictured here, comes with a good sized base portion, which gives you plenty of room for these tacos dorados, or a big salad, or another entree of choice. It has 2 side containers with a 1 cup capacity each, and two snack containers with 1/2 cup capacity. This makes them idea for all the toppings. Then you have the outer lid and removable strap so you can toss it in the car, or the back of the work fridge, and know you won't have a big mess to clean up.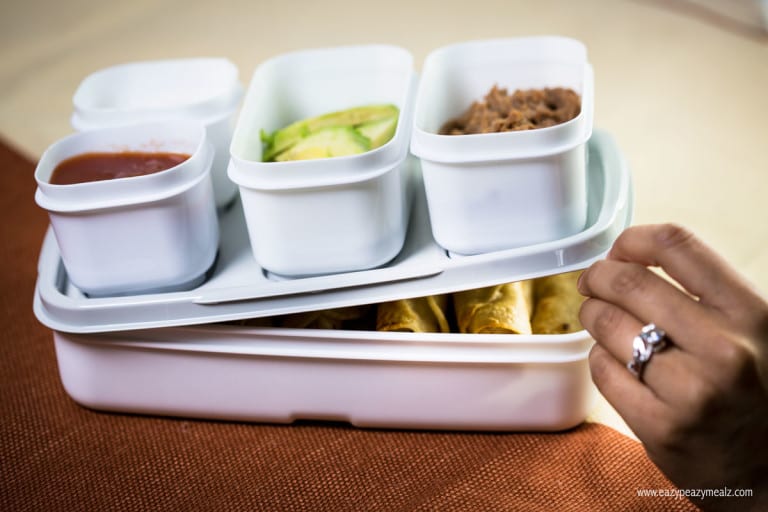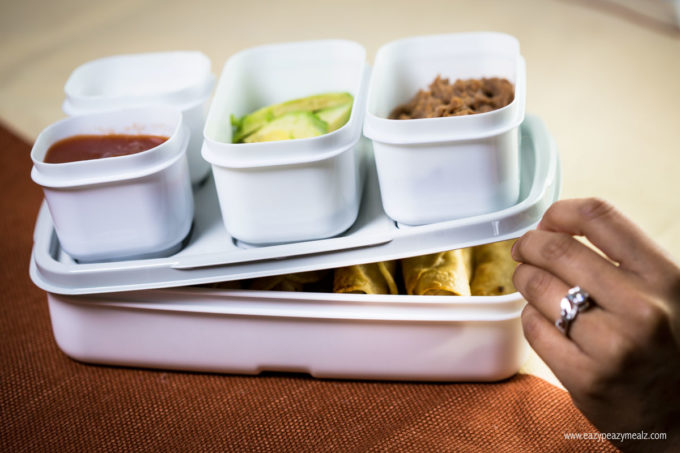 I am really excited to share both this recipe and container with you guys because it is exactly what this site is about, keeping things simple. The container is microwave and dishwasher safe, and the tacos dorados can be made with leftovers!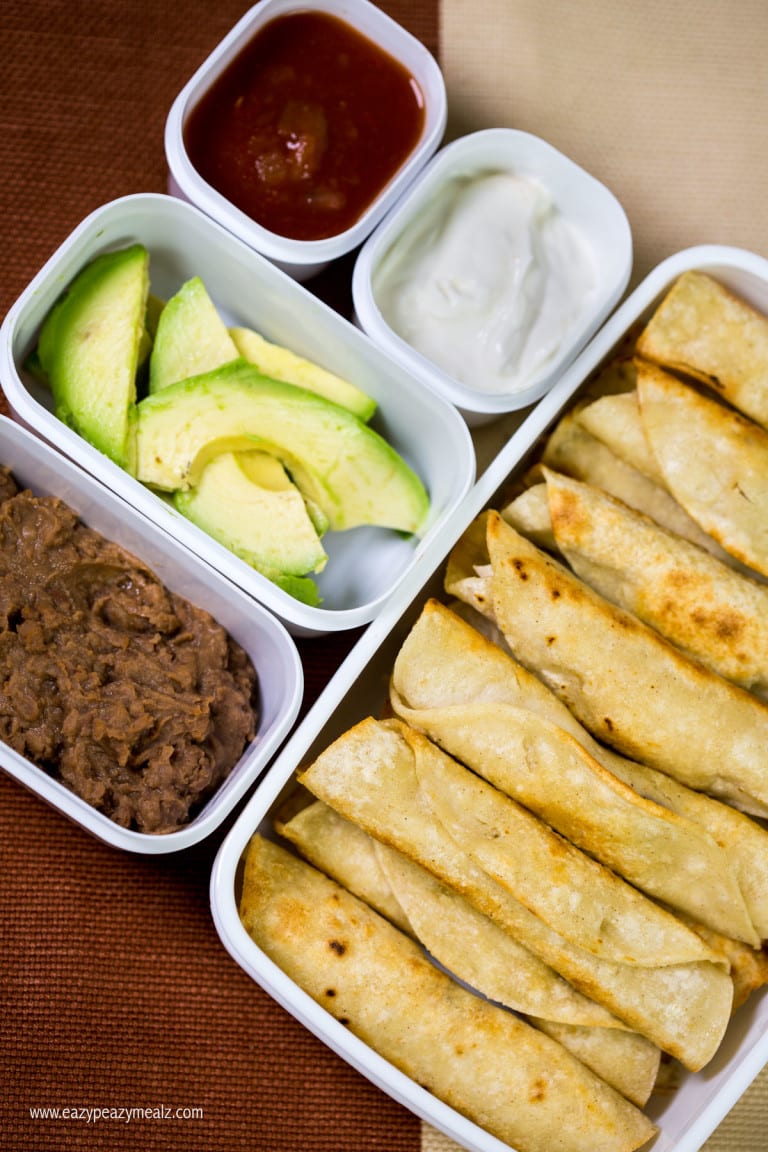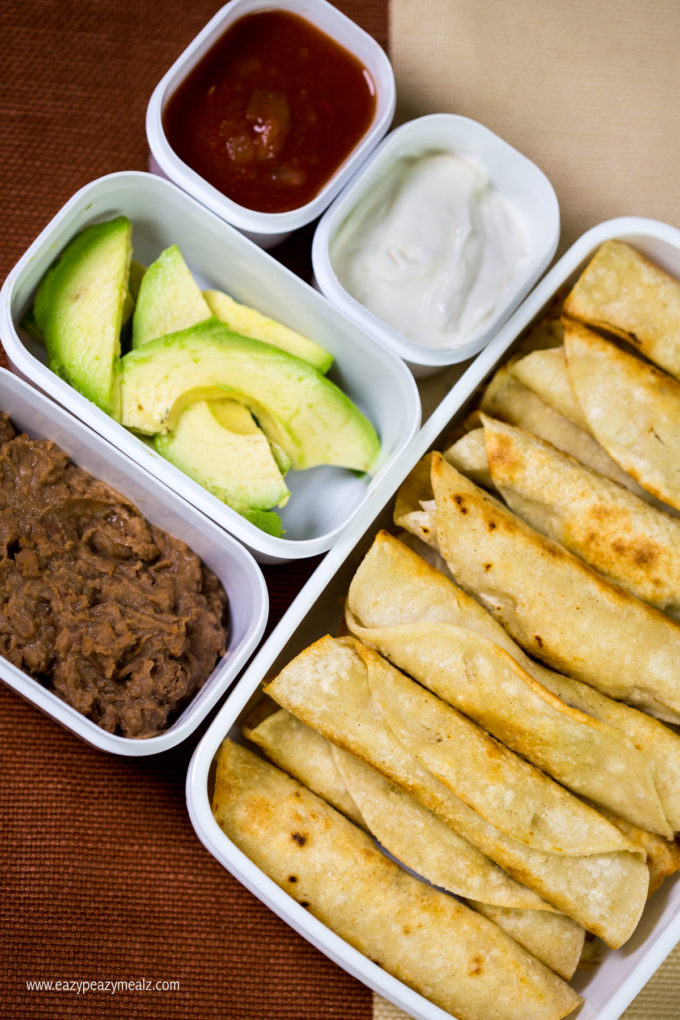 Doesn't that just look like an awesome lunch? I sure think so.
Tacos Dorados (Fried Tacos)
Author:
Prep time:
Cook time:
Total time:
Ingredients
2 chicken breasts or 1 rotisserie chicken
1/2 cup sour cream
16 small corn tortillas
1 sliced avocado
1 1/2 cups shredded pepper jack cheese
2 Tbs olive oil
1 small package toothpicks
Toppings
1 cup refried beans
1/2 cup salsa
3/4 cup shredded lettuce
Instructions
Cook chicken breasts (Grill or boil), until cooked through and tender. Or use a rotisserie chicken.
Shred chicken carefully.
Heat tortillas in the microwave until they are easy to fold without breaking. Cover with a hand towel.
Fill the tortillas with a little bit of chicken and cheese, and toll it up.
Pin it with a toothpick.
Heat olive oil in the bottom of a large pan, over medium heat.
Place tacos into pan, and fry them 4 or 5 at a time
What are you making for lunch? These Tacos Dorados and the Rubbermaid fasten + go should be part of your plans.
Learn more about Rubbermaid at the Rubbermaid Website, or check out their social channels: Rubbermaid Facebook, Rubbermaid Twitter, Rubbermaid Pinterest, or Rubbermaid Google+
Don't forget to pin for later: