This post is sponsored by Ibotta, all opinions are my own. 
4 Peanut Butter and Jelly Lunchbox Ideas
Peanut butter and jelly is a classic and a lunchbox staple, but it can certainly get boring. So today I am sharing 4 super fun ways to mix things up with PB&J to add a little fun, and variety to your lunchbox.  And a fun way to get back to learning essentials FREE with Ibotta – including your peanut butter and fruit spread. Fun right?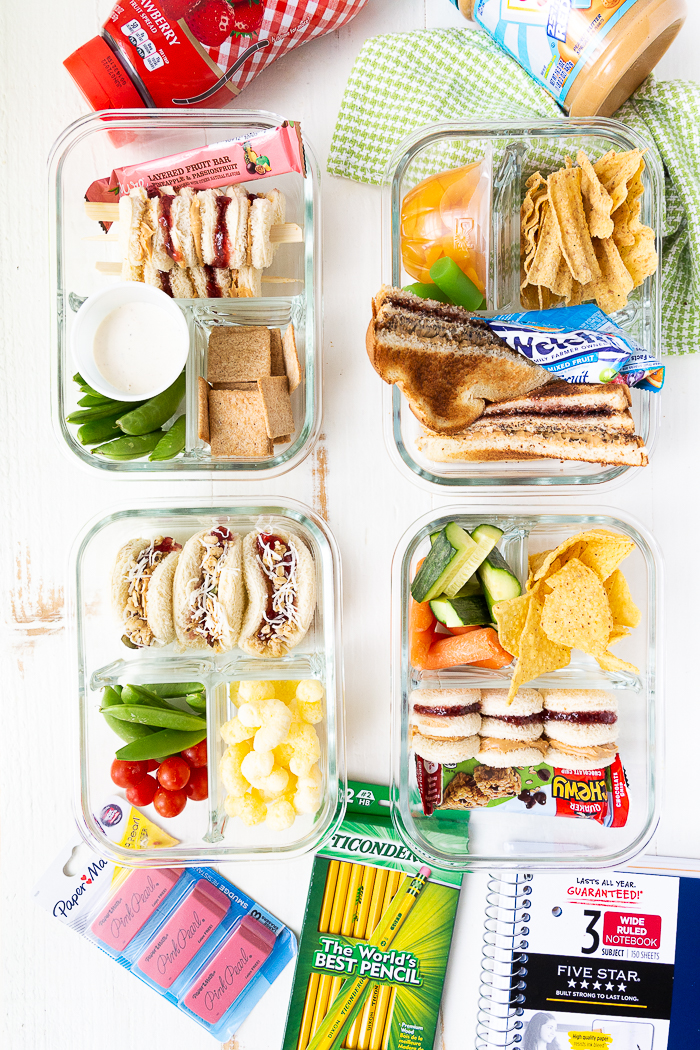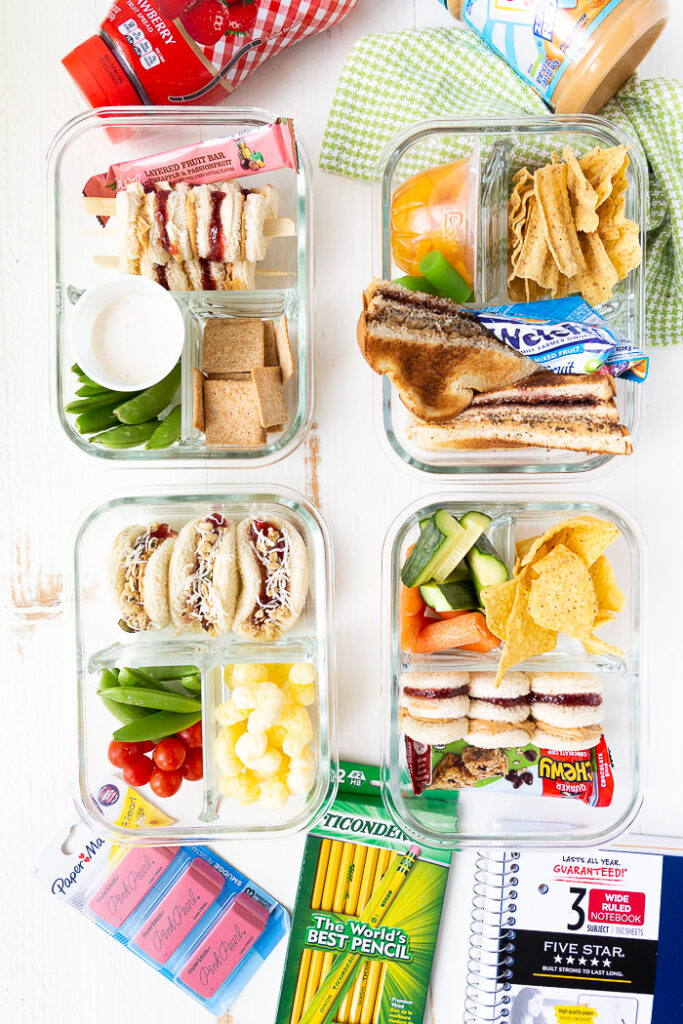 Let's face it, after more than a year of uncertainty and adapting to new ways of learning, many of us are excited to send our kids back to school, and want to do it in a way that has them excited to be there, including an exciting lunchbox. Ibotta also wants to send kids back to school the right way – so they're providing families with essentials for free, along with other great offers, to make going back to school easier on families. 
Ibotta knows COVID has impacted every family, with disrupted routines, tighter budgets, and uncertainty, so they are stepping in to do what they do best–put cash in the pockets of American families. Starting with full backpacks and full lunchboxes…for free!  Ok, so let's start with four ways you can take your PB&J game up a notch, and all the details on how to get this FREE back to school bundle from Ibotta.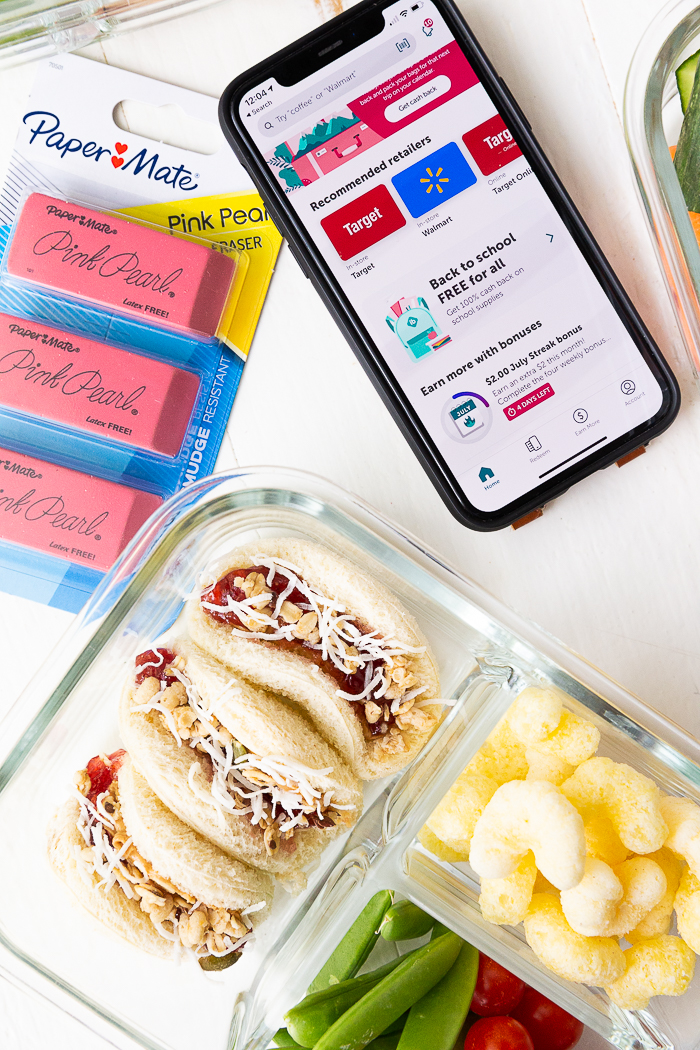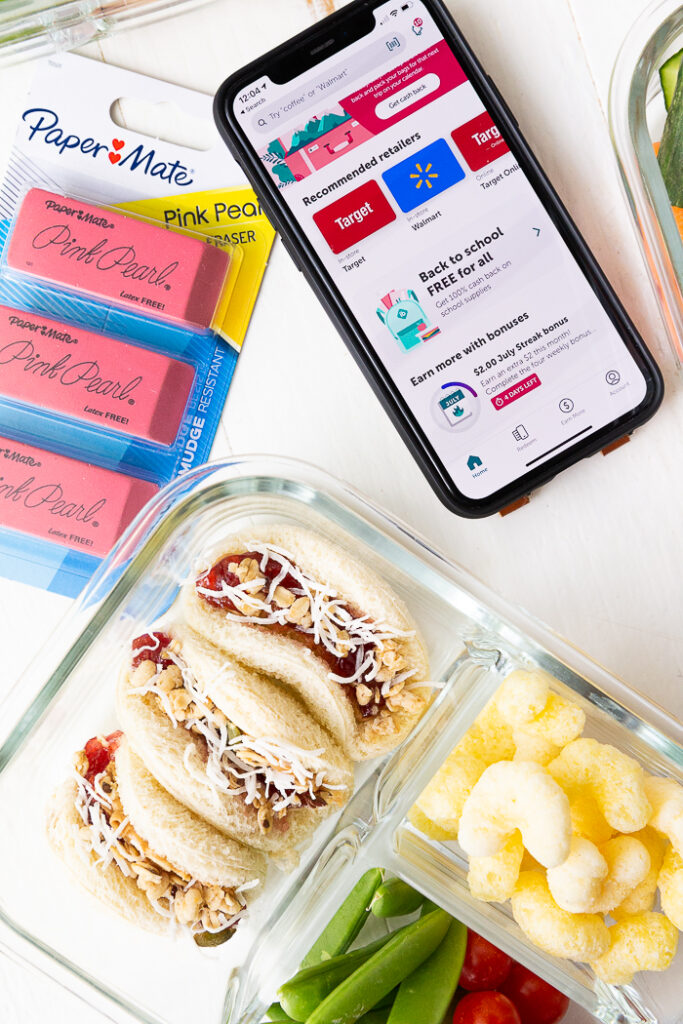 Peanut Butter and Jelly Sandwiches Four Ways
PB&J Kabobs

The Tea Sandwich

PB&J Tacos

Toasted PB&J
PB&J Kabobs
This is one of my favorite ways to take a classic PB&J sandwich, and make it way more fun. There is just something about eating a sandwich off a stick that is exciting. Anything in small sizes, and skewered is fun. And the PB&J is no exception.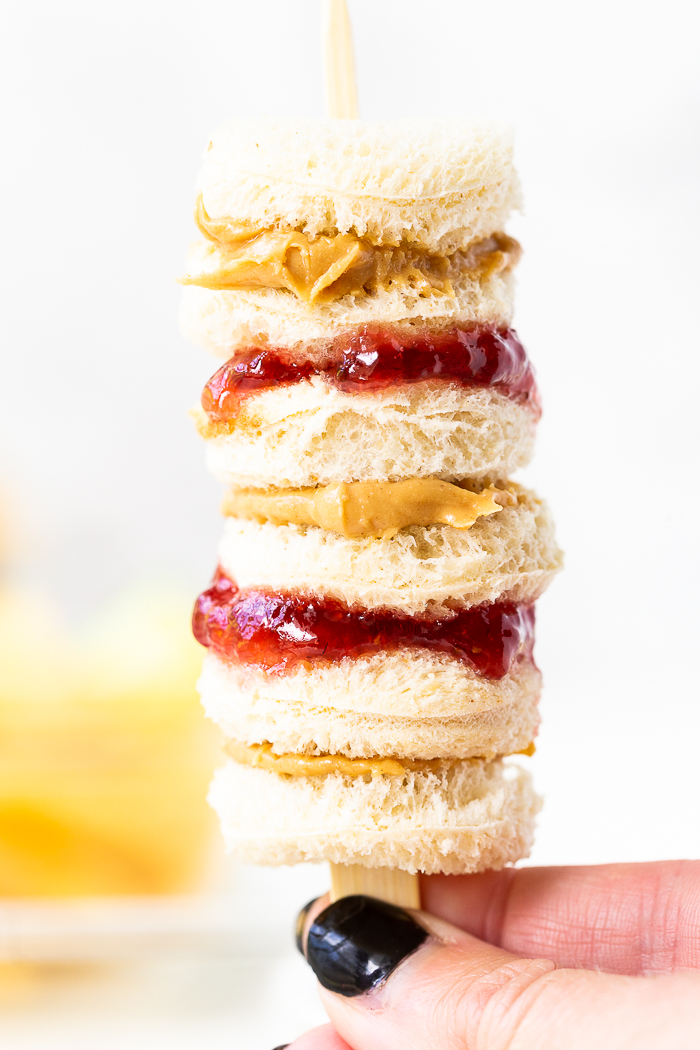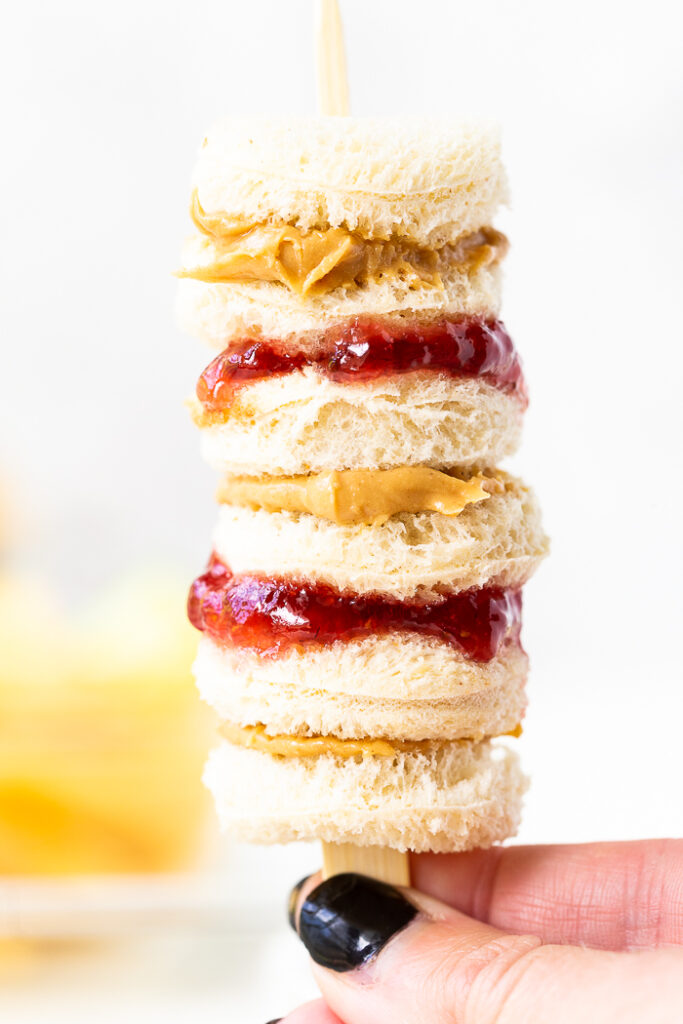 To make it awesome, use a round cutter, and simply cut equal sized pieces out of your bread. 
Then make mini sandwiches, and thread them onto the kabob. You can even add jam or peanut butter between so each piece has topping touching it.  You can mix it up even further by adding fresh berries to the kabob between the sandwiches if you would like. 
Don't want to use a round cutter, or don't have one? No problem, just cut your crust off, and slice your bread into squares, about an inch square. You get the same effect!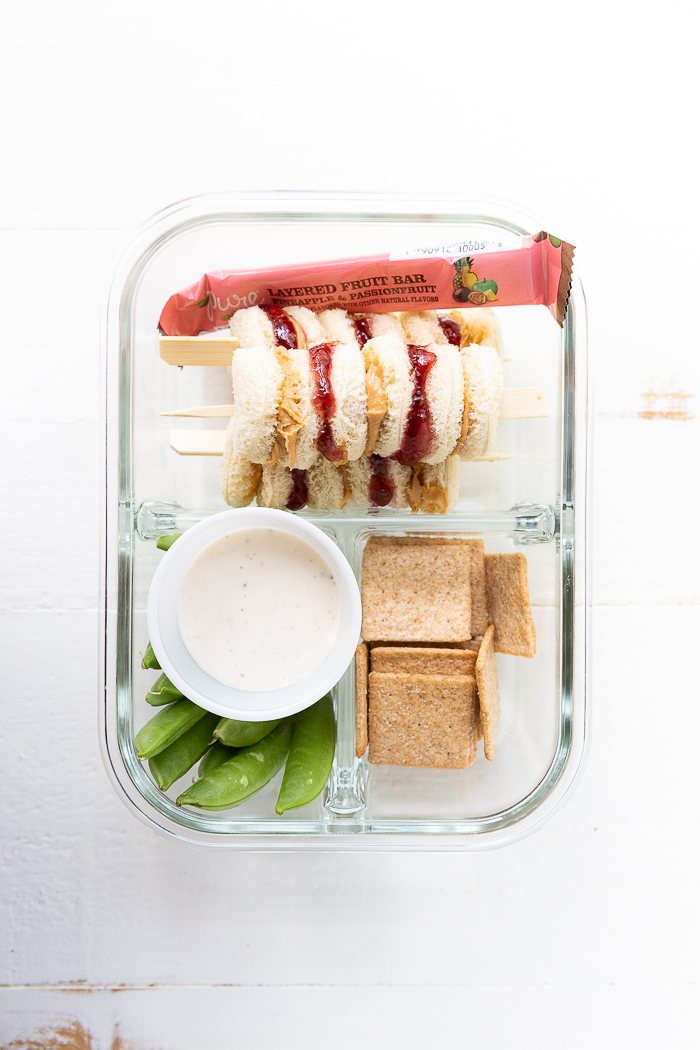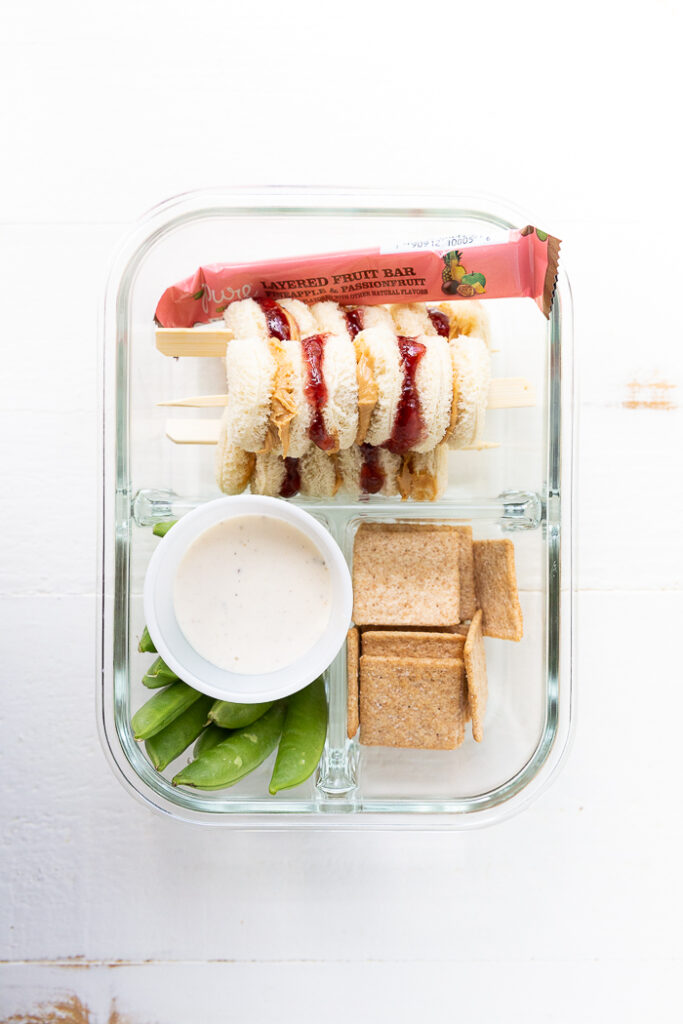 The Tea Sandwich
Just like eating off a stick is a blast, so is anything in mini form. Have you ever been to an event with mini desserts? And you eat like ten of them, and feel sick, but keep eating them because they are bite sized, and soooo cute??? I love applying this idea to my kid's lunches. I want them to eat more foods that are good for them, and fun. So, make them mini!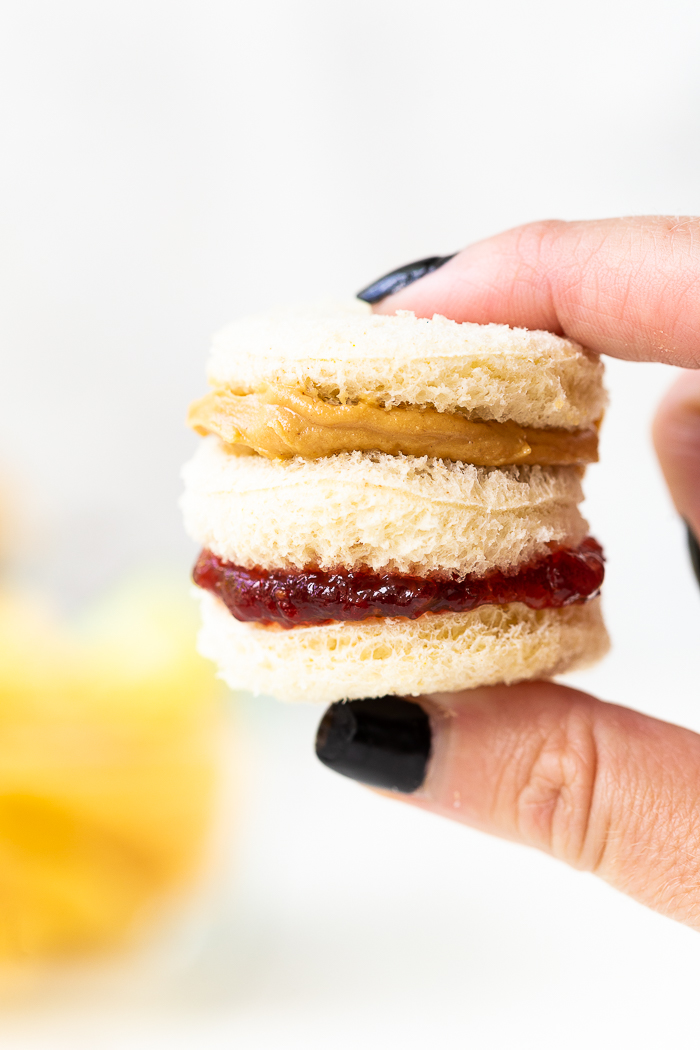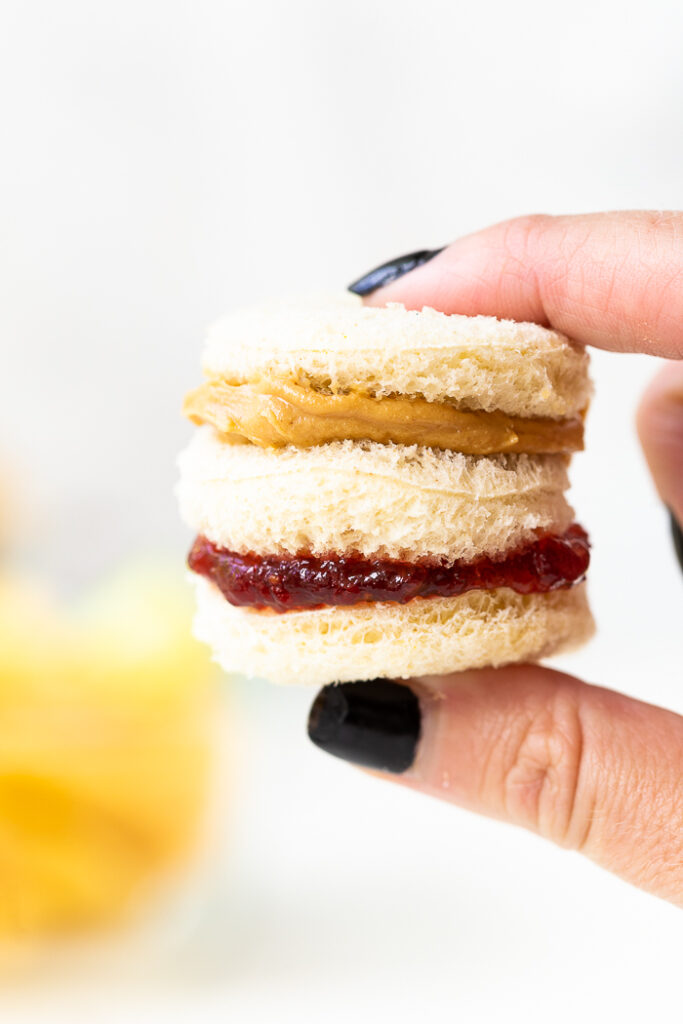 Tea sandwiches that are petite and fun are no exception. For this one you simply want to use a one inch round cutter, cut three circles for each sandwich. Then put peanut butter on top of one round, top with another round of bread. Spread jam on top of that one, and top with the final piece. Cute, layered, mini, and still delicious.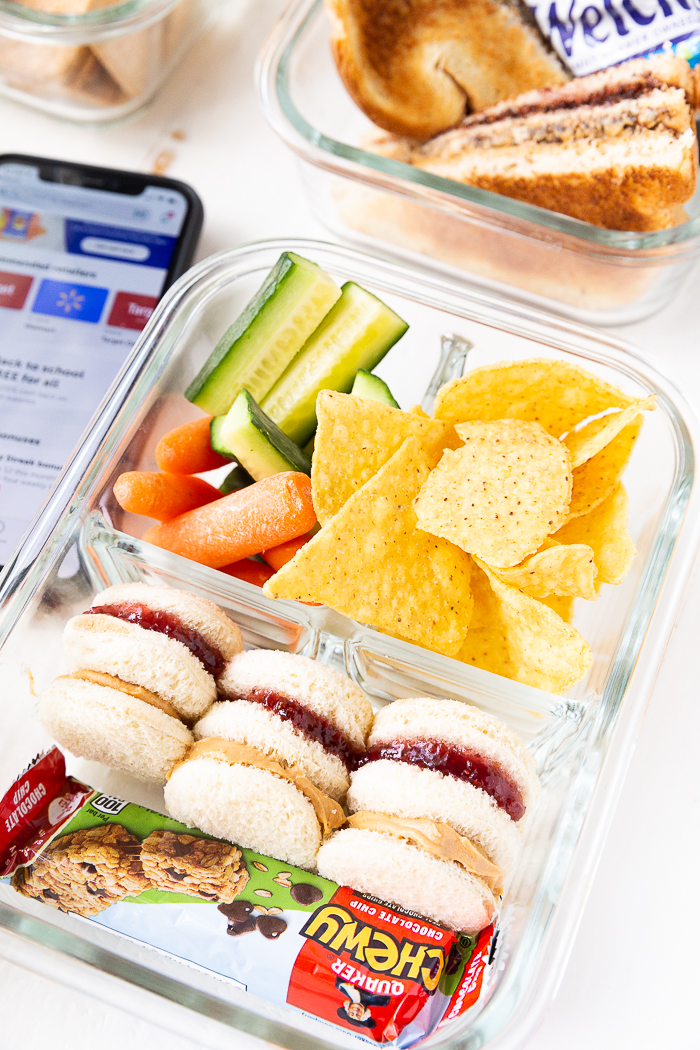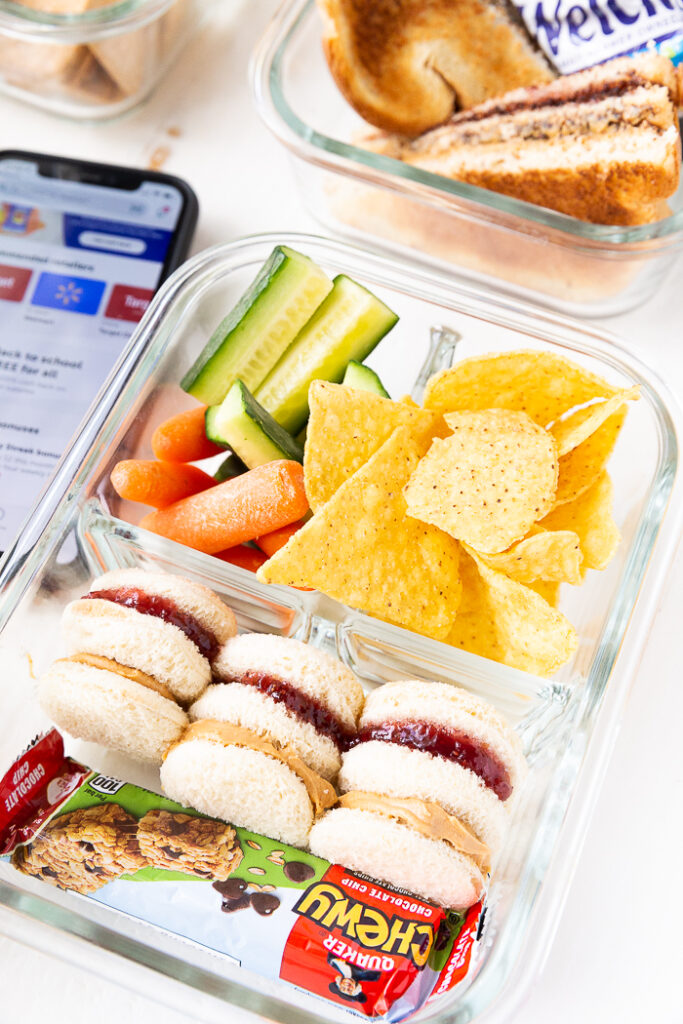 PB&J Tacos
This might just be my favorite of the 4 ideas for making PB&J more fun. I mean who doesn't love tacos?? And this is such a fun twist on them.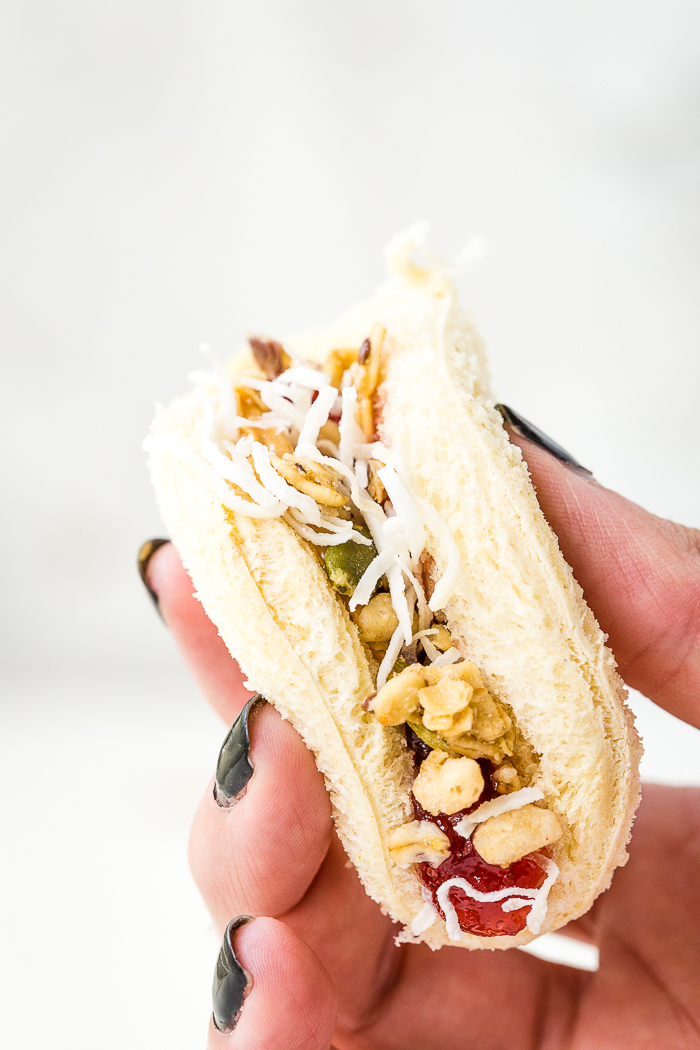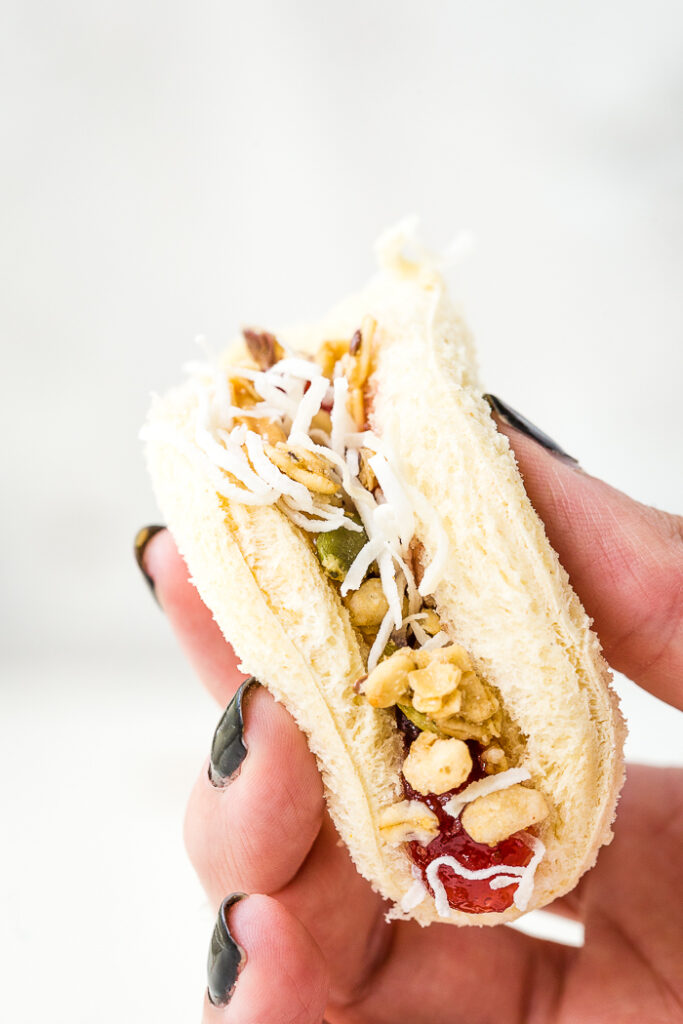 You take a slice of bread, and using a large biscuit cutter or round cutter, cut a circle to mimic a tortilla. Round.  Then spread your peanut butter on one half, put a line of your jam or jelly or fruit spread down the center, and fold into a taco. Top with crunchy granola and shredded coconut. It will look just like a taco, but be a super fun spin on a PB&J.  And if you want even more fun toppings, you could add fresh berries. 
The possibilities  for topping these are endless, dried fruit, nuts, chocolate shavings, etc, are all fun. And how cute are they in these lunchboxes?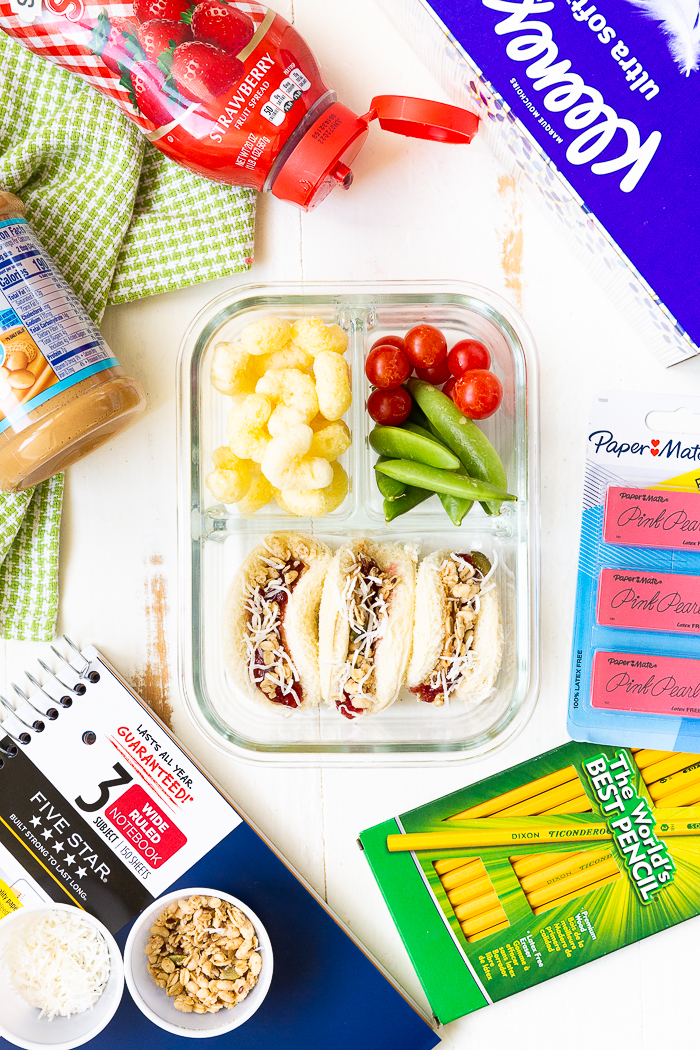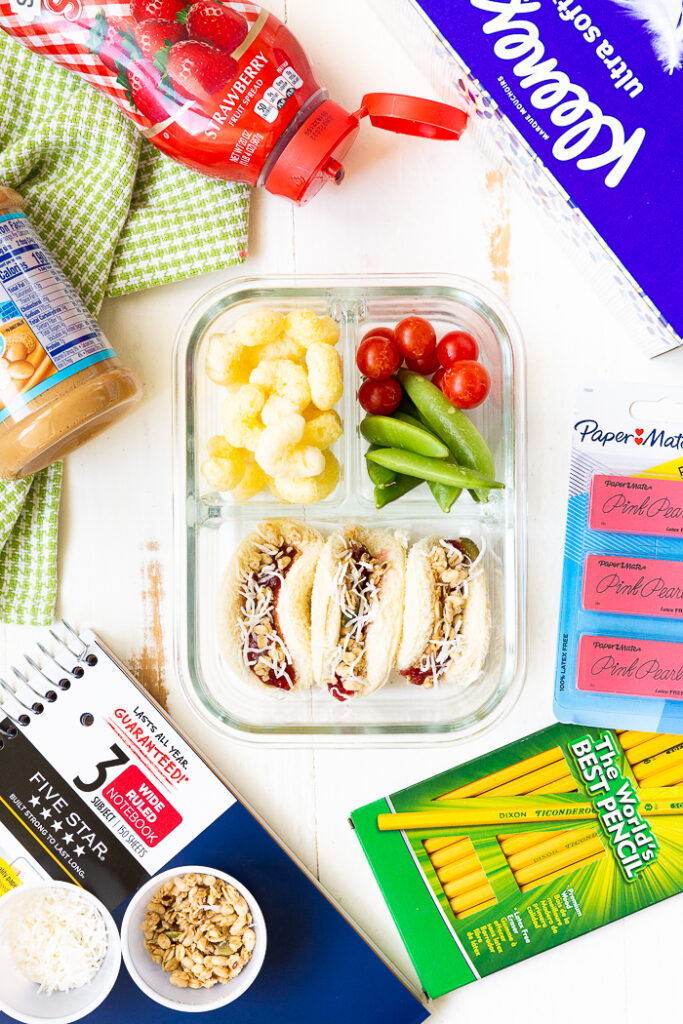 Toasted PB&J
Ok, because I am a mom of 4, I know back to school is complicated, and I won't always take time to cut rounds out of my bread for cuter PB&J. But this idea is simple, but amplifies a traditional PB&J. Toasting it!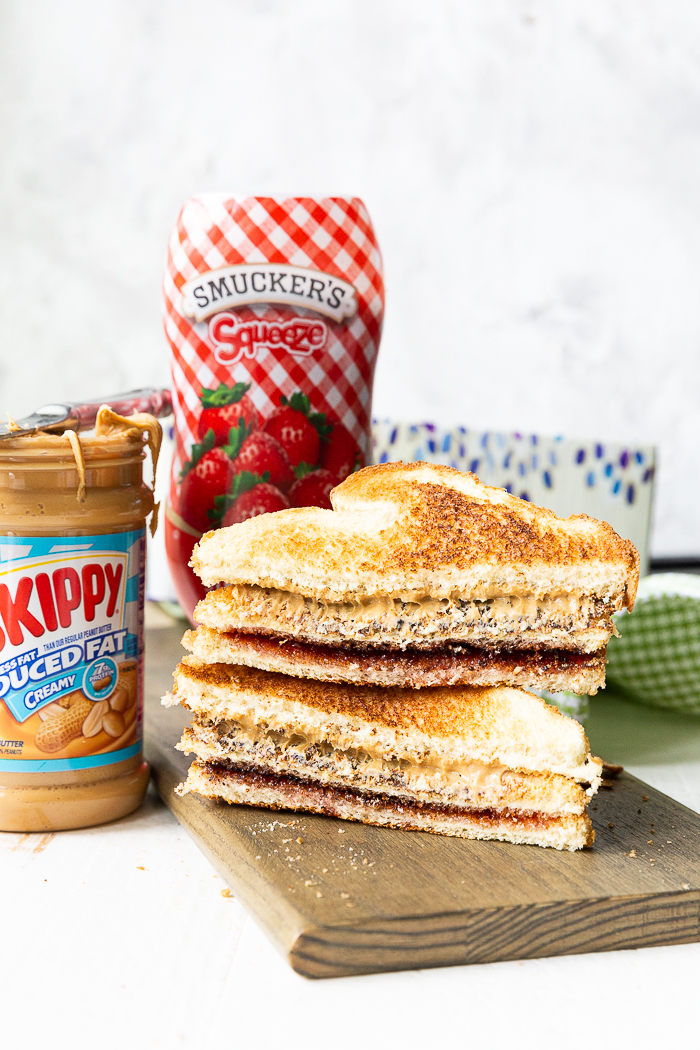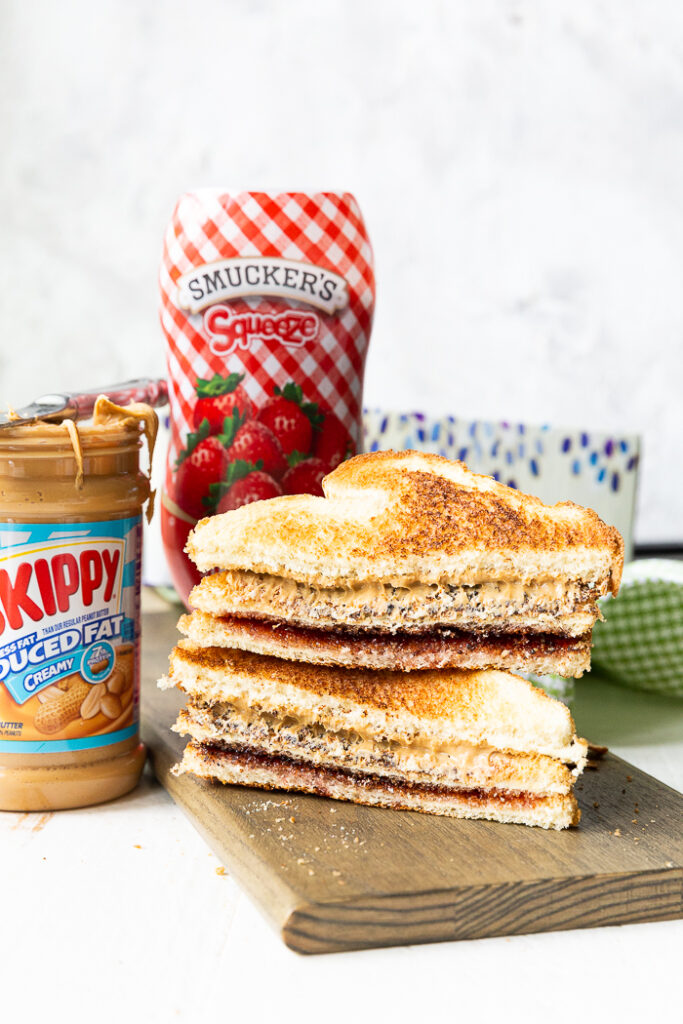 You need three pieces of bread. Take your bread, and toast it. You can use a toaster, toaster oven, or even use a hot skillet. Then spread peanut butter over one piece and jam or jelly over another, then stack with the third piece on top. This gives you a double decker style sandwich, like a PB&J club. To amp it up even further you could add raspberries, strawberries, or blueberries into the mix.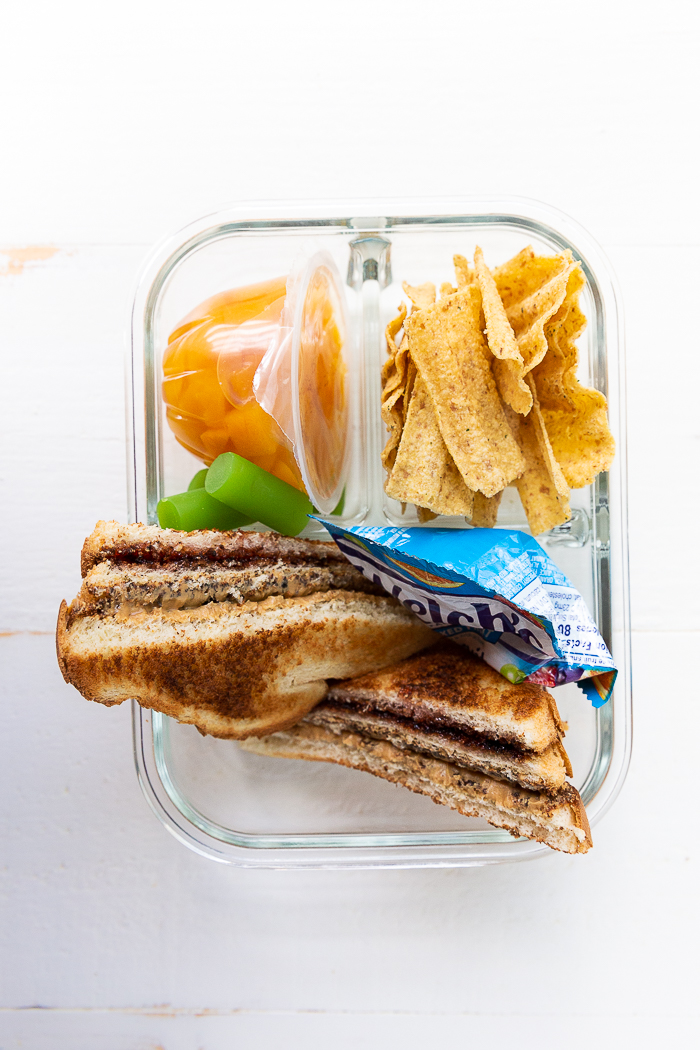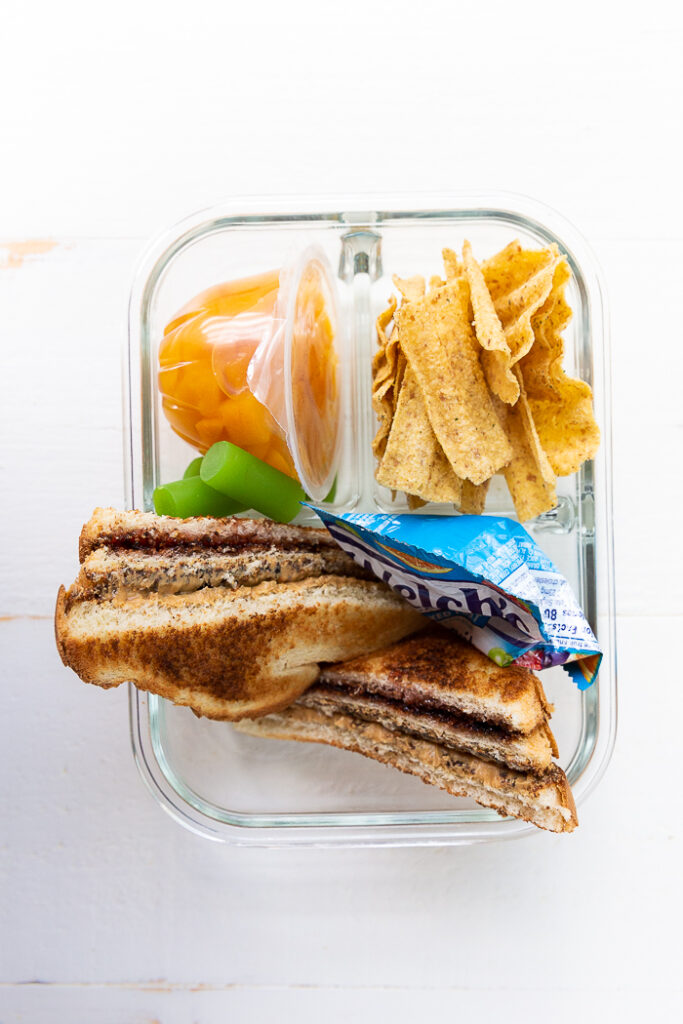 Do you have any other fun ideas for how to take your PB&J up a notch? Share them in the comments section. And don't forget to use the Ibotta app or browser extension when doing your grocery shopping for lunches, so you can earn even more cash back. 
FREE Back to School Bundle
Ibotta is giving away back to learning essentials for FREE, from July 14th through the end of August. And getting your free bundle is eazy peazy!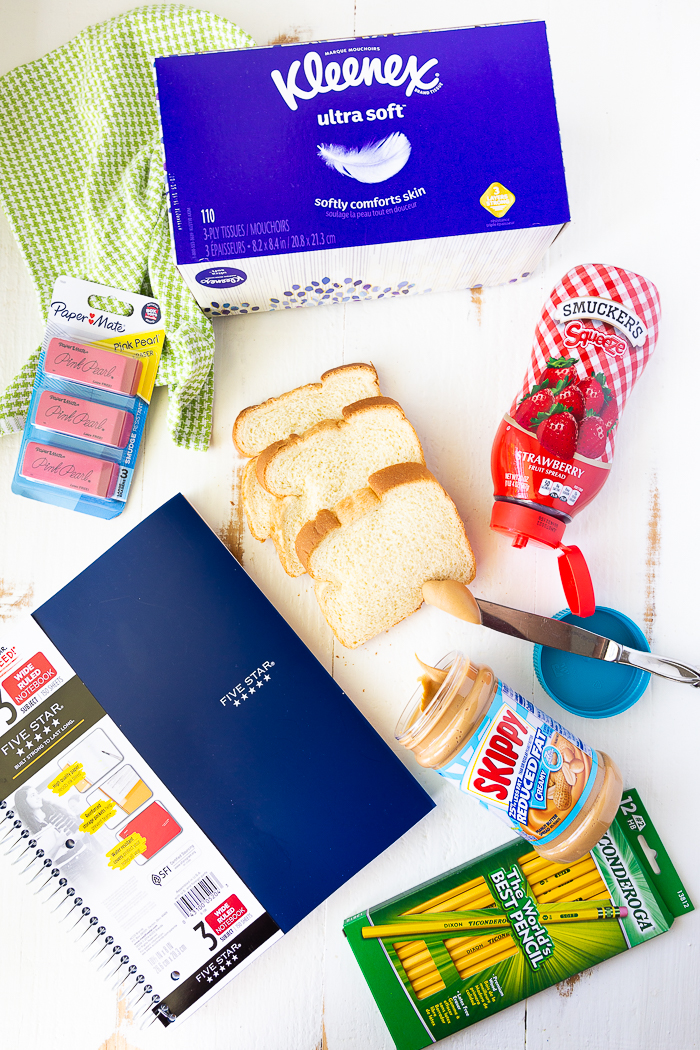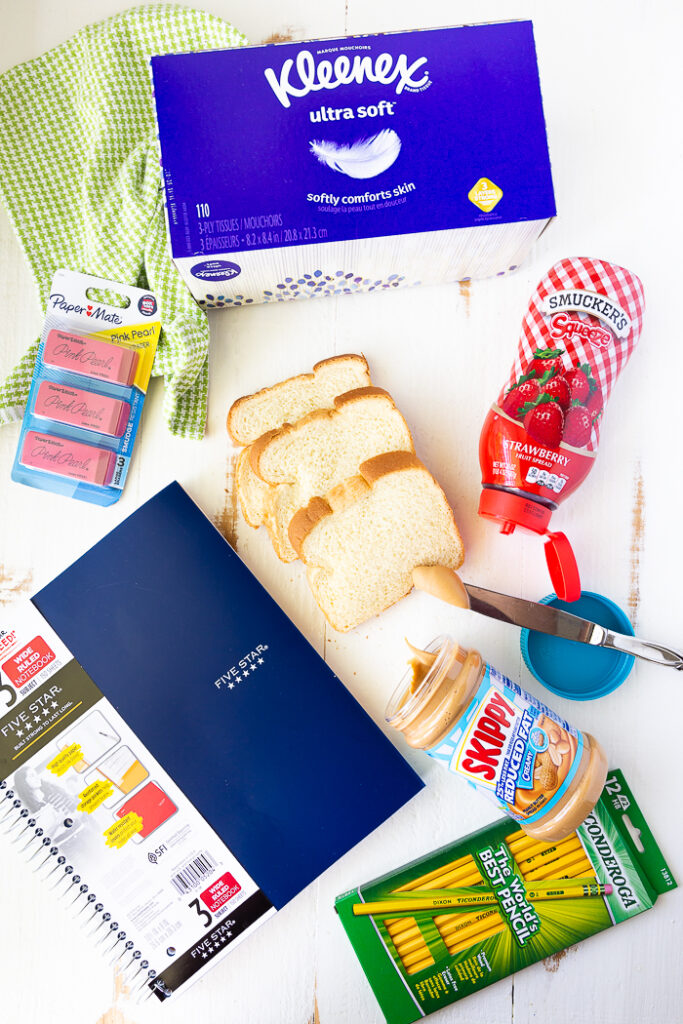 Step 1: Download the Ibotta App or Browser Extension (for online grocery pickup and delivery orders) 
Step 2: Purchase the items in the bundle for heading back to school: 
1 FIVE STAR 3-Subject Notebook

1 12-Pack Ticonderoga Pencils

1 Crayola Crayons, 24 counts, any variety

1 Loaf of Nature's Own Bread

1 Jar Skippy Peanut Butter

1 Smucker's Fruit Spread Squeeze Bottle

3-Pack Paper Mate Erasers
Step 3: If shopping in-store, upload your receipt, or shop online with your connected loyalty account, and get 100% cash back on these essentials for heading back to school.
Also, starting on 7/30, Ibotta will have cash back on hundreds of other back to school essentials, so be sure to add those offers in the app so you can take advantage and earn! 
**Disclaimer: All offers were valid as of publish date. Don't forget to check your app for details, as offers change frequently and may not be available in all areas.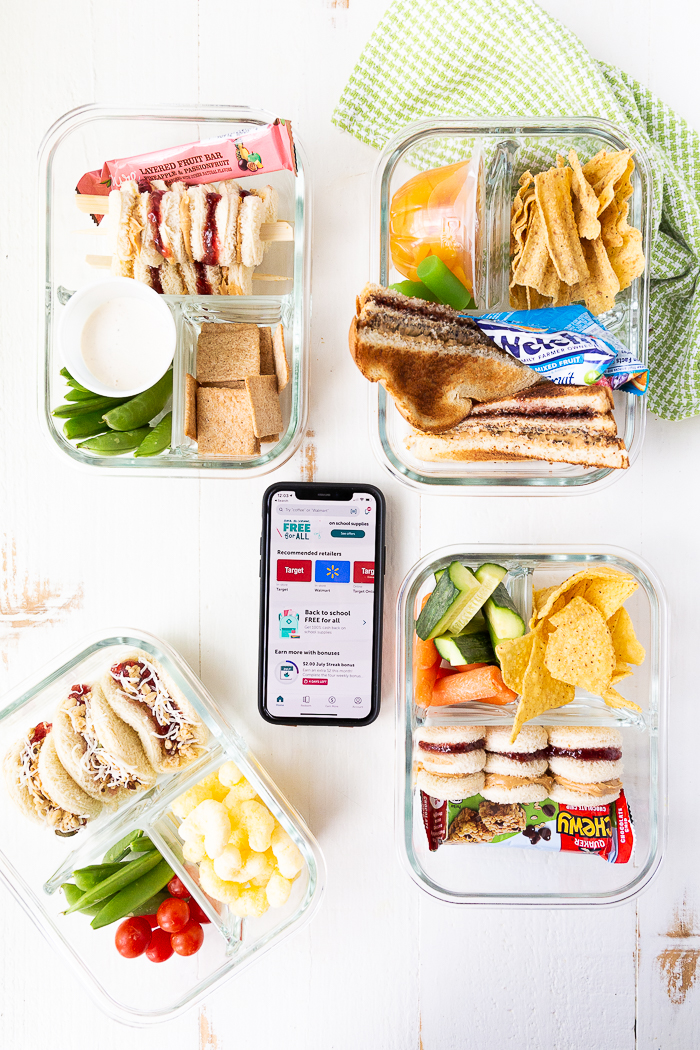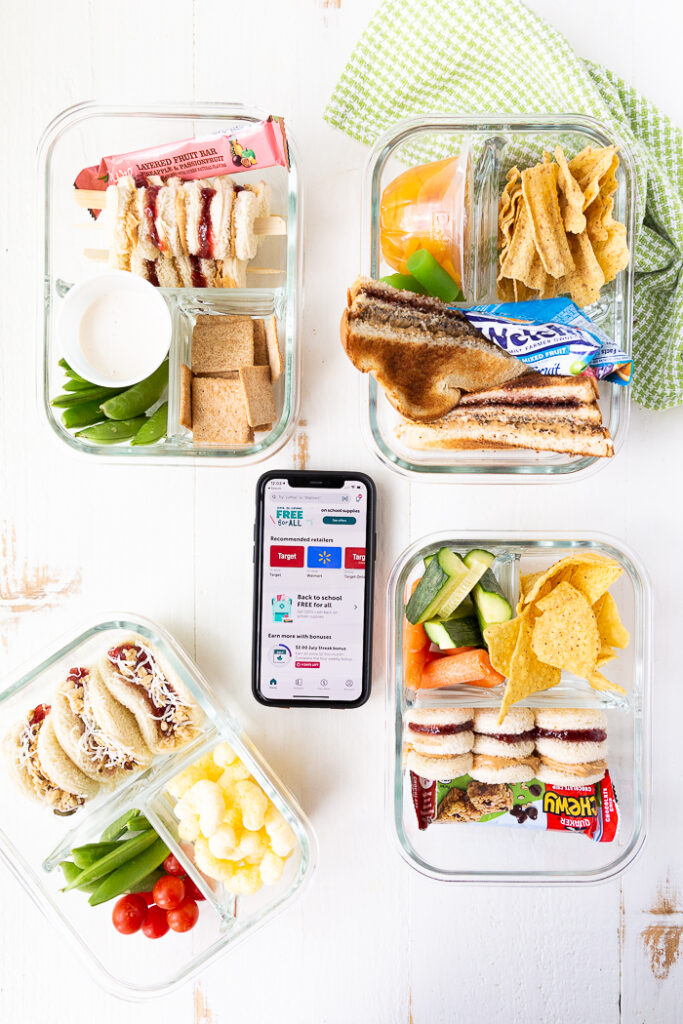 Fill the rest of the lunchbox with fresh fruits, veggies, chips, popcorn, granola bars, fruit snacks, and more. A great variety goes a long way to making a lunchbox fun. So check the Ibotta app, and all the grocery offers, and earn even more cash back while filling lunchboxes with delicious foods.