Seven Layer Bars:
A favorite among dessert bar recipes, this easy to make treat is loaded with milk chocolate chips, butterscotch, and coconut all enrobed in creamy, sweetened condensed milk on a yummy graham cracker crust.  Full of rich decadent flavors, these Seven Layer Bars are a chocolate lover's dream.
Seven Layer Bars are a go to dessert bar.  They offer a universal taste of deliciousness, making them a popular choice to make for your family or to bring to a get together. These are almost as easy as no bake cookies, and just as tasty as peanut butter cookies.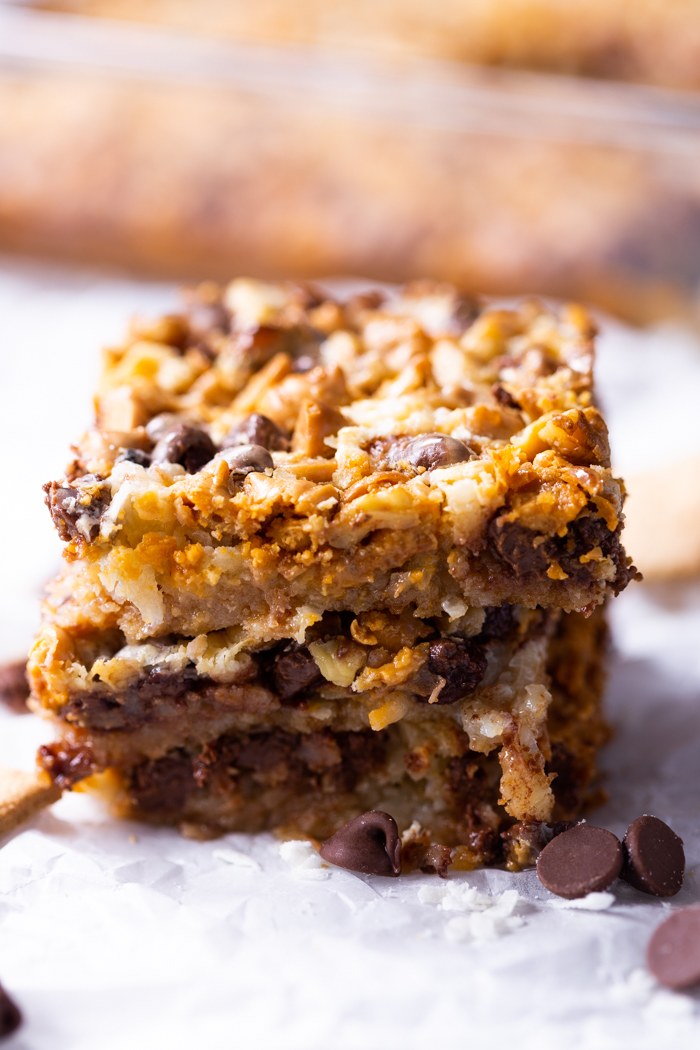 My family LOVES these Seven Layer Bars.  Imagine everything sweet, chocolatey and delicious and adding it into one delectable cookie bar.  Seven Layer Bars hit the spot when you want a rich dessert that offers a wealth of sweet components without labor intensive amounts of preparation.
Do You Refrigerate 7 Layer Bars?
Of all the dessert bar recipes, these are quite the treasure.  They are so good and so easy to grab and take with you somewhere.  I just love them.
Now, should you refrigerate Seven Layer Bars?  That is entirely up to you.
Seven Layer Bars taste great cold or they are delicious right out of the oven or at room temperature.
7 Layer Bars are like pie in this respect.  For some people nothing beats a warm slice of pie.  It's the only way to eat it. While others prefer a slice of pie cold or at room temperature.
You could argue the same thing about which way is a better way to eat Seven Layer Bars.  It really comes down to personal preference.
I personally like e
ating Seven Layer Bars cold, warm, or at room temperature.  Fresh out the oven with chocolate chips warm and melted or in the fridge with these dessert bars holding their form nicely, providing a dessert that is mess free and no utensil needed, either way the cookie bars will satisfy that sugar craving.
I also like a Seven Layer Bar that have had a chance to cool at room temperature and the butterscotch chips and chocolate chips have had a chance to harden.  Just thinking about any of these ways makes my mouth water.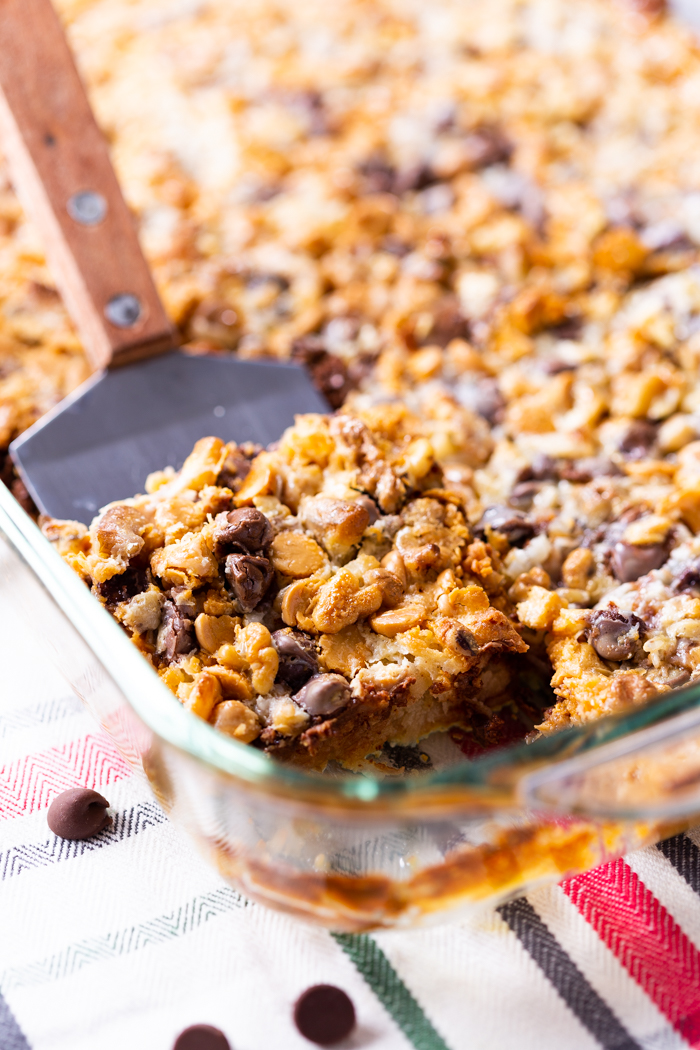 Ways To Eat Seven Layer Bars:
Eat at room temperature.

Eat right out of the oven.

Eat frozen.
Seven Layer Bars will taste great any of these ways.
Note: For storing purposes, it is not necessary to refrigerate them.  
I love having them chilled, and find they hold together better when they are cold. But I usually can't help myself with eating them right when they come out of the oven.
Do Seven Layer Bars Freeze Well?
Here's a little secret, not only can you eat Seven Layer Bars warm, cold, or at room temperature, you can also eat them right out of the freezer.  
Sometimes I even like treats better frozen, like Snickers bars for example.  The point is that just like Snickers you can definitely enjoy a frozen Seven Layer Bar.
Seven Layer Bars freeze well.  
How To Freeze Seven Layer Bars:
Bake dessert bars completely.

Let Seven Layer Bars cool.

Put Seven Layer Bars in freezer bags.
Note:  Use wax paper in between rows of bars so bars won't get stuck to each other.  

How Long Do Cookie Bars Last?
Of all the dessert bar recipes, this is one of my favorites.
Fortunately Seven Layers Bars are not hard to make and that is such a good thing with a dessert like this because that means you don't have to be sad when you come home one day and see that they are gone.  You know that you can easily whip up another batch at anytime.
I do have to warn you though, this dessert is so good that any leftovers will not last long in you house. They will be eaten up right away.
However, if you want to keep Seven Layer Bars stored for awhile your best bet is to use the freezer.
These dessert bars can last up to 3 months in the freezer.  At room temperature expect Seven Layer Bars to last up to 4 days.
Do Baked Goods With Milk Need To Be Refrigerated?
As you may have notice, Seven Layer Bars have butter and sweetened condensed milk, but they don't need to be refrigerated.  
How do you know in baking what needs to be refrigerated?  
Basically if normal refrigerated items like milk and eggs have been cooked in a dessert, then usually that dessert does not need to be refrigerated due to the dairy or egg component.
While we are on the subject then, what about cake that has a buttercream frosting?  That frosting usually has milk? Should you be worried if it has been sitting out at room temperature?
Buttercream has a very minimal amount of milk which is accompanied by a lot of sugar, making buttercream frosting okay to leave out at room temperature, even though the milk is not cooked.
However, cream cheese frosting after 8 hours is advised to be refrigerated.  
I'm not saying that I have not been guilty of eating cake with cream cheese frosting that has been left out, but I also have been guilty of eating raw batter too.  
Both are advised against.  To be on the safe side I would not recommend doing either though.
Rules of Refrigeration for Desserts with Dairy:
Typically you can eat baked goods where dairy has been cooked.  

It is recommended to refrigerate desserts when dairy has not been baked into the dessert, like cream cheese frosting and whipped cream.

Butter cream frosting is the exception.  Cookies frosted with butter cream frosting do no have to be refrigerated.
So now that you are an expert on the do's and don't's of desserts with dairy, rest assured that you can eat seven layer bars left at room temperature and with the basic rules you can see why seven layer bars falls into the category of a dessert that you can leave at room temperature.

Serving Suggestions:
You can eat these decadent Seven Layer Bars warm, cold, or at room temperature.
I recommend giving the Seven Layer Bars a few minutes to cool before you eat them so they do not crumble when cutting into them.  Letting them cool, allows them to hold their form better.
If you can't wait, go ahead and eat them immediately.  Just know the Seven Layer Bars will need to be eaten with a fork then and won't be in cookie bar form.
Also, note that if you have family members that aren't fans of coconut, you can eliminate the coconut without any other changes needed to be made to the recipe.
What Are You Waiting For?  Make Seven Layer Bars Tonight!
7 Layer Bars are a crowd pleasing, easy and delightful dessert.  Whether you are making them for friends or family, this dessert will be a universal favorite.
Looking for some other truly delectable dessert bar recipes?  
Either of these dessert bar recipes will satisfy any chocolate craving.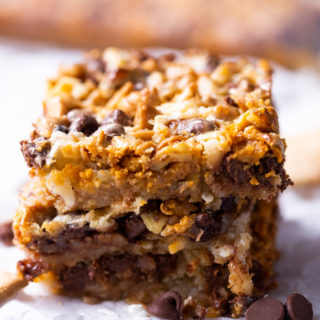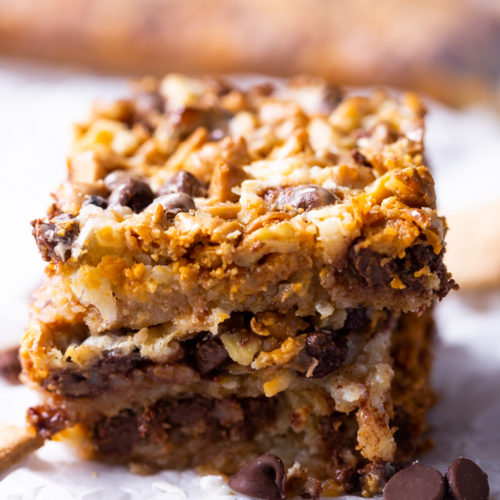 7 Layer Bars
A favorite among dessert bar recipes, these 7-layer bars are loaded with milk chocolate chips, butterscotch, and coconut all en-robed in creamy, sweetened condensed milk on a yummy graham cracker crust.
Print
Pin
Rate
Ingredients
3/4

cup

butter

melted

1

cup

flour

1

cup

oatmeal

3/4

cup

packed brown sugar

1

teaspoon

baking soda

32

caramels

unwrapped

1

tablespoon

butter

3

tablespoons

milk

1

package

6 oz chocolate chips, about 1 cup

1/2

cup

chopped nuts

1/2

cup

sweetened coconut flakes
Instructions
Preheat oven to 350 F.

In a small mixing bowl, combine butter, flour, oatmeal, brown sugar, and baking soda; mix well.

Put 3/4 of butter-oatmeal mixture in an ungreased 9x13 pan, pressing evenly over the bottom of pan.

Bake for 10 minutes.

In a saucepan, combine the caramels, butter, and milk and heat, stirring, until the caramels are melted.

Pour caramel mixture over the baked crust and sprinkle with chocolate chips and nuts. Top with remaining butter-oatmeal mixture.

Bake for 15 minutes more.

Cool and cut into bars
Our recipe card software calculates these nutrition facts based on averages for the above ingredients, different brands, and quality of produce/meats may have different nutritional information, always calculate your own based on the specific products you use in order to achieve accurate macros for this recipe.
Want to use this recipe in a meal plan?
Try PrePear, my FREE Meal Planning App that allows you to save your recipes, plan meals, shop for groceries, and cook simply in one place. Join Here!