Homemade chips, savory beef, melty cheese, caramelized onions, and delicious jalapeños and other toppings make these nachos the perfect game day food, or perfect for anytime you want something delicious.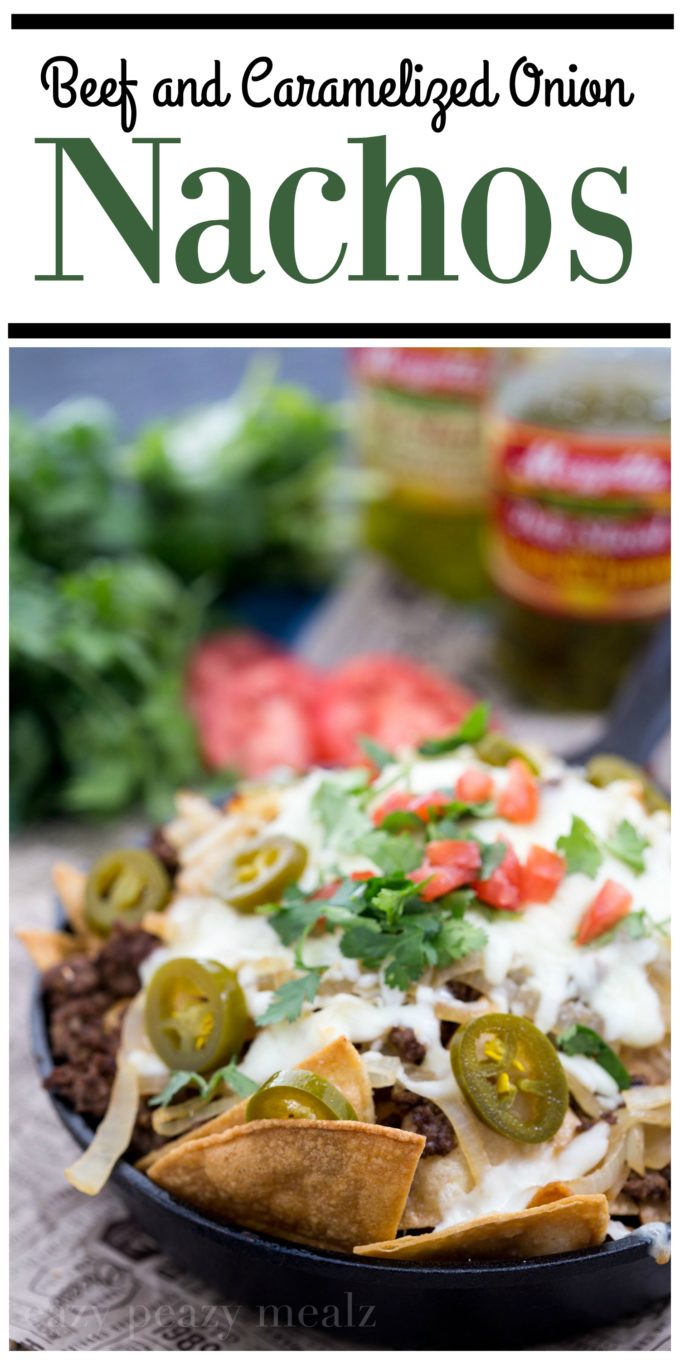 The other night I was really craving nachos. It didn't help that I had watched the YouTube video (below) showing 3 different types of nachos, but the thing was, I had NO chips. What I did have was a bunch of corn tortillas. So I decided to make my own chips and give in to my nacho craving.
The thing about nachos is there are so many ways you can top them. You can go with classic chips and cheese and call it a day, or you can mix things up.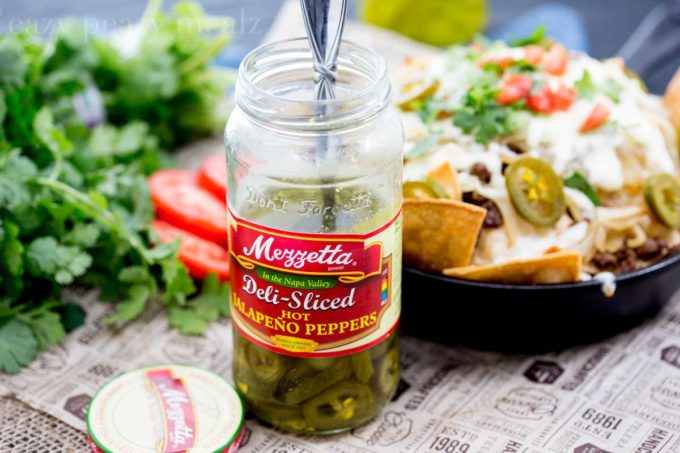 No matter what kind of nachos I make, one of my favorite things to add are these amazing Deli-Sliced Hot Jalapeno Peppers. Mezzetta makes the best peppers! And I literally ALWAYS have a jar of these in my fridge. They are my favorite.
Earlier in the day I had been working on a new slider recipe I can't wait to share with you. I was planning a trip to France, and started thinking about French Onion Soup, and how amazing those caramelized onions are, and that melty gruyere cheese! Drool. So I thought I would make some nachos using some ground beef, caramelized onions, and my own melty cheese. I did not have gruyere on hand, so I went with an asiago mozzarella blend, and oh man it was good stuff!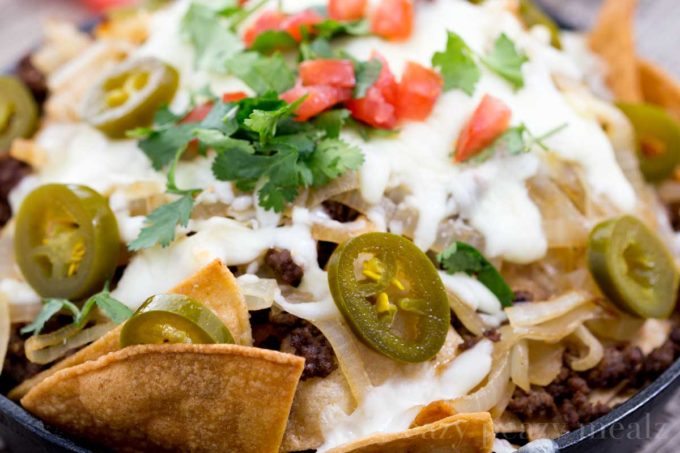 The onions are so yummy caramelized. The truth is, it takes longer to get a really good caramelization, but I never have that kind of time, so I just do the best I can with the time I have. If you plan ahead, like if you want to use these nachos for a game day meal, or while hosting a viewing party, then start your onions early.
Consider this method.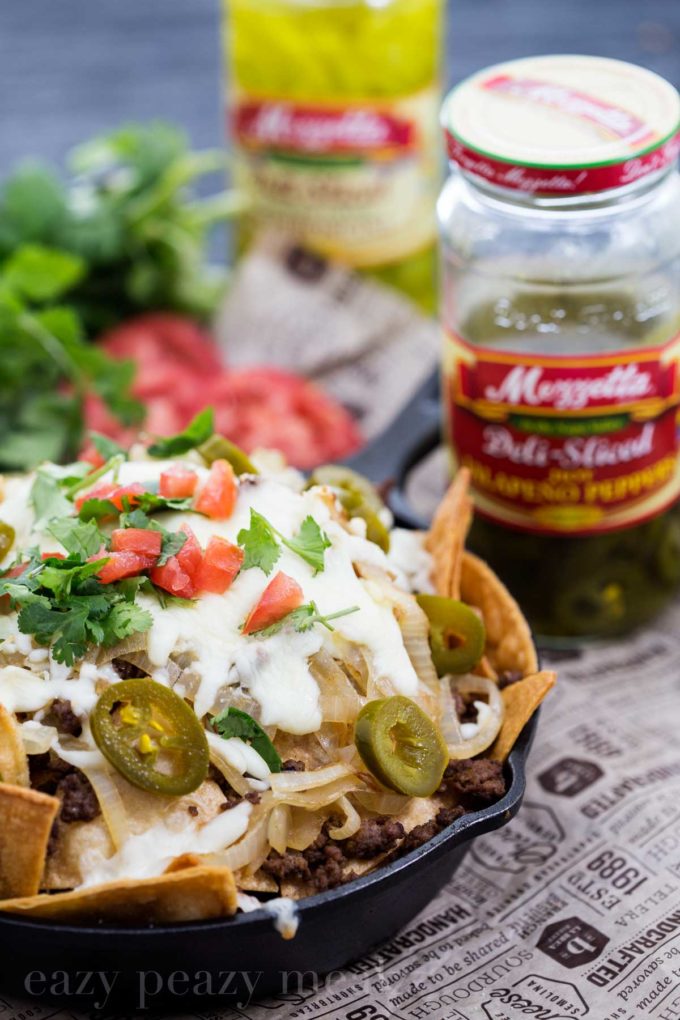 Honestly, I could eat this for every single meal. So let's get to the recipe so you can join me in my fat pants and eat this deliciousness, possibly infront of the television, watching football so I can justify eating the whole skillet BY. MYSELF.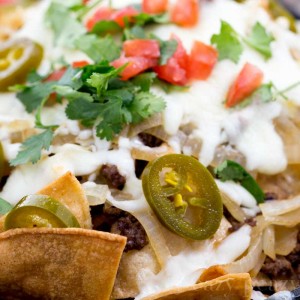 Ingredients
10

corn tortillas

Oil for frying

1/2

lb

Ground beef

1

tbs

dried onion flakes

1

tsp

onion powder

1/2

tsp

garlic salt

1/2

tsp

black pepper

1

yellow onion

1

Tbs

water

1/2

cup

asiago cheese

1/2

cup

mozzarella cheese
Garnish (to preference)
Mezzetta jalapenos

Chopped tomatoes

Cilantro

Sour cream
Instructions
Cut onion into thin slices, then put in a heavy bottom saute pan drizzled with olive oil, and spread them evenly across the bottom. Add the water. Then cook covered over medium heat for 15-20 minutes until browning. (Cook longer for deeper caramelization)

Meanwhile, heat oil to 375 degrees. Cut tortillas into "chips" shape, and fry a few at a time until they turn golden brown, remove from oil, and place on paper towel.

Mix ground beef, onion flakes, onion powder, garlic salt, and black pepper together, then brown ground beef in a medium fry pan over medium high heat, drain off any fat.

Preheat oven to broil

Place chips in a skillet, and top with cooked ground beef and caramelized onions, and sprinkle the cheeses evenly across the top

Place into the oven and broil for 4-5 minutes until cheese is melted and bubbly (don't burn)

Remove, top with your favorite garnish and enjoy.

MY LATEST RECIPES
Don't forget to pin for later:

Get EZPZ Updates In Your Inbox!