A Beginner's Guide to Airbnb.com. Your guide to saving money on accommodations, by booking houses for vacation rentals through Airbnb.com. We have stayed in Airbnb's all over the world, and I am here to help you have the best experience in renting this way and even get $40 off your first rental!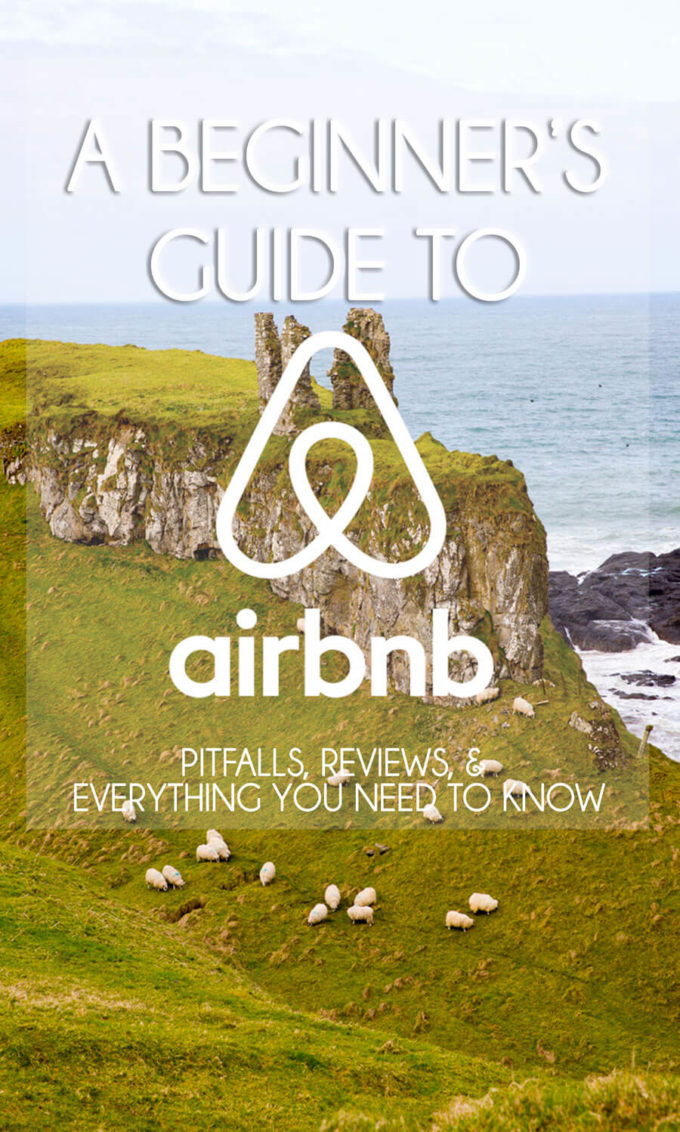 Chances are if you are reading this, you know what Airbnb is, but to be sure, it is simply an  alternate option to the traditional way of lodging which is hotels.
Basically Airbnb is a broker that helps connect people who are looking for somewhere to stay with people who have somewhere to stay. They are a third party that sets up deals between people who own properties and people who want to rent them for a day or two (plus) at a time.
With properties to rent in over 190 countries, Airbnb offers wide variety of places to stay with usually more affordable prices than your typical hotel. Airbnb can provide the comfort of the common conveniences of home, while miles away from your personal residence.
My top 3 reasons to use Airbnb are simple:
Airbnb is usually cheaper than hotels, especially if you are traveling with a family.
You get to touch on a little of the local life while on vacation.
You get more space and often more amenities (think laundry), saving money and headaches in areas beyond lodging.
Airbnb— A Solution to Your Vacation Money Troubles
Are you tired of staying in pricey hotels? While vacationing, do you miss the convenient necessities that your home provides? Do you hate feeling like you have to eat out every meal on vacation because you don't have access to a kitchen?
If you answered yes to any of these questions, Airbnb may be for you!
Airbnb changed the way we vacation. I was able to rent a great flat in Paris for $100 a night. It was a little outside the city, but had 3 bedrooms, a kitchen, laundry, and was right around the corner from a market. I could afford to take my family of 6 to Paris for a week because I wasn't paying for 2 hotel rooms, or eating every meal out.
Airbnb began as two designers renting their home to a couple of travelers in 2008, and since has become a new lodging business model. It has grown in popularity, and now there are more properties than ever to choose from.
We have stayed in Airbnb rentals in Italy, France, Costa Rica, Australia, Ireland, and all over the US. And I am sure we will continue to stay in Airbnb's.
 What is Airbnb Exactly?
Airbnb is a company that offers an online hub that connects travelers with hosts looking to rent properties. Although there is always a risk when sharing a property with someone, Airbnb has tried to do everything necessary to ensure success and minimize the risk for both parties. So Airbnb is just the third party that facilitates the rentals and helps keep things safe, and your money secure in the exchange. I could put my home into their platform if I wanted, and so could you. (If you decide to rent your property with Airbnb, use my referral code by clicking here, many of my friends have been using it as a way to offset travel costs and have seen huge success with it, more on this later! Thanks!) So it is important to note it is not a hotel chain.
How Does Airbnb Work?
In a nutshell, you sign-up, create a profile, enter in your travel dates and location, and begin perusing properties for rent. Airbnb has a wide variety of properties, from entire homes to rent, to staying in an owner's vacant bedroom, to even tree houses. There are all types of accommodations for all different vacationing purposes.
I know when I have browsed I have thought of renting boats, or staying in a castle. There are some really cool listings.
All the hosts have a profile, and so do you, the renter. When you use a property, you review the host, and they review you as a guest. This helps ensure that you don't end up with a lousy host, or rent to someone that is going to trash your property.
When you find one you want to book, you request the listing, If it is an instant book, that means you will be automatically approved to rent it if the dates are available. If it is not instant, the host has a chance to evaluate if they want to rent to you.
Once they do, the payment goes through (you pay when you book, not when you stay), and you will get a confirmation with details like the address.
Navigating Through the Database
When looking at properties, each property will have an overview of the property, reviews, information about the host, and location.
Each property listing should have a map, giving you an idea of where the property it located (without the exact address for safety reasons) as well as a list of amenities, so you can pick accordingly. While toilet paper and soap should be a given, that does not mean every property has these items. It is important to check the list of amenities.
I always check for things like towels, wifi, and soaps. But there are a lot of other possible amenities. It is wise to look for things like air conditioning if you are going somewhere hot. Or parking, if it is a city dwelling. So consider where you will and what you need when looking at the potential amenities. Once we stayed in a nice place, but it had NO DISHES. So even though there was a gourmet kitchen, it did us no good.
Airbnb Additional Fees
Price of properties are listed on the database and an additional fee of 6-12% is charged to the renter when booking and a 3% fee is charged to the host as well. These transaction fees go to Airbnb. So you may see something for $100 a night, and think that means $700 for the week. But it will likely be closer to $800 when the fees are added on, and there may be additional fees as well.
Make a note of additional charges for additional guests, price of cleaning fee, and cleaning deposit. These costs vary between hosts. I have found that sometimes a stay ends up being less expensive with a higher per night cost, but lower cleaning and per guest fees. So consider the overall stay cost when comparing properties. Some hosts will even give discounts for longer stays (weekly discounts or monthly discounts).
Procedures in Place for Safety
The review process, photos, clear indicators of where a property is located etc. are all things Airbnb has done to help ensure safety. Booking through Airbnb is supposed to help prevent dangerous situations that could occur when trying to find a property on your own. However, it is important to keep in mind that not everything is perfect, and so problems may still arise. If you find yourself in a place that you feel isn't safe, there is a 24 hour helpline to help with concerns.
Cancellation Policy
It is possible to cancel an Airbnb, but you want to pay attention to which cancellation policy the host adheres too. If you decide to cancel, depending on the timeframe you may lose all or part of your deposit. Make sure before booking you check on the property listing to see how strict the cancellation policy is. The host gets to choose between three different levels.
Flexible Cancellation Policy: This type of policy means you get a full refund if you cancel a full 24 hours before check-in. This includes fees*.
Moderate Cancellation Policy: This policy means you qualify for a full refund if you cancel 5 days before check-in.
Strict Cancellation Policy: This type of policy means you receive a 50% refund, if you cancel up to a week before check-in.
*Service fee for Airbnb can be refunded a maximum of 3 times a year.
*Fees charged for cleaning are refunded as long as the reservation is cancelled at some point before check-in.
If you are unsure of your booking, but want to secure something before inventory disappears, look for a flexible cancellation policy!
Travels Smart: Tips to Minimizing Potential Problems
Although Airbnb can be a traveler's dream, no business model is perfect. The reality is that while many users of this site come home from traveling thrilled with their Airbnb experience, there are also some who come home extremely disappointed. In fact some may even have some very valid horror stories. I know we have had hit and miss experiences with our Airbnb rentals, which is why I wanted to put together a list of things to watch for and consider so you can have more hits than misses!
Although you can't control the possible unknowns in life, there are some measures that can be taken to help minimize risk factors.
Tips in Helping Eliminate Risks:
Check the Host's Profile
Make sure the host or owner's profile is verified. It will say it right below the picture. If it isn't verified, his or her background may still be legitimate, but why take the risk? Move along to another property. I have found it isn't worth hoping for the best.
Look for a Badge by the Individual's Profile Picture
If the owner does have this, bonus. It means the host has achieved a Super Host ranking. Criteria to achieve this means at least 80% of reviews are five star, the host hasn't cancelled any confirmed reservations, and he or she has hosted at least 10 visits. This status is reviewed four times a year. While you may have luck with newer listings, or get a better deal, renting with a host that has the badge means chances of a good experience are higher.
Research the Property's Location.
For example, a property listing may say it is a couple of blocks from Central Park in New York City, which may begin to get you excited, thinking about the great location and upscale area. However, while an apartment building directly across the street from Central Park may be top dollar and upscale, just a street down from there can be a totally different neighborhood, one that is very scary. In addition to the safety of the neighborhood, consider amenities and proximity to what you want to do. If you have to pay for a taxi, uber, or public transportation to get food, to get to areas you want to spend time in, it might be worth it (and even less expensive) to pay more for lodging closer to where you want to be, or closer to restaurants and stores.
I always look for places right next to public transport, preferably a train or metro, as bus schedules tend to be less reliable. And if travel time is more than 10 minutes from a central location I have to be saving a lot to take that property. I don't like spending my whole vacation in a car/bus/train, do you?
Check Amenities.
Some places offer breakfast and toys for little children, while some places may not even offer towels and sheets. Also, some properties may offer parking, while others may not. Don't assume the basic home necessities are offered just because you are staying in a home. While that is one of the appeals of an Airbnb property and many listings offer comparable home amenities, others do not.
Take time to check the list, is there heat? AC? Dishes? Pots and Pans? Towels? Soaps? I'll never forget arriving at our Airbnb for the week and realizing I had not checked to see if towels were included. They weren't. So we had to buy some to shower. While most listings are not like this, it is always a good idea to check.
Read Travelers' Reviews
I would say this is probably the most important tip ever! The reviews are kept hidden from each other until both are in, the review of the guest and the review of the host. Which means they can't bias each other. This means that most of the guest reviews are going to be very honest. Read reviews as a way to gather more information on the perspective host and accommodations. However, they are not anonymous, so they may not always be completely true, I like to look at the overall tone. If I notice many reviews complain about a host having a bad attitude, or the cleanliness of a space, or the noisiness of the neighborhood, I take it seriously. When evaluating reviews, do not make the mistake of assuming your experience will be better/different than everyone else's. The exception is if a host address a criticism in their review in the listing. For example, one place we stayed in Australia had bad reviews for dirty carpet and a stench. The host had ripped out the carpet and put in hard wood floors since the reviews, eliminating the dirty carpet and the odor.
Airbnb vs. Hotels
Although Airbnb properties are growing in popularity, that doesn't mean that hotels are not valued and still used in the travel industry.
 Reasons Why Some Still Prefer Hotel Life:
For some, going on vacation means not ever cooking a meal, having someone else make your bed every day, room service, and having amenities like indoor pools and workout facilities right at your fingertips. While you can sometimes find these things with Airbnb, it is not the norm.
With a hotel chain, there are some things that you know you can count on. If the hotel says there will be a free breakfast, there will be breakfast. This isn't always the case with an Airbnb, or it may not be what you expect.
Additionally, when checking-in, the room will be clean and if it's not, there is someone that you can immediately complain to. This may not be the case with a rental property.
When you rent at a hotel, you know someone will be at the desk to check you in. We have experienced a few times where the host was late, and we were sitting curb side with kids and luggage waiting (once for over an hour) for the host to show up and let us in.
Obviously, there is a lot of good to be found with Airbnb, namely great places, lower prices, and often full kitchens. But there are some drawbacks too. However, if you are a little adventurous and don't care as much about the above listed pitfalls, Airbnb may become a preferred method of lodging for your travel experience.
Pros of Airbnb
Airbnb rentals tend to be cheaper and more spacious.
Many of Airbnb properties have kitchens, providing a cheaper eating option to restaurant prices.
Staying in a hotel with a family can be costly. When staying at a hotel with multiple children, sometimes multiple rooms or suites may have to be booked, making a hotel stay even more costly.   Renting a home may be a more cost effective option. I often travel without my husband, and finding hotel rooms that fit 5 is nearly impossible, and most hotels won't rent two rooms to me since no one else is over 18. Airbnb has made it much easier and often possible to go places I wouldn't be able to go otherwise.
Some travelers like the idea of staying in a more of a residential area. Many Airbnb rentals are in neighborhoods. This can be a great way to absorb local life, especially if staying more than a week or two in one place.
Additional Accommodations— Sometimes you will have a really nice host who has things like boogie boards and surf boards that you are welcome to use during your stay, saving you the cost of renting water equipment.
Is Airbnb Right for You?
I am not going to lie, I have had some terrible experiences with Airbnb. We actually were staying in one and it caught fire from a neighbor not putting out their backyard firepit the night before. It was a nightmare scenario, and I was not informed enough to realize Airbnb has coverage for those types of scenarios and could have put us up in a hotel or found us a new place to stay. However, their customer service was great to work with after the fact, and helped us find some solutions.
I have stayed places where the house was further away from transportation then the listing lead me to believe. We once stayed somewhere that had no sheets for one of the beds. And once I mistakenly booked in a very sketchy area of NYC and was terrified to sleep. I have dealt with cranky hosts, and not nearly as clean as I would want houses. But we have also stayed in some really lovely places, and had experiences we could not have had in other lodging. And despite the hiccups, I have realized most of my bad experiences could have been avoided with a little better planning and research on my part.
Airbnb's can be a great option for the individual who perhaps wants to save a little money, don't have very specific expectations for lodging, and are okay with not escaping the typical daily tasks like cleaning up after yourself and cleaning before checking out.
Airbnb properties can be awesome for things like doing laundry when out of town, assuming the chosen rental offers this typical home amenity. I can't tell you how invaluable that has been to our family.
Traveling can be fun, but it also can be very expensive. With transportation costs, food, and lodging expenses, a trip can go from being a relaxing experience to a stress on your pocketbook fast.
The Airbnb option may not be for everyone, but there is definitely a reason for this company's rise in popularity.
If you are trying to cut cost on your vacation expenses or simply want some of the convenient home amenities available, while not staying in your very own home, an Airbnb rental may be just the ticket. Airbnb properties can be a great way to experience new travel adventures in a more cost effective way. Airbnb offers an opportunity to leave the daily worries of life behind, without compromising the daily conveniences.
Airbnb Guide in a Nutshell
Airbnb is great for larger groups, and those looking to save money while traveling.
Check reviews and host profiles to ensure a better experience.
Check location and proximity to areas you intend to stay in.
Check for public transportation options and parking.
Pay attention to provided amenities so you don't end up sheet and towel-less.
Ask the owner any questions you may have BEFORE booking. Just message them.
Book early when you can for the most options/choices in places to stay.
Remember you pay when you book, not when you stay, so pay attention to cancellation policies.
Know your rights. Take a look at the safety and trust section of the website for more info.
If you are ready to book with Airbnb and try this awesome way of travel out, book through my link here for a $40 travel credit: Book An Airbnb Now!