Classic muddy buddy flavor but with the addition of caramel and candy bar bits for a fun anytime treat!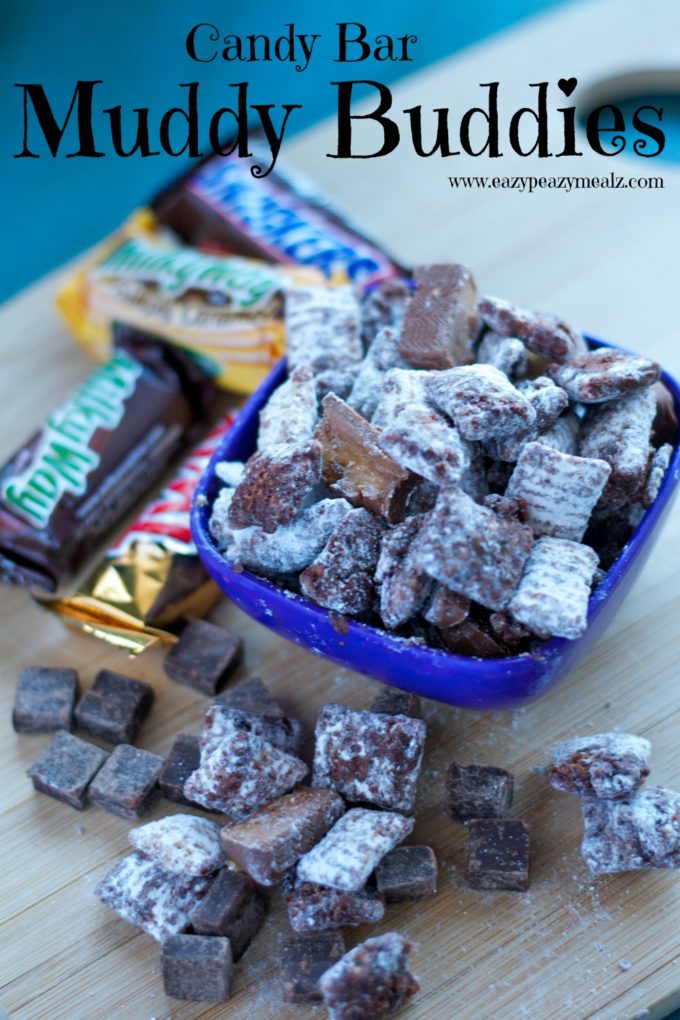 Our neighborhood does this wonderful little thing about once a month. We call it Dessert Sunday. It is when everyone gets together at someone's house (the host rotates), and brings a dessert to share. The kids play, the adults talk, and everyone eats treats. It is a lot of fun. Being a food blogger I always feel this pressure to come up with some amazing dessert to share at these things. And I almost never know what to bring.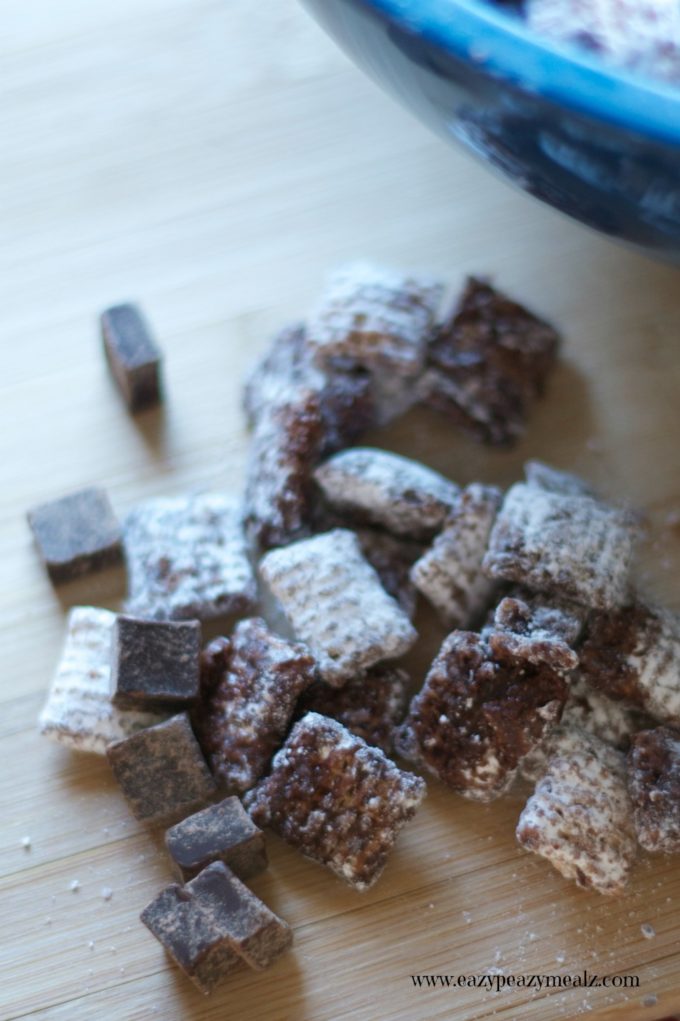 One particular Sunday it was about 10 minutes before it started and I had not made anything at all. I had opted to have a lazy afternoon and took a nap, which meant no special fancy dessert from me. Truthfully I doubt anyone cared or noticed, but I was stressing about it. "I have ten minutes…what am I going to make?" "Should we just skip it?" "Should we go late?" I'm telling you, I am a crazy person sometimes, I was so worried about what dessert to bring. I mean, honestly NO ONE CARES! And half the kids prefer Otter Pops to anything that takes effort.
Anywho… I was trying to figure out what to throw together in the ten minutes before it started, and I saw a box of Rice Chex in my pantry. I pretty much always have the ingredients for muddy buddies because I love them. So I went with it, only I decided to try something new, and this is what resulted. It was pretty darn good if I do say so myself.

Yields 8
Candy Bar Muddy Buddies
5 minPrep Time
2 minCook Time
7 minTotal Time
Ingredients
8 cups Rice Chex
1/2 cup caramel sauce
1 cup chocolate chips
10 fun size candy bars, cut into chunks
1 1/2 cups powdered sugar
1/2 cup additional chocolate chunks or chips (optional)
coconut (optional)
Instructions
In a microwave safe bowl, melt 1 cup chocolate chips in 30 second intervals, stirring between each 30 seconds.
Once melted, put Rice Chex in a bowl, and pour the melted chocolate and the 1/2 cup caramel sauce over the top.
Stir until the cereal is well coated
Dump powdered sugar into a gallon sized Ziploc Bag, and pour cereal mix in. Shake until well coated
Stir in candy bar chunks, coconut, and chocolate chips
Serve!
7.6.4
321
https://www.eazypeazymealz.com/candy-bar-muddy-buddies/
I opted to only have a few chunks of candy bar in each handful, but if you wanted it to have more candy in it you could double the amount of chopped up candy bar included. I used Milky Way, Twix, and Snickers all of which went well with the chocolate and caramel coating.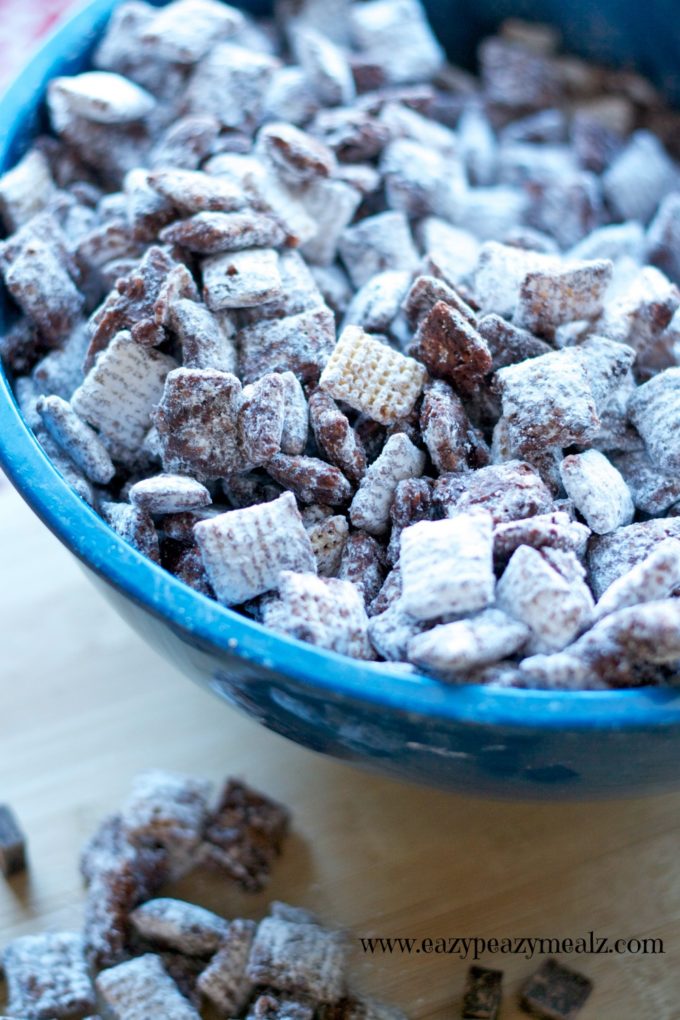 The beautiful thing was I had it ready in the 10 minutes I had, and the bowl was cleaned out quickly at the party. It was a popular treat for adults and kids alike. I also thought it could be fun to throw in some salted peanuts, if you like peanuts, to achieve that sweet and salty balance. Of course you have to be careful of peanut allergies, so if taking this to a party, be sure to let people know it has peanuts!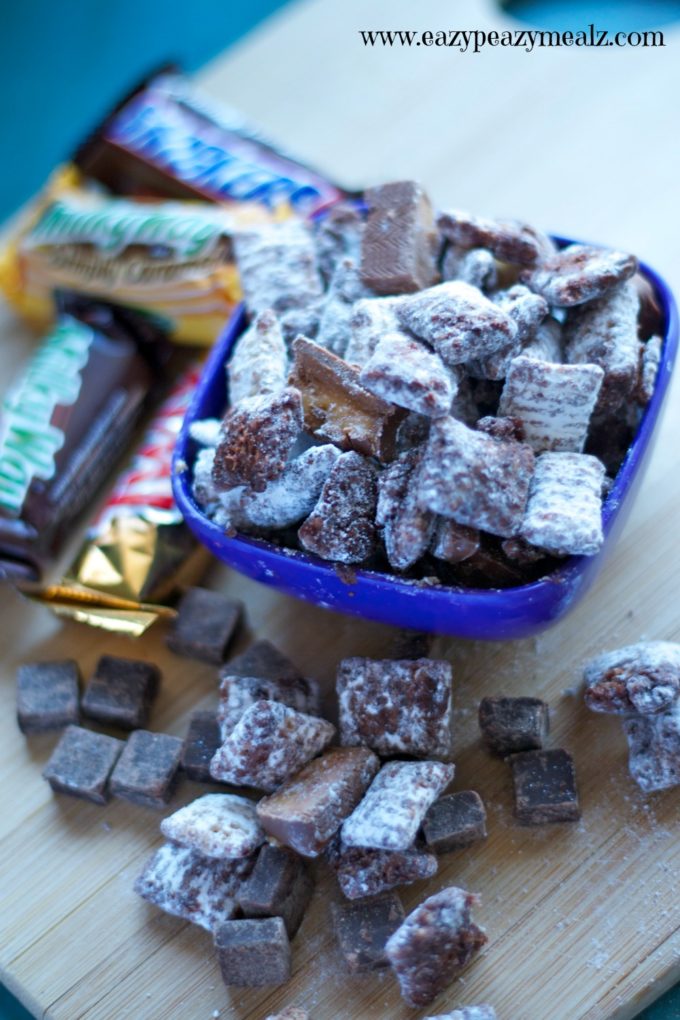 Enjoy!
Get EZPZ Updates In Your Inbox!