What to EAT at the European Christmas Markets: How to take a tastebud tour of the Christmas Markets across Europe, what you must try, and foods not to miss.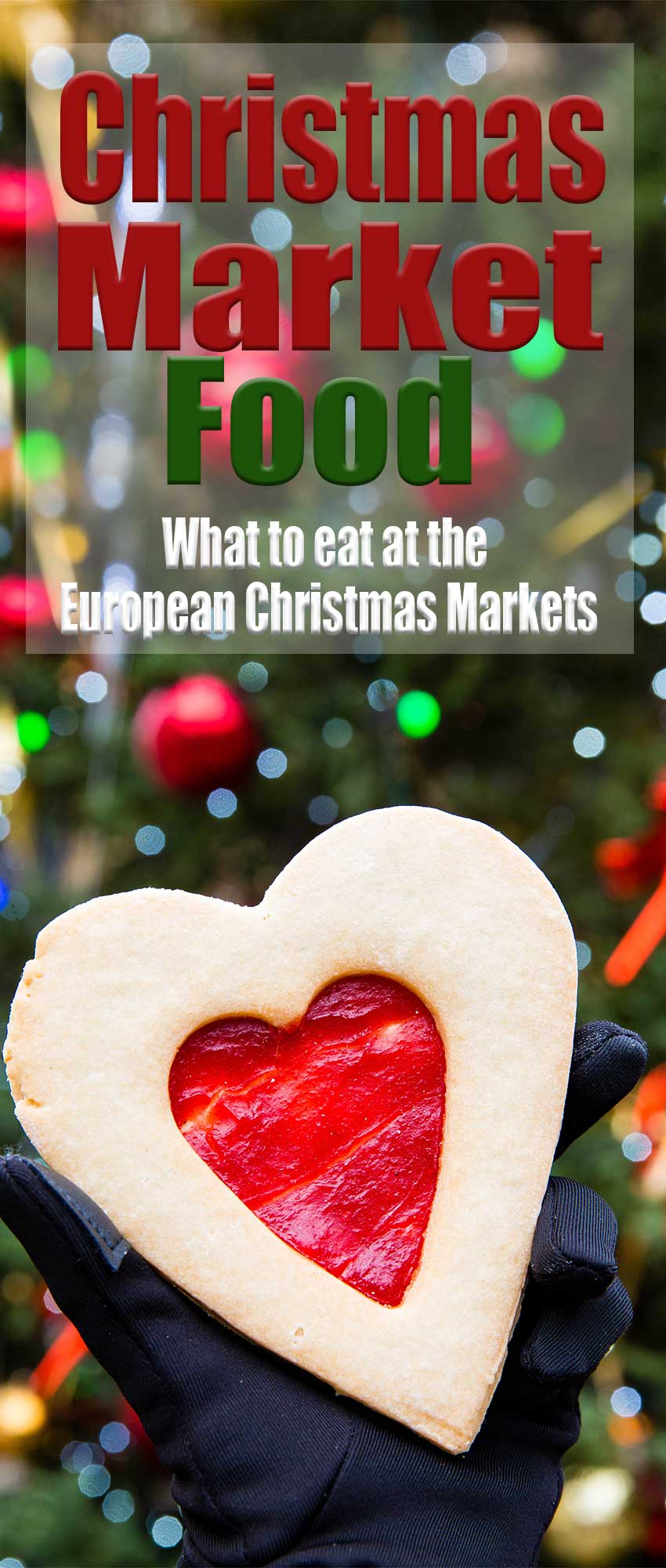 As a self-proclaimed lover of all things Christmas, especially Christmas Markets, I feel like I have a lot of ground to cover when it comes to sharing the magic that is the markets. But what better place to start than the food?
I have always been a HUGE fan of exploring any new city or destination with my tastebuds first, and the markets are no exception. You GUYS!!!! The food at the Christmas Markets across Europe is just soooooo yummy. I am basically drooling as I write this post and share all of my favorites. Can I go back yet?
The thing about the Christmas Markets is that the food is a huge part of the experience. The markets are sights, smells, and experiences. And those smells come from things like giant ham's roasting over open fires, chimney cakes spinning over hot coals, Christmas punch and mulled wines simmering in vats, and candied nuts being stirred and coated in sugary goodness over big heaters. There is absolutely no way I can cover ALL THE THINGS you can eat at the markets, so I am going to try and narrow it down to some of my favorites, and of course share the things you absolutely can NOT miss.
#1 on my list of foods to eat: Chimney cakes!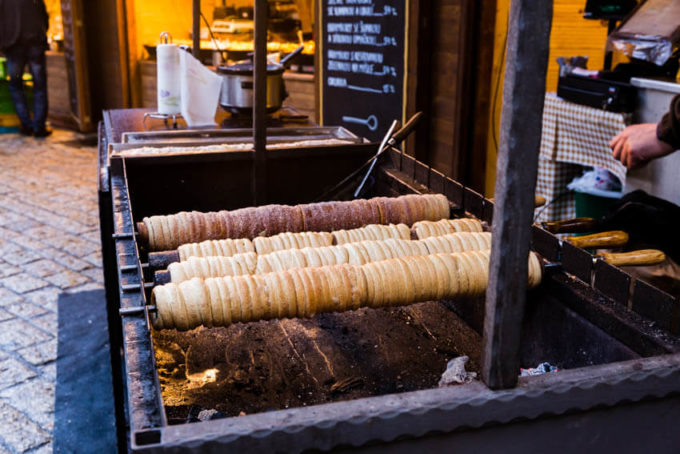 These beauties go by many names across Europe. I have been to markets in Germany, France, Switzerland, Hungary, Slovakia, Austria, Czechia, Poland, and Italy, and these goodies can be found in all of them.
They are a slightly sweet dough that is wrapped around a cylinder and cooked over hot coals. They are then rolled in sugar, or nuts, or some other tasty concoction, and sold. They are shaped like a chimney, and retain their heat and smoke like one too! It is fun to watch, and also fun to eat.
They are soft on the inside, with a nice crisp exterior, and are a fun treat! In some places, like Prague, you will find them filled with things like ice cream, fresh fruit, cookies, etc. But I personally prefer them plain rolled in sugar!
#2 Smoked Cheese
I first experienced the wonder that is this amazing smoked cheese in the Polish Christmas markets. The cheese came from a small village, Zakapone, and is smoked and shaped in fun little shapes for the holiday. It is then heated or grilled, and topped with a jam. It is a flavor explosion. The cheese is gooey, chewy, and salty. And the jam (usually cranberry) adds a nice flavor contrast that just makes the whole thing so tasty!
I won't tell you how many of these I have eaten. But it is a lot.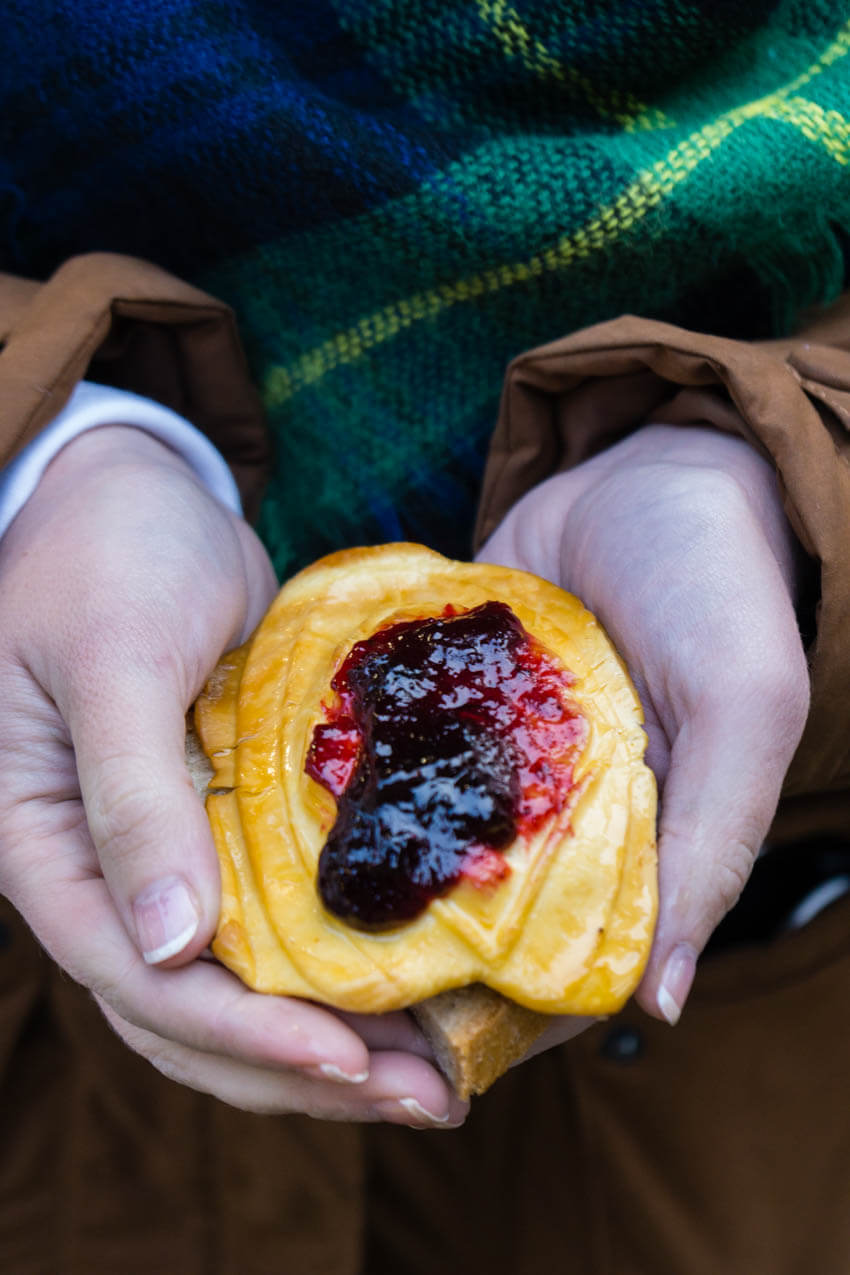 #3 Langos
Langos is a fried dough that is then topped with something. You can get a garlic butter topping, cheese and sour cream, sauerkraut, etc. There are a lot of options, but it is a delicious and filling snack, and you can smell the dough frying as you walk through the markets. Don't miss giving this a try. While most options are savory, I have seen a few sweet options out there.
Okay, those are my top 3 favorites, but really it kind of just depends on my mood, whether I want sweet or savory, and which market I am in, as each location will have a different specialty. Here are a few of the other foods I love, and recommend trying when you visit the markets.
Candied Nuts: You will be able to smell these crunchy, sweet, tasty bits of heaven from all over the market. Do not pass them up. They are warm, which makes them a great way to warm up since the markets are COLD. But they are also so tasty. Most of the markets offer a variety of options from almonds, macadamia, walnut, peanuts, and more. And there are also a few varieties of coatings. I always go for the cinnamon and sugar almonds, but pick what you like best!
Hot drinks (Mulled wine, Kinder punch, Wassail): One thing that is super fun that every market I have ever been to does, is they have a market mug that you can buy your drink in. It is usually branded with the market name and a picture that represents the market. Some are boot shaped, some are normal, some are Santa, etc. When you buy a hot drink you usually pay extra ($3-$5) for the mug. If you do not want to keep it, you can return it and get the fee refunded after you drink your drink. Every market also seems to have a different spin on the drinks. Vienna, for example had a hot orange drink, while Budapest was an apple with cinnamon, and Prague a mixed berry. Usually it is some kind of fruit and spices. And there is an alcoholic and non-alcoholic version available.
Gingerbread- As you peruse the markets you will find stall after stall of gingerbread cookies. They are shaped and decorated. Some are made into ornaments, and some are more for eating. And all are delicious. I mean… I didn't try all of them. But, I ate my fair share, and didn't find one I didn't like. Most are a soft gingerbread, not a hard cookie, but often have a royal icing on them.
Linzer Cookies- Depending on the area in Europe you are, chances are you will see Linzer cookies. These are a soft sugar type cookie layered with jam and a fun Christmas shape. And they are delicious and usually very cheap.
Waffles- Europe makes amazing waffles. Sometimes they are layered with goodies. Sometimes they are plain. Sometimes they are dipped in chocolate and on a stick. And every time they are tasty. If you are wanting something sweet, or are out about in the morning, make a waffle a top priority.
Bubble Waffles- These are fun waffles in dessert form. They are filled with goodies, from whipped cream, fruit, and cookies, to chocolate, and nutella. They are sweet and fun! And so fun to look at. 
Ham- This is one that almost made my top list because I love ham, and watching it roast, and glisten over the fires on spits is magical all on it's own. But the flavor on this ham! Mmmmmmm.
Sausages- The sausages are found across Europe and are a solid go to when you want something savory and filling. They are usually put in a bun with mustard and ketchup, and are hot and delicious. They come in many different varieties, some spicy, some not. All delicious. 
Grilled Meats/Skewers- No matter the market you visit you will be able to get some kind of grilled meat, or skewers of meat and vegetables. They are always fairly traditional for the area, and immensely tasty.
Potato Pancakes- Potatoes are hugely popular in European Christmas markets, and come in many forms, sweet and savory both. The potato pancakes are awesome. You can get sweet with a crème fraîche and jam topping, or savory with leeks, bacon, etc. Whatever you do, try something potato!
Soft Pretzels (Especially in Vienna or German markets)- Again you can get tons of variety here from sweet, almost donut like pretzels to savory. This one is pizza! Delicious and filling, and fairly inexpensive. 
Sandwiches: One of the best things I ever ate was a chicken sandwich in the Bratislava Christmas market. It was grilled chicken, a spicy mustard, and a heap of caramelized onions on a fantastic roll, and it was the definition of drool worthy!
Roasted Chestnuts- For me the roasted chestnuts will always be symbolic of Christmas and Europe. I can't help but break into song about chestnuts roasting over open fires when I see them. And they taste amazing. Sweet and nutty and tasty. Another fun use…stick the hot chestnuts inside your gloves to keep your hands warm as you roam the markets, and eat them when they start to cool. Double duty!
Cheese- If you know me, you know I love cheese, and the cheeses in Europe are always amazing. But most markets have cheese stands, and often allow tasting. I always recommend the cheese. I had an amazing dill cow's milk cheese in Budapest that rocked my world.
Spiraled potatoes- Another variant on the potato, this is like fries, but in a fun spiral on a stick form. The potatoes are skewered and spiraled, then fried and seasoned. Just be sure to eat it hot, or it won't taste good. Think of it like fries, hot is best!
As you can see, there are a lot of options, and this is just scratching the surface. These foods all have different names in the various markets, but the idea is the same. And the deliciousness undeniable. If you were going to add one thing to you bucket list for your life travels, then let me suggest it be a Tastebud Tour of the European Christmas Markets!