A decadent layered cookie bar that starts with a Pillsbury cookies and cream base, is topped with luscious caramel and pecans, then layered with a frosting mixture and topped with a crunchy, chocolate-y topper.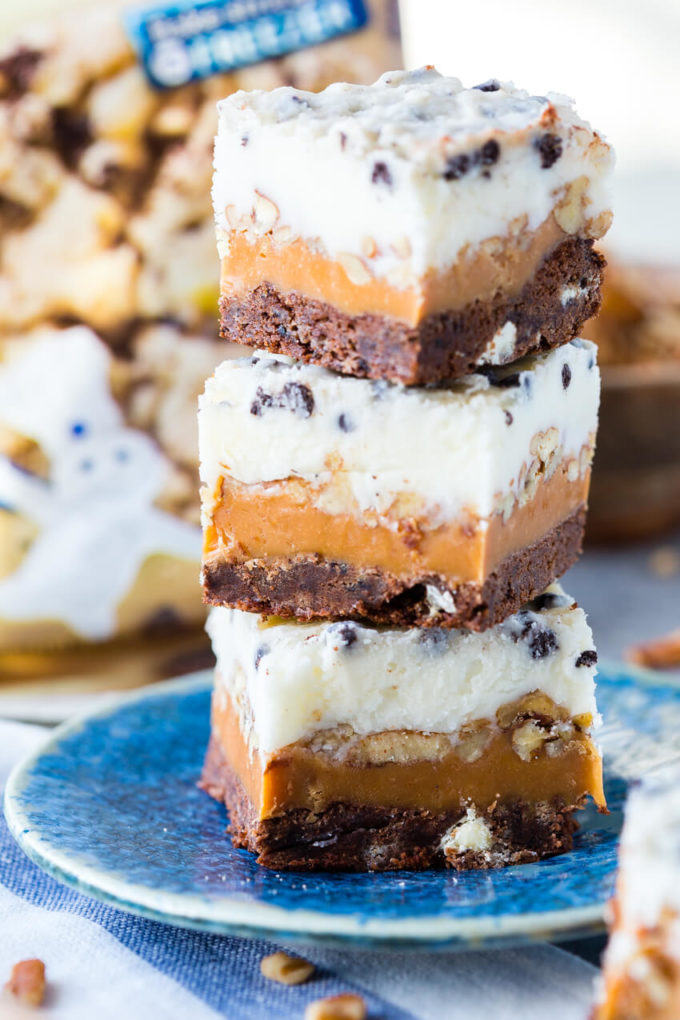 Don't these bars look indulgent? They are insanely tasty and only 8 ingredients! Now before you go crediting me for the genius that is these bars, I have to tell you, they are not my recipe, but one of the winning category recipes from the 48th Pillsbury Bake-off® Contest!
Do you guys remember a few months ago when I shared my family recipe for Buttermilk Pie as inspiration for the 48th Pillsbury Bake-off® Contest? Well the winning category recipes have been announced, and now you can try them at home! After looking them over, I knew I had to make these Cookies and Cream Caramel Layer Bars.

MY LATEST RECIPES
They were so easy to make, and turned out amazing.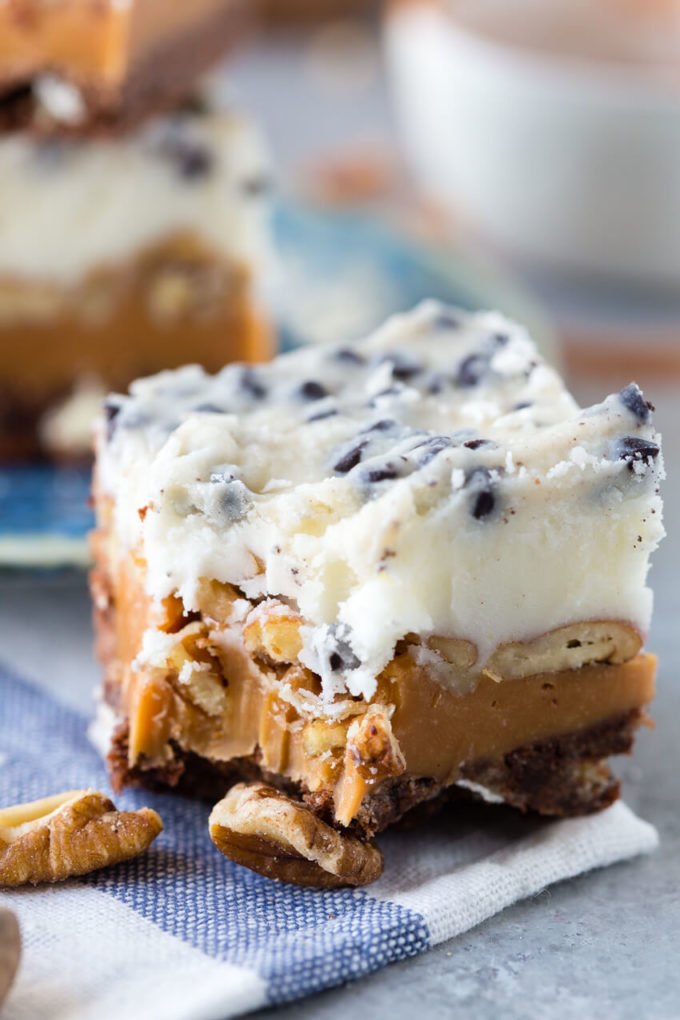 Cookies? Caramel? Sweet creamy frosting? What is not to like?
My family has a big sweet tooth, and I knew the layers of goodness in these bars would create layers of memories and fun for my family. And I was right. I made up a batch, and popped them in the fridge to chill, and when my kids got home from school I surprised them with this fun treat.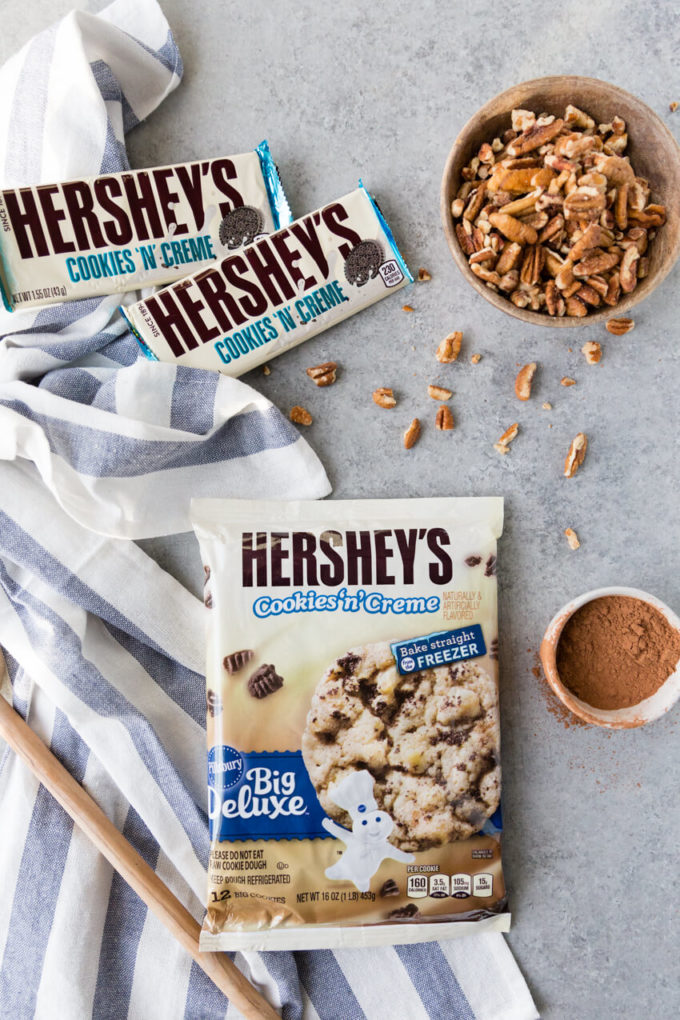 I got a lot of praise, they didn't even care that the recipe was not my original creation.
I can't wait to make the rest of the winning category recipes, as I am sure they are just as good. And you better believe I am going to tune in to The Kitchen on Saturday, 2/24 at 11am ET/10am CT on Food Network to watch who the Grand Prize winner is. I loved reading the winner's stories, and learning about their inspiration and stories behind these tasty recipes.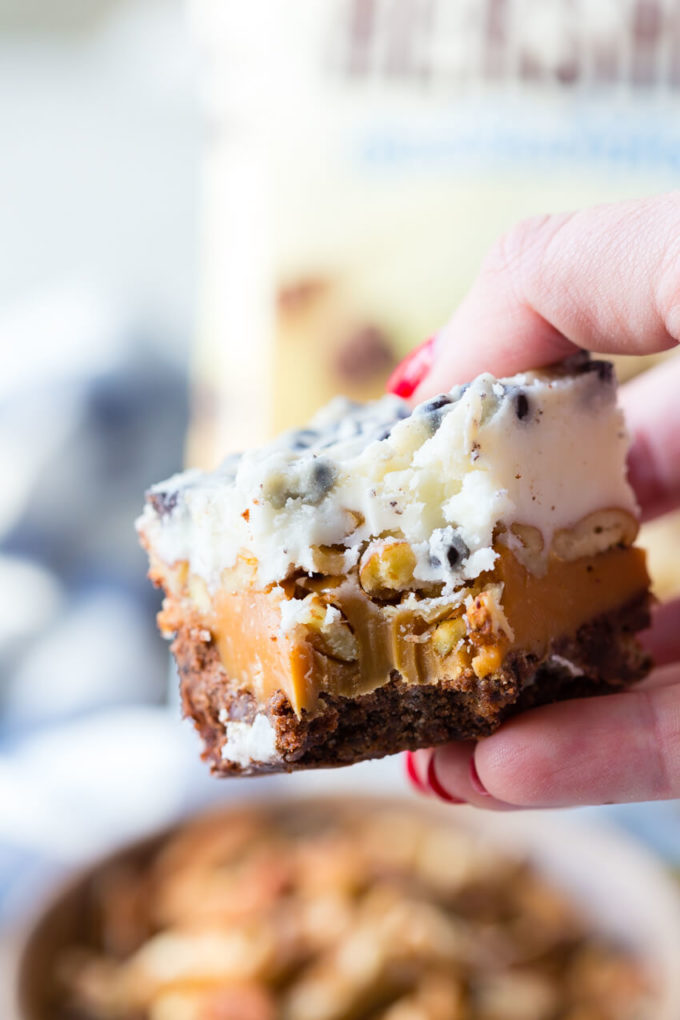 The creator of these bars, Sandy Reiter, said, "I've always loved to bake and never miss a chance to experiment. This recipe has been tweaked many times over the years. I've made these with different bases, nuts and all flavors of candy depending on my mood and what I have on hand."
I love how she tweaks the recipe for what she has and what she is the mood for. I am already envisioning a holiday version to make with my kids next December.
For my family, cooking and eating together is a huge part of memory making, and tradition. And I think making the winning recipes from the Pillsbury Bake-Off® Contest is going to have to be a tradition for us. You can make the recipes at home, too. You can find the winning category recipes here: www.BakeOff.com.
Cookies and Cream Caramel Layer Bars
25 minPrep Time
20 minCook Time
25 minTotal Time
5 based on 3 review(s)
Ingredients
1 package (16 oz) PillsburyTM Big DeluxeTM HERSHEY'S refrigerated cookies 'n' creme cookies
1/4 cup dark unsweetened baking cocoa
1 package (11 oz) caramel bits
8 tablespoons heavy whipping cream
3/4 cup pecans, coarsely chopped
8 tablespoons butter
3 cups powdered sugar
3 bars HERSHEY'S cookies 'n' creme candy (1.55 oz each), broken into pieces
Instructions
Heat oven to 350°F. Spray 8-inch square (2-quart) baking dish or pan with cooking spray.
In medium bowl, crumble cookie dough; stir or knead in cocoa until well mixed. Press evenly in bottom of baking
dish. Bake 18 to 20 minutes or until set. Cool 20 minutes.
In medium microwavable bowl, microwave caramel bits and 2 tablespoons of the whipping cream uncovered on
High 1 1/2 to 2 1/2 minutes, stirring every 30 seconds, until smooth. Carefully spread caramel mixture evenly over
cooled bar base. Sprinkle with pecans. Cool about 20 minutes or until caramel is set.
In medium microwavable bowl, microwave 6 tablespoons of the butter uncovered on High 30 to 40 seconds or until
melted. Beat in powdered sugar and remaining 6 tablespoons whipping cream until smooth and creamy. Pour
evenly over pecans. Refrigerate about 1 hour or until set.
In small microwavable bowl, microwave candy bars and remaining 2 tablespoons butter uncovered on Medium
(50%) 1 minute to 1 minute 30 seconds, stirring every 30 seconds until smooth. Spread evenly over bars.
Refrigerate about 2 hours or until center is firm. Cut into 8 rows by 4 rows.
32 bars
7.8.1.2
1076
https://www.eazypeazymealz.com/cookies-cream-caramel-layer-bars/
Pin to your dessert board on Pinterest:

Get EZPZ Updates In Your Inbox!