This post is sponsored by TripAdvisor, all opinions are my own.
Delhi, India Travel
Travel to India, and experience a culture unlike any other. What I learned, saw, and experienced while visiting Delhi, India, and surrounding areas.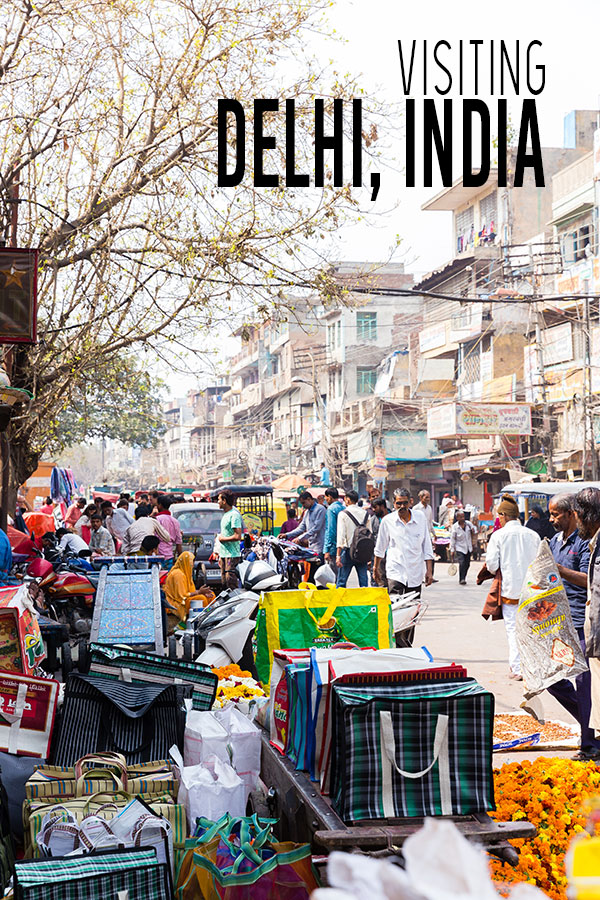 A visit to India was on the top of my bucket list. India the land of spices, cobras, elephants, temples, and more. I could not wait.
On my flight to Delhi, I sat next to a pastor who had set up some missions and orphanages in India to help combat poverty and care for the children. He gently lectured me about the conditions, and spoke to me about privilege and ignorance. I thought I understood. I have visited South Africa, and witnessed the shanty towns, the poverty, the homesteads without running water or electricity. I know what it means to see poverty. To feel gratitude and have a wider understanding of just how lucky/blessed/privileged I am.
During the course of our conversation he asked me what kind of impact I would be making during my visit. While his intentions were great, I felt a little condescended to. I was going for vacation. To check things like the Taj Mahal off my bucket list, play in the Holi festival, and to see my friends. Concerns for housing, orphaned children, hunger, poverty levels, and the economy where the furthest thing from my mind. I knew my tourist dollars would help the economy, and I could provide work for guides, and drivers. But I didn't really want to think about the rest.
Anyway, I am writing this post  not to talk about some life altering change I experienced, but rather to share a slight widening of my already open eyes. A deeper feeling of gratitude for my own position in life, and greater desire to never take that for granted, and to teach my children to do the same. But more than that this post is a tribute to the beauty that can be found in the lowest of situations.
While we drove through the country, walked the streets, and explored various parts of India it was impossible to miss the poverty. The garbage lining the streets. The people packed 10-12 to a tuk tuk, or a family of 4 riding a single motorcycle. The begging. The living conditions.
Everywhere we went we were accosted by people asking us to give them money. When we were quoted prices for things there was no subtly in the fact they felt we should pay more because we are from America, the land of the "rich". Tipping for everything from pointing us in the right direction to being in a photo we took was expected, and often after receiving a tip, the individual would frown and ask for more.
There were definitely parts that were uncomfortable, or that left a sadness or a heavy feeling. But, I don't want to focus on that, I want to instead highlight the beauty of this country, the color, the vibrance, the living of life out loud. The flavor.
And I want to share with you some of the highlights from the trip, and some tips for booking similar activities and experiences for yourself should you chose to visit India.
The Color
The bright and vibrant colors of India have captured my heart. From the gorgeous beaded Sarri's to the head wraps, to the paint on the elephants. Living life in color is part of what makes this place so amazing.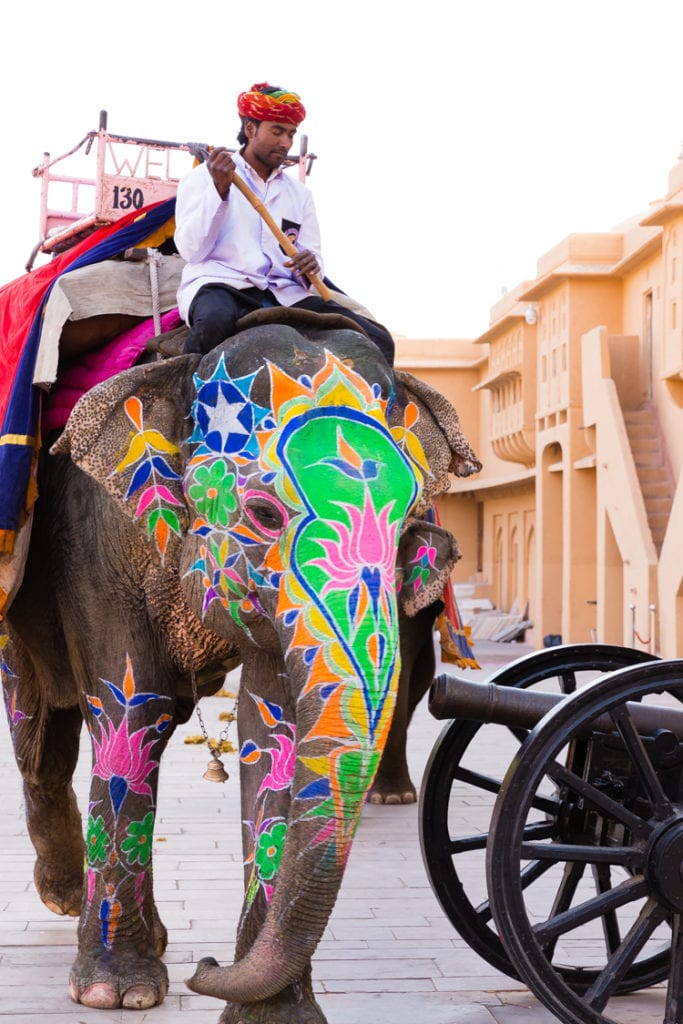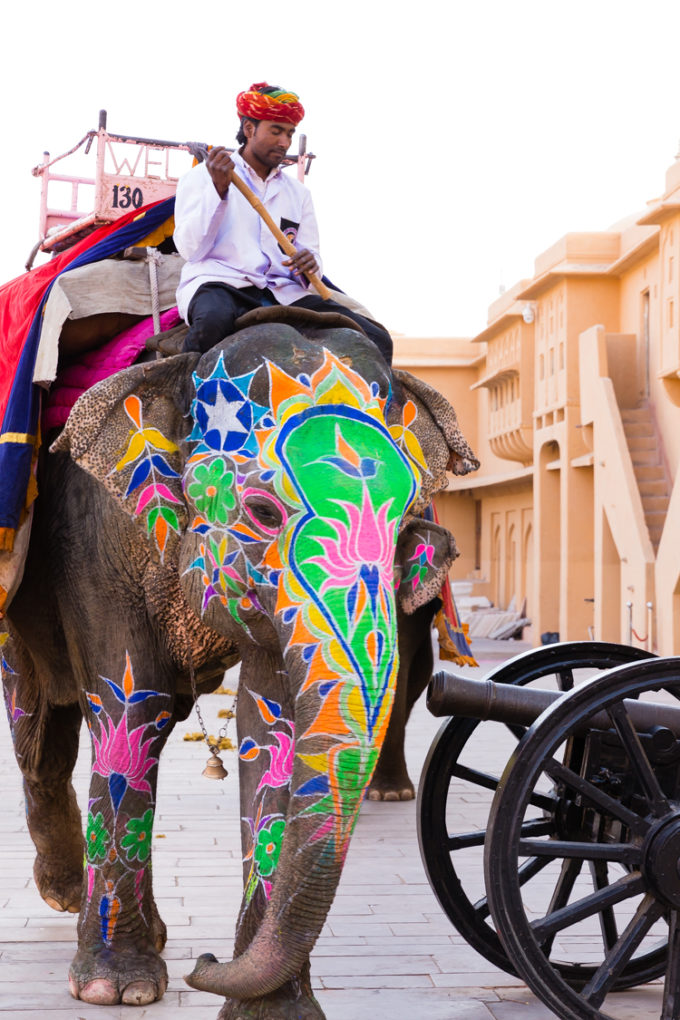 Travel Tip: Taking time to explore the city and just take that "life out loud" feeling in, is a must when visiting Delhi, India. A guided tour is a great idea, because there is a lot of chaos, and a lot to see, and being with a guide can help reduce the number of times people approach you asking for money.
This tour from TripAdvisor,  offers a personal driver, and you get to see both Old and New Delhi in a day.
The Transportation
There is just no stopping the movement that is India. Whether people walk, bike, ride in a tuk tuk, upon an elephant or camel or horse or donkey, ride a motorcycle, sit atop a city bus, or drive a car, the transportation here is amazingly beautiful. The movement and life is just stunning. I loved every moment of it. You could be on a highway in a car, and in front of you there might be a horse drawn wagon, to the side a motorcycle, further up the road someone on a camel, and of course a million tuk tuks.
Just like the amount of methods of transportation seem like chaos, the driving itself is madness. It seems like there is no rhyme or reason. There is honking, swerving, driving fast, driving slow. But there is method to the madness. Two lane roads may be used 4 vehicles across, and the honking incessant, but each honk holds meaning. And if you get stuck going one way, you can just drive against the current flow of traffic on the opposite side of the road. I kind of loved the freedom of it, while simultaneously being terrified by the lack of rules and order.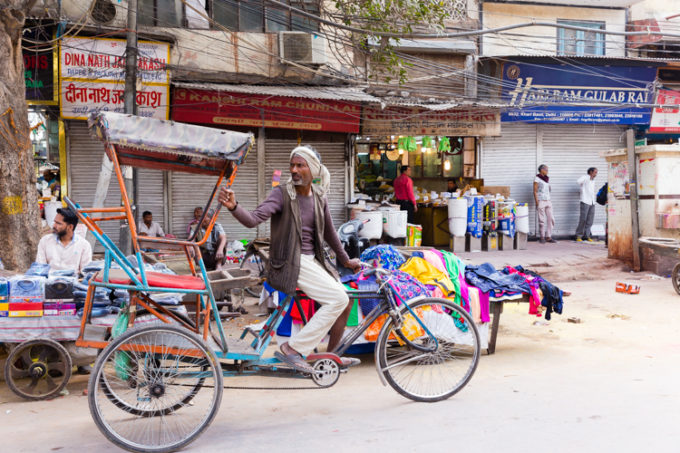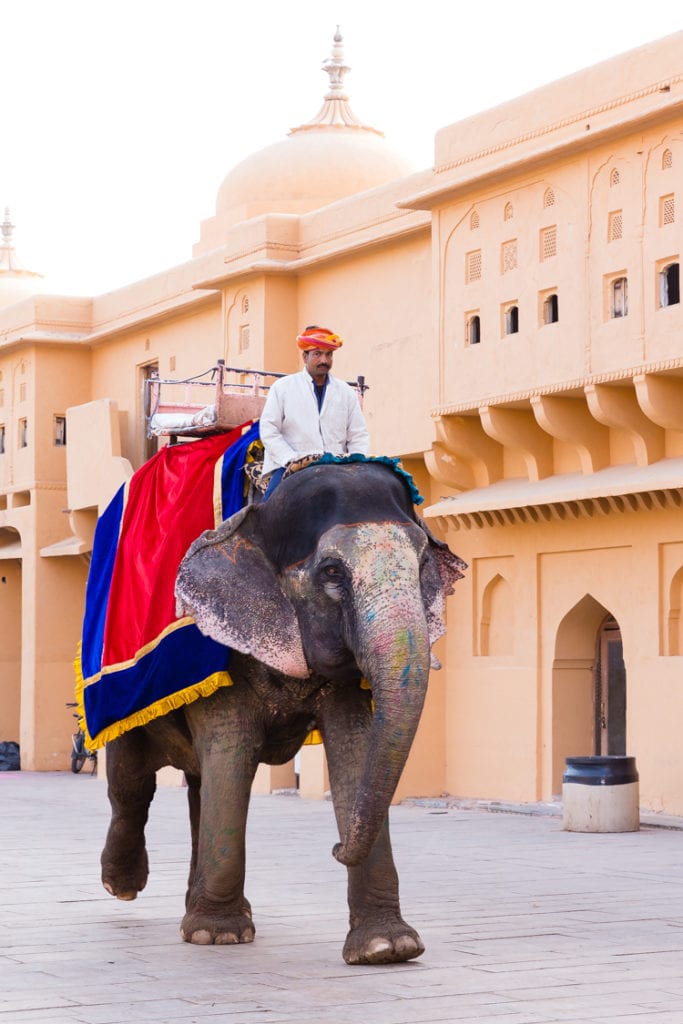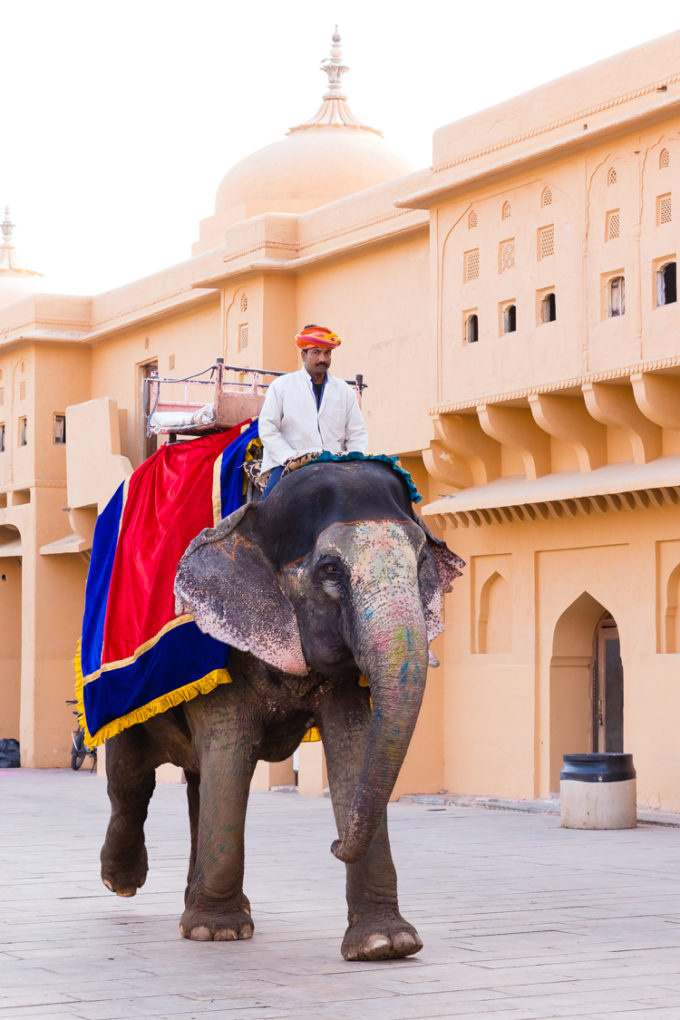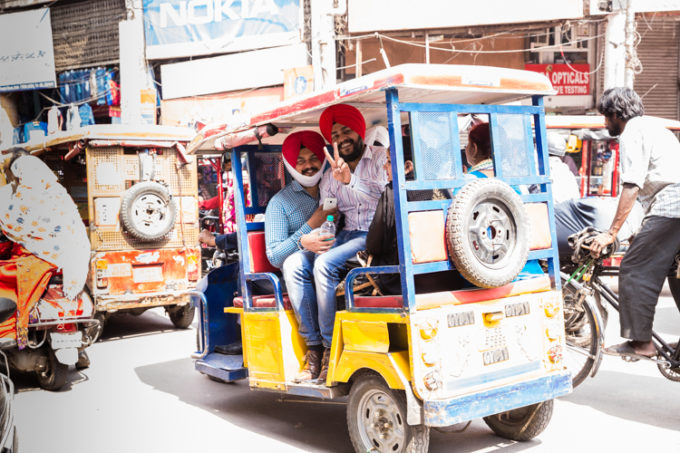 I would probably never want to drive myself in India. And honestly, there is no reason to. You can hire a driver, or a tour for fairly inexpensive, and then instead of dealing with the stress of driving in the chaos, you can sit back and enjoy it.
During our trip we left Delhi and ventured to Agra and Jaipur for a few days to see the Taj Mahal, and to participate in Holi in Jaipur. We got to visit forts, see amazing sites, and enjoy it all from the back of an air conditioned car. You can book a similar tour with TripAdvisor here: 4 Day Private Tour.
The Markets
If you want to see life in action in Delhi, visit the markets. From vendors selling everything from flowers to spices and kitchen wares, you will get an eye full, ear full, and nose full.
One of my favorite activities when visiting Delhi, India was simply walking through the markets. I highly recommend taking a tour, or doing this on your own. As we walked through the Old Delhi streets, shopped for spices, and took it all in we were accosted by more sites, sounds, smells, and chaos then I have ever experienced before.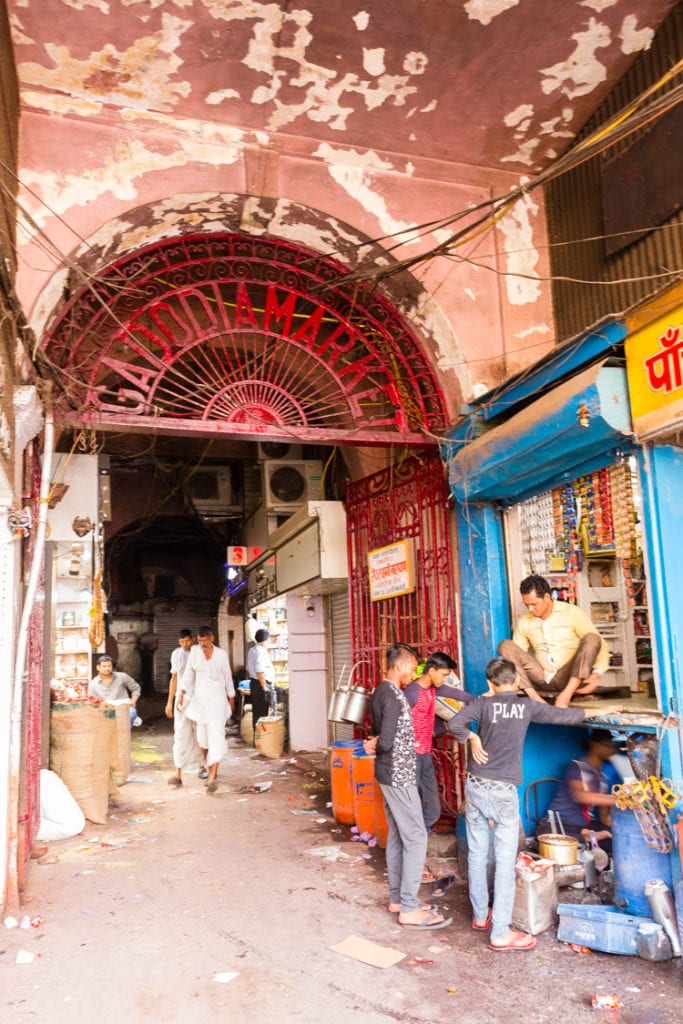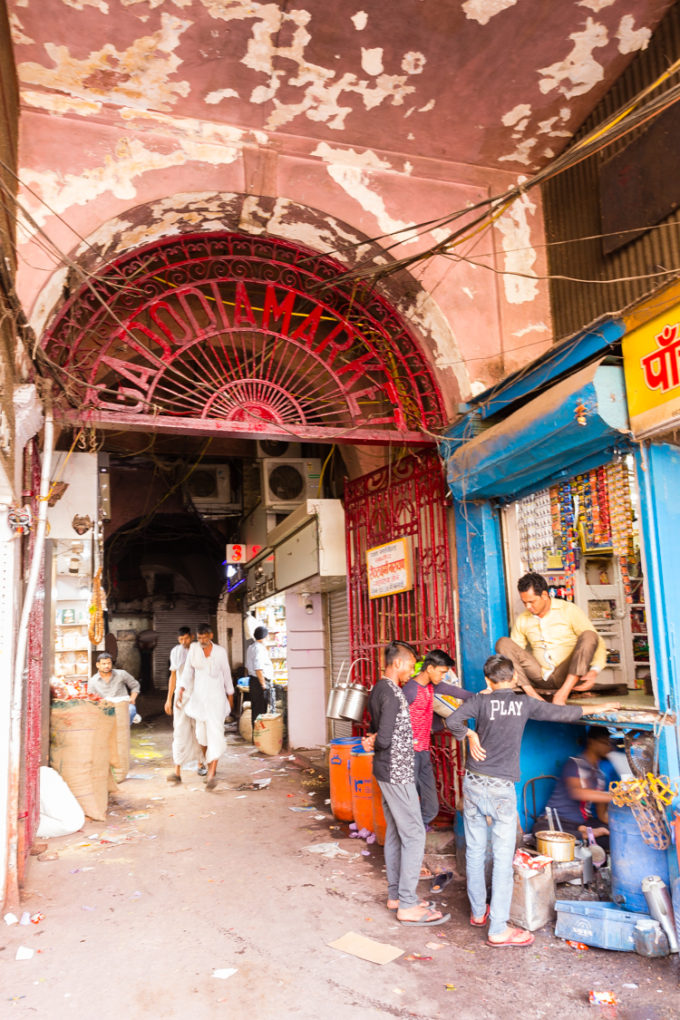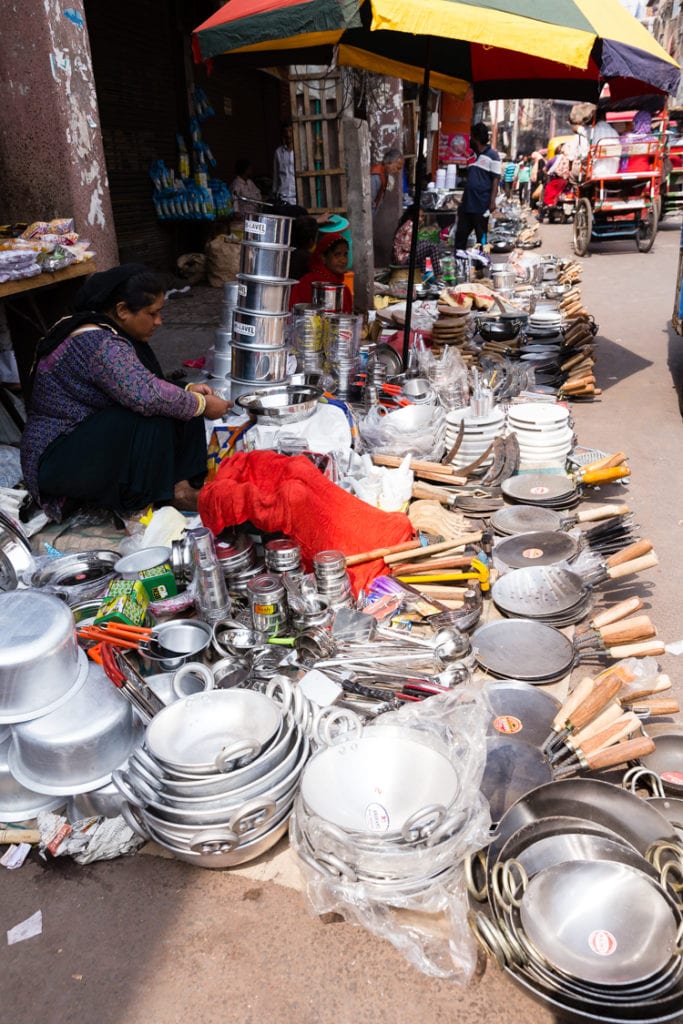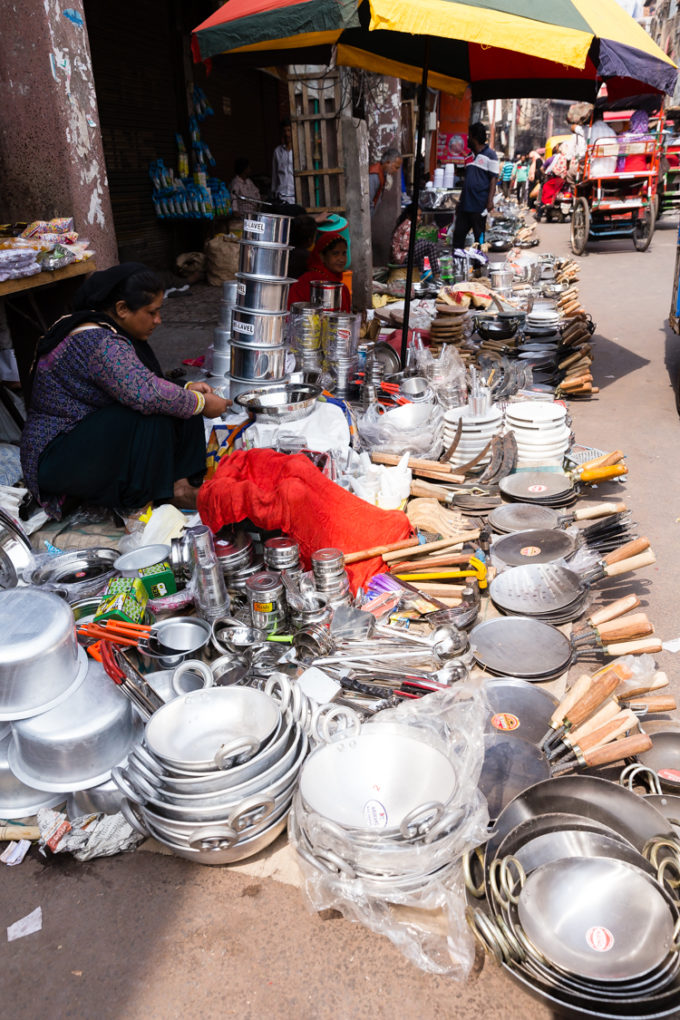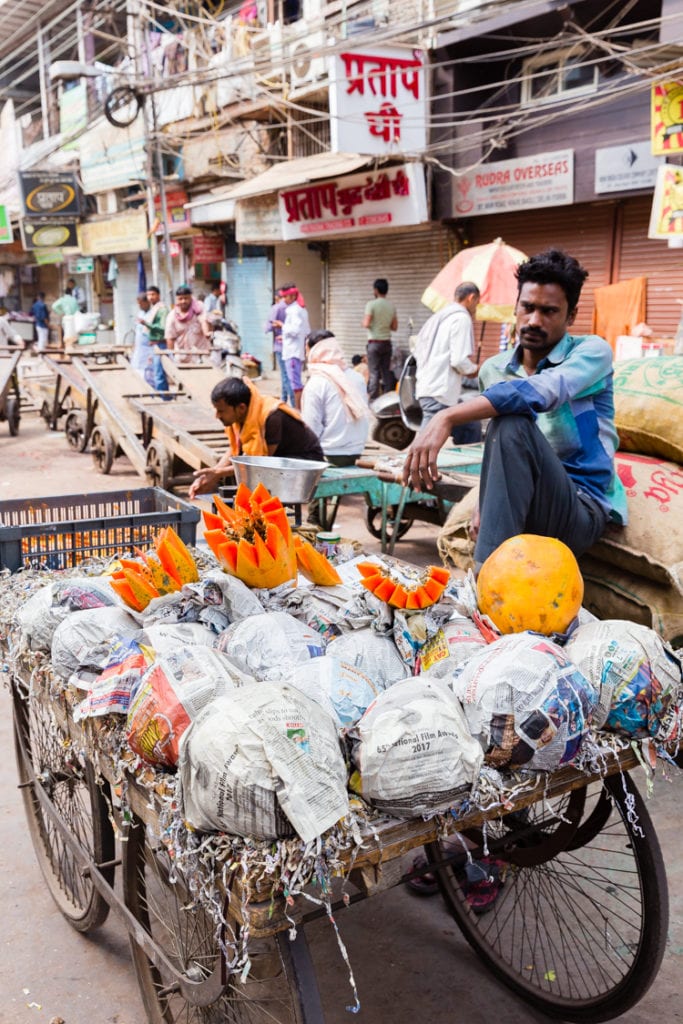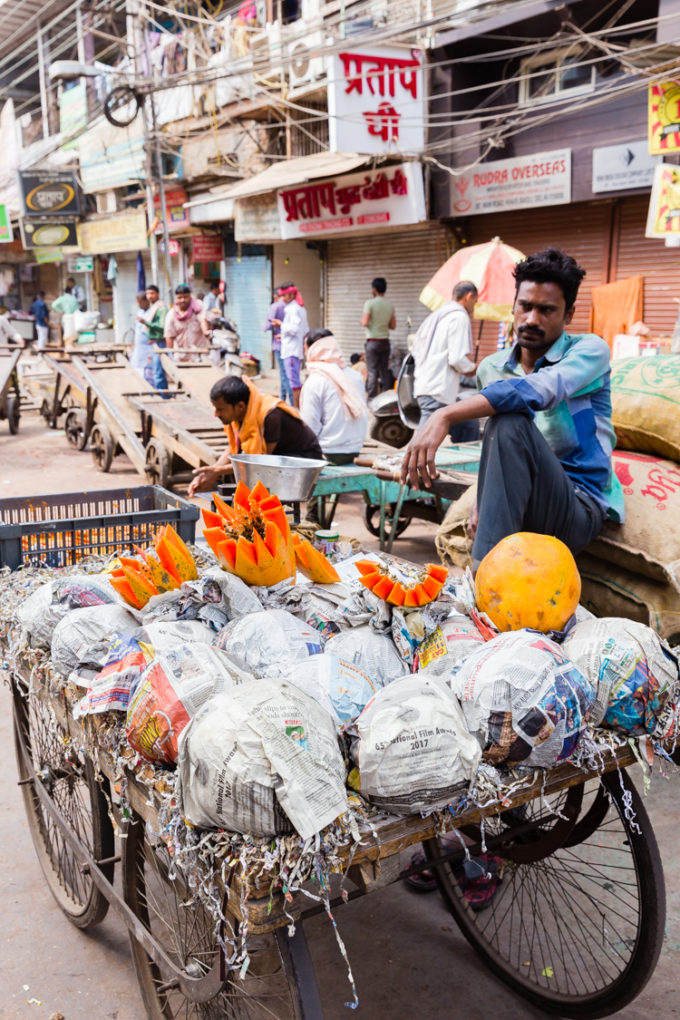 But despite the chaos, what I truly enjoyed was seeing the real life moments, the life happening all around, the love, the friendship, the care, things like this:
Friends enjoying an afternoon break together.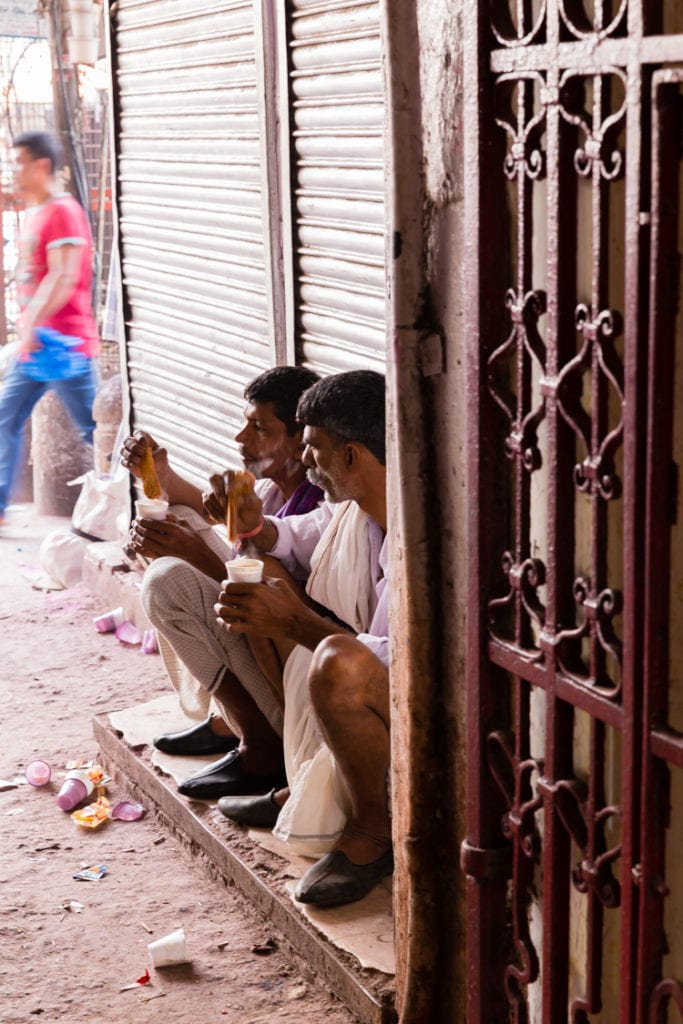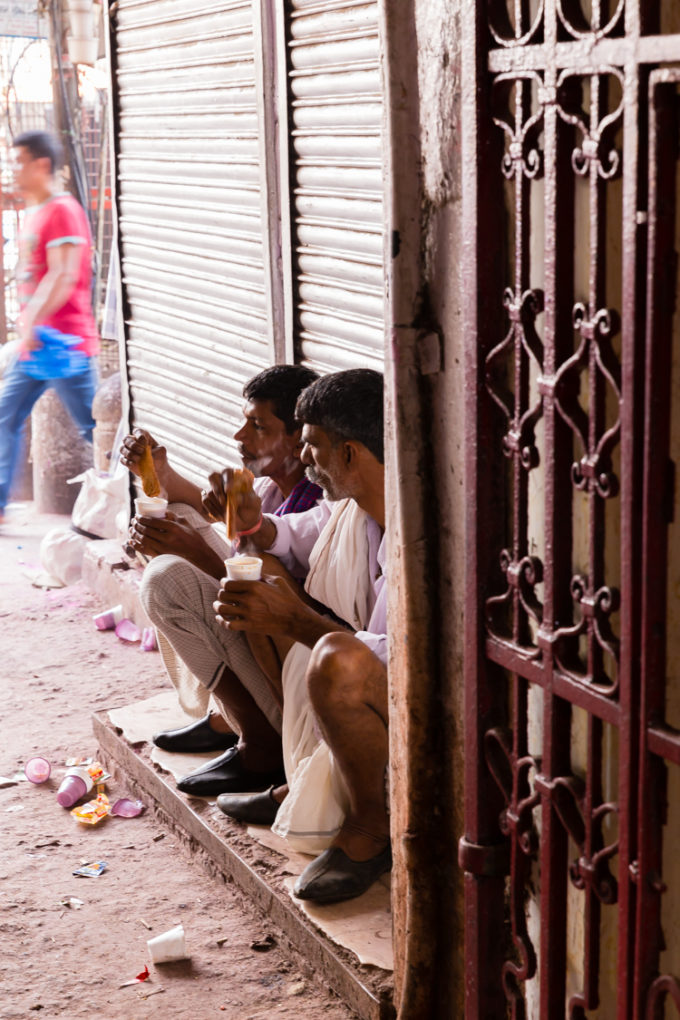 Families doing their shopping together, making it a family outing.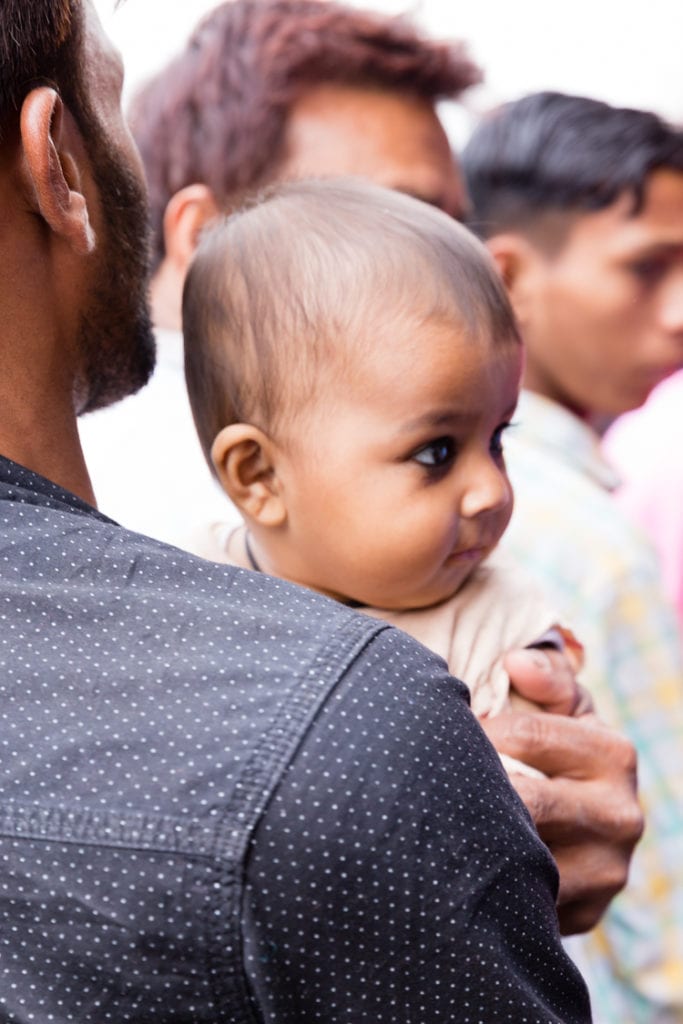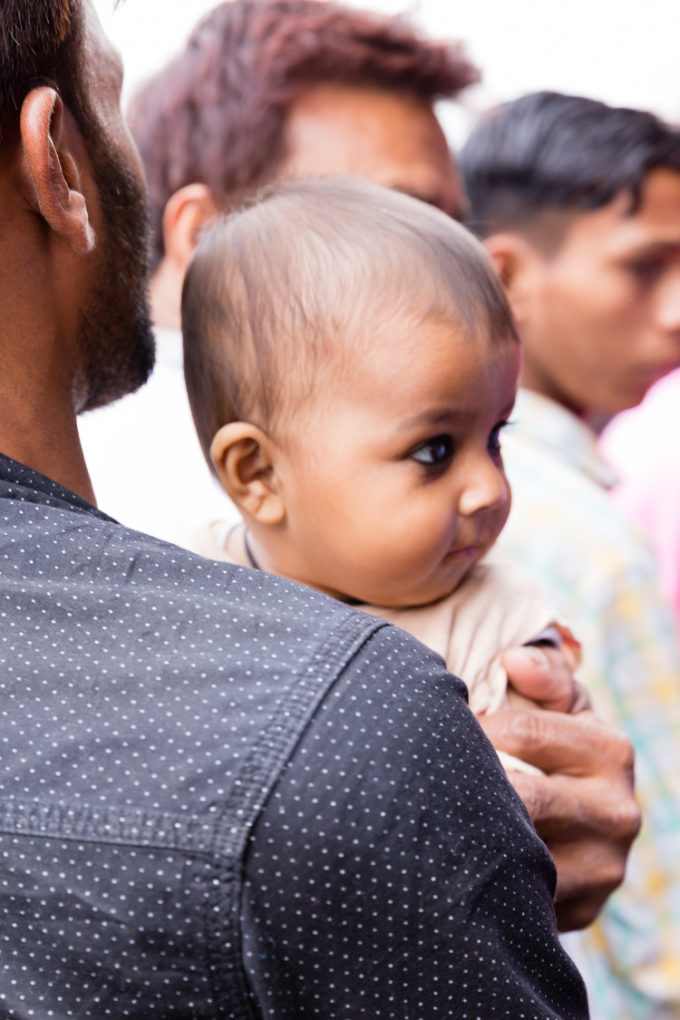 People caring for their pets.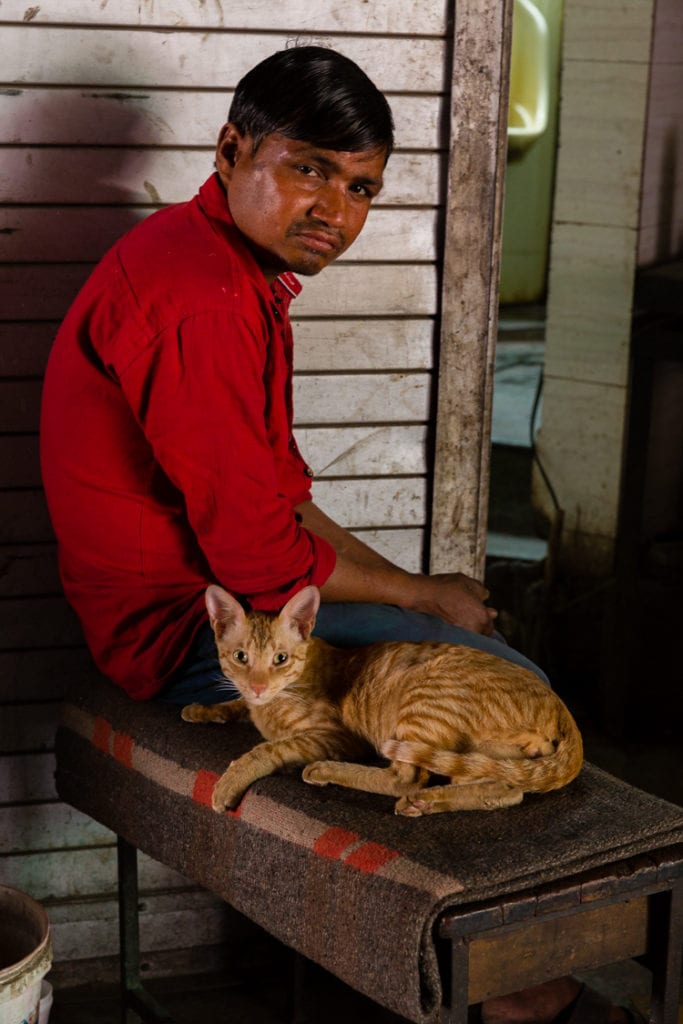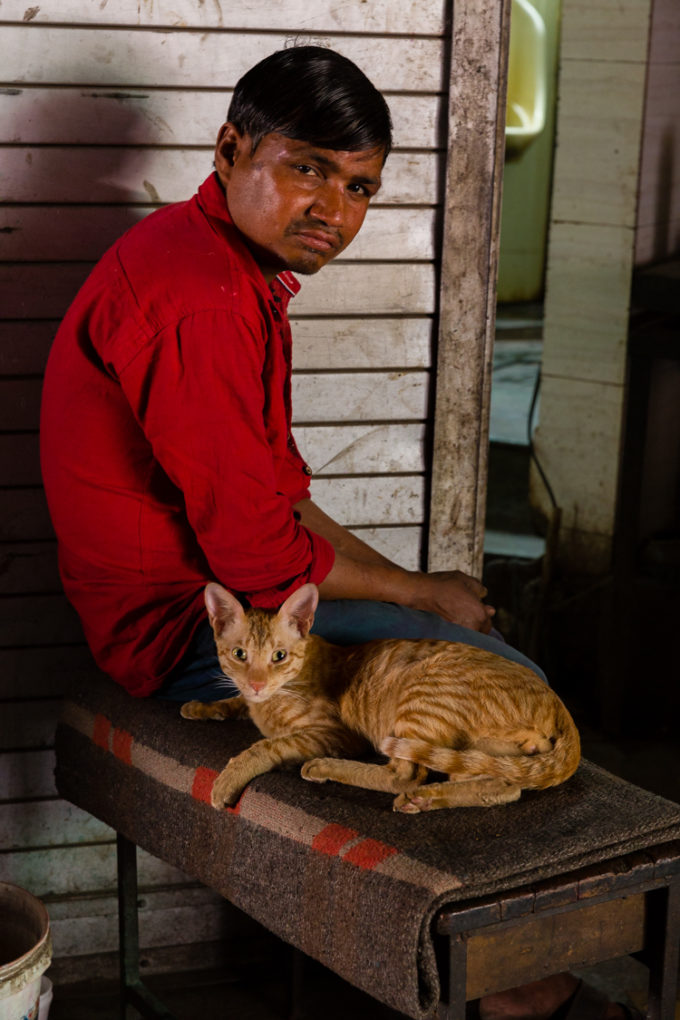 Grooming… this man's ears are being cleaned.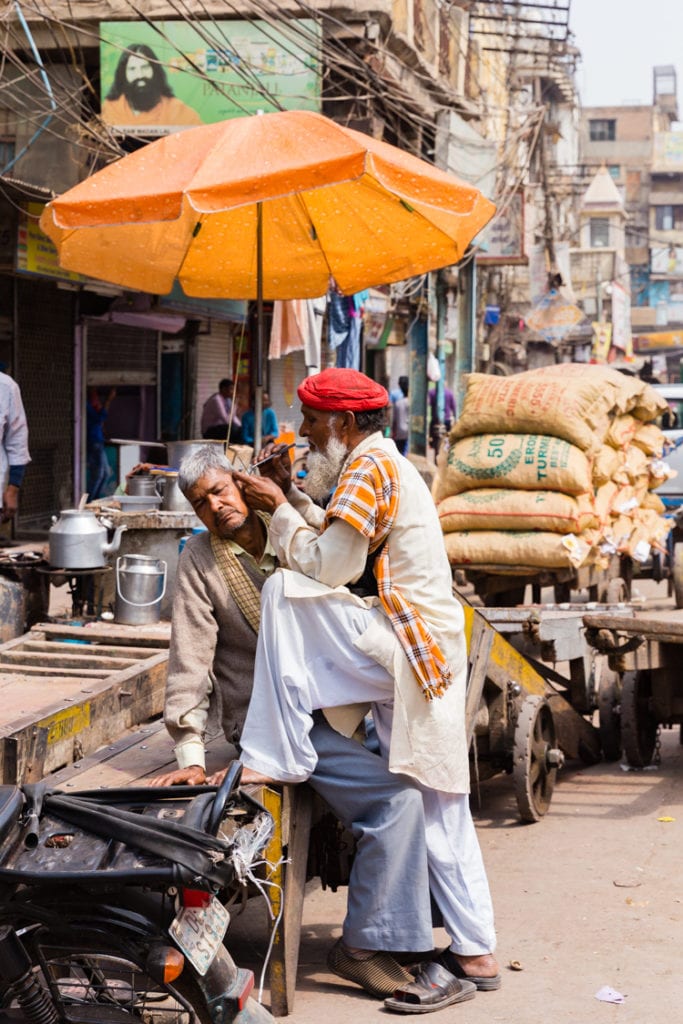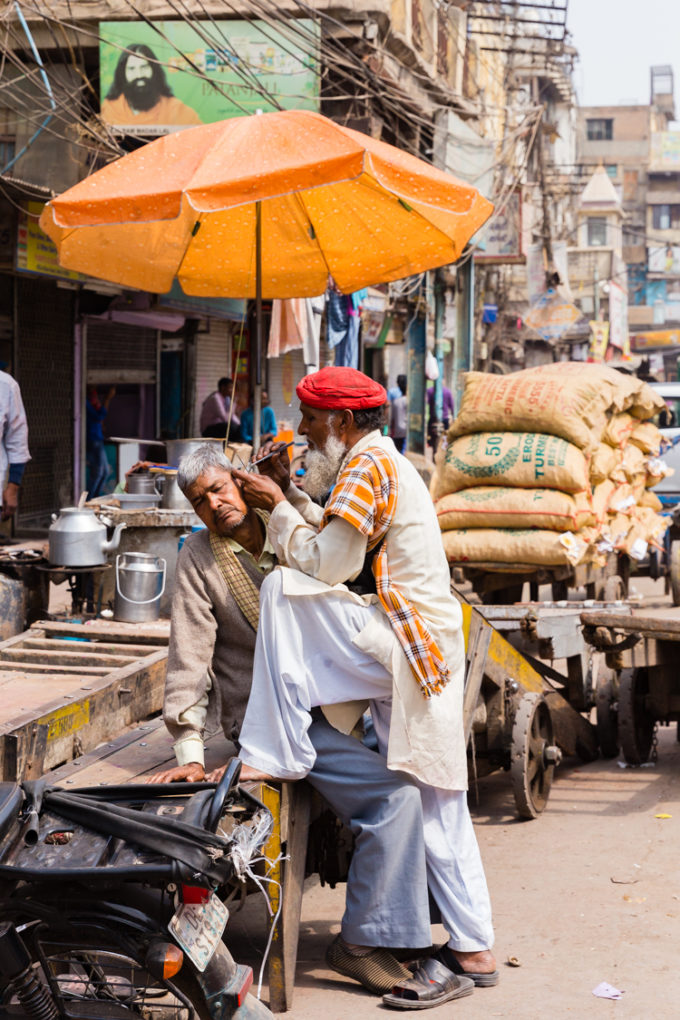 Prayer and worship.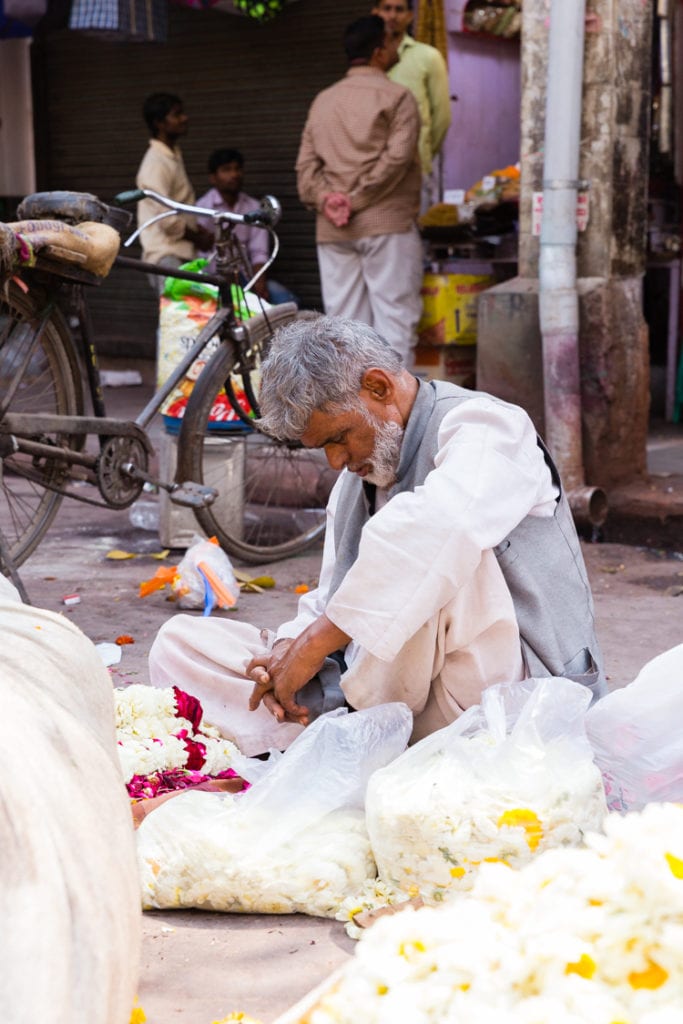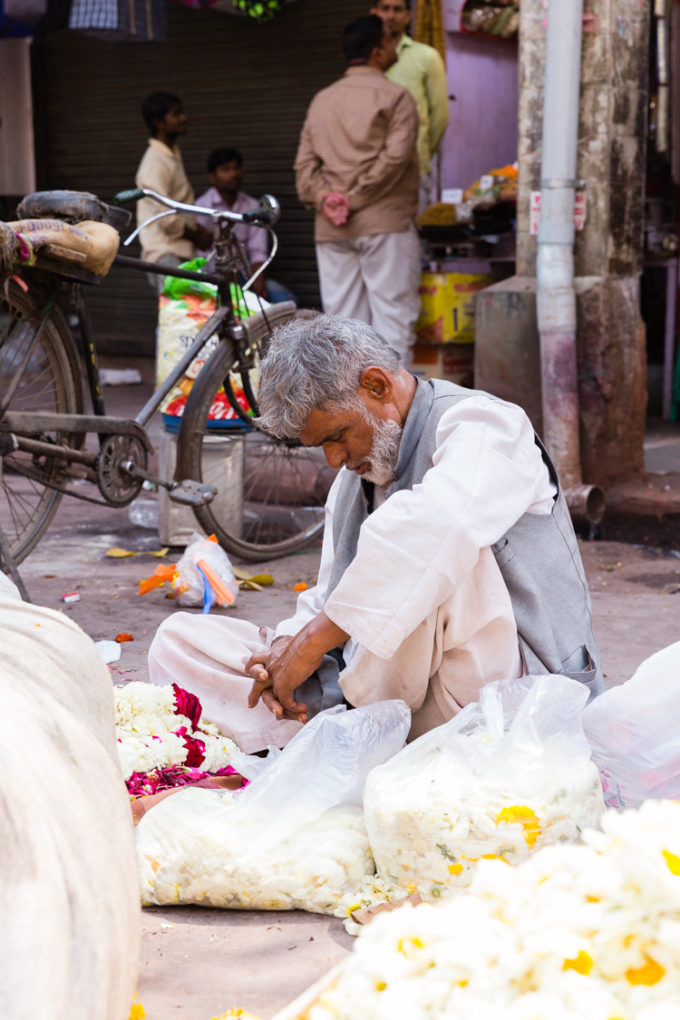 The amount of life happening in just a few blocks was quite the site to take in.
Travel Tip: Take a walking tour of the Old Delhi Heritage Areas and Markets, and enjoy a rick shaw or tuk tuk ride.
The Food
I was fortunate in my visit to India to have some great friends act as our guide to the food scene. They shared some of their traditional meals, taught me how to make roti by hand, and showed us all of their favorite places to eat, as well as what to order and when.
Like the color, the transportation, and the markets, the food in India is vibrant. So much flavor. So much spice. Each dish has layers to it, and each bite is an experience.
From curries to lassi to paratha, momos, banta, fragrant bhaji and sweet samosas, shawarma, and more you should be sure to sample several local delicacies like golgappas and bhelpuri. Whether from a hundred year old restaurants or a street vendors, the food in Delhi, India is quite the experience and one that should not be missed.
Travel Tip: Consider a Food Tour, not only will you learn some of the history of the area, but get to taste your way through it as well.
My favorite food stop was Karim's, which is a well known establishment, and the first place I have had mutton and actually liked it. The mutton curry was delicious. The flatbreads were amazing. I liked every bite.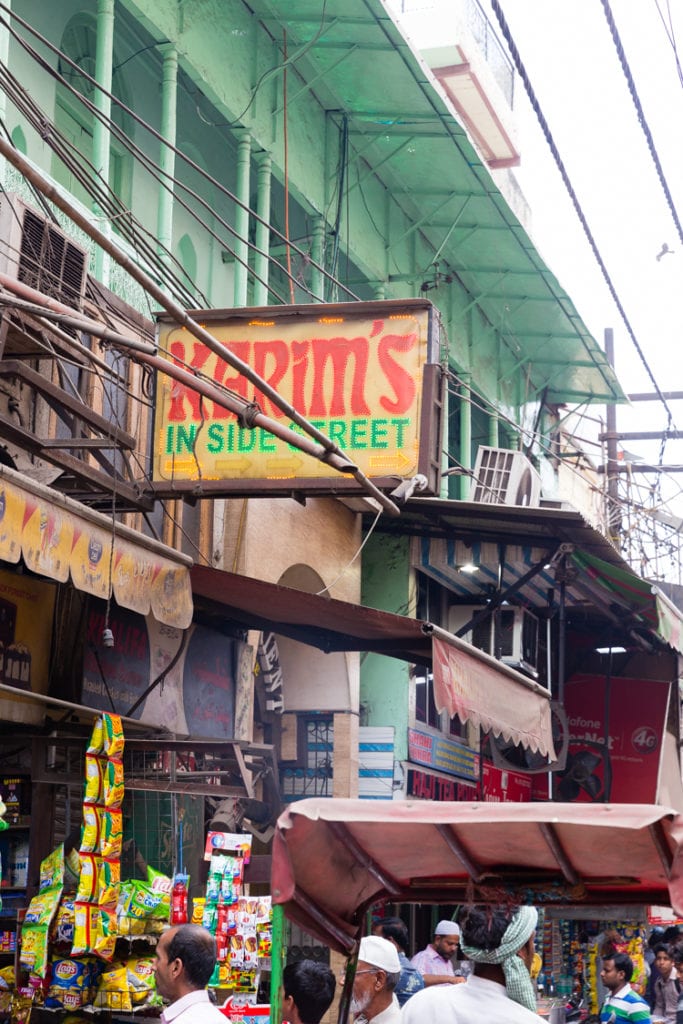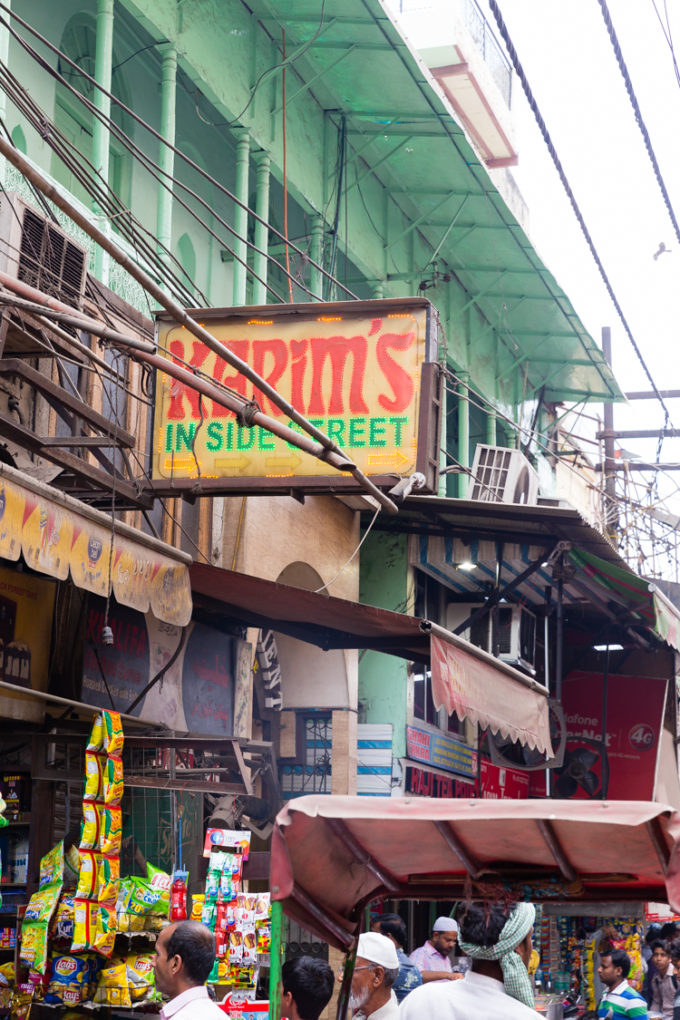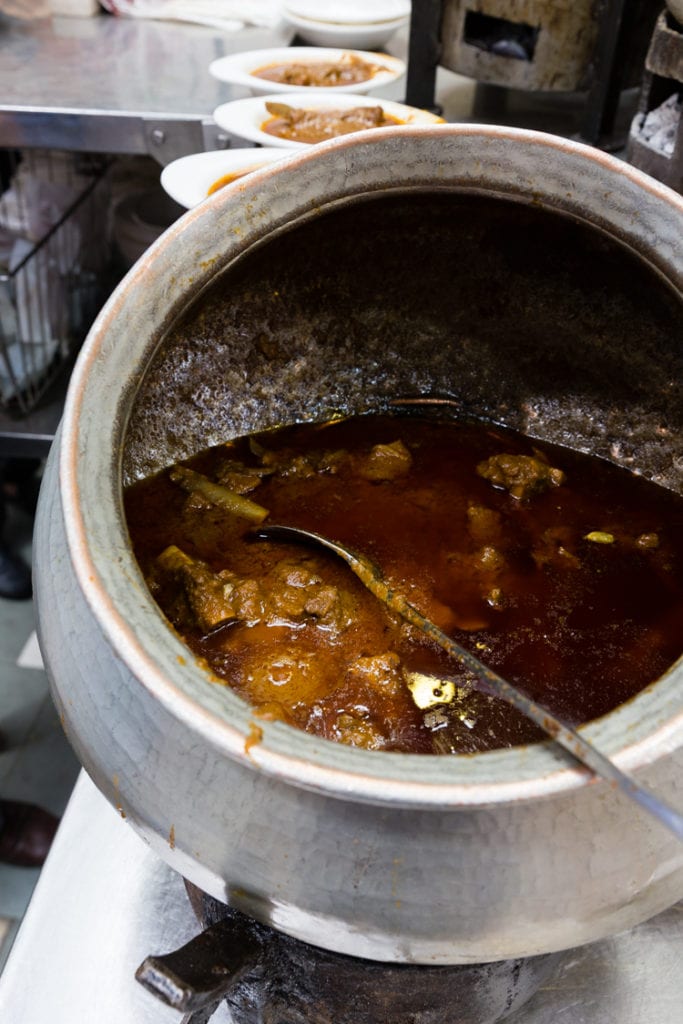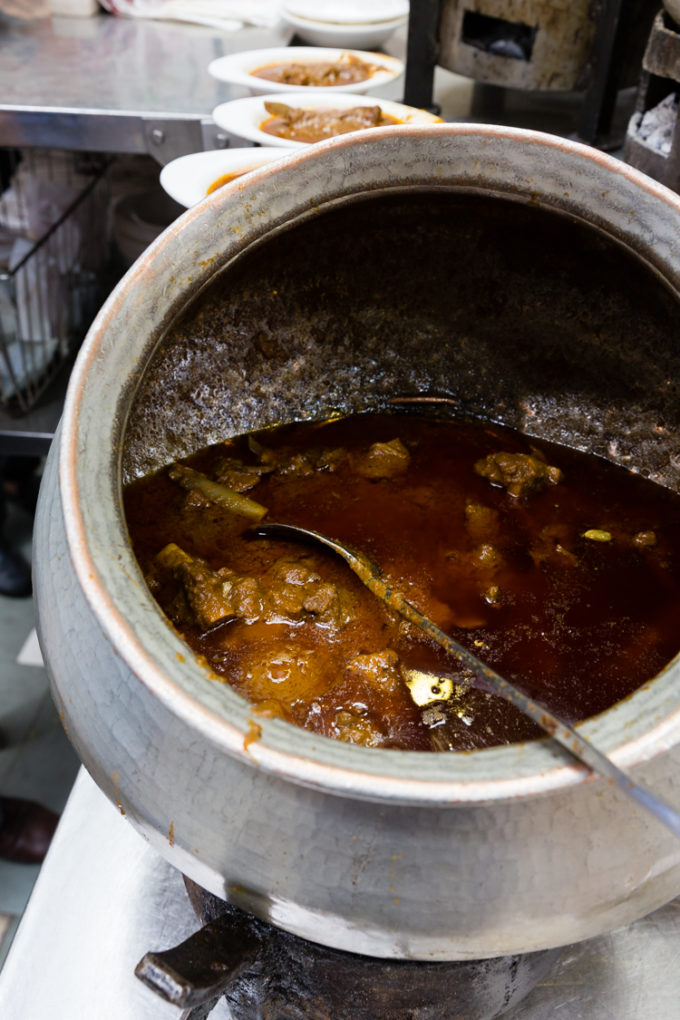 All in all, my experience in Delhi, India was positive. I loved seeing life take place on streets that haven't changed in over a hundred years. I loved touring the temples, the historic sites, the markets. If you want to take a trip to India, check out the TripAdvisor "Things to do" page for Delhi, and now you can read reviews, get a feel for what people recommend, and book all in the same place!
Pin to your Travel Bucklist Board on Pinterest: