This shop has been compensated by Collective Bias, Inc. and its advertiser. All opinions are mine alone. #EggoWaffleBar #CollectiveBias
"Face" the day with this fun and easy to put together Eggo Waffle Bar! Perfect for busy families and overwhelmed moms who want to add some fun and good-for-you foods to the breakfast table without too much work.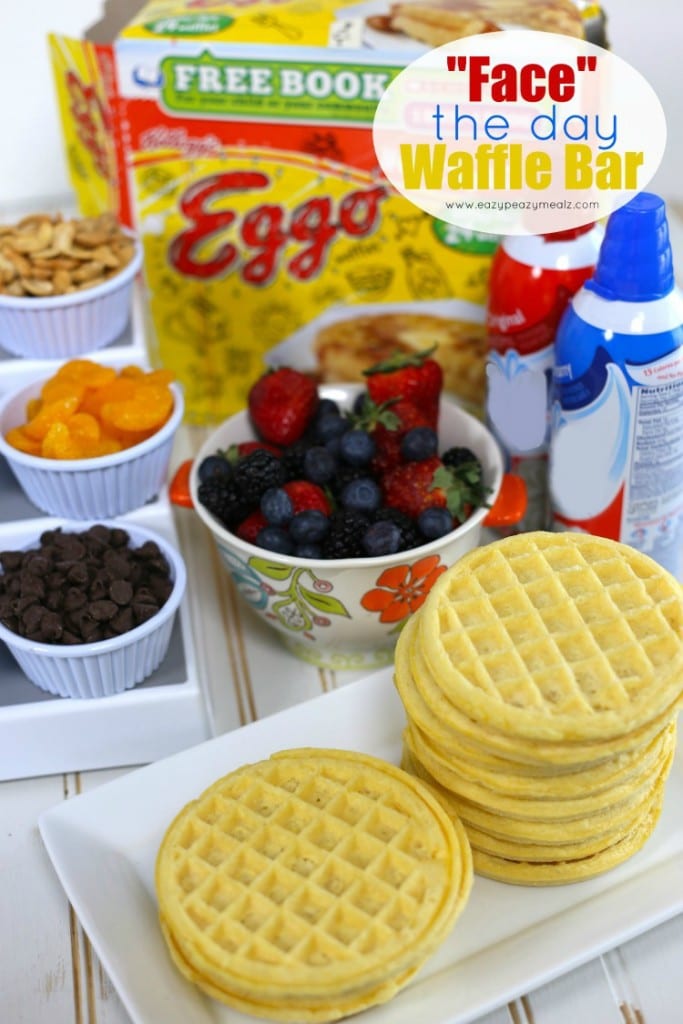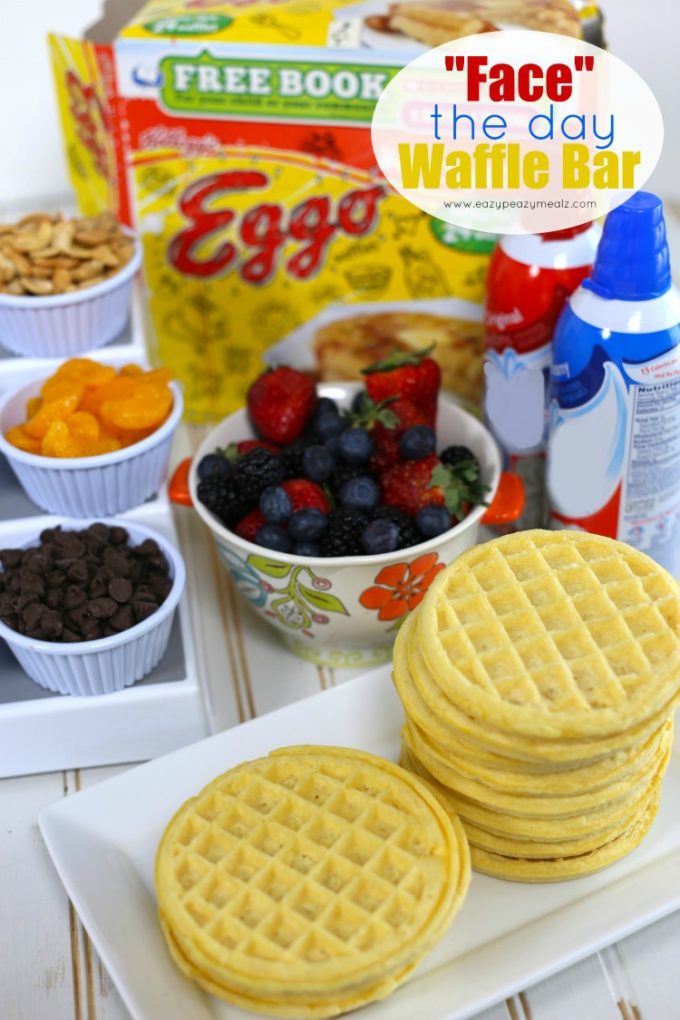 Oh man has my life been hectic lately. Besides the blogging, which I love, but is a major time suck, I am in the middle of trying to pack our family to move. 6 people have a ton of stuff. I am seriously considering becoming a minimalist. Then there is the fact that I am still seeing a specialist for my jaw, and of course, mom duties! I have 4 kids who need constant attention. And the hubs. So needless to say, I have been feeling a little overwhelmed lately, and a little cranky. Some days, I don't even want to get out of bed.
And then add in the emotionally draining and time consuming issues my son is facing with school. You might remember me talking about how my son is having some problems with learning and retention. As part of his therapy and education plan we have adjusted his diet, and he has to eat a breakfast packed with vitamins, nutrients, and protein. This is my picky eater, so boy has it been a challenge, and we are taking baby-steps to where he needs to be. It has been great for our family, but it has also added to that feeling of being overwhelmed…constantly.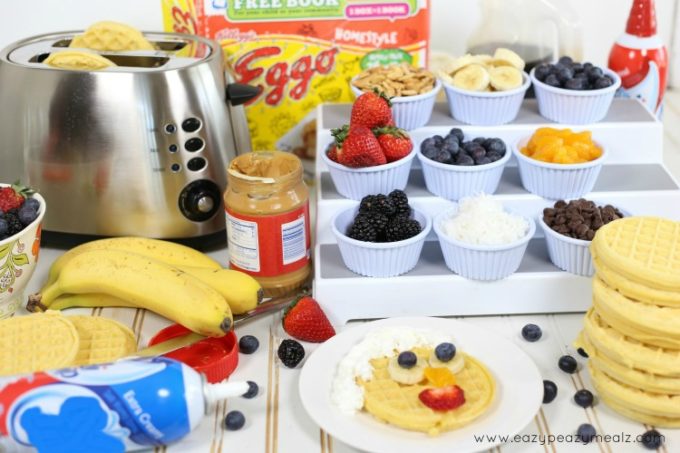 So I decided to find a fun way to make "facing the day" with a tasty breakfast, and all that it brings easier, while checking off a few of my to-do list items. Blog post…check, breakfast with vitamins, protein, and nutrients for my son that he will actually eat…check. As little work for me as possible…check!
How did I do it? With this Eggo Waffle Bar! You guys, it turned out so cute, so fun, so delicious, and my kids had a blast. I had this idea that we would turn our waffles into faces with good-for-you ingredients like fresh fruits and nuts (PROTEIN!!!). The kids would have a variety of things to choose from, and a toaster to warm up their own Eggos so it is self-serve!
*Disclaimer, I realize not everything on my waffle bar is "healthy" and I am not saying it is. I am not a dietician, nor nutritionist, just a mom trying to get a very picky eater a few more good-for-him-foods. So, what I am saying is my son happily added many fresh fruits and nuts to his waffle in order to create his face, and for him that is progress!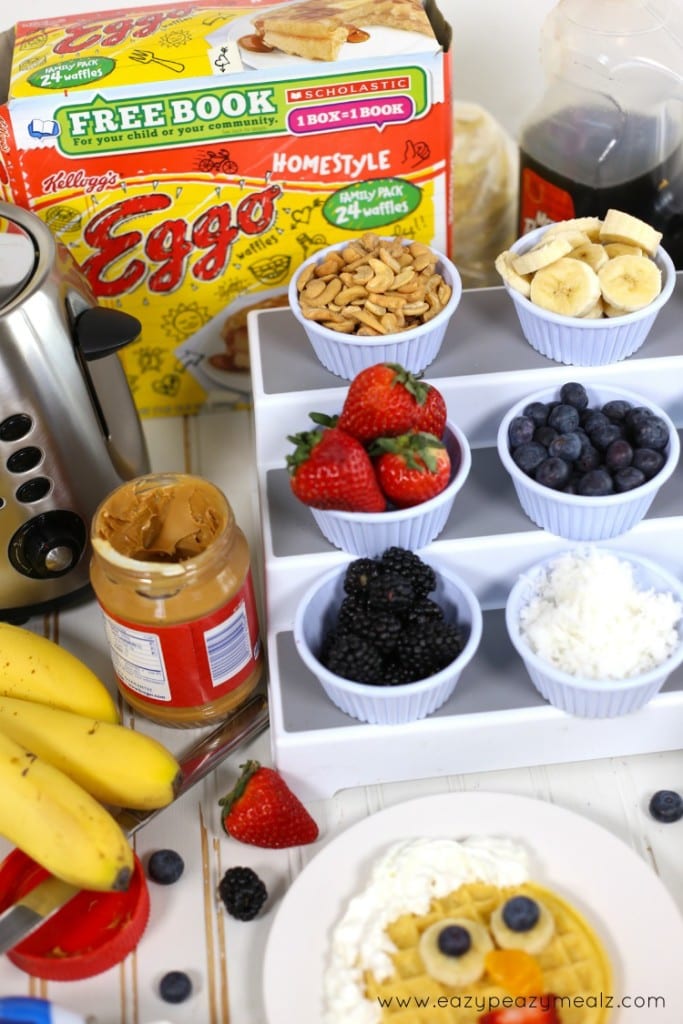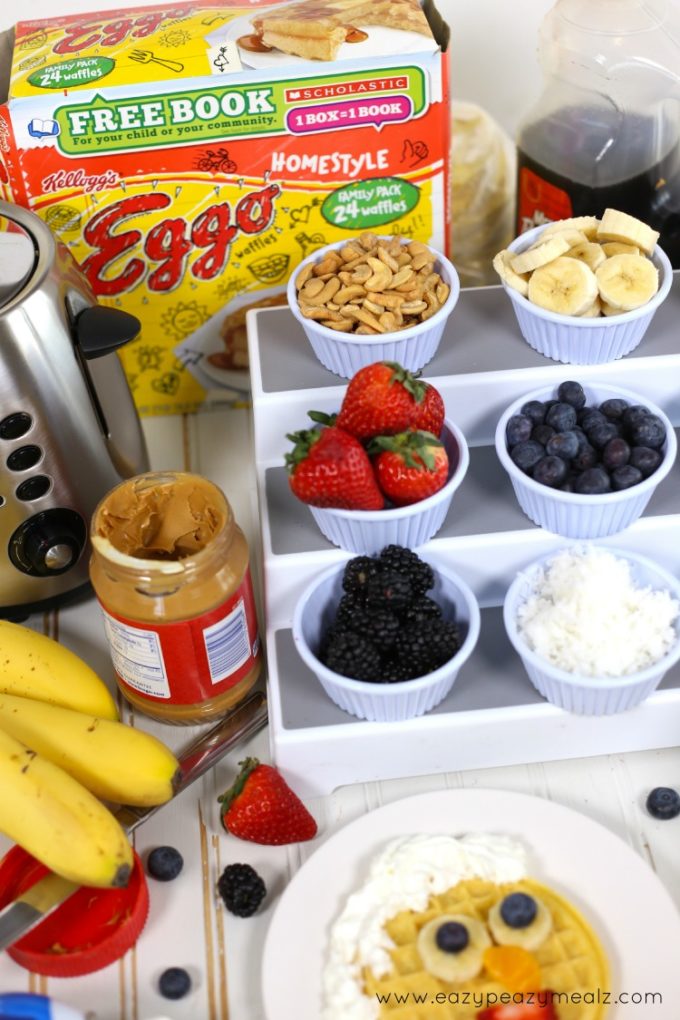 Because it was so fun for my son to make his face, he happily ate it without any complaint about the stuff that was good for him. You guys, there were blueberries, cashews, orange slices, strawberries, coconut, and even some flax seeds on his waffle! Of course some whipped cream made in on their too, but hey, I am a happy momma because for this kid that is progress!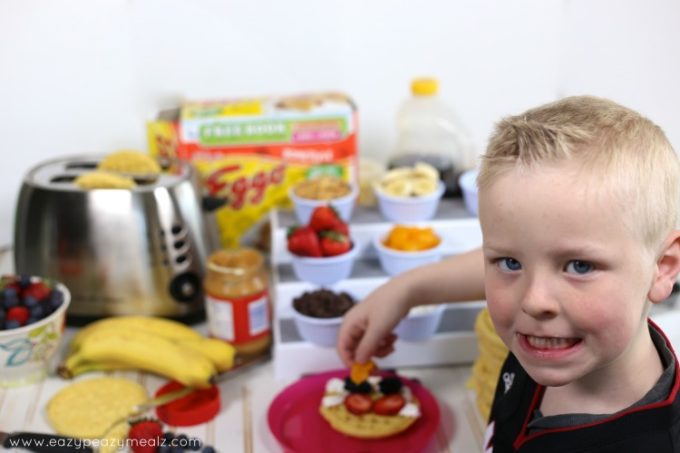 This waffle bar was an awesome any morning solution for us, especially with how busy life is. I just chopped up a bunch of anti-oxidant rich strawberries, added some blueberries and blackberries, mandarin oranges, and a variety of nuts, seeds, and fun toppings, and put them in little containers in the fridge so we can have an easy repeat of this any morning we want. Self-serve (Aka, no work for me), and fun customizations so everyone in the family is happy.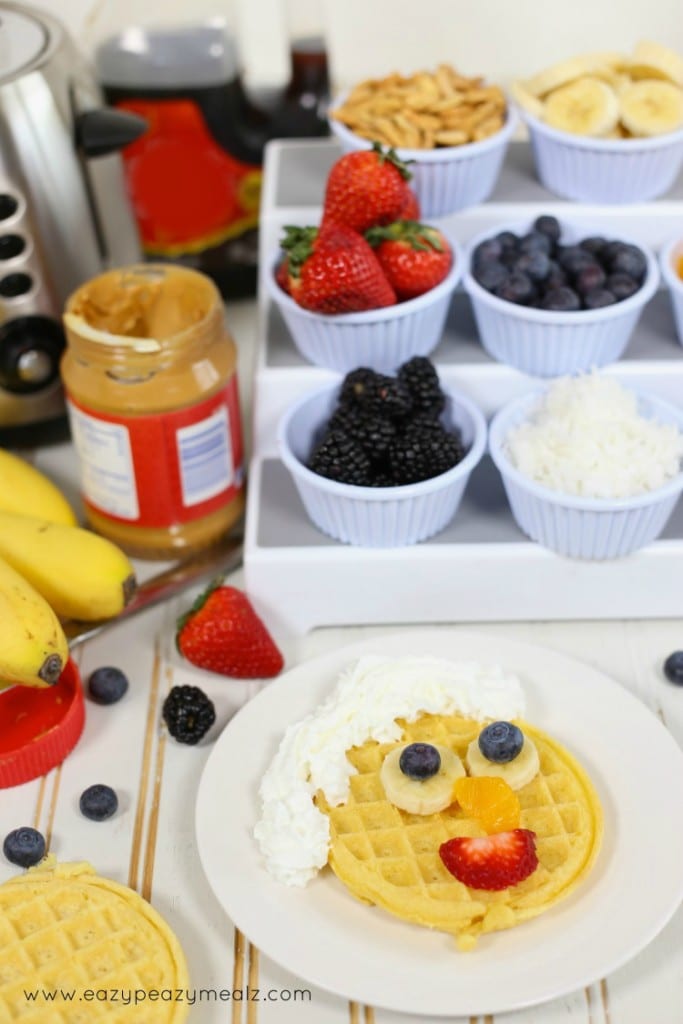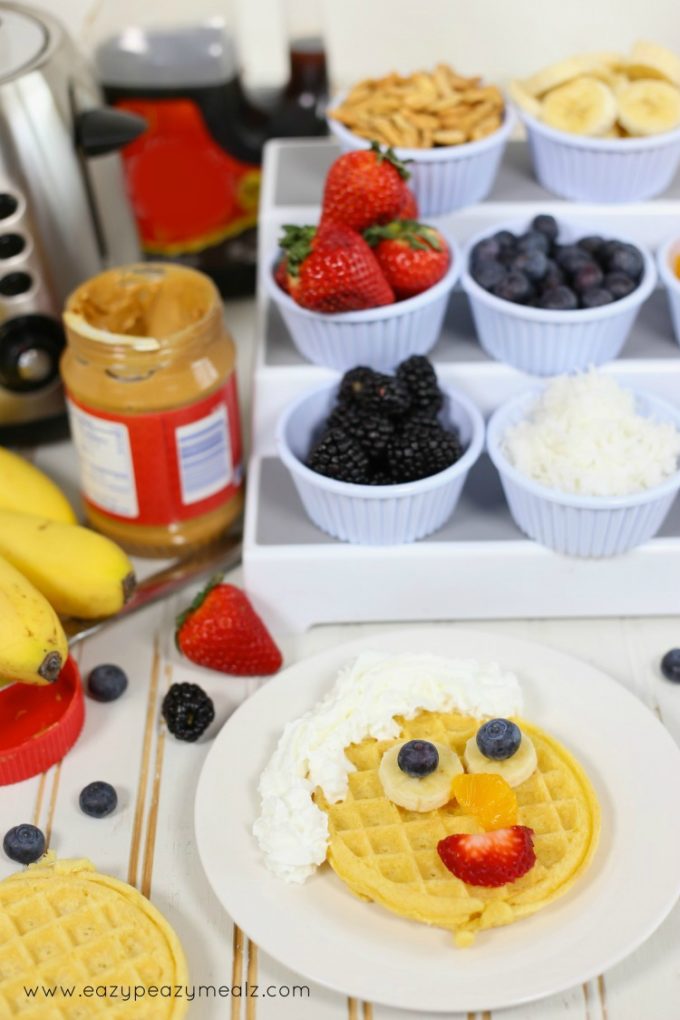 Try it at your house, this hands-off, self-serve breakfast idea is sure to be a family favorite for you too! Just head over to Walmart, where you can pick up the Eggo Waffles, as well as frozen fruits, nuts, and other fun and easy to use toppings for your "Face" the Day Waffle Bar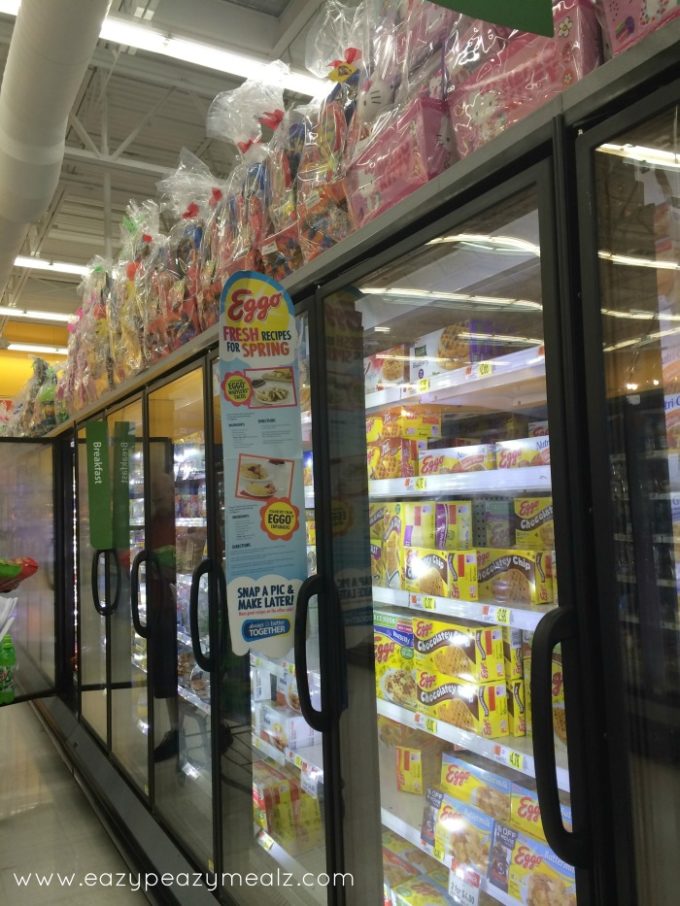 I used berries, nuts, shredded coconut, chia and flax seeds, bananas, mandarin oranges, peanut butter, syrup, whipped cream, and chocolate chips as my toppings. What other toppings would you include in your #EggoWaffleBar?