A classic carrot pudding with a creamy dipping sauce, just like grandma used to make. This old fashioned carrot pudding recipe is one of those recipes that has been passed from generation to generation, and will always be part of our holiday traditions.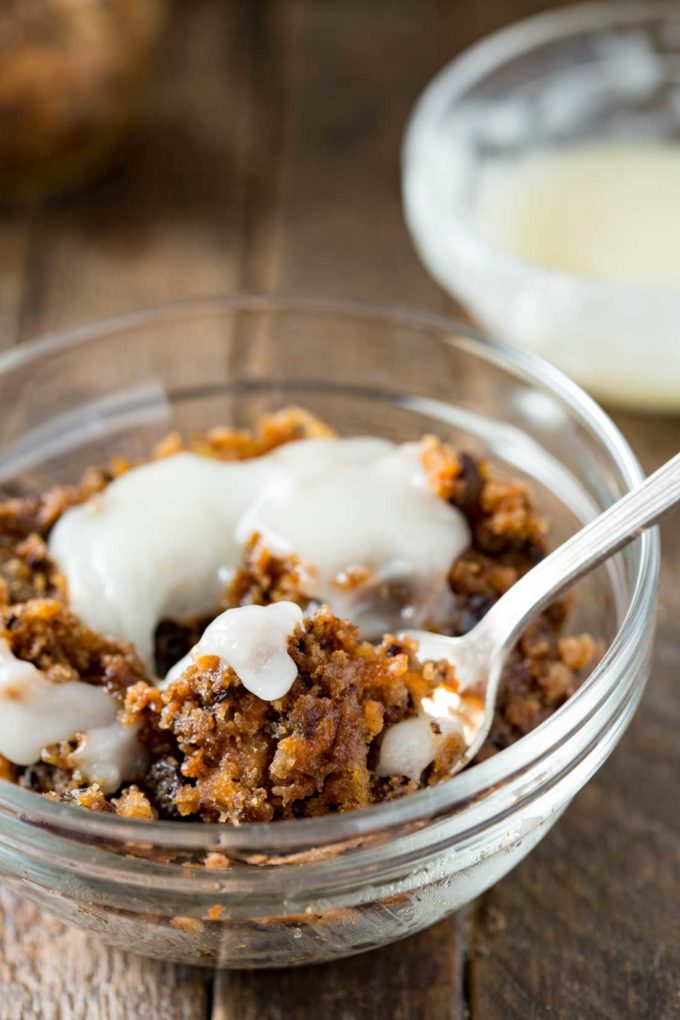 Carrot pudding is one of those recipes that has been made in my family for generations. My grandma would always make it at Christmas, her mom made it before her, and my mom carried that tradition on. I realized now that I have kids of my own, it was time to take up the mantel and make carrot pudding myself.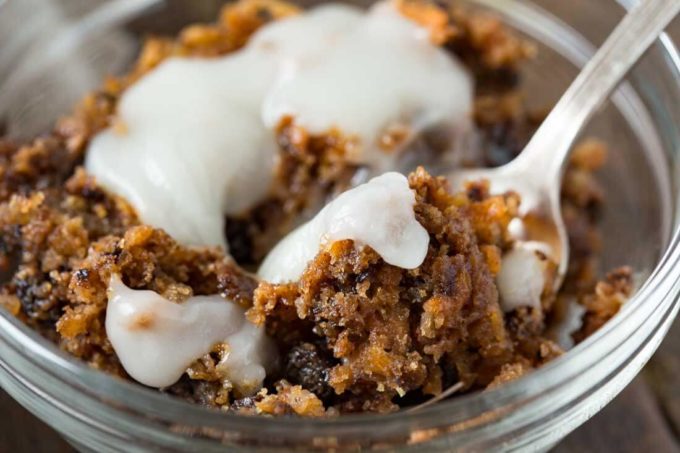 Earlier this year we bought my parent's house, and they moved out of state. Whenever they come into town they stay with me, but otherwise we don't see them a lot. They live in a very rural area, that you can't easily fly to.
It is the first time in my married life my parents haven't lived in the same state as me. In fact, they have pretty much been within an hour of me for as long as I can remember.

MY LATEST RECIPES
So this new dynamic has made planning the holidays a little trickier. See, my husband's family lives nearby. For the 13 years we have been married, we usually just split time on holidays between the two sides. This means two Thanksgiving dinners, and usually we have Christmas Eve at one house, and Christmas day at another. But now things have changed.
My mom isn't here to make sure we have a party, or that all of our favorite traditional foods get made. It has meant I am focusing on creating memories with my kids more, and coming up with new ways to celebrate.
The one thing I didn't want to change are some of the traditions I hold dear. Especially traditions that have to do with food.
We have a lot of food traditions in my family. My great grandma on my mom's side was a candy maker, and she would make things like caramel, fudge, toffee, and cream centers at Christmas. In my family growing up we made those, and Corn Pops, and of course, this classic carrot pudding.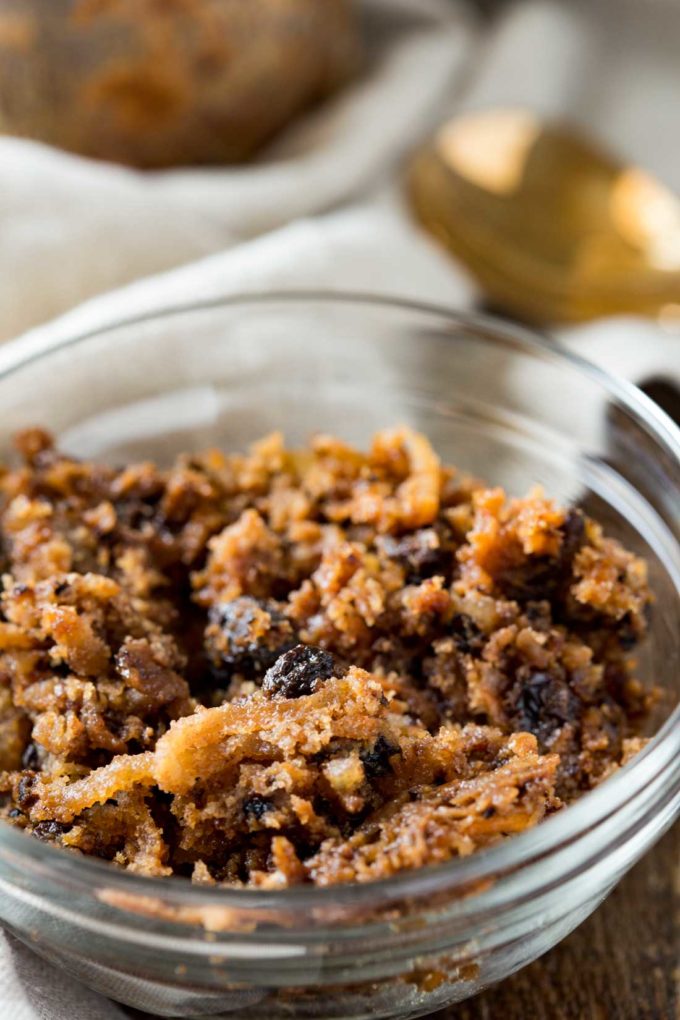 As a kid, I was not a fan of carrot pudding. I mean, it is made of potatoes and carrots, and raisins. Not exactly what I would consider your normal pudding ingredients. And because my kids are still little, and do not have a lot of appreciation for it, I have not ever made it for them at Christmas. But my mom was here for Thanksgiving and she brought some with her, and I realized this is a tradition I don't want to let die.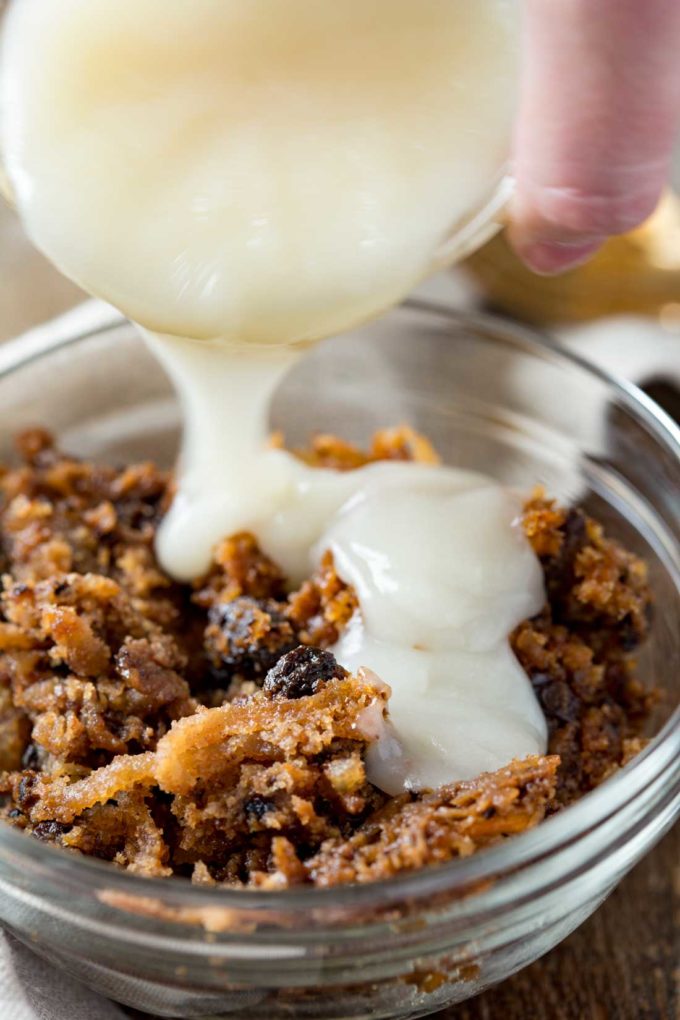 Plus, the carrot pudding is great. So fun, so tasty, and makes me feel like my grandma, who passed a few years back, is there with us. So even if my kids won't eat it, I will continue making carrot pudding. And I wanted to get the recipe on my site so that I would never lose it.
This recipe is a classic. And it is very good. But one thing that is so fun about it is that it can be customized. You can use a lemon flavored dipping sauce. Or use pear or apple too. Etc. You can have fun with it, and create your own carrot pudding traditions!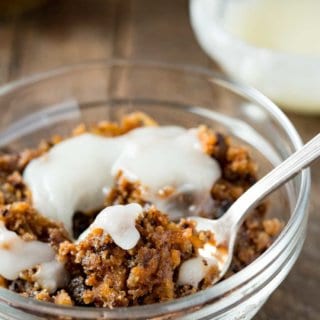 Grandma's Carrot Pudding
Print
Pin
Rate
Total Time:
3
hours
15
minutes
Ingredients
Pudding
1/2

cup

shortening

1

cup

sugar

1

cup

grated carrots

1

cup

grated potatoes

Russet

1

cup

raisans

1/2

cup

chopped nuts of choice

1

cup

flour

1

TBS

cinnamon

1/4

tsp

allspice

1

tsp

nutmeg

1/4

tsp

salt
Sauce
1/2

cup

flour

3/4

cup

sugar

1/2

cup

butter

1

quart

water

2

tsp

vanilla
Instructions
Pudding
In a large bowl, cream shortening and sugar together.

Add carrots, potatoes, raisans, and chopped nuts into the bowl, stirring by hand.

In a separate bowl sift flour, cinnamon, allspice, nutmeg and salt together, then stir into the bowl with the other ingredients.

Grease either 2 quart jars or 3 pint jars, and fill with pudding.

Steam in a large steam pot for 3 hours if using the quart jars, or 1 and 1/2 hours if using pints.
Sauce
Combine all ingredients in a heavy bottom pot, and heat over medium-high heat, stirring continually until smooth, and warm.
Pin to your Desserts recipe board on Pinterest:

Get EZPZ Updates In Your Inbox!