Well it has been a week since the worst/scariest moment of my life so far, so it feels fitting to document it. Writing this story is a form of therapy for me. It is told from my perspective, with my memories, and how I interpreted the events as they occurred. It is chronological in order with a few outtakes to explain things or share my feelings and emotions at the time.
Our family was on a small weekend getaway with some friends. We were at my family's ranch in Salmon, ID. We had spent the weekend playing outdoors, on the river, at the pond, on the 4 wheeler, etc.
The kids wanted to ride the horse, so my dad saddled it, and was leading them around by a lead rope, walking through the fields and by the pond. They weren't riding by themselves as this horse, while sweet as can be, is a little high strung for novice riders. Hence the leading.
The Accident
We had spent the morning outside playing, and everyone was happy and having a blast. Lexi even did a back flip off the rope swing, something she had been trying to do all summer.
Everyone was getting hungry. It was about quarter to 12 and I went inside to make some lunch. I was just about done assembling everything when my mom came in and said, "Rachael, the horse just came back to the house and no one is on it, I can see dad down the lane, could you ride the 4-wheeler out and see if everyone is ok."
At first I was kind of annoyed because I was trying to get lunch made, but decided to go see what happened. At this point I had no idea anything was wrong. In fact, I figured they were switching riders, and the horse trotted off. Because remember, they were being led.
As I walked past the horse to the 4-wheeler, I noticed it wasn't tied up, so I grabbed the lead rope and handed it to Brett to tie up, and then hopped on the 4-wheeler and headed out to the back of the field to see what was going on.
At this point I had no idea who was on the horse, or if anyone had been hurt.
I crossed a ditch, and saw my 5 year old walking down the lane on the other side. As she got closer I noticed she didn't have shoes on, and saw that her face was bloody and her eye was swollen shut. There was a lot of blood. I immediately got scared, and went straight to her. She told me not to stop, that grandpa needed help and she would walk back to the house.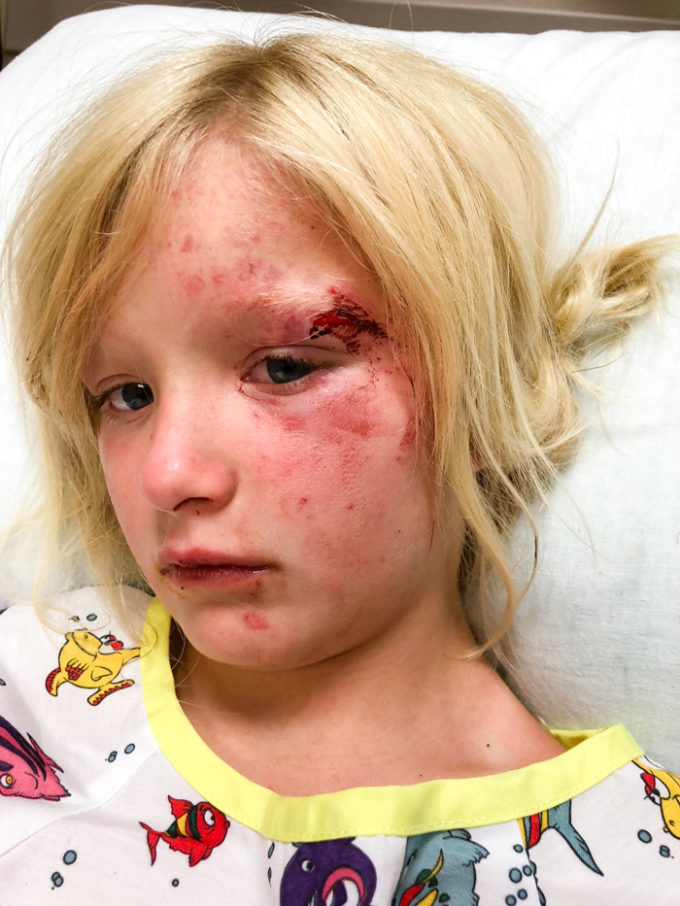 I started screaming for Brett to come get her, and was just hoping he could hear me, and I took off down the side of the pond. I could see my Dad in the distance and I could see he was holding onto someone. I didn't know who.
When I got closer I saw that it was Lexi. And I could immediately see her femur was broken. She was standing on her right leg, with her left (broken) leg to the side, and it resembled an S. My Dad was holding her up, and his face was as white as a sheet.
I started screaming. Like painful, non-stop, scared out of my ever-living mind screaming. Rationally I knew it wasn't helping anyone. And I knew I was making the situation worse. I kept telling myself to stop, as I went through the motions of parking the 4 wheeler and putting it into neutral. But my mind was frozen in terror at the site of her leg.
I finally pulled it together (it was probably only 5 seconds later, but felt like an eternity), and I went to her. At this point she was not crying or talking. But my dad was as white as a ghost, and kept saying, "We need professional help. Call an ambulance, I need professional help."
My dad had his hip replaced in December, and I instantly started checking him for injury, all while screaming "Brett call an ambulance." While I was yelling my brain was trying to remind me that I was holding a phone and I could call for an ambulance myself. It finally clicked into place, and I dialed 911. At this point I could see my Dad was uninjured. I told the dispatcher that my daughters had been in a horse riding accident and we needed immediate help.
My dad was in shock, I am pretty sure. He was sobbing, and muttering that we needed help over and over. But he was able to give me the address, which I relayed to the dispatcher.
We realized the ambulance would not be able to get to her where we were, so we carefully put her up on the 4 wheeler. By around this time Brett had gotten to CC and got here to the house for care, and then came running out to help us.
We decided the 4 wheeler would be too bumpy to drive her back safely, so I held her on the 4 wheeler while my Dad and Brett pushed it back to the house.
How She Got Hurt
Ok, I am going to take a tiny break in the narrative here to explain what happened on the horse that lead up to this point. The story is a little fuzzy with some holes because not everyone involved could remember what happened. It happened quickly, and 2 of the 3 people there went into shock. But as far as we know this is what happened.
The girls were calmly being led in the field. They were riding double.
A snake spooked the horse, and it bolted, CC lost a shoe, and the lead rope was ripped from my dad's hands.
The girls were able to stay on for a while, but then a small tree branch hit CC in the face, knocking her off balance, and back into Lexi. At that point, the horse jumped a ditch, and this is when they fell. Because the ditch was raised, my dad wasn't able to see how they fell, or what they fell on, etc. We aren't sure what caused the femur to snap, or how they both had so many cuts and lacerations on both side of their bodies. It all happened really quickly.
My Dad rushed to them, and CC got up and started heading to the house for help.
The Scariest Part
I know that some people feel like we are making a bigger deal out of this whole ordeal than we need to. And I can understand that. It was an accident. Those happen. And a few broken bones. Those also happen. I know they feel this way because a few people messaged me to let me know. And to chastise me for publicizing and dramatizing our trauma.
But here is the thing, it is/was trauma. For all of us.
When Lexi was on the 4-wheeler being pushed back toward the house we were talking to her, trying to keep her awake. She was extremely confused. She was delirious. She kept asking me, her mother, for her mom. She asked what happened probably 100 times even though we told her every time. At one point she saw my Grandma who had been with us the whole weekend and she said, "Grandma MarRue is here, when did Grandma MarRue get here?" And even after I told her she asked that same question again every time she saw her.
To say I was terrified is an understatement. When you are in these types of situations, your mind goes to some very scary places. Here I am with my daughter, who is severely injured having broken the most painful bone to break in your body. And she can't even remember I am her mom. She can't retain any information we give her. We don't know what is going to happen. We don't know if she hit her head and is suffering some kind of brain damage. And we can only think about getting her from out in the field to somewhere the ambulance and EMT's can get to her.
I was heartbroken about her leg, but terrified she had a brain injury.
I chose to post it on FB and IG because of two things:
That is where my tribe is. As an online entrepreneur a lot of my relationships take place online. So sharing something HUGE that was happening to our family in that space made sense to me. It helped me to process. It helped me feel connected, loved, and supported by my community.
It is a very quick and convenient way to disseminate information to a wide group quickly. I have 9 siblings. My husband has 6 siblings. I have several aunts and uncles I am close with, not to mention cousins. My grandparents were there when it happened, my son texted a friend, and pretty soon my phone was buzzing like crazy, and I was getting a billion calls, texts, and messages. Being able to share information to one space, and know anyone who wanted to know could find it was reassuring and far better than me trying to respond to everyone individually.
Note: While a few were unkind about the situation, as happens online, the vast majority of people have been nothing but kind, supportive, helpful, and loving. We have felt so loved and lifted up during this hard time.

Ambulance Ride #1:
After an initial evaluation of Lexi on the 4 wheeler, the EMT's transferred her onto a gurney, to get her into the ambulance. The image of her leg just sagging as they lifted her will forever be seared into my mind.
This is when she first started to actually feel (or at least react to) the pain. And she screamed, which just ripped our hearts out.
They got her into the ambulance, and tried to get an IV in her. Her left arm was very beat up. So they tried to put it into her right hand. Her veins weren't cooperating, so eventually they moved to her elbow. Which is where it ended up being placed, which was really terrible, I will explain this later.
CC rode in the ambulance with Lexi and I , and Brett drove behind us and met us at the ER. During the ambulance ride, Lexi was put on oxygen.
During the ride CC kept crying and asking if Lexi and Grandpa were alright. Lexi had tears running down her face, but I don't remember her making much noise. She was still confused.
Emergency Room #1:
When we got to the ER they took CC in via wheelchair, and honestly, I am not sure what happened with her. Brett went with her while they did x-rays and an evaluation and cleaned her up, and I went with Lexi.
They took our info, and the Sheriff came in and got our info and took a statement about what happened. I filled out intake forms, gave weights, allergy info, birthdays etc. and answered what felt like a billion questions all while Lexi laid there crying. I am sure they were working on her, but moving her hurt, and to me it felt like we were there forever, and she was just crying and begging for a drink.
We were at the ER for about 4 hours. It was a lot of sitting around and waiting. Waiting for x-rays, waiting for them to be read, waiting for the doctor to then come and fill us in. They did a CT scan and x-rays of her wrist and femur. And each time they moved her from one room or table to the next she screamed in pain and I wanted to vomit. I never knew how humbling and horrible that helpless feeling of seeing your child in pain and being able to do absolutely NOTHING is.
The doctor came and spoke to me and my husband about our options. Her femur was broken. She would need surgery to repair her leg. They couldn't do the surgery where we were. They had initially said they would life flight her. But then later, due to a zillion different things and the fact that she was stable, they felt taking her via ambulance would be a better option. We had a couple of options of where to go, Missoula or Idaho Falls.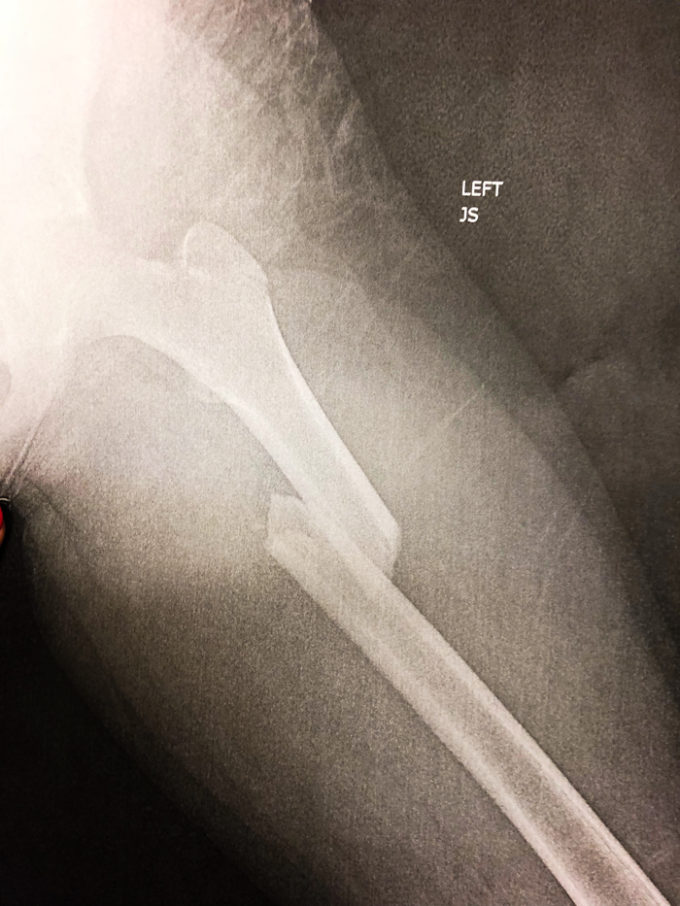 We went with Idaho Falls because it is significantly closer to our home, and we weren't sure how long we would be in the hospital for.
During all of this my sister came to the hospital to help us, and she stayed with CC, got me a DP (THANK YOU), and held me while I cried out in the hallway. The nurses took great care of CC, gave her a little stuffy, and cleaned up all of her wounds. I joked that they did such a good job cleaning up her scratches they should clean her feet and toe nails too. The next time I peeked in the nurse had a bucket of warm soapy water and was washing her feet and clipping her toe nails. Let me just tell you that opened a flood gate of tears of gratitude.
It was while we were in this first ER waiting for the doctor that I posted about what happened online.
Eventually they cleared CC and determined Lexi was ok to be moved. So Brett and I decided I would ride in the ambulance to Idaho Falls, and he would take CC back to my parents and check on our other two kids, at which point we would figure out what to do.
Ambulance Ride #2:
Lexi was moved onto the gurney (this was awful, they had given her some morphine, but she was in serious pain, and moving her was horrendous). She was put in the ambulance, and I got buckled in, met the nurse who would accompany us and the driver, and we were off.
My phone was almost dead at this point, and I remember being very stressed about this because I wasn't sure how I was going to update Brett. Fortunately I had grabbed my purse right before jumping in the first ambulance because I thought they might need my insurance card which was in my wallet. But otherwise I had nothing with me. The ambulance driver had a charger and let me use it.
We had a 3 hour drive, which ended up being a little longer because we had to stop once.
We had a little scare in the ambulance when her oxygen dropped to 60 and she couldn't feel her feet anymore. Luckily Dewey, our ambulance nurse, acted quickly and we stopped and got her on oxygen and they adjusted her broken leg (painful for her but necessary) to restore blood flow to her foot. Once her oxygen was back in the high 90s we started driving again.
With oxygen and pain meds she fell asleep for about an hour of the drive to the hospital. Her biggest complaint on the drive was how itchy her nose was. The pain medication made her very itchy but with one wrist hurt and the other arm having the IV she had a difficult time scratching it.
Luckily I was able to scratch her nose for her. The things we take for granted.
The other thing that was really hard on her was she was very thirsty. She had asked for water several times in the ER, but because they knew she was heading for surgery, she wasn't able to have any. 
They did give me some little little sponges that I could place on her lips and tongue, and she had IV fluids. I was also able to help her a little with chapstick.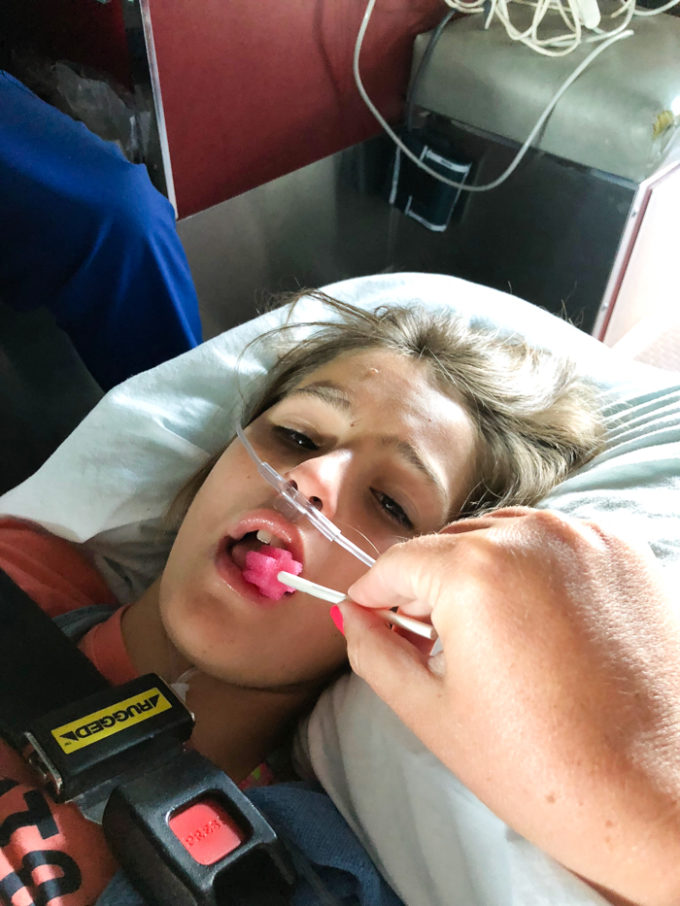 During our drive I just sat there. I was trying to make a mental inventory of the things I would need to take care of now that we were heading to surgery instead of going home.
I had a few appointments. Lexi was supposed to go to Cheer camp. I was supposed to be in NY a couple days later. I had some work deadlines. Etc. I sent a few texts and emails out to a few key people and asked them for some help with these things, it took just about all the mental energy I had.
Another thing that happened during our drive was I got a call from a NO ID caller. I thought it was the hospital calling to get information since they were originally planning to take her into surgery immediately. When I answered, it was actually a friend from Australia who heard what had happened and was calling to offer support. SO MANY TEARS. This was really the start of a wave of love and support like nothing I have ever experienced and for which I am extremely grateful.
Emergency Room #2
When we arrived at the hospital in Idaho Falls, we were taken into the ER. The biggest thing I remember from this was how mean the nurse was. I know she was trying to do her job, but I had my phone out to try and let me husband know we had made it to the hospital and she started screaming at me. Telling me no phones. As someone who was barely dealing with everything that was happening as it was, I remember feeling like this was the last straw. It was like my brain couldn't compute her lack of compassion.
We did lexi's intake, and I gave the staff the disks with her x-rays and CT scan, and they took her in a room to start prepping her for surgery. They asked me a million questions. They cut her out of her shorts. She was super sad about this. But they were able to not cut off her t-shirt, which was her favorite. So she was at least grateful for that. They put her in a gown, and gave her more morphine.
At one point they tried to take her to get x-rays. And I said "No, she already had x-rays and I gave them to you." It was incredibly painful for her to have them move her and put the x-ray plate under her leg, and I remember being so frustrated because they did not need to. They said they couldn't read the x-rays on the disk I gave them, and so I said, "Well, I took a photo of the x-ray, would that work?" and so I gave them my phone so they could take that photo to the surgeon.
After what felt like forever, but was probably only an hour, they came in and told me she would not be heading to surgery after all, that a bigger emergency had come in, and we would have to wait. So they moved us out of the ER and up into the room she would be in in Pediatrics after her surgery.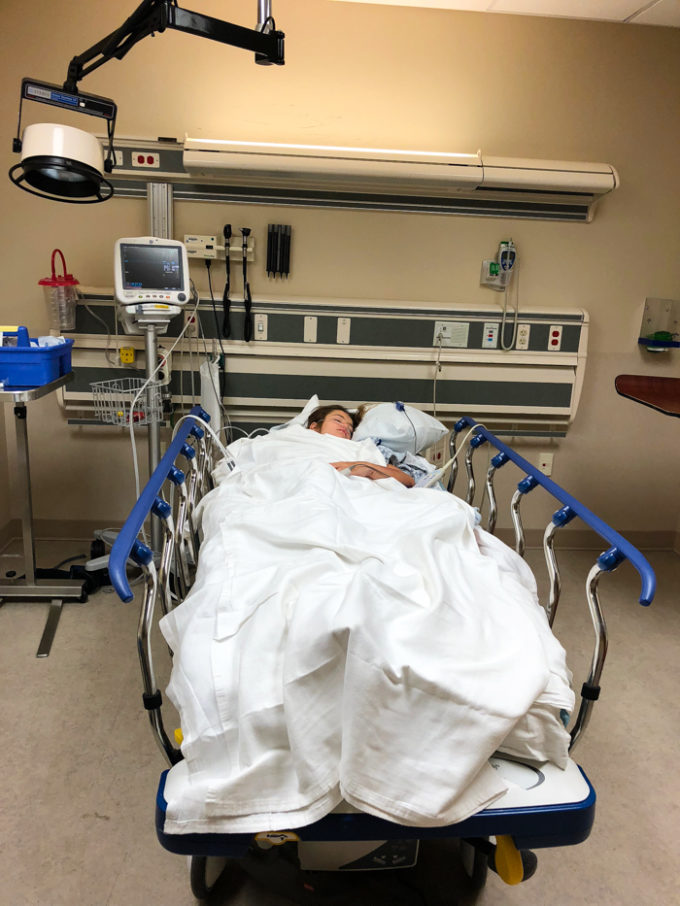 Pediatrics
The next few hours felt like a blur. She was sobbing, and in pain, but also extremely thirsty and hungry. She kept begging anyone who would listen to just knock her out so she wouldn't have to feel all the things she was feeling.
About a million people came in to talk to me, the surgeon, the anesthesiologist, the nurses, the physical therapist.
At one point they tried to put her leg into traction to straighten it. This was probably 10 hours after the accident had happened, and her muscles were so tight and her pain so severe they basically gave up.
So then we just sat and waited. Eventually the surgeon came in. It was about 11 pm at this point, and he said he would try to get her in after the next few surgeries, so probably 5-6 more hours. Lexi started bawling. And he asked her how bad her pain was, and she told him she was just so thirsty and hungry and hurting.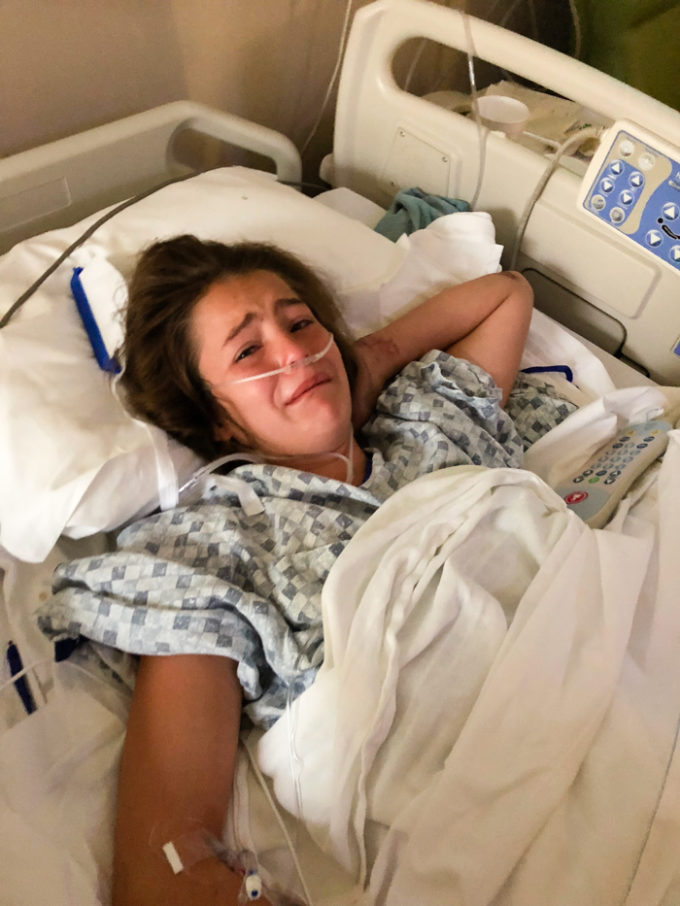 He then told me that if we wanted to give her something to eat and drink, we could wait until morning and he could schedule us for a 7 am surgery. Honestly, I realize now he was probably trying to be kind. But at the time it felt like an impossible decision being placed on my shoulders. I had to decide between letting her have some form of relief now, but in doing so making her wait an extra 3-4 hours for surgery, which means an additional 3-4 hours of pain. Or deny her that drink and hope she actually gets into surgery when they say.
As we had already been pushed back twice, I said, "let's get her a drink and do surgery in the morning." I will never know if that was a good decision or not. She was miserable all night, they would give her morphine and she would drift off to sleep, only to twitch awake, or startle awake and the jerking movement would cause excruciating pain.
To sum up that night: So many tears. So much morphine.
We did have a few minutes where things were good, and I would read some of the comments and messages I had been receiving online and via text to Lexi. I honestly feel like it was really helpful. We both really felt the love.
A Blessing:
One small blessing that occurred that first night was my dear friend Melissa. She just so happened to be in Idaho Falls, even though she lives several hours away (8 I think). She was there for a wedding, and was stying in a hotel only 2 blocks from the hospital I was at.
She called me and asked where I was. Then asked if I needed anything. I am not someone who likes asking for help. So I think this was the first time in my life I said, "Yes, I need…" with no hesitation. I asked if she could get me some sweat pants and a sweatshirt. I was freezing, and in jeans and a white t-shirt. I had nothing to wear to try and sleep, and nothing clean to wear the next day. I was in my river shoes. I also asked her to get some food for Lexi as she was allowed to eat, but there was nothing open for me to get her food at the hospital.
She came right away. She got me PJ's, a sweatshirt, a sweater, snacks, and soup and fruit for Lexi.
I was able to take a quick shower, and hand washed my clothes I had been wearing and laid them out to dry so I would have something clean to wear the next day. You have to realize how awful my clothes smelt by then. They were dirty and stinky from a very stressful hard day. It is hard to stay positive and optimistic when you feel gross. I can't even put into words how much those few things meant to me, and how much easier the hospital stay was because of those things.
Surgery:
She finally went in for surgery the next morning.
I think we got 2 hours of sleep between the two of us, so this surgery could not have come fast enough. They wheeled her down, and I followed.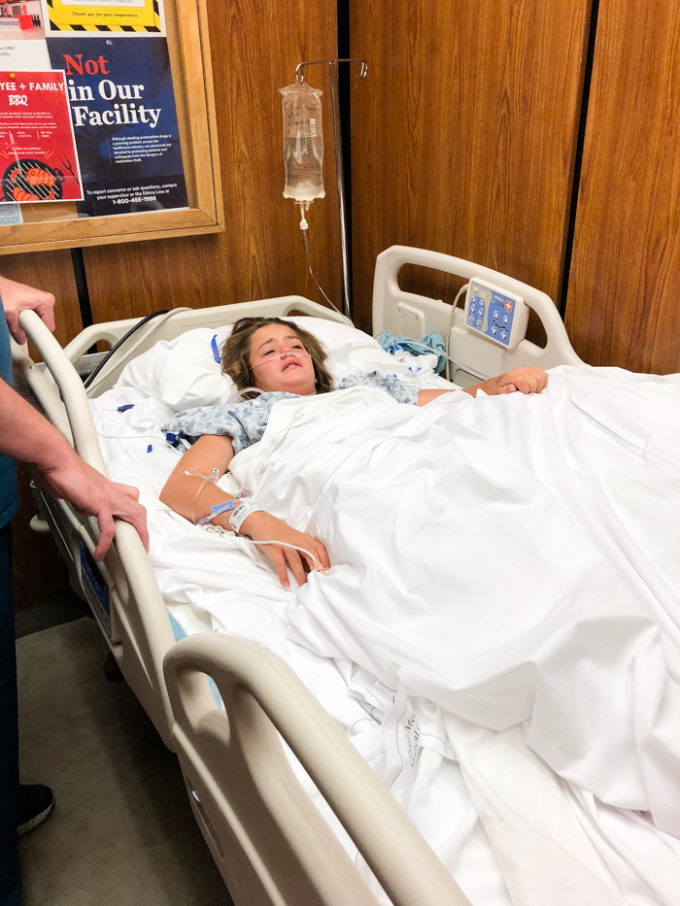 I had asked to speak with the surgeon because so many well-meaning friends had voiced their opinions on what should be done with her leg: rod, plate and screws, or something else. And I felt very overwhelmed and confused. I had decided NOT to go online about it because, who needs that? Instead I just wanted the surgeon to explain why he chose the method they were going with: plate and screws.
He told me the main reason he picked that over a rod is to not mess with the growth plates at all. It means no or partial weight bearing instead of full, and it means another surgery in a year, but it also means her leg should grow normal. With this method there would be no cast, and 6 weeks or so of wheelchair/crutches. That was what I needed to hear, and so they were then able to take her into surgery.
They initially said to expect 1.5 hrs before she is out, but I asked if that meant until I get to see her again, and they amended that to 2.5 hours.
She was very relieved to finally get in to the surgery. She was pretty much begging for them to knock her out as every jostle or bump was agony for her.
The Wait:
Once Lexi was in surgery, I called Brett and he left to come to the hospital. He had been with our other kids at my parent's house. And I was so grateful he was there so I would not have to worry about them. It was scary for everyone, and I knew they would need one of us to help calm the nerves.
My parents watched the other 3 kids so he could come to the hospital.
While he drove, I sat in the waiting room trying not to let my mind go to the worst places. I was feeling so much for parents who have gone through these kinds of things. That helpless feeling is awful. I kept thinking about how many of my friends and family members had experienced something with their kids, and wondered why I hadn't done more.
I pretty much sat and cried for the whole 2.5 hours. I cried because I hadn't actually had a chance to since the accident. I cried because of the many generous and kind gestures from friends, family, and complete strangers. I cried as I read hundreds of messages and comments wishing our family well, and sending good vibes and prayers. I cried because I felt so helpless. I cried for the losses Lexi would be experiencing, like not being able to cheer this year, and not being able to run cross country this year. I even selfishly cried a little about not being able to go to Thailand on our planned family vacation the following week. Then I cried because I felt guilty about crying about Thailand.
Then I stopped crying. I knew it would not be good for her. So I went to the bathroom and washed my face. And then spent the rest of the time responding to comments and questions online.
The surgeon came in and told me the surgery had gone well. He said there was not too much blood loss. Her break had some pulverized bone so it is not as clean of a set as they want. But they expect a full recovery. He showed me the pictures of her leg, and explained that while you could see the fracture line, the plate is holding it well and they expect a full recovery.
Then they let me see her.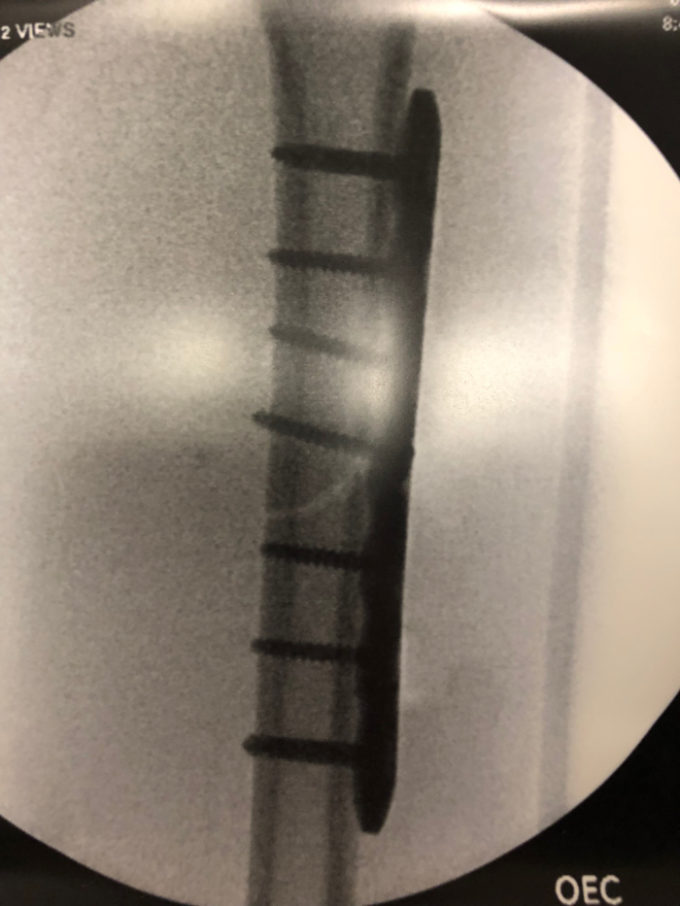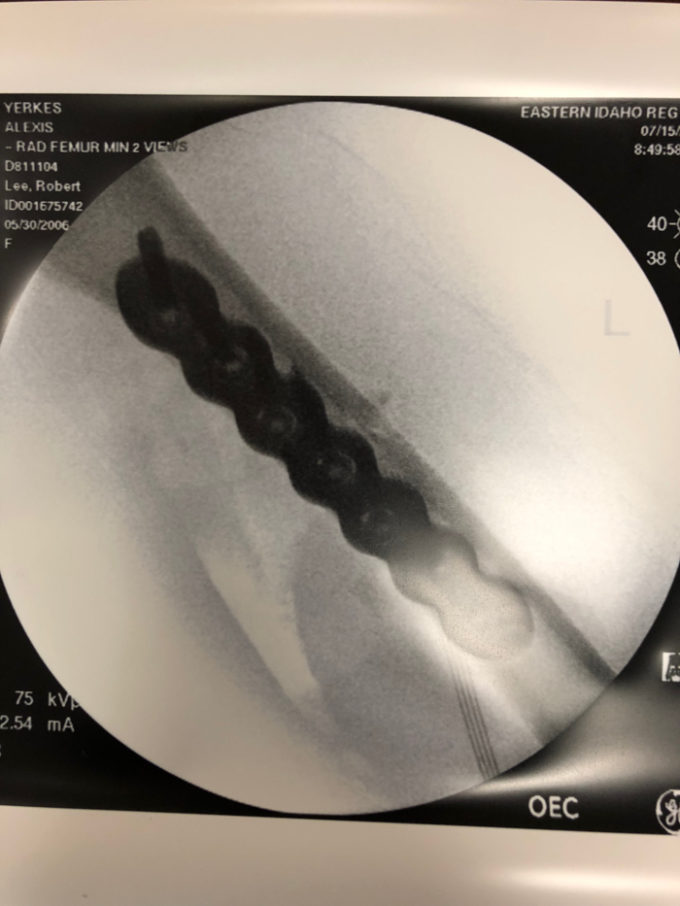 Recovery Room:
They took me into a room where she was, she was coming out of sedation, and was thrashing around. They were trying to calm her down so she wouldn't hurt herself. And that dang elbow IV was becoming a real problem, as every time she moved her arm it would kink, and all the alarms would go off.
She looked so much better. She didn't have that sweat sheen or the pain in her eyes she had the whole night before. She kept saying, "Mommy, mommy, my leg hurts" but it wasn't like the sharp agony that it was before her surgery.
After about an hour, they took us back up to her room. Brett was there and waiting for us.
The Rest of the Hospital Stay:
Lexi was basically out of it, and because Brett was there, I tried to get a little sleep. I think I slept 3-4 hours that day. My cousin sent us lunch at the hospital, which was soooooo kind as neither of us were thinking about eating at all, instead we were on pins and needles waiting for any sign of pain or discomfort from Lexi.
I spent most of that day feeling drained and just so happy the anesthesia was doing its job and she was getting rest. The remainder of that day I spent responding to texts and messages. It was really nice to have so many people concerned for our family, and to have something to take my mind off everything.
That night we decided to have Brett go back and stay with the other kids. CC had been very worried about Lexi. Derrick had an accident on a pogo stick and had hurt his wrist and was very needy. And we just knew it would be best for them to be with one of their parents. Lexi said she preferred if I stayed with her since she didn't want her dad's help getting up and into the bathroom etc. So he left.
She was feeling so much better.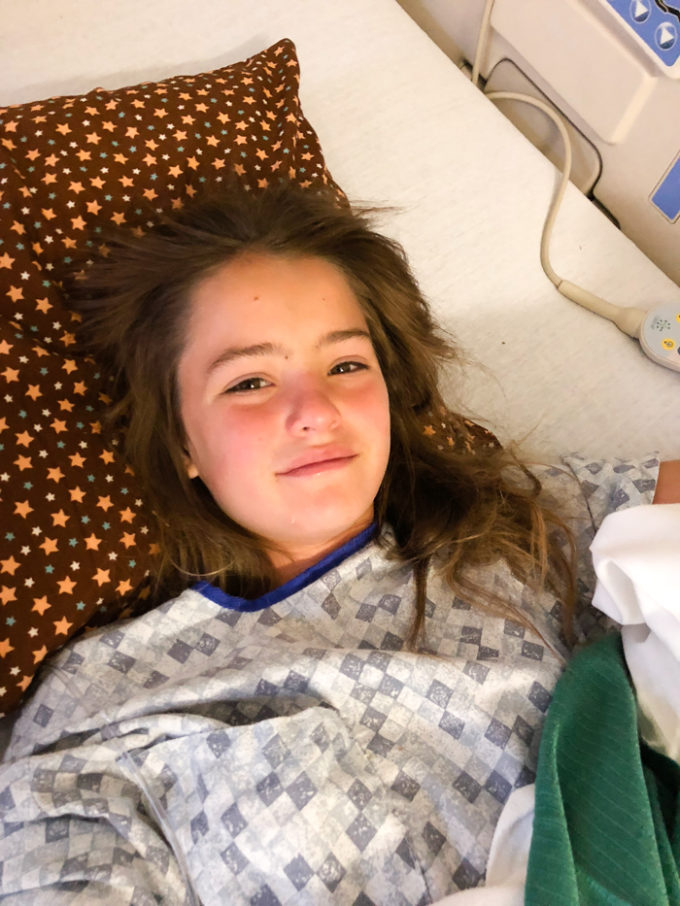 Honestly, almost every second of the 4 day hospital stay is seared into my brain, from the alarms going off non-stop because of the IV placement, to her oxygen dropping and scaring all of us silly. And I could write another 5000 words about that. But instead I will just share the biggest things.
The IV: One of our big challenges was that stinking IV. Lexi and I got almost no sleep in the hospital because of that IV. The placement was such that if she bent her elbow to eat, hold her phone, or in sleep, the line would kink and the alarms would sound. Eventually the nurse taught me how to turn the alarms off because sometimes she would be with another kid, and it would be going off for 5 plus minutes. And this was happening every 5-15 minutes.
Her wrist: Lexi's left arm was very banged up during the accident. She had a big laceration on her elbow, and lots of abrasions on the top of her arm. But her wrist was extremely bruised and swollen. She had broken this same wrist earlier this year and kept telling me she thought it was broken. We did an x-ray initially, but it was really hard to get a good one. So I asked for a second set to be done. Which kept being ignored. Finally on our last day they did it, and sure enough it was broken. They did not treat it at the hospital. I ended up taking her to the pediatrician when we got home to get it taken care of.
Crutches, wheelchair, or walker? Her mobility was a real issue. She needed a way to get from bed to bathroom. And with a hurt wrist, crutches were not an option. A wheelchair was fairly impractical. So we went with a walker with a raised arm platform. It took a lot of time and discussion with the physical therapist to figure out what we do for her mobility. 
The nurses: She had two nurses during her stay, and I am so grateful for one whose name was Amy, she was so amazing. I can't even begin to explain why she was so great other than she listened, she explained, she cared. I am really grateful for her care.
Anyway, the hospital stay had a lot of ups and downs, we did not get to go home as early as we hoped. She was still in lots of pain. And no one got much sleep for the 3 nights we were there.
Discharged
When we were finally discharged from the hospital we were ecstatic. My Dad had driven my car down from Salmon, and brought with him some cinnamon rolls for the hospital staff. He went and picked up her walker while I filled out discharge papers. Then they took Lexi down in a wheelchair.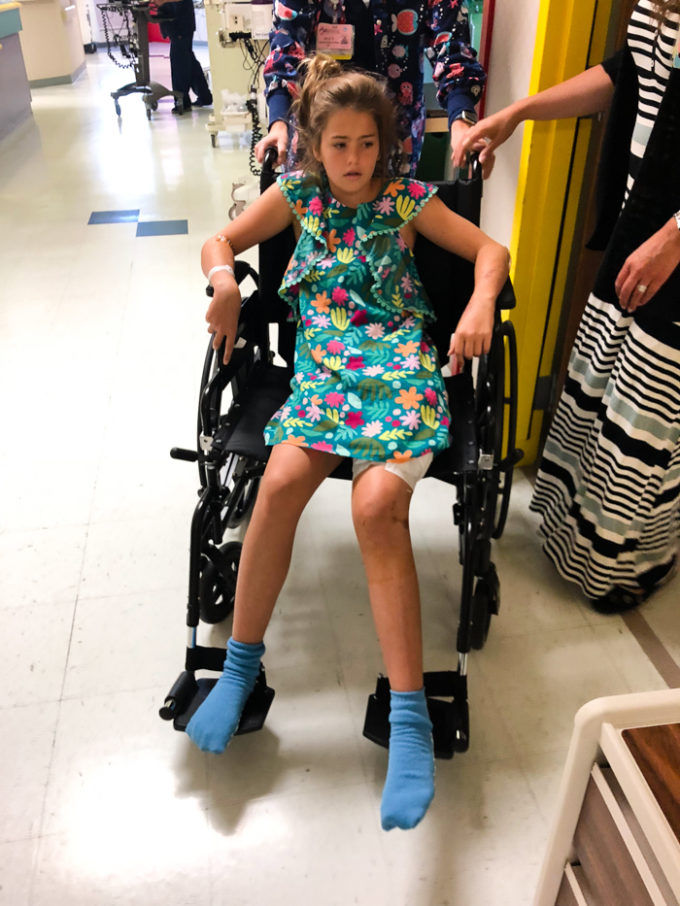 Getting her into the car was awful. We did not time things well and she was just hitting the end of the 4 hour interval between her pain meds. She was screaming and crying in pain. But I had not gotten her pain prescription filled yet because I had just gotten it.
So our first stop was a pharmacy. The hospital had called them to let them know we were coming to try and expedite things so we could get her some relief.
When I arrived, they took the prescription and then told me they could not fill it because the doctor had neglected to include her address on the script. And with a narco you have to have an address. So I called the case manager, and she said she would come over to the pharmacy to fix things.
Well, while we were waiting, the power went out. SERIOUSLY! So then they said there was no way they could fill it and suggested I go elsewhere. Under normal circumstances I would have been like, okay whatever. But I had a daughter sobbing in the car.
So we went back to the hospital, and they gave me a new prescription, and then we went to a Walgreens. It took 38 minutes to get the prescription filled. And I know this because every one of them was torture.
When we finally got her some pain relief, she asked for ice for her leg. We had a 4 hour drive ahead of us. And I didn't exactly have an ice pack. So we bought a big 5 lb bag of ice and just laid it over her leg and started driving. We had to get her some food because pain meds without food = problems. And that took forever. So almost 3 hours after we left the hospital we were finally on our way back home.
Home
When we got home, Lexi used her walker to get up to the house as best she could, then Brett and I carried her up the stairs. We got her settled in her room, and hoped we were on the down hill.
She was so excited to brush her hair, and wear her own clothes, and talk to her friends, and just be in her familiar environment.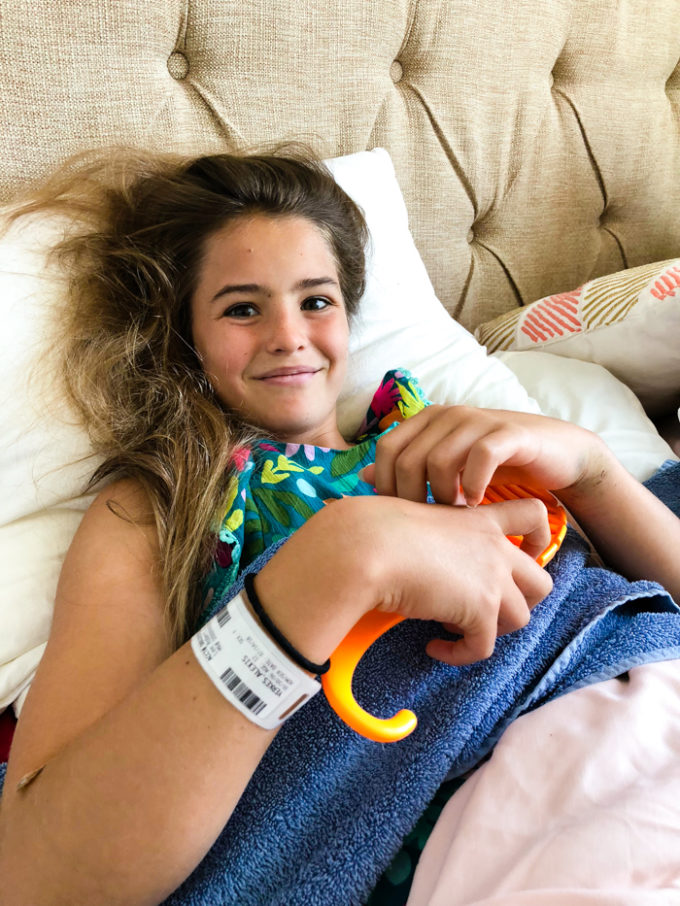 The hospital had set up some home health care to change her dressing on her leg and some physical therapy to help her regain range of motion, etc. So the first day felt like a lot of calling insurance, talking to nurses, etc.
This is already super long so I will just say that since we have been home things have not been very easy. She seems to do well during the day but had had some rough nights, and a few breakdowns. But overall we are seeing progress and a really positive attitude from her. We know we have a long road of recovery ahead with a lot of challenges and hurdles we haven't even imagined yet.
We had a lot of people reaching out, our neighborhood brought us meals, and so many people have sent love, gifts, flowers, dresses for her to wear etc. The outpouring of love and support had been so amazing.
Gratitude
So, that is what happened, and while it was scary and traumatic for our family, and brought up so many different emotions, I think what I feel the very most about all of it is gratitude.
We are grateful it wasn't worse.
Grateful for the E.MT.'s, doctor, nurses, and other hospital staff for caring for her.
Grateful for pain medications and narcotics.
Grateful for the ability to heal.
Grateful for modern techniques and surgery.
Grateful for our family.
Grateful for the community we live in.
Grateful for the love and support we have been given.
Grateful for help, and the humbling need to ask for it, and have people rally behind us and give it.
Grateful for the people in our lives who have held us up during one of our biggest challenges.
Grateful for the generosity. The prayers. The well wishes. From friends and strangers.
Grateful for medical insurance.
Grateful we have jobs, and that my job allows me the flexibility to become a full time care taker for a while.
Grateful for those who have helped lighten the burden whether with meals, work assignments, or playing with my other kids.
Grateful for those who texted, messaged, and reached out to let us know we were and are not alone and that they are rooting for us and for her recovery and healing.
Just plain grateful. Grateful we are alive and where we are, and capable of meeting the many challenges that are sure to be ahead of us.
So thank you. Thank you to the hundreds of you who have helped us in this time of our need. Thank you for loving and not judging. Thank you for lifting and carrying us. Thank you!