This post is sponsored by TripAdvisor, all opinions are my own.
Everything you need to know about visiting the Great Wall of China during a layover, or a short visit. From which section to visit, to what to expect, and what to bring (hint: toilet paper) to have a great experience.

I recently had the pleasure of visiting the Great Wall of China while in Beijing on a layover. And you guys, it was so magical! It was one of those experiences that I had been dreaming about since I was a small child. And to be able to go and see the Great Wall, walk on it, and experience the magnitude of it for myself, well it was crazy awesome.
I sincerely hope that every person gets the chance to visit this magnificent wall at some point. The history of the wall is ripe with tragedy, war, and more, like most significant structures in history. For many years it was referred to as the largest cemetery in the world because as peasants and prisoners built it, if they died, their bodies were simply left there and built into the wall.  But the wall is more than a cemetery, it was a line of defense for China's various dynasties from raids by Mongol, Turkic, and other nomadic tribes.  It was initially built to protect against the Xiongnu tribe, and was originally  made up of shorter walls between factions. However, under the emperor Qin Shi Huang beginning in 221 BC. the wall was fortified and lengthened. Watch towers were added, as well as cleverly placed holes in the wall to allow archers, cannons, etc. to defend China. And it worked. Although the building of the architectural wonder sacrificed many lives, in the end, the purpose of the wall was fulfilled, enemy Mongols were kept out, and stopped from invading China.
Today, the wall is used for tourism. Many sections have crumbled or disintegrated, especially those that were made of wood instead of stone. However, much of it remains, and visiting it is amazing.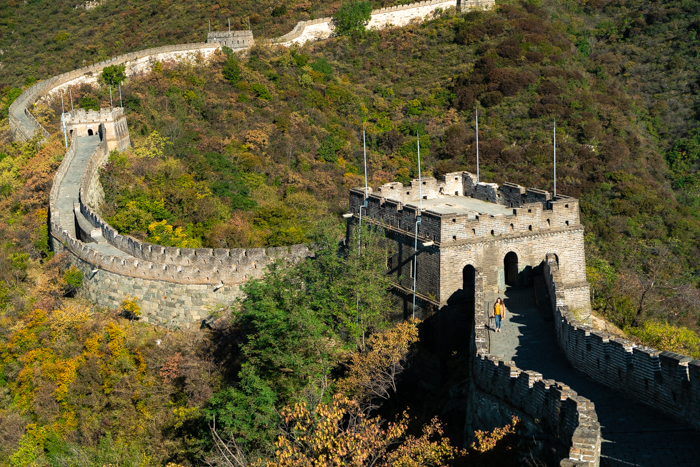 China is one of those places I have always wanted to visit, but have been a little nervous about. I was intimidated by the language, the completely different culture and government, etc. And this has kept me from visiting. Luckily for me, when I booked tickets to Japan, I was able to book them with a 22 hour layover in China on each end of my trip. This meant I didn't have to get a Visa for my visit, and could experience a little taste of it. Now I am hooked, and can't wait to go back. So if you are anything like me, or happen to have a layover that is 9 or more hours, and want to visit the Great Wall, here is what you should know:
China- Great Wall Layover
The Great Wall is only about 1.5 hours from Beijing, which means if you are visiting and have a layover that is at least 9 hours between flights, you could schedule a tour to go and see the Great Wall for yourself. Or you could use that time for another activity in China, but trust me when I say the Great Wall is worth visiting.
I was lucky enough to have an overnight with a late afternoon flight, so scheduled a tour to take me to see the Great Wall early in the morning, and bring me back to the airport in time for my flight. There are a number of companies that offer tours for those on layovers, you just have to coordinate times. I would highly recommend Airport Layover Tour company, which can be booked through TripAdvisor.
How to Book a Layover Tour:
I recommend booking through Trip Advisor. This allows you to see options, read reviews, and book directly through the site after fully exploring ways you could spend your time.
I originally booked a day tour because I had so much time, but it was declined by the tour operator, and I am so glad it was because I ended up booking this tour, and our guide was amazing, and the whole experience was exceptional. From a clean and comfortable car for transportation, to a great English speaking guide, and an incredible experience on the wall, complete with photos taken by the guide and emailed to us.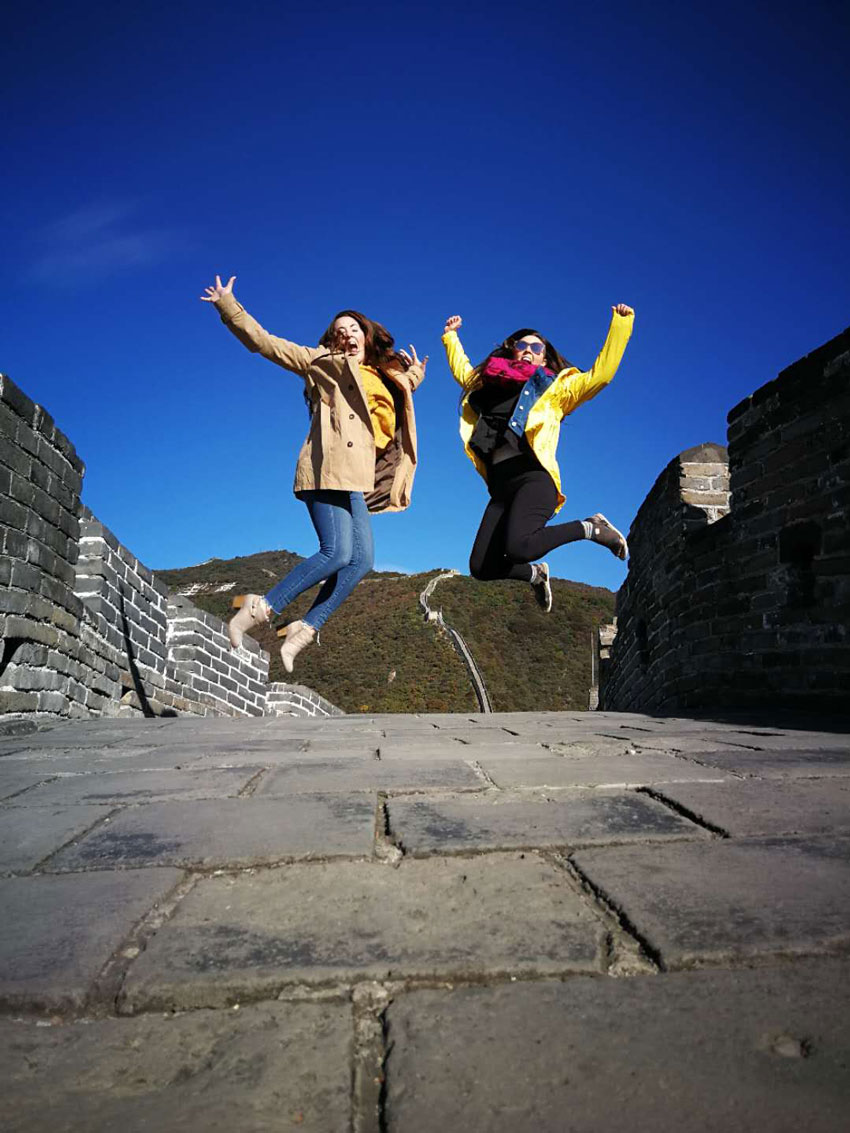 Once you book your tour and arrange times and pick-up, drop-off locations you are set, but here are a few things to know as far as the airport goes:
China requires a visa if you are staying for more than a few days, in Beijing you can visit for 144 hours without a Visa. So when you arrive at the airport, before you go through passport control and customs, you will want to look for the booth that issues you the temporary visitors visa. This is FREE, but you have to fill out a form to get it, and show that you will be leaving China within the allotted time frame.
If you try to go to passport control without the temporary permit, you will have to get out of line and start over, so if you do not see the booth, ask someone for help. When I arrived, the one of the right hand side of the airport if facing passport control was closed, so I had to walk to the left side. It felt weird because you kind of go through a gated area, but the best thing is to just ask for direction, don't waste time in lines only to have to go back through. Also have your flight info for leaving china readily available, or a boarding pass to show the permit issuer.
When returning to the airport give yourself a generous 2 hours, maybe even more to get through security, and passport control again. I felt like we went through three different security lines, and it definitely took time, so keep that in mind when planning the times for your tour.
Where to Go on the Great Wall:
The Great Wall has several different sections you can visit, and they all offer different things, such as a more challenging hiking experience, views of sea and mountains, etc. We booked the Mutianyu section. There are several you can visit, this is considered one of the prettiest and came highly recommended. Here is a quick breakdown of the various sections.
Mutianyu — the most scenic fully-restored Great Wall section. It has watch towers, crenellations, and magnificent views of the mountains.  1.5 hour drive from Beijing.
Jinshanling — most popular Great Wall hiking route, it is half restored and half wild. 2-3 hour drive from Beijing.
Jiankou — the most challenging/steep section, it is completely original, which means sometimes it is difficult to hike, and a little dangerous. 3 hour drive from Beijing.
Simatai — the only section opened for a night tour, acknowledges as a World Heritage Site in 1987. 2-3 hour drive from Beijing.
Huanghuacheng — scenery is breathtaking with mountain and lake, and there is an ancient chestnut grove at the base of the wall. 1.5 hour drive from Beijing.
Gubeikou – an ancient battle site where over 130 battles took place, some restored, some wild sections of the wall. 2 hour drive from Beijing.
Juyongguan — this section houses one of the greatest Great Wall forts, Genghis Khan once led his troops through Juyong Pass during his conquest of Chinese territory. It is the closest section to Beijing and the most wheelchair friendly. 1.5 hours drive from Beijing.
Huangyaguan — this is the section where the annual Great Wall marathon race is held each May. It is 3 hours from Beijing.
Shanhai Pass — this is the east end of main Ming Dynasty Great Wall, where the Great Wall meets the sea. 3.5 hours drive from Beijing.
Badaling — the most  popular section among Chinese tourists, it is very crowded, but offers cable cars, Great Wall Museum, circular-screen cinema, and wheelchair access. 2 hours drive from Beijing.

When to go to the Great Wall:
I visited in early October, and the weather was perfect. It was a little chilly near the base, so we wore jackets, but once up on the wall the sun was shining and it was quite warm. I can't speak to the best time of year to visit, and I have a feeling it depends greatly on your preference.
However, I can say you will want to go as early in the day as possible. It takes about 1.5 hrs to get to the Mutianyu section from the airport, and the wall opens at 8 am, so plan to leave the airport or your hotel by around 6:30 so you can beat the crowds and get some photos without a million people in them.
We felt so lucky because we arrived early, and were the first on the cable cars to go up the wall, which meant when we got to the top we were the only ones there, and had a few minutes to take some photos and take in the majesty without anyone else around.
We were fortunate enough to have plenty of time on the wall without crowds, but by the time we left around 10 am, there were a LOT more people there. I was seriously so happy we had sacrificed a little extra sleep to get there nice and early. It made the whole experience that much better.

What to Know for a Great Wall Visit:
Bring cash- No cards are accepted for the tickets, the cable car or chair lift tickets, nor for souvenirs, food etc. Cash is king. While Chinese Yuan is the best option, some of the vendors will accept US cash. But if you don't bring cash, you will definitely have to hike up to the wall as you will not be able to purchase a cable car or chair lift ticket.
Options for getting up to the wall:
Hike
Cable Car
Chair Lift
Toboggan/Luge (down)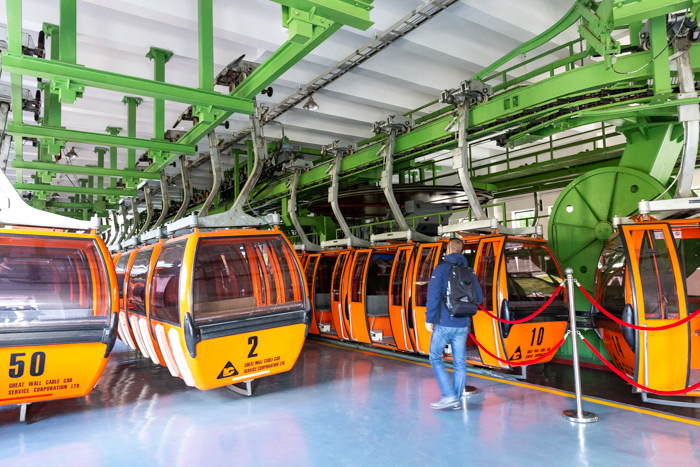 Pros and cons of each:
Hiking- The scenery is beautiful, and you get some exercise. But it will take you longer to reach the top, which means there is more likely to be a crowd. It is also going to be exhausting as there are over 1000 stairs just to reach the wall, then you have to climb/hike the wall as well. The altitude is high, so factor that in, and make sure you are in good shape if choosing this option.
Cable Car-  The wall offers a gondola cable car you can take up to the wall, which is a great option for everyone. This is what I would recommend for families with children, elderly, or individuals. It does require some walking to get to the cable car, it is a little higher up than the chair lift, so be prepared for a few stairs and paved walking. I don't think I am in terrible shape but it was definitely a little challenging, so keep this in mind. You can take a bus from the gate to the cable car, but will still have to do some walking and stair climbing.  The views of incredible, and it will get you to the top quickly (10 minutes or so) so you can enjoy the wall itself. It is fully enclosed/covered, so it feels a little safer than the chair lift. You can use this option to go up and down the wall. Be at the cable car no later than 4:30 PM for the last return, of course times may vary so check day of.
Chair Lift- This works like a ski lift, so is not for the feeble or slow. You have to be quick to get off and on so you do not get hit. Many opt to take the chair lift up and the Toboggan or Luge down. The chair lift is open, which for some may be scary, and does not have any kind of locking mechanism, but does provide scenic views. It takes about 15 minutes to get up to the top on the chair lift. This is a fun option. You can control the speed of your sled on the way down.  It is advised that you not use your cameras or phones because they want you to keep both hands on the lever.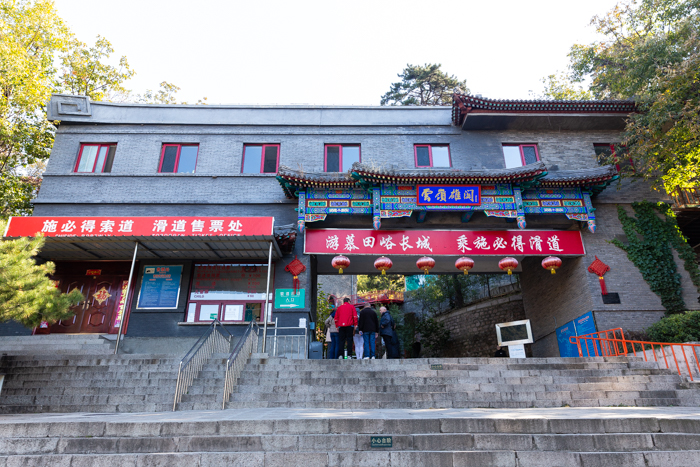 Tips For Visiting the Great Wall of China:
The Great Wall of China crosses nine provinces and municipalities: Gansu, Ningxia, Shaanxi, Shanxi, Inner Mongolia, Hebei, Tianjin, Beijing, and Liaoning; over 2,000 km (1,300 mi) in distance, but the length of wall is many times longer. It is steeped in a rich history, including much from the Ming Dynasty. It is a magnificent to see, and should definitely be a bucket list item. However, knowing what to expect, and going prepared will make a huge difference in your enjoyment of the experience.
Book a tour- Learning the history, having an expert view point, and help navigating the wall is very nice. We loved having a private guide who knew the ins and outs so we did not have to guess where to go, where to buy tickets, how to get to the cable car, etc. The cost was fairly small, and worth every penny.
Wear good shoes- You will be doing a lot of walking. The ground and wall is very uneven, and can be difficult to maneuver, so make sure your shoes are a help not a hinderance.
Uneven surfaces- Be conscious and aware that the surfaces you will be walking are extremely uneven, take your time and pay attention. While the Mutianyu section is completely restored, the stones are still very uneven, and may be difficult for those who are less mobile to navigate. Take your time.
Bring your own Toilet Paper- And probably something to clean the toilet off with (wipes), they get really dirty, and there is no toilet paper provided.  There are toilets at the bottom, and at the top of the wall, so you shouldn't have trouble finding an available toilet, but again, no toilet paper will be provided and the cleanliness leaves something to be desired. 
Dress Appropriately and in Layers- It is a lot of walking, stairs, and uneven stones. So while footwear is important, dressing appropriately is equally so. I was ill prepared. Stretchy, movable clothing, or workout type clothes are great. Also wear layers. I visited in early October, and the weather was chilly at the base, but quite warm up on the wall, as the sun was hitting us. When reading reviews on TripAdvisor I saw many complaints about being too cold or too hot, so I would say this is probably an issue no matter what time of year you visit. So wear layers.
Be in Shape- Depending on your goals, you may want to spend some time preparing for hiking the wall. The elevation is high, the stairs steep, and there is a lot of wall that you can walk, so making sure you are in good enough shape to enjoy it all is a great idea. I am not in terrible shape, but found myself out of breath and panting a few times during the visit. I imagine had I been in worse shape it would not have been as pleasant of an experience. Of course, once on the wall you can decide how much of it you want to walk, which watch towers you want to visit, and if you want to go up some of the steep inclines or not. But it is worth it to traverse some of the wall. 
Don't write on the walls. This beautiful structure has been around since the 7th century (221 BC), depending on the section you visit, and spans over 4000 miles at present. It is a Unesco world heritage site, and totally worth seeing. Don't deface it by writing all over the gate houses. Because hundreds of people have written on the walls, there are now cloths covering them for people to sign. Might I suggest getting a photo instead? This is a piece of living history, and it is our job to take care of it. I very rarely take any kind of stand on these types of things, but this is one I felt worth mentioning. Do not write on or carve your initials into this structure. Please. 
Negotiate with vendors. If you want to purchase a souvenir, remember that you can haggle, and should. It is not for the faint of heart, but you can definitely try for a better price. The vendors are used to it, and expect it. Our guide was kind enough to let us know what he felt like we should offer for the items we wanted, and we were able to negotiate with the vendors so we got a fair price.
While it is wheel chair accessible, the inclines in the Mutianyu section are very steep, so I am not sure if I would recommend it. Additionally, the stones are extremely uneven, and there are stairs to get to the watch towers, etc. If you are looking for a wheelchair accessible section, try Juyongguan, it is the closest section to Beijing, it is wheelchair-friendly, and offers one of the greatest forts on the wall.