Both delicious and fun, these Halloween OREO truffles or balls are coated in chocolate, and designed to look like iconic Halloween characters!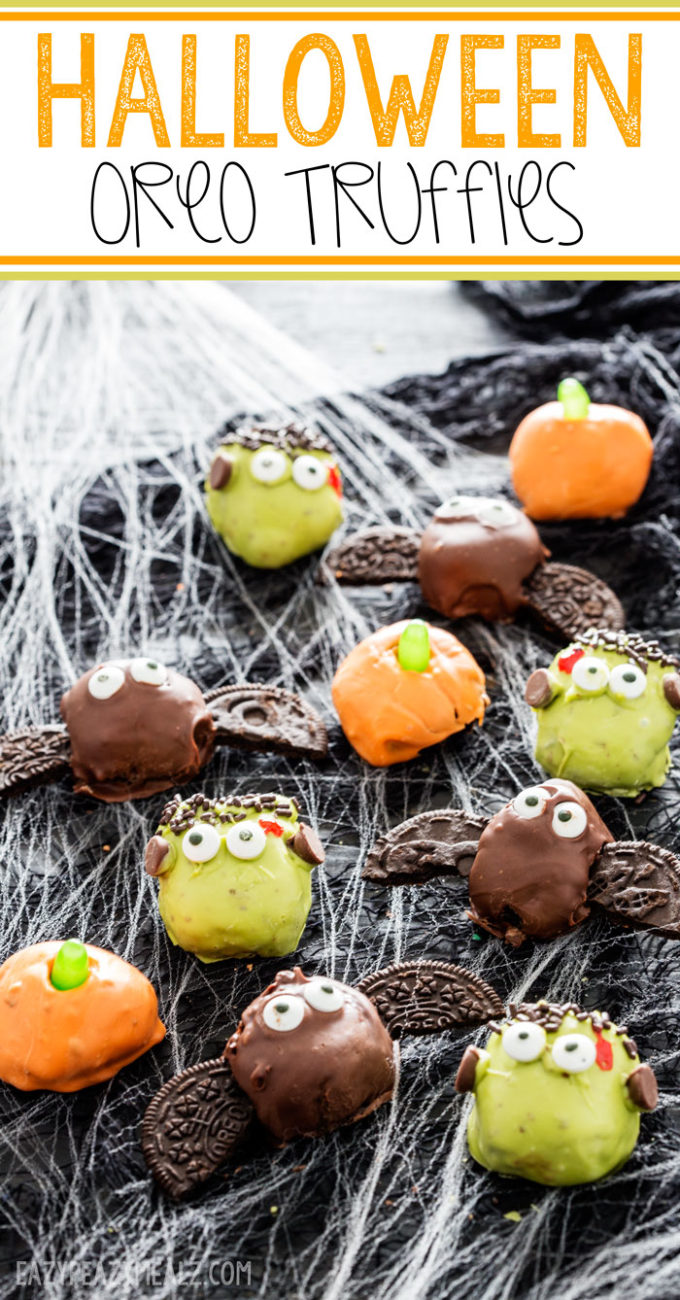 I am obsessed with Halloween treats, and I had this darling video made for you guys of how to make these fun treats, and being the sleep-deprived idiot, I deleted it. Yes…deleted it. I tried to recover it, but the quality was too low, so I am not sharing it. And since I literally ate 12 of these by myself, I decided I better not make them again. So maybe next Halloween! Hahaha sorry guys. But these are literally so easy to make you don't need a video.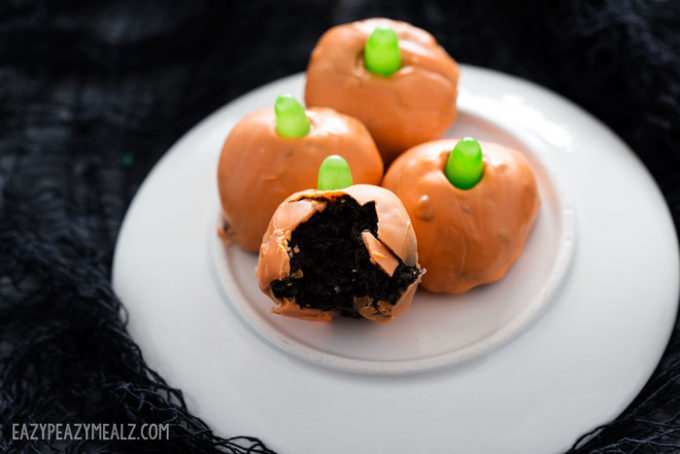 But you do need some self-control because they are just that yummy.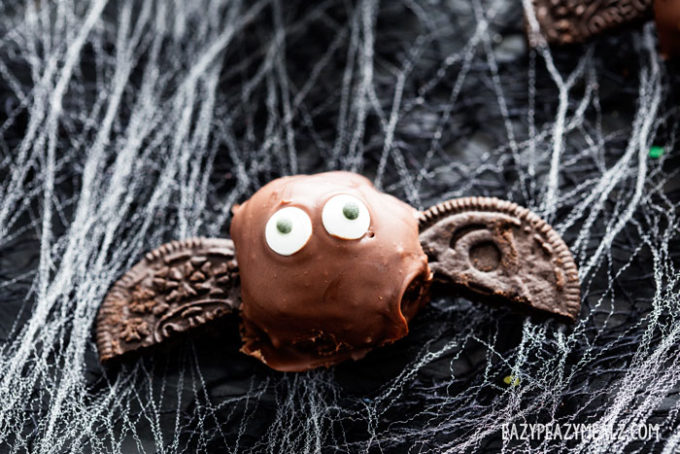 Let's start with the bats. You need OREOs, cream cheese, candy eyes, chocolate chips, and more OREOs. Yeah…these are going to be delicious.
You make the OREO truffles. This is done in a food processor with a package of OREOs and a brick (8 ounces) of cream cheese. Process until smooth and well mixed, then scoop into heaping 1 TBS balls.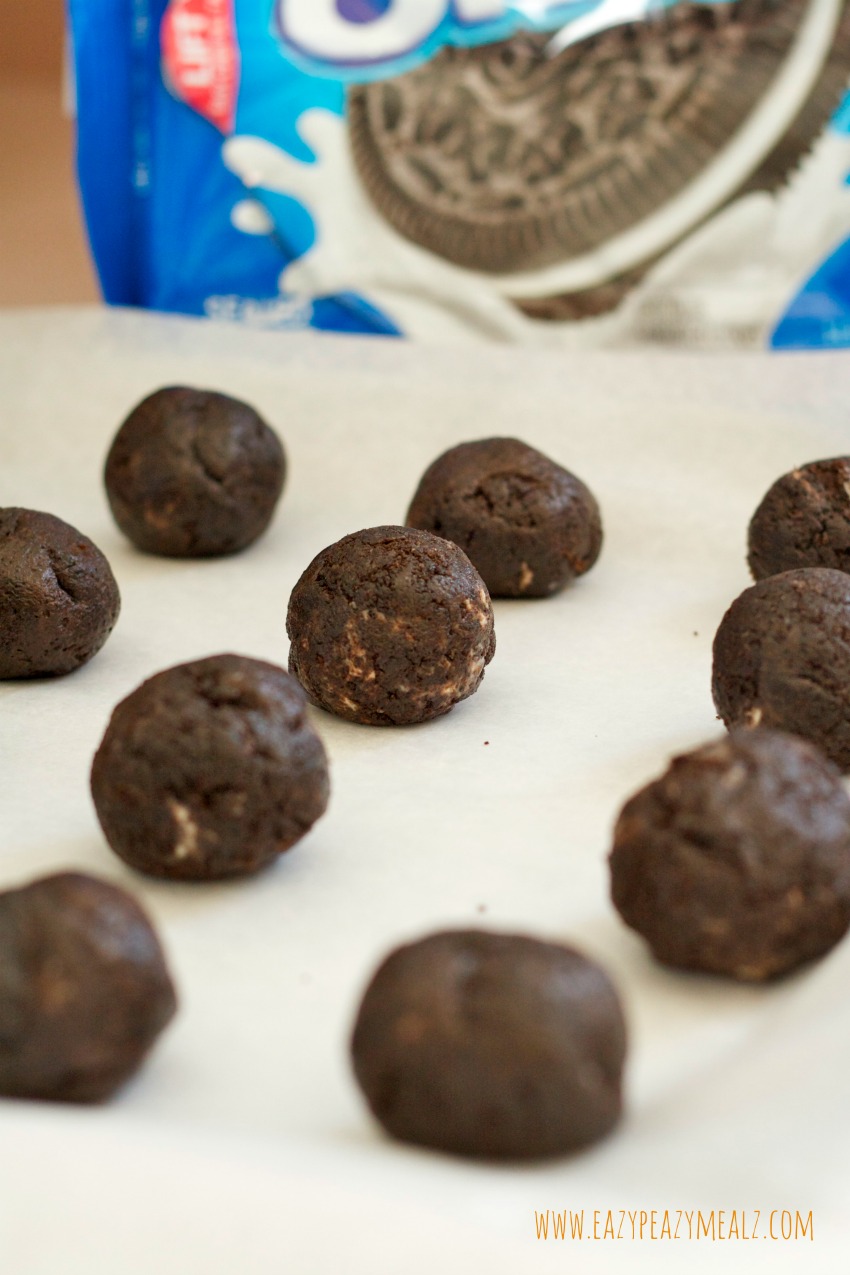 Then refrigerate or freeze until cool, then melt your chocolate chips in the microwave by heating in 20-30 second increments (based on how hot your microwave runs), stirring between each. Then coat your OREO truffles in the chocolate, dipping them into a bowl of chocolate and lifting it out with a fork, and tapping gently on the side of a bowl.
Then add candy eyes, and cut an OREO in half, and stick those on as wings. It literally couldn't be easier. And how stinking cute are they? Just do it quickly so the chocolate does not set up before you get the eyes on. If this happens, dab some chocolate on the eyes and wings to attach them.
Now let's look at Frankenstein.
Make the OREO truffles the same way. Then dip in a green candy melt, which you melted in the microwave in 20-30 second increments. For these I used a candy apple version of candy melts. They make tons of different flavors. It was delicious. I sprinkled chocolate sprinkles on top for the hair, chocolate chips on the sides for the bolts, and candy eyes. Then you take red frosting and put a scar on. Obviously I stink at that part! But they are cute anyway. Aren't they?
Then the pumpkins! These are the easiest ones. Just dip them in an orange candy melt, and stick a green Mike and Ike in the top! Hello…how cute and easy is that?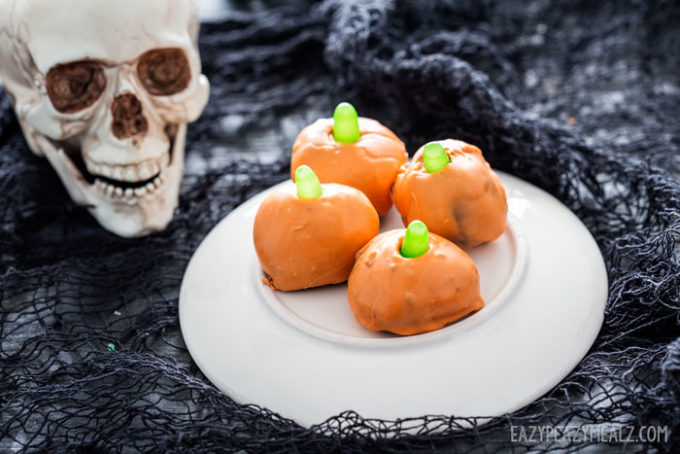 Warning: These are highly delicious. You will want to eat tons of them. So plan to share, or wear your sweats!
Be sure to pin it for later: