Thank you Sizzlefish for providing complimentary seafood to facilitate this post. All opinions are my own.
A spicy, flavorful baked haddock, topped with a lime harissa, with undertones of garlic, and baked in butter for a rich, easy, and (mostly) healthy meal!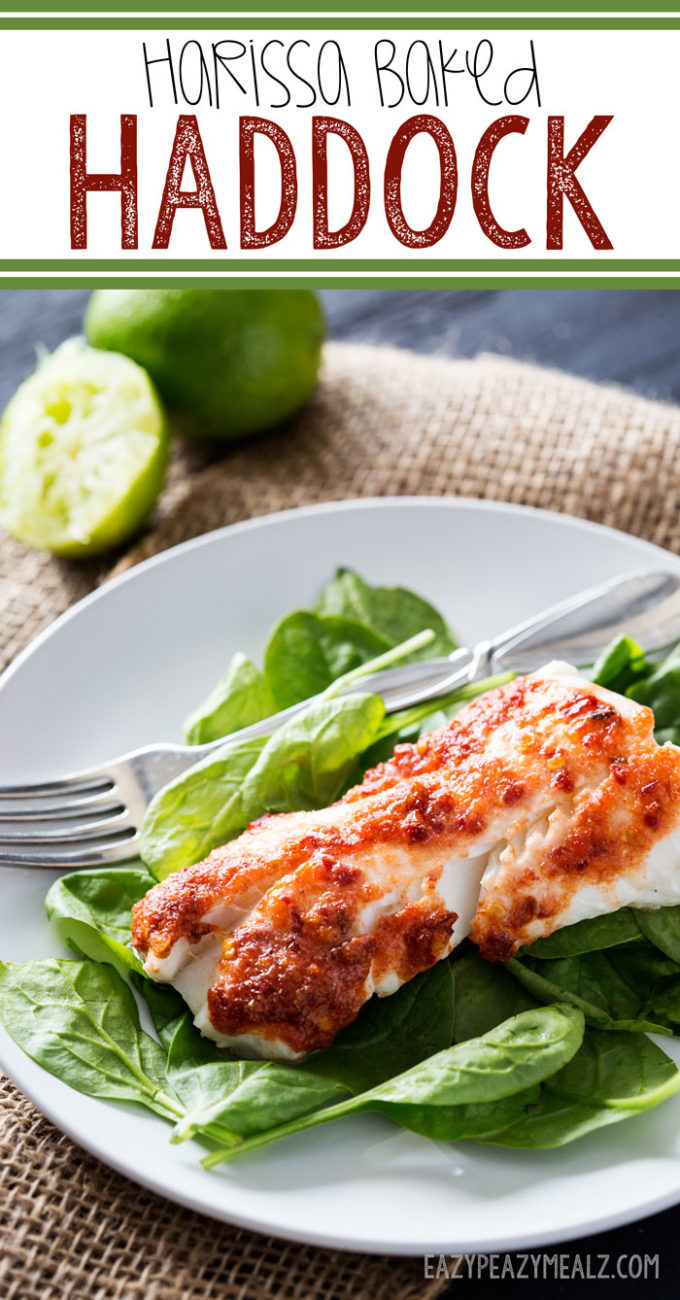 Three of my four kids are in school most of the day, which means it is just me and my little sidekick. I am super lucky because my little sidekick is a total gem. She is a sweetheart, but in addition, she will eat pretty much anything I put in front of her.

MY LATEST RECIPES
I am not joking, I love this so much! The kid just above her age wise is the pickiest little eater, which really sucks! I am so grateful that only one of my four is picky, because otherwise it would be the death of me. I have a hard enough time keeping him fed.
Anyway, this little angel of mine (the youngest), loves seafood. And since I do too, it is perfection! I can throw together some fish for lunch, and we are both happy campers.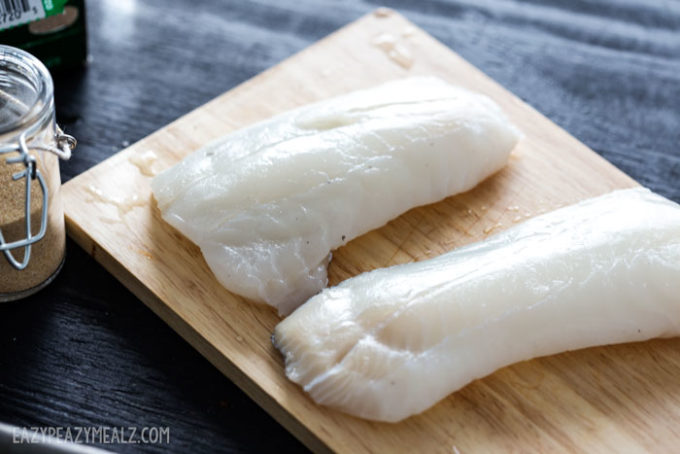 Have you ever heard of SizzleFish? It is a seafood delivery company that offers flash-frozen, home delivered seafood in individual portions. They offer pure untreated fish portions, and tools and tips for quick easy preparation. They also provide a great deal of information about the performance and health benefits of consuming fish while training.
Basically for someone like me, who always has more on my plate than I have time for, it is a dream. I get healthy, delicious, seafood delivered to my door. It is individually packaged, making it my go to lunch option!
I have been cooking with their offerings all week, and have loved having the individual portions for my lunches. The seafood has been quality. It is firm, smells good, and has great flavor. I have been nothing but pleased with what I received. And my sidekick has too!
And so, let's talk about the Haddock.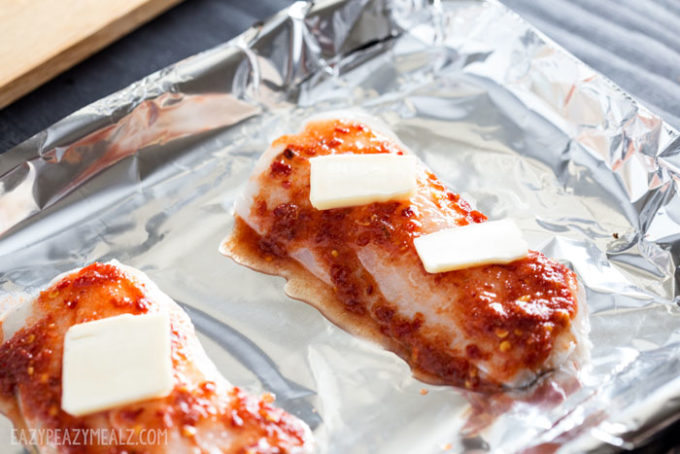 I have actually never prepared haddock before. I have had it several times at restaurants. When we were visiting London last year I had it a lot, as it is often used in fish and chips. It is a white fish, and can be cooked like you would other white fish, such as cod. It has a mild flavor, so it is great for pairing with bold spices.
And so I paired it with Harissa! Truth be told, I probably should have added some honey or brown sugar to my sidekick's piece, just to tone it down a bit. But it was really yummy, and she ate it anyway. She did comment that it was, "A little spicy, mommy!" but that did not stop her, or me! However, if food with a kick is not your thing, tone it down with a little sweetener, and cut back on the amount of harissa you use.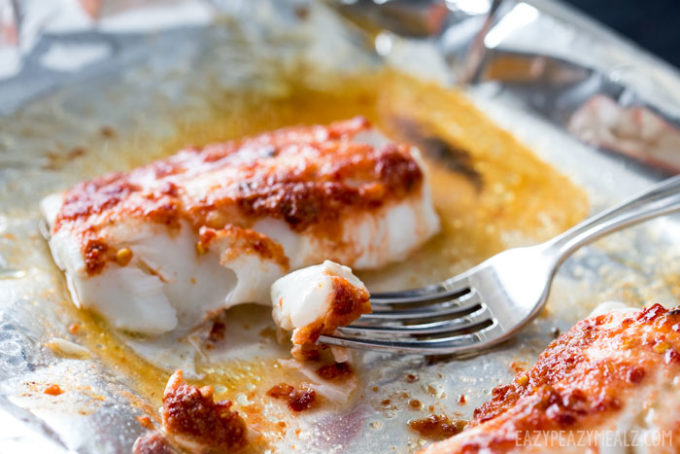 I love that it bakes up really quickly. You set the oven high, so you are almost to the broil point, and thus, it cooks quickly, and becomes this gorgeous, flaky, white fish! I served it over a bed of spinach, and drizzled a little extra lime on top for some more acidity. Yum!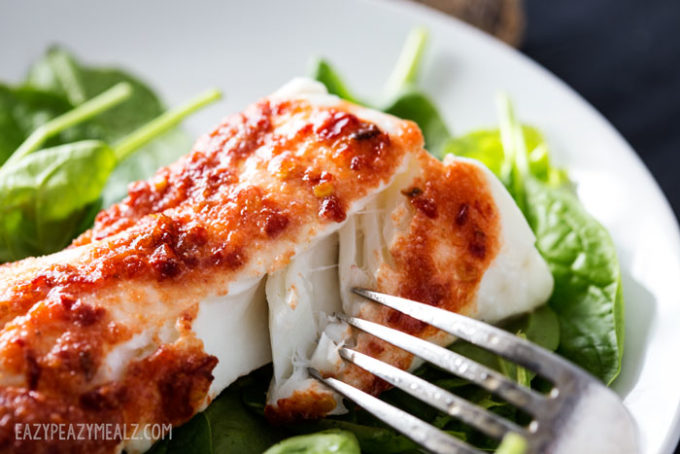 Try it! If you like spice, I think you will like it as much as I did. And you can't beat a delicious lunch in under 15 minutes!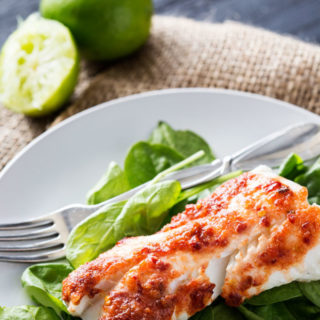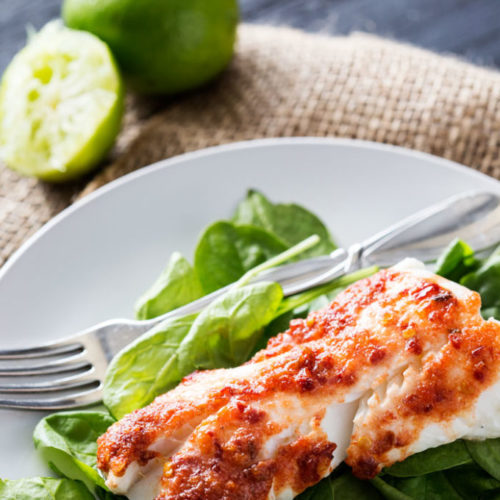 Ingredients
2

pieces

of Sizzlefish Haddock

1/4

cup

Harissa

1/2

a lime

juiced

1

tsp

garlic granules

1

Tbs

salted butter

Salt and pepper
Instructions
Turn oven on to 500 degrees

Move rack to top wrung

Cover baking sheet with foil

Put defrosted haddock on baking sheet, and lightly season with salt and pepper

In a small bowl mix harissa, lime juice, and garlic granules together

Spread mixture over the top of your Haddock

Put 1/2 Tbs of butter over the top of each piece of haddock

Bake for 8-10 minutes until butter is melted and haddock is flaky!
And don't forget to pin it for later:
Get EZPZ Updates In Your Inbox!