This post is sponsored by Vital Proteins, my love of Vital Proteins and opinions are all my own.
A refined sugar free, healthy, protein packed pineapple Dole Whip! It is your favorite Disneyland or Disneyworld treat in a healthy, make at home version that is creamy, and tasty, and fun, and won't leave you feeling bad about your snacking choice.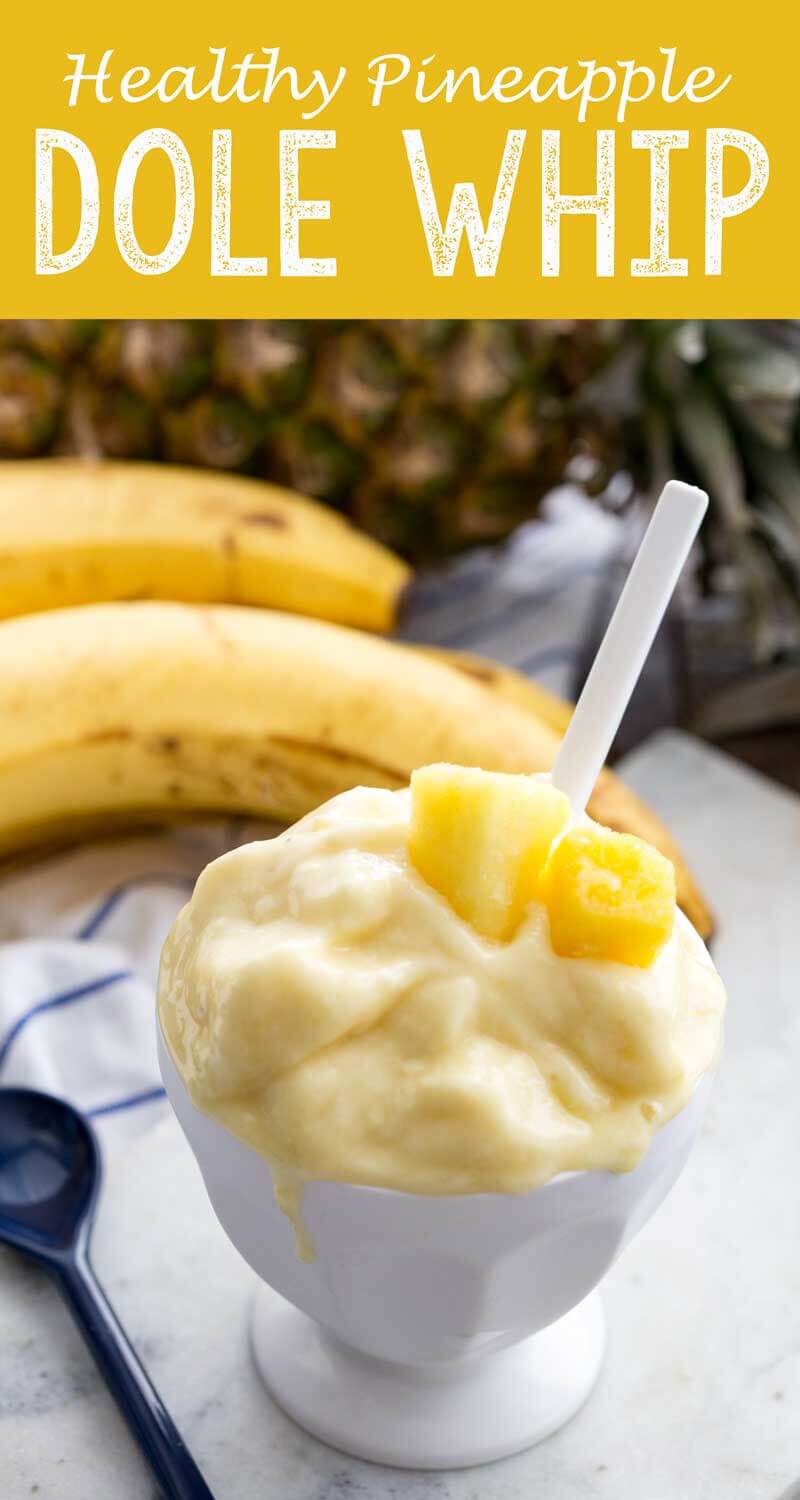 Healthy Pineapple Dole Whip
©Eazy Peazy Mealz by EazyPeazyMealz.com
Pin it to your Desserts board to SAVE it for later!
Follow Eazy Peazy Mealz on Pinterest for more great tips, ideas and recipes!
You guys, I am slightly obsessed with Dole Whip. I live several states away from the nearest Disney, but several years ago I found out that a few select locations actually sell Dole Whip. At one point a frozen yogurt shop near me started selling it. I went all the time. But they change their flavors every two weeks, and so after two weeks of bliss I was left desolate with no Dole Whip to be found. I tried a few copy cat recipes, but something about making Dole Whip using an entire container of Cool Whip made me sad. I guess I didn't really care that it was unhealthy when I didn't actually know what was going into it, but when I did know, I was just sad.
So I continued to search for the bliss I got from oblivious eating, and found that our local theme park sold Dole Whips! I bought a season pass, and I won't even tell you how many embarrassing moments I had explaining to my husband why  I was at the theme park. It went something like this: "no, not riding rides… no not at the water park, …just getting a Dole Whip" My obsession was something fierce. It has not abated. Watch this video to see what I did about it:

MY LATEST RECIPES
Seriously you guys…this is good stuff.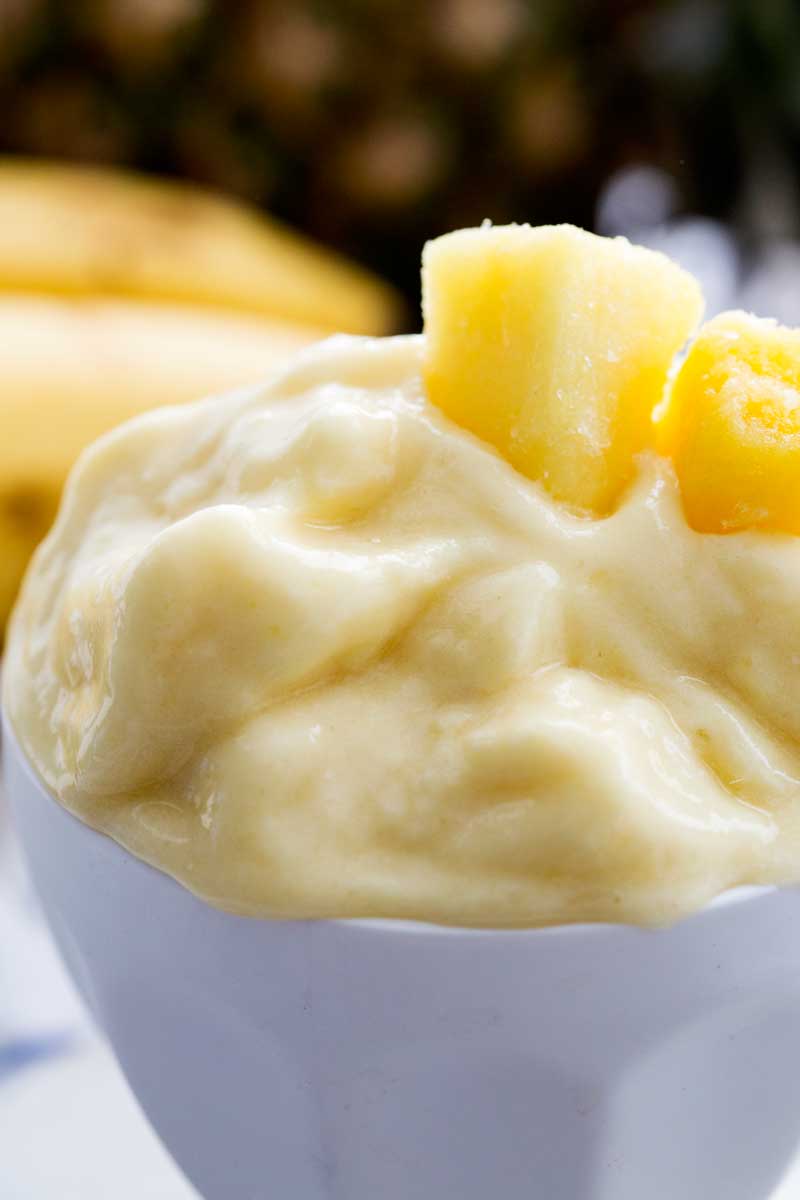 This summer we lived too far away, and I didn't have a season pass. So I went on a mission to create this creamy, pineapple concoction in a way that was indulgent enough to make me feel like I was getting a treat, and healthy enough that I wouldn't regret eating it after. This recipe is the culmination of those efforts. It is not a perfect copy cat, but dare I say I like it even better? Especially since I feel good about giving it to my kids?
It is full of all-natural fruit and fruit juice, with no added sugar, and a touch of cream to get that creaminess I crave. And as an added bonus there is Vital Proteins Collagen Peptides, an odorless and tasteless bovine protein that is the perfect addition to literally anything! I seriously mix it into water on days I am in a hurry and need a protein boost. It is my favorite protein ever, and I swear by it. If you haven't checked it out yet, please do. You can get lots of good info here, or in any of the numerous recipes on my site that use it!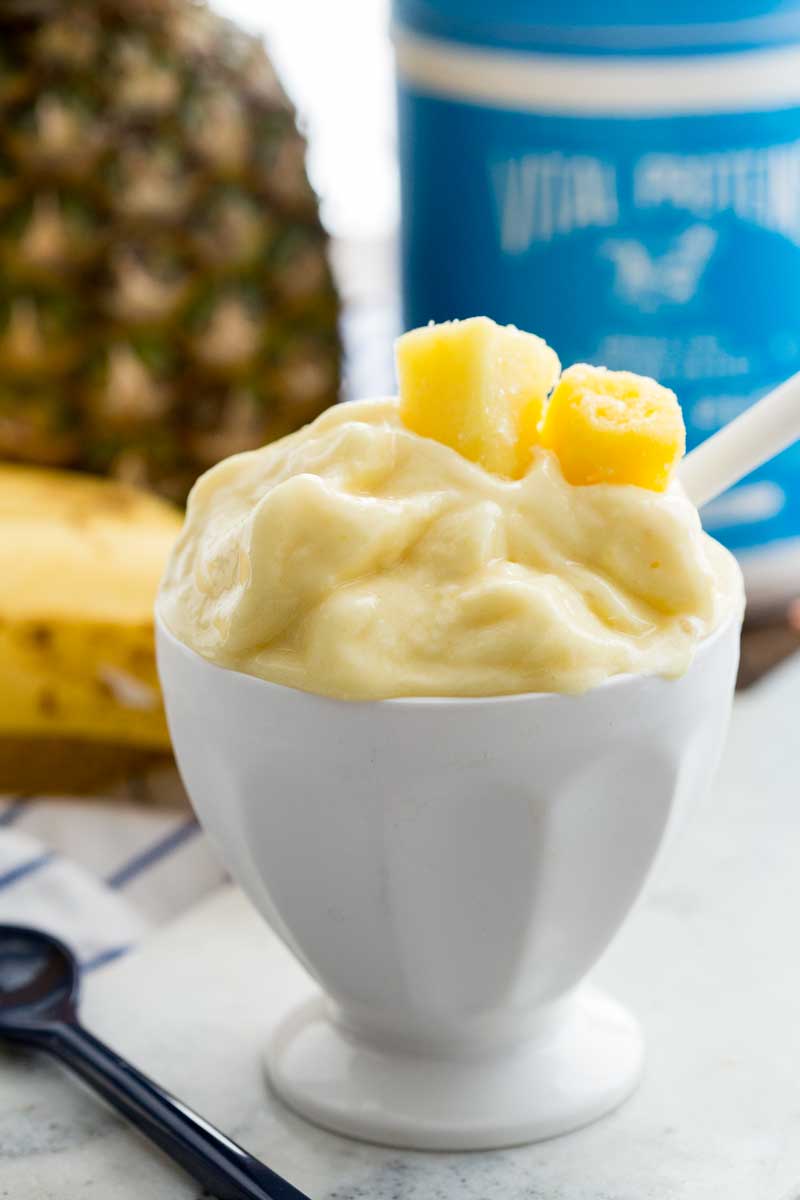 Now, pull out that blender. In less time than it takes for me to find keys and drive to the nearest Dole Whip distributor, you could have this healthy copycat pineapple Dole Whip in your belly. Thank me later!
Rachael Yerkes
Yields 2
Healthy Pineapple Dole Whip
Pineapple Dole Whip with a healthy protein twist! For a refreshing, healthy, and delicious snack.
5 minPrep Time
PCook Time
5 minTotal Time
Ingredients
1 scoop Vital Proteins Collagen Peptide
2 heaping cups frozen pineapple chunks
4 Tbs pineapple juice
2 Tbs heavy whipping cream
1 ripe banana
Instructions
Put all ingredients in a blender and blend until smooth.
Serve immediately, or freeze for a time to get a harder consistency.
Notes
This will be a soft serve consistency, to get a thicker consistency, put in freezer. Use a high powered blender or food processor.
7.8.0.1
816
https://www.eazypeazymealz.com/healthy-pineapple-dole-whip/
Pin to your Dessert board:

Get EZPZ Updates In Your Inbox!