This post has been sponsored by Betty Crocker. I received product and compensation, but all opinions are my  own.
Key Lime Mousse
A make at home key lime mousse with a lime drizzle topping, that is completed in 3 easy steps: Mix, Chill, Top! This key lime mousse is thick, creamy, offers bold flavor, low mess and deliciousness for one!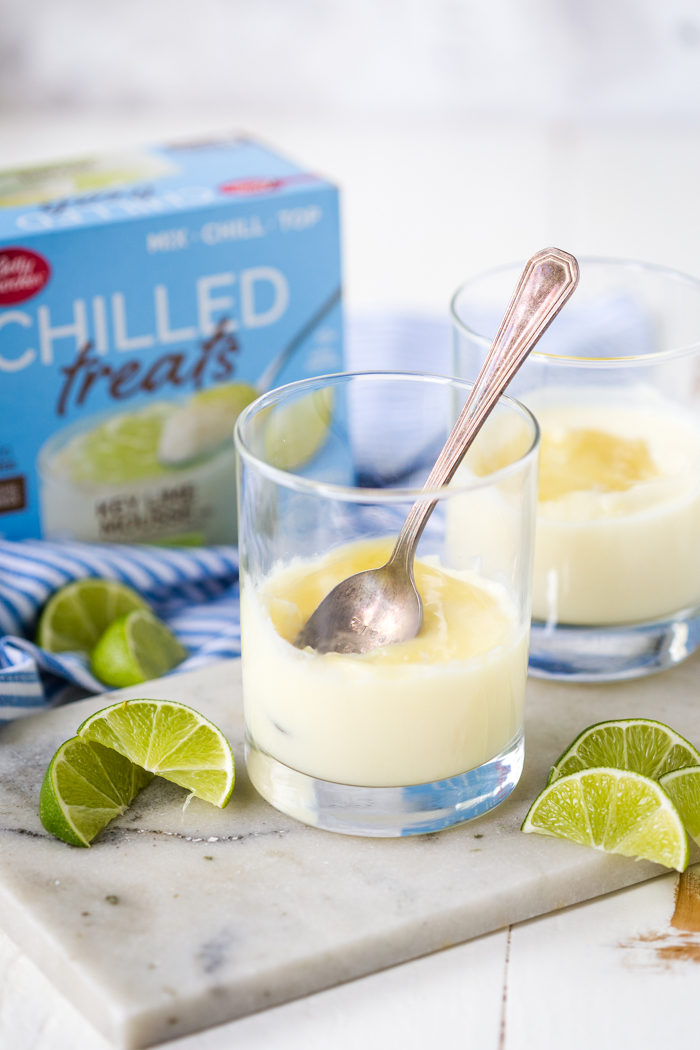 Summer is here, the kids are out of school, and my dreams of independent kids, mornings spent lounging in bed in my sweatpants, and blissful family time have come crashing down around me as reality set in. 
Kids still want to eat. Kids being home ALL day = more messes. Sibling squabbles don't just disappear because you wish they would. And while the schedule may not be as rigid, summer is no less demanding. 
Don't get me wrong, I love having my kids around, and we are making the most of this summer, but when I need to sneak away to get a few minutes to myself, no one can blame me. 
Want to know what my current favorite way to indulge is during those stolen moments? The NEW Betty Crocker Chilled Treats in the delicious flavor, Key Lime Mousse with Lime Drizzle topping.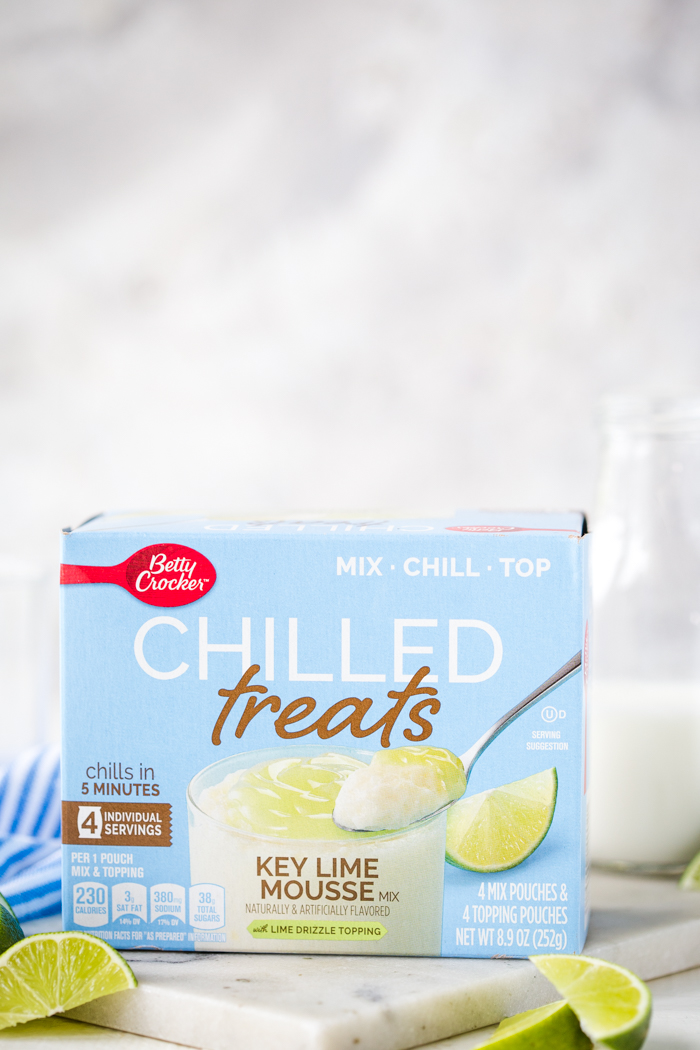 These decadent mousse treats are ranking high on my list since they are both simple and delicious. 
They are perfectly portioned for one, making them the ideal dessert for my "me-time" moments. Betty Crocker Chilled Treats are light, and sophisticated, and as simple as they are delicious. And, huge perk!, they don't require a bunch of dishes. 
In other words, they are perfect for busy moms who want a little time to themselves with a sweet indulgence. And Chilled Treats only take around 5 minutes to prepare. Since most of us moms can't get more than 5-10 minutes without someone needing us, it is actually brilliant that it fits right into that window of time!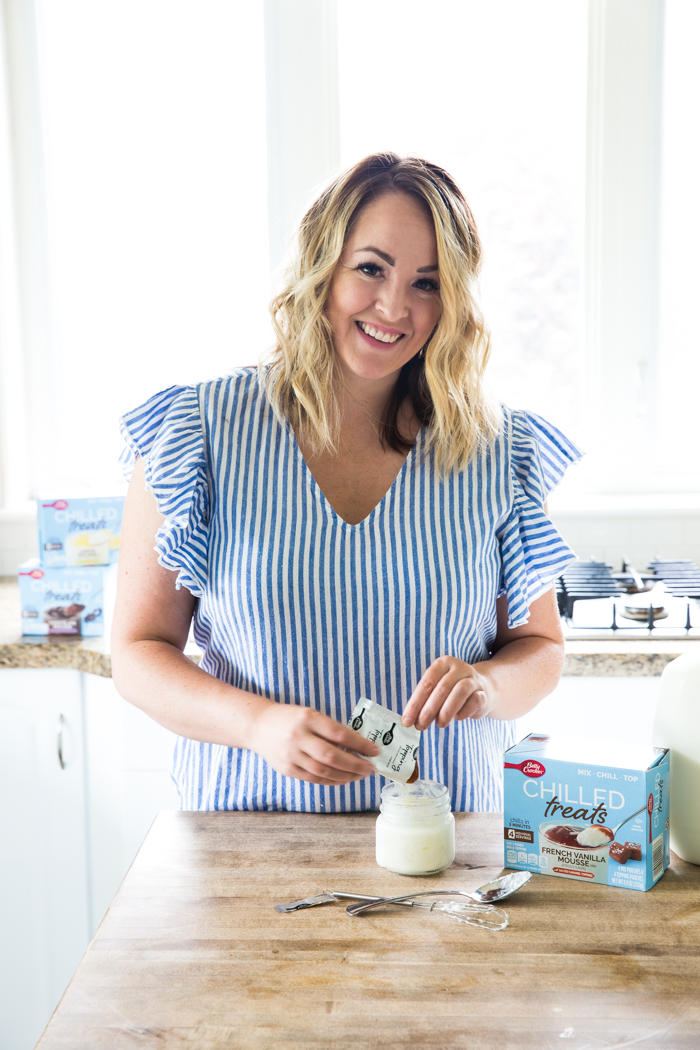 What are Betty Crocker Chilled Treats?
Betty Crocker Chilled Treats are a flavorful, light mousse-treat that is the perfect indulgence when you want to sneak away for a little something sweet. 
This mousse treat takes only about 5 minutes to whip up and is perfectly portioned for one. Although each package comes with 4 packets of mousse mix, and a fun drizzle-able topping, they are individually portioned.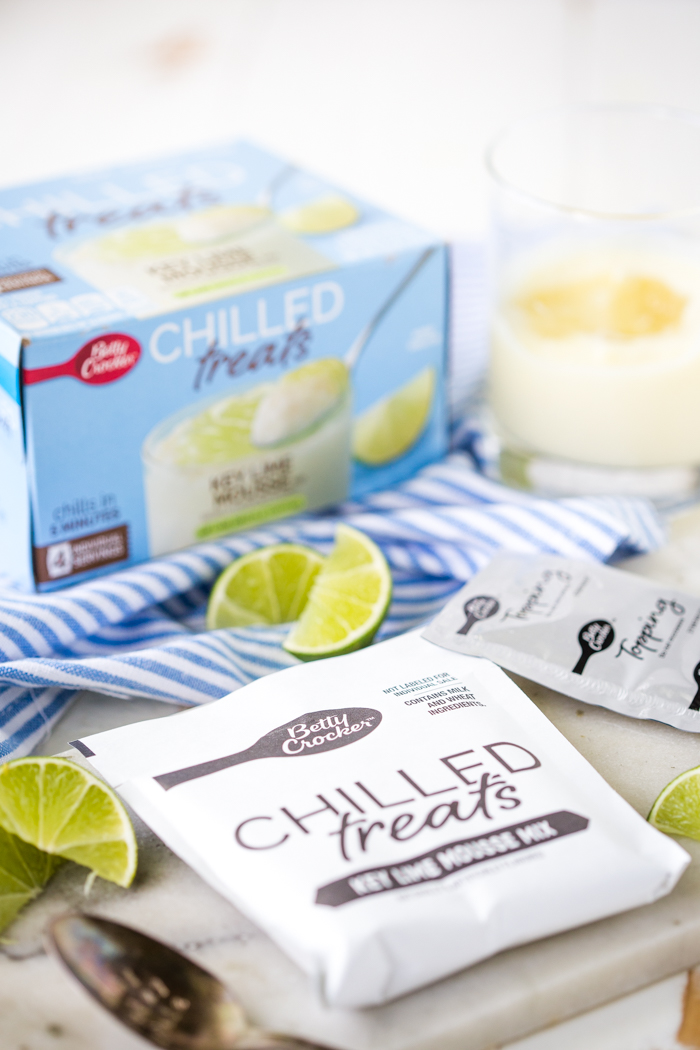 Why I Love Chilled Treats
No need to turn on the oven in the middle of summer to indulge your sweet tooth.  I often find myself craving something sweet at the end of the day, but our summers are hot, and the last thing I want to do is bake, or really anything that requires me to be in a kitchen with a hot oven.
Easy and quick: This Key Lime Mousse is made in three simple steps–Mix, Chill, Top! So easy even your kids can do it themselves, something this mom really appreciates about a week into summer.
Variety is the Spice of Life and Betty Crocker Chilled Treats have four flavors to choose from.

 

Key Lime Mousse with Lime Drizzle
French Vanilla Mousse with Salted Caramel Drizzle
Chocolate Mousse with Chocolate Ganache
Lemon Mousse with Lemon Drizzle


No fancy equipment needed.
A few weeks ago, my sister came to visit, and we decided to make crème brûlée. Which is delicious but often fairly difficult to make.But want to know what?When it was all done setting up, and it was time to torch the sugar topping to get that crunchy sugar crust that makes every bite so sinful, I couldn't find my kitchen torch. And when I did finally find it, I couldn't find the butane to fill it. With Chilled Treats, this is not a headache you will have. They are prepared in the fridge. And only require a cup and a spoon to mix one up!

No Mess: Betty Crocker Chilled Treats take the hassle out of snacking with no mess to clean up beyond the cup you serve it in and the spoon you eat it with. No mixer, no sheet pan, no mixing bowls or baking molds.

 

An Affordable Indulgence: I find many of my indulgences come with a steep price tag, especially after a while. But NOT this one. MSRP for a box of four complete Betty Crocker Chilled Treats with indulgent toppings is JUST $2.99! Less than a dollar each.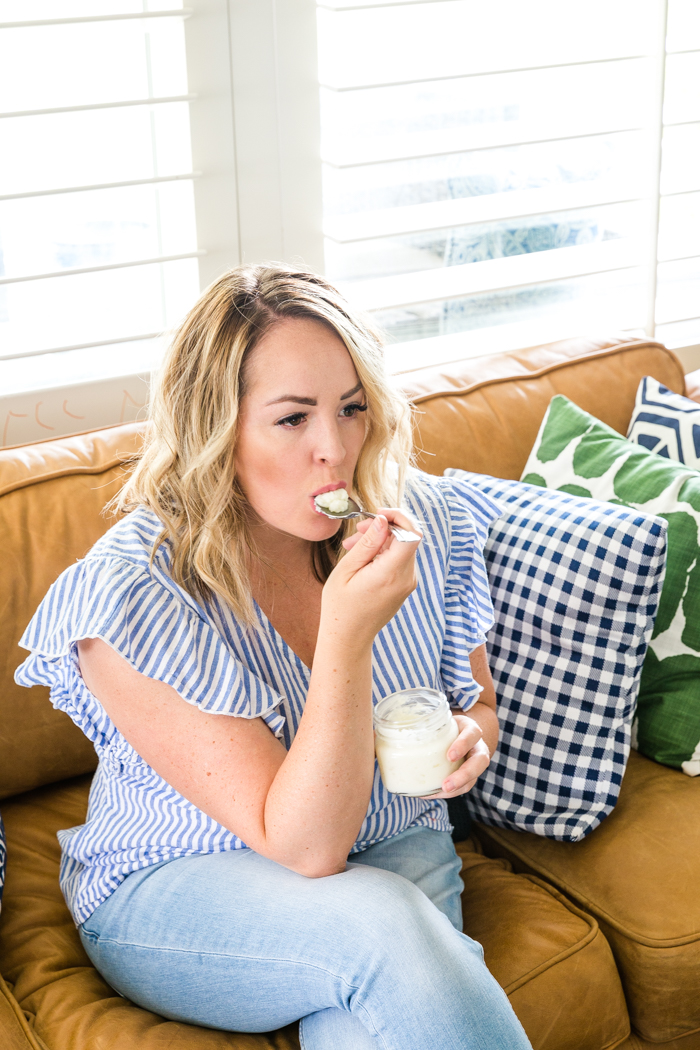 How to Make Betty Crocker Chilled Treats:
Mix

You will need an 8 to 10 ounce-size cup or glass.
Empty in the Key Lime Mousse mix from the single serve package.
Add milk to the glass.

 

Mix it together well. In order to avoid a gritty texture, you want to make sure you don't try to shortcut this part. Don't skimp on the stirring. The package tells you to stir for a minute. Let it rest for 30 seconds, then stir vigorously for another minute. Do that! We set an alarm to make sure we stirred long enough.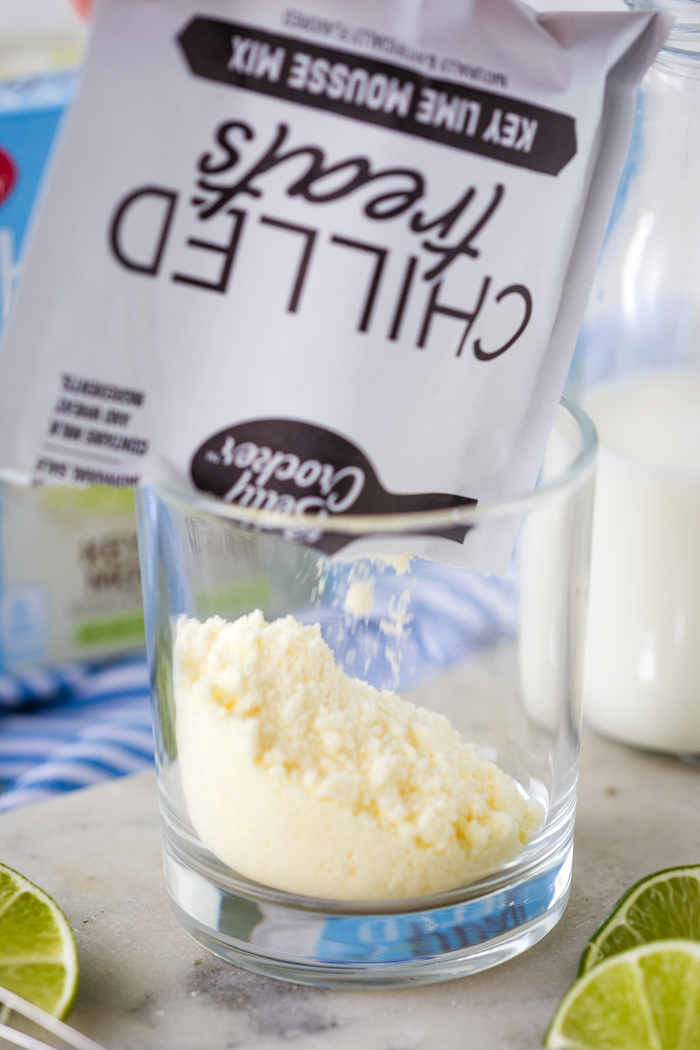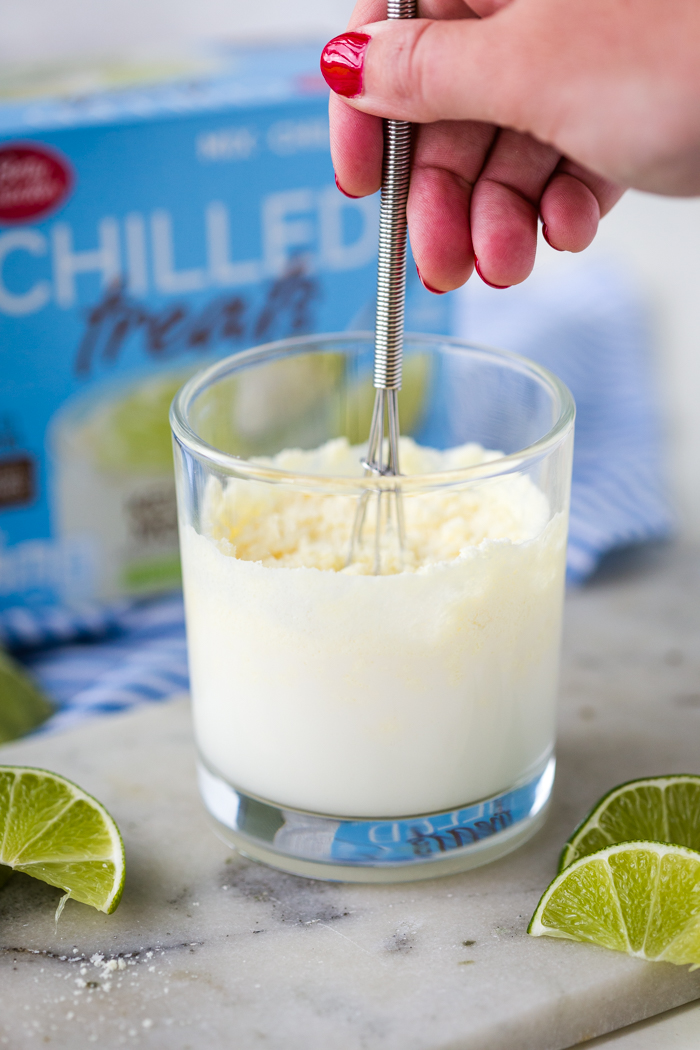 2. Chill
Put your mousse into the refrigerator and let it chill for at least 5 minutes. I found I liked it best at about 10 minutes, and I didn't mind the extra few minutes. If there is one thing I know, every mom in the world has enough demands on her time to fill those extra 5 minutes.

 

I discovered I liked the longer chill time quite by accident when as I was running into the kitchen to pull the mousse out of the fridge, I was interrupted by a child with a need. After that was taken care of, a full 10 minutes had elapsed.
I liked it better this way because I wanted a thicker mousse. It was still light and airy but thickened up as it sat in the refrigerator longer.

 

If you are in a hurry to start gobbling down this sweet indulgence, you can also pop it into the freezer for 2-3 minutes instead of the fridge for 5.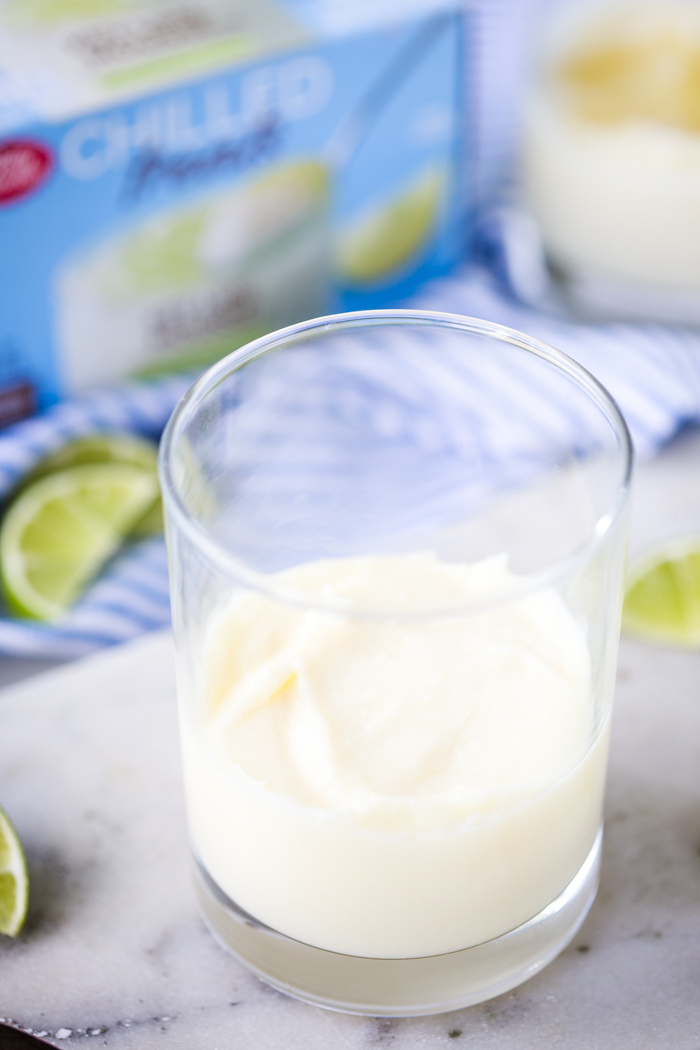 3. Top
I think what really puts this fun dessert over the top is the drizzle topping. It adds another element of fun and decadence to the treat and doesn't really add any significant time to the preparation.

 

You get a little package, you tear it open (which is super easy) and drizzle it over the top. Then dig on in!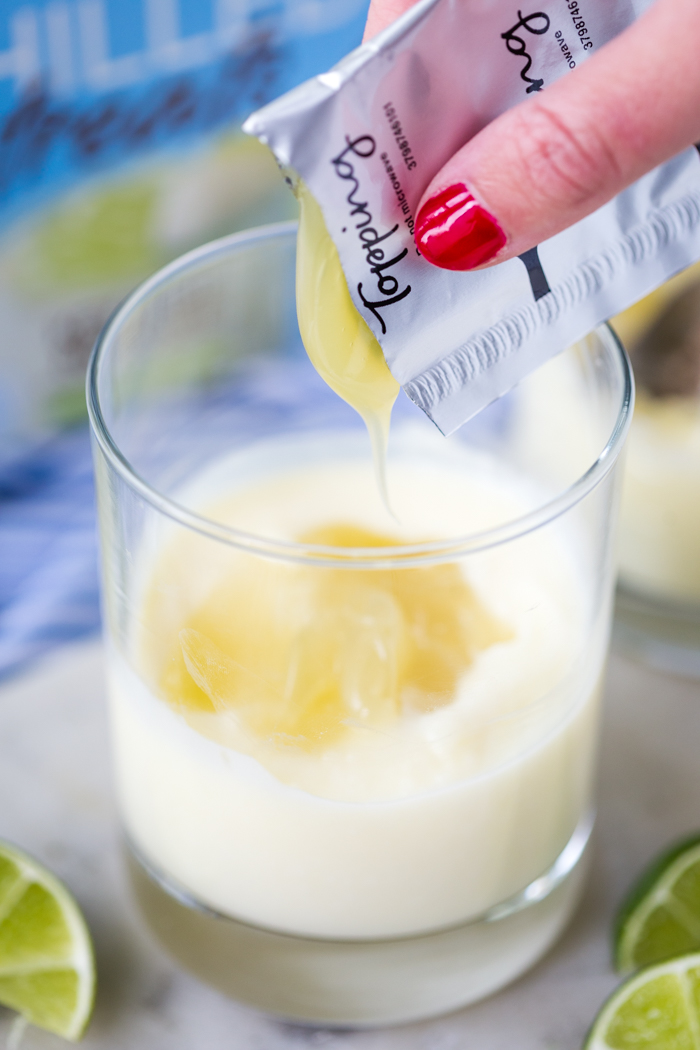 Where Can I Find Betty Crocker Chilled Treats?
Betty Crocker Chilled Treats are currently available in the baking aisle at retail stores nationwide.