How to make money blogging. An overview of the ways to generate income, and the tips and tricks for monetizing your blog to produce greater income!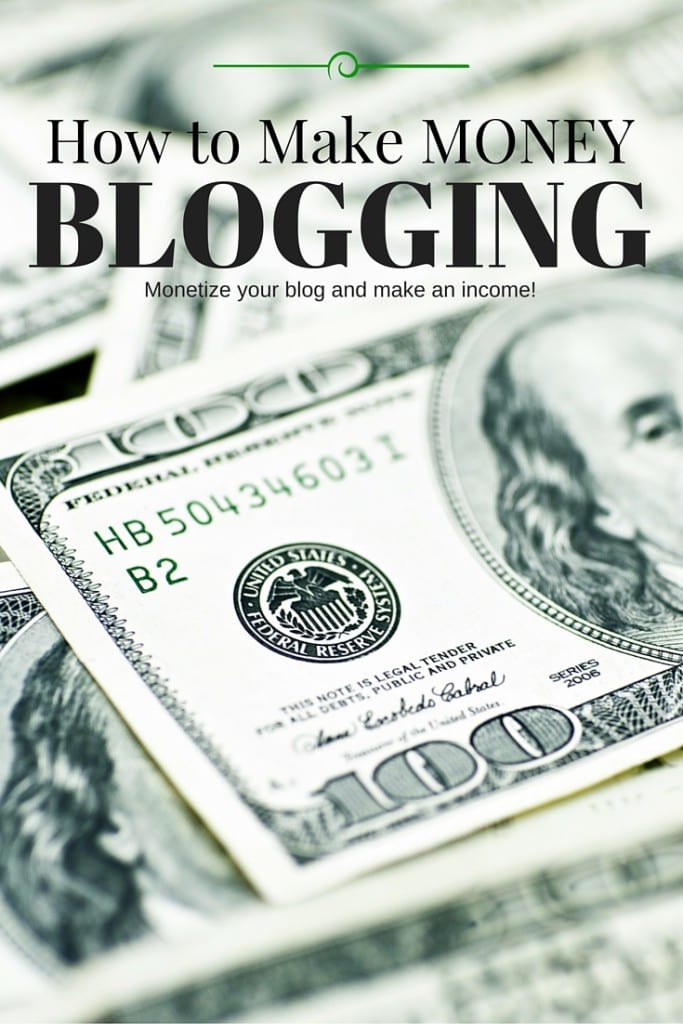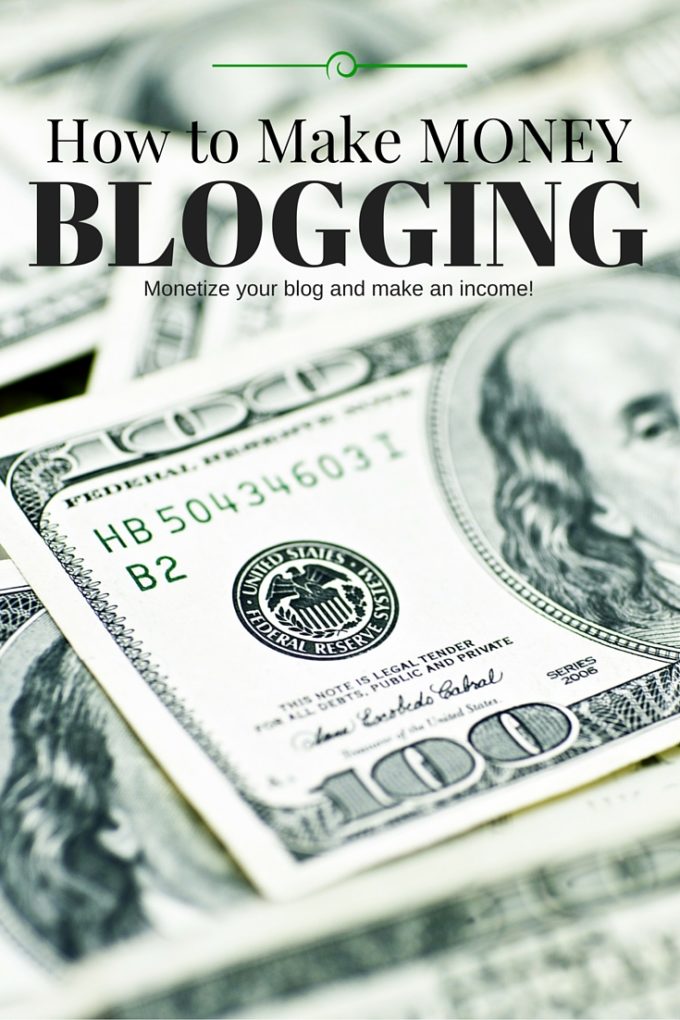 I make a full time income from my blog. It did not start out that way. And while I am very happy with my blogging income, there are whole revenue streams I have yet to tap into. The beauty of making money online is there are hundreds of ways to do it.
How can YOU make Money with a Blog? 
This is what you really want to know, right? How do I make money with my blog? Whether you are just starting a blog, or an experienced blogger, you can generate income form your blog. Let's take a look at the most common ways to generate income, or monetize, and then some tips for doing this better and making more than ever!
Common Ways to Monetize Overview:
Ads. This is when you host ads on your site, and get paid for the number of impressions on those ads (paid per 1000), or clicks those ads get.
Sponsored content. This is when a brand or company pays you to blog about them or their products.
Affiliate earnings. This is when you use a specific link to a product or service, and if a reader buys something using your link you make a small commission. For example, if you are thinking about starting a blog, and decide to host with Bluehost, because I show you how to set up and start in this easy picture tutorial, I would receive a small commission from Bluehost for the recommendation.
Selling stuff on your blog. This would be like having an e-product, an etsy shop or ecommerce set up from your blog where you sell a product, or a book, or some sort of service. In these instances you can sell your own products or someone else's.
Using the blog as a portfolio, or way to get professional work. Freelance writing, photography, speaking, etc.
That is a really basic overview, so let's get more in depth here for a minute:
Ads:
Before you can put any kind of ads on your site you need a privacy policy and a disclosure statement. These are regulated by the FTC, and are in place to basically inform readers how you gather and use information from them. It tells them you are being honest and expressing your opinions, even if you are being paid to write about something.
You can get one made super easy using https://www.disclosurepolicy.org It is FREE.
Once your disclosure is in place, you can sign up for ads, or go out and try to source your own.
Typically, bloggers start with Adsense- They are easy to join, and don't have stringent requirements. I suggest running Adsense ads from day 1 if you ever plan to have ads on your site. It will get people used to it, and help you design around ads. Just be sure to read the Terms Of Service and don't break them. You don't want to be banned.
Other ad networks. Once you have some traffic, say minimum 10k page views a month, then you can try to get on other networks. They typically pay better. There are tons of different Ad networks out there, and they are constantly changing and updating. At the time of writing this post,  few to consider are:
AdThrive
MediaVine
TheBloggerNetwork
PadSquad (mobile)
Mode
BlogHer
There are pluses and minuses to every network, so find out what you can before you join. Like, is there a contract? How much notice do you have to give if you want to leave? How do they get paid? What kind of reporting do they offer? When do they pay?
Things to know about ad networks:
Most of the time, ad networks are going to pay you net 45 to net 90. This means the ad revenue you earn in January, won't be paid to you until March 15th or later.
They all run ads a little differently, so it is hard to compare.
RPM and CPM are two terms to become familiar with.
Mobile and Desktop pay differently, so often the number you see is an average.
You may be able to run more than one network, check the TOS for each individually.
Tip:
Consider ad placement over number of ads. Now ads pay more for impression, meaning half the ad pixels have to be viewed for at least 1 second, then placement. This means ad placement is pretty important. A header ad isn't going to pay nearly as well as it used to, as people usually scroll right past it. You may be better off removing it and placing sticky footer ads (meaning it stays at the bottom of your screen as you scroll), in image ads (at the bottom of photos), ads in the recipe card of food blogs, or wherever on your post your readers are most likely to spend time. These will generate the most revenue, meaning you can run fewer ads and make just as much.
Sponsored Content:
Sponsored content is when you write a post for a specific brand, and they pay you to do it. The post goes on your site, but you have to include certain links, use a specific hashtag, etc.
To do sponsored you can reach out to brands on your own, which is effective but time consuming, or you can join networks that act as the middle man between brands and bloggers.
If reaching out, it is best to try and foster a relationship with the brand before asking to partner. This means comment and interact with them on social media so you can get on their radar. Also, always make sure it is a win-win offer, ask for pay, but spell out the benefit to them.
If using networks, know you will likely get paid less then if you reach out on your own, but it can be less work as well. The networks will set up sponsored post opportunities, you apply to those opportunities (or they contact you and offer them), and if they accept you, you can do them, and get paid. Usually they will provide a list of requirements.
Here are some networks to join:
I love working with sponsors, and this makes up a large part of my income.
Tip:
Do both, work with networks, as well as reach out on your own. When you pitch, tell a story, paint the picture, and help them really see what you would do for them, and what you want in return. Always under promise and over deliver. This means engaging and organic content, beautiful photos, plenty of social promotion, and maybe even extras like a GIF or a video.
Affiliate earnings:
My suggestion is to go ahead and sign up for Amazon's affiliate program, and any other of the bigger ones. But then look for affiliate programs for the types of things you already love. If you absolutely love Le Creuset, for example, and you know you are going to talk about it all the time, look for an affiliate program for it.
Tip:
If you can link something, do it. This can become a great passive income stream. For many bloggers this is the MAIN source of income. The best part about this is it is not a trade of your time for money. Put the links in once, and as long as you promote that content you will earn. This is not the case for sponsored content. 
Selling Something
Another viable option to earn an income blogging is through selling something. This could be a book, an e-book, a course, a physical product, consulting, and the list goes on. Using your blog and your blog audience as a place to sell is a common practice, and a profitable one. It helps to have an established relationship first, and established trust, and to not over-sell to your following.
Tip:
Create something as soon as you can. This is another passive income stream, at least it can be as long as you aren't making hair bows or meals or something. Writing a book, creating a cook book, or selling an e-product or course. Put the work in once, and sell forever. I need to take my own advice here. 
Professional Freelance Work:
One way to leverage your blog to earn an income beyond the blog is to use it like a resume to get freelance work. This could be SEO work for someone, photography work, speaking engagements, etc. There are so many options, it would be impossible to explore them all. The point is, if you want to go beyond blogging, you can use the blog to position yourself both as an expert, and as a professional to get that work. I have used my blog to get a speaking engagement on social media, to do freelance photography, and consulting. It is a great way to earn a little extra!
Tip:
Position yourself as an expert, and make sure people know you are open to freelance work. 
If you haven't started a blog yet, check out this post on how to choose a domain name, and this 15 step guide for setting up your blog in under an hour and for only $4 a month.