These Matcha Shortbread Cookies are sponsored by Vital Proteins, all opinions are my own.
Matcha Shortbread Cookies, delicious shortbread cookies, made with Matcha collagen powder. These cookies are crispy, buttery, and oh so good.
Amazing shortbread cookies combined with the health-boosting deliciousness of Vital Proteins Matcha Collagen. These are a classic shortbread cookie (i.e. butter and sugar) made with matcha green tea. So you get the delicious dessert, but with the perks of matcha. They are rich in antioxidants, and the collagen powder helps to build the body's connective tissues, hair, skin, and nails. Basically, these are cookies with perks! 
Matcha Shortbread Cookies
Like this recipe? Pin it to your Baked Goods pinboard!
Follow Eazy Peazy Mealz on Pinterest

MY LATEST RECIPES
Ok, you guys, I can't pretend that eating these matcha shortbread cookies is going to give you a big old health boost. But I will say when it comes to dessert choices, these are pretty awesome. They have some great perks, they taste great, and they are just plain fun.
I was introduced to the magic of matcha infused baked goods and desserts while visiting Sydney Australia. When I saw that Vital Proteins came out with a Vital Proteins Matcha Collagen that combines all the health-boosting components of matcha green tea with the numerous health benefits of collagen protein, I knew I had to make something with it.
Matcha plus shortbread are like a match made in heaven. And when you use a matcha green tea that is combined with collagen, it is like you get health and longevity, plus shortbread. So basically heaven.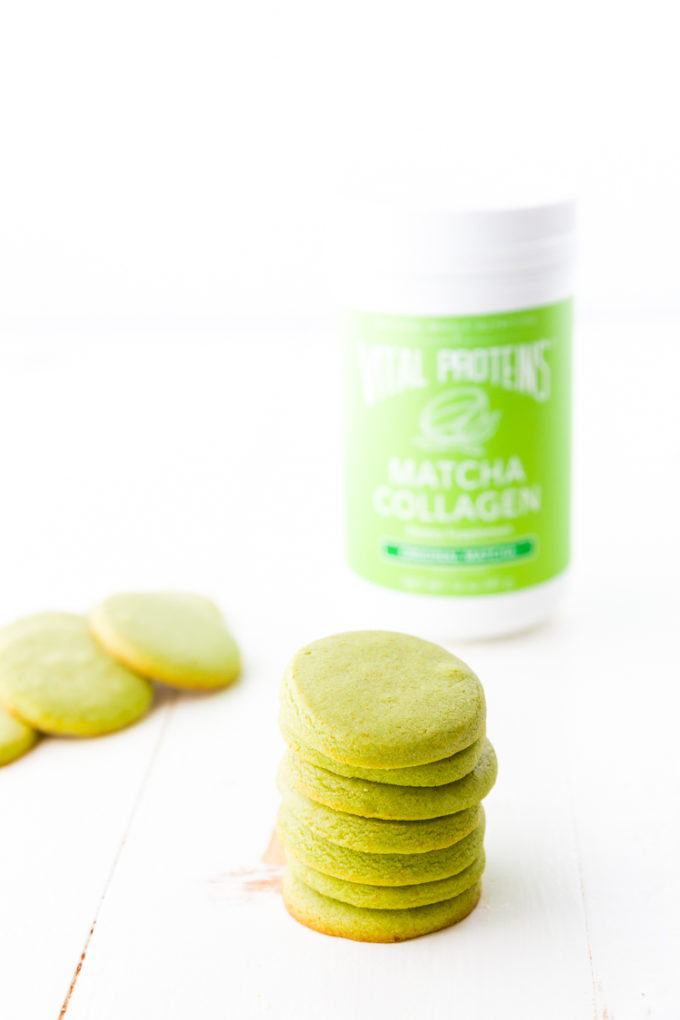 Benefits of Matcha Green Tea
If you're not familiar with the benefits of matcha green tea, let me give you a quick list:
Helps Fight Disease: Did you know that matcha green tea is packed with a special type of antioxidants called catechins that help fight disease? It's one of the reasons matcha tea is so hot right now!
Keeps You Alert and Calm: The natural compounds in matcha green tea help your body produce "alpha waves," which put you in a state of total zen.
Can Help Fight Cancer: Green tea has actually been shown to reduce the risk of several types of cancers!
The Vital Proteins Matcha Collagen is unique and easy to use, with its own special set of benefits. It also comes in two flavors, original and one with peach. Both are great.
Here are a few of the benefits of Vital Proteins Matcha Collagen
Antioxidants: We all need more of these, and matcha green tea is packed with them. Antioxidants fight free radicals in the body, so that is a huge benefit for long-term health.
Bone, Joint, and Skin Health: The collagen in the Matcha Collagen helps promote healthy connective tissue. Collagen is the most abundant protein in the body, and you need it for healthy bones, joints, skin, hair, and nails.
Eazy Peazy: When I first tried Matcha I gave up really quickly because it was a giant pain. Vital Proteins has made it simple because there is no strainer necessary. Just add it to hot water for tea, blend it with almond milk, water, or coconut milk and pour it over ice for a match latte, or add it to your favorite baked good.
You could be like me, and do both, make it into drinks and add it to baked goods. You could enjoy these cookies with a hot mug of matcha tea, or a nice cool glass of an ice matcha latte.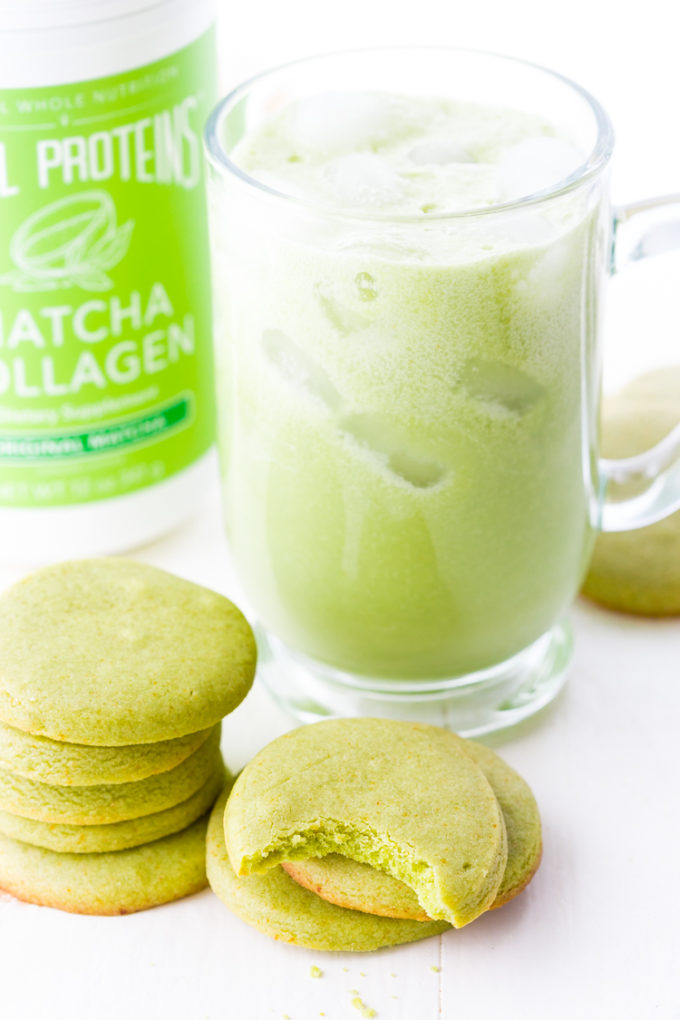 I don't love matcha tea, I want to. And I have tried to. But it just kind of is a bit much for me, as it tends to be a whole lot of earthiness.  Not my thing. But when poured over ice, with just a little sweetener…oh em gee! I like it to be a little creamy too, so my favorite is to combine the matcha powder, coconut milk, and a little agave, and serve it over a bunch of ice. Try that alongside these matcha shortbread cookies…Uh yum!!
Rachael Yerkes
Yields 3 dozen
Matcha Shortbread Cookies
Easy to make Matcha Shortbread Cookies
40 minPrep Time
12 minCook Time
52 minTotal Time
5 based on 2 review(s)
Ingredients
1 cup powdered sugar
4 Tbs or 2 sticks of Vital Proteins Matcha Collagen
1 cup + 1 Tbs butter, softened
2 1/2 cups all purpose flour
4 large egg yolks
a pinch of salt
Instructions
In a stand mixer bowl, combine powdered sugar and matcha powder.
Beat the softened butter into the matcha mixture using a stand mixer, until smooth and light.
Once mixed together, add the flour a little at a time, and the 4 egg yolks, and the salt.
Mix until fully combined, it will be a little sandy in texture.
Stop mixer, and use hands to knead dough a little.
Dump onto a piece of plastic wrap. Don't worry if it is still a little sandy.
Form dough into a disk and wrap in the plastic wrap
Refrigerate for 30 minutes.
Remove dough from plastic wrap, and knead with your hands until it is nice and smooth, and not falling apart. The more you work with it, the less sandy it will be.
Preheat oven to 350 degrees F.
On a smooth, cool surface (like a granite or marble countertop), roll the dough out using a rolling pin, until it is 1 centimeter thick.
Use a small 1-2 inch sized cookie cutter of choice to cut out your shortbread cookies, or a 1 1/2 inch round biscuit cutter.
Place cookies on a parchment lined cookie sheet, and bake for 12-14 minutes, until slightly browned on the bottom.
Remove from baking sheet immediately, and let cool. (Should make 3-4 dozen cookies depending on the size of cookie cutter you use)
Store in an airtight container for up to a week.
7.8.1.2
1118
https://www.eazypeazymealz.com/matcha-shortbread-cookies/
Pin to your Cookies board:

Get EZPZ Updates In Your Inbox!