This Morrocan Baked Chicken Breast and Quinoa Salad dinner is the perfect marriage of exotic flavors and easy prep. The chicken is brined for extra juiciness, baked in moroccan spices and served with a healthy quinoa salad packed with fresh produce and herbs.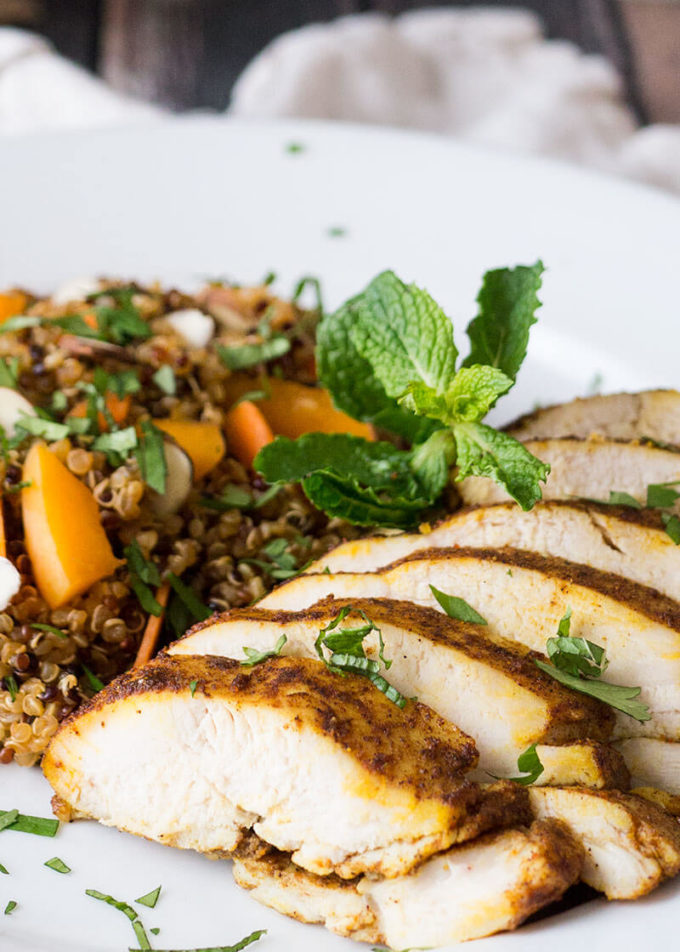 Moroccan Baked Chicken Breast + Quinoa Salad
©Eazy Peazy Mealz by EazyPeazyMealz.com
Pin it to your Chicken Dinner board to SAVE it for later!
Follow Eazy Peazy Mealz on Pinterest for more great tips, ideas and recipes!
If you love a dish that combines the sweet with the savory and adds a little bit of spicy heat on top you will love this Moroccan Baked Chicken Breast dinner.

MY LATEST RECIPES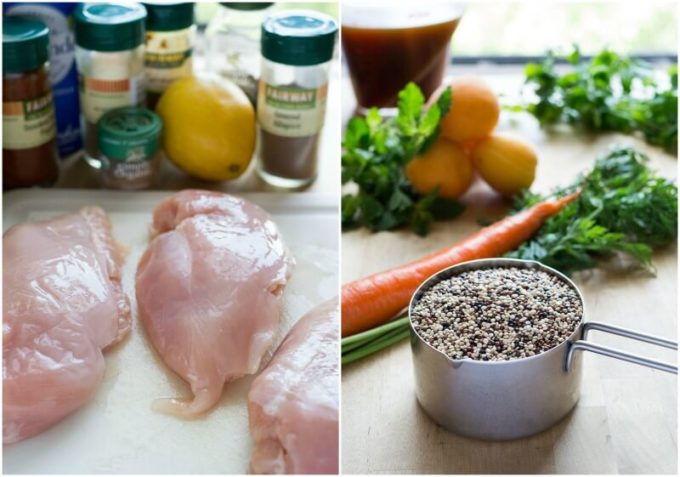 I created this spice mixture for my Moroccan Spiced Nuts Trail Mix way back in February. I've used and enjoyed it many many times since then including on oven baked chicken breasts.
However, I only recently learned a little trick that takes this chicken from good to over-the-top, eyes-roll-back-in-your-head deliciousness.
Care to know the secret?
Brining.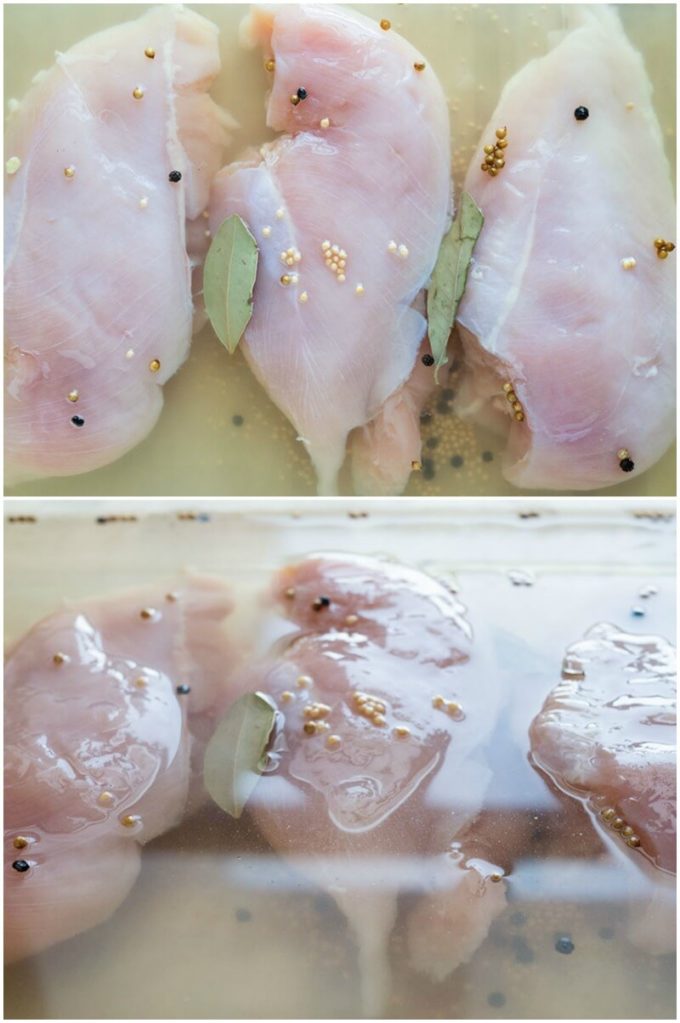 I will never not brine chicken breasts again. Yes, that was a double negative. That's how excited I am!
Look how happy they are! Swimming away in there! They were even happier in my belly.
All you need is some salt and sugar dissolved in water with a handful of other spices and your chicken will come out of the oven juicier and more flavorful than ever before.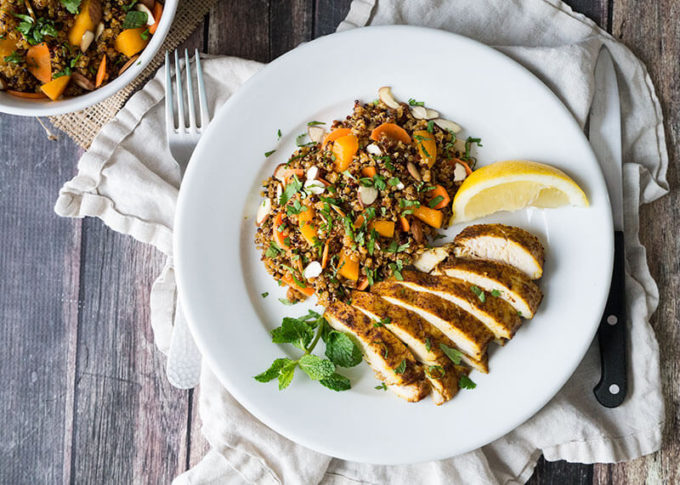 If you want to read more about the brining process, here's a great article by Huffington Post.
Or, like me, you can just take it as a gift from the culinary gods.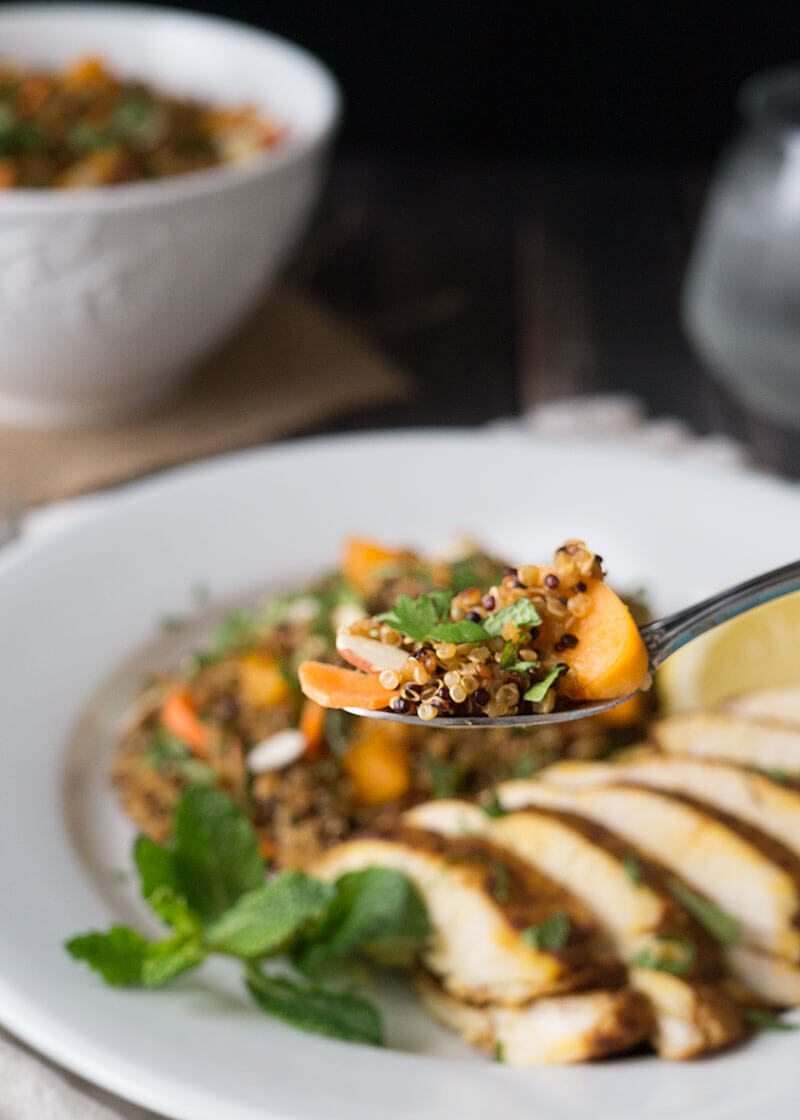 And let's not forget the other half of this meal. The texture of the quinoa with the almond slices. The juicy apricots with the burst of fresh mint.
I almost can't form a complete sentence about it.
It's the perfect match for this chicken in addition to making a wonderful, vegetarian and gluten free lunch with the leftovers.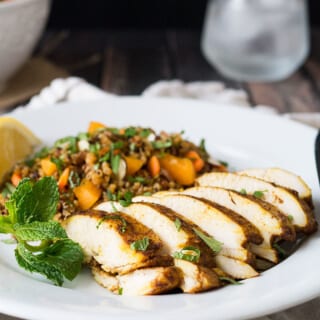 Ingredients
1 1/2

lbs

skinless

boneless chicken breast
For the Brine:
1/2

cup

sugar

1/2

cup

salt

table salt or sea salt

1

tsp

whole black peppercorns

1

tsp

whole mustard seeds

1

tsp

whole coriander seeds

2

bay leaves

3

cups

water
For Baking Chicken
2

Tbs

olive oil

1

Tbs

Moroccan Spice Mixture

see note
For the Quinoa:
2

cups

vegetable broth

or water

1

cup

uncooked quinoa

1

carrot

sliced thinly crosswise

2

apricots

pit removed and chopped

1/4

cup

slivered almonds

2

Tbs

chopped fresh cilantro leaves

2

Tbs

chopped fresh mint leaves
Instructions
In a saucepan, combine sugar, salt, peppercorns, mustard seeds, coriander, bay leaves, and water over medium heat.

Stir until sugar and salt are completely dissolved.

Remove from heat and let cool to room temperature. You can use some ice cubes if you like.

Place chicken breasts in a bowl or baking dish and cover with brine.

Let sit, covered in foil, in refrigerator thirty minutes to one hour.

In another saucepan, bring vegetable broth to a boil.

Stir in quinoa and let simmer until all liquid is absorbed, about 15 minutes.

Remove from heat and let come to room temperature.

Preheat oven to 400 degrees F.

Remove chicken from refrigerator and discard brine.

Rinse chicken breasts under cool water and pat dry with paper towels.

Put chicken back in baking dish and coat well with the olive oil.

Sprinkle spice mixture evenly over chicken and massage to cover surface evenly. Cover tops and bottoms. Also try to work it into any nooks and crannies of the breast.

Bake at 400 degrees for 20 minutes without disturbing it.

While chicken is baking, combine cooled quinoa with everything from the carrot to the mint.

Toss and top with a squeeze of fresh lemon juice.

At 20 minutes, remove chicken from oven and check temperature.

Chicken should be cooked to an internal temperature of 160 degrees.

If it's not quite there yet, put it back in the oven and check it every 3 to 5 minutes until it reaches 160 degrees in the thickest parts of all the breasts.
Notes
Moroccan Spice Mixture = 2 teaspoons of ground cumin, 1½ teaspoons cinnamon, 1½ teaspoons coriander, 1 teaspoon chili powder, ½ teaspoon turmeric, ½ teaspoon smoked paprika, ½ teaspoon cayenne pepper, ¼ teaspoon allspice, ¼ teaspoon ground mustard seed. Store leftover in air tight container in spice cupboard.
PIN to your CHICKEN board:

If you're always on the hunt for creative, healthy recipes then follow Mid-Life Croissant on Facebook.
Get EZPZ Updates In Your Inbox!