This post is sponsored by Princess Cruises, all opinions, and my love of cruising is all my own!
OceanMedallion™–The Medallion Class Experience is a new technology onboard some of the Princess Cruise ships. This tech that makes cruising even easier and more relaxing, something I had no idea would be possible.

I recently had the chance to take a cruise on the Caribbean Princess, Princess Cruises ship. This ship is equipped with the newer OceanMedallion™ technology. And wow, what an amazing experience. Because this is such a new technology, I decided it would be worth writing a whole post on it so you can understand what it is, and how it can enrich your cruising experience.
While I received a complimentary cruise to try this technology out, I can honestly say after cruising on several different cruise lines, and experiencing many different kinds of cruising, this is a technology I LOVE and really feel makes a difference in the cruise experience, from before embarkation and through out the entire duration of your cruise.
What is OceanMedallion™?
Before I get into what makes Medallion Class cruises better than other options, let's take a look at what it even is, and what it means to you. OceanMedallion is a technology I would compare to Disney Magic Bands, and was coincidentally developed by the same person.
It is a wearable medallion that when paired with apps opens up not just your stateroom door, but a world of possibilities on your Princess Medallion Class cruise.
Okay, if that felt cryptic, don't worry, I will explain. To start, it is a medallion you wear. You can wear it in a number of ways. It comes with a lanyard, but you can purchase accessories and wear it in whatever way makes the most sense for you. It is about the size of a quarter, has your name, and the date of your cruise engraved on it, and is FREE. It takes the place of your ship keycard. It is waterproof, and easy to wear and use.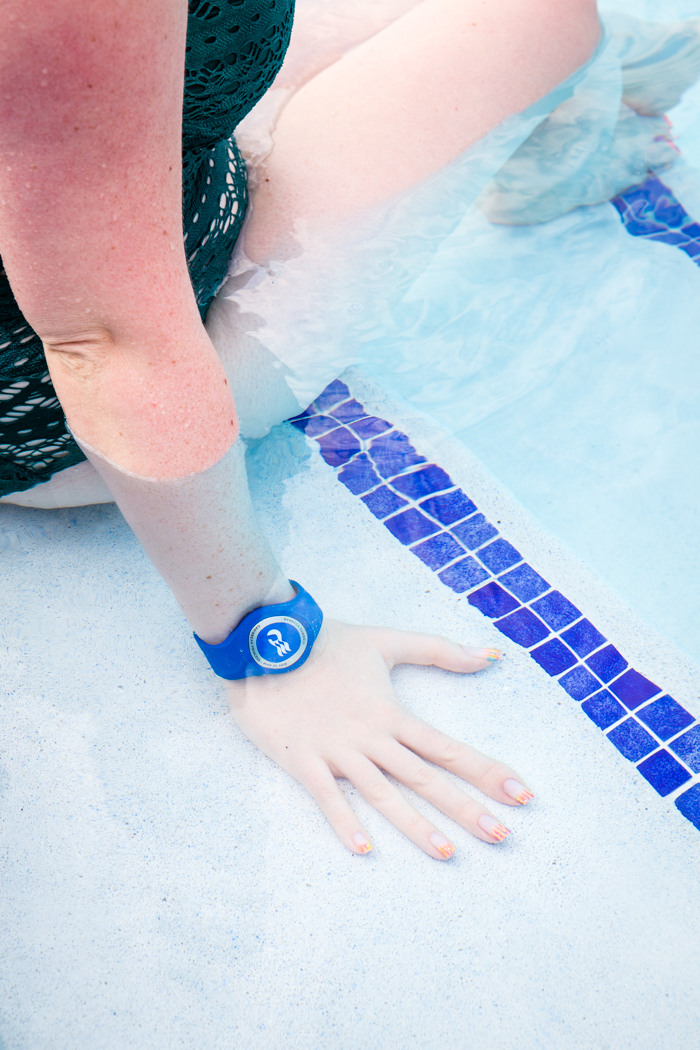 If you have cruised before, chances are you have been issued a key card that acted as your room key as well as your credit card. Ocean Medallion is the same thing, but it takes things a step (or several) further. It is not only a door key, your ship account, a form of ID, but it is also a personal GPS device so you can have things delivered to you wherever you are on the ship, as well as locate your shipmates, and get directions onboard so you never wander around wondering where you should be going again.
Basically it takes the Princess Cruise experience, which is already top notch, and elevates it, making it personal, easier, and more connected.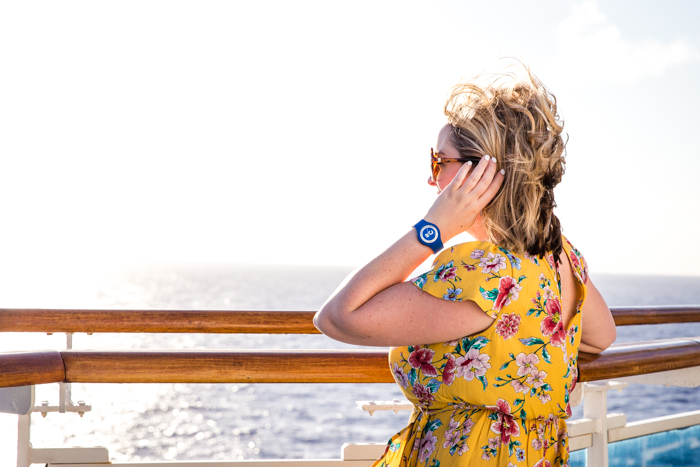 So how does it make it more connected? With Medallion Net.
MedallionNet™
MedallionNet™ is the onboard internet. And without getting into the technical elements of what makes this internet so much better for the user than the old system, let's just say it delivers land-like connectivity that is not limited by the minute.
I found it to be extremely affordable, as a weekly package works for up to 4 devices, and the cost is significantly less than what you traditionally pay for cruise internet. I believe the cost was less than $150 for 7 days and 4 devices.
But beyond the affordability, let's talk about how great the internet actually is. It doesn't matter how cheap it is if it doesn't work, ammiright?
It works. Well. When they say it delivers land-like connectivity, they weren't kidding. I was able to FaceTime with my family, send emails, check and update my social media constantly, utilize my apps that require internet connectivity, stream a show, listen to streamed music, and stay connected everywhere I went on board.
I found that uploading large video files to my blog was a challenge. And when I was sharing really large files it took a little longer than it takes me at home. But overall I found it to be reliable, fast, and awesome. I really tested the limits of this ship internet, posting photos, videos, chatting with my family, texting, and streaming, and the connection was incredible.
And with the connectivity, it meant I could better utilize all the awesome apps that are part of OceanMedallion.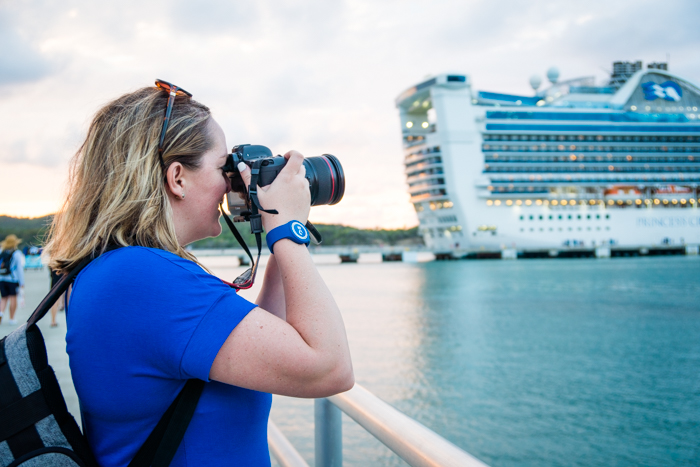 OceanMedallion Apps:
Ocean Ready™
This is the first app you should download, and it is what you use to basically create your account so you are ready to start cruising. In this app you will upload a photo, put in your travel documents and some personal information, and Princess Cruise reservation number.
It is how you create your ID portfolio, and the photo you put in will be what displays anytime you scan your medallion while on board. So maybe make a little effort 😉
Once you have completed filling everything out in the Cruise Personalizer (online on the Princess site), and the Ocean Ready (app), you will get what is equivalent to a boarding pass. It can be a little tricky to find as the link you click to get to the boarding pass doesn't look like a button like the rest of the buttons. But it is near the top and it is clickable text. Once you get to the boarding pass I suggest taking a screenshot so you have a pic of it on your phone, just in case you don't have great service in port.
Once you have gotten to this point, you basically don't need this app again.
Ocean Compass™:
Ocean Compass was one of my favorite parts of Ocean Medallion because it made navigating the ship easy, has a chat feature to allow you to chat with shipmates you add, and even has a feature that lets you find your shipmates. This is your GPS. Or Waze for the ship. You can use it on your personal smart device, or use the portals throughout the ship to use it.
A few times we were heading to dinner and couldn't remember which floor the restaurant was on, all we had to do was pull up the map. It gave us a step by step route to follow. It was very convenient, and meant less time wandering and more time having fun.
I particularly love the Shipmates feature, which allows you to find your family and friends (the shipmates you add).  Want to know where they are? Look them up. Don't want someone to be able to find you? Turn the feature off for yourself. There are lots of safety features on this, so if you are traveling with kids, don't stress out about them being stalked by strangers. Under 18 has to be in your stateroom or on the same reservation for you to be able to add them as a shipmate in the app. And if  you don't want someone to be able to find you, you can turn that feature off for them.
Ocean Now™:
To be honest, this was my favorite part of the Ocean Medallion. I keep trying to come up with a way I can implement this at home.
What is Ocean Now? Princess Cruises takes the idea of personalize service to a new level with this one. Basically it is a way to order drinks, food, and even things like sunscreen or aloe vera to be delivered to you right where you are, so you can spend less time waiting in lines, and more time enjoying the things the ship has to offer!
During  the week I was on board several new items were added to the Ocean Now selection, and I am sure it will continue to expand. You can request services like ice for your stateroom, or more hangers.  You can make retail purchases for things like sunscreen and aloe vera, but also a bag, jacket, etc.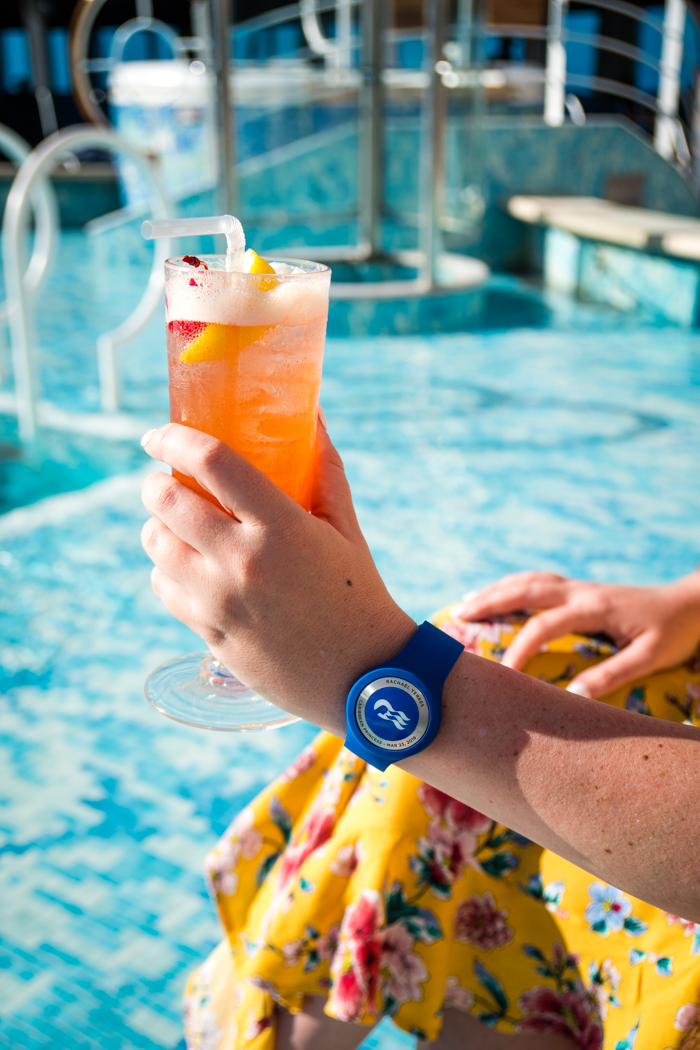 As a foodie at heart who loves a good beverage, the feature I used the most was ordering food/drinks. You can order food and drinks to be delivered to your location. This doesn't work all the time, and depending where you are on the ship, the selection may be limited. But there  is a lot of coverage, and it is quick. I certainly took advantage of this feature while sitting poolside. I was reading a book and didn't want to stop to get a drink, so I just used the app to order one to come to me.
I ordered drinks and pizza on my first day and had them in hand within 5 minutes. I ordered drinks to my stateroom and about 7 minutes later they arrived. I ordered fries to my pool lounge and had them in 4 minutes. It is quick and simple.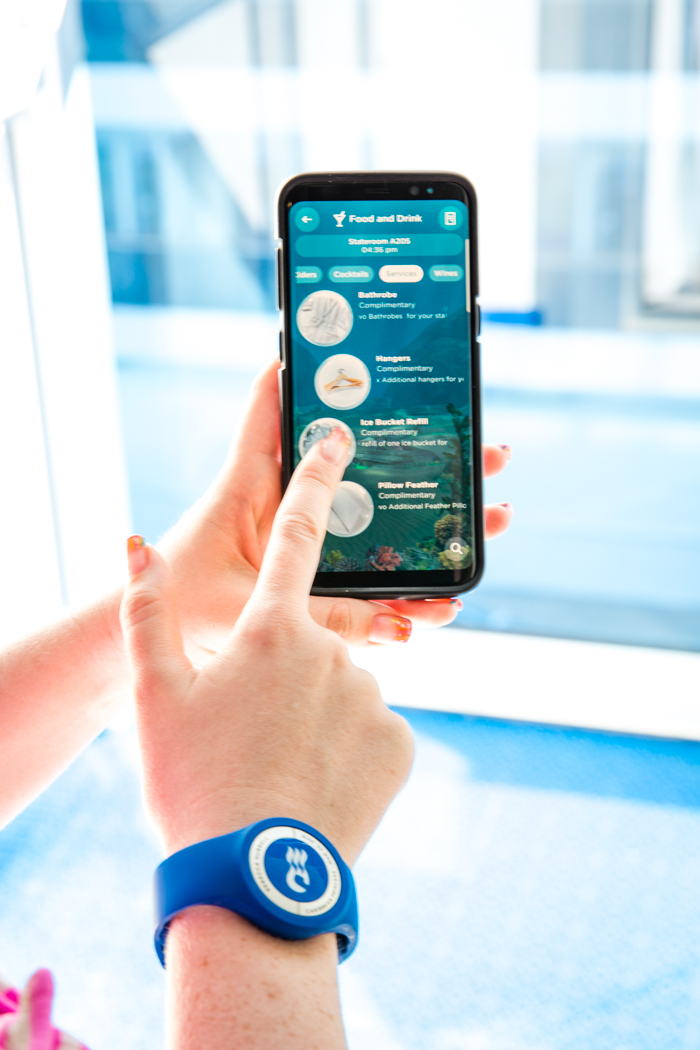 Play Ocean™
Play Ocean is a fun interactive part of the Ocean Medallion. It is a series of games, quests, and activities you can play while onboard the ship. You create an avatar called a Tagalong, and use it when playing the games.
You can play against others on the ship in racing games, etc. You can do quests and scavenger hunts that take you all around the ship and are surprisingly fun, or you can play little puzzle games on your own.
And you don't have to have a personal device to do this. You can play on the various portals around the ship. Just scan your medallion and pick the game!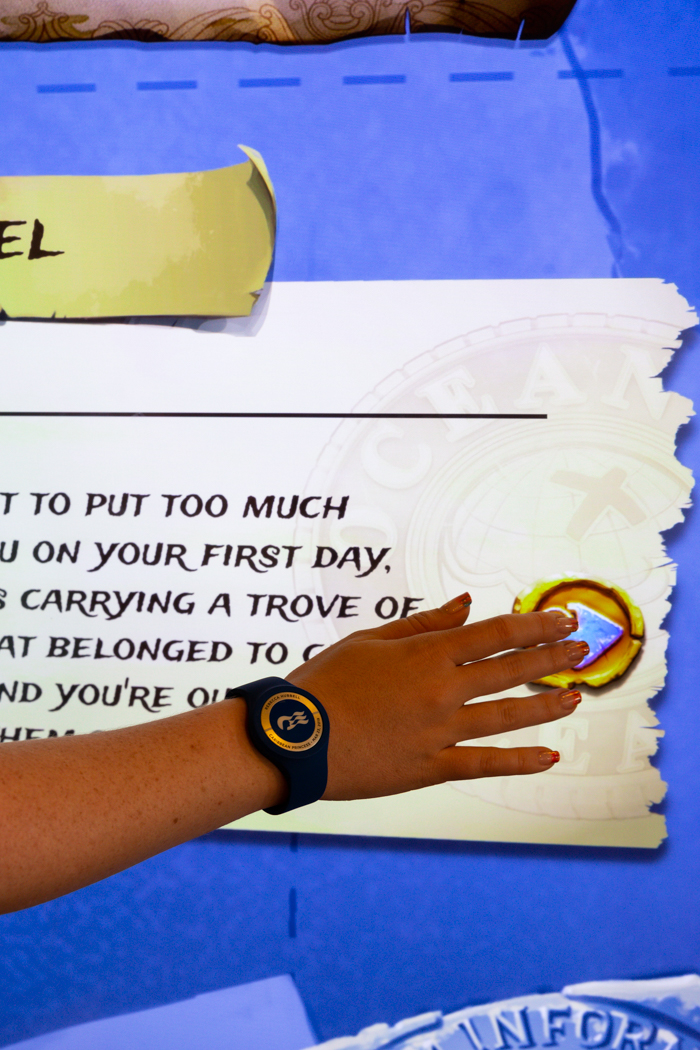 Ocean View™
Princess Cruises wants your cruise experience to be immersive and fun from the planning stages forward. And as a part of this they have created their own channel of original content–Ocean View. There are several shows you can watch, from Mixology to Travel. And the best part, watch it on the show, then experience it.
Good Spirits is one of the shows, where you can see how various cocktails are created around the world, then when you are onboard the ship you can actually try the cocktails in the Good Spirits bar.
We booked an excursion to visit a waterfall and we weren't sure what to expect. Lucky for us there was a show on Ocean View that showed the excursion, which for the record was amazing.
So whether you are looking for entertainment before going, or want to get more excited about what you will be experiencing, or want to get educated on what something is, where it originated, etc. This is a fun app you can use, as well as a channel you can watch from your stateroom.
Ocean Casino™
Love to gamble? This is the app for you. With Ocean Casino, you can wager real money on slots, poker, bingo, roulette and more right from your phone. I did not personally utilize this app, so I do not have much to add on this one.
Ocean Concierge™
As of right now, this is not an app, but is available on the Princess website. They are working on making it more accessible on your personal device. I found it fairly easy to use before my cruise from my desktop. Before the trip, use it for everything from planning events and activities to browsing restaurant menus and reviewing the ship's itinerary. Once you are cruising, you use it to see your stateroom account.
Room Key
One of the things you are going to love about the Medallion is that it is a hands-free room key. It is awesome, as you walk up to your room it recognizes the medallion and unlocks your door. So, no need to dig through your bag, or try and locate the medallion, just open the door!
This is actually really awesome for so many reasons. But additionally, it can let your stateroom attendant know when you are in your room, so they can clean, and bring you the daily updates etc. when you aren't there. Very convenient.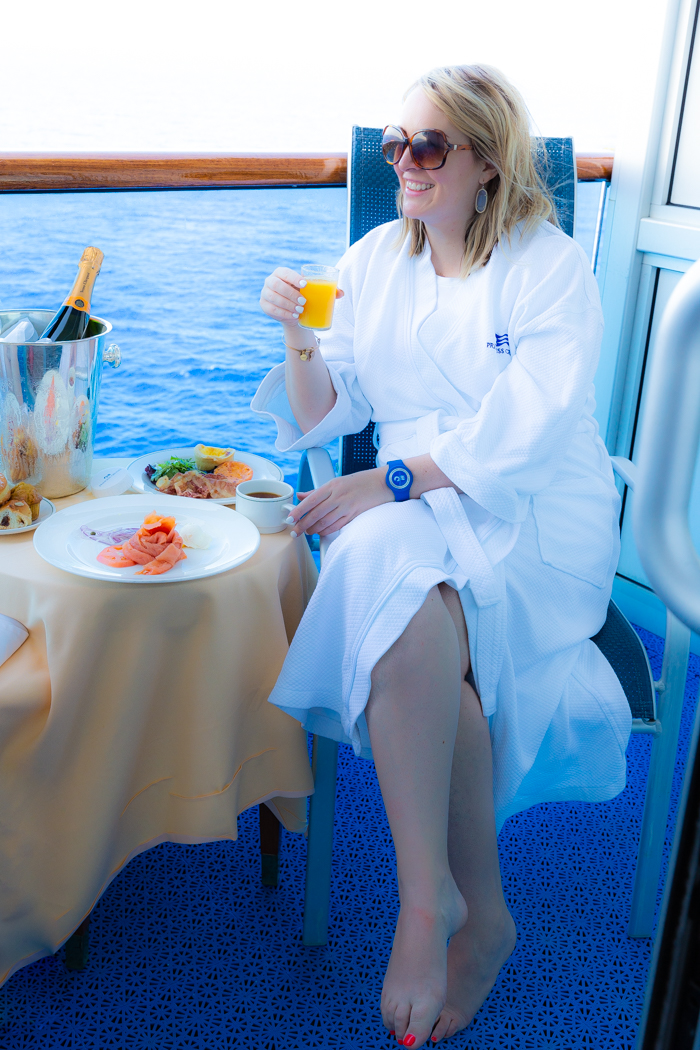 Check-In and Check -Out
My second favorite part of the Ocean Medallion is how quick and easy getting on the ship and off the ship was. The original embarkation was pretty simple because using the apps beforehand meant all my info was already in place, and all I had to do was scan my medallion and my ID so they could confirm I am who I said I am.
Embarkation and disembarkation at the ports is also super simple. I suggest taking your Passport with you, as you are going to be in other countries, and that is just smart. But you don't really need it. If you do, they will let you know before you get off the ship.
Honestly,  it is so easy, very few lines. We would just walk off the ship, scan our medallion, and keep on going. The staff gets a photo of you, and your name, and greets you by name as you go through. So fun.
After spending way too many vacation hours standing in lines, it is nice to avoid that while cruising.

You  can learn more OceanMedallion and Princess Cruises on this FAQ page.
The Downside?
I was trying to figure out if there is a downside to the new OceanMedallion, so I spent a good part of my week asking other cruisers (who weren't there working, but actually on vacation), what they thought of the technology. And here is what I learned:
Understanding What it Does
One of the biggest drawbacks is if you don't know what it can do, you can't utilize it. Just like buying a nice camera does not make you a great photographer, being on a Medallion Class Cruise will not instantly make the cruise experience better.
There are definitely aspects that will improve just by being on the ship, like having your stateroom door unlock when you near it, or having an easier disembarkation and embarkation process.
However, if you really want to get everything out of it, it is worth attending the orientation, or doing a little research, download the apps, and play around with it so you can learn what it does and thus utilize every aspect.
Lots of Apps to Download
Ok, so I know how obnoxious it feels to have to download a bunch of apps. My personal biggest complaint was that. I didn't want a bunch of apps, or to have to login to each of them separately. However, this technology is huge, and does a lot. Having everything in one app would mean it would be very big, slow, and cumbersome. So, instead Princess broke it up into smaller apps, which is great because you only have to download the ones you want to use and need.
I actually found by the end of the week I didn't mind that each app had a different purpose.
Have to Buy Internet to Fully Utilize
While to some extent this is true, the beauty of this new technology is you don't lose anything in the switch. And you gain so much.
Yes, to be able to use the Ocean Compass to navigate from your phone, find your ship mates, or use Ocean Now to get drinks delivered to right where you are, you need your personal device to have Medallion Net.
However, the whole ship is equipped with large pads that allow you to see the schedule, use Play Ocean, and more. So, while it is super handy to have your own device, the benefits are not outside your reach if you choose to stay disconnected at sea.
Hiccups
This is a new technology that is being rolled out, and with that there are going to be some hiccups, like glitchy apps. Fortunately, they are working hard to improve the technology and work through the glitches, as well as release new features.
I found when my app was acting up, logging out and back in solved the problem.
Checking your Folio
After speaking with several people during my cruise, and asking what they thought of the Ocean Medallion, the biggest complaint I heard was not being able to check your balance on your folio on your stateroom TV anymore.
While this may be slightly inconvenient, you can always go to the kiosk near the Information Desk and simply let the reader read your Medallion, and print out your folio. You can also use OceanConcierge to check your stateroom account.
Overall, while there are a few kinks to be worked out, and the Princess team will be adding more and more to the apps and availability, I found Ocean Medallion to enhance my cruise experience in a significant way. I know my kids will love the games, I will love being able to find them easily, and as someone who works online, I love being able to be as connected or not connected as I wish!
So there you have it, the OceanMedallion is part of the Medallion Class Experience, and when utilized it can amplify your cruise experience, making it easier, and more relaxing. So take the time to learn how to use it and enjoy!