This post is sponsored by Vital Proteins, all opinions are my own.
Collagen Protein Gummy Bears
Delicious and fun Gummy Bears packed with protein, and low on the refined sugar. These healthy treats are the perfect addition to your kid's back to school lunchboxes for a tasty snack you can feel good about.
These protein gummy candies are only three ingredients and take only minutes to throw together, making them an easy treat! They do NOT have the same consistency or overly sweet flavor of a traditional gummy bear, so let's be clear about that up front. However, they do taste great, and are super cute and fun!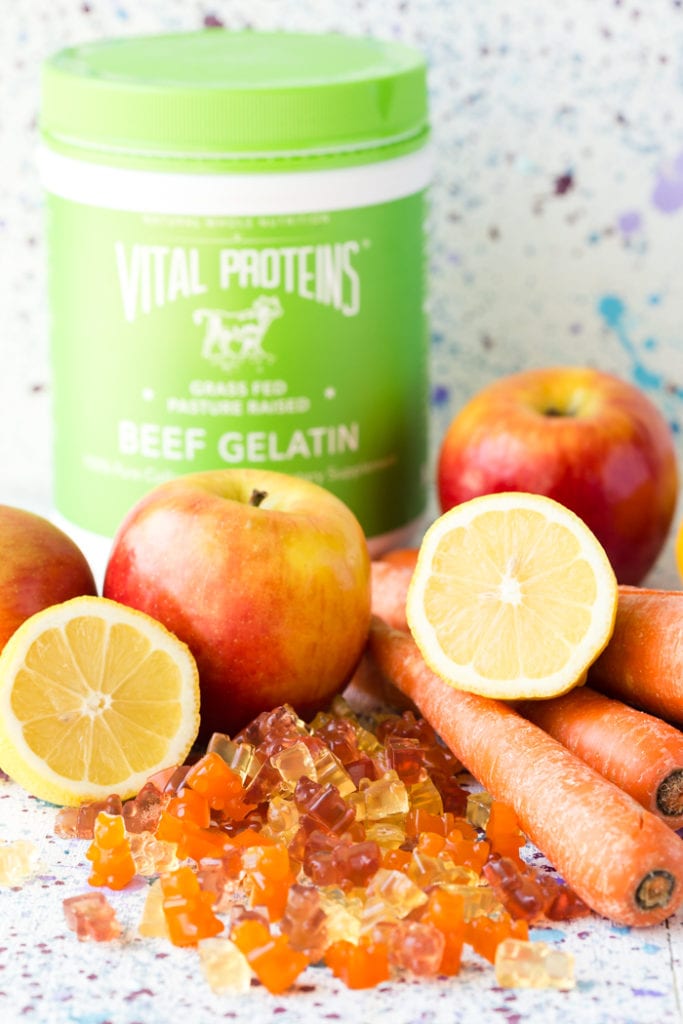 Healthy Gummies
My kids love having treats in their lunches, but I get really tired of them eating processed foods full of refined sugars. And I know that since these lunches are heading to school with them, I can't monitor if they are actually eating the fruits and vegetables I send, or dumping them. This is why I was so excited about the idea of a collagen protein gummy candy.
By making my own gummy candies, I can give my kids what they want–a treat! But feel good about it because I have complete control over what goes into that treat.
These protein gummy bears are perfect because they are so easy to make. Require only a few ingredients, and you can customize what goes into them to fit your needs.
Only 3 Ingredients
Juice: I decided to use fresh fruit juice and used my juicer to take apples, carrots, and lemons and make a juice mixture to make my gummy candy with. I also tested the recipe with a bottled juice I purchased, cranberry. And with a fresh bottled juice I purchased, apple. I found that it made little to no difference other than the flavor. The bottled juice was the least flavorful, the one I juiced at home the most. So use whatever is most convenient for you! I loved juicing my own fruits and veggies to get a healthy juice to use as my base.
Gelatin: The kind of gelatin you use is going to be a big part of whether or not these turn out to be a healthy alternative, or just an alternative. I used Vital Proteins Beef Gelatin. Now, you already probably know how much I love Vital Proteins. It is such a high quality protein and I have been adding their collagen peptides, and other products to my diet and my kid's diet for years. I love this beef gelatin because it is unflavored, and adds collagen, which is so great for hair, skin, and nail health.
Sweetener: Ok, this is super important, you have to use honey, agave, or corn syrup (eek!!) if you want to get the right consistency. You can't use just plain sugar. The sucrose molecules in sugar will form sugar crystals and ruin your gummy bears. I opted for a honey that was a local honey, and it was slightly crystalized, but worked great once heated.
Collagen Protein Beef Gelatin
I used Vital Proteins Beef Gelatin because it is a high quality protein packed gelatin. To be fair, all gelatin is protein packed, but not all protein is created equally.
Vital Proteins is made with pasture-raised, grass-fed bovine hide.
This gelatin powder is super versatile as it can be mixed in both hot and cold liquids, and used in a variety of recipes.
Vital Proteins gelatin supports digestive health, has no artificial flavors, supplements or fillers – just bovine hide gelatin, and is gluten free, Paleo friendly, and Whole30® approved.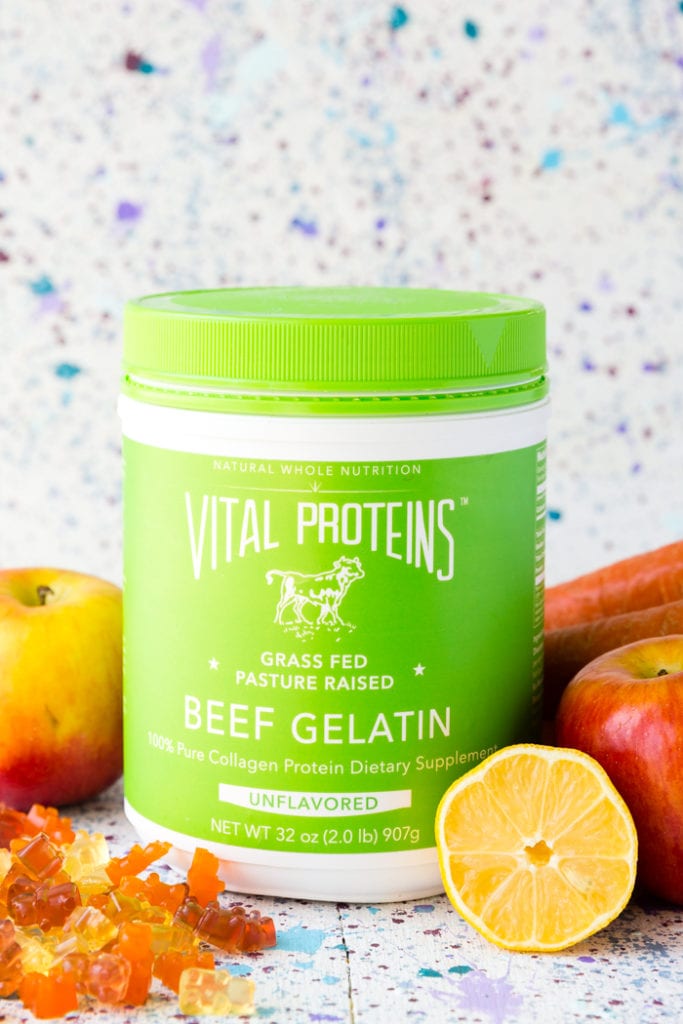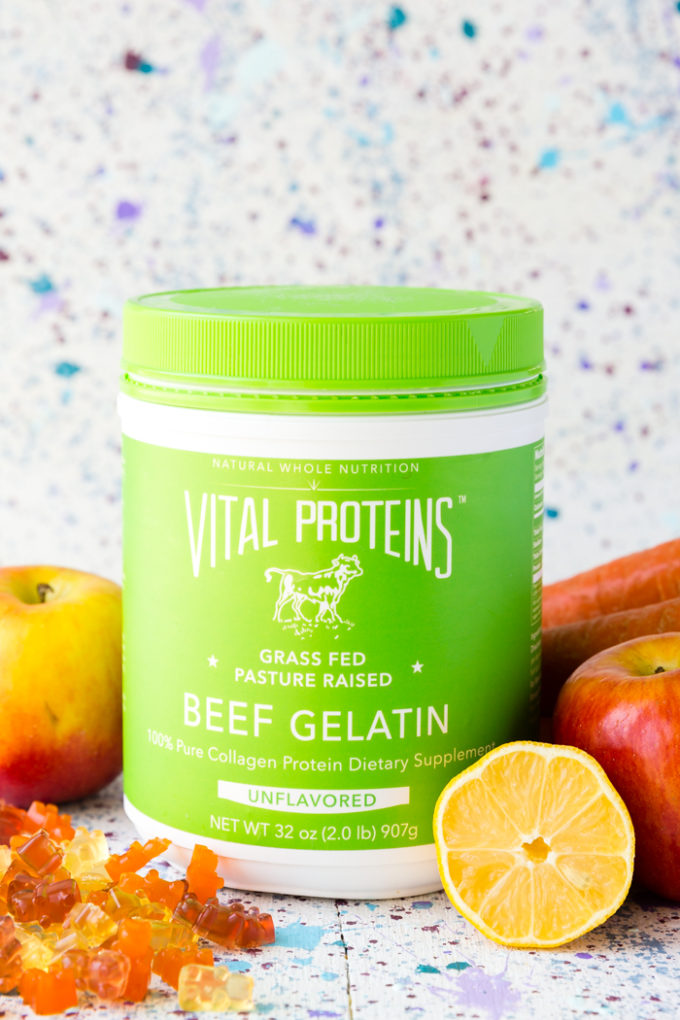 How do they compare?
Ok, so now that you know what I used to make my gummy candy, and why, let's look at how they compare to the kind of gummies you guy at grocery store.
After doing a ton of research I realized a couple of things, the only way to get my gummy bears to taste like a candy gummy bear with the same consistency and chewiness is to use corn syrup, citric acid, and to put in at least 3 days of time. And that just doesn't fly with me. Frankly, I would rather buy them because they aren't going to be as healthy as I want, and take way too much time and effort since they are so inexpensive to purchase.
These gummy bears will be a regular thing we make at our house, but they aren't a substitute for the candy.
So, here is how they compare, and what you can do if you want something more true to what you buy:
Taste: These gummies are milder in flavor than a traditional gummy bear. The idea here is to have a natural gummy candy that isn't full of additives and extra flavors so it can be a healthy alternative. The result is a far milder flavor than the candy you purchase. If you want a stronger taste you have a few options:

Use a concentrate instead of a juice. Make your own by boiling your juice down to reduce it.
Use citric acid: Citric acid is what is used to make candy sour, but it can also be a great way to enhance flavor if you only use a little bit of it. Even 1/4 a teaspoon should do the trick. Find Citric Acid on Amazon here.
Add more sweetener.

Texture: This is where I struggled the most with these gummy bears. I am a gummy lover. And one of my favorite parts of gummy candy is the chewiness. After testing this recipe 4 times with different amounts of gelatin, sweetener, and liquid, and searching the web for recipes and advice for getting the texture I wanted, I came to the conclusion that in order to get the texture of a gummy candy I would have to sacrifice health and time. One article I read said they let their bears dry out for 72 hours to get the chewy texture. So, while these resemble the shape and fun of a traditional gummy candy, please note the texture is more like a stiff jelly. My kids loved them, and I found them to be a fun treat if not a total substitute for gummy candy.
I did make one batch and let it sit out for a couple days, and they shrunk a lot, and did in fact get that chewier, more gummy bear like texture. So I was pleasantly surprised by this, but I will say it was hard to keep the kids out of them to let them dry.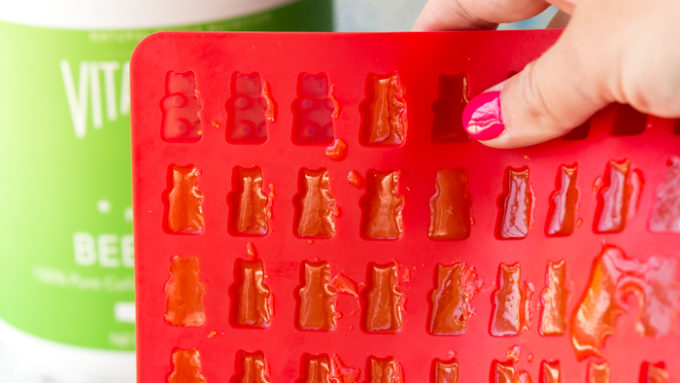 Tips:
For a stronger flavor be sure to boil your fruit juice down so the water in it evaporates and you get a more concentrated flavor. You could use a fruit juice concentrate if you do not want to juice your own fresh fruit.
Use citric acid to enhance flavor or make sour bears! Find Citric Acid on Amazon here.
Expect the texture to be more jelly/jello like than gummy.
Whisk your Vital Protein Beef Gelatin Collagen Protein in slowly, if you dump it in too fast you will get big clumps. If this happens, just scoop the clumps out, and add a little more gelatin in, slowly this time!
Taste and make sure you like the flavor and sweetness before you fill your molds. Adjust accordingly.
Make different flavors and serve your gummy bears in a mix for a fun experience.
Use SILICONE MOLDS to make it really easy to get your gummy bears out. I bought these ones from Amazon and loved them because they were the perfect size, and were super easy to get the bears out of and to clean.
I read a few things that said not to whisk your mixture as this aerates it and messes with the texture. However, after extensive testing, I noticed little to no difference between whisking and stirring. So do yourself a favor and whisk. then tap your pan gently to release any air bubbles that might cause your gummy candy to have bubbles in it.
Lunchbox Ideas
Once you have made your collagen protein gummy bears, use them in your lunches. These are a few fun back to school lunchbox ideas. Customize them to the size and preferences of your eaters!

Lunch box 1:

Crackers
Fresh veggies
Grapes
Cheddar cheese
Veggie Straws
Collagen Protein Gummy Bears

Lunchbox 2:

Salami
Pepperoni and mini pepperoni
Cheddar and Colby jack cheese slices
Fresh veggies: Sugar snap peas, sweet mini peppers, cauliflower, cucumber
Crackers
Collagen Protein Gummy Bears

Lunchbox 3:

Mini quesadilla
Salsa
Blue corn tortilla chips
Fresh veggies: carrots and sugar snap peas
Melon: watermelon and honey dew chunks
Collagen Protein Gummy Bears

Lunchbox 4:

Salami
Crackers
Fresh veggies: cucumber, sweet mini peppers
Grapes
Collagen Protein Gummy Bears

Lunchbox 5:

Fresh veggies: carrots and celery sticks
Fresh strawberries
Collagen Protein Gummy Bears

Lunchbox 6:

Flatbread dippers
Hummus
Fresh veggies: carrots, cucumber, grape tomatoes, peppers, celery
Collagen Protein Gummy Bears

Lunchbox 7:

Hard boiled egg
Cheese sticks
Fruit: kiwi, cuties
Veggies: cauliflower, grape tomatoes
Collagen Protein Gummy Bears

Lunchbox 8:

Greek yogurt cup
Granola
Fruit: strawberries, blackberries, blueberries, grapes
Collagen Protein Gummy Bears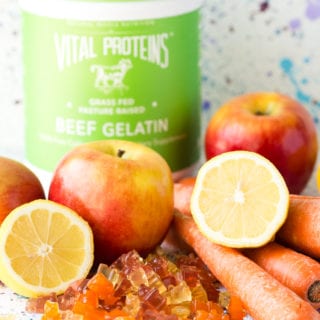 Protein Gummy Bears + Lunchbox ideas
A protein packed healthy gummy bear that is perfect for back to school lunches for kids.
Print
Pin
Rate
Ingredients
1

cup

juice of choice

I juiced 2 carrots, 1 fugi apple, 1/2 a lemon

3 1/2

Tbs

Vital Proteins Beef Gelatin

3

Tbs

Honey
Instructions
Over medium-high heat, add juice to a sauce pan and bring to a slow boil.

Add honey, and stir until it dissolves.

Once honey is dissolved, slowly whisk the Vital Proteins Beef Gelatin into your liquid, whisking the entire time so as not to get clumps.

Once gelatin is mixed in, remove from heat, and pour into

Gummy Bear Molds

or use eye dropper to fill molds.

Put in fridge and let set for 20 minutes.

Remove from mold by popping them out of the silicone by pushing on the exterior.

Put in airtight container and refrigerate up to 10 days.
Notes
!Also Needed
Gummy Bear Molds
This recipe will fill the Gummy Bear Molds linked here perfectly. Be sure not to underfill your molds, as the gummies will end up very thin.
Slowly whisk in gelatin so you don't have clumps. If clumps occur, spoon them out, and add a little more gelatin in.
For more flavor, reduce juice before adding other ingredients.
To get a chewier, gummy bear like consistency. Let the gummy bears sit out for 2-3 days, they will shrink a lot and become much chewier.
Our recipe card software calculates these nutrition facts based on averages for the above ingredients, different brands, and quality of produce/meats may have different nutritional information, always calculate your own based on the specific products you use in order to achieve accurate macros for this recipe.
Want to use this recipe in a meal plan?
Try PrePear, my FREE Meal Planning App that allows you to save your recipes, plan meals, shop for groceries, and cook simply in one place. Join Here!
Pin to your Back to School Board: