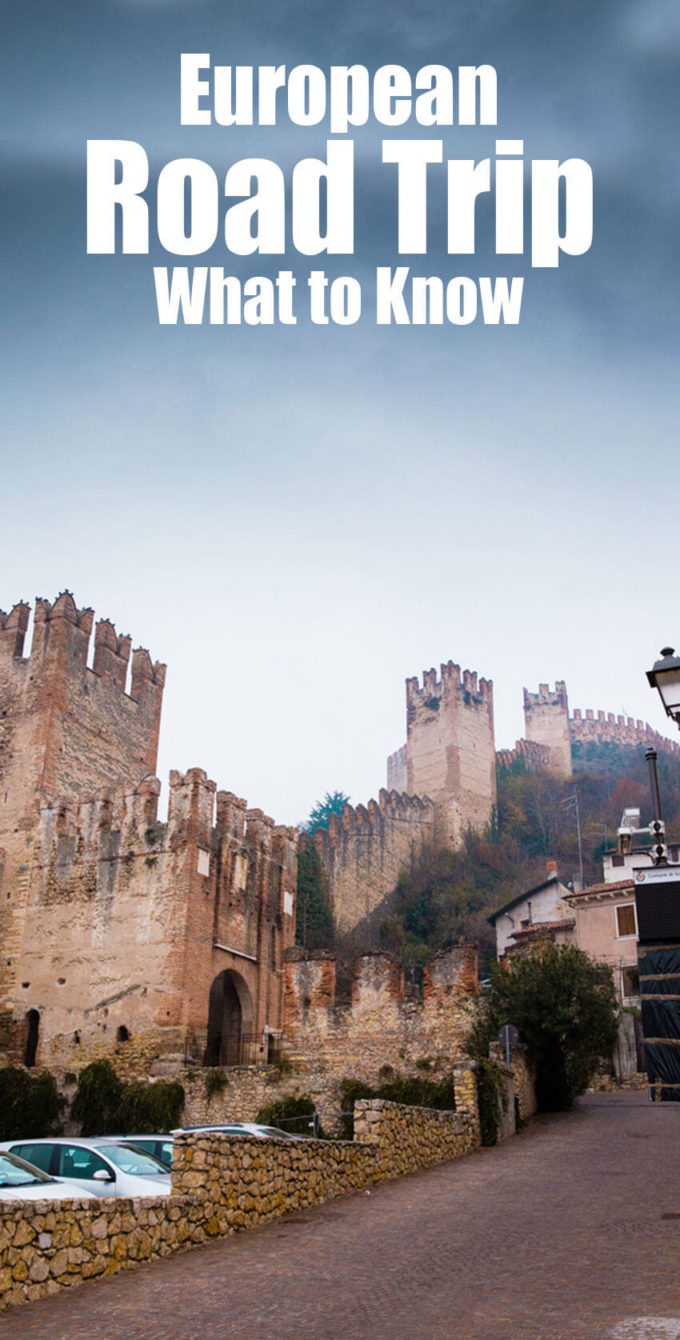 I just completed my third (maybe fourth?) road trip through Europe, and loved it, but after driving through over 15 countries in Europe, I can safely say I have learned a thing or two about what you should know before you go! And how to make a European Road Trip a success.
Road Tripping Through Europe is a totally memorable experience, but truthfully it can be totally frustrating and awful if you don't go prepared. There are a lot of similarities between driving in the US and driving in Europe, but there are also tons of differences. Knowing what to expect upfront will make your experience so much better!
In this post we will cover:
Choosing your car
Tolls and fees
Rules of the road in Europe
Navigation and route planning
Pumping Gas
Choosing snacks
And more…

Choosing your car
What you drive is going to make or break your road trip. When I was road tripping through Italy with my son, we went with a teeny tiny Fiat. We needed space for some luggage, but since there were only two of us, and we were planning to drive through the Amalfi coast, as well as up near Lake Como on tiny mountain roads, we knew a small, compact vehicle would be key to enjoying our time.
When we road tripped in Ireland we found it extremely difficult to drive a stick shift on the opposite side of the road. When driving across Germany, a larger car was fine. As you can see, where you are going, the size of the roads, as well as the number of people you have with you should play a role in selecting your car.
My suggestions:
Automatic: Research your rental. Do NOT make the mistake of assuming you are renting an automatic. Most European rental cars use stick shift (standard transmission), so if you can't drive a standard, or don't want to, be sure to ask for an automatic. Changing gears, especially on narrow, winding roads, with street signs in a different language, and unfamiliar directions is challenging. Just know you will likely pay more, sometimes as much as 50% more for an automatic transmission, but it is usually worth it in reduced stress.

Pro tip: It's usually cheaper to arrange rentals from the U.S. especially if you want an automatic. So shop ahead, and check the contract carefully.

Smaller cars are better (so many roads are tiny): Usually when road tripping you want a car with some space, especially since you are going to be spending a lot of time in the car. But in Europe the roads are usually far smaller than in the US. They usually have no shoulder. And people tend to drive a little more aggressively. Having a smaller car can help reduce anxiety. In addition, smaller cars are usually more fuel efficient!
Same model you own: Because road tripping in a foreign country is often confusing enough as it is, I love to try and rent something I have driven before. That way you know where everything is (buttons, wipers, fuel tank, etc.), and it is more comfortable.
Get to know the car: Before you leave the rental place you want to take a minute to familiarize yourself with the car, and test everything out. Taking time, even 5 minutes, to get familiar makes you safer while on the road, and means you aren't searching for the wiper button in a panic when it starts raining unexpectedly and you can't see a thing. Check the following:

Headlights
Wipers
Gear shift
Heat/AC
Know the fuel type (diesel vs. unleaded), and how to release the gas cap
Seat and mirror adjustment
Tolls and Fees
Prepare for tolls.
It is a fact of life when road tripping in Europe, you will be paying for tolls. Sometimes the rental car company will have a vignette sticker in the window that will cover tolls and they will just be added to your cost of your rental car. But sometimes not.
It's free to drive on some expressways like the autobahn in Germany. But most countries charge tolls for their highways. When you go through the tolls there are a lot of automatic and cashless options, but sometimes you can pay right at the toll. Chose that option so you do not end up with a ticket. If you think you can just avoid the tolls and go through the auto one without paying, think again, chances are you will get a nice fine of about $150.

Pro Tip: Check with your rental car company to see if you can get a permit sticker for the tolls, and if not, you can usually buy one at border crossings, gas stations, and post offices. Take a minute to pick one up so you can save yourself some fees from fines.

Parking.
Usually parking is not free. If you are staying in hotels, ask if they have parking, and book the parking when you book the room. If your hotel doesn't have parking there may be a garage you can park in, but this can be extremely expensive. If you want to save some money, it is often cheaper to park in a garage on the outskirts of a city, then cab or use public transport to get to your hotel. Even if your taxi costs 20 Euro, that can beat a 20 Euro a day charge at a parking garage.
When driving in major cities, you will often have to pay not only really high parking fees, but a fee for driving in a congested area. Avoid driving in cities like London, Rome, and Stockholm, and instead opt for their excellent public transport.
Take time to learn what the different pavement markers mean. We were in Lednice, Czechia, and thought we had free parking, only to find out it wasn't, and instead of spending $6 on parking, we got hit with a hefty fine/ticket. Learn from our mistake. Some curb colors mean free parking, some mean no parking. Look for signs. Ask locals. And when in doubt, don't park there. You do not want a ticket, or boot.
A lot of Europe operates with ticket, pay and display machines. So always scan the area and look for one. This allows you to use a parking lot or garage and only pay for the time you intend to be there.

Rules of the road
Learn the rules of the road.
Taking a few minutes to learn some of the "rules" before you head into a foreign country can mean avoiding a run in with the local law enforcement, as well as keep you safe.
How do you learn the rules? You can ask your rental car company, or check the U.S. State Department website (search for your country in the "Learn about your destination" box, then click "Travel and Transportation").
Speed Limits
Unlike in the US where going over the posted speed limit by a few miles is almost expected, and certainly accepted, many places in Europe have strictly enforced speed limits, and are monitored by cameras that click a photo, and will send you a ticket by mail. Even 5Km over can result in a $40+ speeding ticket. Not a fun souvenir to remember your trip by.
So pay attention, and follow to the letter. Even if you do not get a ticket in the mail, you may have been fined, closely check your rental car statement and you might see that the ticket price was sent to the rental company and they billed you.
Passes to Drive
Depending on where you are in Europe, you may need a special pass to drive in the country/city. The Eastern countries specifically. As you drive near them, you will likely see signs that indicate as much and encourage you to pull off and buy a sticker/vignette. Basically it is a sticker you display in your window that will allow you to drive in a particular country for a certain number of days. They're not super expensive at around €20 each, but it's worth knowing.
Some European cities have low emission zones that you need a sticker for too. You can order these from your own country before you leave, or get them from gas stations.
Gas Stations
One of the things I find the most frustrating when in Europe road tripping is the gas stations. They are so confusing, which is probably why there are approximately 5 billion YouTube videos dedicated to the subject. But here is the low down. Just expect them to be confusing and ask for help.
Some are going to be manned by an attendant. Those are my favorite because I don't have to do anything but pay. But if you happen to go to one when the attendant isn't there it can get super confusing. Unlike in the US, many European gas stations do not have the option to pay at each pump individually, there is often a center payment terminal and you have to indicate which pump you are at, and how much you want to pay.
Some places require you to pay inside. And often you pump first, pay second! Totally crazy since I can't think of a single gas station in the US that still allows that. We were in Switzerland at a gas station and getting super frustrated trying to figure out how to pay when we realized it wasn't working because we had to pump first then pay.
Once in Italy I was driving on fumes because I went to 4 different gas stations and couldn't figure out how to get gas. So I waited until the next day when the attendant was back and swore I would never drive there again. Hahah not true, but you get the point. So confusing.
So bottom line, there is almost no standard, and it is best to ask. If you can't figure out the terminal try pumping first then head inside to pay. Sorry, wish I could be more helpful on this one.
Navigation and Route Planning
My NUMBER ONE tip for road tripping through Europe is to have a Sat Nav. A GPS, even if it is a maps app on your phone is going to save you a lot of headache. However, keep in mind that even GPS can get it wrong, or there may be road construction, or some other hiccup. So take a few minutes to look at the route, and orient yourself with what major cities are in the general direction of where you are going. This way you can keep an eye on road signs, and when in doubt follow the ones that lead at least in the general direction of where you are headed.
Bring a GPS.
Know the general way before setting out so you can keep an eye on signs.
Have a paper map as back up for when you don't have service, power, etc.
Always give yourself more time than you think you will need.
There are often cities in Europe with the same name as other cities in Europe, so check and double check you have things input correctly so you don't end up hours out of the way.

Traveling on a budget
Wouldn't it be nice if we could all jus travel without worrying about the costs? Well that is certainly not my reality. So if you are like me, and are looking for ways to save, let me suggest the following:
Cards with no foreign transaction fees is a great way to save a little here and there. That little bit can really add up.
No ATM fees. Even if you do not think you will need cash, it is great to have a card that doesn't charge an ATM fee because sometimes you just need cash. Especially when road tripping in Europe. Parking fees, tolls, street foods, etc. often require cash.
Grocery stores- As simple as it is, stocking up on road trip snacks from a grocery store can mean saving money not paying the too high prices at convenience and gas stations.
Don't speed: You will get lower fuel efficiency and probably a ticket or two if you speed, so stay within the posted limits and save that way!
Go with friends and split the costs.
Pay attention to tolls. Sometimes pre-paying for a pass will save you money. But if you only hit a couple tolls, it could be less to pay individually.
Enjoy the journey. The cost in fuel and rental car alone is going to add up, so be sure to take time to enjoy the journey. Make unexpected stops and see what life is like outside the main attractions. One of my favorite road tripping memories is just pulling off for a little picnic in a country town, meeting some amazing locals, and learning far more about the Netherlands and the people then I would have otherwise.
Other Road Tripping Tips
Treats- Europe offers some amazing treats you can't find in the US, so explore the options. From Balsamic Vinegar chips to specialty chocolates, and all the Haribo gummies you can imagine to meat sticks and cheeses. Have fun with this one!
Street performers- When road tripping Europe chances are you will see a lot of street performers. Street performing is an art form I would say has been perfected in Europe. And often the performers are mega talented. Take time to stop, listen, watch, and enjoy. Just be sure to leave a little something for them.
Public Transportation- One of my favorite tips for road tripping is to take advantage of public transportation. What? Why drive if you are then going to pay for a bus or train? I love using a car to get between cities, but public transportation is amazing in Europe, and often it is cheaper to park on the outskirts and utilize the trams, trollies, trains, subways, etc. to get around then pay crazy parking fees. Plus it is fun.
Playlists and games- Stay entertained along the way by listening to audio guides about your destination, creating fun, upbeat playlists, and going prepared with games, questions, and topics of conversation so the time spent in the car is just as rewarding as the time spent outside it.
Pin to your Travel Board: