Thanksgiving Menu
All of our favorite Thanksgiving Recipes from Eazy Peazy Mealz all in one place!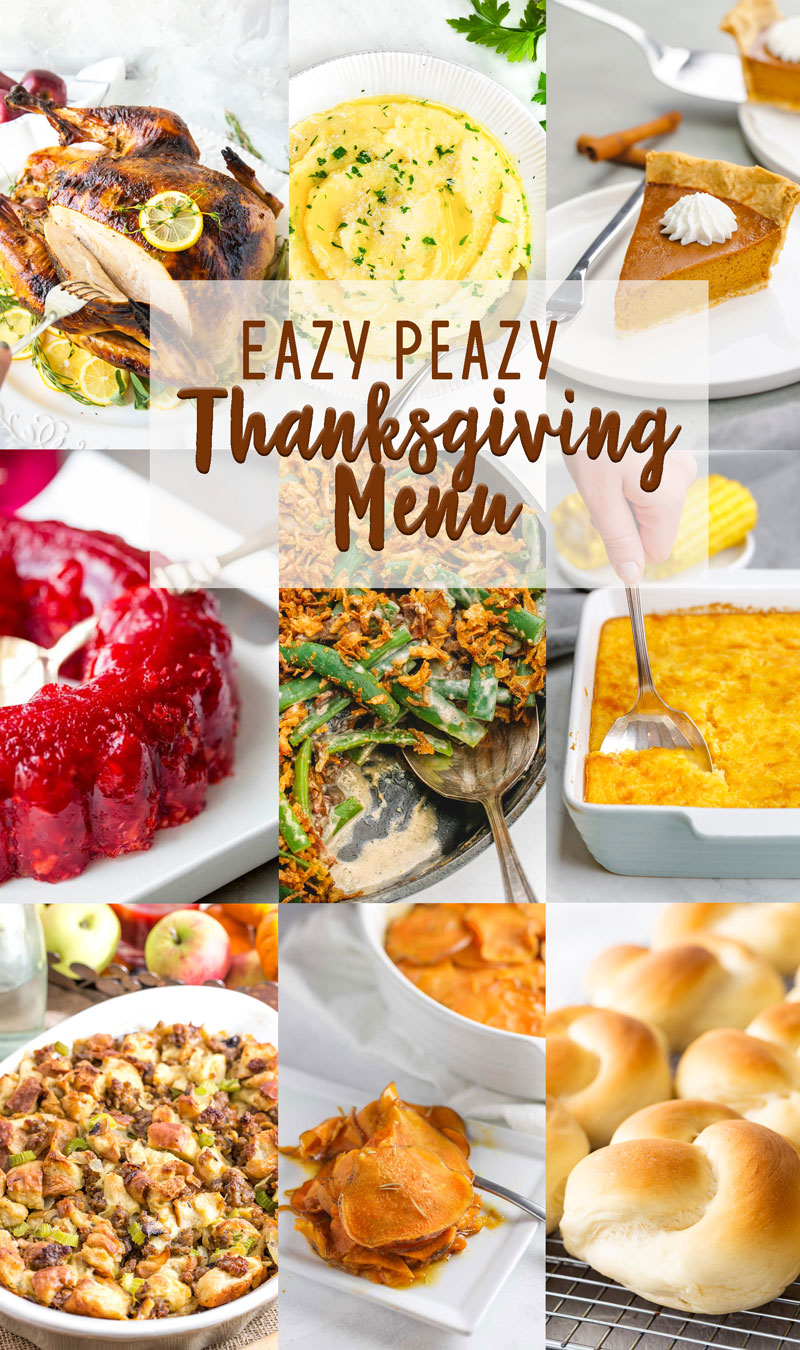 Here are my favorite Thanksgiving Recipes:
Appetizers
When it comes to appetizers I like to keep it simple with a Cheese Board which it has something for everyone, requires no cooking, and is ideal for grazing on while you put the finishing touches on dinner. But I have included another Thanksgiving favorite as well.
Soups
Soups are a nice addition to the table, and even better when they can be made ahead of time. These are two of my favorites to serve as they are simple but flavorful.
Turkey
Turkey is the best part of the Thanksgiving Table, or at least the centerpiece, and I have a ton of few options for you, from smoked to roasted, as well as everything you need to know to get your turkey to turn out perfectly, how to brine it, and more. Trust me you want to check these posts out, in fact, one reader said, "Been making turkeys for 45 yrs. Have used many different methods and recipes. This was absolutely the best ever! The whole family agreed. Will use this recipe again next year. Thank you Rachel."
Potatoes
While the turkey might be my favorite part of Thanksgiving, I know more than one of my kids loves the potatoes best. And this year I am going to have a few options, from mashed to smashed and roasted!
Sweet Potatoes/Yams/Squash
Whether you like them sweet or savory, there is no denying having yams, sweet potatoes, and squash on the Thanksgiving table is a tradition you don't want to miss.
Stuffing
I only have one recipe for stuffing because it is just that good!
Cranberries
A classic cranberry sauce, and a fantastic cranberry jello salad my husband's family has been serving for years.
Rolls
One year my extended family did not make homemade rolls and I literally cried. Now I make sure to have them on the table, and to send these recipes to whomever is in charge. I listed these in order of my favorites, some are light and fluffy, some denser and heavier. Pick your style.
Salads and Sides
What is a Thanksgiving spread without all the fixings, like corn casserole, salad, and more. Here are a few of our favorites:
Green Beans
These green beans should not be overlooked, as they are another staple, and worth every bite. From the creamy and indulgent, to the easy!
Pies
Top dinner off with the best desserts, I am sharing my favorite pie crust recipe, and all my favorite pies, including 2 that aren't live on the site yet, but that I am sharing because they are too good not to have on your table.
I hope you have a safe, tasty, and great Thanksgiving! xo – Rachael