This post is part of a social shopper marketing insight campaign with Pollinate Media Group® and Wet-Nap®, but all my opinions are my own. #pmedia #ConquerTheMess https://my-disclosur.es/OBsstV
An amazing S'mores Bar with all the fixings!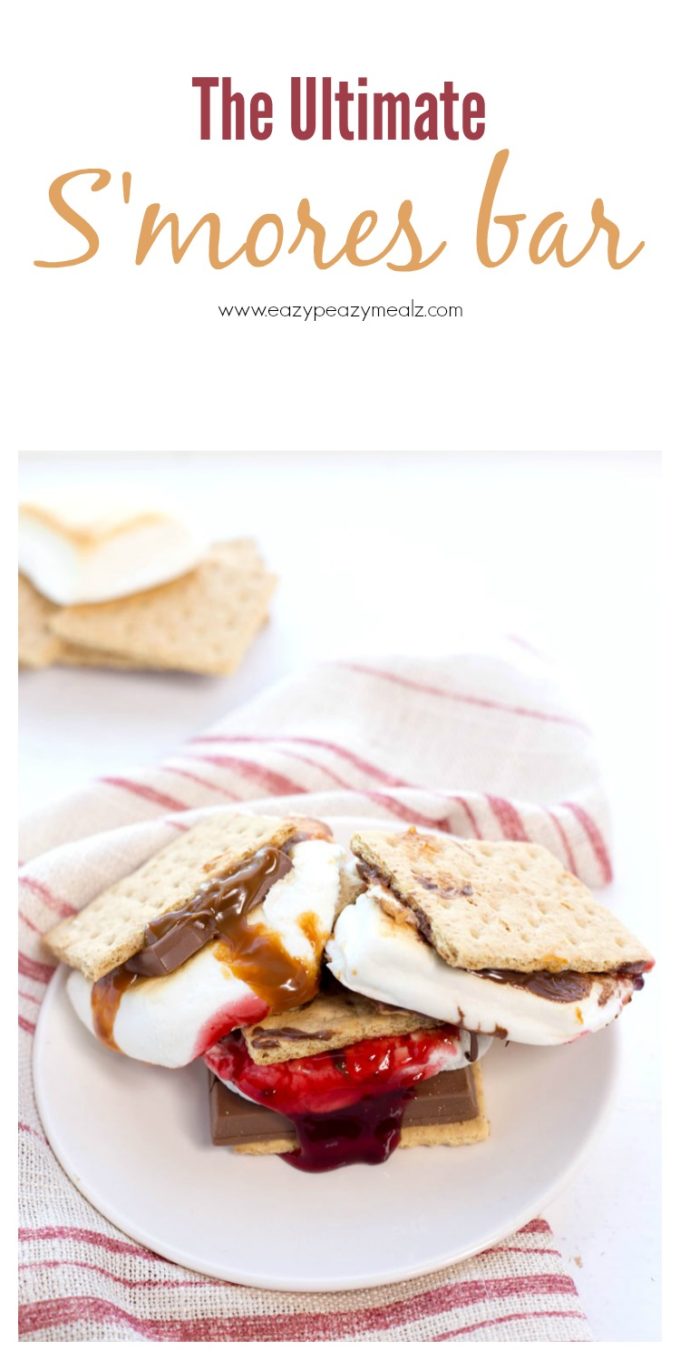 As a blogger I spend a lot of time on social media, and one thing I have been seeing an awful lot of lately are s'mores! And tons of variations too. S'mores with fruit, classic s'mores, s'mores with nut butters, various candy bars, caramel, and more.
Of course, after seeing all the s'mores the only logical thing to do was have a s'mores bar party! Am I right? Well, whether you agree with me or not, that is just what I did. I called up some family and friends, and came up with a fun menu of options to create different flavors of s'mores.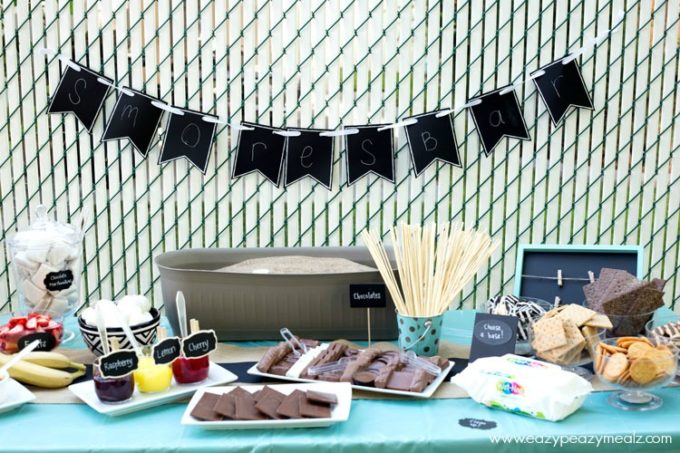 And look how freaking cute it all turned out?
I shopped at Walmart and got tons of toppers: caramel, chocolate hazelnut, nut butters, cookie butter, lemon pie filling, cherry pie filling, raspberry sauce, fruits, coconut, and cream cheese.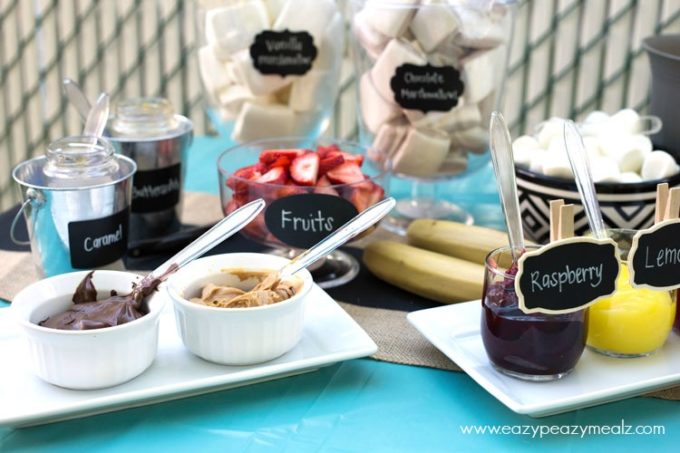 We had chocolates: peanut butter filled, caramel filled, crunchy stuff filled, cookies and cream, classic chocolate, minty, and more.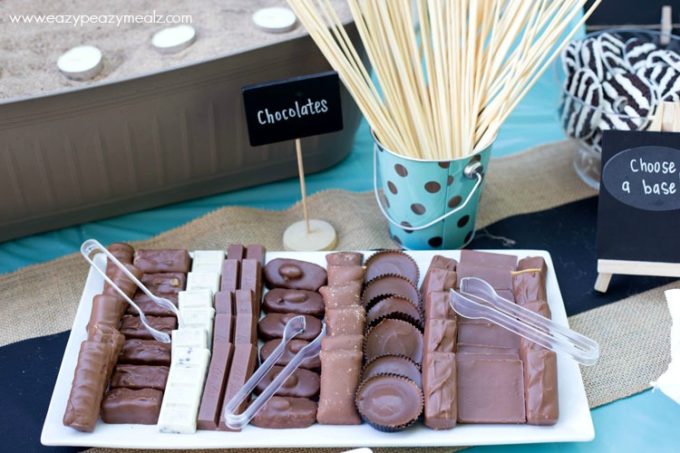 We had different outsides too: graham crackers, chocolate graham crackers, shortbread cookies, crackers, and chocolate cookies.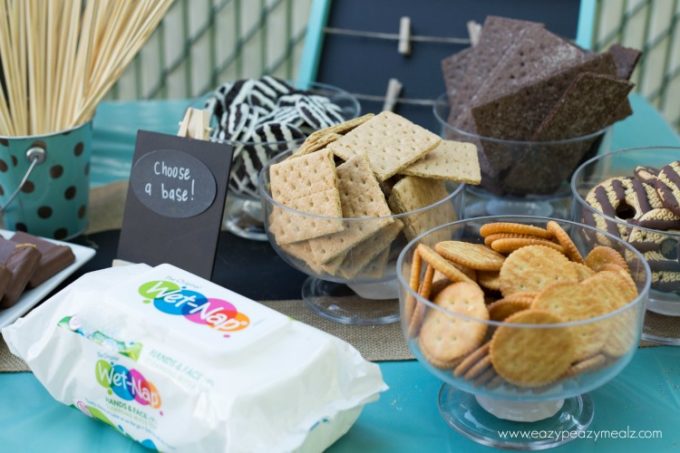 And we had various marshmallows: Chocolate ones, vanilla ones, round ones, square ones, and gigantic ones.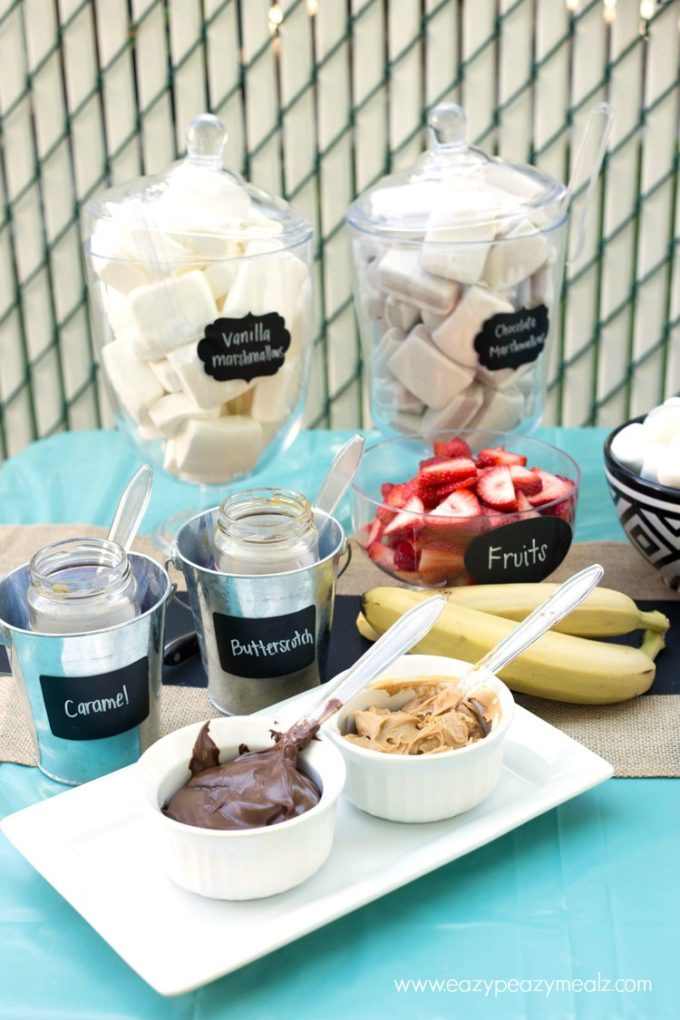 I set up a place to roast the marshmallows, but we also ended up getting the full on fire pit going, more fun that way.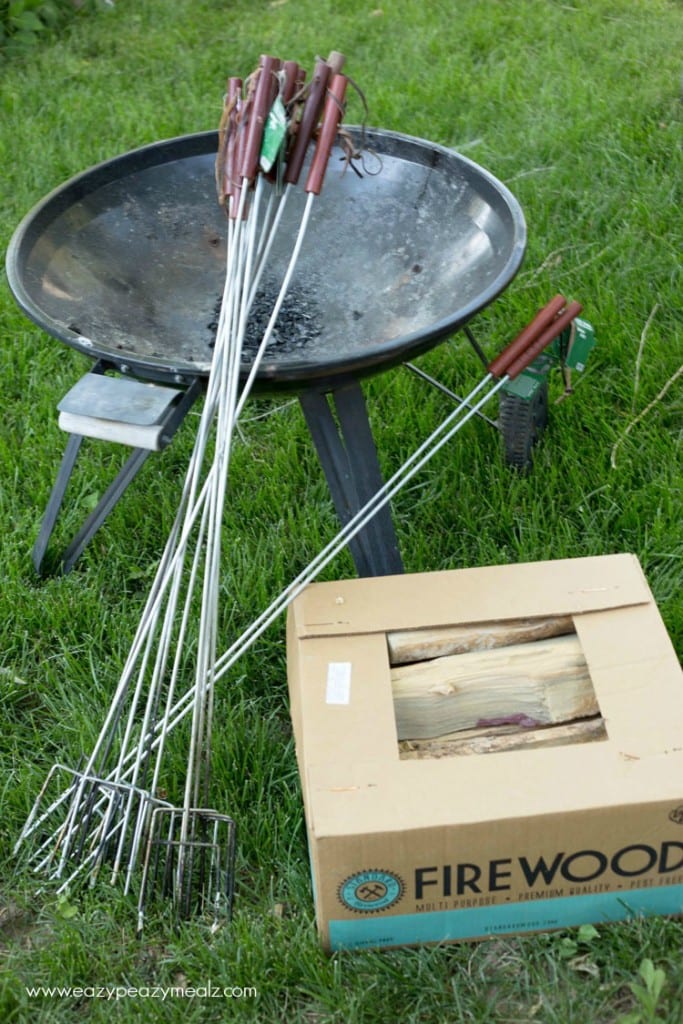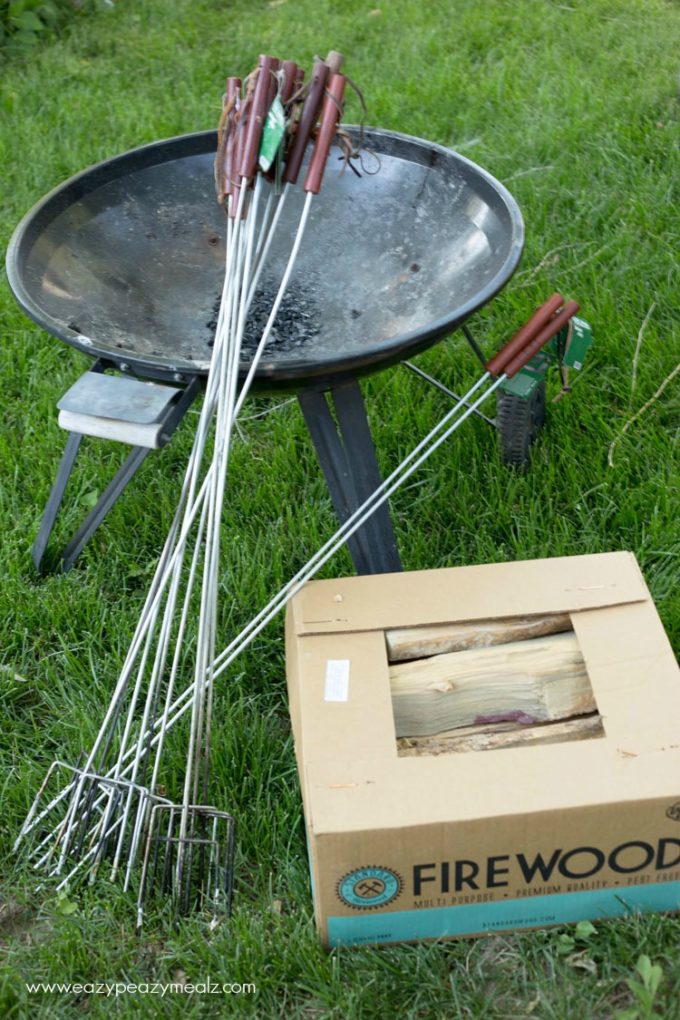 The kids loved mixing and matching flavors, and using things like the pie fillings and nut butters to amp up their s'mores!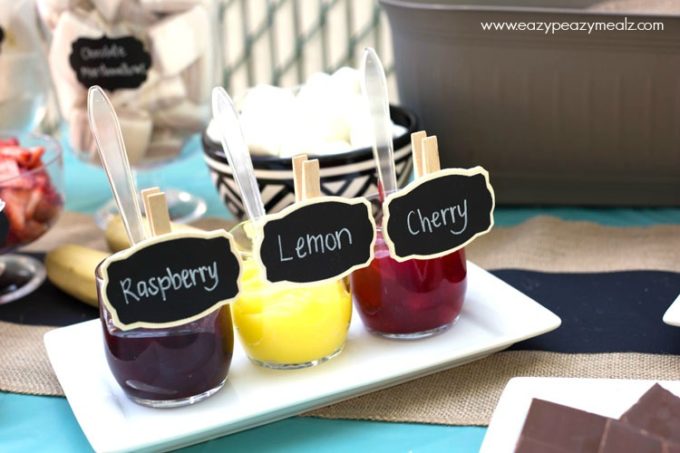 Basically we had an amazing time. Because how could we not. S'mores are the epitome of summer. Right? We eat them all year long, but consume a lot more s'mores in the summer months.
Maybe because we just want "S'more" of everything in the summer:
S'more Sunshine, S'more Laughter, S'more Smiles, S'more Family time, S'more Fun, S'more Beach and pool days, S'more Memories, S'more Snuggles, S'more Kisses, S'more Road trips.
Want to know what I don't want S'more of? Messes! And S'mores usually mean a super mess. Deliciously ooey, gooey, sticky strings of marshmallow, chocolate covered fingers, graham cracker crumbs, and more. Truthfully, it is a mess that I am happy to deal with as long as I have some help.
When I have a super mess on a super cute face, from a super yummy s'more, I turn to a super wipe. And I love Wet-Nap® Cleansing Wipes. They are perfect for washing up little hands and faces. They have aloe in them, and are easy on sensitive skin. Wet-Nap® that is preferred 2:1 by moms.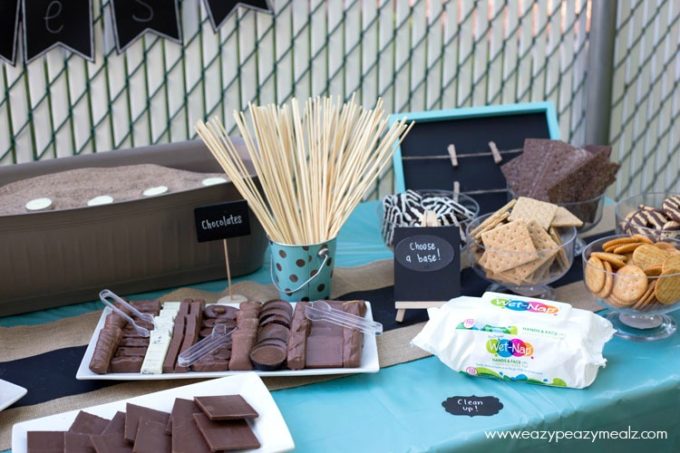 Visit Walmart for all your Wet-Nap® needs: 110-Count Hands, Face, & Body Cleansing Wipes, 24-Count Packettes Antibacterial Hand Wipes and 40-Count Canister Antibacterial Hand Wipes
Anyway, I made sure to have some handy on our S'mores Bar to reduce the mess factor, and make cleaning up all the little humans involved a breeze!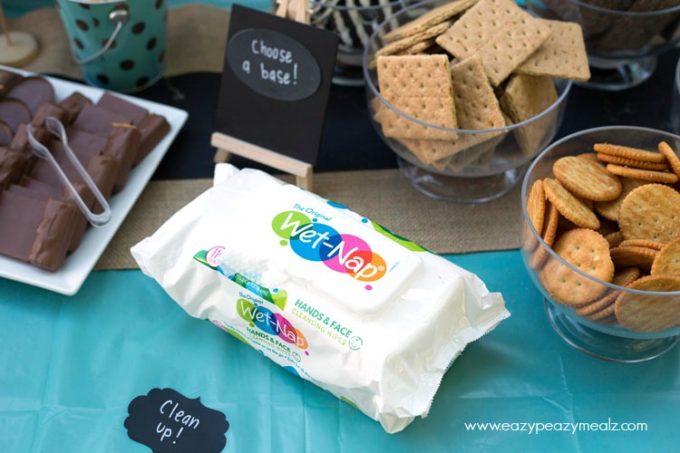 If you want to have some real fun, and some great tasting s'mores, set up a s'mores bar and mix and match flavors to create the ultimate s'mores creation, just be sure to have someWet-Nap®  Cleansing Wipes on hand to help wipe up the mess!