This post is sponsored by TripAdvisor, all opinions are my own.
Visiting the Wizarding World of Harry Potter can be a magical and exciting experience, complete with run-ins with witches and wizards, amazing foods, awesome rides, and immersion into the world we've seen on the big screen!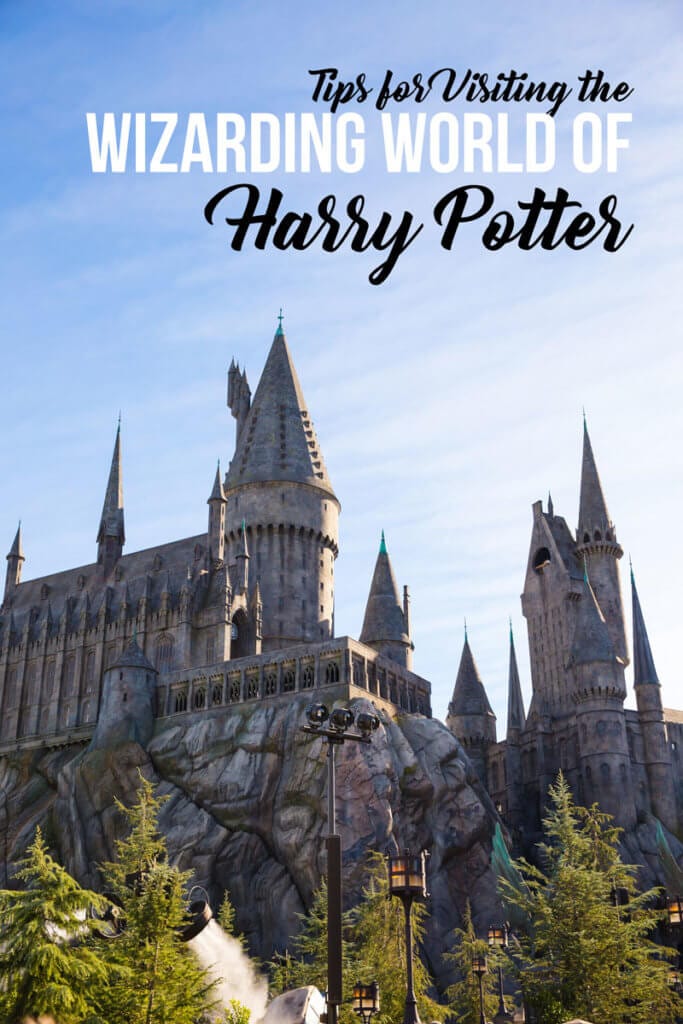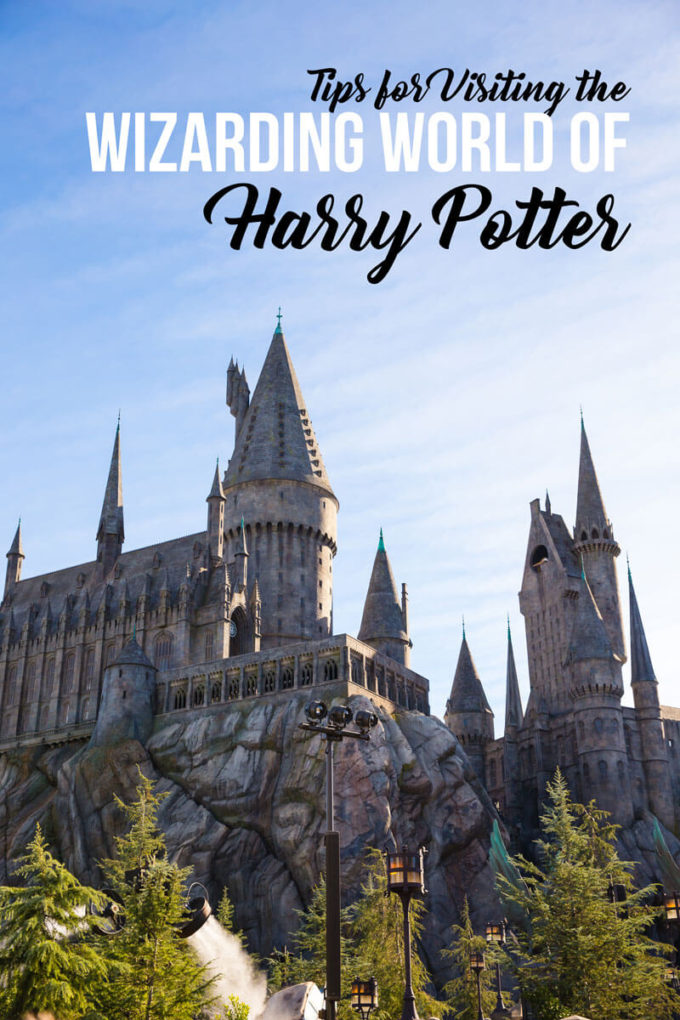 My family and I had the privilege of visiting the Wizarding World of Harry Potter a couple summers ago at Universal in Florida, but when the Universal Studios Hollywood attraction opened, we couldn't wait to visit. California is much closer, and thoughts of Butterbeer, mystical adventure, and tons of fun danced through our heads until we could wait no longer and we booked our tickets with TripAdvisor.
So, now I want to share with you everything we have learned from our visits to that you too can go and experience the magic and fun!
Booking Your Tickets
Book online with TripAdvisor: I love booking my tickets with TripAdvisor. It is a newer feature they offer. TripAdvisor is the world's largest provider of tours, activities and attractions, with more than 56,000 bookable experiences in 2,500 destinations worldwide.TripAdvisor Attractions offers something for every kind of traveler. Even for visiting Universal Studios Hollywood. You can choose from several different ticket types you can book right on the site. So you can go and read the reviews, and start planning what you re going to do and get a feel for what would be right for your family based on other people's experiences. Then book right there. Visit here to see your booking options through TripAdvisor.

You can book an Express Ticket that allows you to skip the line. If you are only going to be there for one day, this is a good choice.
You can book a VIP experience with behind the scenes experiences and VIP treatment.
You can book single day, multi day, and transportation as well. Basically whether you want to skip the lines, or just get tickets early, TripAdvisor has your back.

Print or use mobile app: Once you have booked, you can just print out your vouchers and take them right to the gate for entry or use the TripAdvisor Mobile App. If you opt for a multi-day ticket, they will scan your finger in relation to your ticket number, but you will still need the paper ticket to get in. So don't lose it.

Even though you print the tickets to bring with you, you may still need ID. When you purchase with TripAdvisor, you put in the names of each person you buy a ticket for. So adults, be sure to bring your identification.

Problems: If you have any trouble, you can simply visit the guest relations booth right outside the entrance to the park. When we went our ticket barcodes had printed too light, and so the scanner couldn't read them, so we had to get new vouchers printed. It was simple and quick!
Once you are inside the park, the magic begins. Of course, Universal Studios Hollywood has a lot to offer beyond the Harry Potter attractions, so be sure to take time to check them out too, and do the Studio Tour, it is super fun. But this post is specifically about the Wizarding World of Harry Potter, and how to optimize your time there.
What to Do at Harry Potter, Universal:
After reading all the reviews on TripAdvisor I can say that most people agree with me that you need to do it all at the Wizarding World of Harry Potter, and that what you will love most depends entirely on you. The staff is excellent, the effects excellent, and the magic excellent. But be aware, the Florida Wizarding World is bigger with more things to do.
Wand magic: Any Potter lover can tell you that the wand each wizard has is an important part of who they are, and it is no different at the Wizarding World of Harry Potter. One of the fun things you can do in the park is use an interactive wand to cast spells at various places throughout the attraction. You might turn on lights, or get something to move, or open or close. Each place offers instructions for the type of spell you must cast, and an opportunity to practice spell casting. There are wizards and witches there to help if needed. So, you can go to Olivander's Wand Shop and let a wand chose you, and then enjoy this aspect of the park. Interactive wands are around $50, so plan for the expense.
Even if you do not want to buy a wand yourself, you can go to Olivander's and experience how the wand choses the wizard. It is really fun, and kids get a total kick out of it. But beware, if your child gets chosen, they might be bummed if you don't buy the wand that picked them.
This attraction is not a ride, but it does often have a queue, and the wait will vary based on how busy it is, so if you want to hit up the wand stations, make this one of your first stops. Or skip the attraction and just buy a wand at the shop. But the attraction is pretty fun and well worth the visit.
Rides: The Wizarding World of Harry Potter is awesome to visit just to feel like you are part of the world you read about or saw on the movies, but it also offers rides. In Universal Studios Hollywood, there are currently just 2 rides to chose from.

Flight of the Hippogriff: This is a small roller coaster that even young kids will enjoy. It doesn't have really steep drops, and while you wait in line, and during the ride you learn about the Hippogriffs, and get to see and interact with characters and things from the movies and books.
Harry Potter and the Forbidden Journey: This ride occurs inside the Hogwarts Castle, and allows you to make your way through the classrooms and corridors of Hogwarts. It is so fun. And once you actually reach the ride, the fun continues. You get to join Harry Potter and his friends on an adventure, fly through a Quidditch match, face a dragon, dementors and more. It is really awesome, and well worth the long queue times. It is rides like this one that make the Express Pass worth purchasing. Or, if you are in a rush, you could try the Single Rider line to get on faster.  The downside is you miss all the classrooms and parts of Hogwarts, which is half the fun!

Food: The food in the Wizarding World of Harry Potter is a huge part of the fun, especially for me. When you read the books and watch the movies, food is a big thing. They talk about feasts, and specific foods and drinks like pumpkin juice, Gilly Water, and Butterbeer. And you can try them all while in the park. You can eat a meal at the Three Broomsticks, grab something quick in the food court, snack on Chocolate Frogs from Honey Dukes.  More on where to eat and what to get below!

Shop: How often do you get to shop for the things you need to be a wizard? Like owls, wands, cloaks, and more? When visiting the Wizarding World of Harry Potter you can get outfitted in house colors, pick up a new owl to send your post, and all the jokes and treats you can dream of. Take some time to browse the shops and see the things you have read about come to life. This is a great place to pick up a trip souvenir. And you will see plenty of witches and wizards sporting their Harry Potter Merchandise, from robes to scarves to shirts, as they explore the park.
Immerse: This is a magical world, and you can really immerse yourself in it. The various park attendants are dressed to fit the role, and play along as well. From the train conductor when you first enter the park to the serving witches who you can buy Butterbeer from. So go ahead, dress up, and geek out, and just have fun immersing yourself in this world of magic.
Enjoy, leave, then go back: We love to start our day in the Wizarding World of Harry Potter, exploring Hogsmeade, checking out the castle, shopping the shops, riding the rides, and of course eating the the Three Broomsticks. But we also love that we can leave and get a taste of the Minions, Simpsons, Jurassic Park and more, then head back for more of the magic.
Drink ALL the Butterbeer!: I don't think I need to say much more on this subject!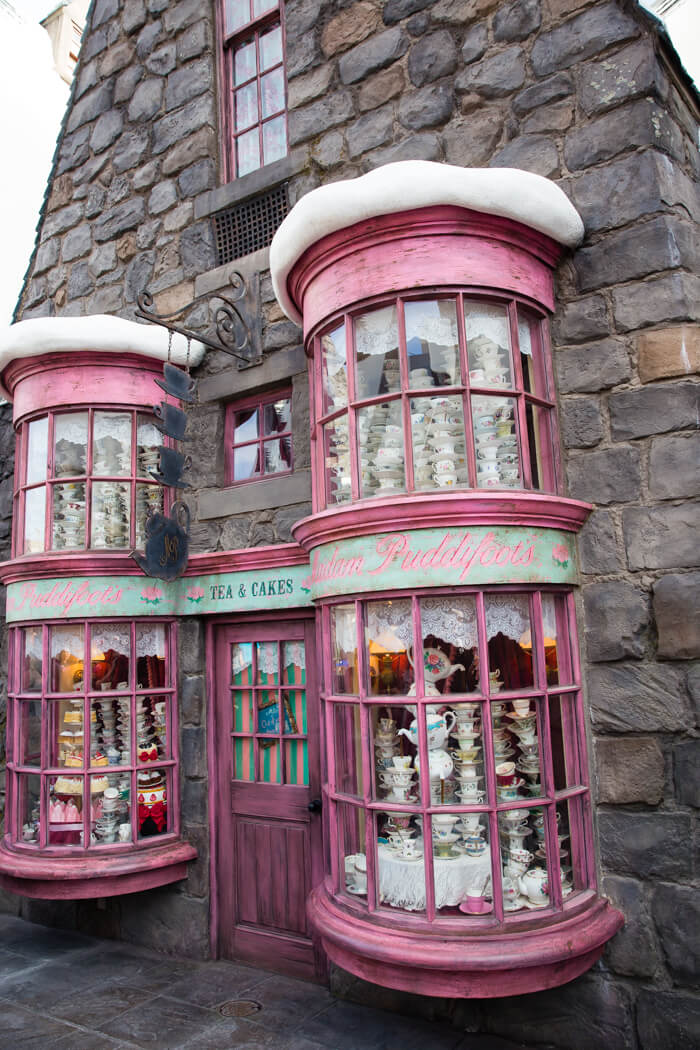 Where to Eat:
As a foodie, the first research I do when visiting any theme park is what are the must-eat foods. I love polling my friends and family who have visited a destination, and get all the recommendations. However, when it comes to the Wizarding World of Harry Potter, the dining options are actually a little limited. There are tons of other places around the park to eat, but within Hogsmead, the only real option besides food court food is the Three Broomsticks.
Luckily the food is awesome.

They serve breakfast and lunch/dinner. So you can eat delightful breakfast options from a full English breakfast, to a continental style breakfast, or Eggy Bread (French Toast). There are kids meals, and drinks as well. And it is served until 11 am.
Then the lunch and dinner menu starts. There are lots of English options like Bangers and Mash, and meat pies. But our favorite thing to get when visiting is the Great Feast. Which consists of roasted chicken and BBQ ribs, veggies, roasted potatoes, and corn on the cob.
The meal says it serves 4. But we think it can serve more, especially if you have kids. It is a large meal and comes with a huge salad too. We have eaten it every single time we have visited the parks because we like it that much. It is a good value for theme park food, and very satisfying.
You can also order desserts and drinks, like sticky toffee pudding, and of course Butterbeer!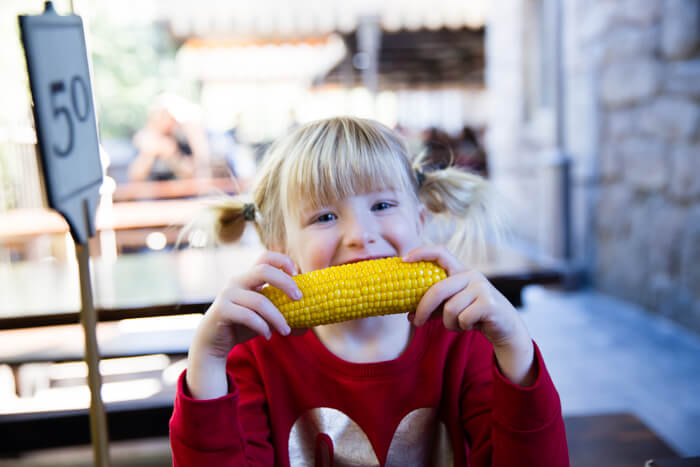 Butterbeer, all the Butterbeer: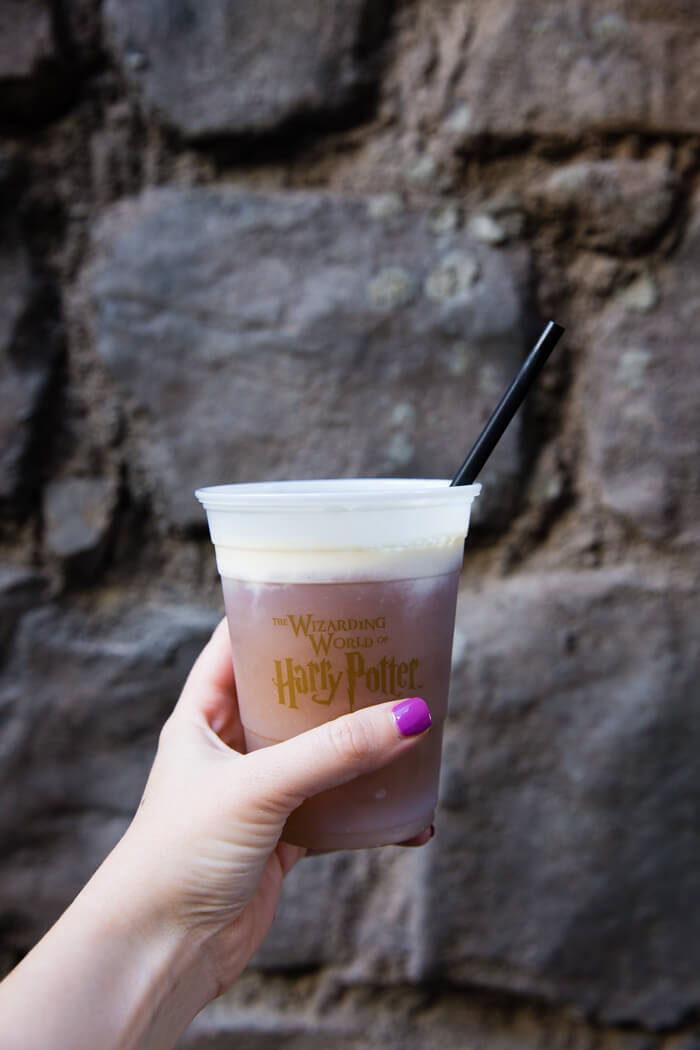 Ok, I would be remiss if I finished this post without mentioning the Butterbeer. It is magic all of its own kind. You can get it hot, cold, or frozen! My favorite is the frozen. But you would be doing yourself a huge disfavor if you didn't try them all…right?
Like all theme park foods, it comes at a premium of like $7.75+ for a cup, but what kind of Harry Potter experience would it be without the Butterbeer? So plan for it, and enjoy it. And then wish you could make it for yourself at home.
I have tried to replicate it without success, but if I ever figure it out I will be sure to share. It has this delightful butterscotch flavor, and this foam, creamy stuff on top. And man is it tasty. And a great way to refresh if it is hot out!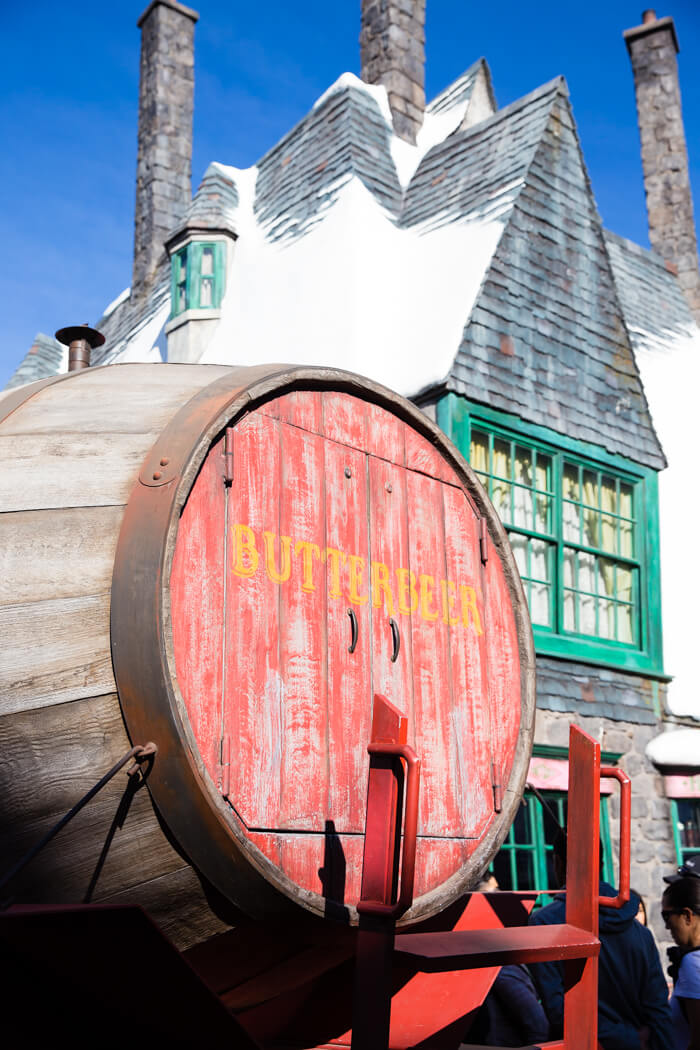 Butterbeer Acquisition Tips:
Ok, you might laugh, but sometimes the lines get long, so here are my tips for getting your Butterbeer fix!
Check all the stands. There is one Butterbeer stand right by the entrance to Hogsmeade, and it is always the busiest. So walk a little further for a shorter line.
Go into Three Broomsticks and order one there. You can get them at the food counter or the bar.
Bring cash. If lines get long, sometimes there will be a wizard walking around with a tray that they sell at a slight discount for cash only. $7.50 I believe. But prices could change. So bring a little cash and avoid lines.
Pin to your travel board for easy reference later: