Pittsburgh has a lively and delicious food scene.If you are visiting this little big city, you should pack a pair of stretchy waistbanded pants, and a big appetite because the food scene has a lot to offer.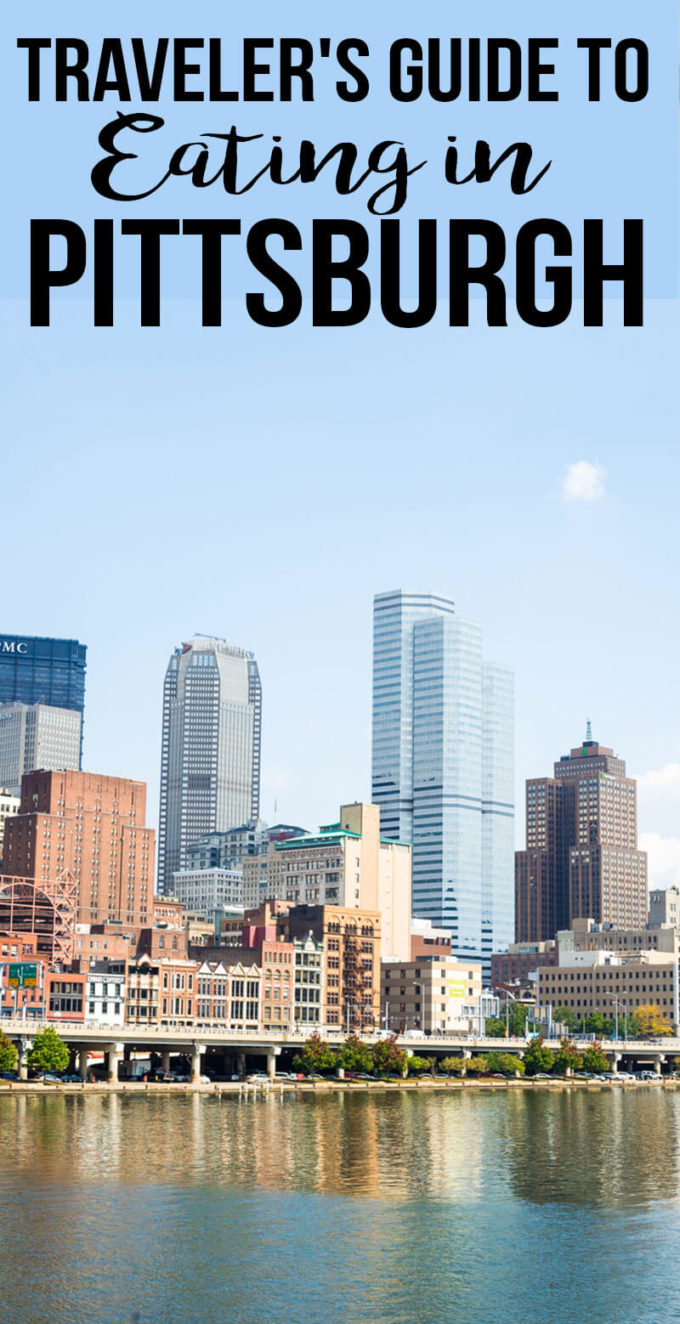 Pittsburgh, like most of the rust belt, went through a bit of economic decline in the 90's when factories and many of the jobs were taken overseas. A lot of people left the area when the jobs left. And as a whole, businesses struggled, including the culinary scene. However, in recent years there has been a bit of a resurgence when it comes to the culinary arts.
During a recent visit to Pittsburgh, I got the chance to dine at some of the hottest spots in the city, and so today I am sharing a Traveler's Guide to Eating your Way through Pittsburgh:.
Smallman Galley:
We started our trip at Smallman Galley.
This is a restaurant incubator, or in other words, a location that helps chefs start a restaurant for an extremely small capital outlay. These undiscovered chefs are given the chance to showcase their food, and learn how to run a restaurant.
The Smallman Galley has 4, fully outfitted kitchens, and a rigorous approval process to be brought on. Each concept that is approved, remains in the space for about 12-18 months, giving the chefs a chance to develop a following, acquire some business acumen, learn more about running and staffing a retaurant, and the ins and outs of the business, while not shouldering the whole financial burden themselves. After their contracted period, the concept is turned over, and a new chef comes in. Smallman Galley has 4 concepts, and during my visit, I was able to try a signature dish from each.
Iron Born – Hand Forged Pizza
Literally one of the best pizza's I have ever had in my life. It was an almost foccocia like crust, that was crusted in cheese, had caramelized onions, delicious lemon arugula, ricotta cheese, and roasted tomatoes, and a parmesan stock cream sauce. Drool worthy much? I think so!
Bahnmilicious- Modern Vietnamese
Think chicken noodle soup with a vietnamese flair. This soup had a nice kick, tons of flavor, a good amount of noodles, as well as deliciously flavored chicken. It had complex flavors, and while was a bit tricky to eat (i.e. slurp-i-licious), it was very tasty.
Colonia- Latin American
We tried the Pupusas. It was my first time trying Pupusas. They had a lot of heat, and a nice balance of fresh veggies on top.
Brunoise- progressive American cuisine in a fast casual setting
S'mores, like no s'mores you have ever had before… they were fancy, decadent, rich, and oh so good. I think the ice cream stole my heart! Definitely give them a try.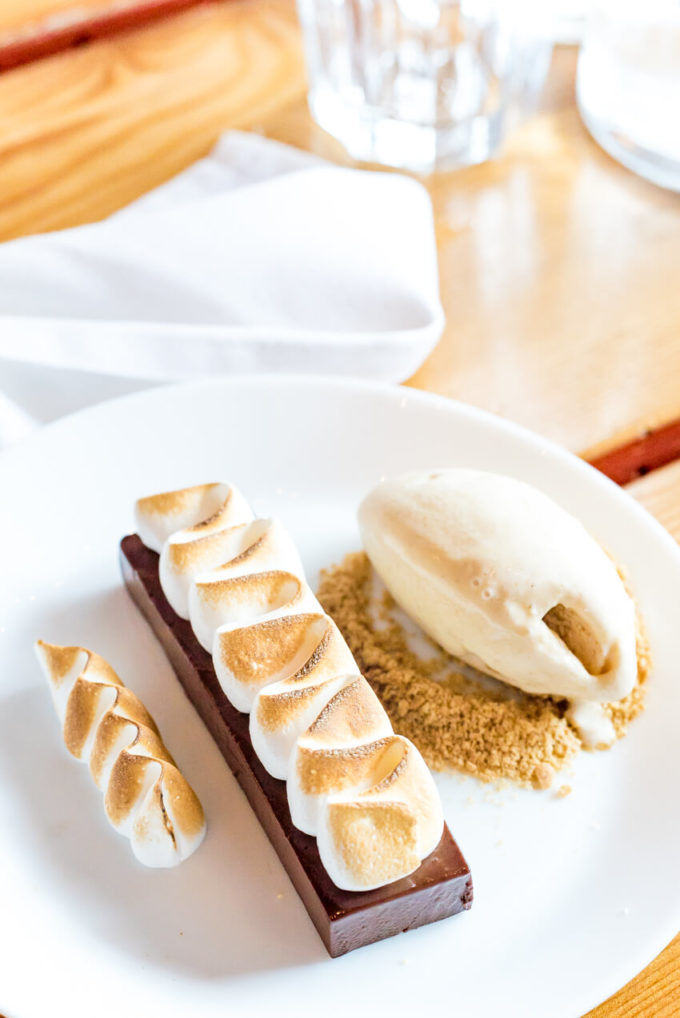 Bar Marco
This restaurant and bar offers an Italian influenced menu, made up with locally sourced ingredients. The atmosphere is fun, with lots of the old building preserved. The restaurant was started by a group of friends, and they are still running it. It has a great space up top for events, weddings, etc.
I liked pretty much everything we ate here. The salad may have been the best salad I have had in my life. The menu and specials change, so ask the chef what he recommends!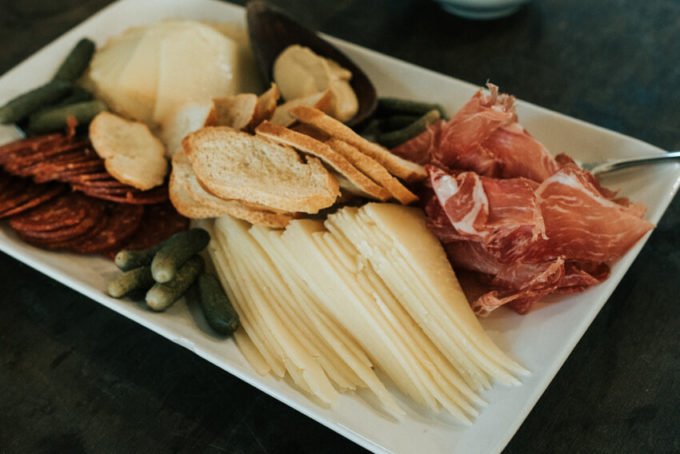 Burgh Bits and Bites Tour
If you have an afternoon to explore the city with your tastebuds, then you should take a Burgh Bits and Bites Tour. You will get to try bites from several local shops and restaurants, learn about the area history, the families that run these shops and more. It is a fun, and tasty experience. This is what the tour included when I visited:
Mancini's-Bakery
Tasting: Cinnamon Bread
Wholey's-specializing in fresh seafood, meat and poultry
Tasting: Fried fish
Sunseri's-on- site bread bakery and Italian specialty store
Tasting: Pepperoni roll
Colangelo's-specializing in northern Italian pastries
Tasting: Mele
Parma Sausage– specializing in home-made sausages and meats
Tasting: Home-made meats
Enrico Biscotti- Artisan bakery
Tasting: Biscotti, pizza and wine
S&D Polish Deli-Polish deli
Tasting: Pierogies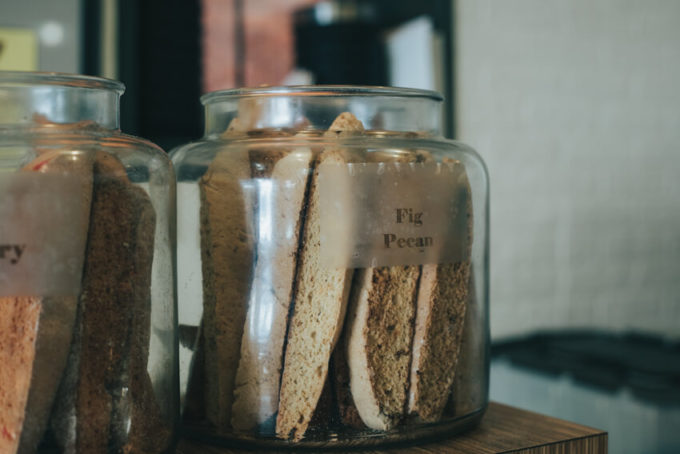 Whitfield
Some of my favorite bites from the trip were from The Ace Hotel's Whitfield where we stopped  for cocktails and appetizers. The food is appropriate for the area, with things like bratwurst and spicy mustard. It was hearty and delicious. And the drinks were well crafted and flavorful. Not to mention how darling the ambience of this hotel lobby bar and restaurant are. So cute. So fun.
Tako
This was one of those places you go into because you are hungry and it was close by, and walk away so glad you did. The food is contemporary and delicious, with lots of…you guessed it… tacos! But with flair and twists. From Korean inspired to classic. Absolutely delicious, and great prices too.
Spoon
Spoon is one of the city's restaurants that sparked the culinary rebirth. The chef is highly admired, in fact most of the chefs I met spoke about her. The food is upscale, beautifully plated, and the experience was nice. I loved my dessert from Spoon best of all, and the bread was amazing as well.
Square Cafe
Breakfast at Square Café, in the Regent Square neighborhood should not be missed. The food comes in generous portions, there are tons of fun options, including a great brussel sprout hash that I loved. The smoothies are fun. Basically for a hip, fun, and foodie forward place to eat a filling breakfast, this is the place.
Other Fun Things to Do in Pittsburgh:
Visit the Andy Warhol Museum, home to Pittsburgh native and price of pop art.
Take a sightseeing cruise on the Gateway Clipper and learn more about the city's history
Ride the Duquesne Incline to the top of Mt. Washington for the fantastic view of the city.
Catch a game. There are lots of sports stadiums and options to choose from.

Where to Stay:
The Renaissance Pittsburgh– This is in a great location with tons of fun bars, shops, and restaurants close by, as well as the Pirate's stadium. The hotel is gorgeous, the rooms spacious, and the views fun. The hotel offers a few fun packages, including a digital detox package, where you leave electronics at check-in and get things like board games in your room instead of a television.
Check it out!
Pittsburgh has a lot to offer, so check out the markets, the squares, the architecture and fun! And enjoy the food.
I was provided complimentary meals, travel, and lodging in exchange for coverage, all opinions are my own.