This post is sponsored by Rabbies, but my love of Scotland and all opinions are my own.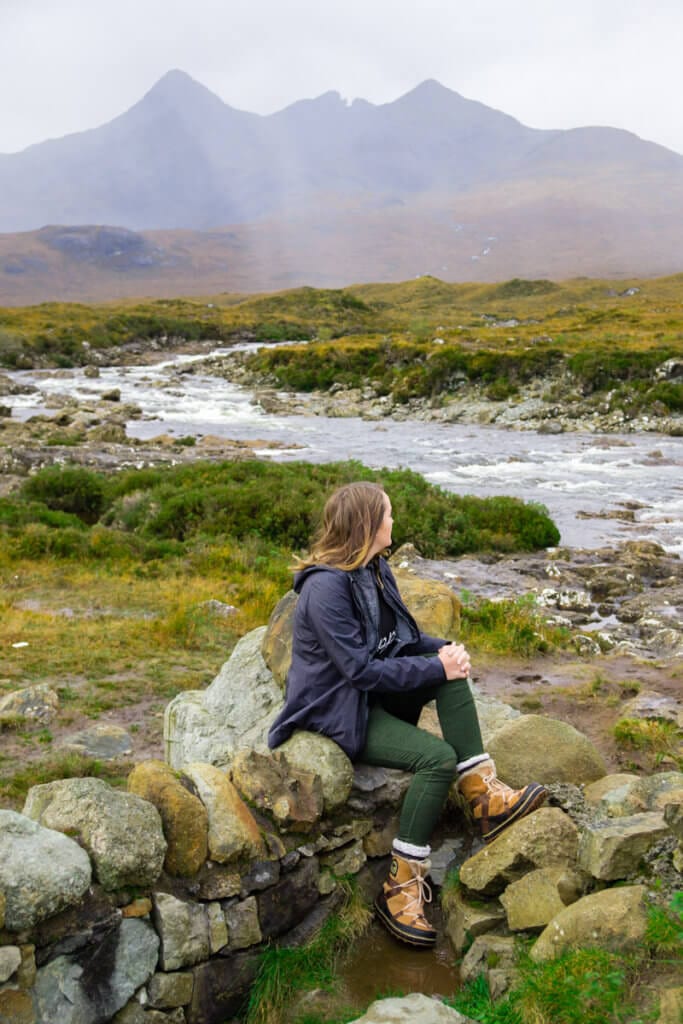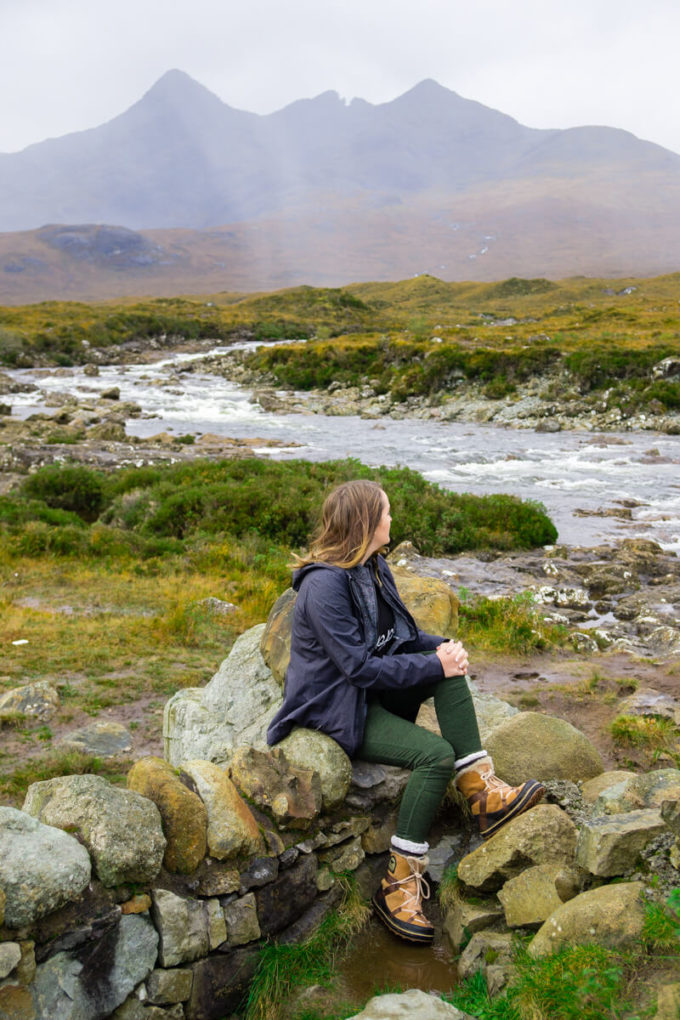 Visiting Scotland and the Isle of Skye is not a vacation where you are entertained by technology and theme parks. It is not luxury spas, nor is it grand architecture. But it is pure magic.
Not the Disney kind of Magic, with costumes and glittering lights, but that magic that comes from the earth, from raw natural beauty, from simplicity, and that connection to self that is hard to find when being inundated with notifications, tags, and alerts.
As someone who has a bit of a technology addiction, with the perfect excuse to constantly be on my phone, monitoring social media, and "connecting" with friends, this little break from "reality" was much needed, and soul feeding.
I have been hearing about the Isle of Skye from a friend for several years now. She has told me time and again how beautiful and magical it is. And encouraged me to visit. So when I had a work conference in Ireland, and could get a flight to Scotland for only $55 RT, I jumped at the chance.
Visiting Skye During the Off Season
At first I was a little concerned to be visiting Scotland and Skye during the off season, or shoulder season of travel. I worried about weather, cold, closed shops, etc. My worries were unfounded, instead I found the perks of off season travel:
Fewer crowds.
Lots of accommodation options.
Still got all the great colors from summer, without a million people in my photos.
Easier to make reservations on short notice.
It was a bit chilly, and we had some rain, but it is Scotland, and that is anytime. Wearing the proper footwear and a raincoat made this a non-issue, and meant a very enjoyable trip!
We spent a day enjoying Edinburgh, then headed out to Skye…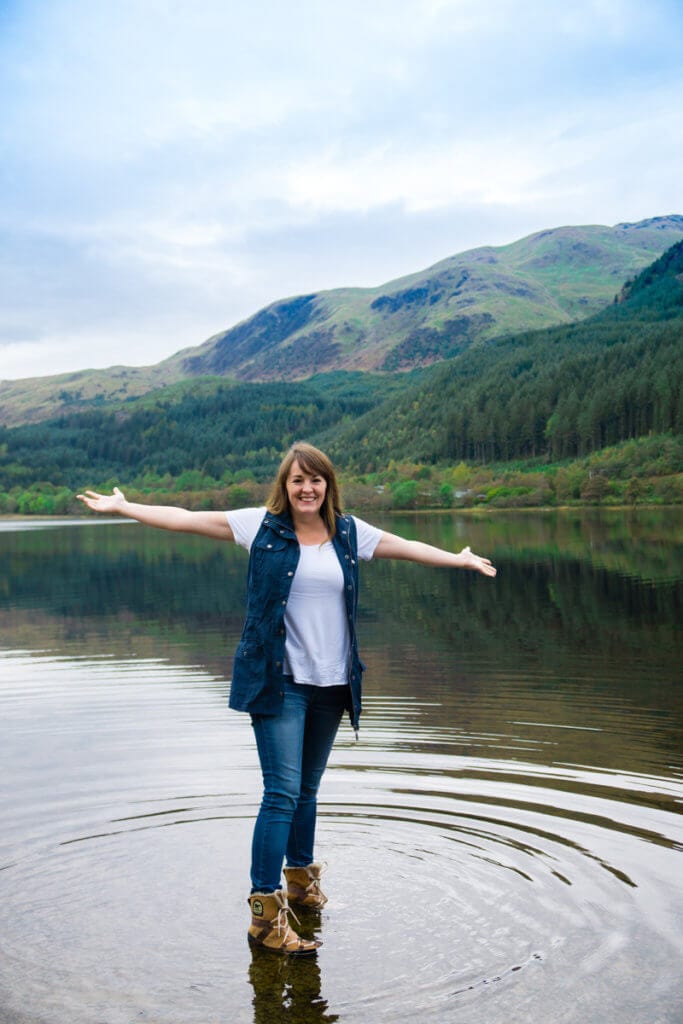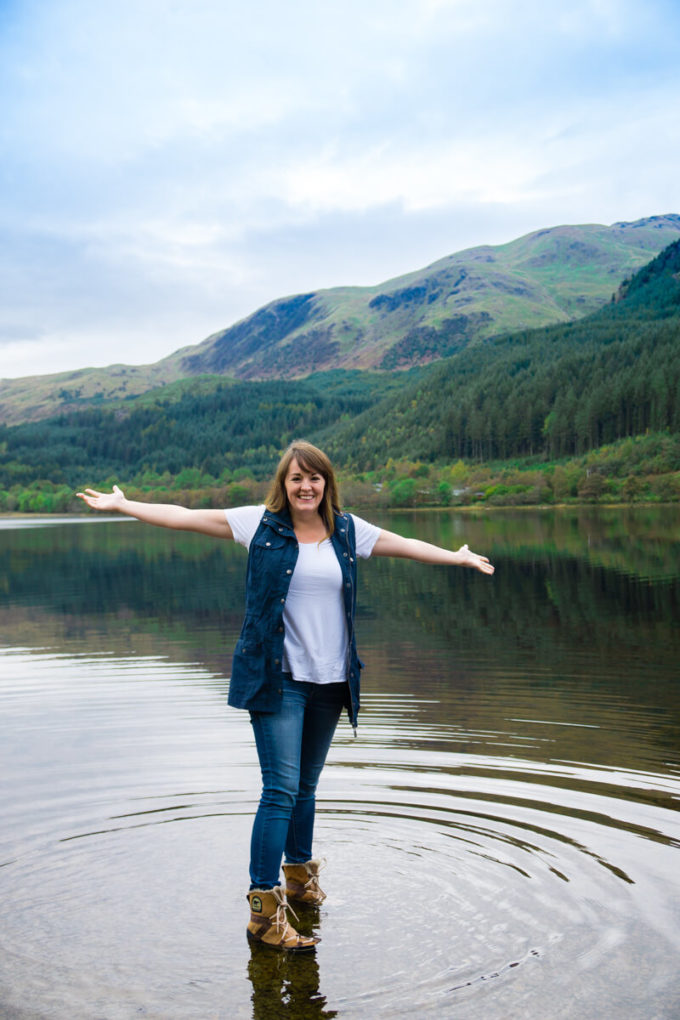 Booking with Rabbies
Narrow roads, right hand driving, and my desire to watch the scenery not the traffic had me deciding to book a tour to Skye, rather than try and navigate it myself.
Best. Decision. Ever.
I booked a 3 day Isle of Skye tour with Rabbies.
Rabbies is a tour group that offers small tours of about 15 people, knowledgeable guides, and comfy small buses. Their slogan is "Be a part of it" and it held true.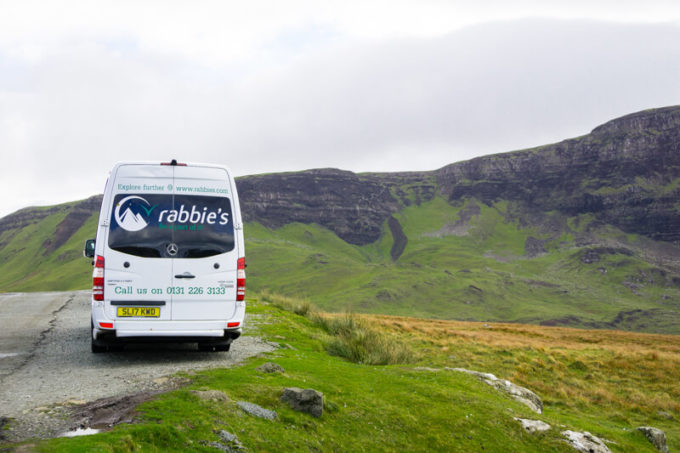 Our guide, Stephen, had an itinerary, but the group as a whole got to make a lot of the decisions on where we went, how long we stayed, and what we wanted to see in Skye.
Honestly, I was extremely impressed by Rabbies. They let you go off the beaten track, are organized and efficient, and even have a money back guarantee on the experience. I could not have asked for a better tour company to introduce me to Isle of Skye.
We had a great group of people, and our guide was sweet, funny, and loved Scottish history! As we drove, he shared tales, folklore, music, and stories about the battles between the Scottish and the English.
Stephen entertained us with his lilting accent and humorous tales, but also conveyed the history, battles, tragedies, and political upheaval from Scotland's past, sharing the history in a way that brought the area to life.
He knew all the best photo stops, and was so thoughtful, making sure everyone who wanted pictures with their friends and family got them. I am sure he took a lot of photos.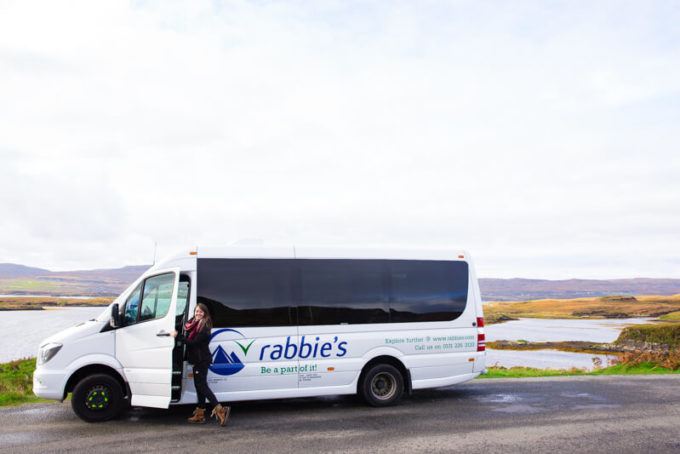 We started the trip off with introductions, and Stephen made sure to ask us what we wanted from the trip. He took notes, and did his best to accommodate what everyone wanted. Including taking a slight detour so some of our group could try a Whisky tasting at a distillery.
I have done a lot of tours during my years of travel, and this was one of the best.
And it is affordable. The 3-Day Isle of Skye tours offer prices from £109.00 – £195.00. Another perk of off season travel is the lower price tag!
Check out the Rabbies site for other tours and pricing.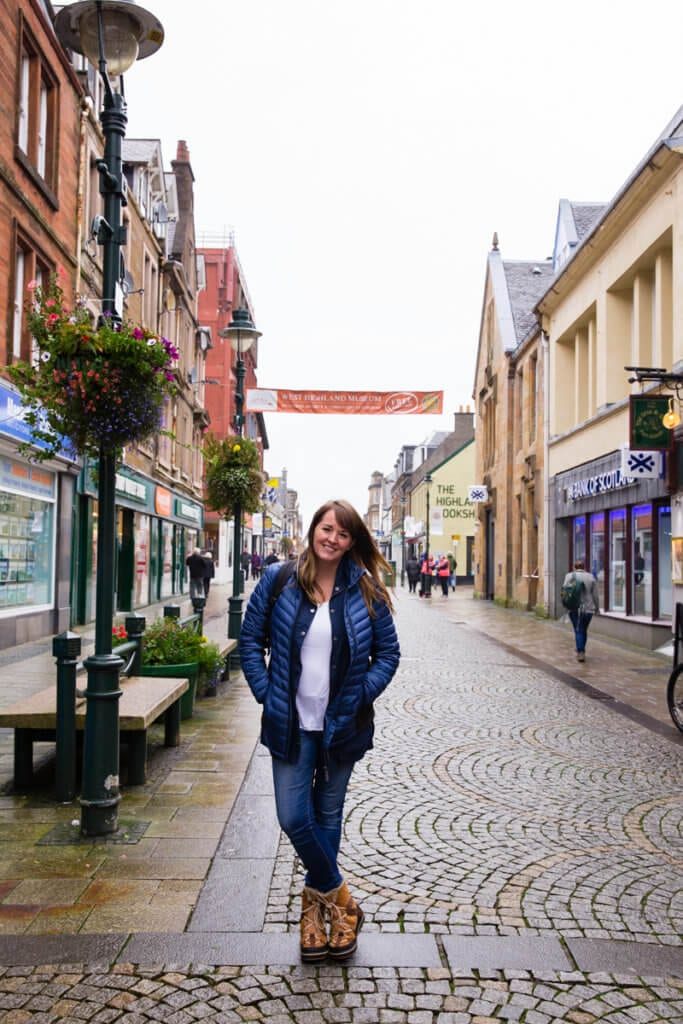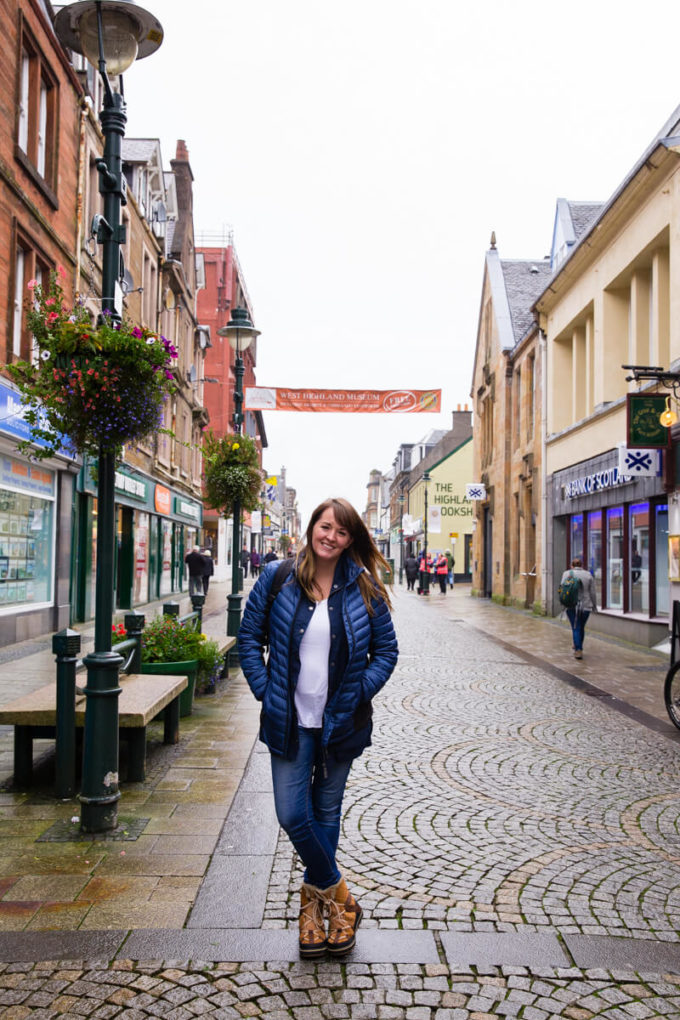 3 Days on Isle of Skye
We started our journey in Edinburgh, and got to see some beautiful sites, historic landmarks, castles, and countryside as we drove. We saw and did a lot, and I won't be able to convey it all here, but some of the highlights include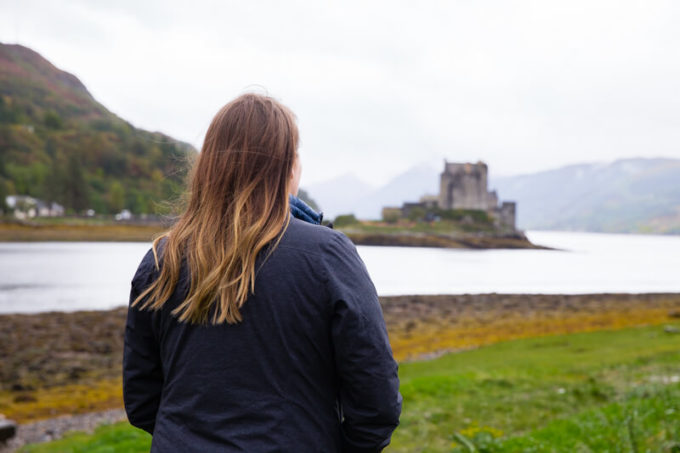 Glencoe
Glencoe is the scene of the great massacre of the Clan Macdonald in 1692 and is an important part of Scottish history. But beyond the history, it is a beautiful site to see. The tragic tale and history are even more pronounced when you look at the peaceful beauty of Glencoe.
 
Neist Point
Neist Point houses one of the most famous lighthouses in Scotland, which was built in 1909. It is also the most westerly part of Skye in an area called Durinish. The views are amazing, and you will definitely get some exercise hiking down to the lighthouse.
Old Man of Storr
The 'Old Man' is a large pinnacle of rock. You can see it from all over the valley, or you can hike to it. It is part of the Trotternish ridge and was created by a massive ancient landslide.
Kilt Rock
Kilt Rock is a famous sea cliff in north east Trotternish. It is named for the resemblance it holds to a kilt, with vertical basalt columns that form the pleats, and sills of dolerite forming a pattern. It is stunning, and there is also a waterfall.

Quiraing Mountain Pass
This may have been my favorite views. It is incredible, and gorgeous, and stunning, and amazing, and all the adjectives. The strange formations in this mountain pass gave Skye its nickname, the 'Winged Isle'.
Cuillin Hills
I especially enjoyed the tales of the giants Sylga and Cuillin as we traveled to this part of Skye, and enjoyed looking for the face in the mountain, and taking in the splendor of this area. Gorgeous hills! (Top photo in post is from Cuillin Hills)

Eilean Donan Castle
An iconic and gorgeous 13th century castle that once warded off Viking invasions. You can tour it for under $10 and can see the way life was, the large room, the kitchens, etc. not to mention take in incredible views of the three Loch's it sits on. It is one of Scotland's most photographed castles, and this is unsurprising. You may even get to see a bag piper outside the castle!
Five Sisters of Kintail
The mountains are beautiful on Skye, and they all come with legends and lore. The legen of the Five Sisters of Kintail says a local wizard turned five sisters into these mountains so they could preserve their beauty while waiting for an Irish man to return to marry them. Stephen did an exceptional job telling this particular story. And the views were magnificent, despite the mist.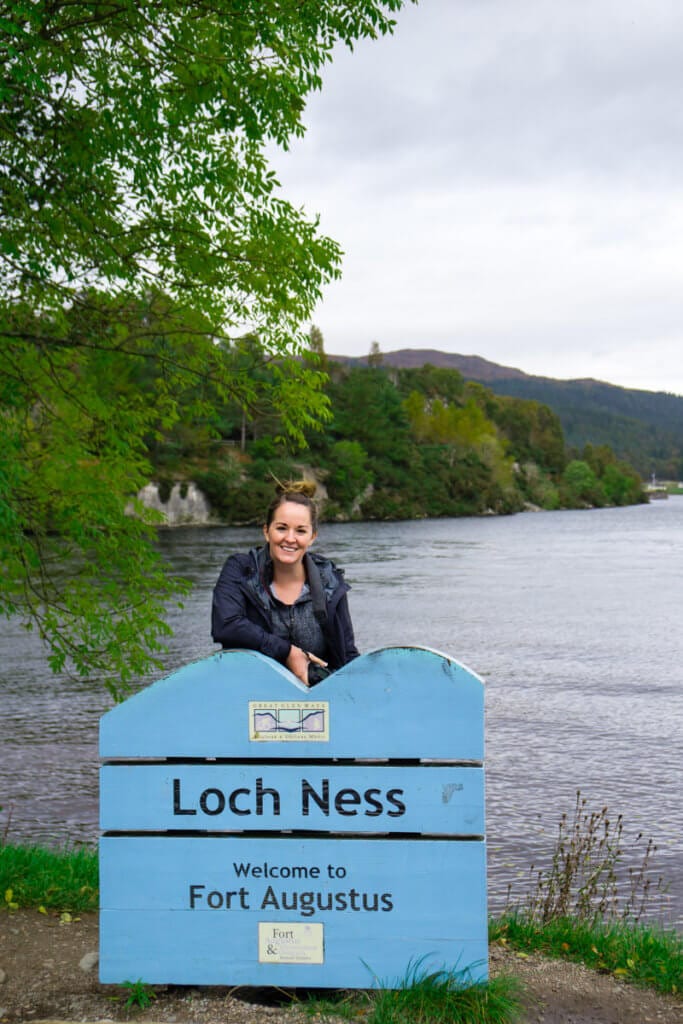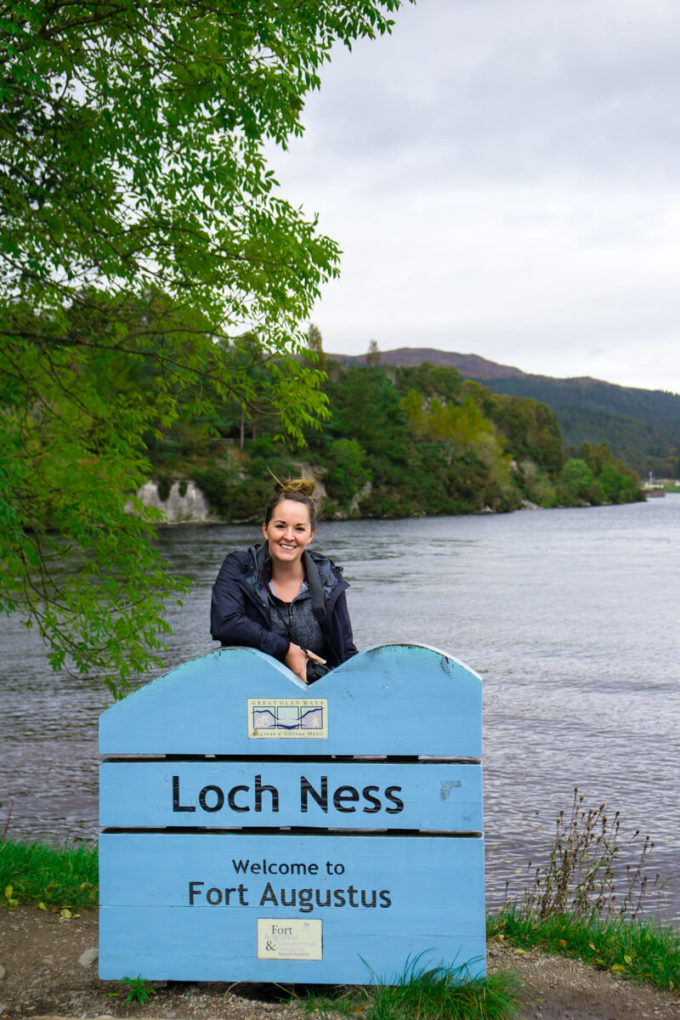 Loch Ness
Not on Skye, but on the drive to and from Edinburgh, what would a visit to Scotland be without a visit to Loch Ness? One of the most famous lochs in the world. There are over 32000 lochs in Scotland, but this particular one has more volume than all the lakes in England and Wales combined.
Pin to your Travel board on Pinterest: