Visitor Guide to Jerusalem
Jerusalem is one of those cities you need to visit. It is called the Holy City. It is a melting pot of people, culture and ideas. It is rich in history, cultural diversity, spiritual significance, and has excellent food. It is a major hub for several world religions, has historic significance, and as an important part of Israel.
I was gifted a complimentary trip to Israel, including Jerusalem, from Vibe Israel, all opinions, and my love of Israel are my own. Photos courtesy of Gala Shraer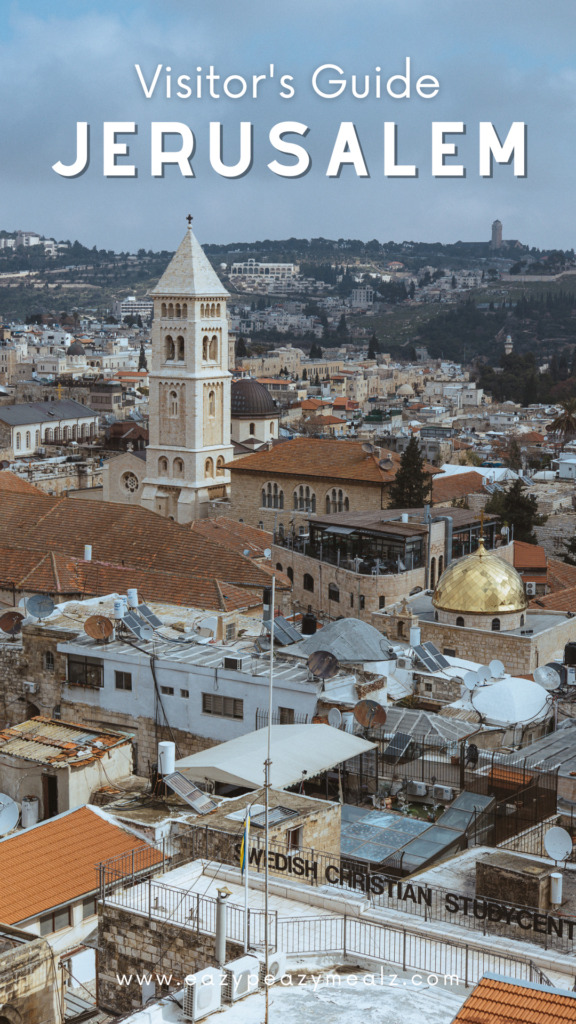 I recently got to visit Israel with Vibe Israel and as part of my time I got to spend a day in Jerusalem, touring the Old City, as well as the new parts of the city. It was a mix of a food tour, historic, and religious tour. This was my third visit to Jerusalem, and each time I have visited, I fall further in love. I love the whole energy and vibe of the city. Jerusalem is a charming place to visit, with gorgeous cobblestone streets, stunning ancient architecture, and so much history. There are bold flavors, beautiful mosaics, and a kind hearted people. If you ever get the chance, I highly recommend a visit.
Tips for Visiting Jerusalem
Each time I have visited, I have found more about Jerusalem to love. So here is what you should know as a visitor to Jerusalem to make the most of your trip:
Plan ahead: Pay attention to when you are visiting and what religious holidays and special events may impact your trip. There is a lot to see in Jerusalem, so you need to plan an itinerary that will give you sufficient time to visit everything you want to see. Check open and closing times.
Visit all of Jerusalem: Jerusalem is more than the Old City, and you want to make sure you give yourself sufficient time to visit both the Old City and the newer parts. But don't skip the Old City of Jerusalem. It is a must-see for any visitor. And know there are four quarters, each worth a visit: the Jewish, Christian, Muslim, and Armenian. Give yourself tons of time to meander and explore the narrow alleys and cobblestone streets. Take time to try food from the vendors, visit all the big historical and religious sites, and shop for fun souvenirs in the markets like olive wood nativities.
See the Holy Sites: No matter what your religious beliefs are, Jerusalem is a religious city, with tons of religious significance. A visit to Jerusalem should most definitely include a visit the Western Wall, the Church of the Holy Sepulchre, the Dome of the Rock, and the Al-Aqsa Mosque.
Take a Tour: While you can definitely wander the Old City, and self guide, it is worth it to take a guided tour through Jerusalem. It can help you navigate the city, learn more about its history, familiarize yourself with the culture. So pick your tour, and make it a walking tour. You can do a religious tour, a historical tour, a food tour of the markets etc. My recommendation: take them all.  Book through Tourist Israel, and ask for Hagit as your guide. She is amazing.
Dress Appropriately and Respect Customs: Because Jerusalem is an ancient city full of historical significance, dress with modesty in mind. Wear comfortable walking shoes, have your shoulders and knees covered. And wear something stretchy since there is a lot of eating to be done in this delicious city.
Visit Museums: Jerusalem is a beautiful city to visit and has several museums that are worth a stop. Some of the top recommendations I have include: the the Tower of David Museum, the Yad Vashem Holocaust Memorial Museum, and the Israel Museum.
Experience the Food: Jerusalem is a mecca for amazing food. The food culture is huge there, and you can read all about What to Eat in Israel in this post. Don't miss this big part of properly touring Jerusalem. Be sure to check out the markets in Jerusalem, especially Mahane Yehuda, which you can learn more about in this Israel Market Guide.
Explore Beyond Jerusalem: Worth mentioning, Jerusalem is an amazing place to visit, but not the only place in Israel worth your time. Try the night life in Tel Aviv, or take a day trip to the Dead Sea, explore the port city Jaffa, try the food and see significant sites in Nazareth, eat fresh fish in Haifa.

Understanding the Old City
The Old City of Jerusalem is an amazing place to visit, and is rich in historic and religious significance. To make the most of the city, you have to understand how it is laid out, and what is significant in each section. Jerusalem is divided into four quarters:
The Jewish Quarter: The southeastern part of the Old City! This quarter is home to several synagogues, yeshivas, and the holiest site in Judaism–the Western Wall.
The Christian Quarter: The northwest part of the Old City. This quarter has several Christian holy sites, such as the Church of the Holy Sepulchre, which is believed to be the site of Jesus' crucifixion, burial, and resurrection. There are many other churches as well.
The Muslim Quarter: The northeastern part of the Old City. This is where you will find the Dome of the Rock and Al-Aqsa Mosque, which are both considered to be among the holiest sites in Islam.
The Armenian Quarter: The southwest part of the Old City. This quarter is home to several Armenian churches and monasteries including the Armenian Patriarchate of Jerusalem.
What to See in Jerusalem
There is a ton to see in Jerusalem, but here are a few of the recommendations I have for what to see while you visit:
The Western Wall: This is a holy Jewish site. Also referred to as the Wailing Wall, it is considered the holiest site in Judaism. Whether you subscribe to the belief or not, this is a must-visit site in Jewish history and spirituality.
The Church of the Holy Sepulchre: This site is a holy Christian site as it is believed to be the site of Jesus' crucifixion, burial, and resurrection.
The Dome of the Rock: This is an Islamic site. This iconic structure is one of the most recognizable landmarks in Jerusalem, with the ornate and beautiful dome.  It is considered to be one of the holiest sites in Islam.
The Yad Vashem Holocaust Memorial: Since the Holocaust is such a major part of Jewish history, visiting this museum and memorial is a somber but important place for a reminder of Jewish history.
The Mahane Yehuda Market: One of my favorite sites in Jerusalem is this market. It is full of sites, sounds, flavors, and fun. It is the perfect way to get a glimpse at iconic modern Jerusalem after spending a day in the Old City. Grab a bite, or shop for fresh foods etc.
The Mount of Olives: This historic hill offers stunning views of the Old City and is a site of great religious significance for Jews, Christians, and Muslims.
The Tower of David: It dates back over 2000 years, and has served as a number of things, from fortress, prison, to museum. It offers amazing views of the Old City, a rich history, and offers a a glimpse into the many different eras that have shaped Jerusalem's history.
Of course there is so much more to see, tons of places to discover, foods to munch on, religious and historically significant buildings, monuments, and more to see and visit. What is your favorite part of Jerusalem?