This post is sponsored by Vibe Israel, who facilitated my visit to Israel, all opinions are my own. Photos courtesy of Amir Menahem
Israel Market Guide:
Which markets to visit in Israel, including Jerusalem, Tel Aviv and Haifa, what you should know about them, and most importantly, what foods to try in each market.
I had the opportunity to go to Israel on a foodie tour with the beautiful Vibe Israel. During my recent visit, one of my favorite activities was going to and exploring the various markets in Jerusalem, Haifa, and Tel Aviv.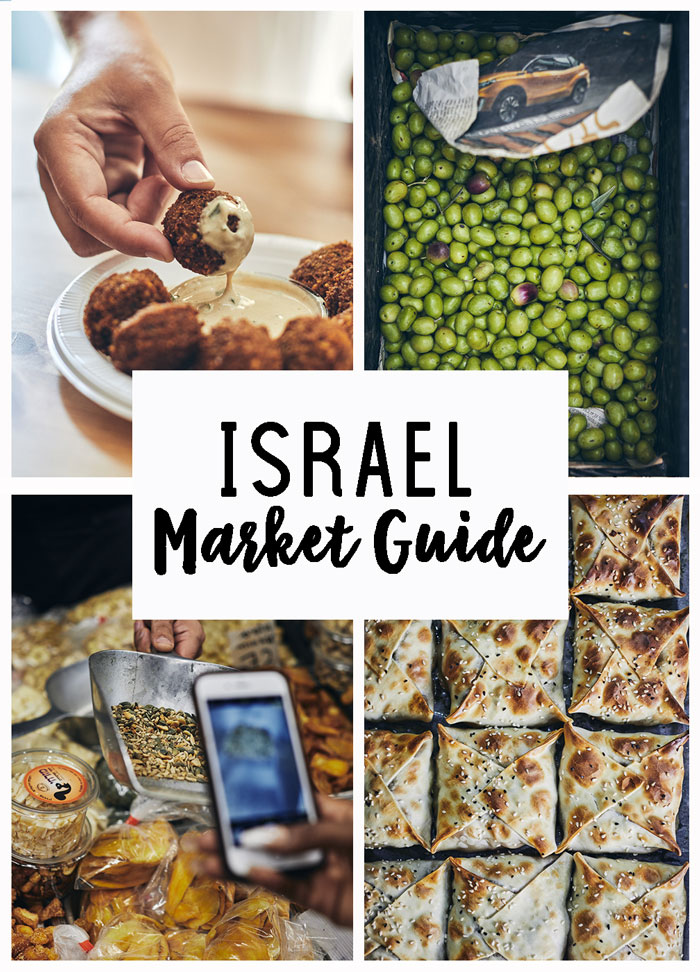 The markets in Israel are like taking a step back in time and getting to immerse yourself in food culture and local flare. These are open air markets with vendors of many different ethnicities and origins, and foods and wares to tempt any tourist. The people are kind, friendly, giving, generous, and love food the same way I do. Which made these visits so amazing. 
Anytime I travel, I like to visit markets, and Israel boasts some of the best in the world, with a wide variety of fresh foods, artisan wares, and kind people, a market visit is well worth your time. 
And be sure to check out this guide to What to Eat in Israel so you know what foods to ask for, look for, and eat while touring these amazing markets.   Trust me,  you will want to go to Israel again and again just for the food. 
Which Markets Did We Visit? 
Machane Yehuda Market

Hatikvah Market 

Wadi Nisnas Market
So let's explore these, and I will share my favorite tastes, sights, and shops. 
Machane Yehuda Market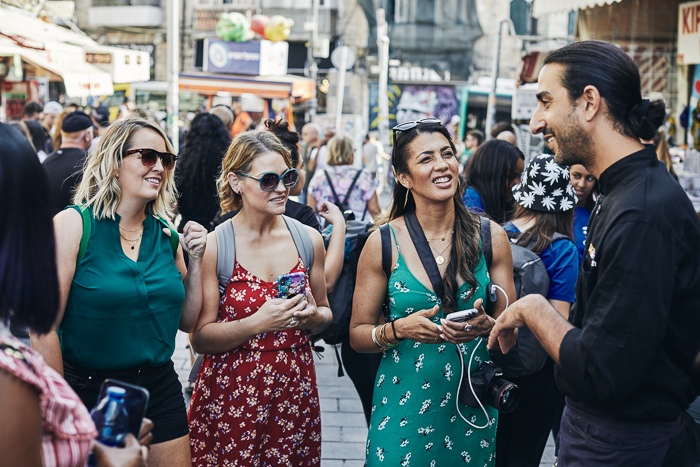 Where is Machane Yehuda Market? 
Machane Yehuda is the main market Jerusalem, and is an open air market. 
It is set between Aggripas and Jaffa Streets. It hosts two main aisles of stalls, with several small walkways once you are inside the market. It is kind of a maze, so don't get lost! 
You can reach this bustling market by walking up Agrippas Street from the city center. Or if you prefer public transportation, catch the light rail which has a stop right at the market entrace. 
Open Hours: Sunday to Thursday the market is open 8am-7pm, and Fridays 8am-3pm. It is not open Saturday, but several of the cafes and restaurants remain open on Saturdays.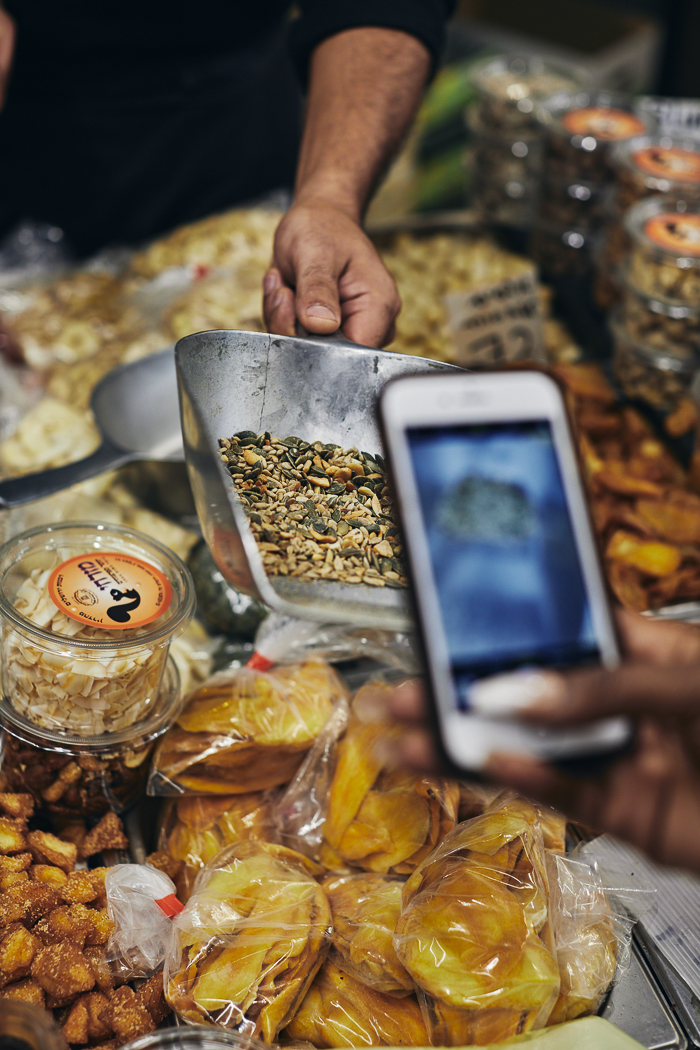 What can you find at Machane Yehuda Market?
Machane Yehuda market is a myriad of sights, sounds, and smells. And was one of my favorite ways to really see what Israel is like at the local level while also having an awesome tourist experience. 
Not only can you find food stuffs like fresh produce, fish, tahini, and more, but you can also find several restaurants and eateries boasting some of the finest food in the city. 
This is a foodie's dream location. Not only is it loaded with great food options, but it is also a great place to get insight into the day to day life of the local community. 
But let's not stop at the food. There are rows and rows of stalls selling everything you can think of, with over 250 vendors:
Clothing 

Ceramics

Books

Pet accessories 

Food: spices and herbs, coffees and teas, candy and sweets, fresh frish, fresh meats, halva and other sesame products, nuts and legumes, baked goods, fruits, vegetables, pickled items, artisan cheeses, pastries, and some of the finest bites in the world. 
You could spend hours there, filling your belly and your senses with life in Israel.  As you browse the stalls don't be surprised if a local stops you for a chat. The people are very friendly and eager to help out the tourists, and make suggestions for where to eat and where to go.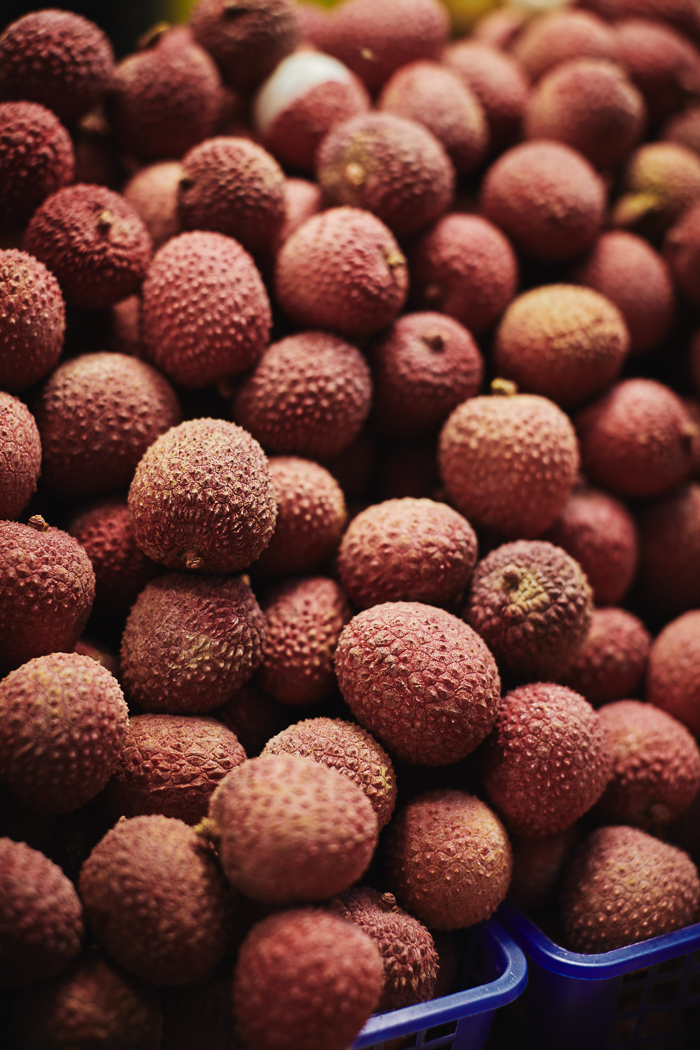 What is the history of Machane Yehuda?
This lovely market was established in 1928. It was originally established as a place for locals to buy food, but now it has everything from spices to clothing, sweets fish, halva, artisan cheese and more. 
The Machane Yehuda Market is called the Shuk! And it is the largest market in Jerusalem.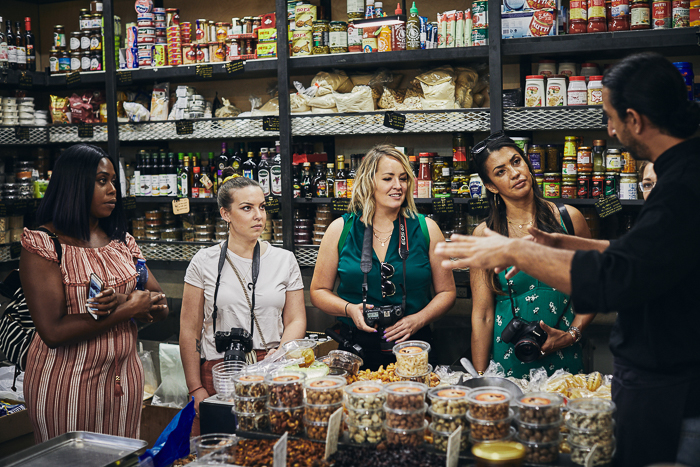 What To Look For In The Machane Yehuda Market 
Be sure to look for the sculpted displays of spices, try as many of the mouthwatering array of foods you can stomach, and have fun buying, negotiating, and tasting your way through. 
Different areas of the Shuk are populated by different kinds of wares, and, different ethnicities of the various Jews that sell in this market. Which means you can really get an up close and personal taste for the varied cultural and ethnic backgrounds that make up Israeli food culture. From Yemen to Arab. And many other options as well. 
Sample all you can. The food is amazing. My top three DO NOT MISS eats for Machane Yehuda Market:
Burekas- these are filas dough filled with cheese, mushroom, spinach, and are to die for!


Basher Fromagerie has amazing cheese. Try the pesto one. It is bright green. You can't miss it!


Kingdom of Tahini is another must sample stop. My favorite: Nougat Tahini. Leave some room in your suitcase to bring some home.


And when you are done with your shopping, if you have any room left in your stomach, sit down for a fantastic dinner at Tali Friedman's restaurant The Atelier. Her food is top notch, and much of it locally sourced right from the market.
Hatikvah Market 
The next market we visited while in Israel was Hatikvah Market, and this is my favorite of the three. But it was a close call.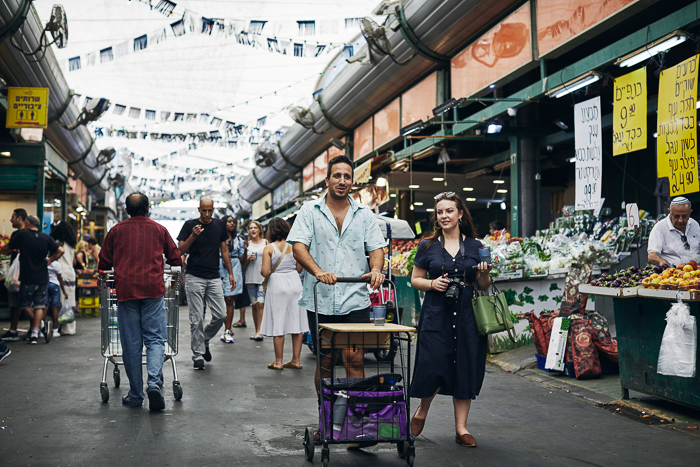 What is HaTikvah Market?
The HaTikvah Quarter is a working class neighborhood in Southern Tel Aviv and it is a gem! It is a poor area, so many stay away because of the poverty, but it is definitely worth the visit. Especially if you want to immerse yourself in true Israeli culture, get to know some locals, and have some fun, oh yeah…and tons of good food. 
This is where a lot of locals shop, and unlike the Machane Yehuda Market, this one has wide aisle, and offers cheap produce, as well as a wide variety of options. 
From what I learned, the prices at HaTikvah Market are surprisingly low compared to the famous Mahane Yehuda Market in Jerusalem, as it is far less of a tourist destination, and more where people go to shop for their household goods and groceries. 
You will find it is not as crowded, and extremely diverse. In fact, the diversity is what made me love it so much. Within just a few square meters you can eat at a Turkish Deli, a Yemen eatery, and Iraquie delicatessen, and more.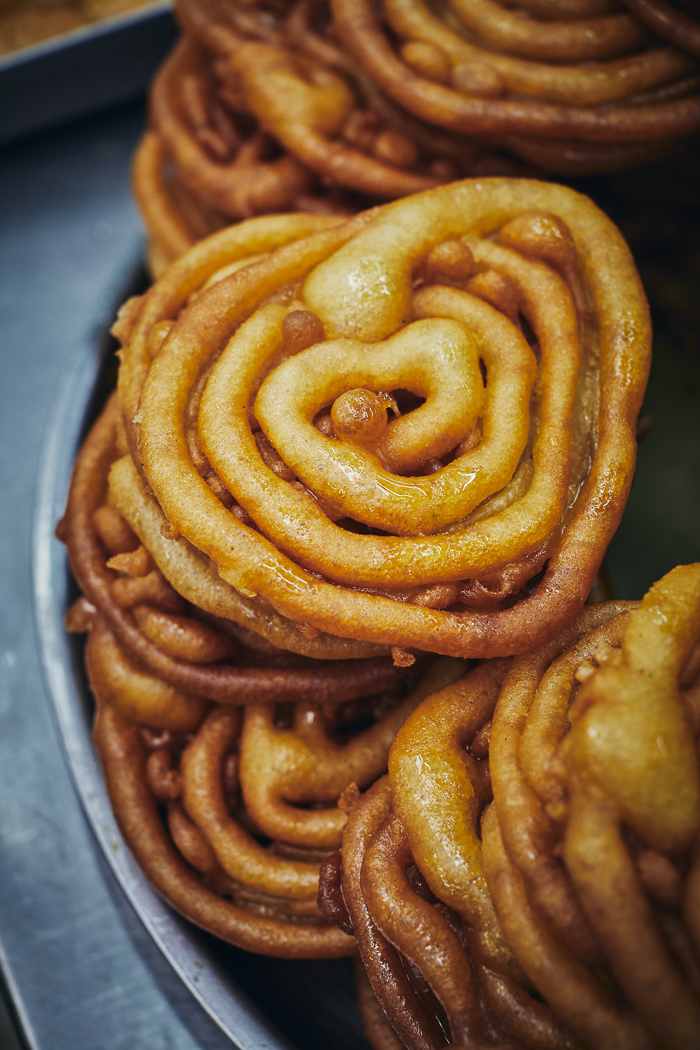 Where is HaTikvah Market? 
Once you are in the neighborhood, head down to the end of Yigal Allon Street, turn right, and you can see the entrance to the shuk 100 meters down on your left. 
Open Hours: Open every day except Saturday (Shabbat)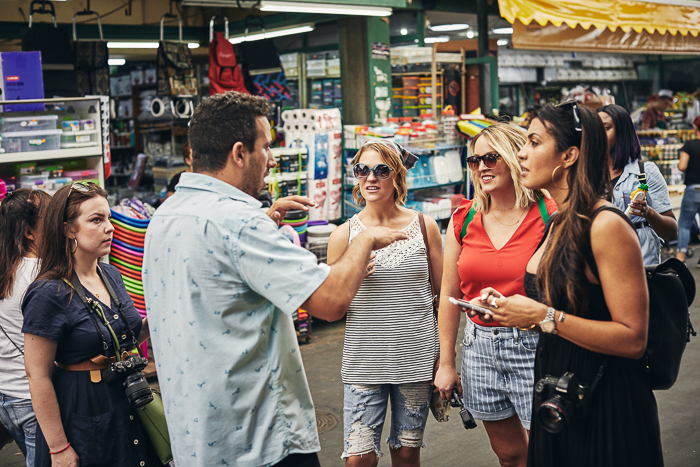 What you will find in HaTikva Market
Great fresh produce 

A number of restaurants. Want Moroccan? Try HaTikva. Want Iraqi? Try HaTikva. Want Turkish? You get the idea. You can try food from all over the different Jewish parts of the world in just this one market. 

Kind people

So much amazing food
What to do in HaTikvah Market- The do NOT miss sights
Before you get to the market take a quick stop of Delik's which is a Turkish deli in the neighborhood. The food is incredible and Delik is so kind. Order  Kazan Dibi if you want something sweet or Su Borek if you want to die of culinary bliss (savory).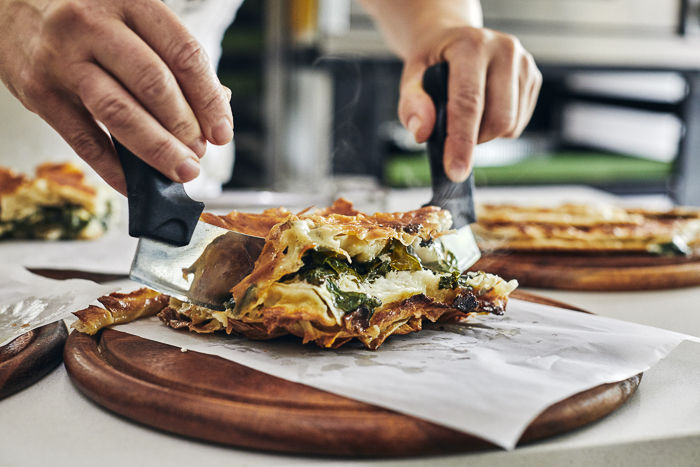 Once you leave Delik's and head into HaTikva market, and stop for another snack just a few stalls in at HaSaluf. It is the 3rd or 4th stall on the left. This is a popular Yemenite eatery that is loud, bustling, and way too much fun. The owner, Yaakov Tsuberi, might even force feed you some Ouzo to loosen you up for your shopping trip. Try the lachuch, jachnun, and hummus, tahini, and salads!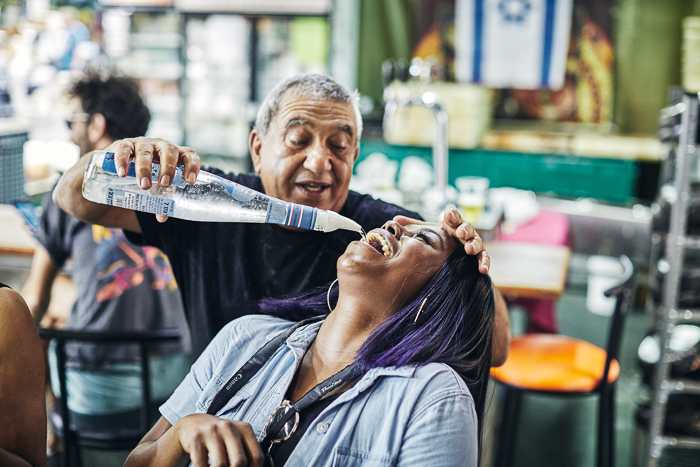 Then go explore the market. You will find Ma'adaney Ofer (Ofer Delicatessen) which has an amazing array of Amba (mango chutney), as well as olives, jibne, and more. Try the kebabs, the Gajooje (bread stuffed with meats), the dolmeh (stuffed grape leaves), Keebeh, and more! 
Plan to spend at least a few hours, and wear stretchy pants! 
And when you get done eating all the things, be sure to stop in for some Malabi. I can't tell you the name, as the place has none. But ask around, and you will find it on the corner.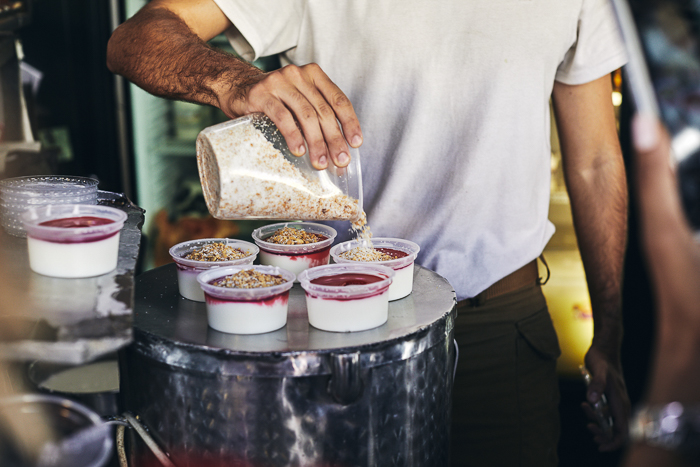 Want a guide through this incredible market? 
You can hire Bhuka Tours to take you on a culinary tour of HaTikvah market. Our guide Moni was one of my favorite people from my trip to Tel Aviv. He is kind, and fun, and brings booze. So you know it is going to be a good time. 
Wadi Nisnas Market
Old stone homes, narrow alleys, and a bright colorful market that is full of mouthwatering foods, families making a living, and jovial shop owners happy to share their wares. 
This is a market you do not want to miss. And the food… oh the food!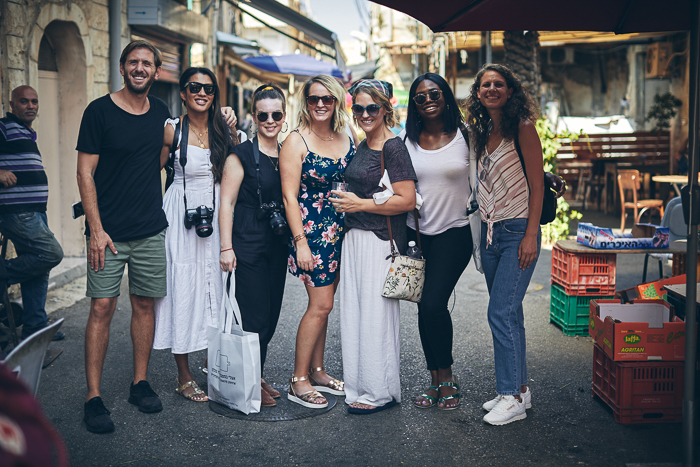 Where is Wadi Nisnas Market?
Located between the Hadar neighborhood and Haifa's downtown.
How to get there?
To get to Wadi Nisnas from the Carmelit Ha'Nevi'im station, simply turn to Shabtai Levy Street take the stairs leading you to the Wadi streets. 
If you depart from Solel Boneh Station, take Huri Street to get to Wadi Nisnas.
Or start at the top of Mount Carmel and take the stairs track to the Wadi alleys.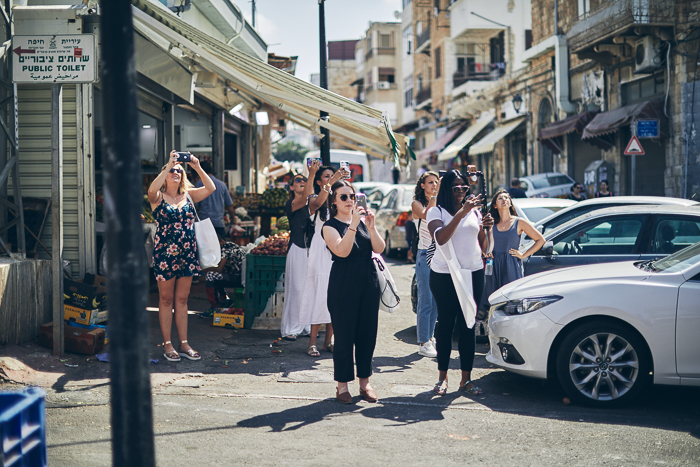 Some History of Wadi Nisnas
The neighborhood was initially built as an Arab workers' neighborhood.
Then during the the British Mandate period, it was turned into an active and thriving urban quarter. But it was conquered by the "Haganah" forces in 1948. 
Most of its Arab residents left Haifa at the end of the War of Independence, but about 3000 of them chose to stay in the city, and some of them in Wadi Nisnas neighborhood. 
This area is mostly Arab.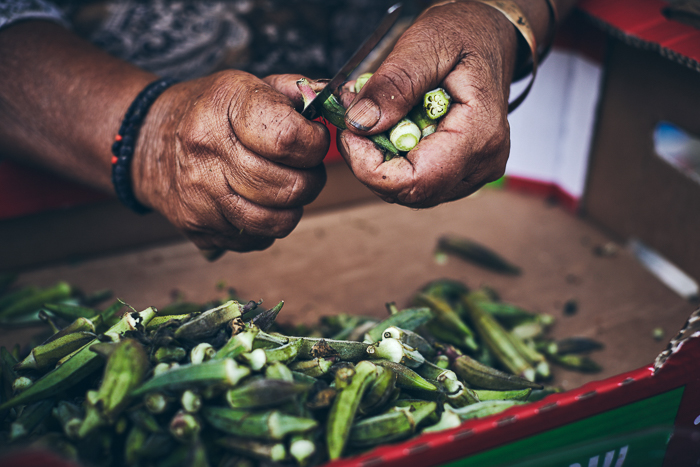 Where to go and what to eat in Wadi Nisnas Market:
The market is full of sites and sounds and smells, and the food is fantastic, from the jibne pizzas to the fresh fish, and of course there are plenty of things you will want to take home with you, like date roll, coffee, and spices!  So just walk around and explore, and be sure to taste as you go. You will get  a real feel for the real life happening all around you. And may even see people lowering buckets to have the shop owners below send food up to their home. 
There is plenty to see and do, but these were some of my favorite places to stop: 
Be sure to stop by the fish house run by Vitor for some Intias! This is fish used for ceviche (also called amberjack), and they may even make it fresh for you right on the sidewalk. Delicious.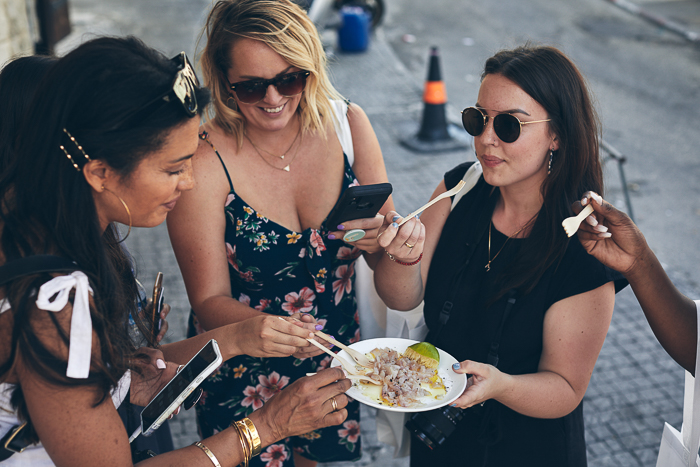 Nadima is another must stop for Arab food. Try the fava beans, and enjoy anything on the menu. This is one of old restaurants that offer dishes from the traditional cuisine that you have never tasted. It is run by brothers who are honoring their mother with the restaurant.


Abuelias is another must stop, it is a family run shop and fruit stand. And the people are so kind, and the fruit so good!


Ziad Place is where to go for spices. The Zaatar is amazing, and something you will certainly want to bring back with you.


Mustafa place offers the rich and flavorful coffee, and my favorite thing to eat– date roll!  Do not leave this market without trying the date roll.


Hummus alsham is just around the corner and has what some would say is the best hummus in Haifa. I would have to agree!  And get the falafel too. Yum!
Thank  you Vibe Israel for the magical time, and Amir Menahem for the gorgeous photos.
Other Places To Visit: