Zipping through the rainforest, feeling the air whip across your face, and getting a priceless view from above. No matter your destination, ziplining is a fun vacation activity, but with so many tour companies, and options available, how can you know which one is right for you?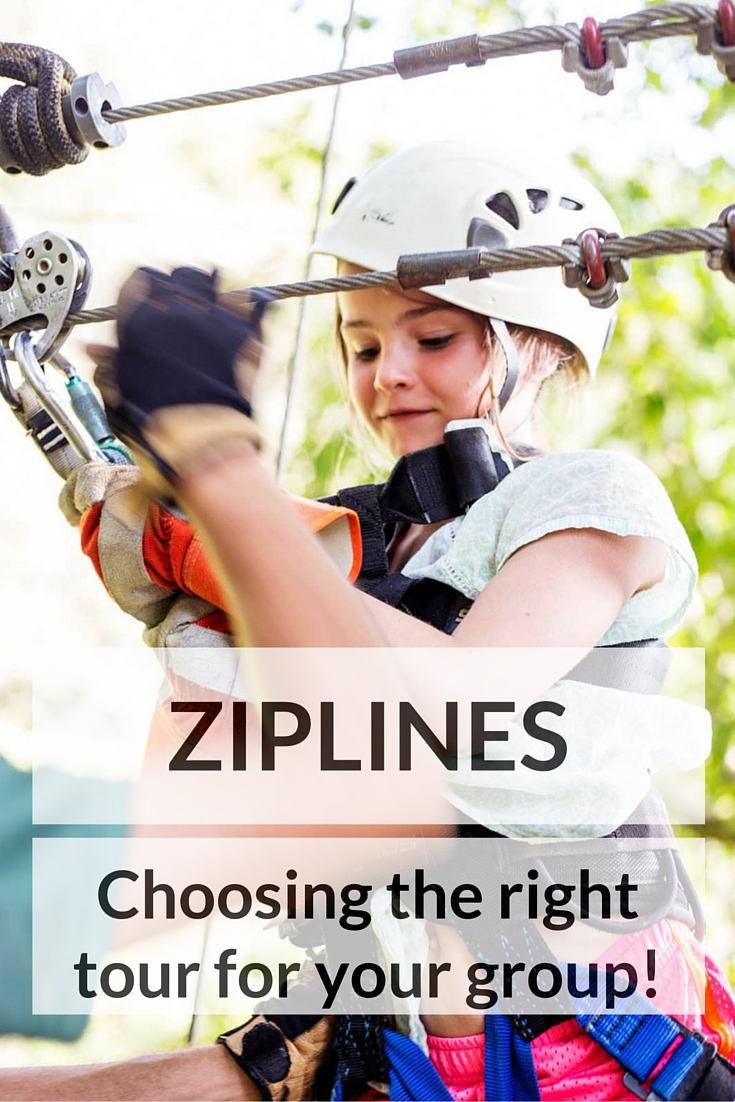 Our family LOVES to zipline. I would say it rates pretty high on our vacation list. If we visit a destination offering lines, we will usually sign up for the tour. We have ziplined in several different places in Mexico, Belize, and Costa Rica, and even in the US. And have learned that there is definitely a difference in the kinds of lines, safety, and experience you can have. So today I thought I would share some tips for choosing the right ziplining tour for your group, what to consider, and what you should know before you go, no matter your destination:
Walking/Hiking/Physical Exertion
The first time I ever went ziplining I was shocked by the amount of physical exertion required. We started at the bottom of a mountain, would hike up a ways, zipline back down some, hike up again, zipline down some again, hike again, zip again, etc. until we made it to the top of the mountain, then we got to fly all the way back down on a long, fast, crazy zipline. It was great, and such a rush. But also very tiring. I remember thinking it was good we didn't have our little ones with us.
I have since learned when it comes to zipling there are many tours offered, and they require different levels of exertion. For example, when we were in Costa Rica we ziplined with small children so we chose a tour that had a tram to the top of the mountain, and you ziplined down it. Far less hiking. Far more smiles.
Some companies provide ATV's to get to the top, donkeys, a truck, a van, a ski lift, etc. Basically there are tons of options. You can hike it. And sometimes that is even more fun, especially if the scenery is beautiful. But knowing there is a difference can help you know what to ask, and what works for your travel group. Are you traveling with elderly or small children? Maybe look for tours that don't require as much hiking.
Line length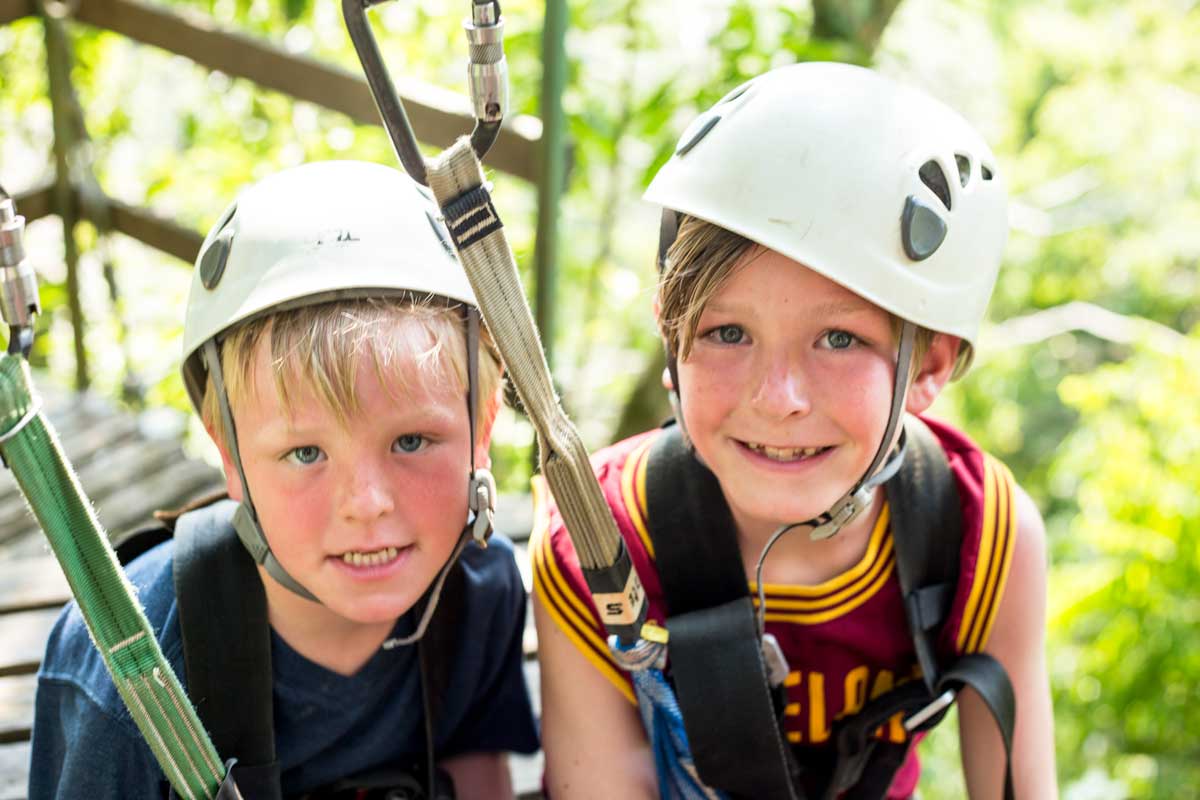 One of the biggest considerations for choosing a fun ziplining tour that works for your whole group is line length. I always like to take a look at first how many lines the tour includes, and the total length. Why does this matter? Because lines come in many lengths, and the longer lines are often the most fun, but also the scariest, fastest, or hardest to do with kids. I like to choose a tour with a mix of line lengths, but at least 2-3 that are longer so we can fly and enjoy the view!
We have found that if the line is too long, the weight of the kids is not enough to get to the end of the line, so they have to go tandem. Which is fun in and of itself. But know what you are getting and how far you get to zip! That way you can compare apples to apples.
Stopping/Brakeing
One of the biggest considerations when selecting a company to zipline with should be how they stop you or how you brake if you come into a platform too fast. Everyone employs different methods. Sometimes it is just having an individual there to catch you. Sometimes you get gloves and are told to grab the wire for a second (behind the pulley) as you get closer, to slow your approach. I do not like either of these options as I envision rope burn and knocking someone down. We have ziplined where this was how the stopping/brakaing occurred and did not have problems, but it made me uncomfortable.
A better options is a brakeing system. Some companies actually have a device that they can send out on the line to slow you down. It is like a rubber stopper. Your pulley would butt up against it and it would slow your approach. The person at the platform would watch, and employee it as necessary. I loved this option, and felt very safe using it.
For me, asking my kids to know what "too fast" is, and then grab a metal line (even with gloves) as they zip down it is just scary. I like when they are told to keep their hands and legs free of the line at all times. To me this means far less risk of injury.
Safety
While most tours are going to have to meet some sort of safety regulations to be operational, you just never know. Look on their website to see what they do to insure safety. Read reviews. And ask the guides how often the lines are checked. And do your own due diligence. Look at the line. Does it look safe? Is it in good condition? Look at your equipment. What kind of condition are the harnesses, pulleys, etc. in? If you don't feel safe, if the equipment seems rusted or ill-cared for, then do yourself a favor and don't zip.
Age Restrictions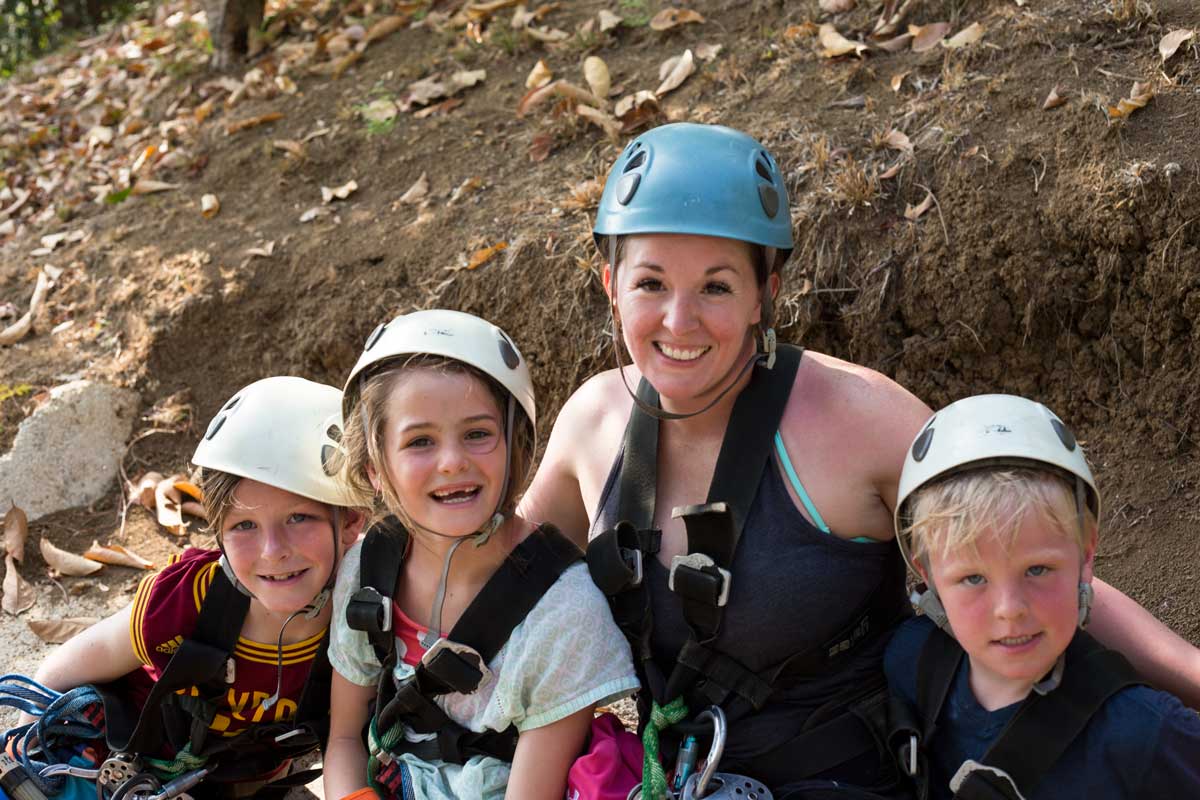 You will notice in this picture my youngest is missing. This is because zipline tours will often have age restrictions. It varies significantly from place to place. For some it is 7, for some it is a weight restriction rather than an age restriction. And for some places there are no restrictions at all. Evaluate the ages, weights, and abilities of your group to determine if and which tours are best for you.
Typically, if they have harnesses that are small enough for the child, and the hiking is not too strenuous, then I would say go for it. But it stinks to arrive and have a portion of your party unable to participate because you did not check age restrictions. Know before you go!
What else is there?
Last, but not least, I love to know what else there is to do at the facility. Often, zipline tour companies offer more than the lines. There may be a restaurant, and observatory, walking paths, or even an animal sanctuary.
When we were in Costa Rica, the tour company we opted to use had a butterfly and reptile house, which my youngest loved visiting since she couldn't actually use the ziplines!
Other Tips To Make Your Zipline Adventure Great
Wear sunscreen. Ziplines are usually in a forest or mountain setting, so you may not feel as hot or realize you could be getting burnt.
Bring a water bottle or money to buy water. It is hot and strenuous at times. I brought a water bottle I could clip onto my pants waistband so I did not have to hold it while I went across the lines.
Take pictures! Often they will take some and offer to sell them to you, but you can take your own. I brought my phone with a neck pouch to hold is so I could put it around my neck when I went down the lines, but could take photos of the rest of my group!
Ziplines are a fun way to enjoy some adventure while traveling, so no matter what company you choose I hope you enjoy yourself!