10 amazing smoothie recipes that will help you mix up your smoothie routine, and make your taste buds very happy!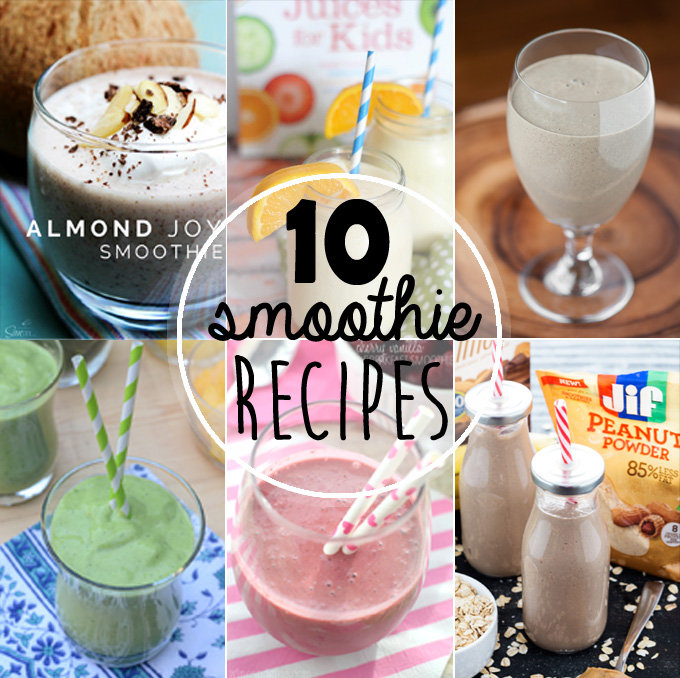 I don't know about you guys, but I am a big fan of smoothies. I frequently make them on days when I am in a rush and want to make sure I get all those nutrients in. I pack mine with spinach and other goodies most of the time. However, every now and then I want chocolate. And even more often, I want peanut butter. So I combined my love of the two and made a peanut butter bar smoothie to share. But this list has fruity, green, chocolate, and more! You are sure to find something you will love.
Speaking of something I love…I love Gilmore Girls! Like love it, and am really excited that they are making more of it. I mean, how can you have too much of a good thing? Totally off topic, and I realize that. So enough rambling. Enjoy your smoothies!
Healthy Chocolate Protein Smoothie

Strawberry Banana Oatmeal Smoothie

Orange Banana Breakfast Smoothie

Cherry Vanilla Breakfast Smoothie

Lunch Lady Peanut Butter Bar Smoothie

Layered Strawberry Banana Smoothie

Don't forget to pin for later: