This post is sponsored by Round Grove, all opinions are my own.
Brick Oven Cooking or Wood Fire Cooking is so much fun! Let me show you how to get your very own brick oven, and everything you need to successfully use it.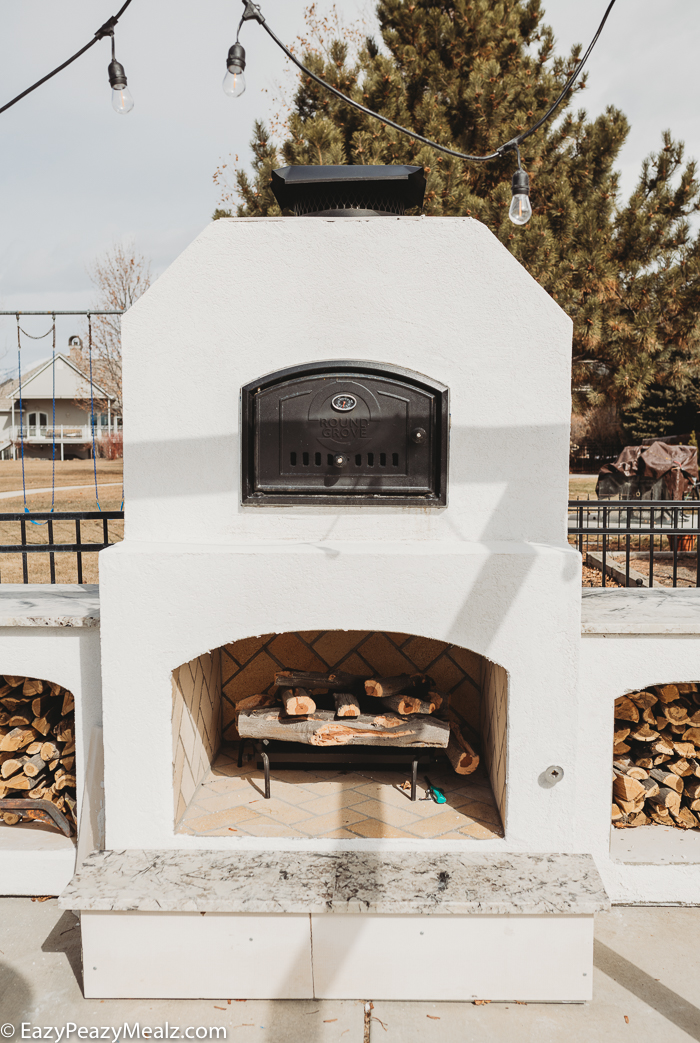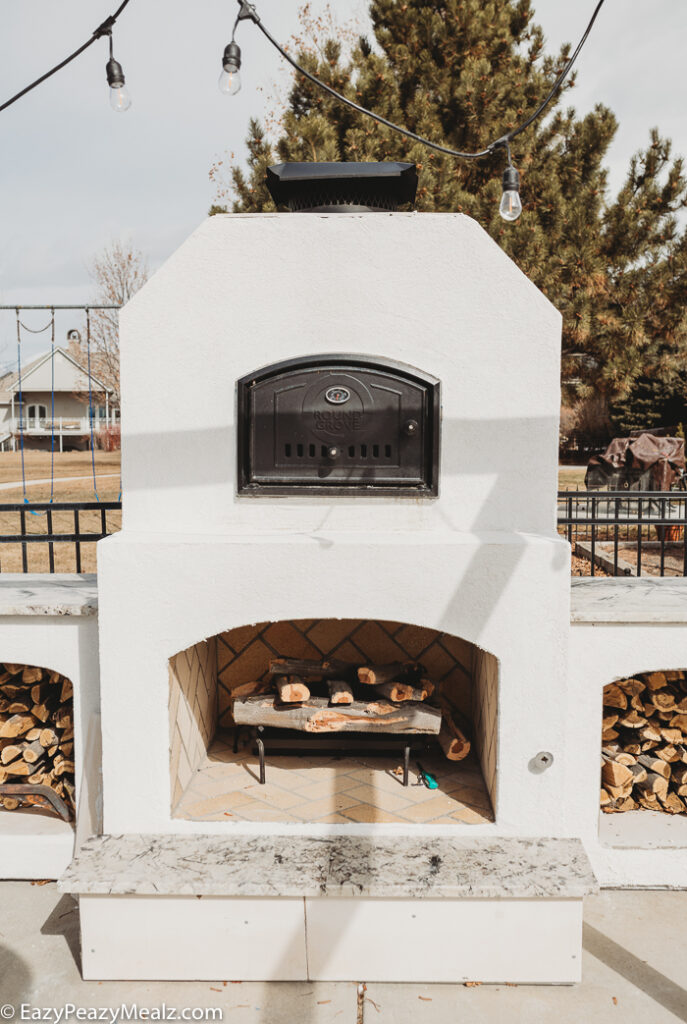 Today I am sharing some really exciting news with you all–I finally got a brick oven! Ever since I went to Israel with Vibe Israel I have been dying to have a wood fired brick oven of my own. I was lucky enough to spend an entire day on that trip cooking in a wood fired oven with a wood fire chef, and learned about how awesome it is. And I knew I needed to get one.
After A LOT of research, and time, I finally found the company I wanted to work with to get my wood fired brick oven and create the dream backyard I've wanted.
I am going to share the process with you here, and have a whole series of posts coming up for everything you need to know to excel at wood fired cooking, from the tools you need, what woods to burn, how to clean your oven, and of course, the best recipes to use. Come along with me on this fun culinary journey!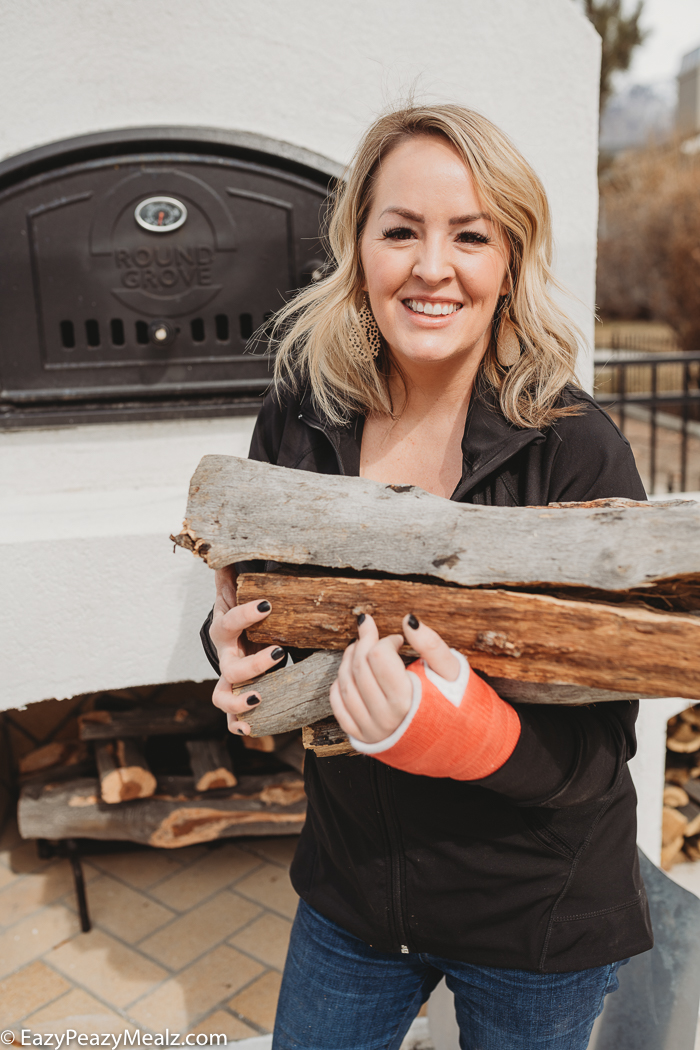 Finding A Wood Fired Oven
I knew I wanted a wood fired oven, and started looking at all the options. I quickly discovered there were several, but I knew I wanted one I could:
Customize the size, layout, etc. for my space
Finish my way
Would be relatively easy to install
Doing my research, I found I could buy a finished oven, and have it installed, or buy a kit and build one. But I didn't love either option. I had this huge empty cement pad in my backyard and I had a vision.
I wanted to take this blank slate, and turn it into my personal outdoor oasis. And knew I needed to find a company that could help me make my dreams a reality.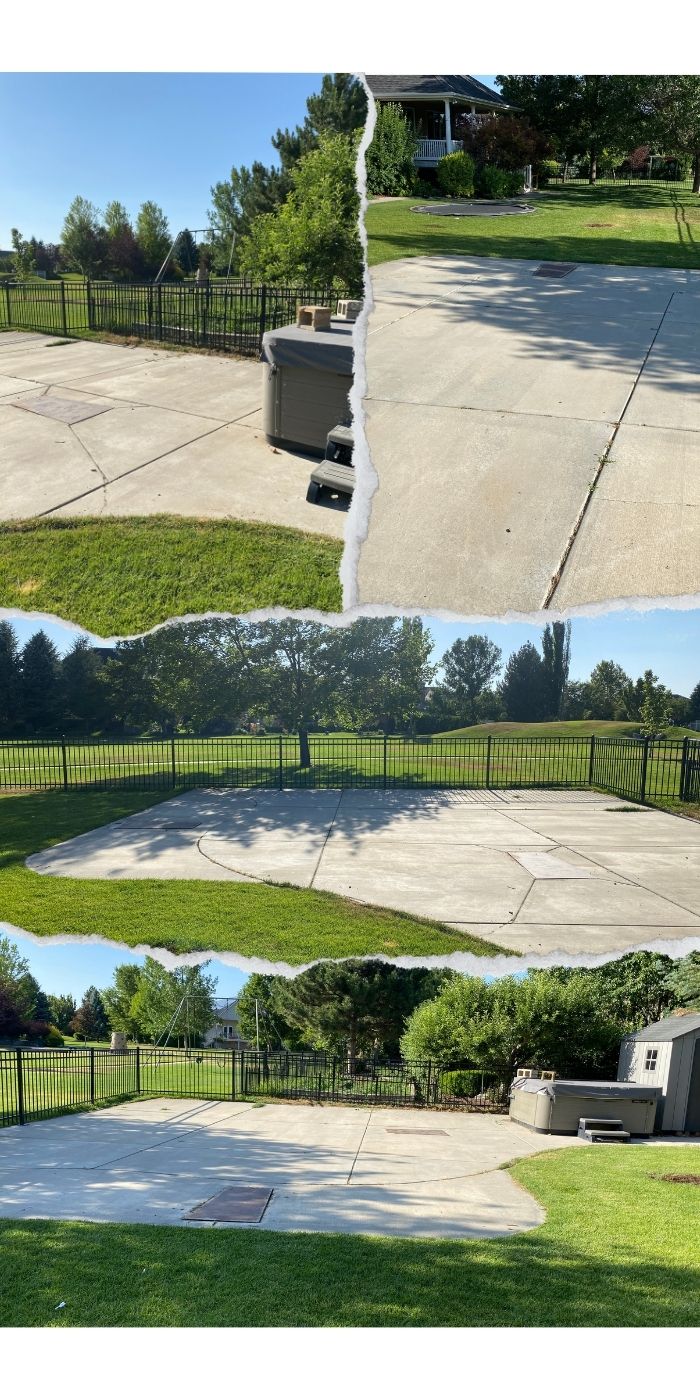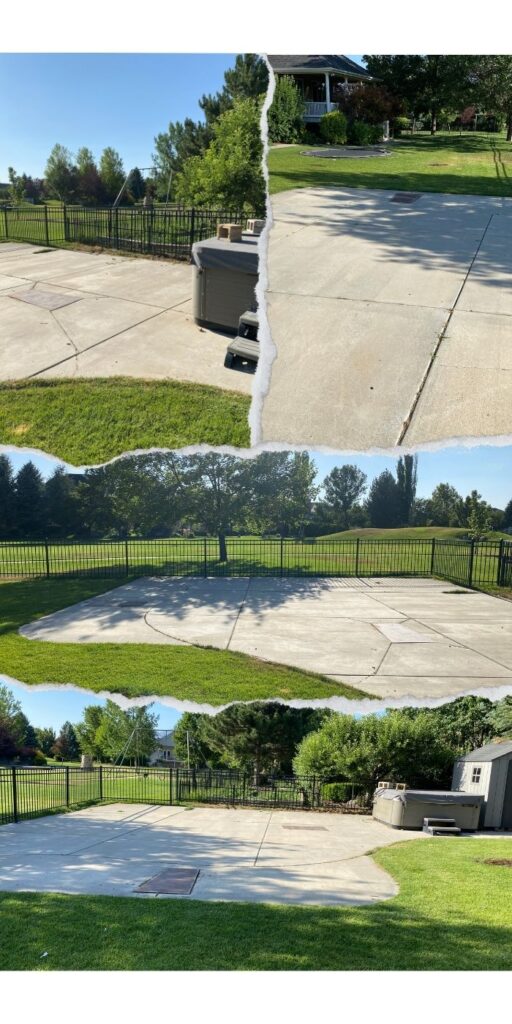 That is when I heard about Round Grove, and I knew they would be perfect for what I wanted. Because I wanted so much more than just a brick oven. I wanted an outdoor kitchen space I could cook in, entertain in, and enjoy year round.
Round Grove
Round Grove is a company based in Ohio, and so as soon as I found them, I messaged them to see if it was possible to get their products in Utah, where I was located. They let me know that they did not have a third party distributor where I was, so it would take a little coordinating on my end. But they were able to ship my customized outdoor kitchen to me.
What did I have to do?
Rent a fork lift or skid steer to move the oven and outdoor kitchen from the delivery truck, to my back yard.
I was a little intimidated by this, but a quick google search later, I was able to find one to rent and coordinate with Round Grove on when the delivery would be, so I could have it ready to roll.
I was so excited the night before the delivery, it felt like Christmas.
Why Round Grove?
Round Grove not only makes high quality brick ovens, but they checked all my boxes. When you visit their site, you will see you can create unique combinations of outdoor fireplaces and wood-fired brick ovens. You can add things like cupboards, grills, refrigerators, and more to get a completely customized outdoor kitchen. Or you can get a fireplace, or brick oven, or any combo of all of them.
Here is what I loved:
Custom: I knew I wanted a good sized brick oven, and a fun outdoor entertaining space with tons of countertop space, plenty of wood storage, and of course a cooler and fridge to house beverages and ingredients. And they sure delivered.
All of Round Grove's ovens are built one-at-a-time. And are completely custom. You can choose from multiple sizes, styles, and features to create your own custom outdoor fire feature. For example, I wanted a herringbone brick on my fireplace. Done!  And I wanted wood boxes for each side of the oven/fireplace combo! Done.
Basically, you can browse the options and create your own custom layout, with whatever features you want. They will help you, and even send a rendering before they start working on it, to make sure you are all on the same page.
Finish it Yourself: Everything you order will be fabricated, and delivered with a scratch coating on it, and then it is up to you to finish as you would like. Stone, brick, or some other rock work is the most common finish. I opted to go with stucco in order to achieve the look I wanted. I ran into a few problems with this, but overall I love the look. I have some finish work left to do, but it has been a fun project, and I am obsessed with how it is turning out.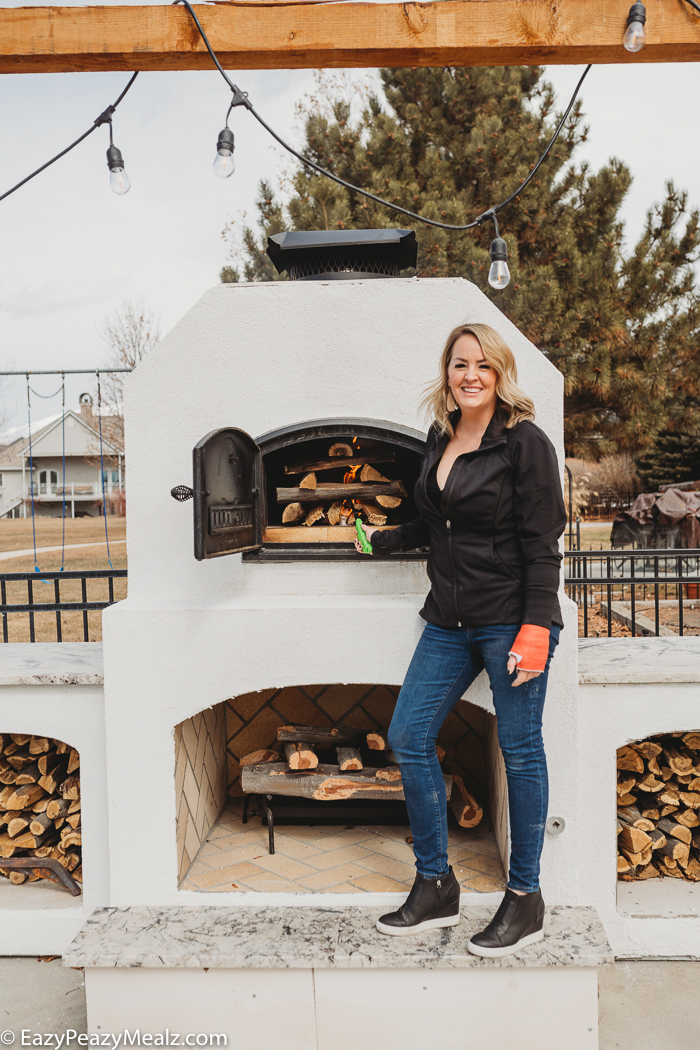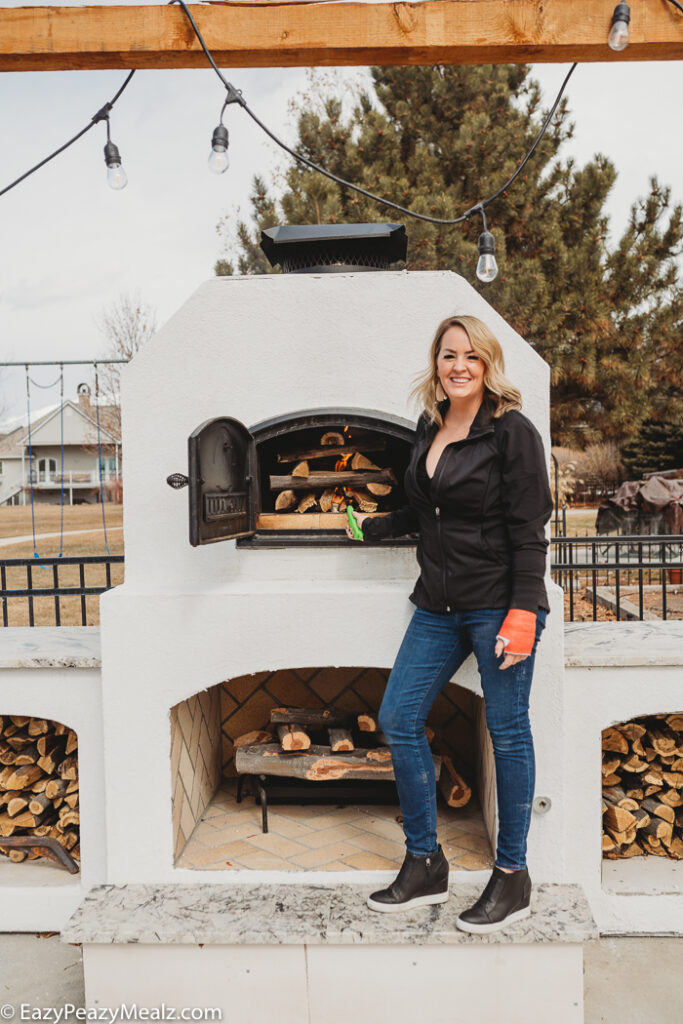 American Made: One of the things I love so much about this company is they are an American company. The ovens and fireplaces are built in America with American resources and American labor. It feels good to buy from America.
Easy to Work With: One of the best parts of working with Round Grove is their team. They are dedicated to helping you create your dream outdoor entertainment space. They were communicative, willing to answer all my questions, and helped me to select just the right items for my goals.
Overview:
Here are the perks
Easily finish to match home or building exterior
Pre-assembled and ready to finish
Single piece unit (prevents shipping damage)
No separate footer foundation
Open access for handling, strapping, or anchoring
Lighter than masonry block or pre-cast pizza ovens
Suitable for 4″ concrete slab
Instant installation
Custom sizes and designs available.
Outdoor Kitchen
My outdoor kitchen space is nearly complete, and I was lucky enough to have family and friends who helped me build an amazing pergola and finish the exterior, run electrical etc.  I can't wait to show you all the finished product. And be sure to follow along for all of my adventures in wood fire cooking.